Blue and Brass Beauty
Before & After
It's a stunning transformation to blue and brass with oodles of texture. How? Very simply: Rust-Oleum spray paint and Frog tape. Follow Along.
Don't you just love a happily ever after story?
And when that story includes gorgeous color, stunning shine, oodles of texture  . . . .  no, we are not talking a great hair treatment. Although, you know I'd share it with you if I had that miracle treatment. We're that kind of friends.
Here, I'm also talking great legs, the perfect size AND hard-working storage in our hangout room!
I'm all about this Blue & Brass dresser that we use in our entertainment area — filled with games, puzzles and DVD's.
Isn't she gorgeous?
But you'd never guess it from her humble FB marketplace beginnings.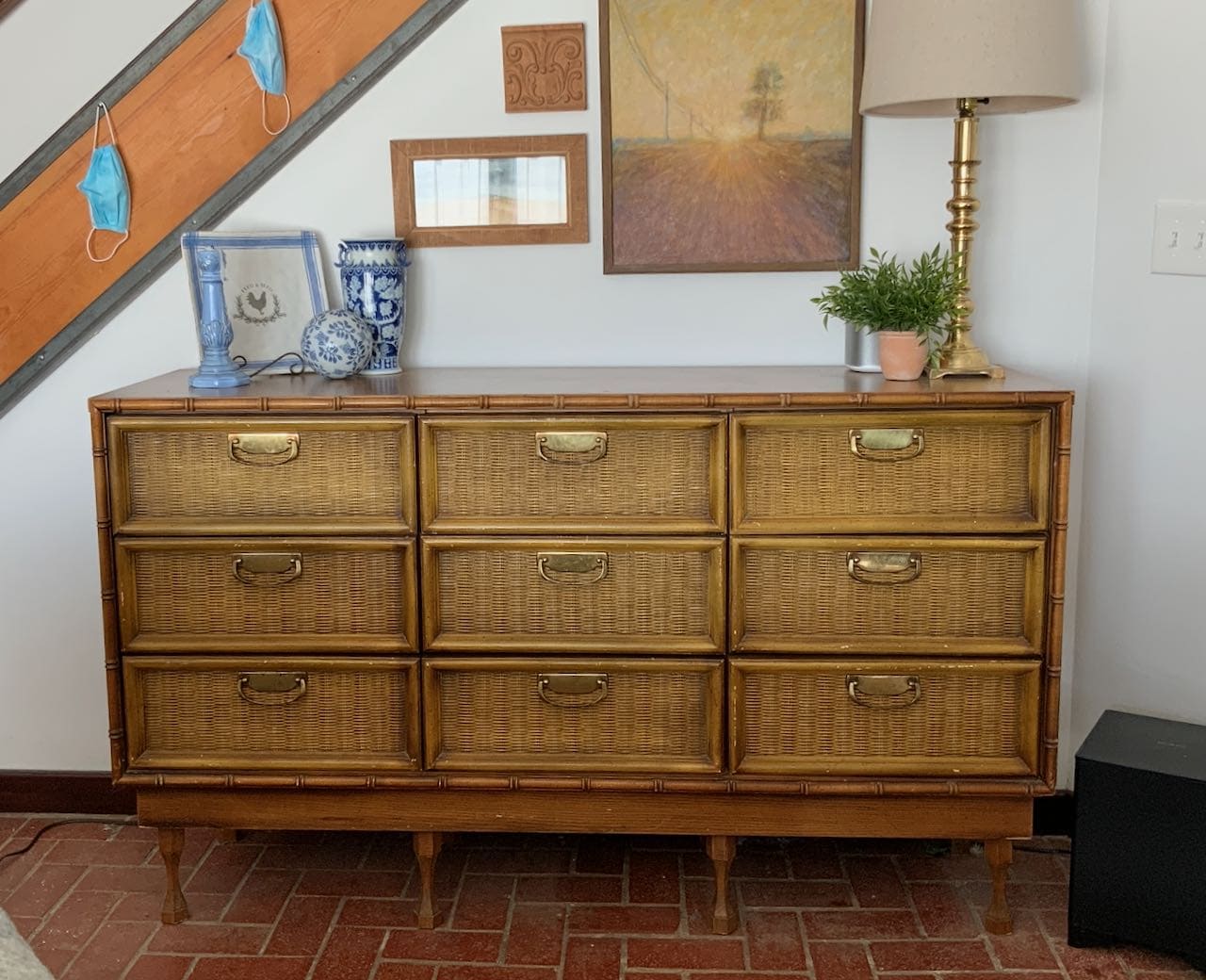 I know, truly sad!
I would never have bought it if we hadn't lived in a small town where the options were really limited and I needed a chest to hold a new flat screen NOW!
It was so sad, I didn't even take a picture of it's original form. That horizontal frame sat flat on the floor. Short and squat with no air beneath. And that color! And all the faux-ness — faux wicker, faux bamboo, faux wood, almost everywhere.
But those pulls saved the day and I was rather smitten with the grid effect of the nine identically sized drawers.
And it was the perfect width for between our porch doors and for the critical TV.
And oh, did I mention I was desperate?
When I later ran across three interesting wood balusters at the Habitat ReStore, I knew I could take care of the whole squatty-no-air-below thing.
And that faux-ness? Why paint, of course! Chalk paint to stick to anything. Spray preferable for all that texture.
Rust-Oleum to the rescue!
No, this is not a sponsored post — just sharing products and brands I use and believe in!
Here are the exact spray paints I used. And in response to requests, here is my area rug (much more the colors shown in the 4th and 5th pictures). These are affiliate links, meaning it costs you nothing more, but I may receive a small commission if you use these links.
How I Transformed This Sad Orphan into My Blues and Brass Beauty:
Step 1) All the Prep
Started  with removing all the hardware
Then I cleaned  the drawers and frame thoroughly. 
HINT: With wicker (or caning or similar) I always use a strong vacuum and a can of spray air to clean out all thee nooks and crevices.
Even though I used chalk paint that reputes to not need sanding, I sanded all the smooth areas with 60 grit paper and block for a bit f extra insurance. This chest gets a lot of use and I want this paint to cling like crazy!
Lastly, I taped everything off. I'm partial to Frog Tape. I know there are other brands out there, just make sure you use painters tape.
Step 2) Bust out the Paint
Stating the obvious, I sprayed the cabinet frame and all the drawer fronts with the Rust-Oleum Spray Chalk Paint in Coastal Blue. Always use two thin coats, NOT one heavy coat. And be sure to use an even sweeping motion across the entire width of your project.
Step 3) Glazing or Antiquing
I grew up with upcycled furniture. It wasn't cool then to a lot of people, but I thought it was! My sister and I had bedrooms on the top floor of the house. The only ones that saw these rooms were our friends. Our brothers' bedrooms were down a floor, where guests might venture, so they had store-bought matching suite bedroom furniture.
For us girls, Mom bought used pieces at garage sales, sanded them down, painted them a common color, "antiqued" them and sealed them. It was a glorious process for me to watch. Except, my sister's was white (antiqued with black) and mine was avocado green (antiqued with black). I was rather jealous of hers.
Yeah for Mom being so far ahead of her time — by four decades or so. Although, she did conform to the matching bedroom suite ideal of that era. 
Anyway, today, for glazing I like to mix my own using remnant paints and Benjamin Moore Acrylic Glaze. I mixed 1 part black acrylic paint with 4 parts Acrylic Glaze.
And once my drawers and cabinet were dry, I set out on the antiquing part — perhaps the most intimidating, but actually the easiest — pinky swear!
I even made this short video to prove it to you. 
Once the paint had sat for 48 hours (again, extra insurance), I added a protective coat of clear furniture wax on all the smooth surfaces (not the wicker part). Then we hauled it in, set it up and then my IG followers convinced me that the feet needed to be gold like the handles . . . . sigh!
So back out it went, and I taped off the feet, protecting those great curvy leges, I used a metallic spray paint from Rust-Oleum that is loaded with shine and matched the pulls perfectly. 
HINTS: Use a wooden skewer to dig in and seal the tape in the corner where a vertical edge (like the legs) meets a horizontal edge (like the top horizontal edge of the feet). This helps to prevent bleeding under the tape.
And ALWAYS, remove the painters tape while the paint is still wet. This helps to prevent peel the fresh paint off with the tape.
And look at the extra depth the glazing, or antiquing, gave the flat sides! It's these little extra details that really make a piece stand out!
And the detail of taping around the faux bamboo curves.
I know, you're busy right now!
I get it. But you also want to have these tips and hints when you are ready for your next furniture makeover.
So pin it to your "Decor" board,
or to your "Pretty Painted Stuff" board,
or to your "Blues" board.
Or to whatever Pinterest Board  makes sense to you.
NOW, she's a beauty, isn't she?  My blue and brass beauty!
I hope she inspires you to see beauty in a piece you already have or that you come across wherever you roam. With a bit of time and dililgence, you can turn her into a joyful piece.