How to Throw the BEST Blind Wine Tasting Party
Here's how to throw The BEST blind (or mystery) wine tasting party! It's easy + FUN for small groups and large groups alike.
If you think wine is fun; and even more fun when tasting multiple wines with old friends or multiple wines while making new friends, then this blog post is for you!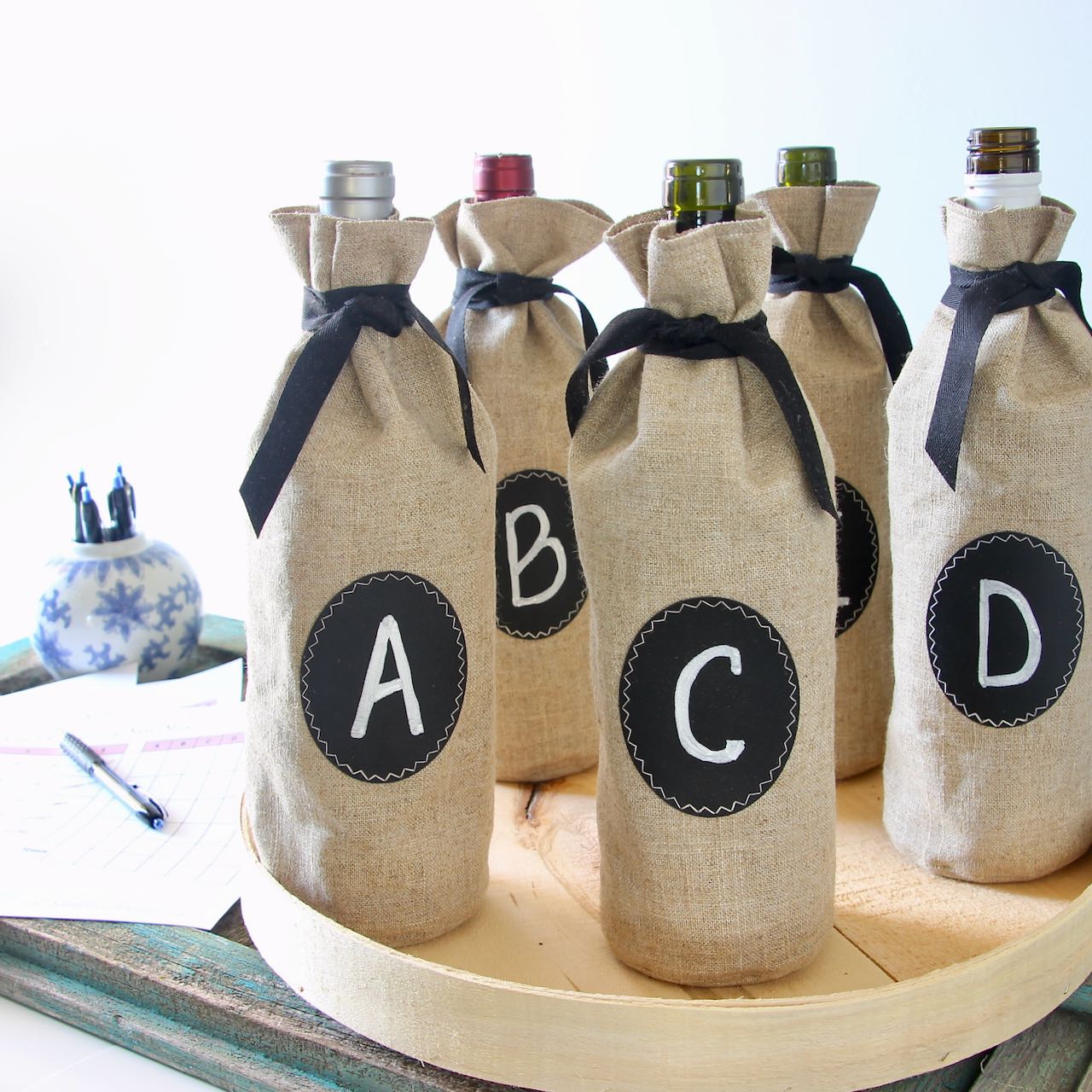 There are those who take wine tasting very seriously and believe it's all about the wine. They know a Nebbiolo from a Bordeaux.
Frankly, I wouldn't know an Nebbiolo if it walked up and hit me on the head. But don't get me wrong. I appreciate a nice glass of wine. But sometimes wine isn't just about the bouquet or the year. It's also about enjoying friends, making new friends, conversation and lots of laughs; which of course is often directly proportionate to the amount of wine served. Just saying . . . . .
So if you are one of those diehard wine-oisseurs, stop reading. This post is NOT for you.
OK, for everyone else…here are the steps to hosting your own wine tasting. Provided you follow a few guidelines, it can be one of the easiest parties you throw all year.
Sounds great, right?
But, I get it!
You're busy right now.
And you need to look at your calendar, and maybe check in with a few friends.
So pin this to your Party board
Or to your Friends board,
Or to your Wine Tasting board (if you have one of those),
Or to whatever board makes sense for you, so you have it handy when you're ready to get started.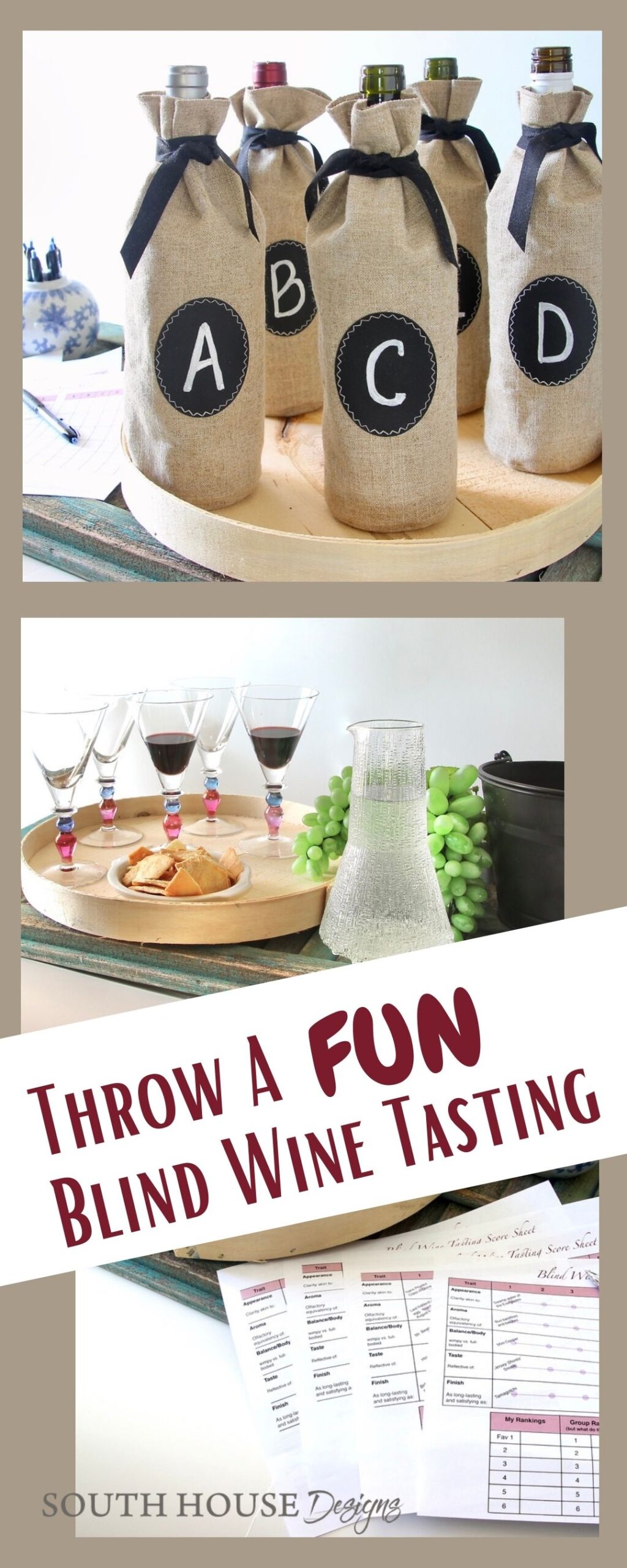 1) Every Good Wine Tasting Party Starts with the Wine
Pick a Theme For Your Wines:
Such as a Varietal  (merlot, sauvignon, pinot, etc.) or a region (such as Australia, Napa, Missouri, etc.). Be as broad or as narrow in your theme as you want.
Choose from 4 to 6 different wines that fit your theme. For example, pick 6 different Chardonnays from all around the world or just different points in the United States; or 6 different varietals of wine from the same Australian winery; or perhaps 6 different chards from Napa from 2006. Mix it up, make your own rules, have fun!
How Many Wines For Your Wine Tasting?
I've heard of tastings with ten or even twelve varieties, but these are probably for the experienced wine-oisseurs. Most regular Joes and Janes who enjoy wine tend to stick with six different wines as the max. Beyond that, our tastebuds get overwhelmed and it's really too hard to tell them apart.
How Many Bottles of Each Wine?
A 750ml bottle is 25 ounces. If you want to serve only tastings of two-ounces, you'll be able to serve 12 people with one bottle. If you want to offer more generous six-ounce servings, like if you were in a restaurant, you'll serve just four to five people per bottle. Maybe somewhere in the middle, a four-ounce serving is right for you. If you are having more than six people, consider buying two bottles of each wine you are tasting. Of course, if you are tasting four wines, you can offer larger serving sizes. Do your math, and it never hurts to buy extra, right?
Sounds too expensive? I've got you covered!!! Be sure to watch for a great alternative at the end of this post. It spreads the cost around and also makes for a bit of fun competition.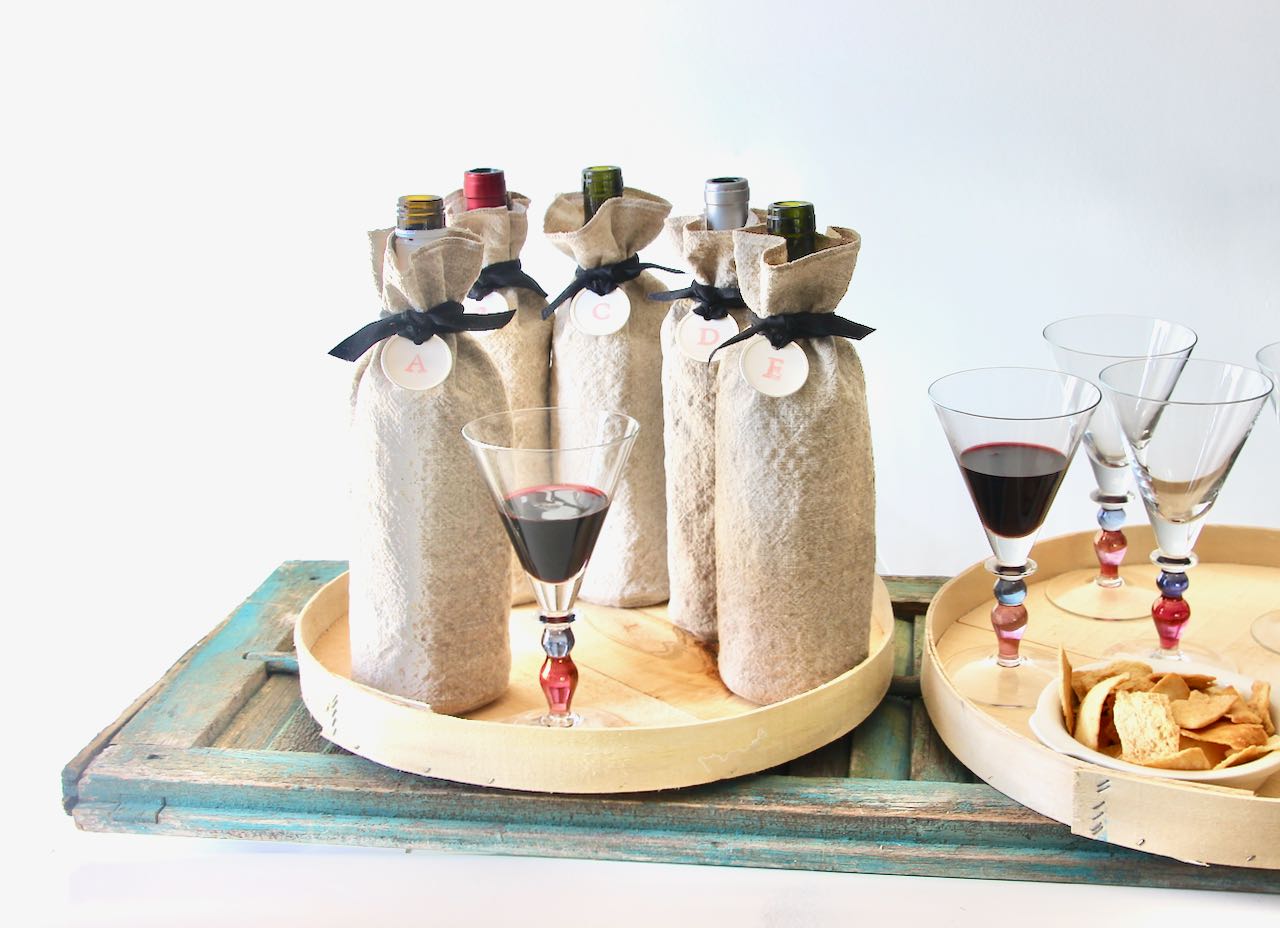 2) Make it a Mystery or Blind Tasting
Bag & Tag 'Em
Everyone loves a great mystery, right?
It's certainly true with wine tastings.
Bottles need to be disguised, so they won't influence the grading. And a little mystery is just plain fun. A brown paper bag will certainly do the job. But why not elevate your wine offerings, and your party, just a bit? Check out these reuseable (because you know this will become a repeat-by-demand gathering) linen wine bottle bags. One version has chalk cloth labels stitched on, the other are washed linen bags and you can make your own labels to match your style. B-t-w, they also make great vase covers and gift bags.
HINT: label the bottles using letters since the grading is numerical. After tasting numerous bottles of wine, too many numbers often leads to too much confusion.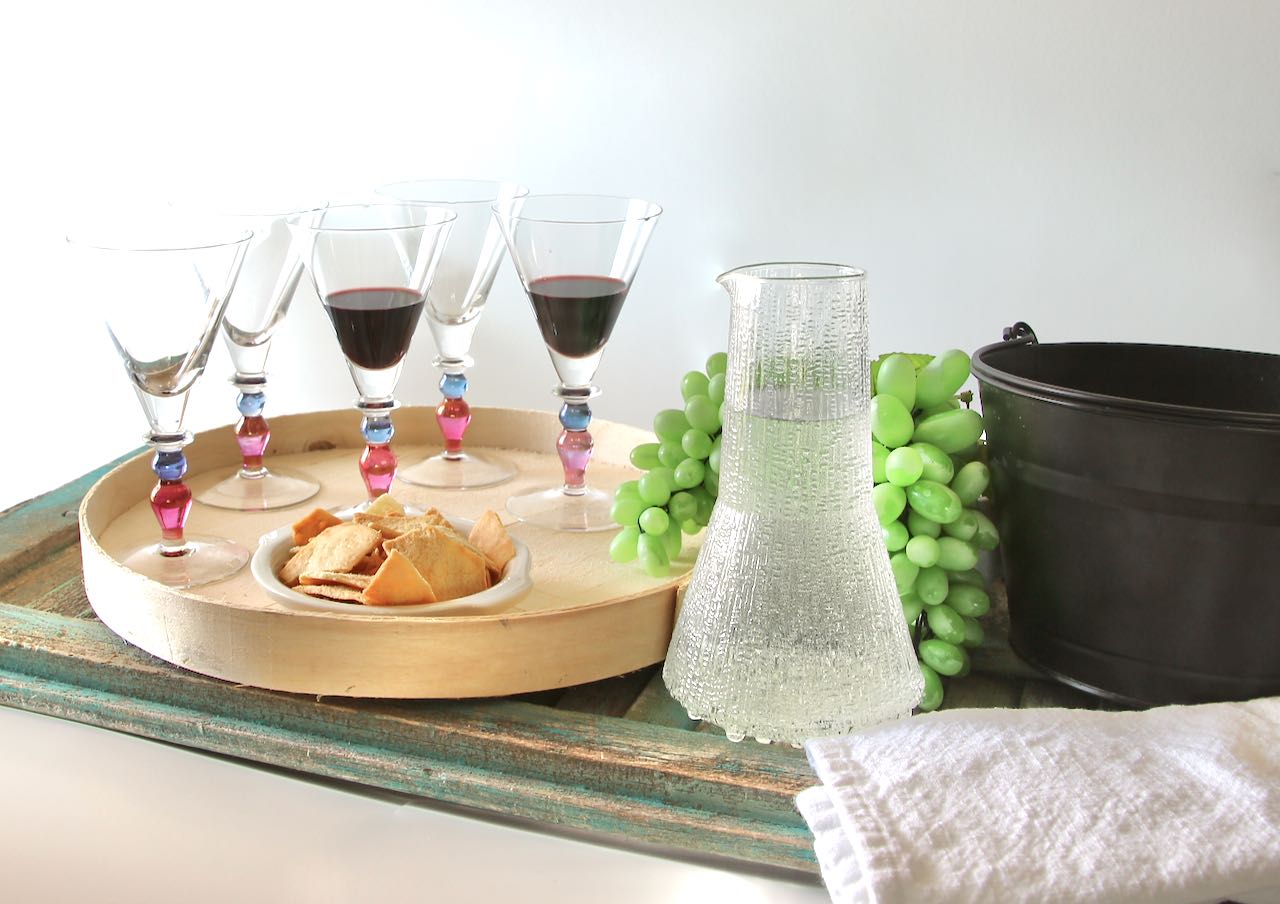 3) What Else Besides the Wine?
Glasses – Use clear wine glasses with full bowls for swirling without spillage (we hope).
Water and bowls – Have a pitcher(s) of water with bucket(s) or large bowl(s) handy to rinse glasses between tastings. Dish towels, to give them a quick dry is also appreciated.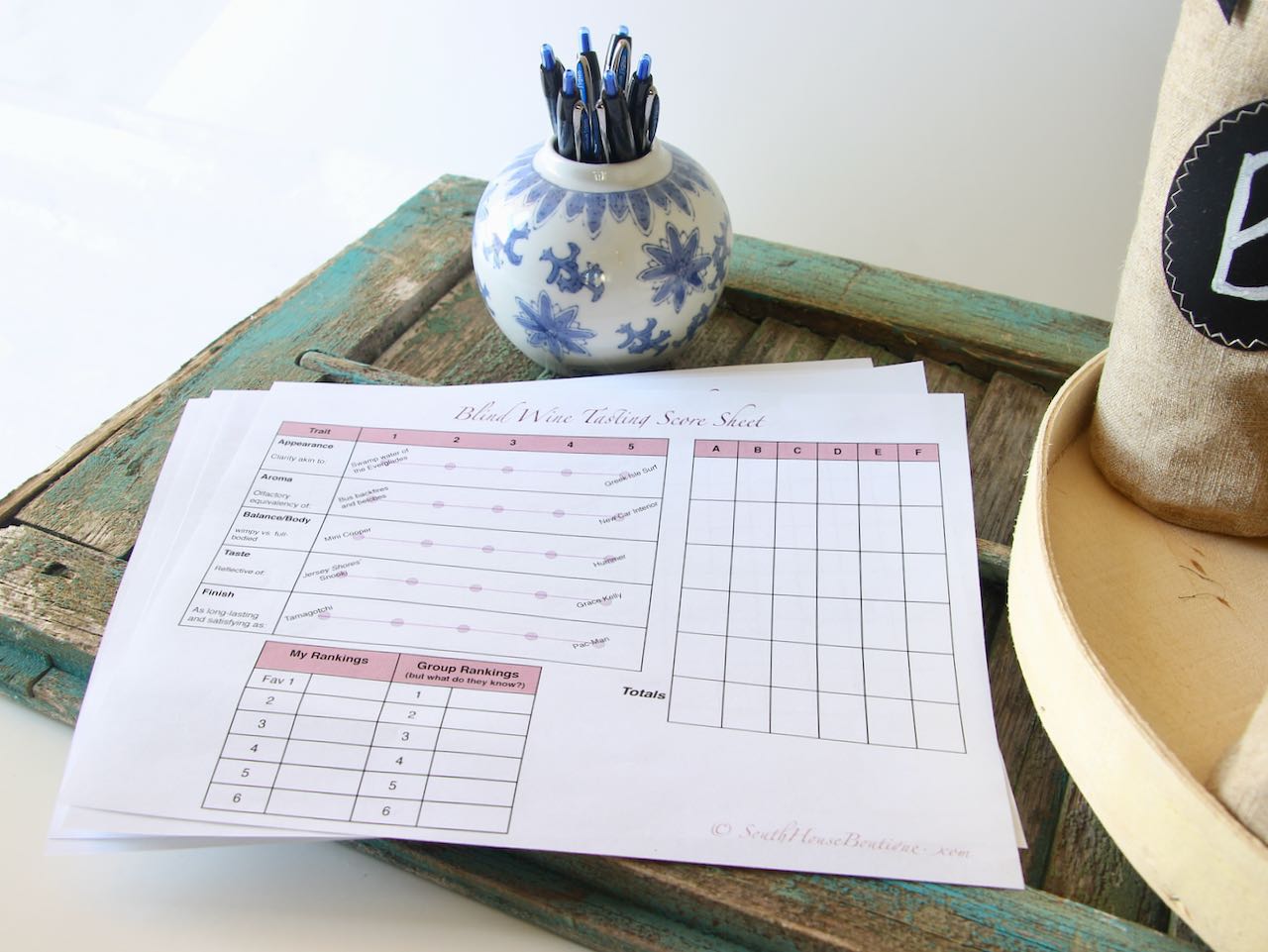 4) How to Judge the Wines?
Scorecards
These can be as simple as a blank note card where each guest rates the overall appeal of each wine with a single number score of 1 to 10; or a standard "wine-y" scorecard with the five main attributes evaluated, assessed and assigned a score; or my personal favorite – a set of four different pop culture scorecards I developed to guarantee lively conversation and lots of laughs!
With this set, the standard five wine attributes are assessed against pop culture measuring sticks. I certainly find it much more entertaining to judge the overall taste against the likes of Howard Stern versus Michelle Obama or Snooki versus Grace Kelly. And its clarity: closer to the plot of Lost or Gilligan's Island? You get the idea.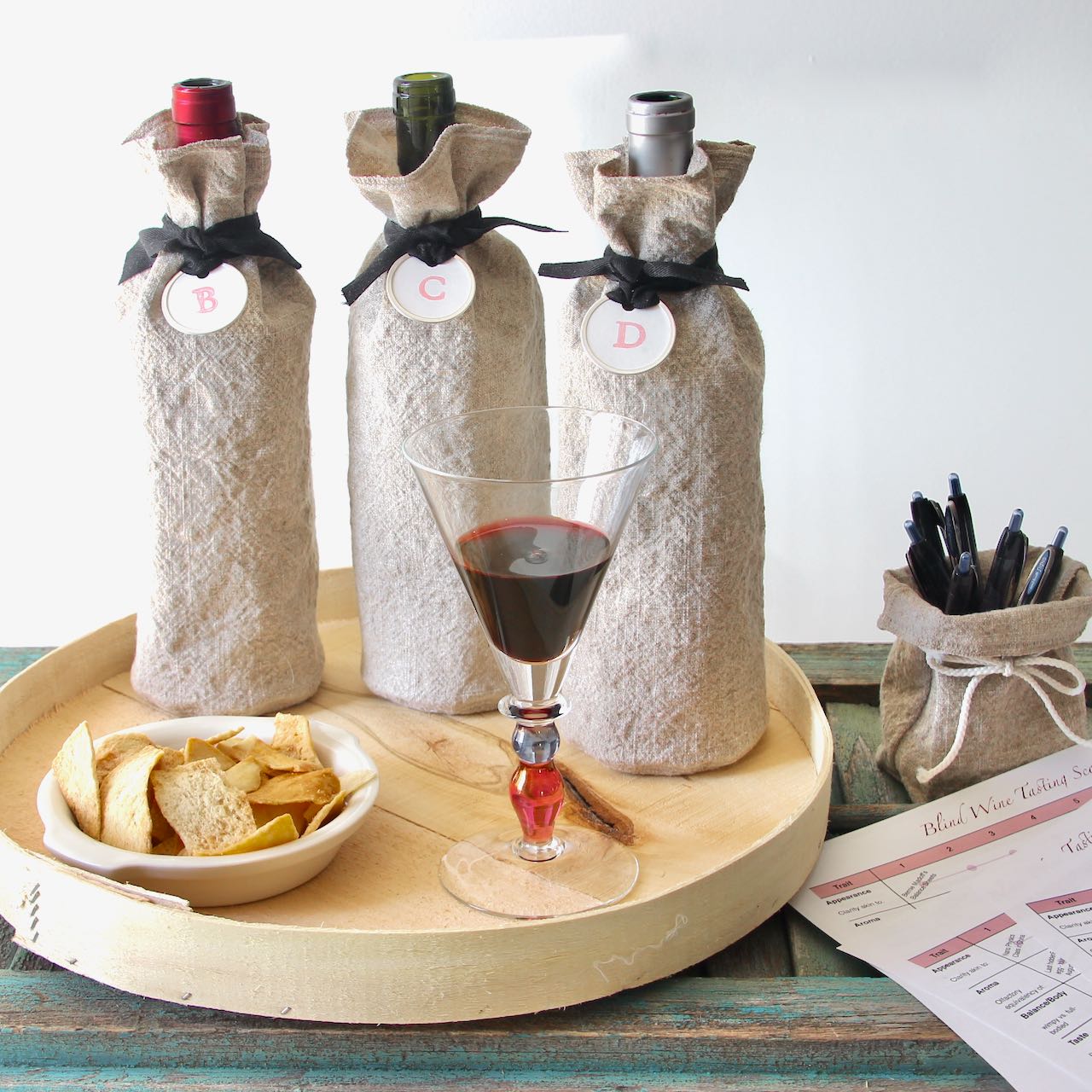 Simple is best! Let the wine be the stars.
Bland crackers are great to cleanse the palate during the tasting, but surely something a bit more substantial would be welcomed once the initial tastings are done. And something more substantial is always good when drinking.
Traditionally, fruit and cheese are served. And these can be served during the tastings, with a heartier charcuterie board and maybe a light dessert tray offered after, while the scores are being tallied and before winners are announced.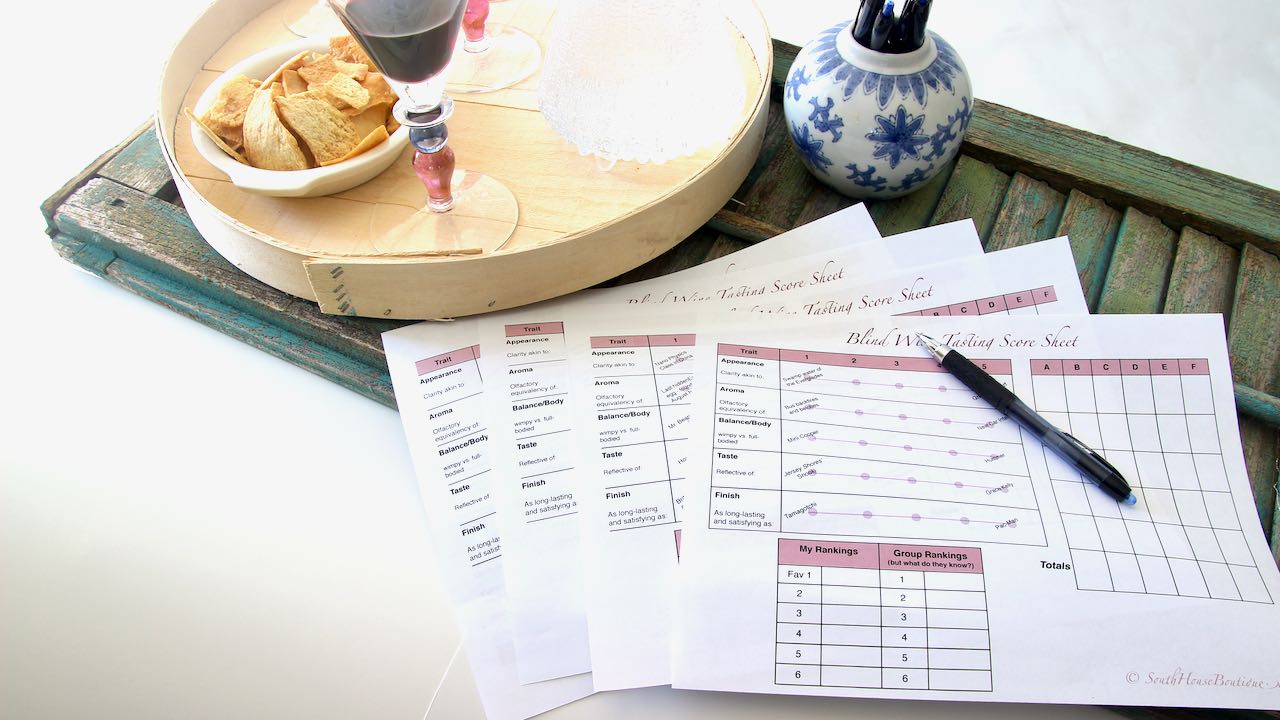 If we're scoring, that means there needs to be a winner right?
You can tally up the scores and announce the winning bottle of wine. You can take it a step further and announce the winning guest based on how well they ranked the bottles of wine compared with the group rankings.
With winning come prizes, right?
Let's look at some options for fun prizes:
***affiliate links may be included. This means if you purchase something after clicking on one of these links, I may receive a small commission. You pay the exact same either way. And, I ONLY suggest items I believe in!
I LOVE a great blind wine tasting. They are so much fun and conversation flows easily even with new acquaintances, especially with the pop-culture scorecards involved. The wine (and the scorecards) provide the entertainment — with a background play list, of course.
The food is easy — start with crackers, some cheese and fruit. And then have a tray of something heartier and sweeter on hand for after the tastings.
The only down-side, is that it can get a bit expensive for the host. So why not turn the wine selection into a competition?
The host picks a theme with each guest (or couple) bringing a bottle that fits that theme. Each bottle is secretly bagged and tagged.
Yes, in some cases it is possible to distinguish your bottle from the rest by the bit of neck exposed at the bag's opening. So here's a hint if you feel compelled to thwart the hyper-competitive guest. Pour his or her wine into an alternate clean and dry bottle, then bag and tag this alternate bottle. Hah! Continue with the tasting as before, and when the scores are all tallied, uncloak the bottles and award a prize to the person bringing the top-ranking wine.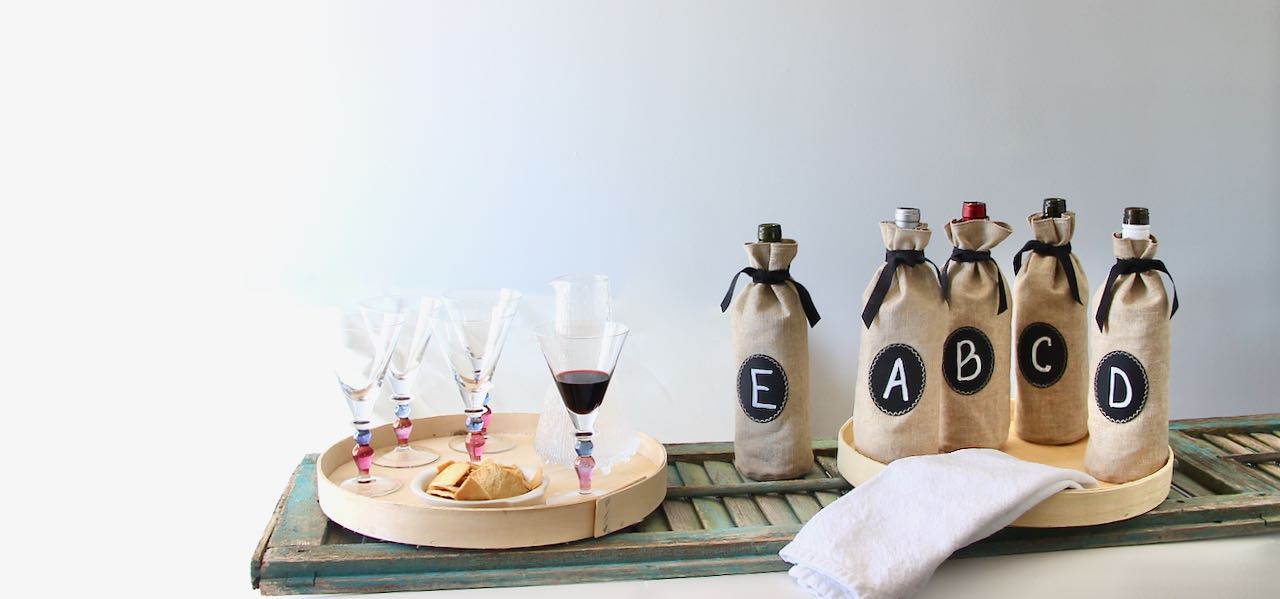 The best thing about wine tasting among friends (and even new acquaintances) is its light-hearted atmosphere. It's about fun, laughter and enjoying each other's company … and a good glass of wine.
We've missed being in the company of good friends for so long! Honestly, I can't think of a better gathering to mark the beginning of the end of our lockdown lives. My two favorites: blind wine tastings and game nights.