Overhead Garage Storage DIY
Fair warning: ​I am serving up a heaping helping of storage envy today!
But because you are my friends, my buddies, my people, I'm also serving up the How-To so you can DIY your own.
This overhead storage rack — conveyor belt style — is the B.E.S.T.!!!
The Vision for my Overhead Storage
We all know when you need more storage look up!
My new studio (actually a repurposed garage) has wonderfully high ceilings which makes for great light and great storage.
In the middle of my brand new outside wall is a bank of three big, beautiful windows. So this feature dictated how low I could start my storage. This shelf needed to store the tubs of the remaining scraps and remnants from all the retired Christmas stocking groups over the years.
See, I like to offer my "Stocking Families" the added value of continuity. I protect their investment by offering Add-On Christmas stockings. As their family grows I will craft a stocking for each new member that blends right in with their original stockings. To do this I have to hang on to all those remnants and scraps (and keep them organized and somewhat accessible.
However, these tubs can be quite heavy, and I'll need to climb a ladder. So this was going to require something special.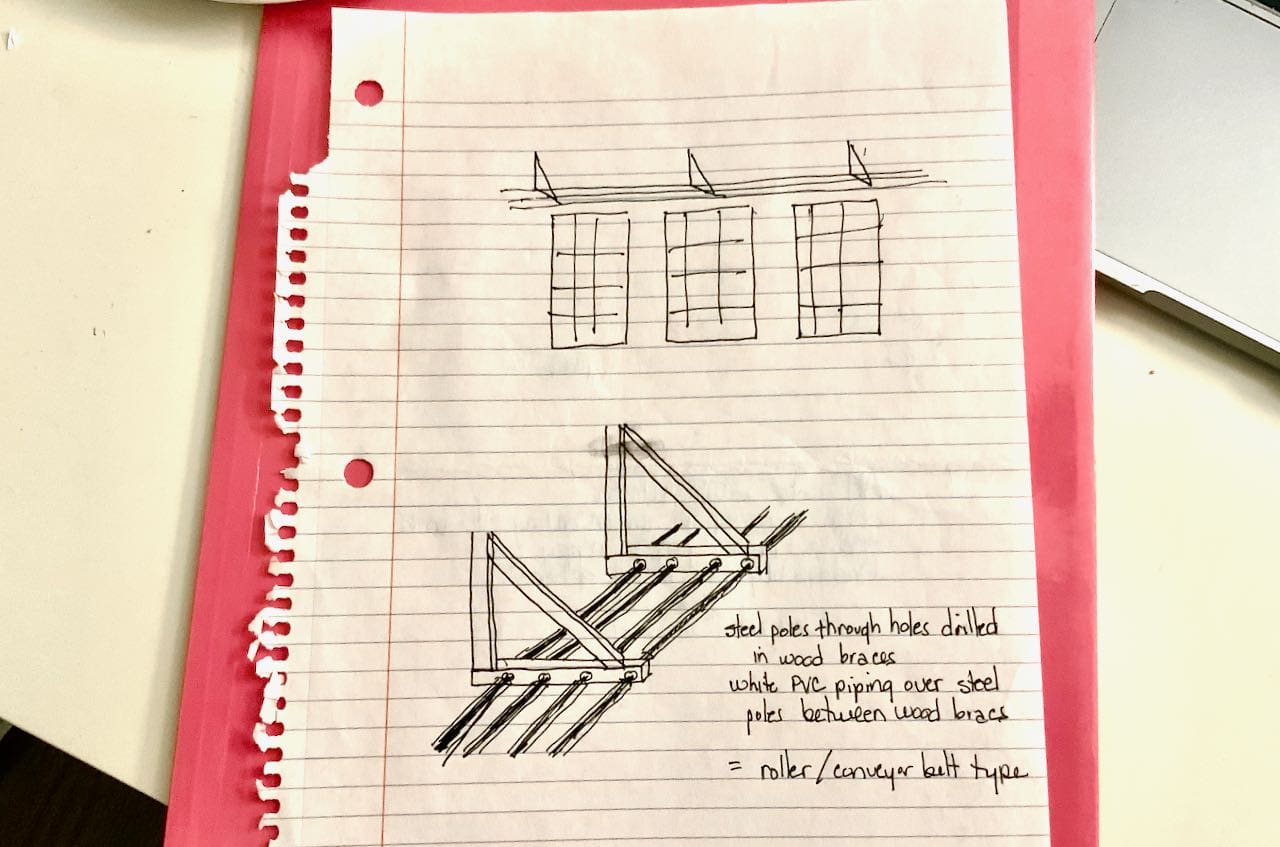 The Plans for our Overhead Storage:
I knew I did NOT want a solid base. That collects debris and potentially creepy crawlies. I do NOT like creepy crawlies!
When I thought about steel pipes to act as the base, it got me thinking of conveyor belts and boxes just seem to roll on and off them so easily. That's what I wanted. That same ease of loading and unloading.
Let's make sleeves for the stationary steel pipes from PVC pipes making a conveyor belt system of my own.
Brilliant, right?
And while we're on the subject of brilliant storage hacks, you must check out what I did with our hulking HVAC unit to solve another storage dilemma. And don't miss how I hacked these Ikea cabinets for extra depth. And two more organizing posts for the kitchen, one maximizing and organizing a walk-in pantry and another on the best way to organize spice jars.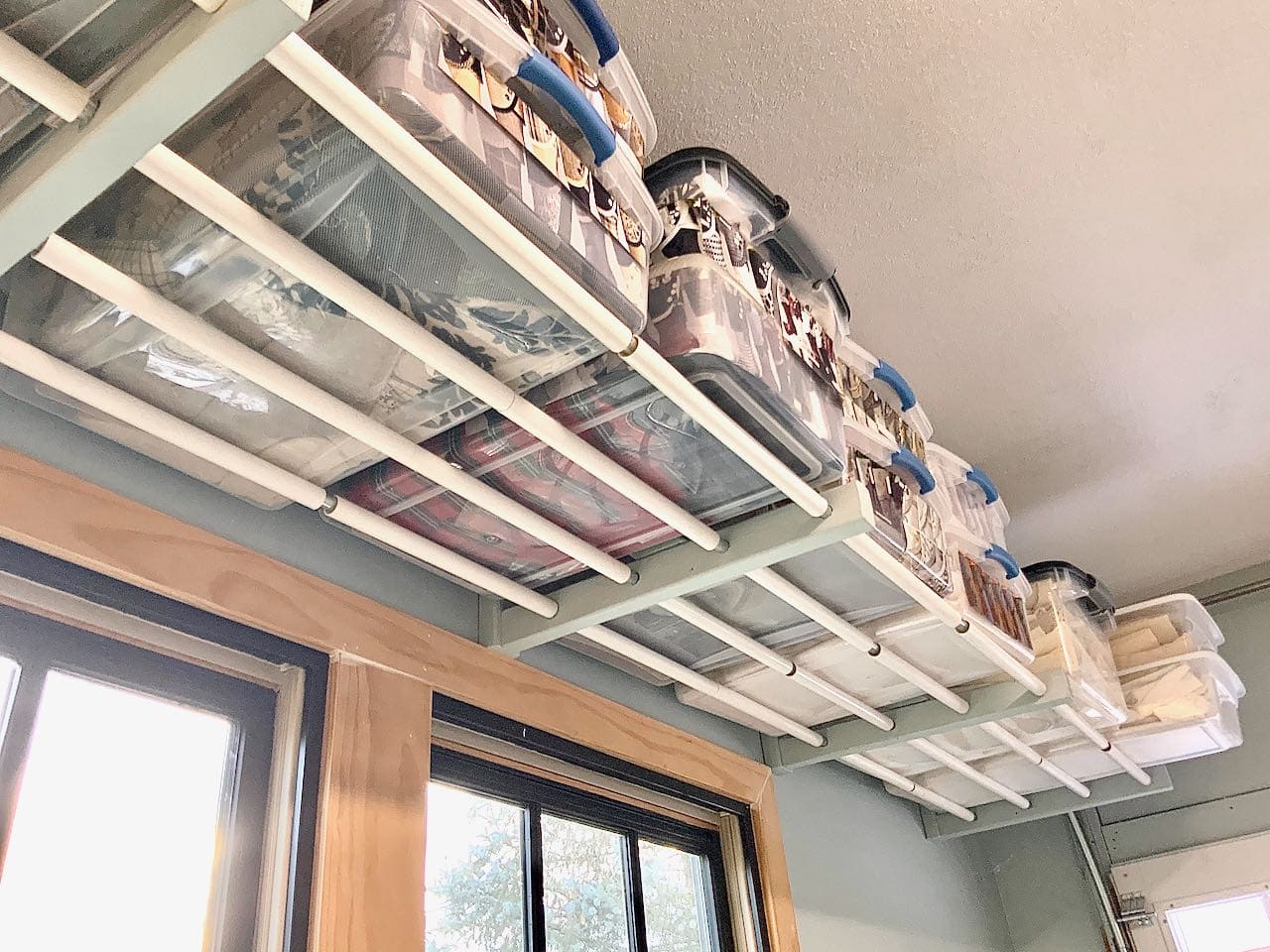 How We Built Our Overhead Garage Storage
At this point it's a matter of taking measurements — of the space, AND the tubs I want to store on them.
With the curve of the overhead door track, the most I could fit with wiggle room for loading and unloading would be twelve stacks of tubs.
Next, we determined the placement of the brackets assuring that two stacks of tubs would fit between each.
Based on your space and what you want to store on your shelves, start with figuring the height, the length and the depth of your storage and the number of brackets. Cut your horizontal pieces, vertical pieces and the diagonal pieces for your brackets. Optionally, sand and paint them. Mark the placements on the wall.
Determine the hole placement in the horizontal pieces for your steel pipes. Your holes need to be exact, so create a jig out of a thin board and drill through all the horizontal boards EXCEPT two of them. Your two end brackets have their four holes drilled just partway. This will keep your steel rod held taut.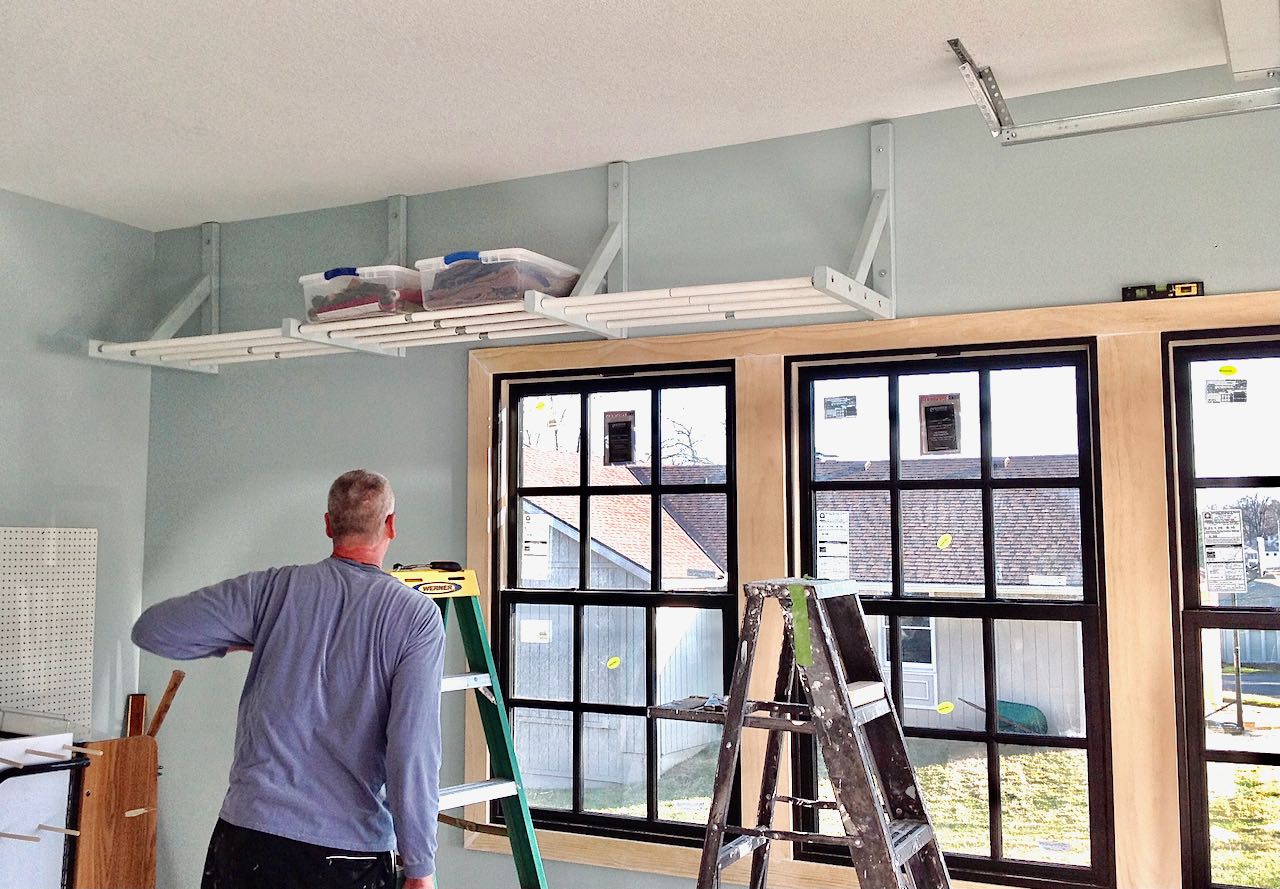 Based on the length of our shelves, we used two sets of steel pipes.
Start at the end furthest from the overhead door. Install the first bracket with the partially drilled holes. install the next bracket and the next (in our case). Testing with a steel pipe as we went to make sure the holes lined up as needed.
Thread the steel rods through each bracket adding two PVC pipe sleeves between each bracket. Then two more PVC sleeves and the fourth bracket (the middle one in our case). Then install  the middle bracket and proceed with the last set of steel pipes.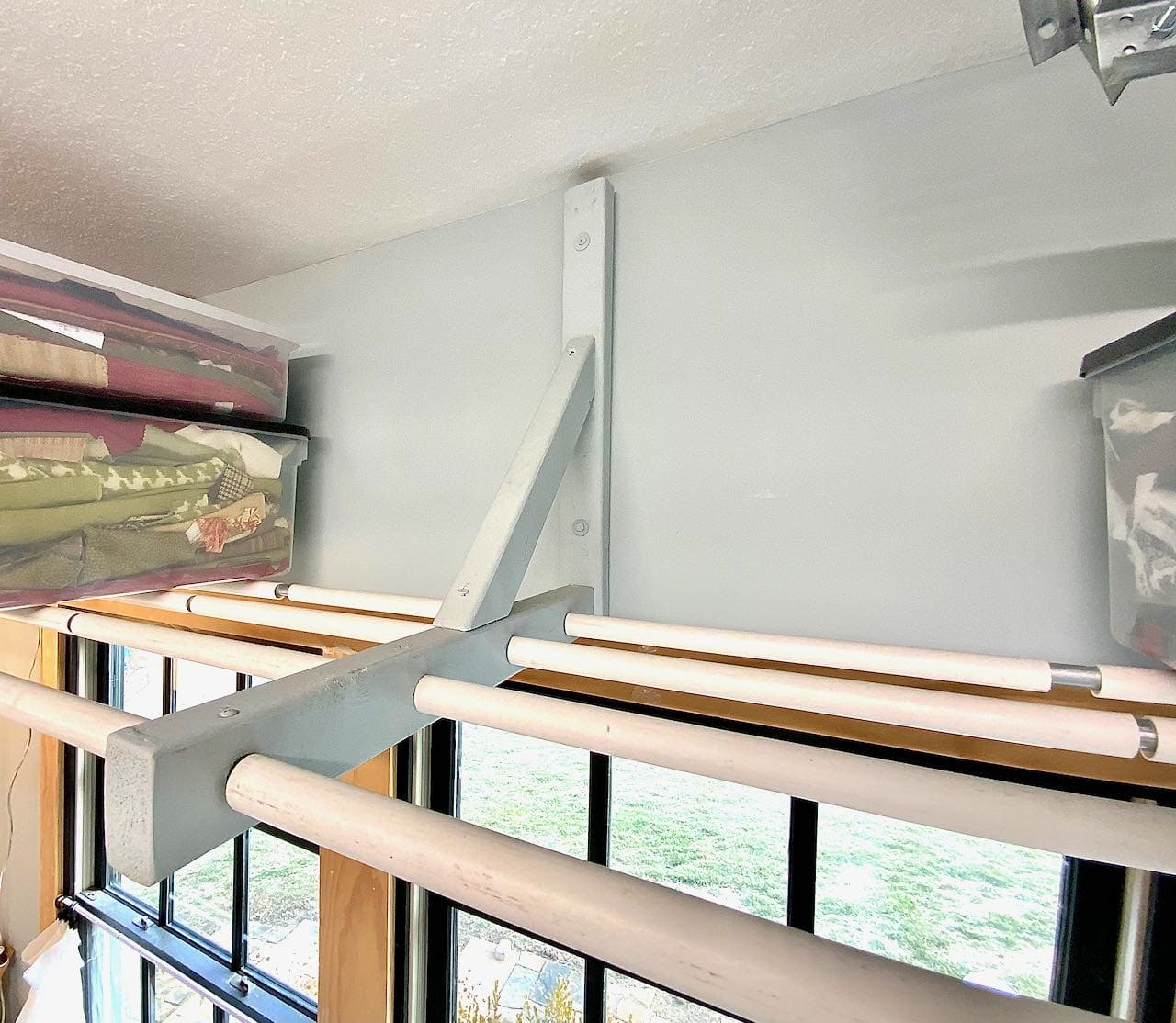 NOTE: we used two shorter lengths of PVC between each bracket because of two tubs. If you are storing one large cooler, or a wide Christmas tree box, you may just use one PVC sleeve. Customize it to your storage needs.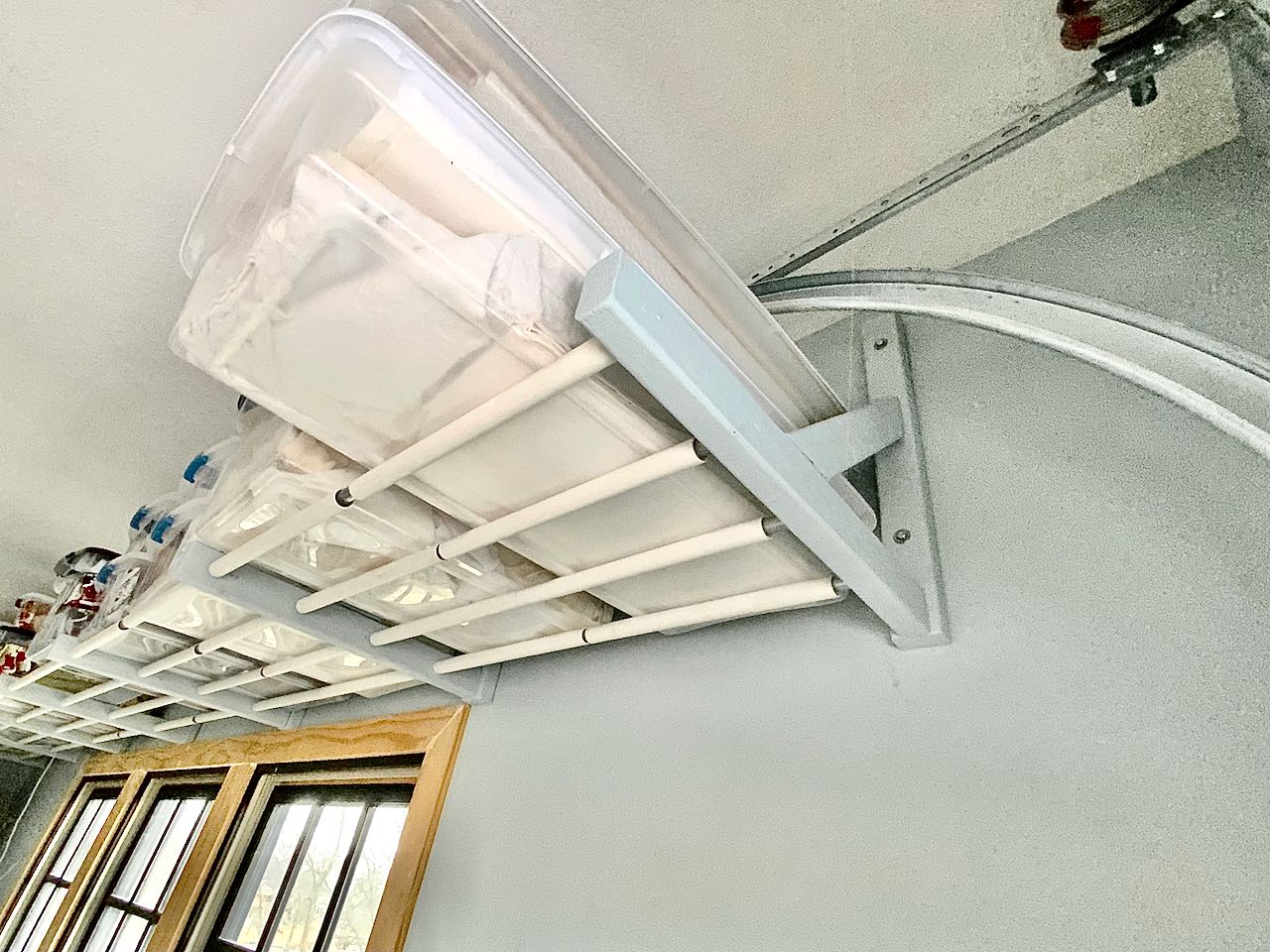 Your end bracket should be like this with the holes drilled only partway through the horizontal part of the bracket. This keeps the steel pipes firmly in place.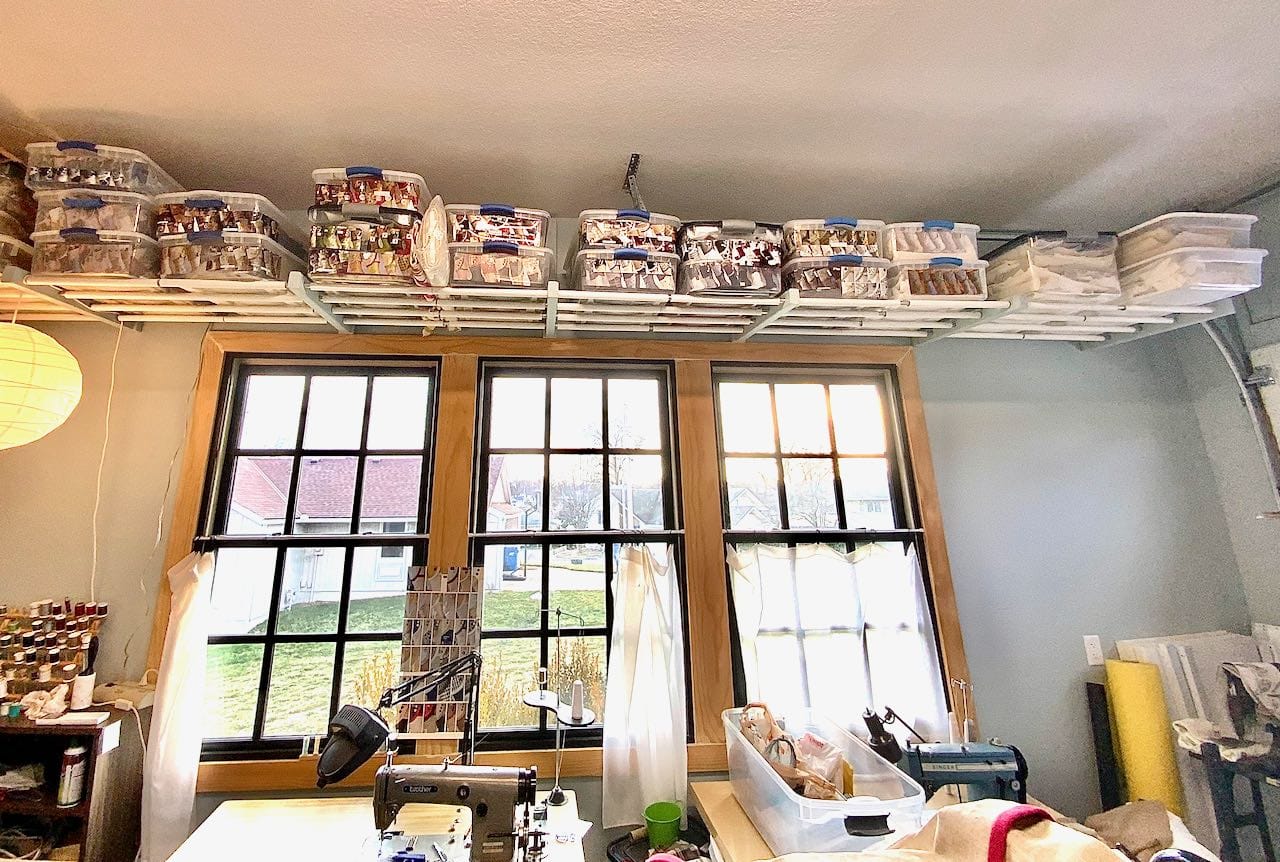 I've been using these for over 2 years now and they are exactly what I needed.  "Easy" access to these tubs. But it's not daily so they also need to be out of my way. 
I am four steps up the ladder and these tubs are heavy, so the conveyor belt system has been amazing for me. They roll on and off with ease!
Maybe if I could come up with a robotic crane, I could eliminate the ladder all together. Stay posted. You just never know 😉.