How To Transform Your Yard With Modern DIY Landscape Lighting
Add inviting style (and safety) to your home with modern landscape lighting. It's easy, affordable and oh so effective! Read on for all the details.
When you're looking to improve your home's outdoor space, landscape lighting can be a great way to add some pizzazz.
By adding simple and affordable modern lighting fixtures, you can create a yard that is both stylish and functional.
In this post, we'll show you how to get started with modern landscape lighting. You'll find tips on choosing the right fixtures for your needs, as well as instructions for installing them yourself.
So whether you're looking to light up your garden paths or create an inviting atmosphere for guests, read on for all the information you need to get started.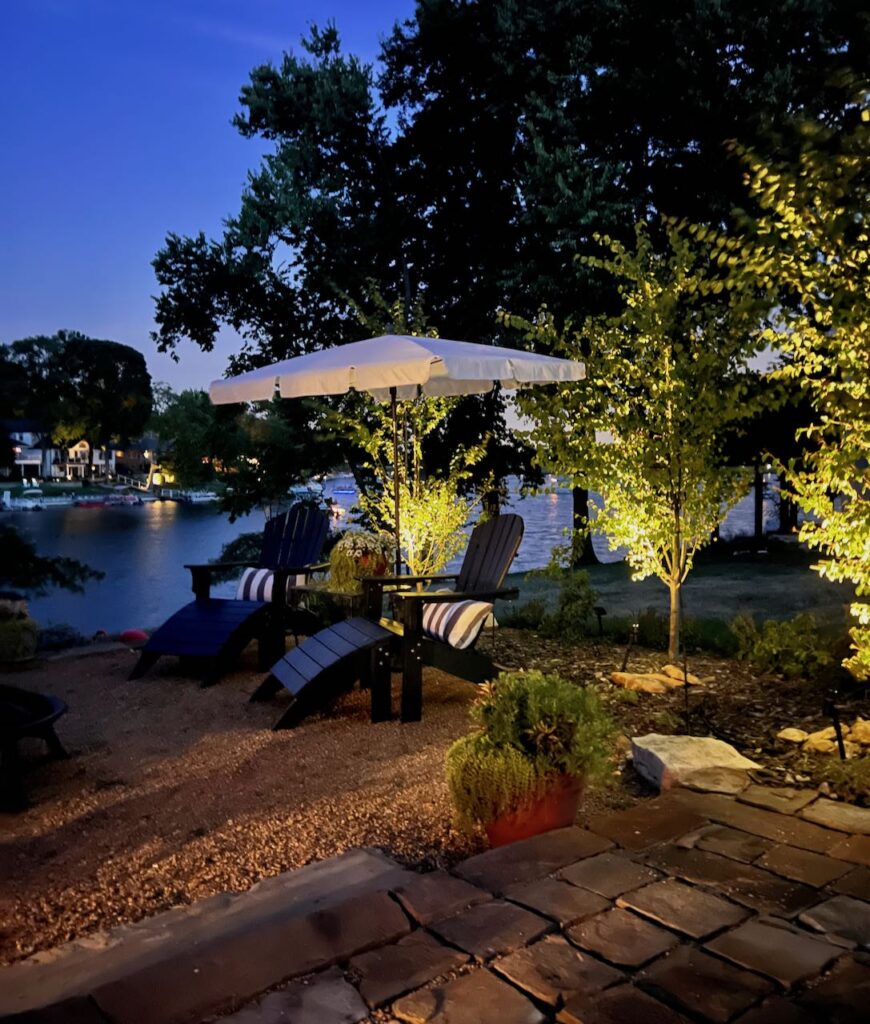 Landscape Lighting Options-
In general, today's landscape lighting falls in two general categories: low voltage and solar.
Because I am all about saving money, easy DIY's, and sustainability, I am only focusing on solar landscape lighting. It checks all three boxes!
Yes, low voltage can be diy, but it's not as easy. By the time you pay for a transformer and all the cable in addition to the fixtures themselves, you'll find solar a more budget-friendly alternative.
The Advantages of Solar Lighting-
Solar lighting has become increasingly popular in recent years as the technology has improved, becoming a modern and environmentally friendly alternative to traditional outdoor lighting
Landscaping solar lights are:
Powered by energy from the sun, even on cloudy days
Sustainable, not requiring any electricity or batteries
Very easy to install, as they do not need to be connected to power very
Very versatile bringing style and safety
It's an excellent choice for anyone looking for a modern and sustainable solution to their outdoor lighting needs.
Are Solar Powered Lights Any Good?
Yes, solar lights are environmentally friendly, and easy to install.
But are solar landscape lights any good?
Overall, solar lights are a great option for modern landscape lighting. The technology has made great advances and are more reliable, produce more light and hold up longer than the solar lights of days gone by. Plus, there are attractive options now. You no longer have to have orange tiki torches everywhere if that is not your style.
How Do Solar Powered Lights Work?
How Do Solar Lights Know When to Come on?
Most solar lights have a light sensor that tells the light when it's dark out. That's why they automatically turn on at dusk and turn off at dawn. The light sensor is usually a small knob or switch that you can find on the back of the light. If you want your solar light to come on during the day, you can set the switch to "on." This will override the light sensor, and the light will stay on all day.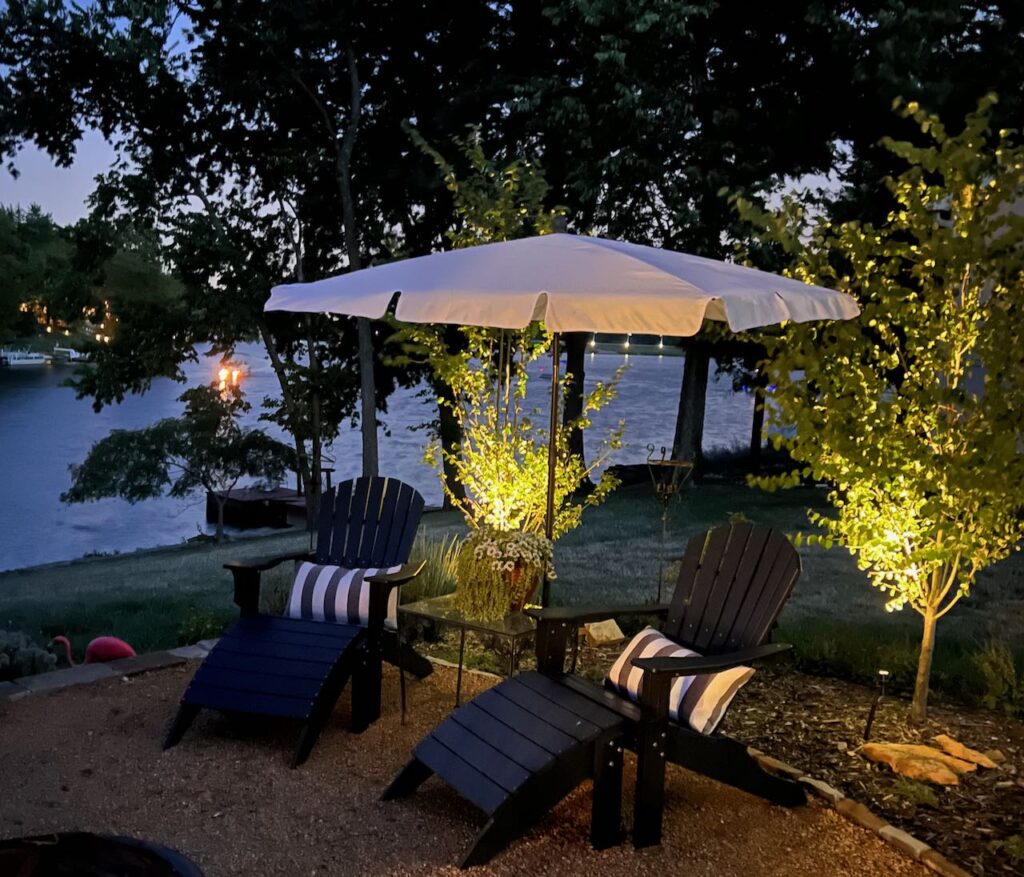 Do Solar Lights Work Under Trees?
You may be wondering, do solar lights work under trees? The answer is yes… and no. If the solar panel on the light is in direct sunlight, then it will charge up just fine and the light will work as usual. However, if the solar panel is shaded by leaves or branches, then it won't be able to fully charge up and the light won't work as well, depending on the depth of the shade.
Solar lights still work with cloudy days. There is generally enough sunlight to recharge the battery to power on the light for at least part of the night. Ours worked fine all through the winter months. The lights just did not stay on past maybe 2:00 or 3:00 am.
There are some new solar lights that are designated Solar Shade lights and claim to still work well in shaded areas. I have not tried these, so I cannot speak to how effective they are.
But this is what works beautifully for us with both form and function:
I chose to use only lights that have a remote photocell. The photocell is connected to the light with a thin cord that is typically between 3 and 10 ft long. This cord is very easy to hide under mulch or between rocks in your landscaping beds.
Why do I LOVE them?
I much, much, much prefer the clean, modern look of these!
I can hide the photocell in a less noticeable spot that gets more direct sunlight.
More attractive and more efficient. It's a win-win!
In the pictures above, the photocell is about 8 feet away in the cutting garden where it gets plenty of sun, but is not front and center in my more formal landscaping. The lights are streamlined and modern looking and tucked into the ornamental grass as each step of our stone pathway.
Not only are they functional, but they look gorgeous in their supporting role of making the landscaping shine and the steps safe at night.
The up lights for our patio trees are a different brand, but same idea. The photocell is tucked away on the South side of a young lilac bush, out of view of the patio yet in full sun. The trim, modern up light is about seven feet away below the tree.
As the planting in this new bed grows, because of the remote photocell, I can always position the up light on the tree perfectly without worry about direct sunlight.
Plus it doesn't detract from the landscaping.
I've pulled together some of our favorite solar landscape lights, so be sure to check them out. When shopping, don't forget about the remote photocell option – it's my favorite feature (actually, it's a requirement for me)!
The links in this post may include affiliate links, which means if you purchase anything using these links, you pay no extra, but I may receive a small commission that helps keep this blog running. I truly appreciate you using affiliate links whenever possible. Please know that I will never recommend a product I do not believe in!
What to Look For When Buying Solar Lights-
Color
Brightness
Spot vs. Flood
What Color is Best for Landscape Lighting?
Landscape lighting is a great way to add beauty and safety to your home. But with so many different colors of light available, it can be hard to know which one to choose. Here are some things to keep in mind when selecting the perfect color for your landscape lighting:
Kelvin: The kelvin scale is a way of measuring the color temperature of light. Warm white light has a lower kelvin rating (around 2700K), while cool white light has a higher kelvin rating (4000K or higher). So if you want your landscape lighting to have a warm, inviting feel, go with a lower kelvin rating. Sometimes, cooler light can give an eery, unnatural appearance.
Color Changing: Many landscape lights now come with the ability to change colors. This can be a great way to create different looks for different occasions. For example, you could have white lights for every day use, but then switch to red and green for the holidays; or to red and gold (just saying) to celebrate your favorite team.
Tree Lighting: One popular way to use landscape lighting is to highlight trees. Up-lighting, where the light shines up from the ground onto the tree, can create a dramatic effect. Another option is flood lighting, where the light is mounted on the tree itself and points downwards.
Pathway Lights: Pathway lights are another great way to add safety and style to your landscape. These lights can be mounted on stakes or placed along the edge of pathways. For a classic look, go with traditional warm white pathway lights.
Stake Lights: Stake lights are small, discreet lights that can be placed anywhere in your landscape. They're perfect for adding accent lighting without drawing too much attention. You can find stake lights in just about any color imaginable, so experiment until you find something you love!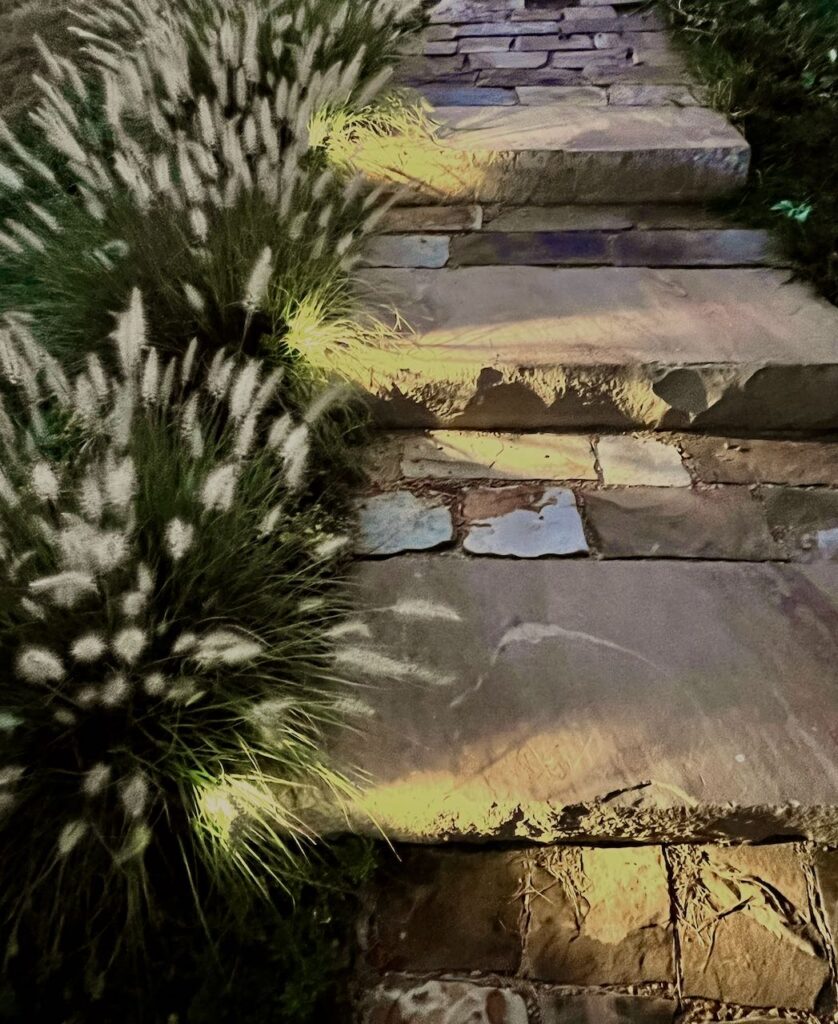 How Bright Should the Light Be For Landscapes?
Have you ever wondered how much light is too much light for your landscape?
Alternatively, have you ever found yourself asking if you could get away with using less light? Here are some guidelines to kelvin, wattage, and lumens that will help answer those questions!
The kelvin scale is used to measure the color of light. The lower the kelvin number, the warmer the light will appear. For landscaping purposes, it is typically recommended to use lights with a kelvin rating between 2700K and 3000K, but you can go up to 4000, particularly when uplighting a tree.
Lumens measure the amount of visible light emitted by a lightbulb. It is typically recommended to use bulbs with a lumen rating of 800-1000 lumens for landscape lighting. 1000 lumens is roughly equivalent to 20 watts.
By following these guidelines, you can ensure that your landscape is properly lit. Guidelines are exactly that — guides. Not hard and fast rules. Keep your home, your landscaping and your style in mind also.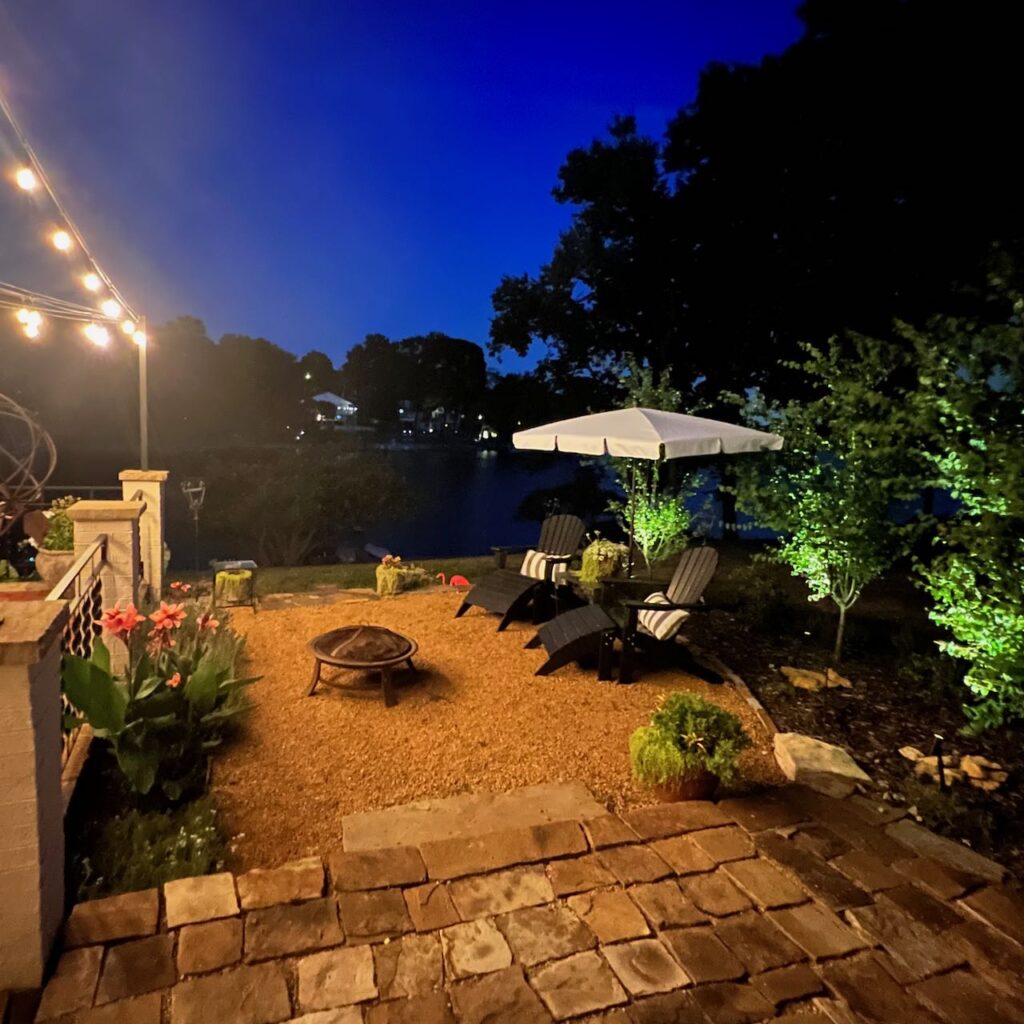 Spot or Flood? Does it Matter?
When it comes to outdoor lights, there are two main types: spotlights and floodlights. So, which is better for your landscaping?
Spotlights are ideal for illuminating specific areas or objects, such as a statue or flower bed. They can also be used to create dramatic effects by spotlighting a tree or other feature. Floodlights, on the other hand, provide a wide beam of light that can cover a large area. This makes them ideal for security lighting or for lighting up a walkway or other path.
Both spotlights and floodlights have their advantages and disadvantages. It really depends on what you want to use the solar lights for. If you're not sure, it might be best to get a mix of both so you can experiment and see what works best for your particular landscaping.
The lights we used to uplight our trees have a focus ring that you turn to increase or decrease the spread of light. As our baby trees grow bigger and wider, I'm planning to open the lights to spread wider to light the entire "wall" of foliage we are hoping for.
That is a nice feature you may want to consider also.
Those String lights over our brick courtyard? Aren't they fabulous?!?!. We are crazy about them. They are not solar. You can read all about them and how we installed them right here. And here is how we installed the stone step pathway, and the DG (Decomposed Granite) patio here.
If you're looking for a beautiful way to light up your yard or garden, solar landscape lighting is the best option.
Not only does it look great, but it also helps save money on your electric bill.
I hope this has inspired you to add landscape lighting to your yard. Your home, your guests and your neighbors will thank you!
As always, do not hesitate with questions, comments and feedback, I very much appreciate you!