Hang Curtains in Your Outdoor Spaces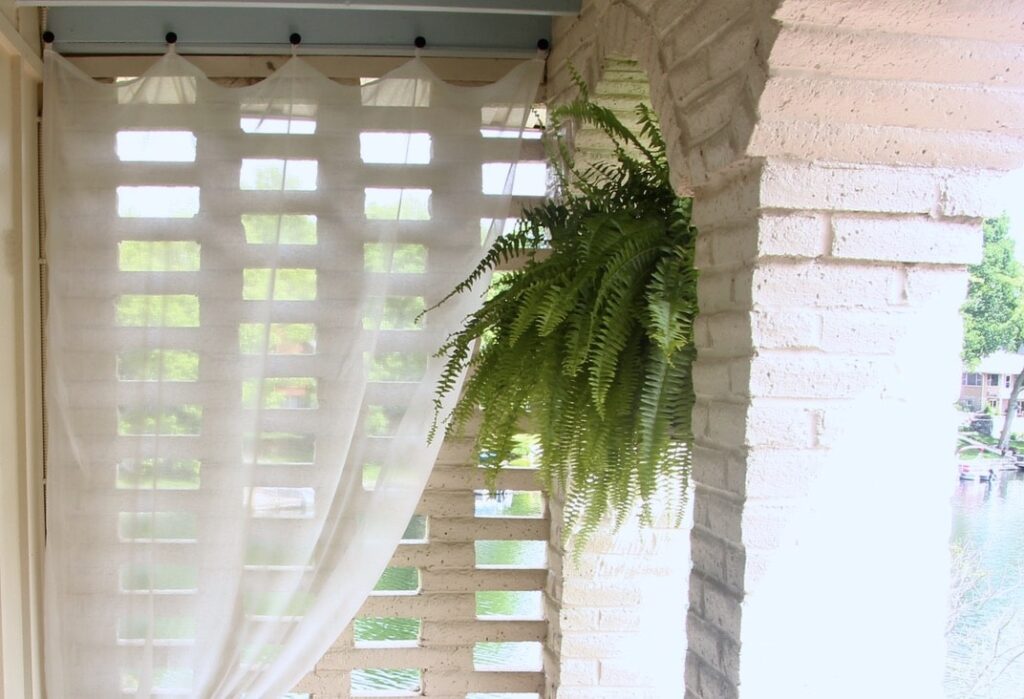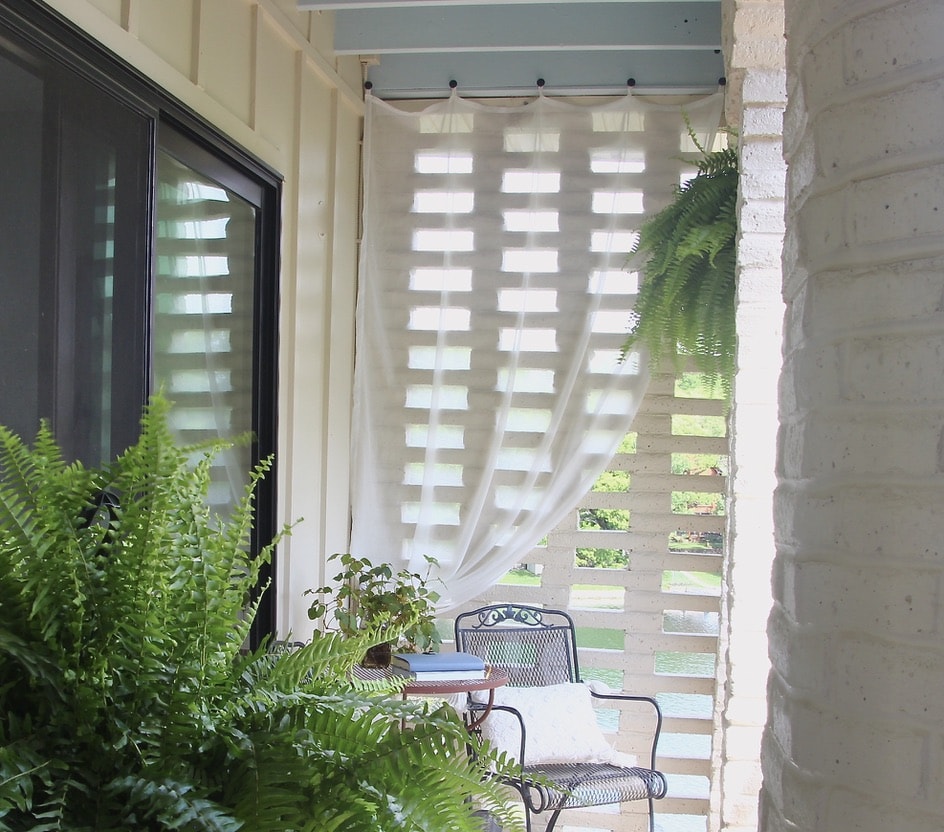 Just by hanging outdoor curtains your space is instantly elevated.
It's special…
it's charming
it's intimate
it's romantic
It has ambiance … and attitude! It becomes an oasis … your private resort!
Sheer curtain panels can obscure a less than desirable view and they can frame a stunning view. They say "special, cozy & private".
They're such a simple way to make a big statement, like here and here.
And it's not expensive. We're talking sheers here rather than heavy drapes and no expanse of rods are needed.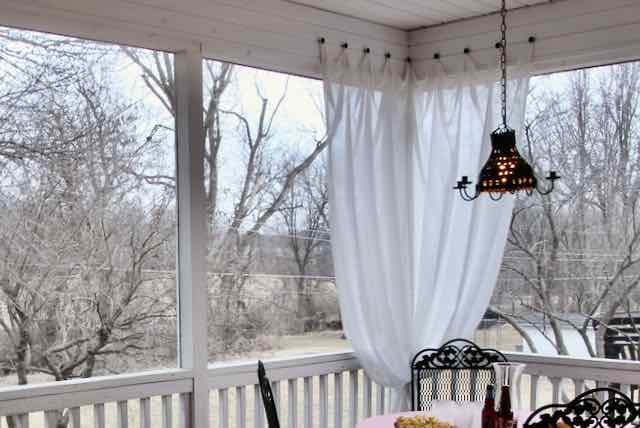 Adding indoor elements to outdoor spaces; think area rugs, lamps, wall art and yes, curtain panels, elevates the outdoor space to the same level as your indoor rooms. Let that patio-deck-balcony proudly throw back its shoulders and carry the same entertaining weight as any indoor room!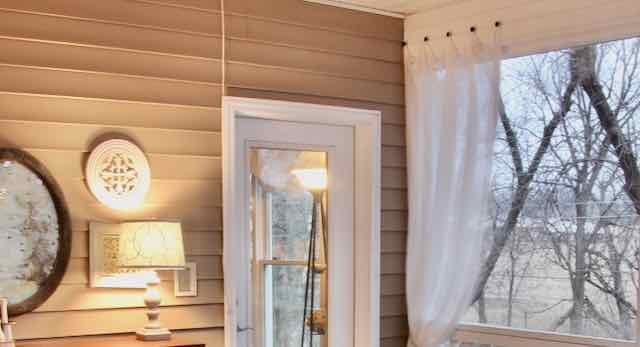 Our screened porch certainly carried the entertaining weight in our last house. (sorry I don't have good pictures of the sheers with the trees all green ?) That table lamp? It served us so well out there — made the porch a room, a very special room. You can read about how I made the lampshade.
But you're here to learn how to hang outdoor curtain panels. Don't have time right now? No worries. Pin this to find it when you need it:
=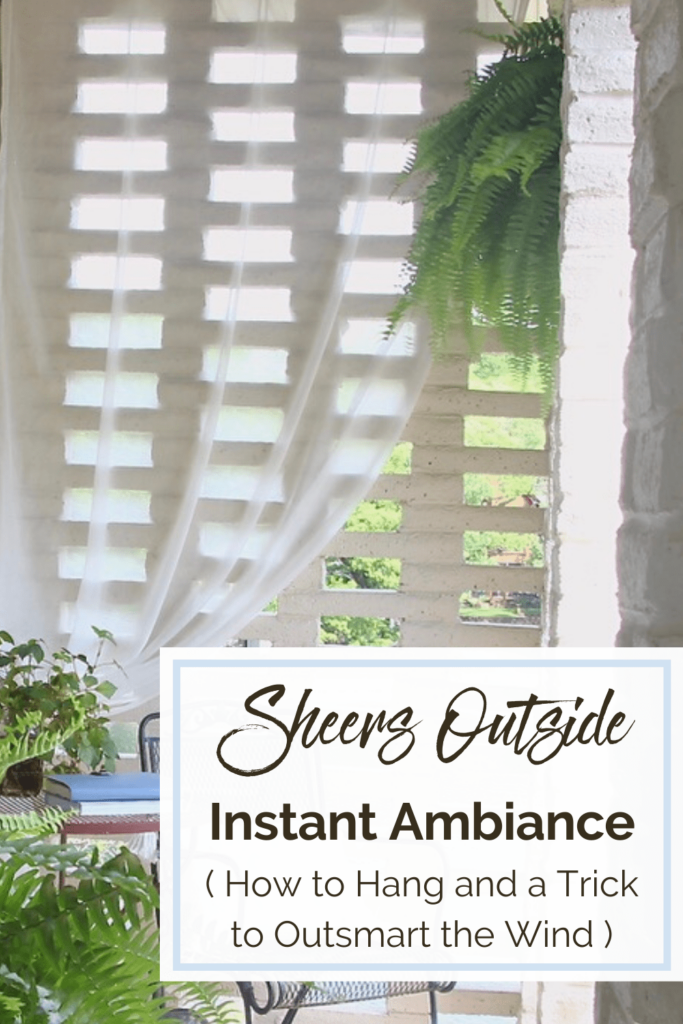 Let's get started:
Since your sheers are for ambiance and not for shade or protection from the weather, choose a fabric that is machine washable and dryable. Any rain will dry quickly and you can throw in the washing machine between seasons or maybe mid-season too.
Mine are made from the cheapest white sheer window scarf Walmart had in stock. Typically window scarf valances are 216″ long, yielding two panels. You can use panels, if the length is right and you don't mind spending a bit more as trade-off for no cutting and hemming.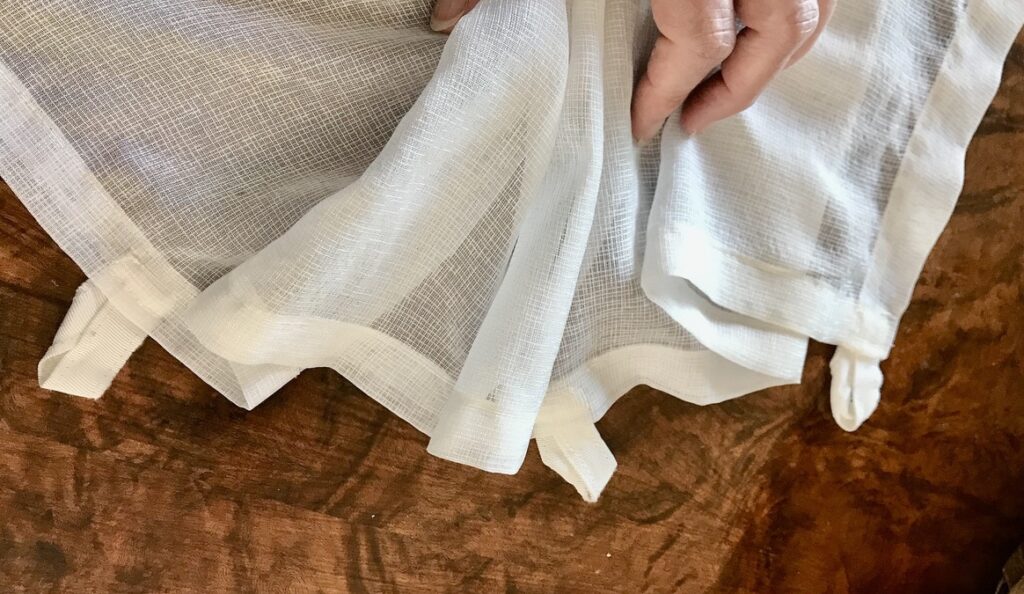 I cut that long scarf into two long panels, about 108-inches each. Then folded and pressed a modest hem, folding over twice. Ran it through the sewing machine, but you can certainly hand-stitch if the machine terrifies you. This hem will be at the bottom and hardly show. Don't stress about its perfection.
NOTE: if you plan to always have your panels tied back as we do, the length does not need to match the height of your hanging — longer is better because the length will rise up as they are tied back. And if you have enough extra length, I love the look of the panel tied in a loose knot where my ribbon is.
Here's the trick for outdoor sheers. You do NOT want to run them through a rod!!! The wind will grab them and have them hanging wherever he wants them, not where you want them.
Take charge of this. Use knobs, NOT rods!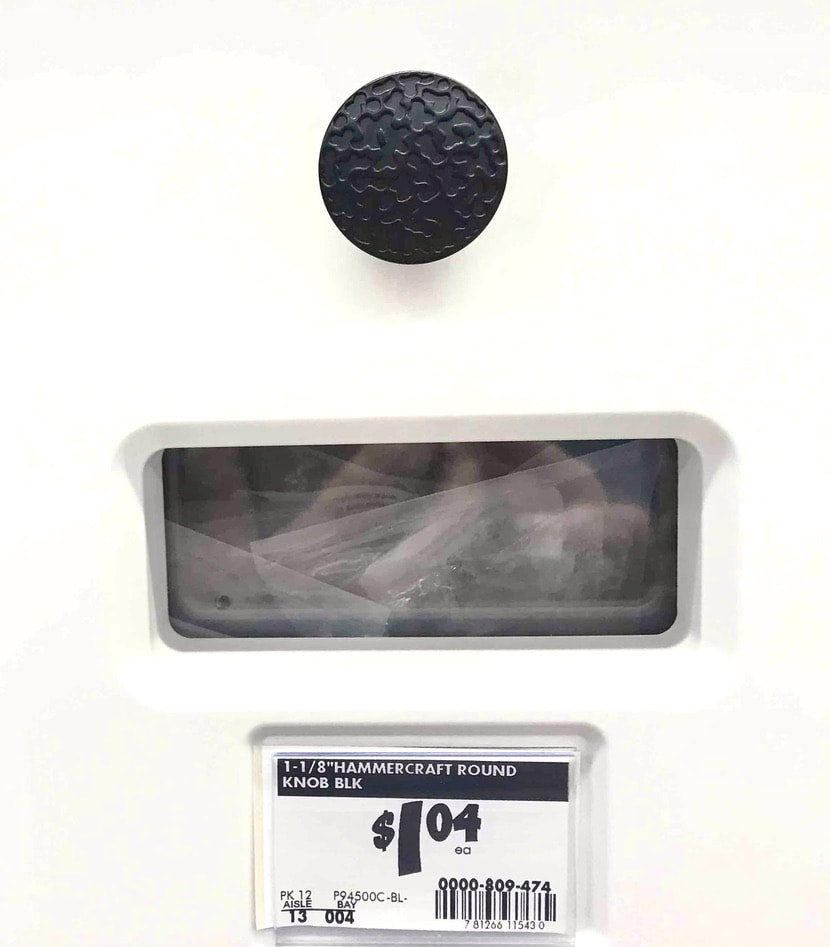 I used the least expensive black drawer pulls I could find at Home Depot. They're up high, all I wanted was round and black. Check! And check!
I suggest five knobs per 54 to 56-inch panel.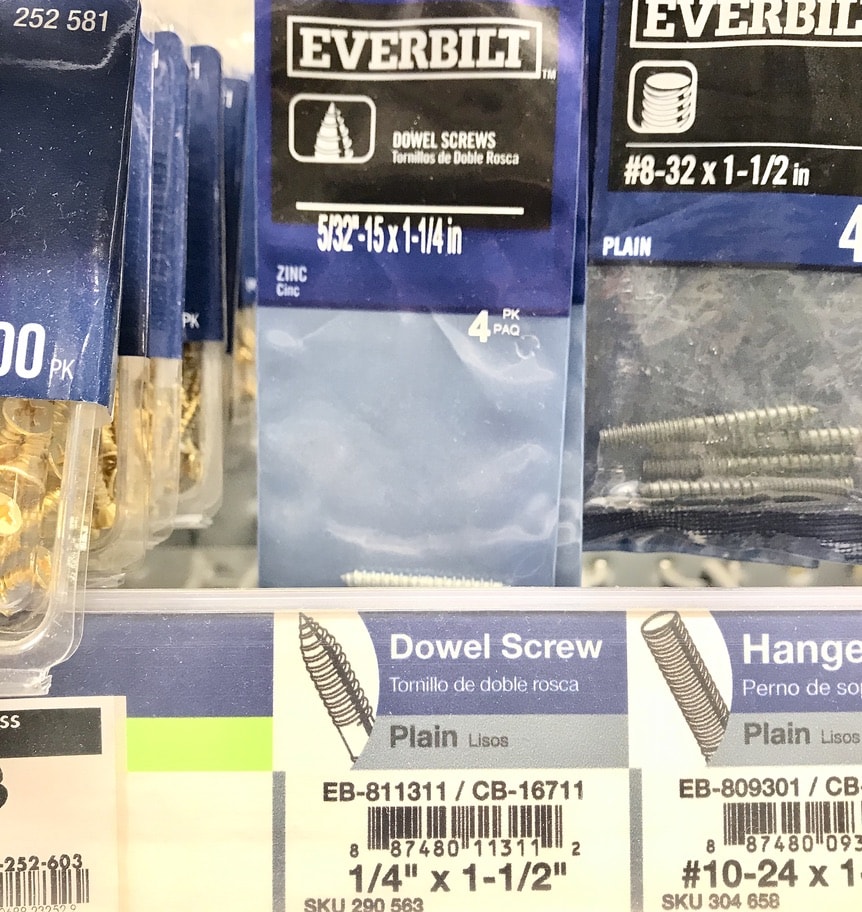 Then pick up a package of dowel screws. They'll be hanging on the wall with all the "specialty screws".
Dowel screws have threading at both ends. This lets you screw a drawer pull on one end and with the other end screw it into the porch header or into your trellis, or even into a hearty tree branch.
Now For the Ribbon Loops
Use stout ribbon, such as grosgrain or a soft webbing.
I wanted to stay with white and only had a wide grosgrain piece on hand. So I pressed it in half lengthwise and then stitched down those sides (probably didn't really need to stitch the sides).
Cut you ribbons to length. For my 1-1/8″ knobs, I cut my ribbons ____ long. I suggest doing a zig zag over the ends, or if machine fear kicks in, then heat-seal the ends.
You can only heat-seal ribbons that are of synthetic fibers. (not cotton, wool or burlap) Cut you ribbon and pass the flame from a lighter across the very tip of those cut edges. Watch carefully as the edge melts and shrivels up.
Mark where your ribbons will go.
With five there's no math required. One centered on each of the side hems, fold in half and mark the middle, then line up each corner mark with the middle and and mark both of those middles.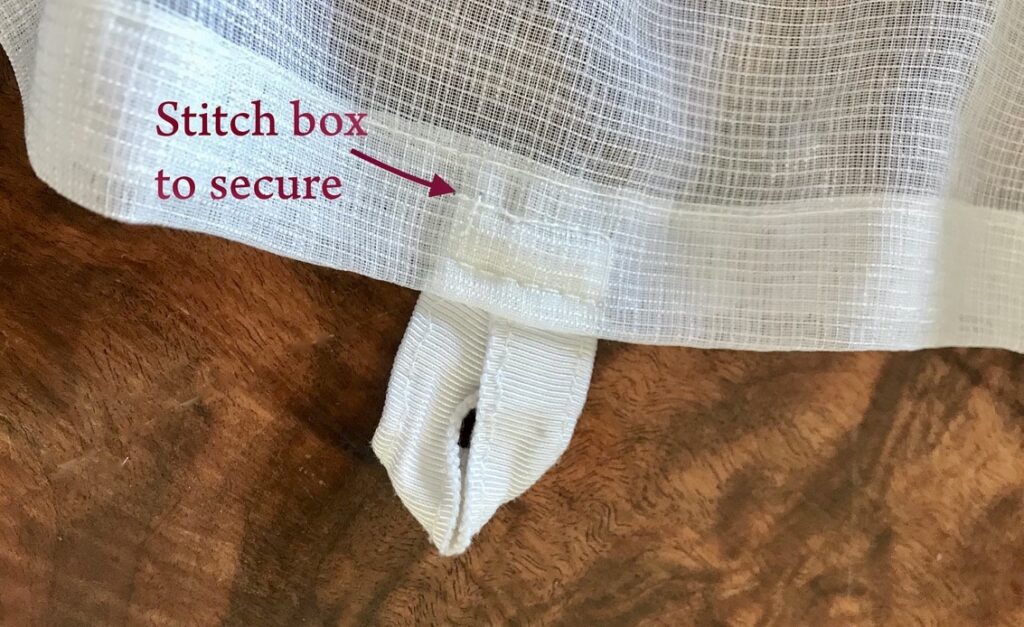 Next, on each mark, stitch a ribbon folded in half with ends lined up a bit below the top on the backside of your panel.
TIP: Pin one of the ribbons in place and test again, making sure the loop is large enough to make it over the drawer pull.
All good? Then stitch these securely!!! I used a box with one edge of the box along the upper folded edge of the hem. This keeps the upper edge flat and hanging evenly. You can certainly do this by hand. Your stitches will barely show.
Hang Your DIY Outdoor Sheer Curtains
Determine how wide you want to space your knobs. You can go as wide as your panel, or space them in a bit to give a more eased look. Our balcony is L-Shaped with one arm deeper than the other (such is our quirky 60's nest, sigh). I hung both panels the full width of the balcony arms, so one is rather taut at the top and one is more eased.


I seem to be the only one that notices this. And here I am pointing it out to you.
Obviously, I trust you with my dirty secrets and consider us good friends!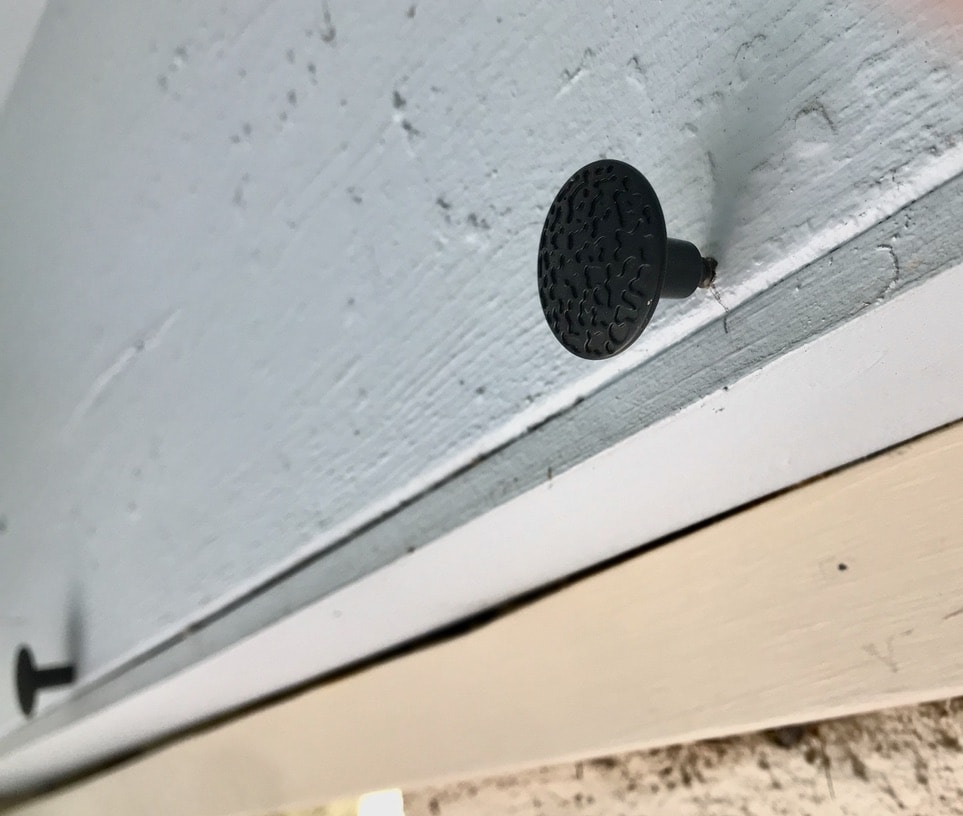 Measure and mark the placement for your knobs. Start a pilot hole with a drill (or if your drill battery is dead when you're ready for progress, a large nail will do — oh, like that's never happened to you. Yup, I thought so…..).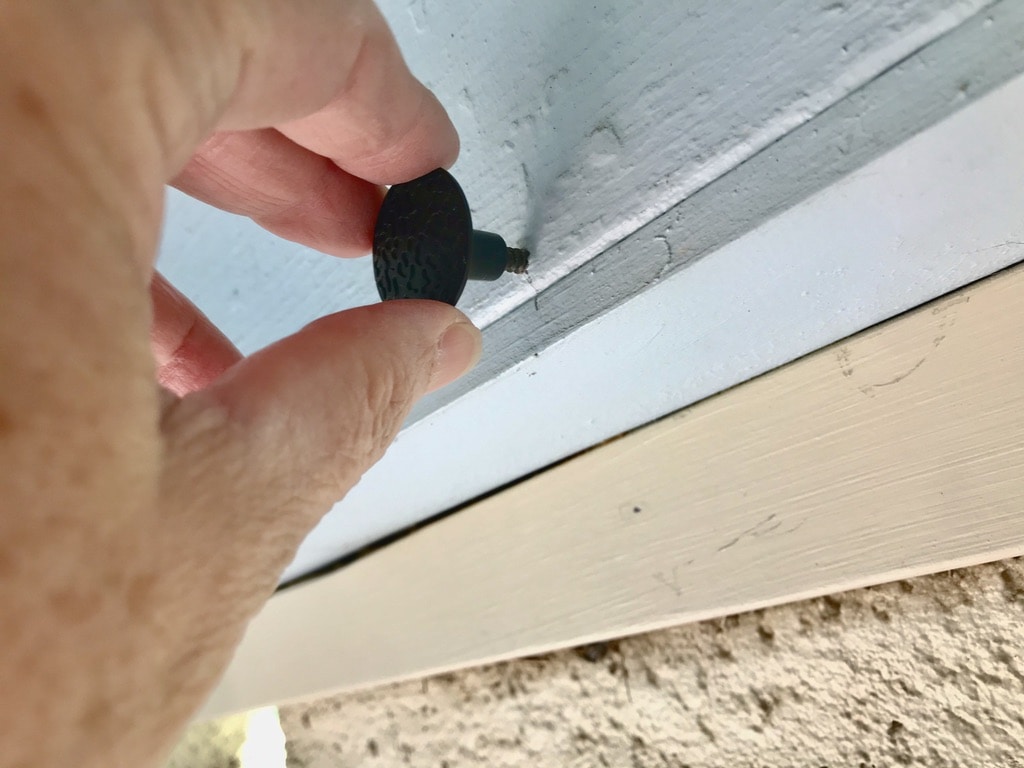 Now screw your drawer pulls onto one end of your dowel screws and then into your pilot holes.
Stating the obvious, hang each ribbon loop over a knob.
Once hung, tie a decorative ribbon loosely around the panel and determine what height you want your locking cup hook.
Now fluff your panel so that the edge by the cup hook hangs down straight and then becomes more loose as it goes out creating the soft drape. This is where, if you have the length the do a loose knot in the panel itself, then slip your ribbon through the knot on the back and into the cup hook. It will hold that drape better for you in blustery weather.
Ta! Da! Oasis!
Sit and take it in! Congratulate yourself! Enjoy your domestic resort!
And perhaps that pool boy will hustle up your favorite cool beverage.
Don't forget to pin this: