How to Make Easy Wood Buoys for Your Lake Decor
Here's a fun, easy way to make wood buoys for your decor. Celebrate living on water, or welcome your guests with a bit of lake life attitude.
Do you live on water too? Aren't we the luckiest? There's truly something magical about having water right outside your home!
So why not celebrate it?
Whether you have a beach house or a small beach cottage, or have a lake house or a lake cabin, a bit of nautical decor seems almost required.
It's a fine line to tread between paying homage to this lake lifestyle and being overrun with "trite tourist treasures". And that line is different for each of us.
If it makes your heart happy and brings a smile to you and your special ones, why not?
Personally, for me and my house, a little bit goes a long way. I keep my lake decor rather minimal, but I do like to pay homage with a few select items that tend to be seasonal, rotating in and out.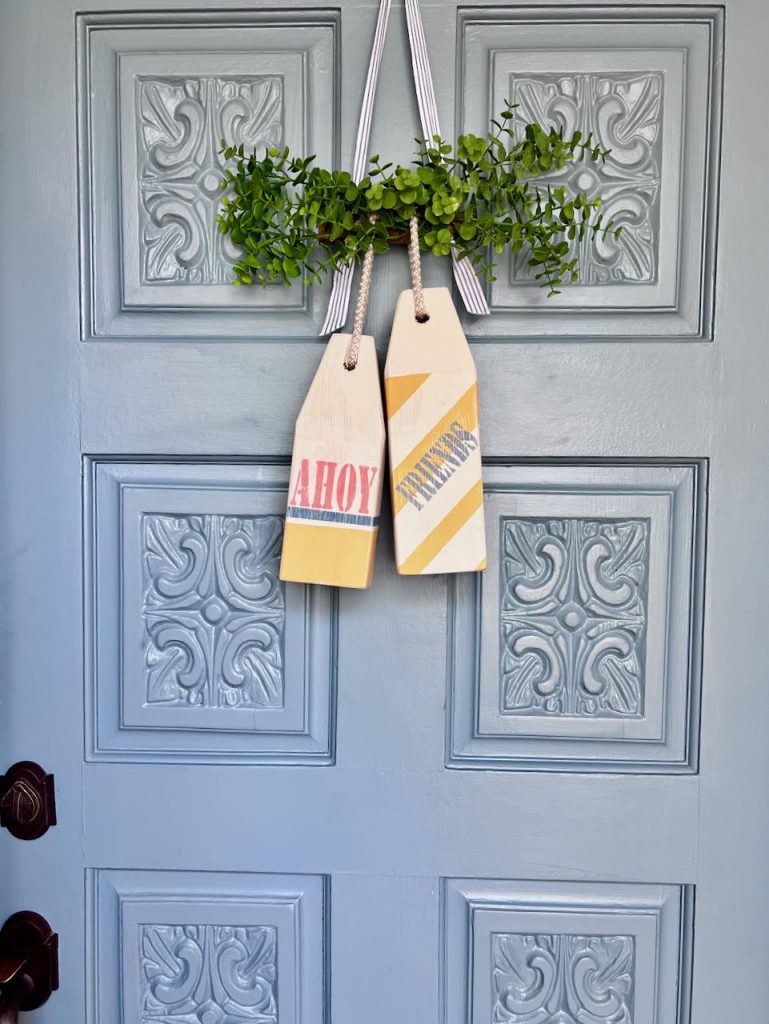 If you prefer to Jump right to the How-To, click here.
If you prefer to Jump to Styling Tips, click here.
Why Wooden Buoys
Why I love using buoys has a lot to do with functionality.
If you've been around here long, you knew I was going to say that, right?
Buoys can hang or stand tall or lay low. They can be brightly colored or rather soft and neutral. They play nice with so many other decorative pieces. Such as mingled in with plants and lanterns on a porch or as a centerpiece.
Check out all the ideas down in the styling section.
I made my first set of buoys for a Christmas mantel I was styling to compliment the Coastal Christmas stockings I had designed that year. I was inspired by images of lobster buoys hanging on the sides of old fishing shacks in Maine.
I continue to receive feedback and compliments on those. Soooo . . . .
Well, you know those great fitting pants you get compliments on. That's like permission to buy them in every color, right?
I guess it's also true for wooden buoys. But here, I didn't even have to make more. I just rolled them over, cut new stencils on my trusty Cricut and broke out some craft paint.
Instead of "Merry" "Peace" and "Joy" hanging in a pine wreath, I now have "Ahoy Friends" hanging from a branch and summer greens on the front door.
And buoys are one of those diy projects that is so easy to customize with your choice of paint colors to match your home decor and add a coastal or nautical vibe. And then add text for any season or occasion.
How to Make Your Own Buoys
Materials & Supplies Needed to DIY Wood Buoys:
Wood – we used a 4 x 4 post
Paint – I used some leftover chalk paint and several colors of craft paints
Tape measure or ruler
Compound Miter saw
Safety glasses (yep, keep it safe)
Drill and drill bits
Sander and Sandpaper (sandpaper alone will work, just takes longer)
Painters Tape
Stencils
Paint brushes
Nautical Rope or sisal rope
This post may include affiliate links which is a great way to support my business. You pay nothing more, but I may receive a small commission.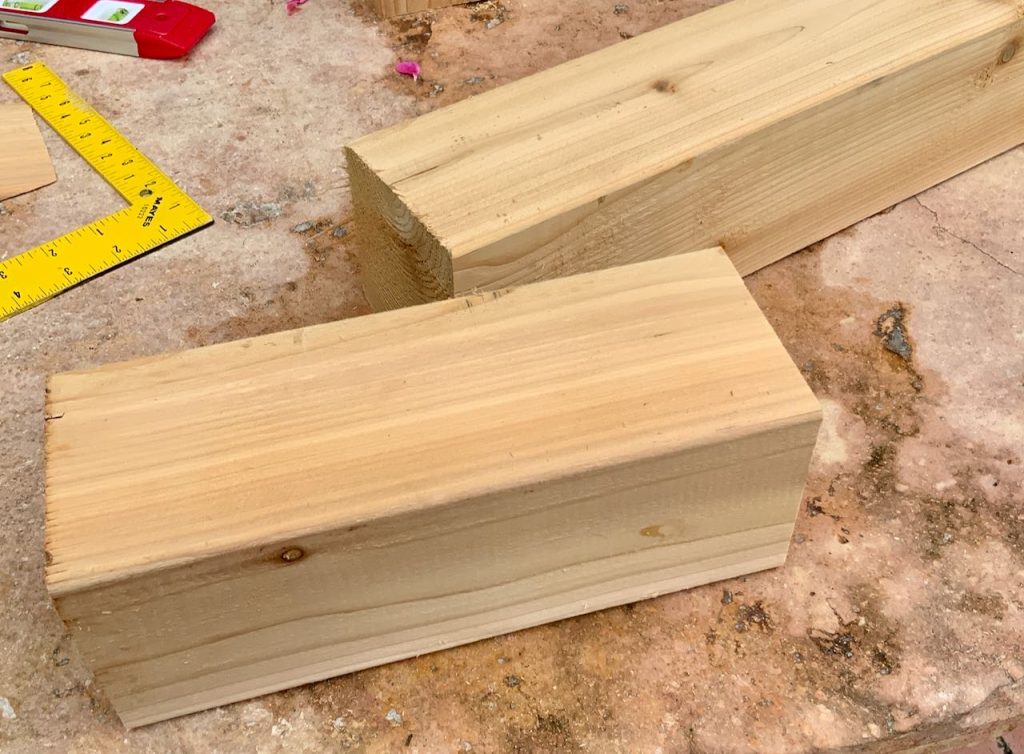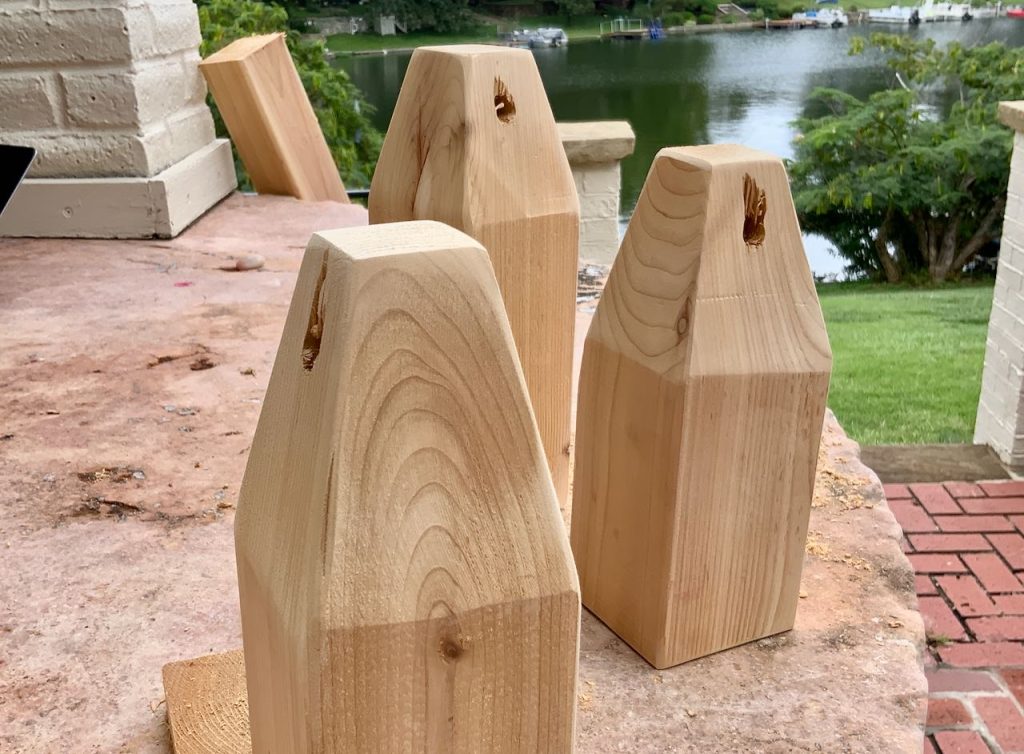 Step 1) Cut the Buoy Height From the Post
(Left Picture) We bought a four foot post and cut three buoys, 11-inches, 10-inches, and 9 1/2-inches. Yes, we have lots of post left for more buoys!
Step 2) Angle Cut the Top
On each buoy, decide how long you want your angle to be and how far in you want it to come at the top.
For example, our tallest one (Peace), I ended the angle cut 3-1/4-inches from the top and I wanted the peak to come in 3/4-inch on all sides. So I marked 3-1/4 inch down at all four edges and then on the top, I marked 3/4-inch in from the corners. Then connect each pair of dots with your ruler and that is your cutting line.
HINT: Try to get those first marks as accurate as possible and then the lines should line up. Keep in mind the thickness of the blade!
If you have trouble with the cuts meeting perfectly, don't sweat it too much. A good sanding should camouflage some "discrepencies". Embrace it as character and vintage charm.
Step 3) Drill the Rope Hole
(Center Picture) Now time to drill the rope hole. They wouldn't be buoys without the rope, so don't skip this step!
HINT: Use a block of scrap wood under the peaked top to support it so you can drill vertically.
Also, take it slow starting with a smaller bit and working you way up to the size you need for your rope. I finished with a 3/8-inch bit.
Step 4) Sand Your Buoy Thoroughly
(Right Picture) Don't skimp on this sanding. Be sure to soften all the sharp edges, disguise any mismatched cuts a bit and get your buoy ready for paint.
Oh, and keep the sandpaper handy. You'll be using it again.
Can we pause for just a moment? Are you enjoying this post? Please consider subscribing — no more FOMO!
Thanks bunches. Now back to our buoys:
Step 5) Color blocking Your Nautical Christmas Buoys
The colorful lobster buoys of Maine are known for their distinctive color blocking. Each trapper or fishing crew has their own color combination. This is how they identify their traps.
HINT: Use exterior grade craft paint to help minimize the fading if you plan to use these outdoors.
Pick your colors — mine were determined by the Coastal Skies Christmas Stockings I was making them for. I also knew that I wanted to add the Christmas text instead of coordinates or a family name or address. So I planned for that when I planned my color blocking.
Start with your base coat. I used some leftover white chalk paint for my base and gave them two light coats back to back. By the time I finished the first coat on the third buoy, I went right back to add the second coat to the first one. That was plenty of time between coats.
Let that dry thoroughly before applying painters tape for your color blocking.
HINT: Just like with stenciling, for crisp, clean lines of color blocking, use a pouncing motion with your sparsely loaded paintbrush, rather than a swiping potion with a heavy loaded paintbrush.
Step 6) Add Text — Or Maybe House Numbers — Or Geographic Coordinates — Or Family Name
Stencils are perfect here. I used my Cricut to custom cut my stencils. I used stencil standard font and sized my words, loaded my vinyl and set it to cutting,
HINT: If you plan to use these as part of a tablescape, think about adding text to multiple sides. Or as I did, Christmas was on one side and my Summer version is now on the opposite side.
They can also bring fun style to a nautical party as part of a centerpiece, buffet table or another display.
Styling Your Wood Buoys
​
How to Use Your Decorative Wooden Buoys
on your front door
As your address number
on your front porch
hang on a fence
outdoor centerpiece
on the outdoor bar
on your mantel
part of a display
in bookshelves
indoor centerpiece
decorate a buffet table
as table numbers for a large event
These buoys are heavy so it takes quite a gale force to blow they over. They pair so well with many other decor items like books, candles, lanterns, trays, potted plants and more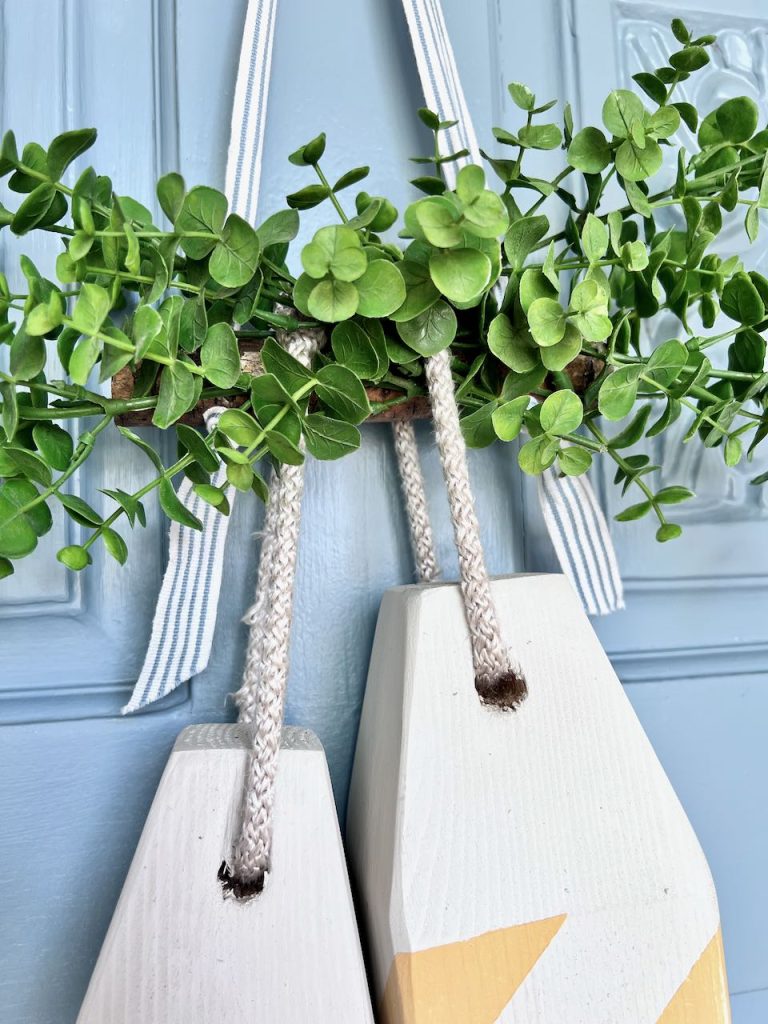 To hang these on my door I drilled two holes. in a 6-inch sturdy stick I found. in our yard. I slipped both buoys on the stick and then threaded stripe ribbon through the holes.
No, it's not really that hard if you use my trick for "How to Thread a Big, Fat Ribbon Through a Small Round Hole". You can read it here.
I knotted both ends of the ribbon and suspended the ribbon from the top of the door. I felt like it needed a bit of greenery, so I wired a few branches of faux boxwood onto the stick. Done!
There are more pictures of how I used them in the Christmas Buoy block post right here.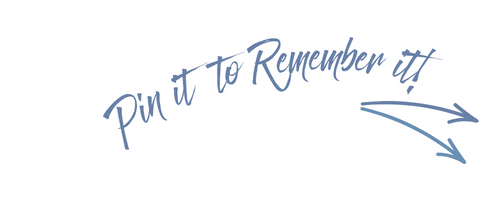 Please pin this to remember it.
It will help you (and me, too). Oodles of thanks!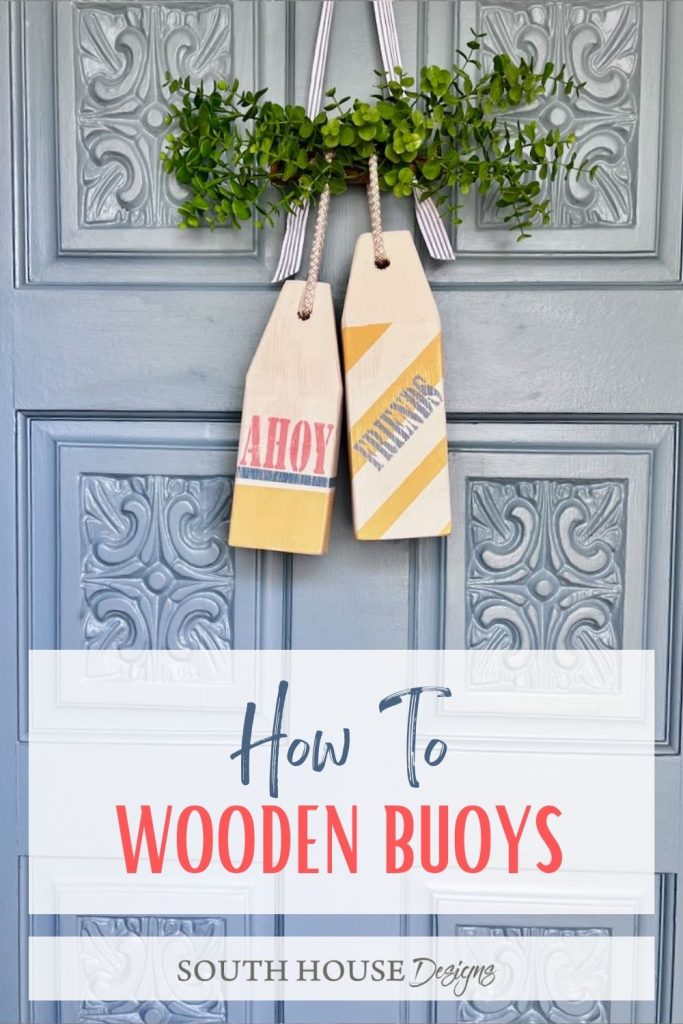 More Posts You May Enjoy:
As always, I truly appreciate you being here. Your time is precious and I work to bring you content that is of value — my way of saying thank you, I appreciate you!
Don't hesitate with any questions or comments!!!