Patio Corner Makeover
Before & After
Is it just me?
Or do you see things that no one else seems to see — or at least notice? (No, I'm not going all Sixth Sense dead people here)
Nobody seemed to care about this one corner of our patio. It held an old cabinet because we needed storage for our lake toys and necessities (floating keyfobs, sunscreens, bug spray, waterproof phone cases, etc). Above it hung a cool mirror because there is a bracket in the brick that we can't remove so something had to hang there and in our old house that mirror hung above that cabinet on our screened porch. So there you have it,
Then during the winter it seems to accumulate other outdoorsy items that need a bit of protection and they don't really fit anywhere else.
Nobody else cared about this corner, but me! It ate at me. It tormented me. I vacillated between it scoffing at me and feeling like I had let it down. I just knew it had potential.
PLUS it is seen from the patio, from the family room, from the kitchen, from the dinner table. There was no hiding it or from it.
It was long past time to take it on — particularly since it was not a difficult build or anything. Just a series of small projects and a fun craft.
And today? Today there is no shame, only happy dances as I celebrate a corner reborn!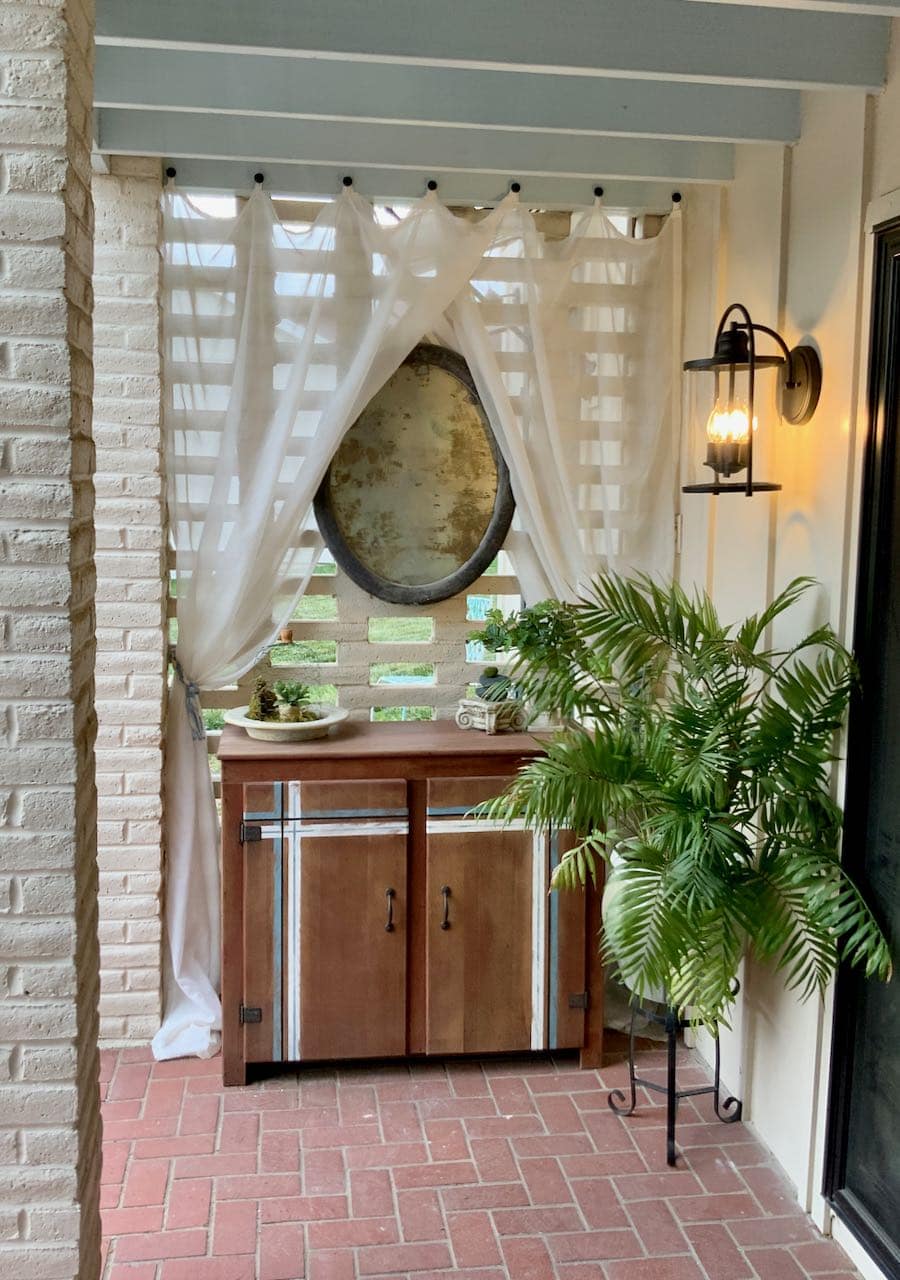 Let's start with the backdrop.
I really wanted to soften than 60's brick screen, so I pulled out my trick for hanging almost no-sew sheer curtain panels outdoors without expensive and expansive curtain rods. Bonus, they stay put despite the wind. Here's how a single panel looks on the upper balcony and a detailed how-to.
Here, I went with two panels overlapping to flank the mirror and the cabinet. Here I was making a statement corner. On the balcony, I am more framing a view.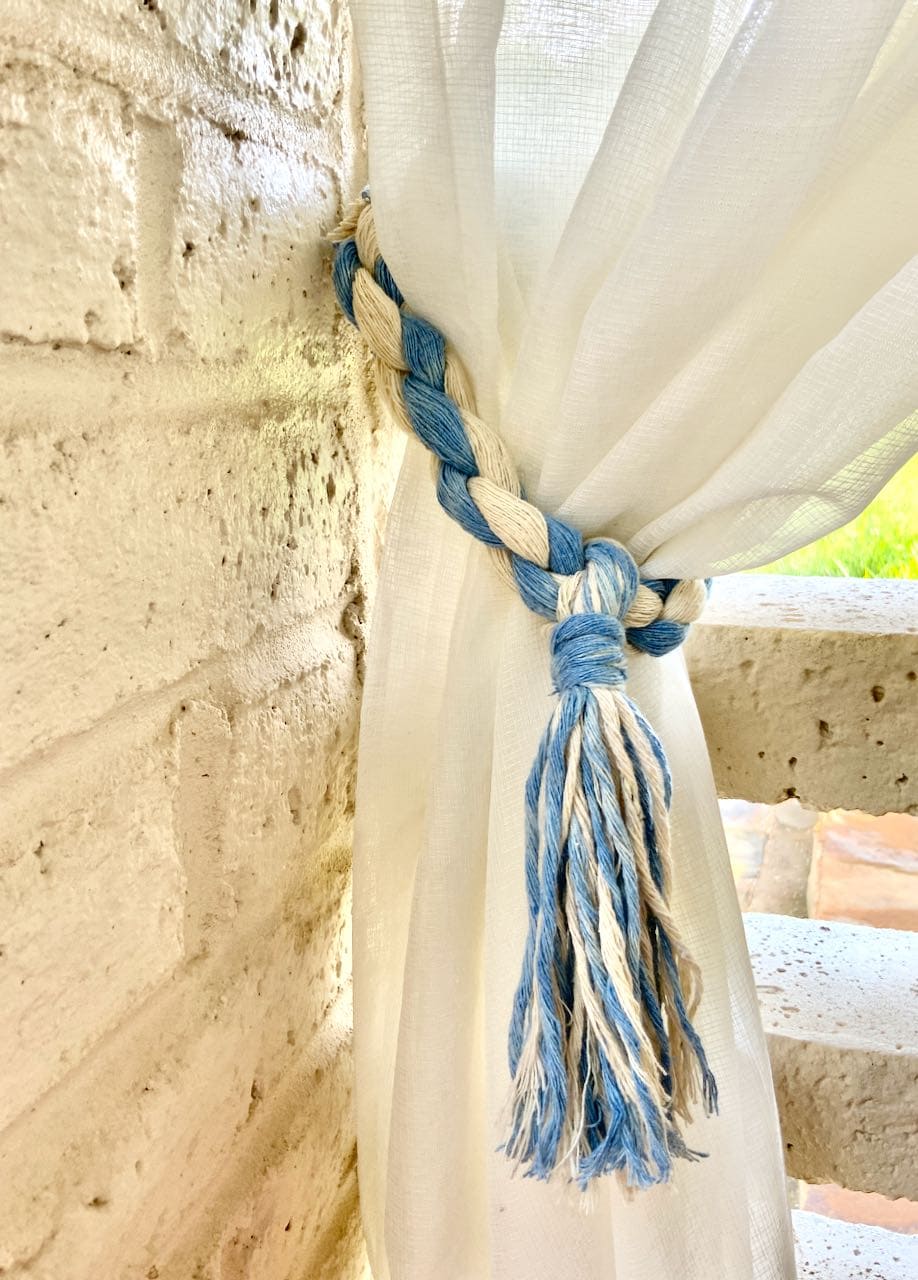 And with outdoor curtains you certainly need tie backs. But I wanted something a bit more than ribbon like I've been using for years. I wanted something fun + casual + stylish!
Right behind that brick screen is our "tool cabana" [who wants a shed, when you can have a cabana?} I recently added a cabana stripe awning to earn that name. And these curtains flank a vintage wood cabinet with fresh new plaid accents. These bold stripes and plaids stoked my desire for twisted stripes . . . . and who doesn't love tassels?
Tie dye is a big thing. As much as I'm not really a tie dye kinda gal, I did dye to tie. Tie back that is. And then I dug deep in my crafting resevoir and remembered a technique from my old macrame years and made the twisted rope. A technique you can use for all kind of making fun from plant hangers to purse straps. Check it out here.
That mirror was a craft project from before blogging days. It began as a wicker frame with a very poorly executed blue spray paint job. I was upcycling it for a Mardi Gras party where we were recreating a New Orleans courtyard.  Dark and moody. It turned out so cool I saved it and used it to
style my Halloween book covers. 
I liked it so much, it stayed right there, above the vintage cabinet on our screened porch.
Then years later, it traveled with us and still hangs above the vintage cabinet.
I love hanging mirrors and artwork in my outdoor "protected" spaces. It's a bit unexpected and really elevates these spaces into more of a  room.
I used my favorite trick of using joint compound to change the texture of something. I smeared several thin layers of joint compound over the wicker, building it up until it was relatively smooth — wanting an "old concrete" look. Then I stained it with black exterior craft paint. For the mirror itself, I remember using muriatic acid to partially remove the reflective coating on the back of the glass.
Then I added the moth image to make it appear as though it was caught in the glass for ages. Can't reemember exactly how I did that, but I suspicion Mod Podge was involved on the back of the glass. It's been 15 years since I made that, so I'll give myself some grace for forgetting that one.
And the centerpiece of the corner is this vintage cabinet that has served us so well! You can
read all about it here
  And about how I updated it with some colored stain to make the plaid accent stripes.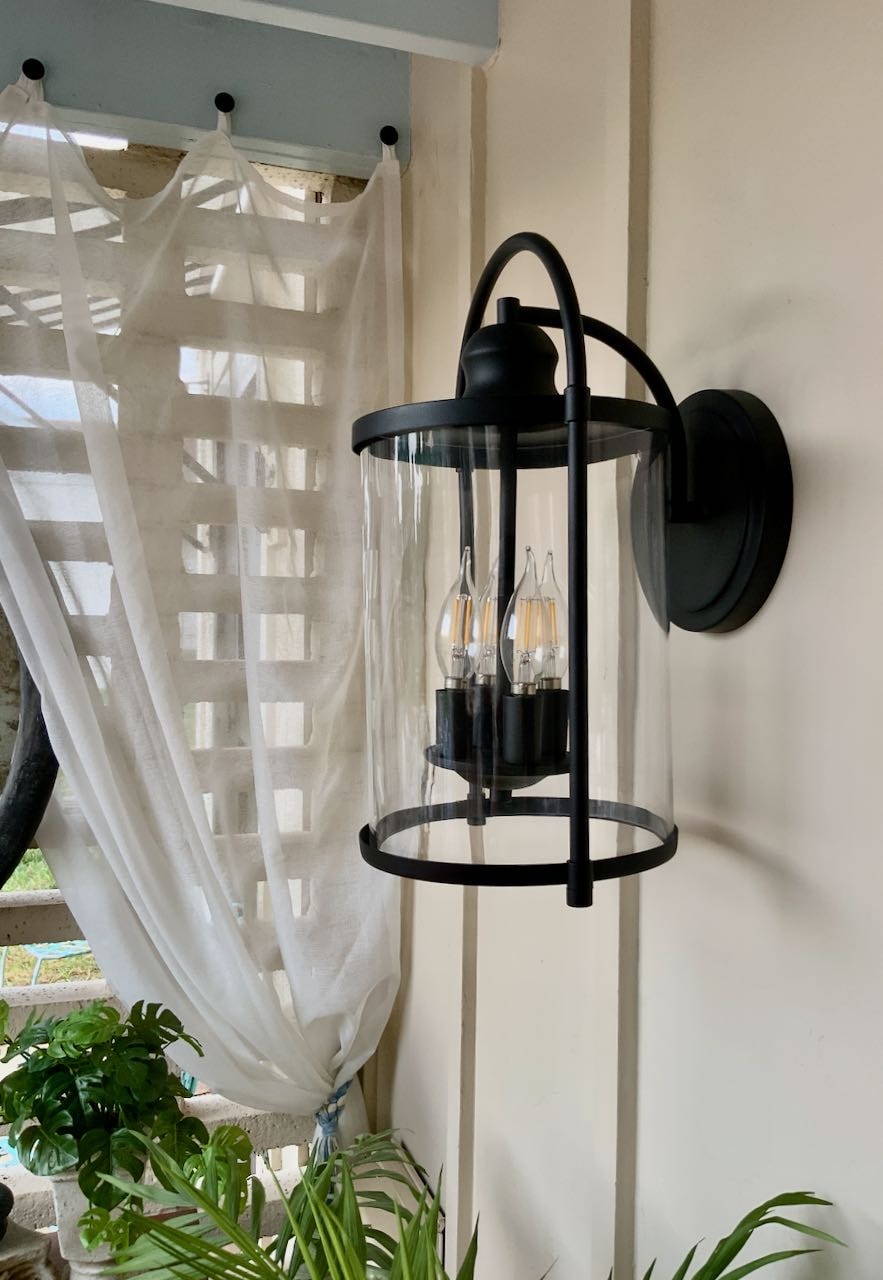 And now we are at the sprinkles on top of all the corner goodness!
The piece that really brings the smiles!
That modern lantern wall fixture. Isn't she gorgeous?
I LOVE how the light reflects off the mirror!
And I love how she brings a modern lantern feel to this space. I knew we needed black. I knew we needed an exterior wall fixture. I knew the general size.
The amazing Lamps Plus made it so easy from there. They have such a vast, vast selection! But their filters are amazing. They narrowed down my search so I was able to concentrate on the style details and find the perfect fixture without being overwhelmed.
Here I knew we needed some strong, but simple linear lines, but we also wanted to add a bit of softening curve. We wanted modern and traditional. This is exactly what we have. The have a modern, simplified take on a traditional hanging lantern. The black side posts, give us the strong linear line, but the cylindrical glass with the arched top bring the curves we needed to soften all the hard lines going on in this corner. It's perfect.
Thanks to Lamps Plus! I encourage you to start any lighting search right here.
This post contains sponsored products. I may have received product or compensation, but all opinions are my true and honest assessment.
Let's just take a quick look back and see what a difference lighting fixtues make: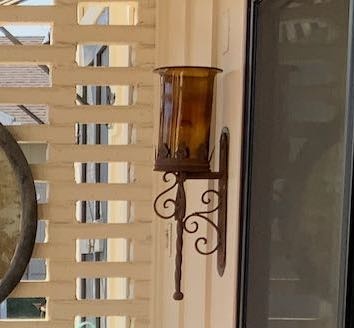 This was a great fixture for a Santa fe farmhouse, but not for our Mediterranean lakehouse.
I am so thrilled with this patio corner! It feels like a resort now.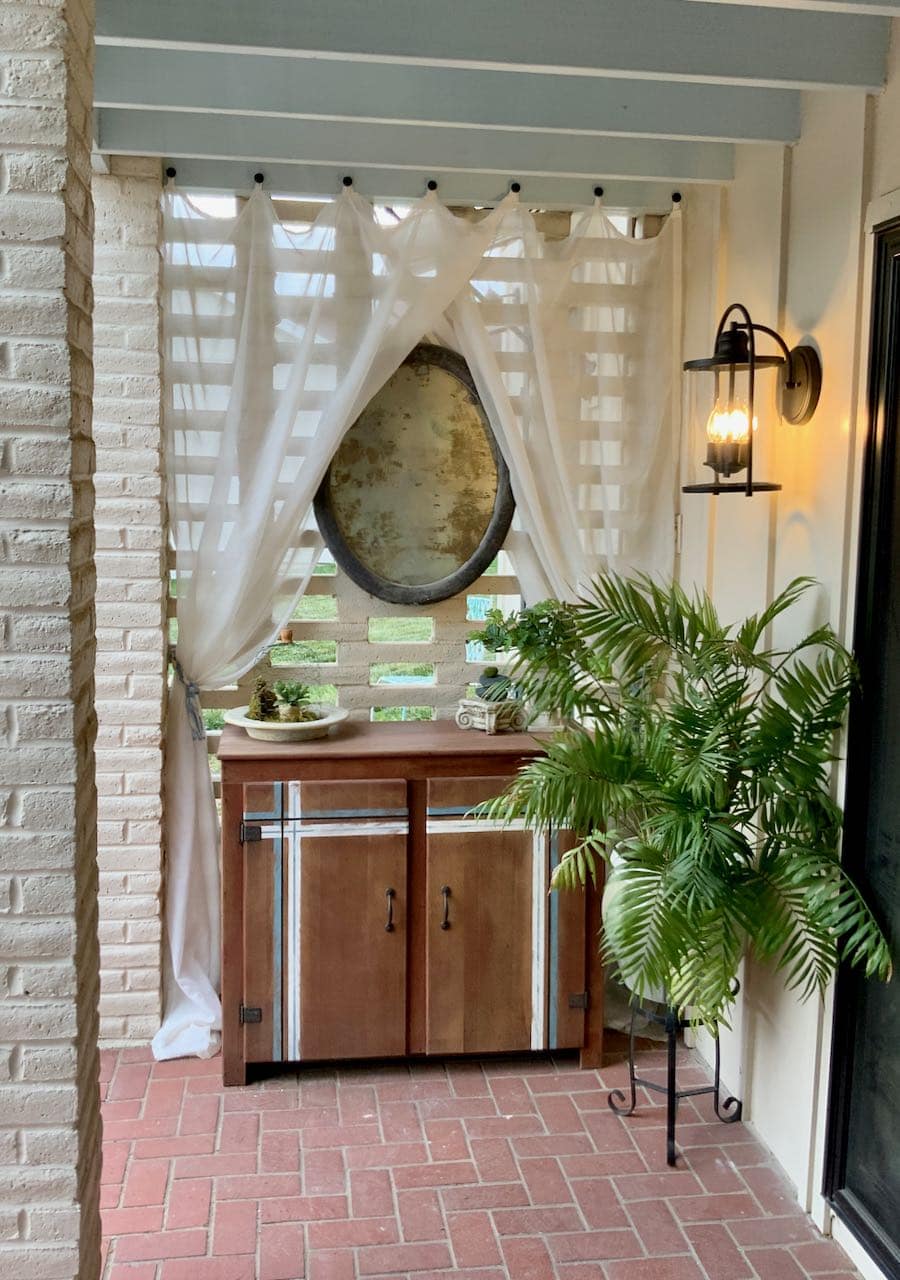 I just have one more thing to add: