How to Hang Outdoor Edison Bulbs
For an Inviting Glow
Outdoor Edison bulbs -cafe lights- are perfect for an inviting glow.
But can be a challenge to hang. See how we hung them for year round use.
Lighting is a critical element of setting the mood for any room — including your outdoor rooms! That's why, when we started on this great backyard makeover, adding cafe lights was a tip top priority for me.
Have you been following our Blog Super Series — Our Backyard Makeover? Yes, this is technically the side yard. But it's how we safely navigate our guests to the backyard. So I'm including it.
You can find all of them here if you want/need to catch up, jump around, refer back to something — you're in charge: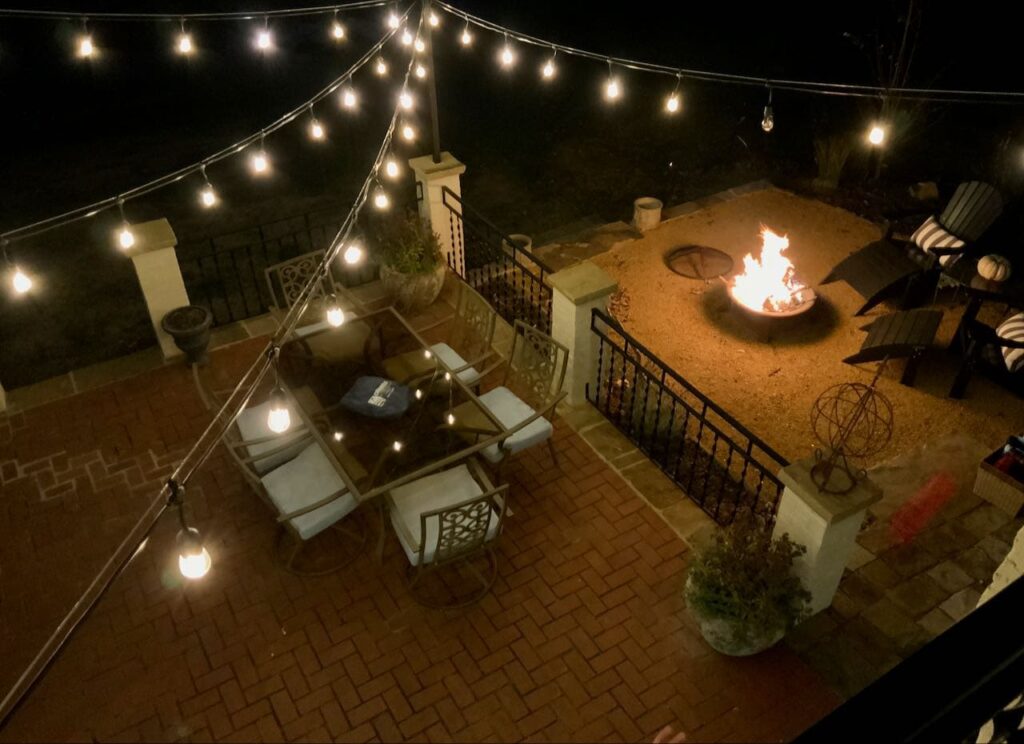 I'm so glad we planned for them from the beginning! When the mason built our brick fence pillars on the patio they knew to include the pole we bought to suspend the strings of lights.
Since it was integrated at that time, it is very stable, secure and a real design element vs. an improvised after thought.
Plan For Your Installation-
Power Source & Attachment Locations-
Start with the basic questions – where is the power coming from? And then where/how will we attach the light strands?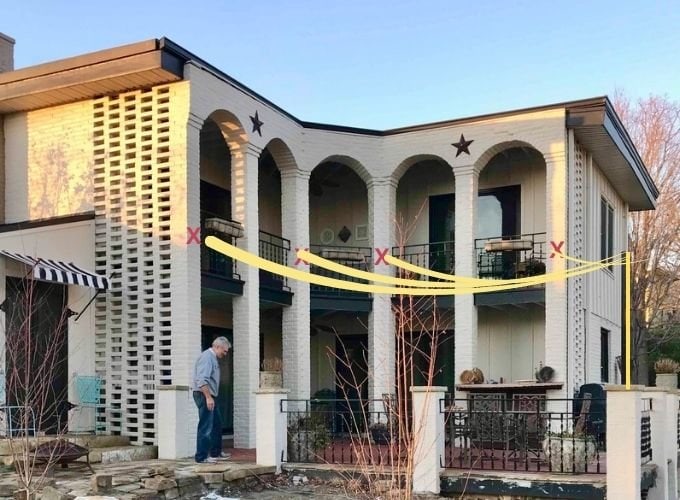 Fortunately we have an outlet on the balcony at each outside edge (just inside the brick screens). Unfortunately, they are both faulty. There is another outlet in the center corner that we can use in the meantime.
The black pole coming up from the corner brick pillar on the patio is hard to pick out in the picture, so I highlighted with yellow. We knew we wanted four rows of lights all meeting at the corner post.
An easy way to really plan out your lights is to drape a rope or string in the pattern you are envisioning. Mark where it will attach to supports/structures.
This helped us determine the height for attaching to the columns. We liked having a bit of an incline down to the corner. This made us think of a gazebo and felt very inviting. We also like for the lights to have a bit of slack for a more casual feel.
HINT: Keep in mind, depending on your bulbs, they may hang as much as 6 inches below the steel guy wire.
Figure Your Length-
Once you have the placement laid out, measure the rope to determine the length of light sets you need. Two 50-ft sets worked great for us.
Each female end will start on either side of the center arch coming to the black pole, and turning back, each to an outside column edge. Here they will tie off at the column, with the last 6 ft on one side and 9 ft on the other, minus the last bulbs connecting to the power outlets.
Purchase Your Lights and Supplies-
Now that you know the lengths, find the bulbs that are right for you.
Keep your ideal lengths in mind.
Make sure you only purchase lights that are classified exterior and commercial grade.
LED has come a long way from the early cool lights. But still be sure to check the Kelvin rating to get the level of warmth that is right for you.
After a lot of research we finally went with Hampton Bay lights at Hobby Lobby. So far we LOVE them! We have had them installed four months now and yes, we used them throughout the winter.
TIP: purchase a few extra bulbs at the same time to insure you have ones that match your originals. Our sets came with two extra bulbs, plus we have the ones we took out of our "excess sockets".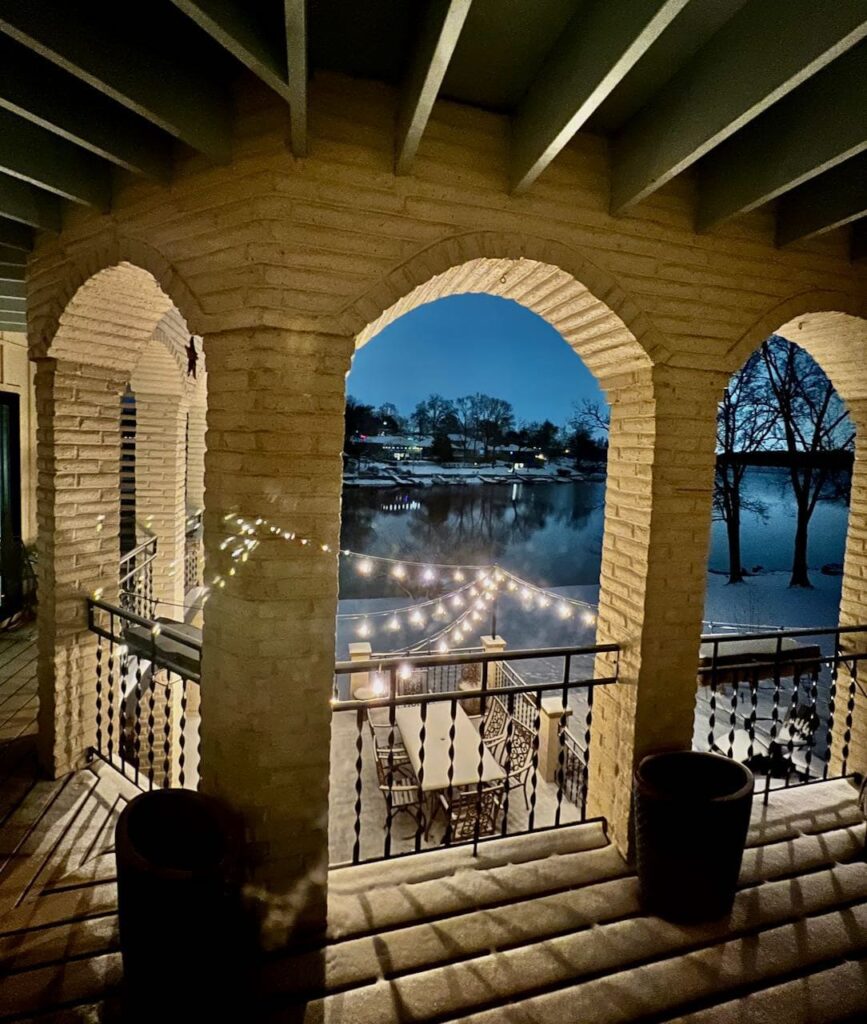 They were particularly beautiful in the snow!
And if we have friends over, even though we are playing games or having dinner inside, the lights on the patio shining through the glass doors make it warmer and more inviting.
SIDENOTE: I didn't want to open the door for the picture so we have extra reflection of the bulbs on the glass doors.
Guy Wire Support-
If you are planning on a "permanent" installation, meaning hanging year round, you need to suspend the lights from a galvanized steel cable. Even if you plan to take them down after "the season", if the distance is long, it's still best to hang them from a guy wire. This takes the pressure off the lights' wiring, extending their life.
SIDENOTE: Literally one week after we installed our lights in mid November, we had an epic storm — sustained winds of 80+ mph. It was like a tornado without a funnel cloud. And our lights on the guy wires handled it beautifully.
Installation-
Supplies Needed-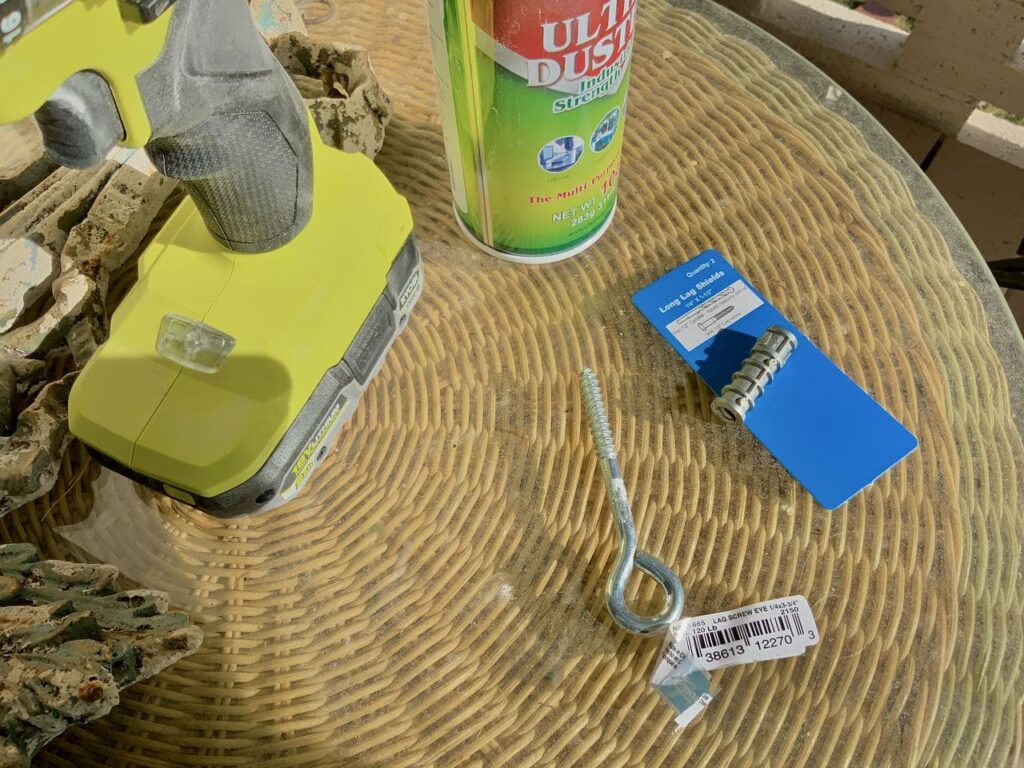 Stainless steel wire or vinyl coated wire of your choice
Appropriately sized crimps and crimping tool
Fasteners such as eyebolts, with anchors if needed
Appropriate drill and drill bit based on your structure and selected eyebolts
Bit of painters or masking tape
Canned air if drilling into masonry
Wire cutters
Ladder
Zip ties, preferred black
Scissors
Safety goggles and ear protection since using a hammer drill
NOTE: Since drilling into brick, we used our Ryobi Hammer Drill (LOVE that thing!) On the brick columns, we found the right combination to be 1/4 x 3- 3/4 eyebolts with 1/4 x 1 -1/2 long lag shields. These required a 1/2″ carbide-tipped masonry drill bit.
The links in this post may include affiliate links, which means if you purchase anything using these links, you pay no extra, but I may receive a small commission that helps keep this blog running. I truly appreciate you using affiliate links whenever possible. Please know that I will never recommend a product I do not believe in!
I hope these Stocking stuffer suggestions help you! If you use these links (even if you purchase something different) you are helping me, And I truly appreciate you and your help so that I can continue bringing you creative inspiration, how-to and creative ideas to bring more joy to all.
I Hope your holidays are overflowing with friends and family, blessings and bliss!

Click on a picture for more details and to order. Hover and favorite an item to be notified if and when there is ever a future sale price.
There are many different combinations for purchasing the Ryobi Hammer Drill. At the time of writing, Ryobi is having an amazing sale, so I included several of the best pricing options. One great combo that includes a drill and battery for an amazing price. If you have or are building your Ryobi tool cache, the one with all the battery options is a phenomenal price.
Install Guy Wire-
Start by installing all your eye bolts.
For us, our mason drilled a hole near the top on each of the two sides that faced in to the lights. Removing the black cap, we inserted two short, but stocky eyebolts from the outside, reaching in and adding washers and a nut on the inside. Easy peasy.
The brick columns took a bit more, like two orders from Amazon that were a bust, before we finally landed on this combination that worked like a charm.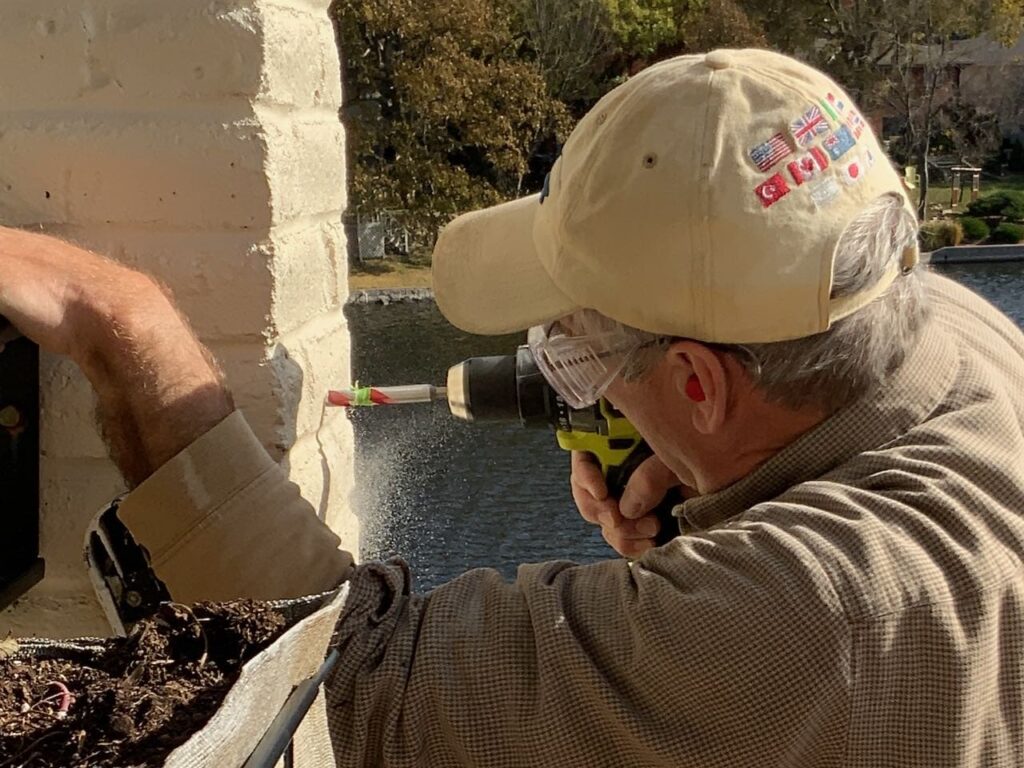 Drill your holes.
TIP: See the green painters tape on the drill bit? We measured the length of the lag shields against the drill bit and marked it with the painters tape. Then drill just to the that length. Works like a charm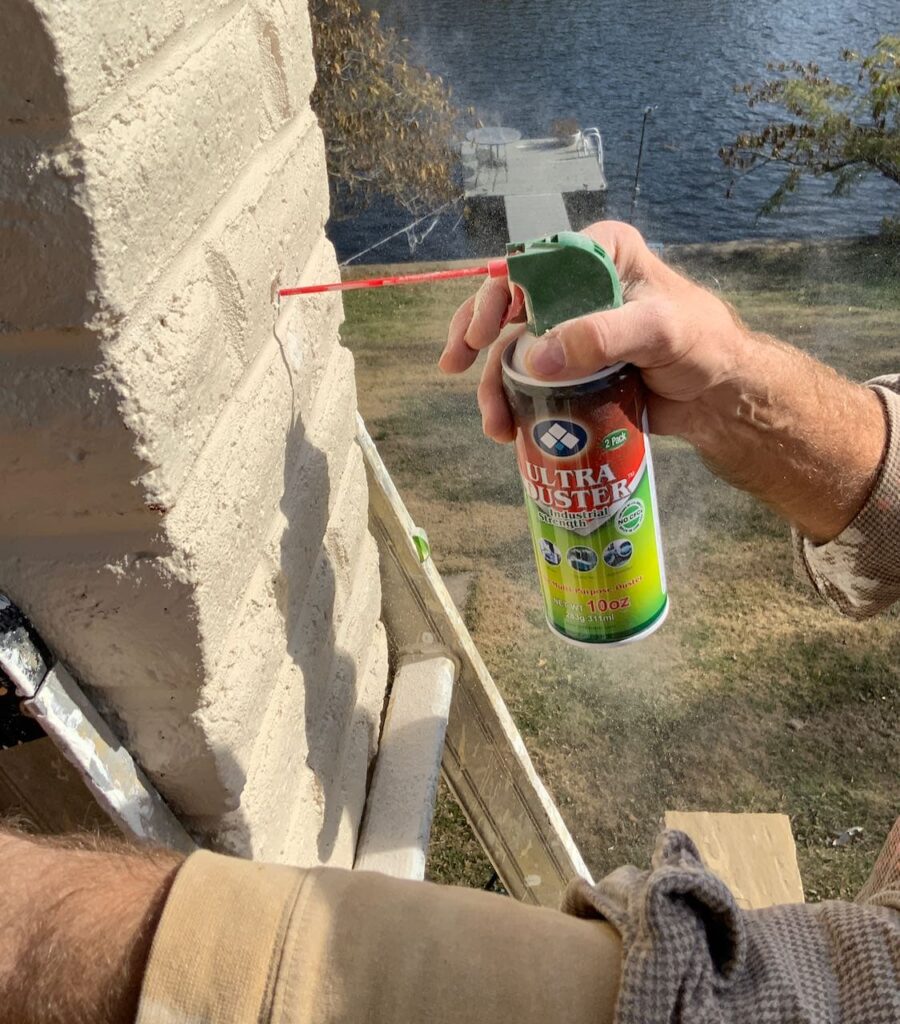 Use Canned air to clean out the hole before proceeding.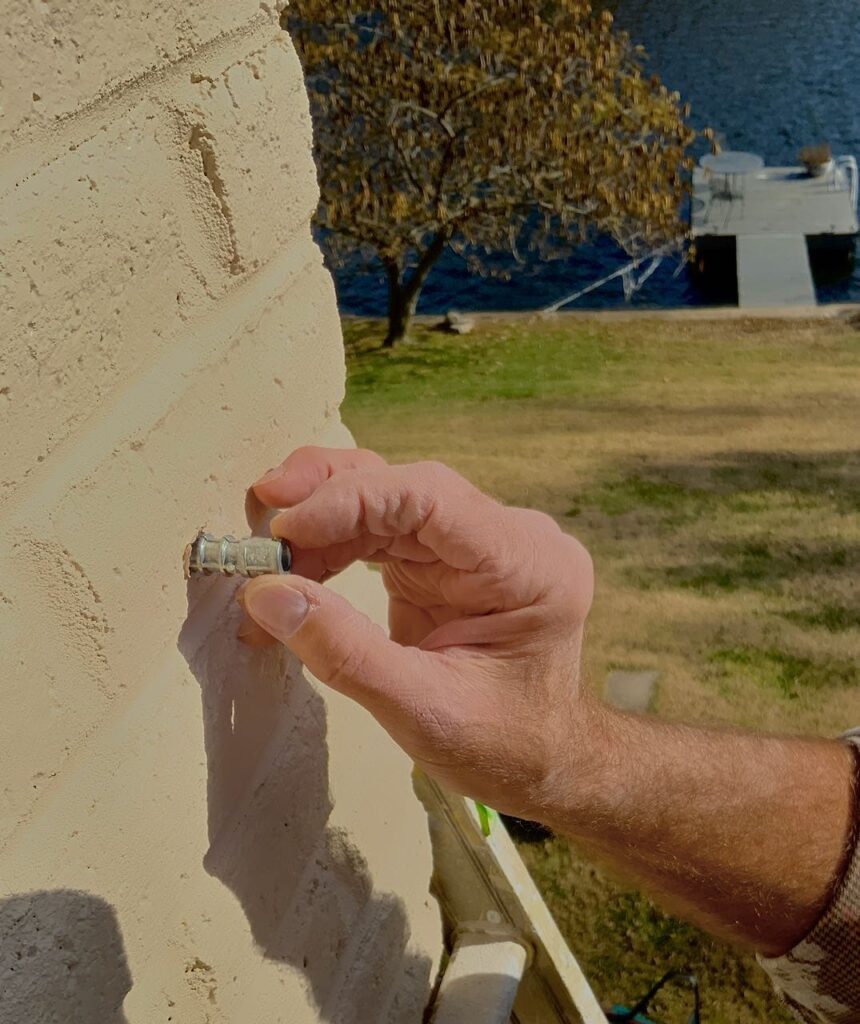 Insert the lag shield.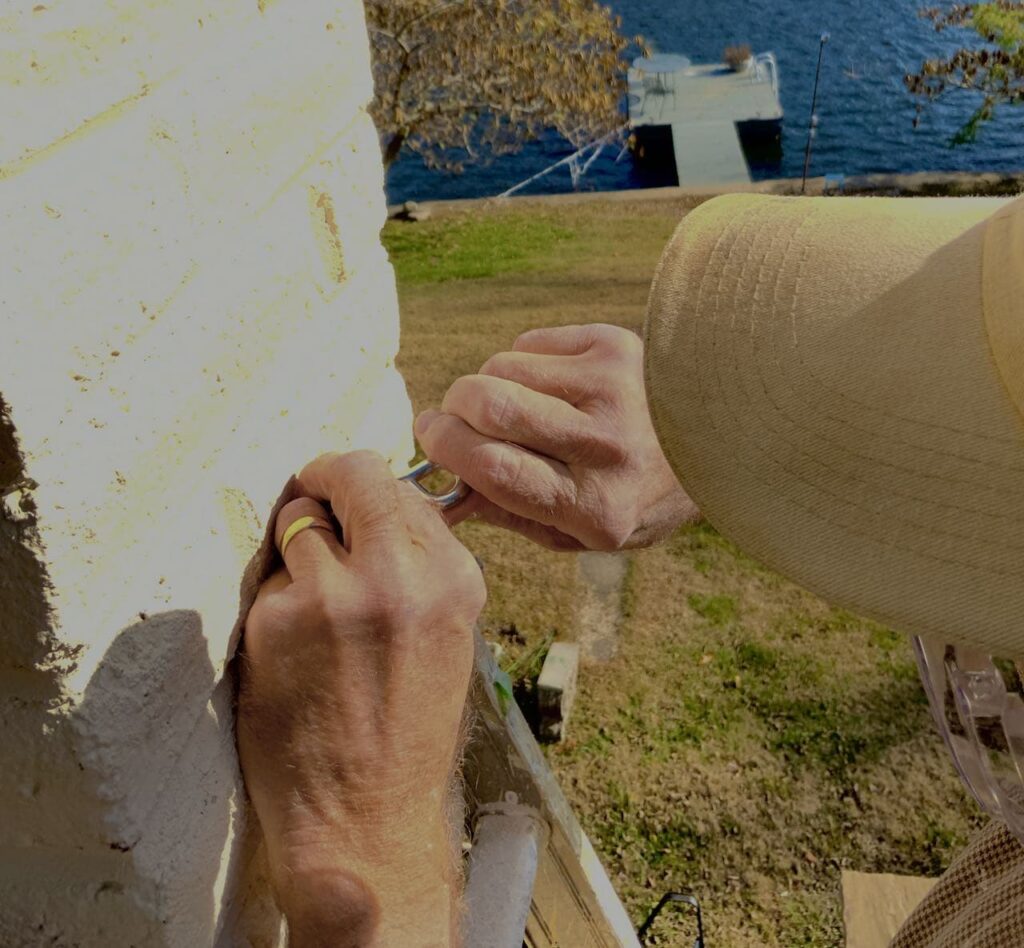 Screw in the eyebolt.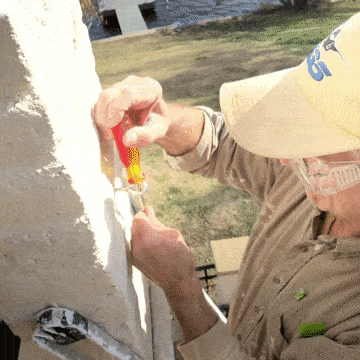 TIP: To tighten an eyebolt, stick a screwdriver through the eye to act as a handle for you to turn it and it adds quite a bit of torque, too!
Now install the wire.
Sorry I don't have pictures at this point. It's really straight forward. We rolled off two lengths of wire and threaded one through each of the eyebolts on the black pole.
Then we brought one end up to each of the column eyebolts. We crimped off the outside edges first. And then strung the ends through the center column eyebolts working to get them hanging to the same level., and crimped them off.
These are the same lights we have and are thrilled with. We use similar remote control plugs for our lights. It's amazing. We can turn them off an on from almost any location inside the house. The other items are equivalent to what we used.
Click on a picture for more details and to order. Hover and favorite an item to be notified if and when there is ever a future sale price.
Install Light Cord-
The easiest way to do this is with zip ties to the guy wires. Which end of the string set do you want to have any excess string length? Start installing at the opposite end,
We started at the center column eyebolts because that is where the female ends will be. We zip tied those ends to the eyebolts. This helps to assure that the first bulbs will be far enough away from the house that they won't break against the brick. Plus it prevents the bulbs from sliding downhill on the wire.
TIP: Do not install the light cords with the bulbs in! If your string set arrives with the bulbs in the sockets, remove them first to avoid breakage.
Each bulb should have a little eyelet at the top. Run a black zip tie through that eyelet and around the guy wire. Cut off the tails of the zip ties.
SHORTCUT: We did this with three or four bulbs that we could reach from the first ladder location and then moved the ladder a few feet over. From this spot we zipped each of the bulbs to the wire cinching up the light cord between the bulbs to install them all with the ladder in that one place. Then moved the ladder to the end of that run stretching out the light string the length of the guy wire. Saved a lot of up and down.
Add Outdoor Edison Bulbs-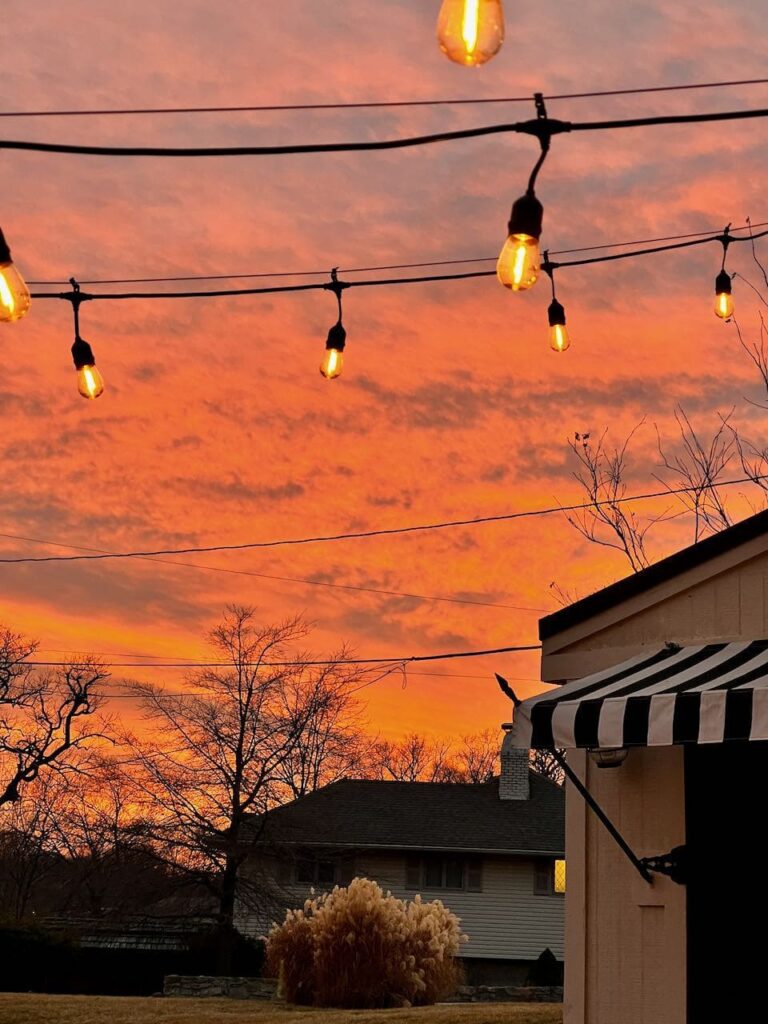 Once your light string is up, go back and add the light bulbs. (this is the "proper" way, but see our tip below)
SHORTCUT: After a bit, we realized it worked fine for me to screw in each lightbulb right before Doug was ready to zip tie it in place. By working just ahead of him, the bulbs were not hitting the ground or crashing into each other. And saved a whole lot of up and down the ladder! (You're Welcome 😉 )
Fire Up the Festivities & the Lights-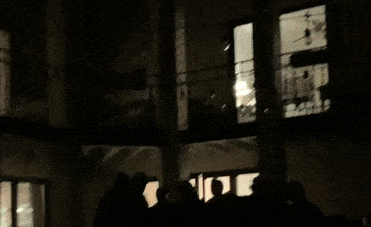 Our oldest son brought eight buddies with him from Dallas for the Cowboys vs. Chiefs game here in KC.
They were the first to enjoy the finished patio with lighting!!!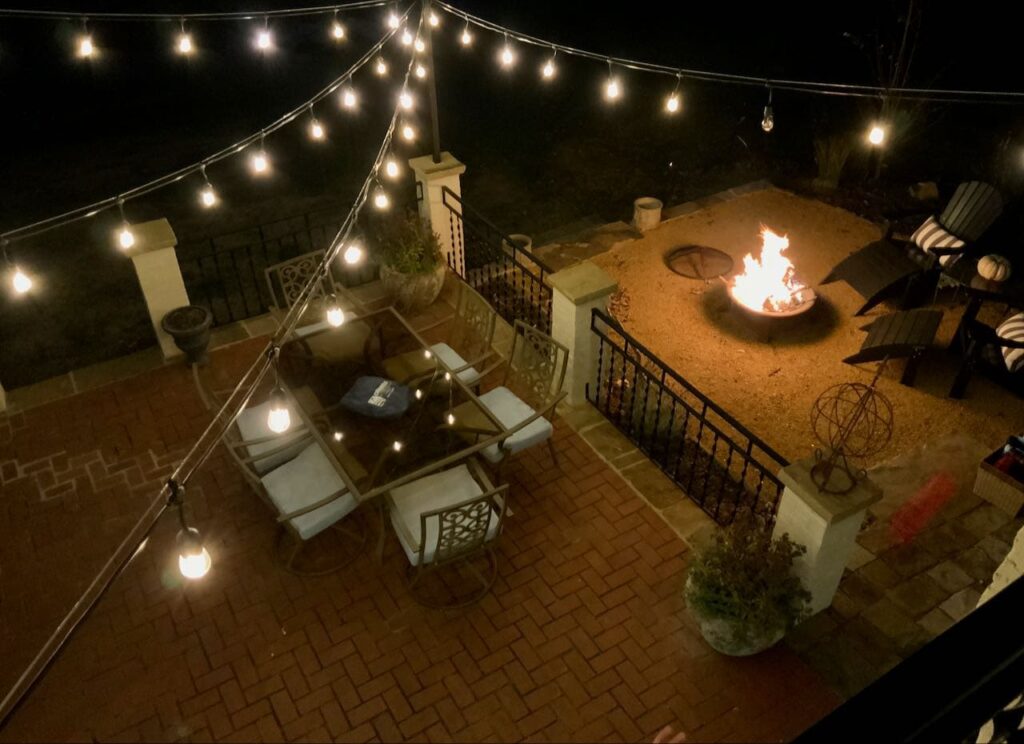 Yes, it was cold here, but that did not deter them. A roaring fire and cornhole on the patio made for a very fun evening for all!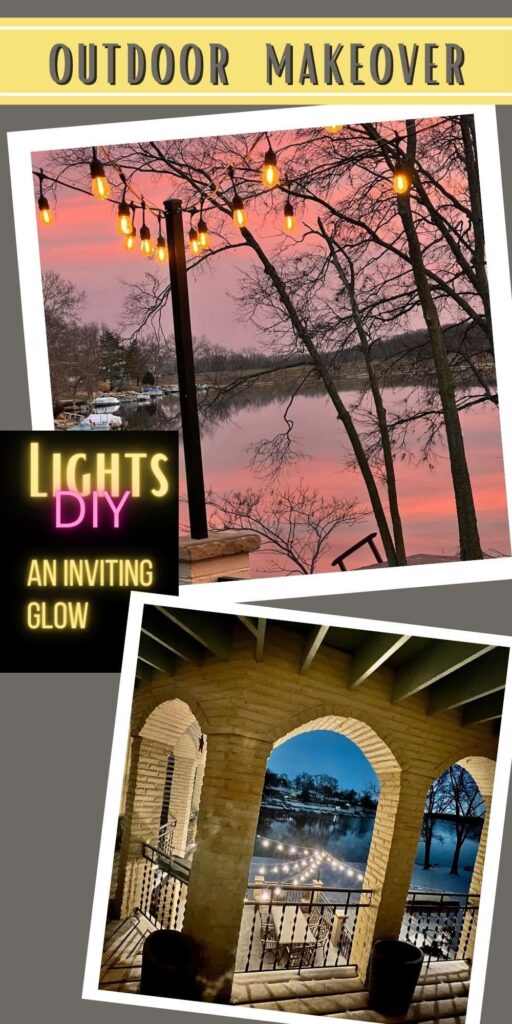 I hope this has inspired you to consider outdoor cafe lights if you don't have them yet.
As always, I truly appreciate you and please don't hesitate with any feedback or questions you have.