How to Install A Beautiful
Decomposed Granite Patio
Expand your outdoor living space with a beautiful decomposed granite patio.
Yes you can DIY it. All the info is right here!
If you're new here, a hearty "welcome"! We are in the midst of a Blog Post Super Series — Our Backyard Makeover. I am sharing all that we have done since we first "gave the mouse a cookie" and it all snowballed (yes, mixing metaphors here).
You can find all of them here if you want/need to catch up, jump around, refer back to something — you're in charge:
Prepping For the Gravel Patio Addition-
So Far:
We started here with size and layout; transition points so we could determine change in elevation which required one step down from the original patio and two steps down into the yard. And decided on Decomposed Granite for our material.
Then we built the natural stone retaining wall with stone steps.
Now for the Additional Edging-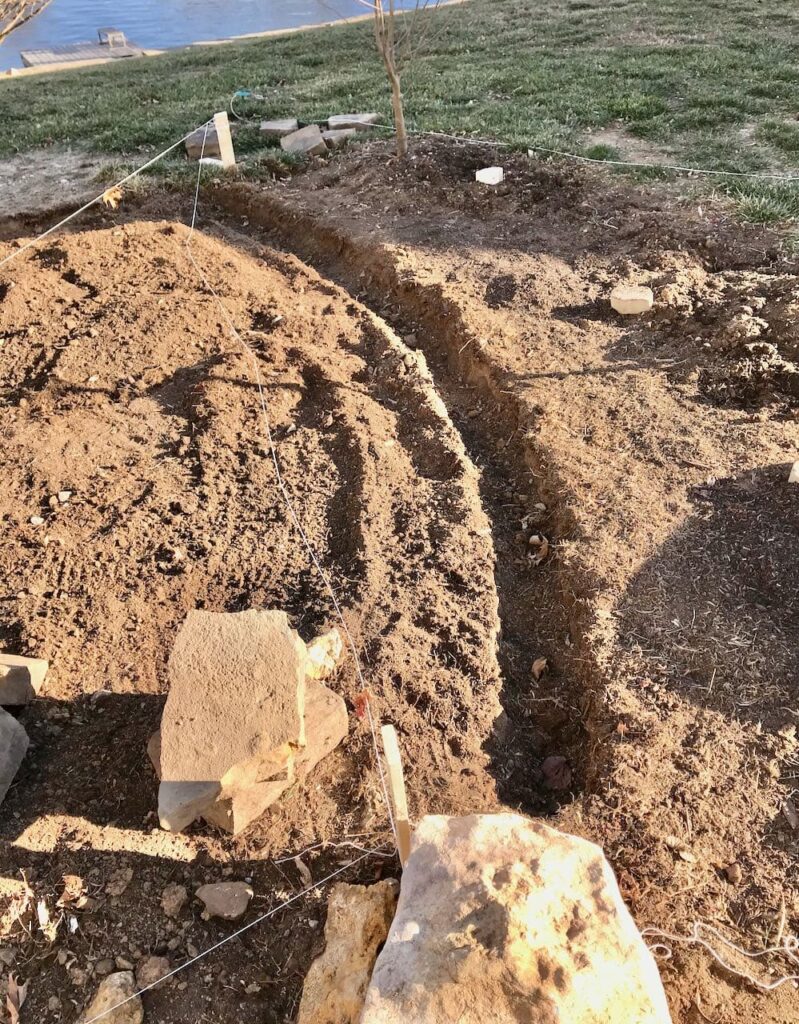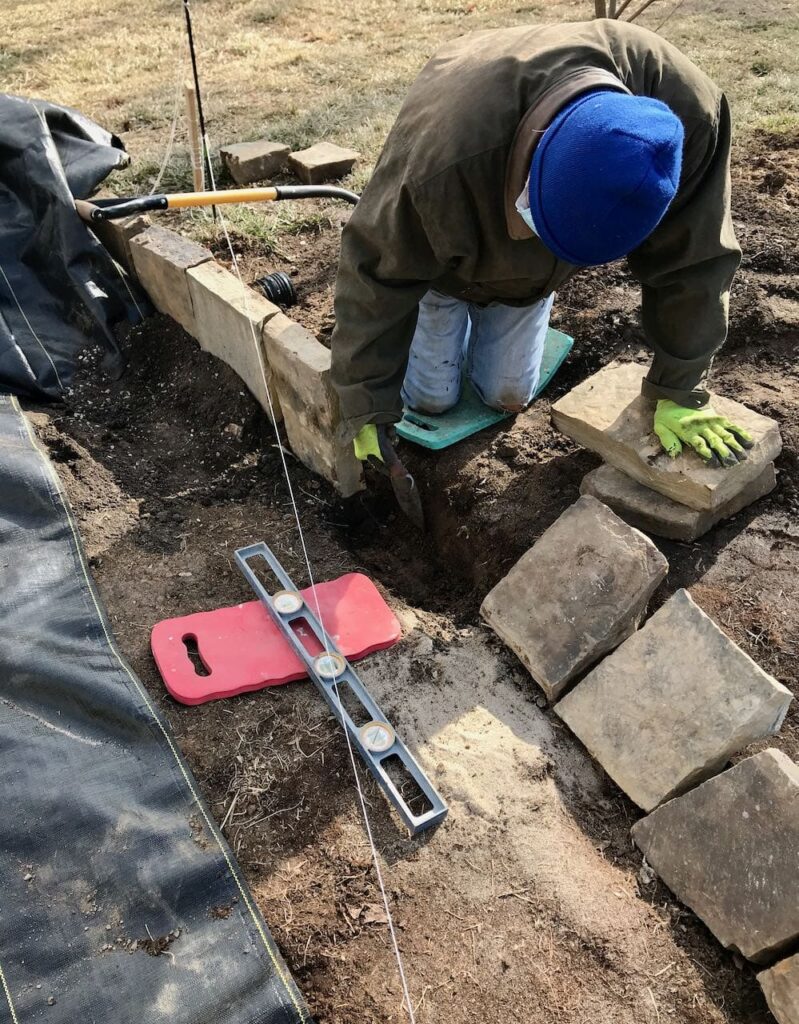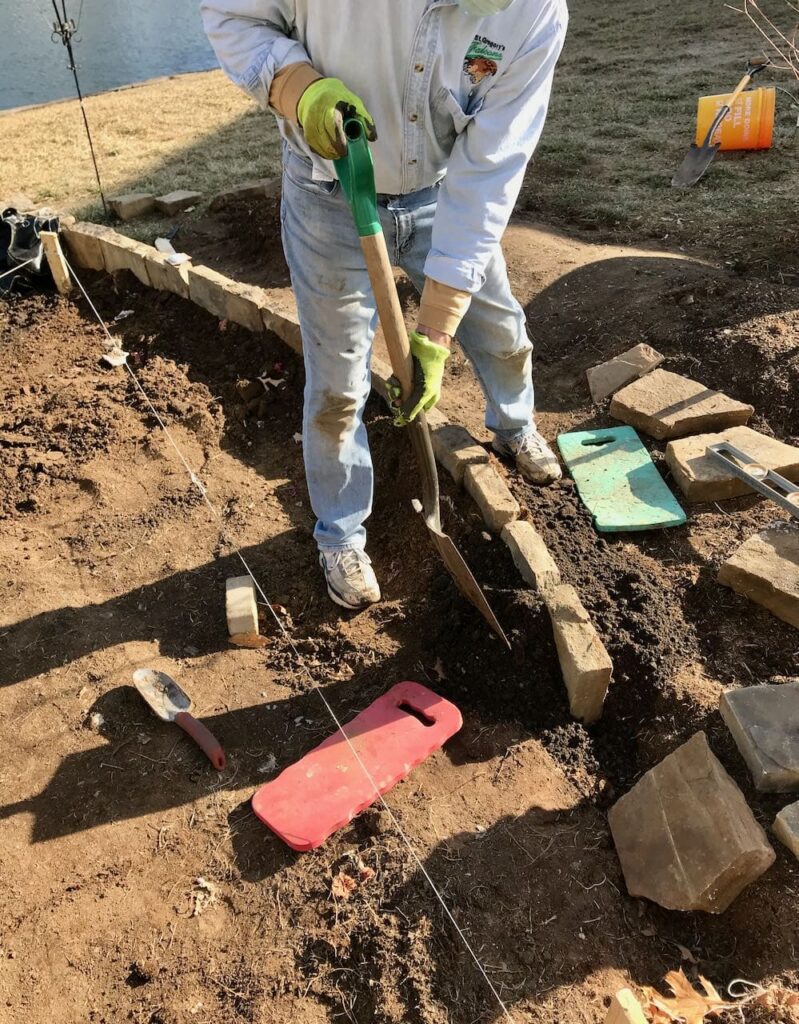 Gravel patios and paths require edging to hold the gravel or granite in place.
In our case, two sides are the stone walkway we built with the tool cabana and the retaining wall and steps. The other two sides will be planting beds. Natural stone, set on it's side will be the edging for both that keeps the mulch and the granite co-mingling.
It's a very straight forward process:
Dig a trench,
String a level line,
Place the stones vertically in the trench on a bit of gravel and sand
Backfill with dirt to hold them in place
HINT: Place stones deeper or more shallow depending on the size of the stone. You want the top edge of them all to be at the same height and level based on your string line. Our stones were salvaged from several old beds, so how much is buried is quite varied.
Drain tile, Optional-
I read that with a stacked stone retaining wall you don't need drain tile due to the natural crevices between stones that will let the water escape.
BUT, just to be extra cautious we did lay a piece of drain tile behind the retaining wall. It ends just beyond the berm edging.
How Much Decomposed Granite Do You Need?
Opinions vary on an absolute. But I did get a consensus that the 2-inches of base and 3-inches of granite is acceptable. We went with a bit more — 2 1/2 and 4-inches.
Tell your supplier your surface area and the depth you want of each material. They'll run it through their formulas and tell you what you need.
Final Prep of the Patio Surface-
Now that all the edging is in place, it's one last chance to get the base as level as you want. You'll need the soil base to be at least 5-inches below the planned top surface. This will allow for 2-inches of base and 3 inches of decomposed granite.
We tried to maintain roughly 6 3/4-inches depth with the intent that the top of the granite would be 1/4-inch below all the edges.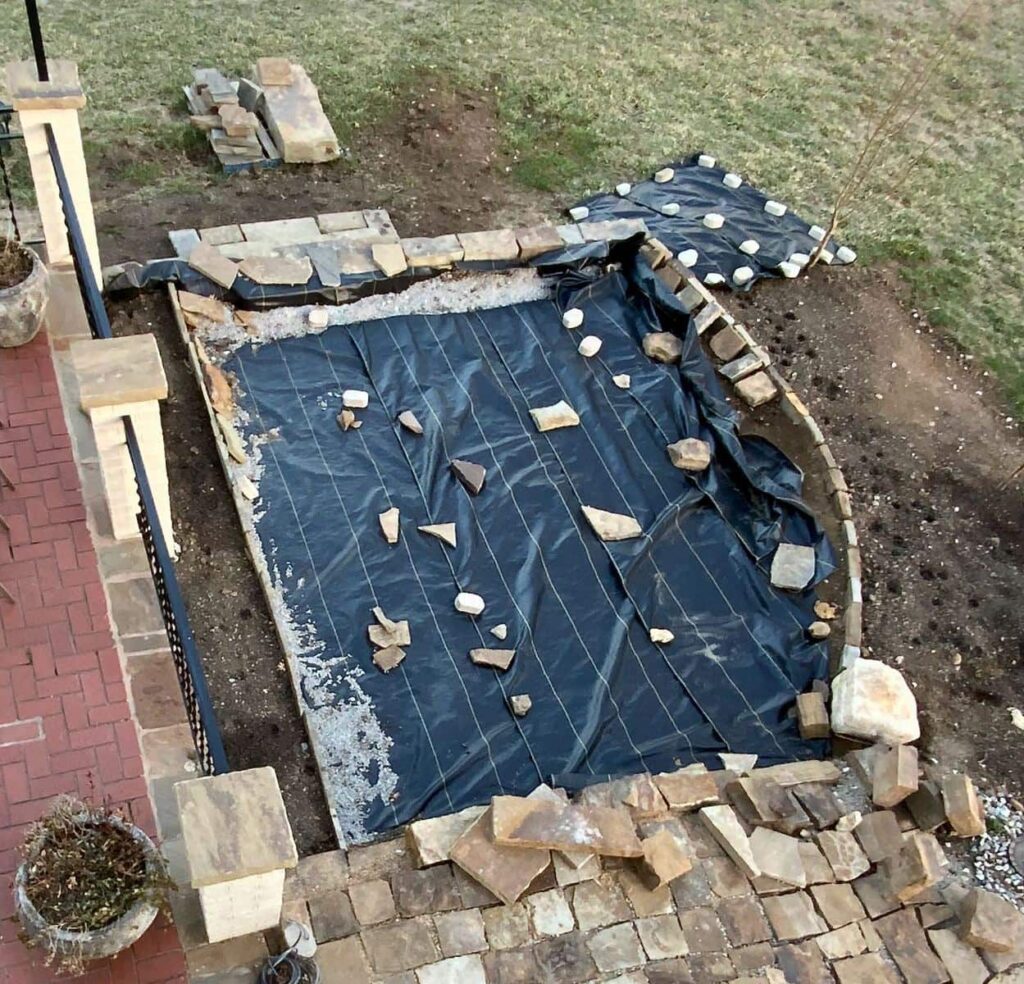 Then we opted to add a layer of landscape cloth. Not so much for weed control, but more to help prevent the base layer of road fill from being absorbed into the soil beneath.
HINT: After we back-filled the berm to the height of the stone edging, we leaned another stone against the edging stones to hold them vertical until we get the patio filled.
Detour: Retaining Wall Oops!
Learn from our mistake!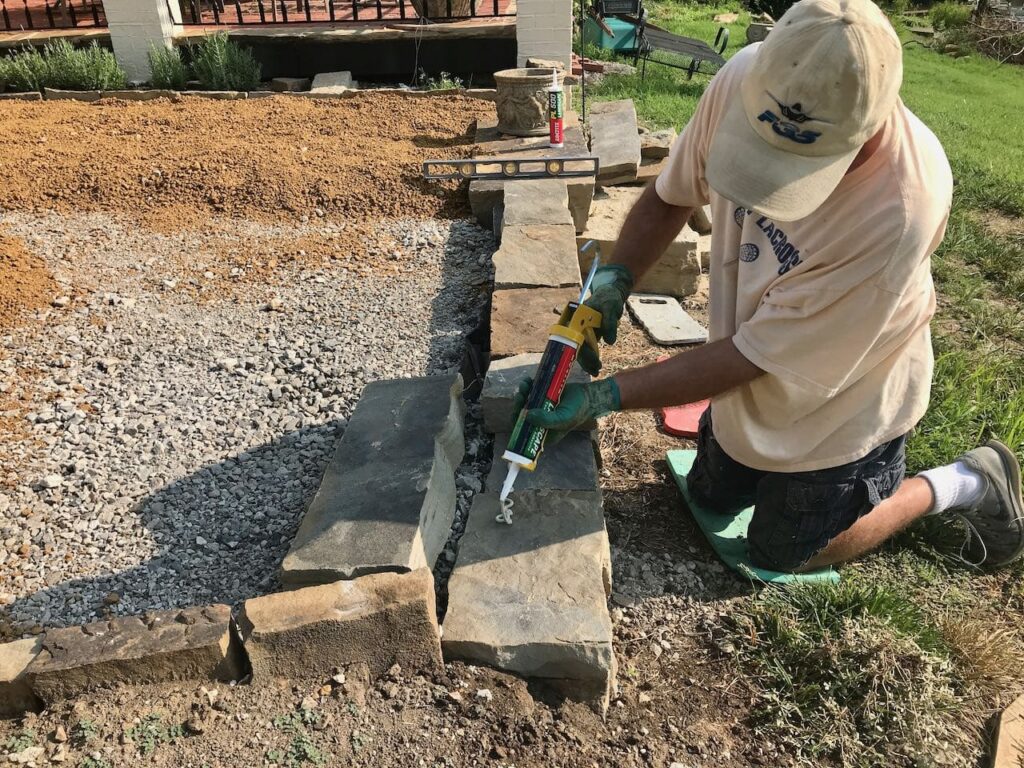 I mentioned this in a previous post. We realized that the adhesive we used on the top stones on the retaining wall did not take. Either because the weather was too cold when we applied it, or because we just swept the two surfaces clean, did not actually scrub them with water and then let them dry. Just grateful we discovered this before we had added all the decomposed granite.
Improvisation-
Fill the Retaining Wall Seams at the DG Level-
If you used a stacked stone wall at some point for your patio, you may want to do as we did on our retaining wall.
The stacked stone had no problem holding in the base later of gravel or road fill. But we could tell that the crushed granite wanted to slip right through the crack and seams of the stacked stone. We needed a putty or caulk to seal a few of them.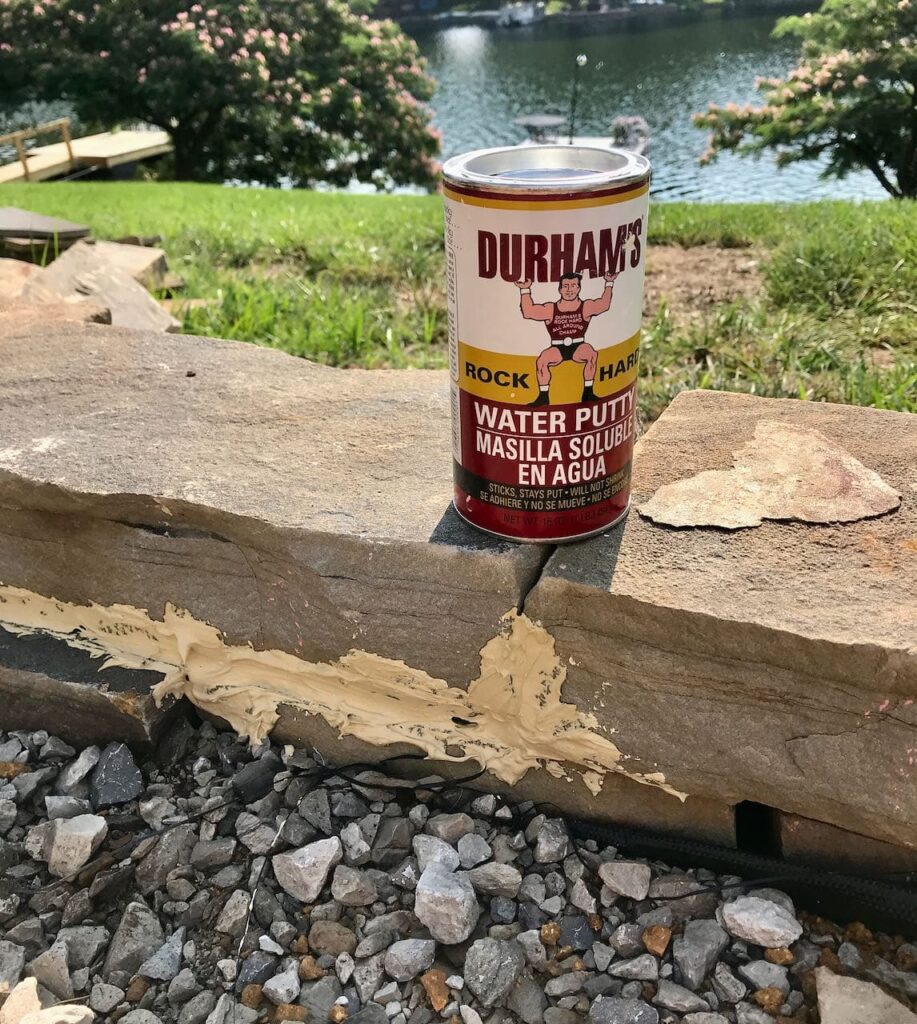 I was familiar with Durham's Rock Hard Water Putty from using it on this project. It is amazing to work with and has held through all the crazy Midwest weather.
I mixed up a cup full and smeared it on any of the larger crevices and seams above the base layer. It dries very quickly, and we were back to it.
This is not sponsored by Durham. I just love sharing a great product when I stumble across them. And this one counts! Very inexpensive and great performance. I get mine at Home Depot.
Back to Filling the Patio-
Add Your Base Layer-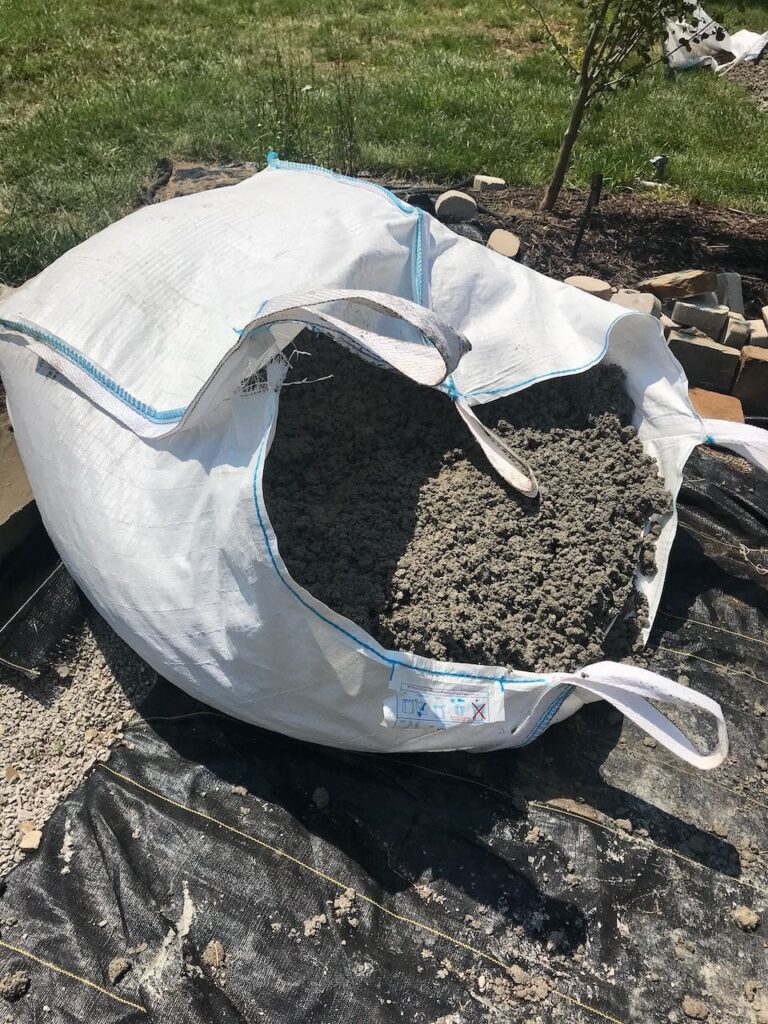 A base layer is required! Semco Outdoor delivered our road fill in 2 of these great "bulk bags".
HINT: If you are deciding between two suppliers, I'd go with the one who can deliver it bagged like this. Your back will thank you!!!!
They were able to drop it right on the corner of the patio. We were able to scoop it out from there.
We scooped and raked the road fill out of the bag on the patio .
Sadly, as they were bringing it by forklift down the hill around to the back, one of the gravel bags split in the middle of the sideyard. But we managed ferrying by wheelbarrow.
Compact Your Base Layer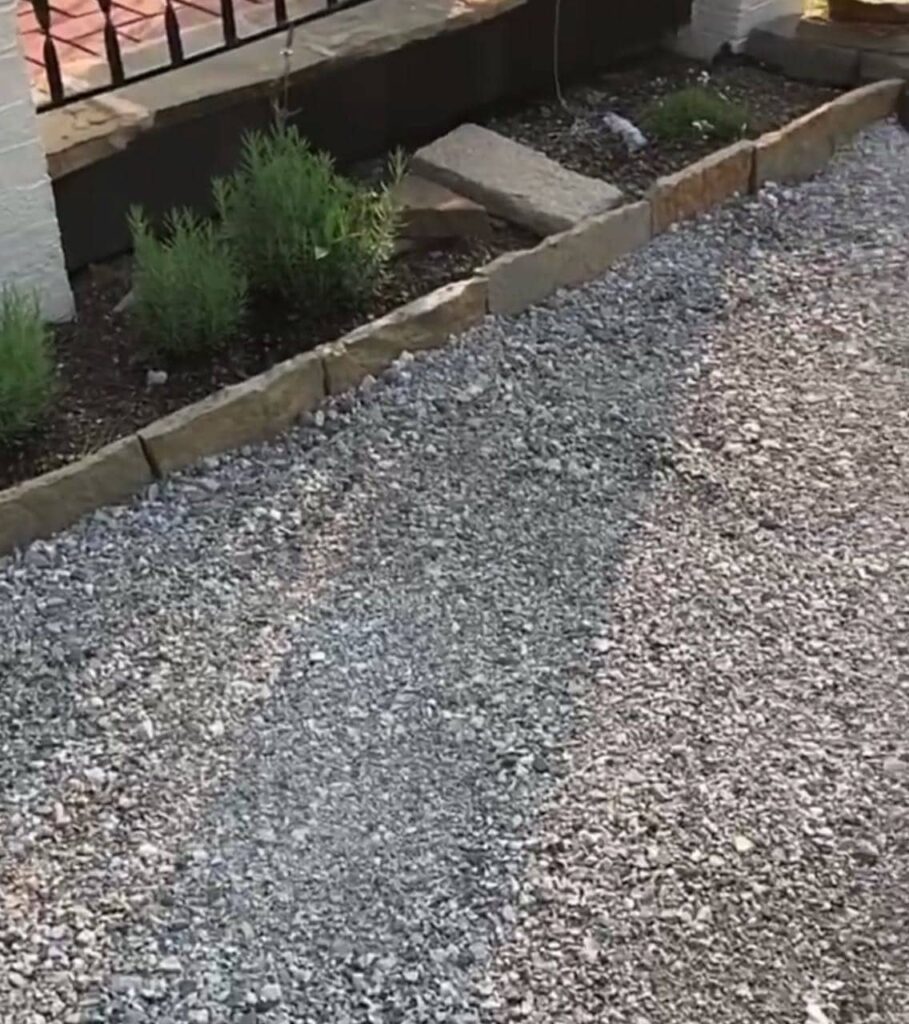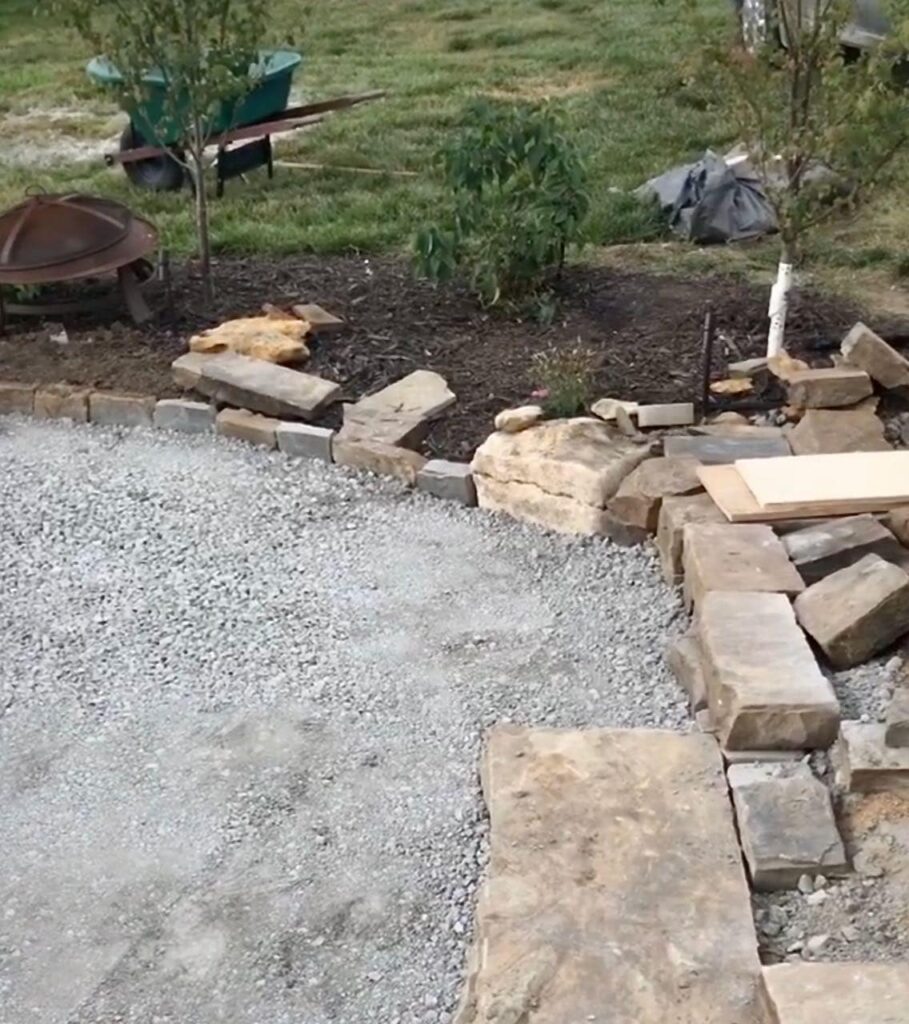 Can you see the difference!!! On the left, the road fill has not been compacted. On the right it's finished and a very solid base.
We rented a vibrating plate compactor from Home Depot. For the Base, we rented the larger of the two options they had. It was extraordinarily heavy and very difficult to get in and out of our SUV.
HINT: if your patio will have "easy access", you could save time and money doing the base and the DG on the same day or two days back to back. One delivery fee from your stone supplier and one rental fee on the compactor.
We already had trees planted in the berm, so we did not have space to line 4 bulk bags along the patio edge.
Add the First Layer of Your Decomposed Granite-
First Layer? Yes, you want to add your DG in multiple layers, compacting between each layer.
We did ours in 2 layers. The more layers, the better is what the pros told us.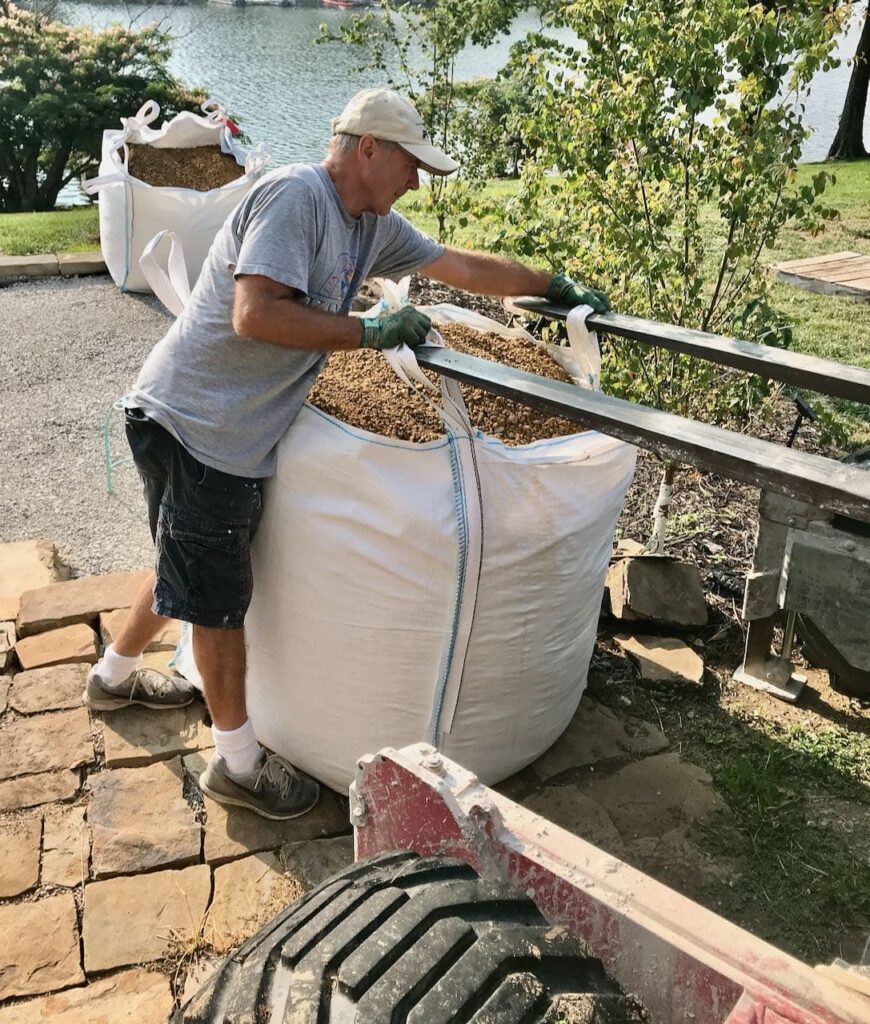 We are so grateful to Semco Outdoor, our partner on this project. They double bagged the DG for delivery.
And our delivery driver did an amazing job working the forklift around planting and stacks of stone to get the DG bags on two different corners of the patio. Each bags held well over a ton.
But because of how they were sitting, we were able to empty and spread a bag in maybe an hour tops.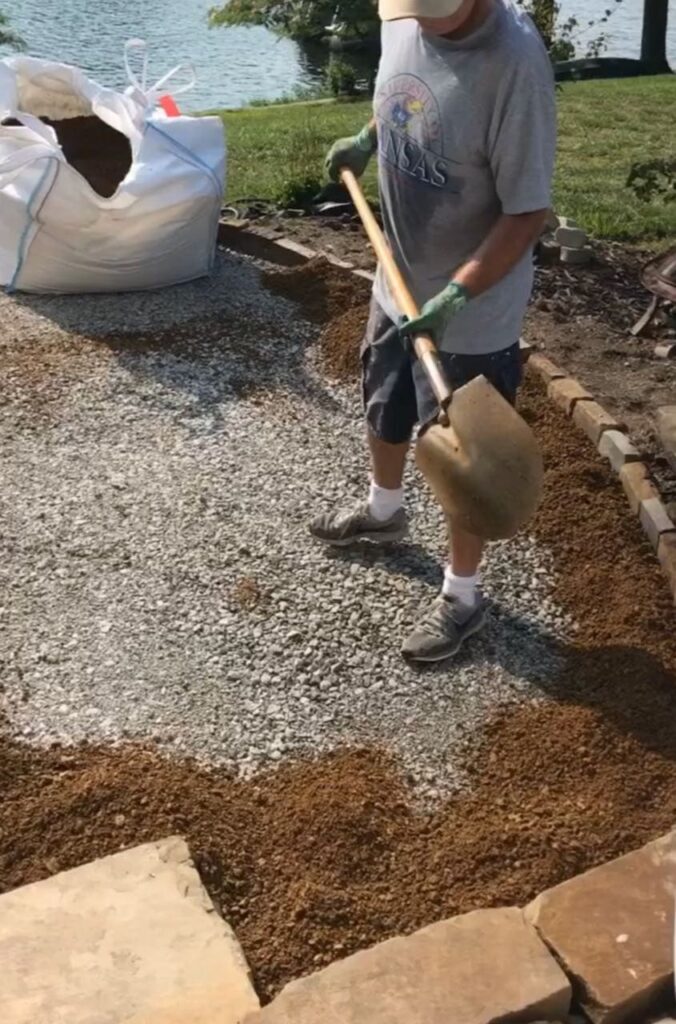 As with the base, level and then compact.
IMPORTANT: We ordered our DG with a stabilizer additive. Check with your supplier, you absolutely want it. Everything I read warned that you want the one that is added at the quarry or at the stoneyard, not an after product that you add manually on site.
Because of the stabilizer we gently sprayed the DG with water and then compacted. We were told that the water helps to activate the stabilizer.
HINT: We learned from the base layer. This time we rented the smaller of the compactors from our Home Depot. It cost a bit less and it was easier to get in and out of our vehicle.
Now Add Your Final Layer to Your Decomposed Granite Patio-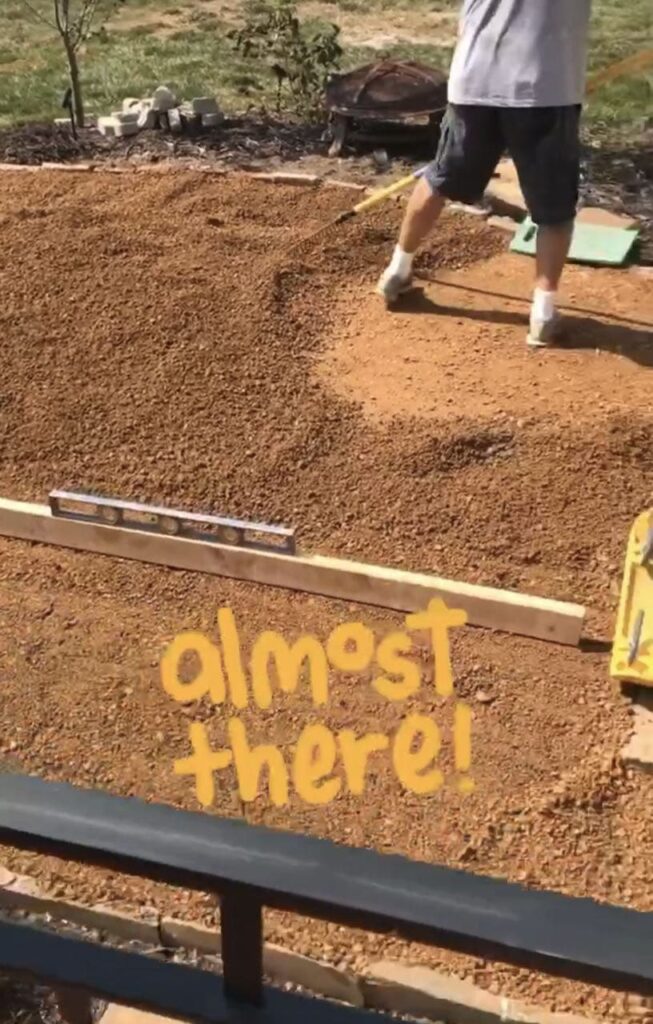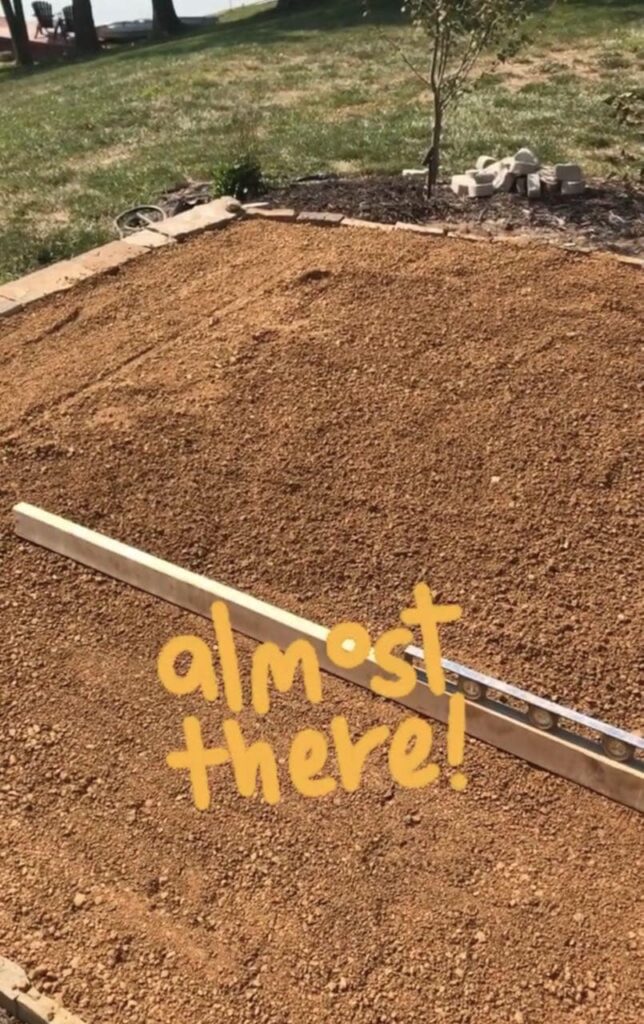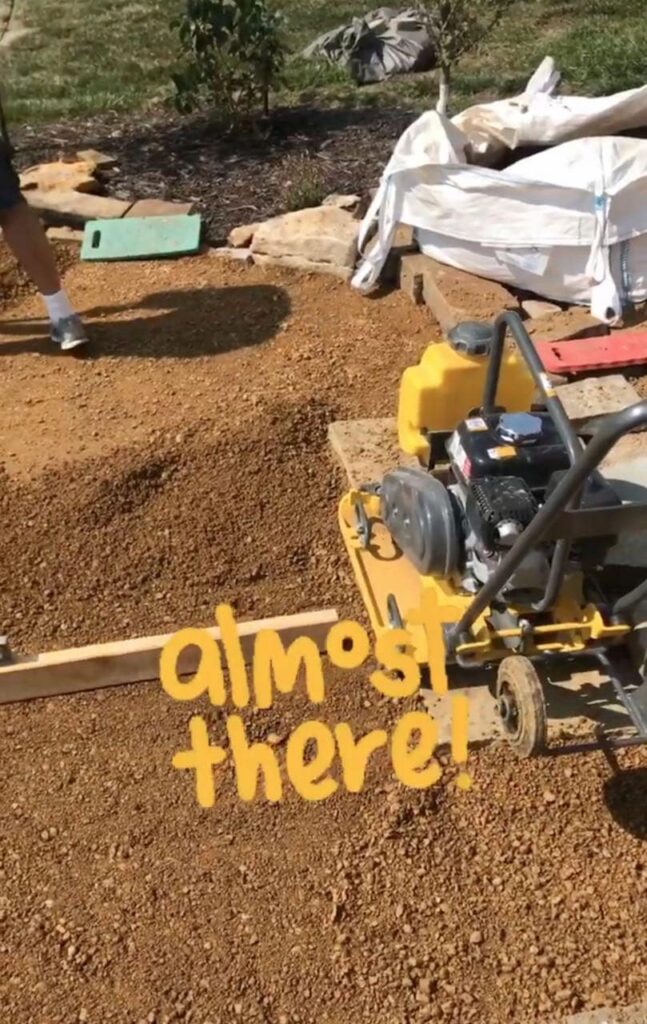 With this final layer, you want to take more care with leveling.
Spread your final layer of DG and rake it smooth.
Then level it beyond "just eyeballing it", see below.
Then gently water and compact.
Beyond "Just Eyeballing It"-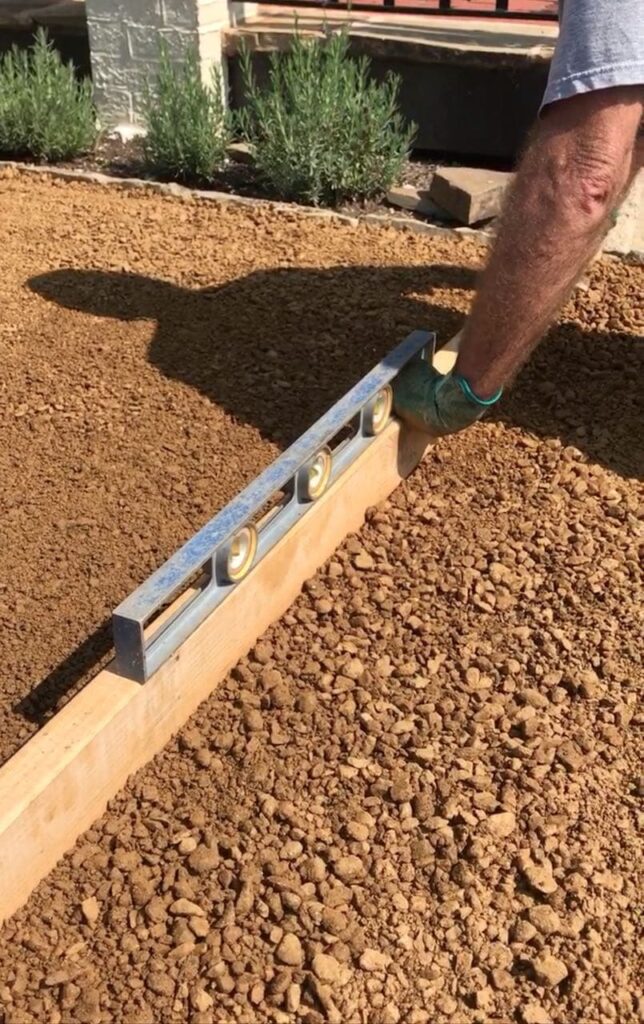 Before running the vibrating plate compactor on the DG layers, we used a level resting on a straight 2 x 4 and pushed this across the patio scraping down high spots and filling in low spots as we went.
Required! Bask in Your Success-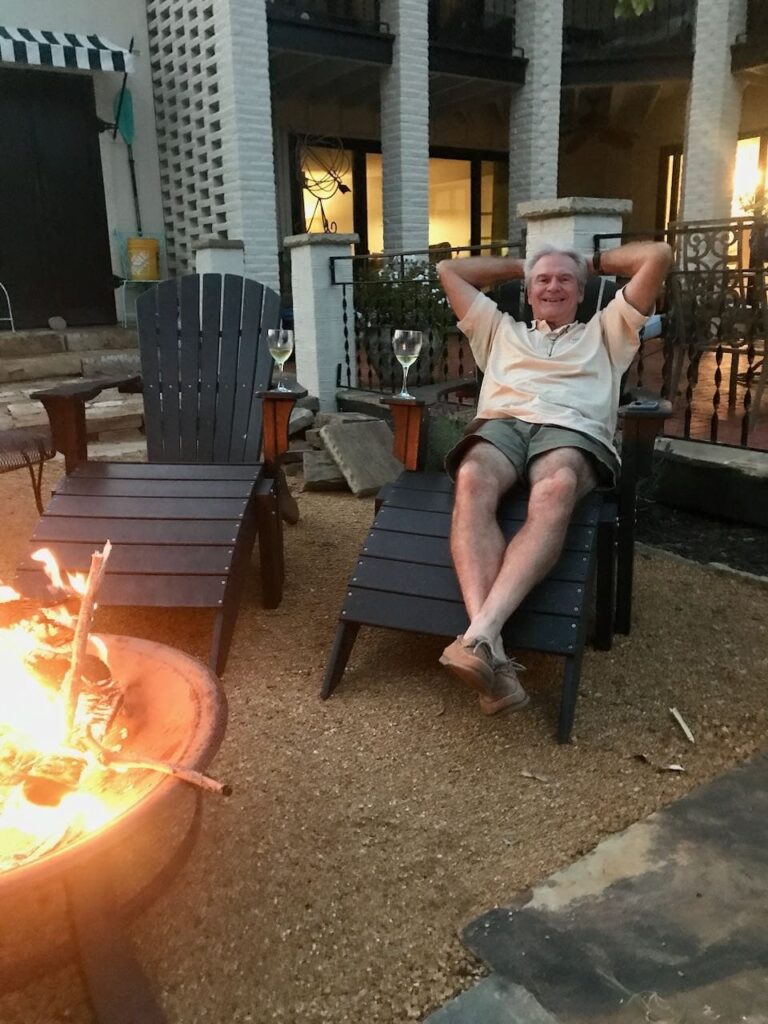 Ot new favorite hangout spot!!!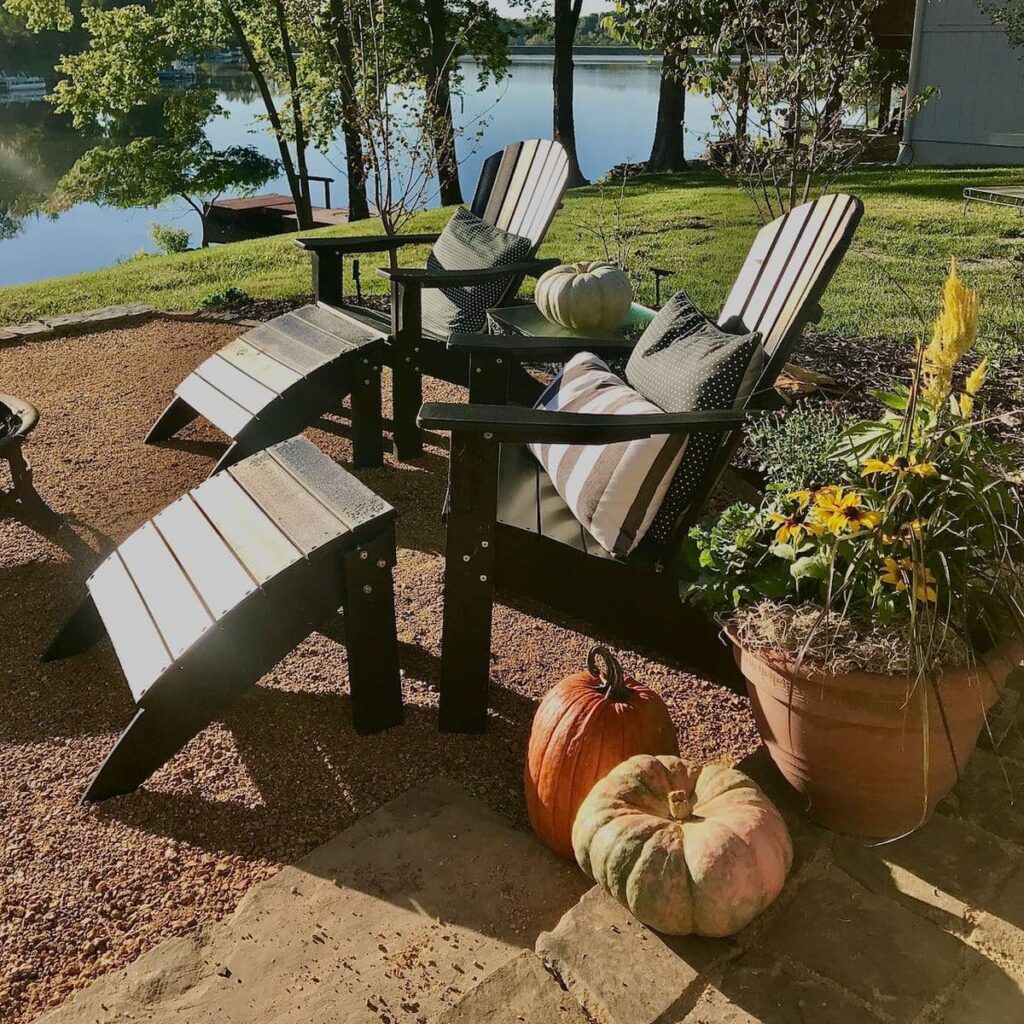 There are few projects that have given us as much satisfaction as this!
Adding on this relatively modest sized patio has transformed how we relax and how we entertain in this house.
Do you have a poorly designed outdoor space? You have quantity of space, but it's just not configured for how you live and want to use the space? That was us! Plenty of outdoor square footage, but no place to put a conversation grouping and our fire pit.
Be sure to pin this on your:
Backyard board
Outdoor Spaces board
Patio Makeover board
Landscaping board
Make the Neighbors Jealous board
Or wherever you know you'll be able to find it again.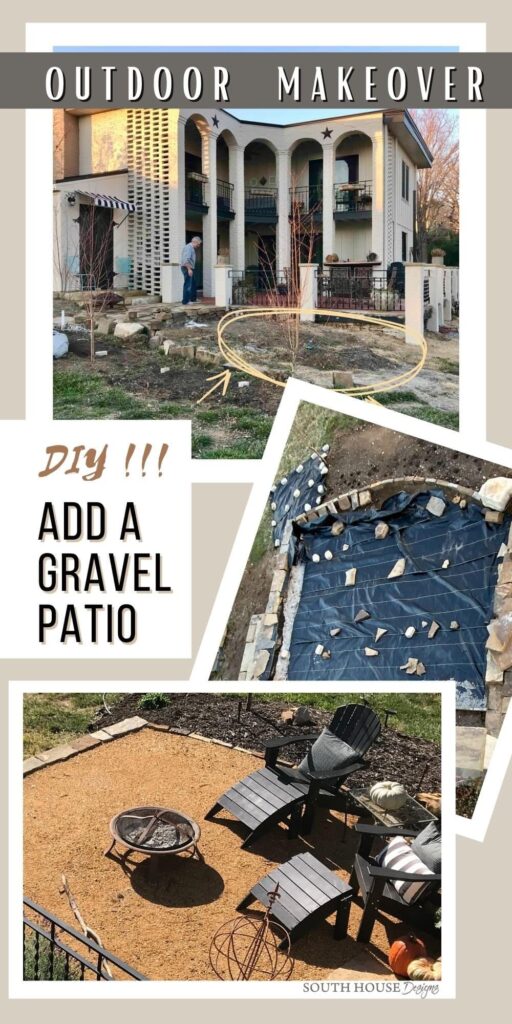 I hope this has inspired you to rethink how your outdoor space is configured. And empower you to realize you can make changes yourself.
NOTE: This is a sponsored post. That means I was compensated for featuring a product or service. Please note that all opinions and words are honest and mine! I will never recommend a product or service that I do not stand behind!
And Our Backyard Makeover Series is not through yet! Stay-tuned.