Plant the Best Herb Cocktail Garden for Easy Great Drinks
For the freshest, delicious cocktails, have fresh herbs always on hand by following these tips for planting an herbal cocktail garden.
Welcome to the third Fabulous Friday Link Party Blog Hop.
The Fabulous Friday Link Party is where bloggers share their best home related blog posts every Friday. Quarterly, the Link Party hosts each invite a talented blogger who links up regularly to join us in a special Blog Hop.
This is just one stop of twelve for our Spring Garden Blog Hop. The six Fabulous Friday hosts and our guest bloggers are sharing awesome Garden Inspiration and How-To's. Follow along for wonderful gardening related ideas. All the links to the Hosts and their Featured Blogger Friends are at the end of this blog post.
If you are new here, I'm so glad to have you drop in. Here you will find all manner of creative doings to bring joy to our homes and our lives.
If we minimize stress in our lives, we make room for more joy! That's what we do at South House Designs.
Now back to the Cocktails
We always hear about "complexity" and "depth" of cocktails — usually from a mixologist.
I'm no mixologist!!! But I do enjoy a light and delicious cocktail, particularly during the long, warm evenings of Summer.
But making those complex, deep beverages sounds . . . . well, it sounds complex and deep. The very opposite of Summer in my book, which should be light and easy!
But still delicious! And that's where fresh herbs come in!
​
And a Cocktail Garden!
Fresh herbs add extra flavor and freshness without a lot of extra work.
A cocktail garden is one of the easiest way to have fresh herbs on hand whenever you have drop-in guests during the casual laid back Summer evenings.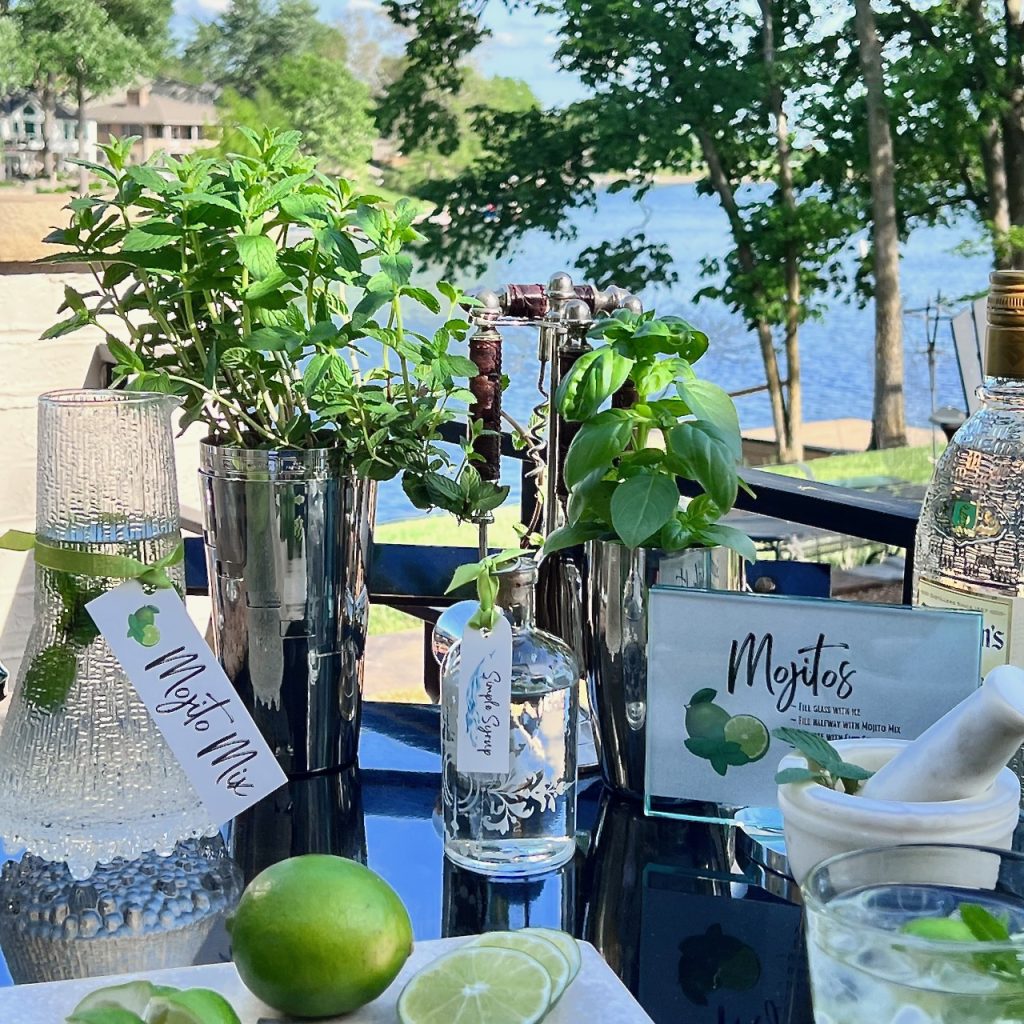 ​
This Post is a Lot!
Feel free to skim through it all or use these links to jump ahead:
How Do You Plant a Cocktail Garden?
​
Good news: It's really very easy to grow your own herbs!
You plant a few herbs for the drinks you like to serve.
Plant them in a sunny spot with well-drained soil. Water them as needed.
Where?
​Pick a sunny spot with easy access. Even a planter on a sunny windowsill or balcony railing will do.
I prefer to plant herbs in pots.
My own cocktail garden is a container garden in our courtyard right outside the kitchen door.
There are many advantages to this:
Mint can be confined so it doesn't take over
Easy access to snip herbs for cooking or beverages
No weeding required
Easy to separate some herbs from others and some veggies (not all should be planted together)
What Herbs are Good for Cocktails?
​
There are many! Start by matching herbs to your favorite cocktails.
These are my favorite herbs and the ones in my cocktail garden:
Mint — Mint Julep, Mojito, Cuba Libre, Strawberry Mint Smash, Gin Gin Mule, and the list goes on
Sweet Basil — Basil Gimlet, Gin Basil Smash, Peach Basil Frose, Basil Lemon Drop, Frozen Cucumber Basil Daiquiri
Rosemary — Rosemary Gin Fizz, Rosemary Collins, Gin & Tonic
Thyme — Old Thyme Sour
Sage — ​Sage Lady Cocktail, most bourbon and gin drinks
Lavender — aromatic garnish for so many great drinks
And of course there's always a new twist to the standard herbs, such as lemon basil, pineapple mint, orange mint even lime basil.
Full Disclosure: The thyme and sage are more for cooking than cocktails. Although this year I'm trying lemon thyme. I thought it sounded good for some summer cocktails. And I've heard sage is excellent with bourbon. I'm just not much of a bourbon drinker (except for Bee's Knees).
​
Can All Herbs be Planted Together?
​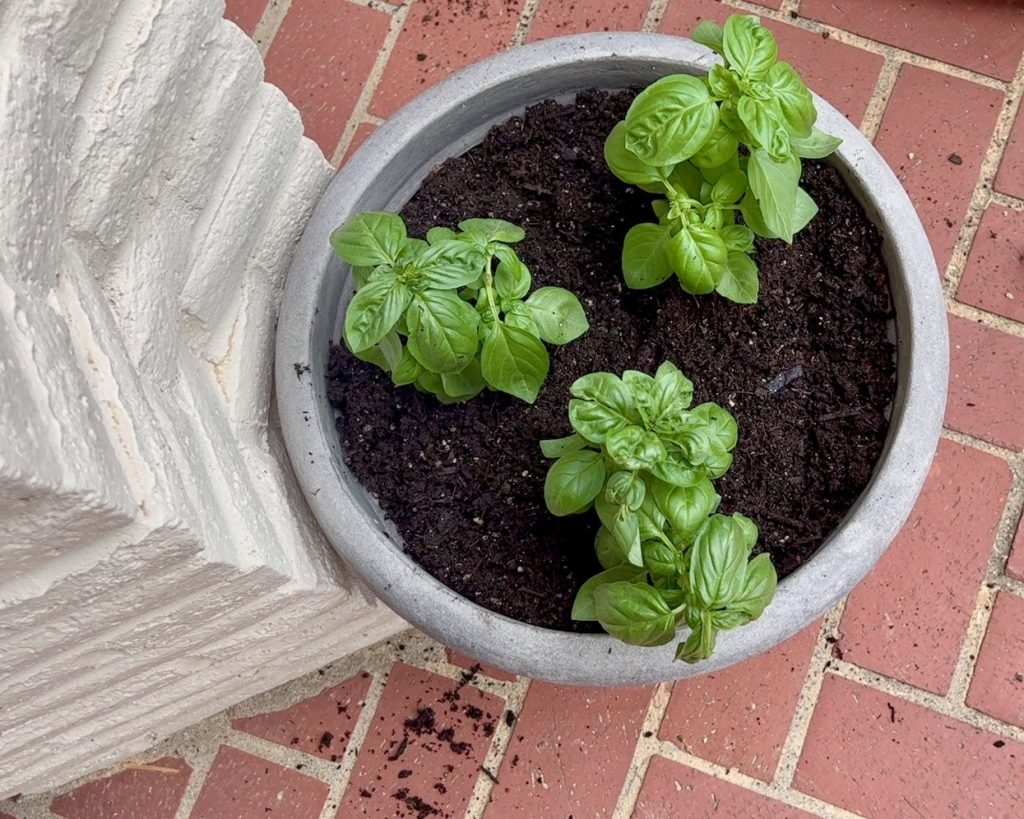 As I alluded to above, not all herbs should be planted together. In general, herbs like plenty of direct sunlight. A few basic combinations to keep in mind:
Lavender and Dill do NOT grow well together (different soil preferences)
Mint with mint only!
CAUTION: Do yourself a favor and plant mint in its own pot. It is highly invasive.
Basil — is super popular, but there are some other fast growing herbs that do not thrive with it because they are competing for the same nutrients. So I tend to plant basil separately, as I did above.
TIP: Adding a small marigold or two in with the basil can help to repel garden pests.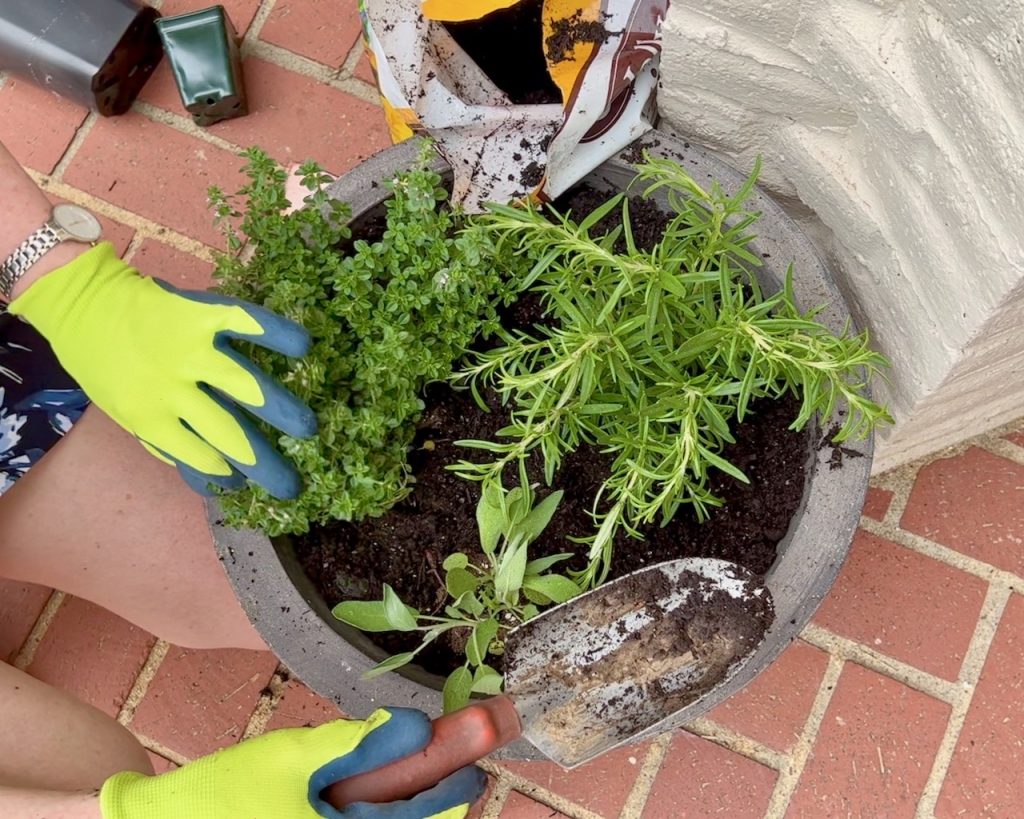 Rosemary, oregano, thyme and sage all live well together.
Lavender tends to grow large and I want a whole row of it, so it's in a garden bed right beside the courtyard.
How to Plant Herbs-
There are no special tricks here. The same as planting your annual flowers.
In general, herbs like sunny location, well-drained soil. Be sure to use potting soil iff potting in containers as I do.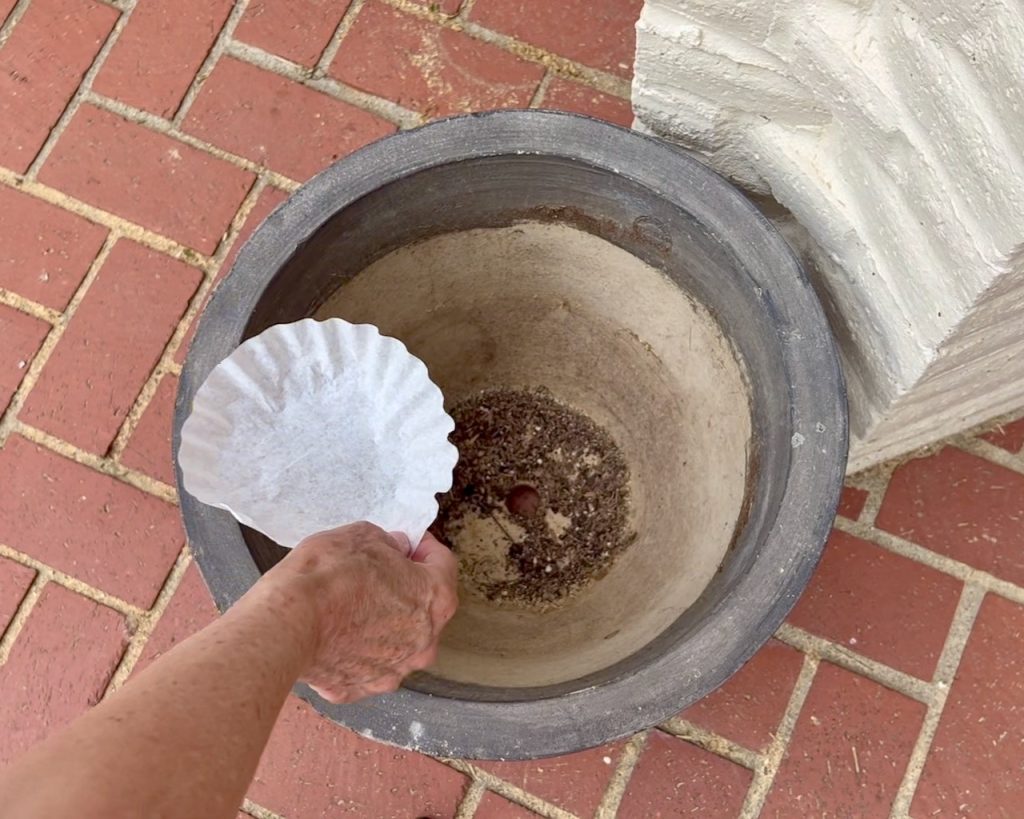 TIP: a coffee filter is my favorite hack to cover the hole(s) in the bottom planters. Moisture drains through, but soil stays put.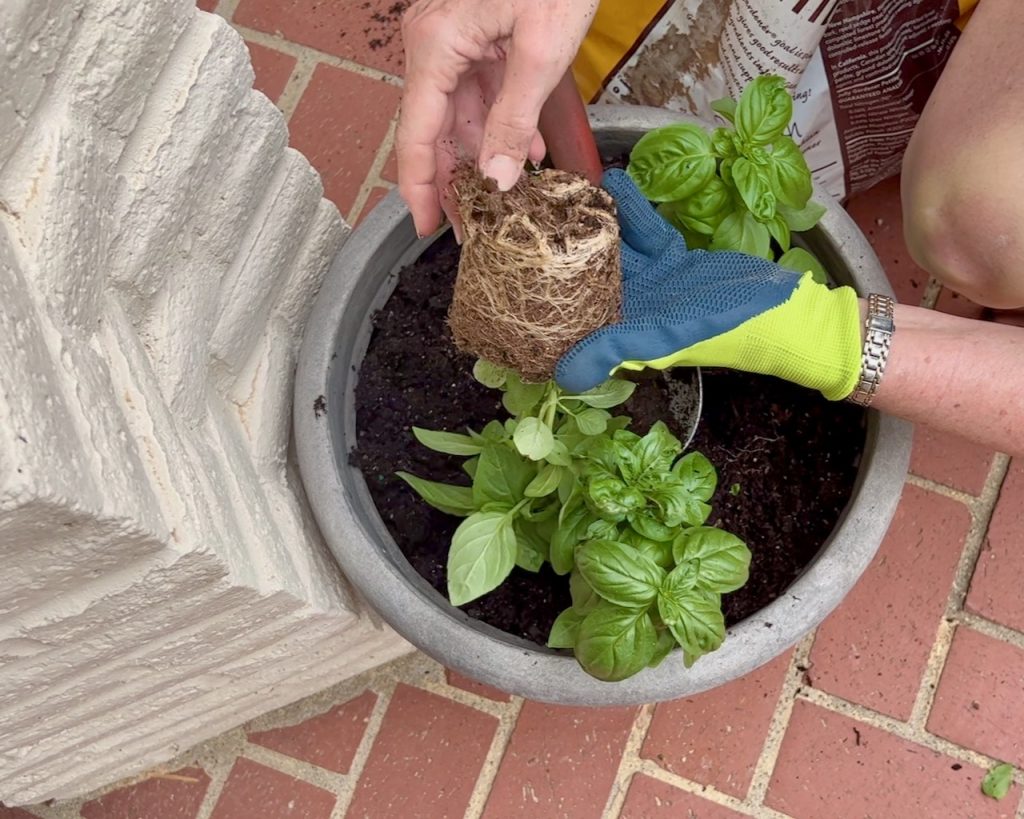 And be sure to loosen the roots of the herbs when you're planting them. This gives the roots a head start in spreading out in the planter.
Are Herbs Perennials?
​
Some herb plants are perennial herbs in warmer climates. You'll have to check the labels for your hardiness
zone to see which if any may be a perennial herb for you.
I'm in zone 6a and my rosemary and lavender are perennials.
​
How to Add Herbs to Cocktails
There Are Three Basic Ways to Use Herbs in Cocktails:
​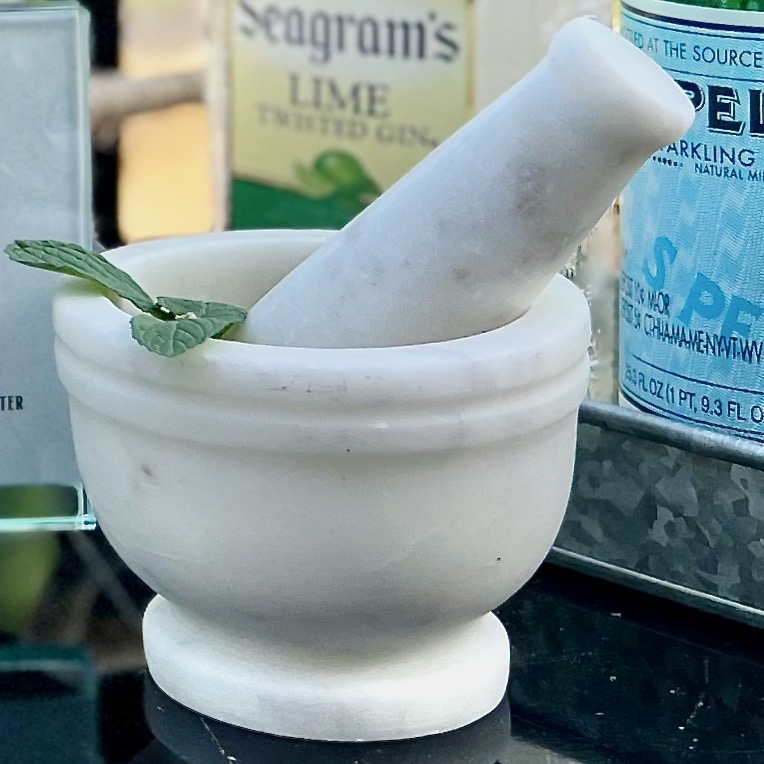 Muddle
Muddling is to herbs as squeezing is to fruit. When you muddle the herbs, you gently press and twist them to release the oils. With fruit, you squeeze it to release the juice. It's really as simple as that.
I like to use a marble mortar and pestle set that I've had for a number of years. There are also bartending specific muddlers.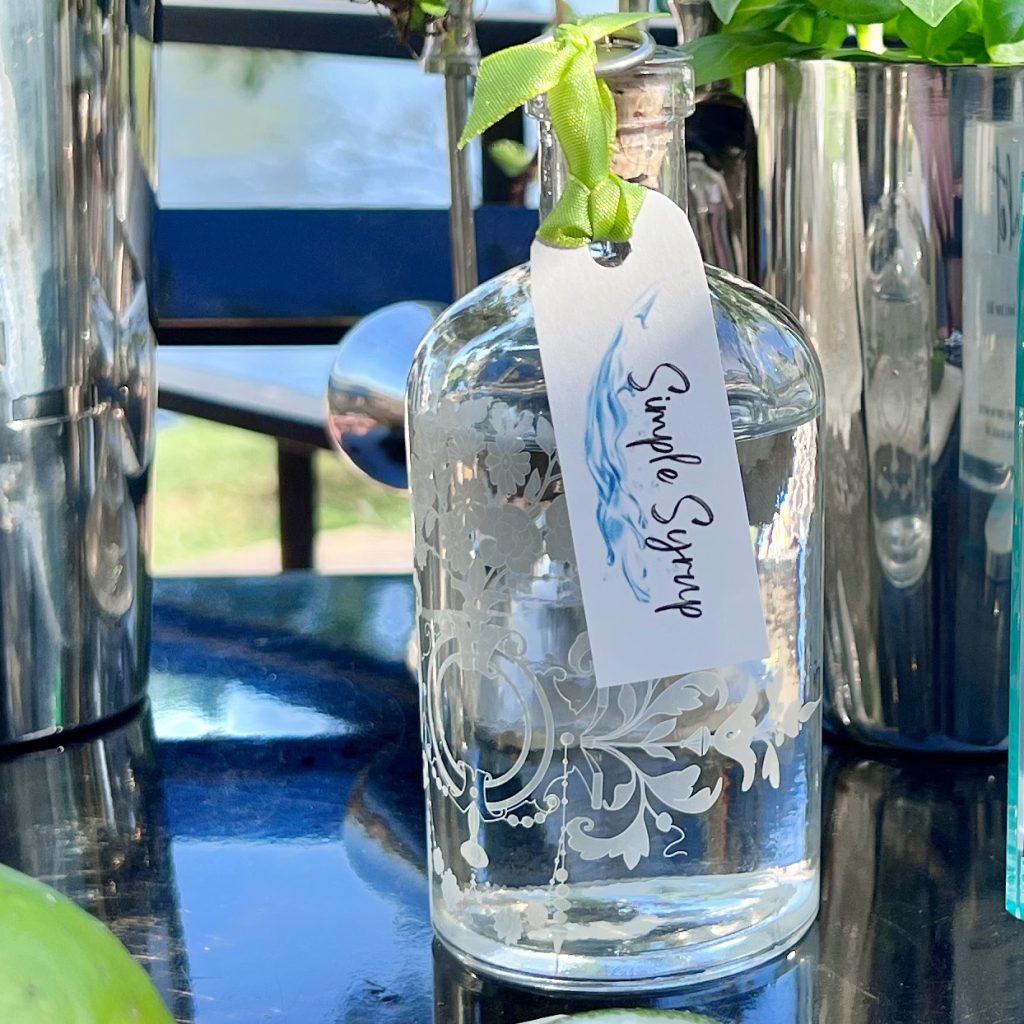 Infuse in Simple Syrup-
It's very easy to make an infused simple syrup:
1c. water plus 1 cup sugar
add 3 Tablespoons fresh herbs
Simmer for 15 minutes
Cool
Strain into a clean bottle of jar, store in refrigerator
Good for 2 – 3 weeks
To make plain simple syrup, just leave out the herbs and no need to strain.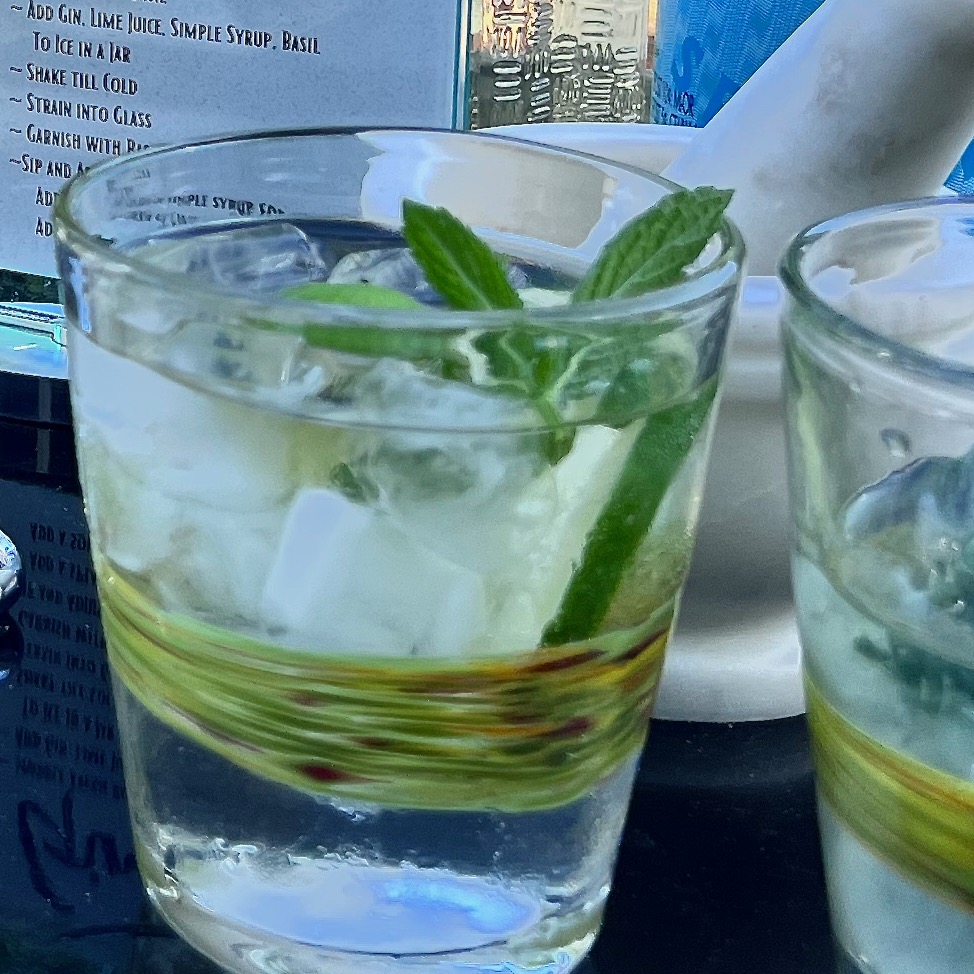 Garnish-
According to Veranda Magazine's Resident Mixologist, Ian Palmer, "the easiest and most effective way to utilize fresh herbs in cocktails is by adding them to completed drinks as an aromatic garnish.
​
Now that I've won you over to planting an herbal cocktail garden, let's talk about setting up an herbal cocktail bar.
​But First, Do You Prefer Video?
No Worries, I've Gotcha Covered.
Just click the image below for the video, then click the back arrow to return right here.

How to Set-up a Herbal Cocktail Bar
​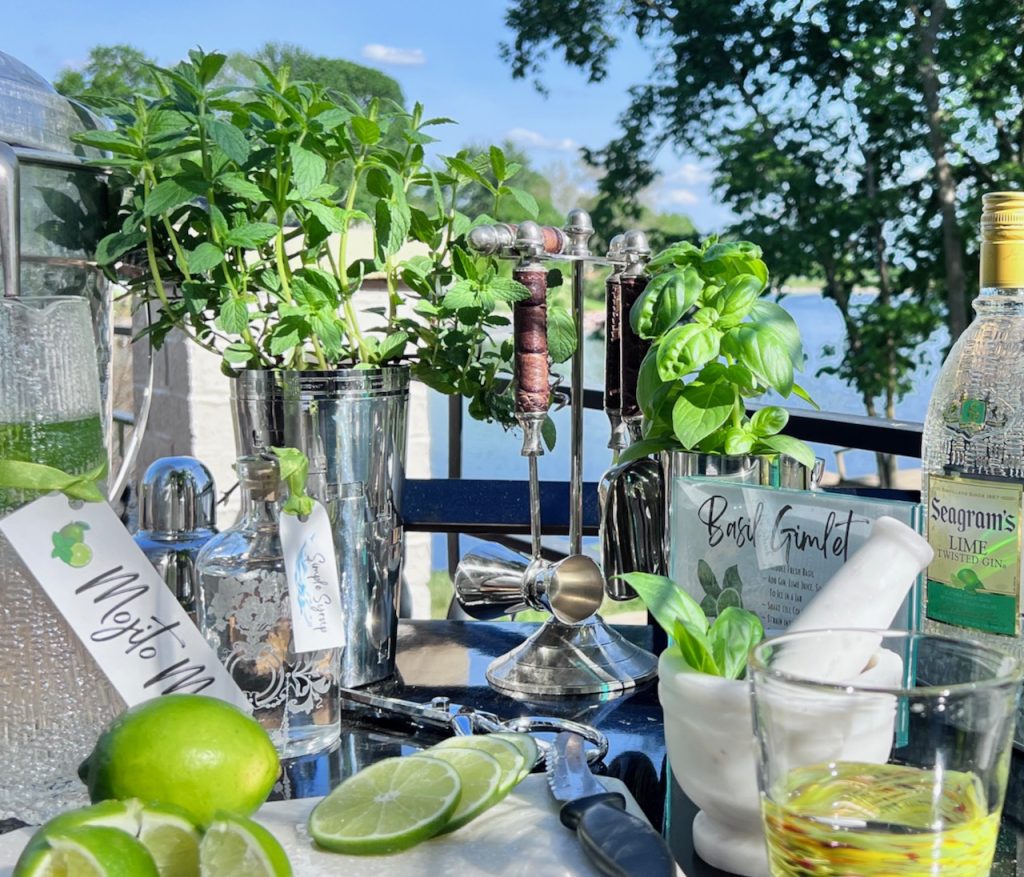 Location-
Since we're enjoying perfect summer evenings, the patio, deck or porch seems like to perfect spot to setup a bar.
We prefer casual entertaining, so we usually set up a self-serve bar with a signature cocktail or two for the evening along with wine choices and maybe a few beer options.
Here we set up a bar cart in our courtyard patio right next to the entrance. It's convenient to the house, to the brick courtyard and the crushed granite patio as well as the docks.
Determine What to Serve-
​
​Tastes vary widely!!! Best to acknowledge that up front.
I like having at least one "cocktail of the day" ready with wine options, beer options and sparkling waters. During the winter months, we'll sometimes add a small selection of mixed drinks (meaning scotch on the rocks or scotch and mixer).
But since it's the perfect time of the year for happy hour to last well well past norm, I decided to add a second herb-forward cocktail. One that would appeal to those who don't necessarily go for my first choice, a rum drink.
First, one of my Summer favorites, a classic mojito starring fresh mint and lime in white rum. To keep things simple, for the second drink, I just switched out the rum with gin and switched out the mint with fresh basil making a Basil Gimlet.
​Supplies-
glassware
thermal bucket of ice cubes, with ice tongs or scoop
cocktail shaker, or a humble ball jar will do
Jigger or shot glasses
corkscrew and bottle opener
cutting board and knife for the cocktail garnishes
fresh herbs and scissors
muddling bowl or cup
simple syrup in bottle with covered pour spout (keep the flies away)
lemons and limes — fresh juice is the best juice
hand towels
Pitcher of your signature cocktail, if it can be pre-mixed
Liquor bottle required for signature cocktail, if not pre-mixed.
Mixers: soda water – club soda – tonic water – ginger ale
Framed Recipe/Instructions for making the signature cocktail(s)
Cocktail napkins
Set-Up-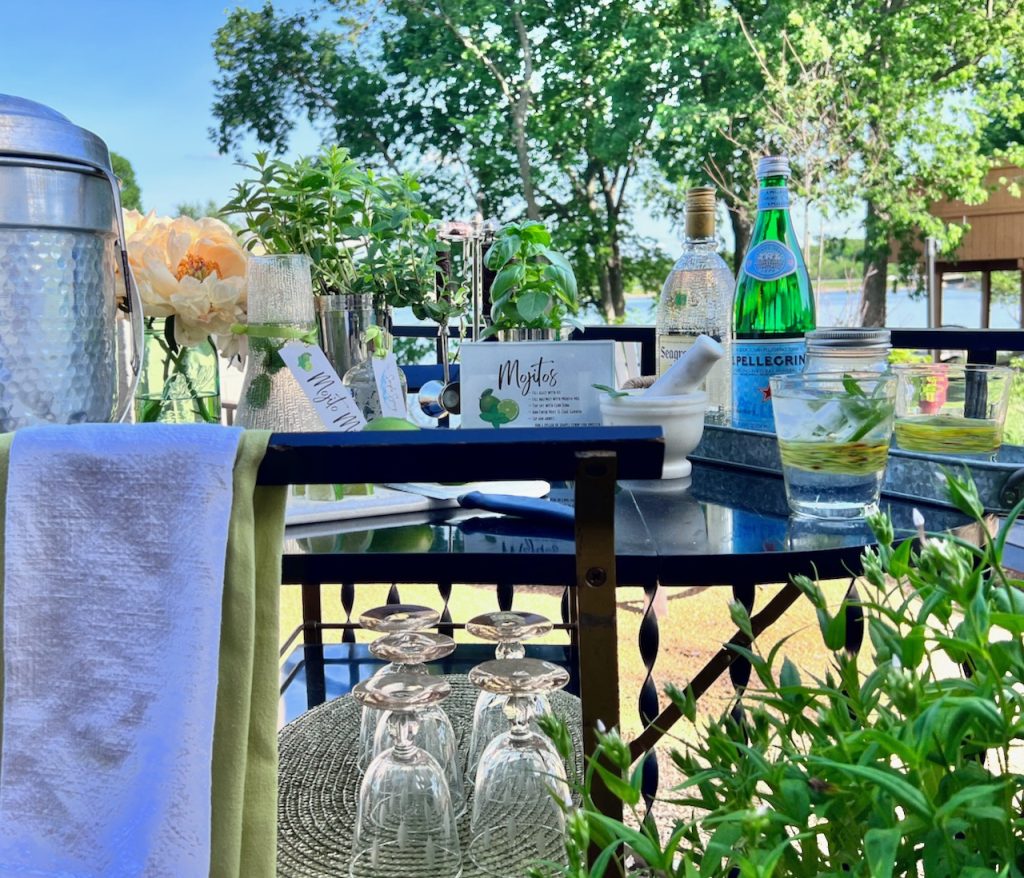 On the bottom shelf is typically where we place extra mixers, soft drink options and a stack of bar towels. The next shelf holds extra glassware — usually stemless or short stemmed wine glasses that can serve many varieties of cocktail creations.
The top of the cart is where it all happens. My goal is to have everything needed for the first round of beverages in this one spot.
Start with a large insulated ice bucket with scoop or tongs. You can wait and add the ice just before your guests start arriving,
Add a minimum of two hand towels (or bar towels) in a handy spot, with backups on the bottom shelf.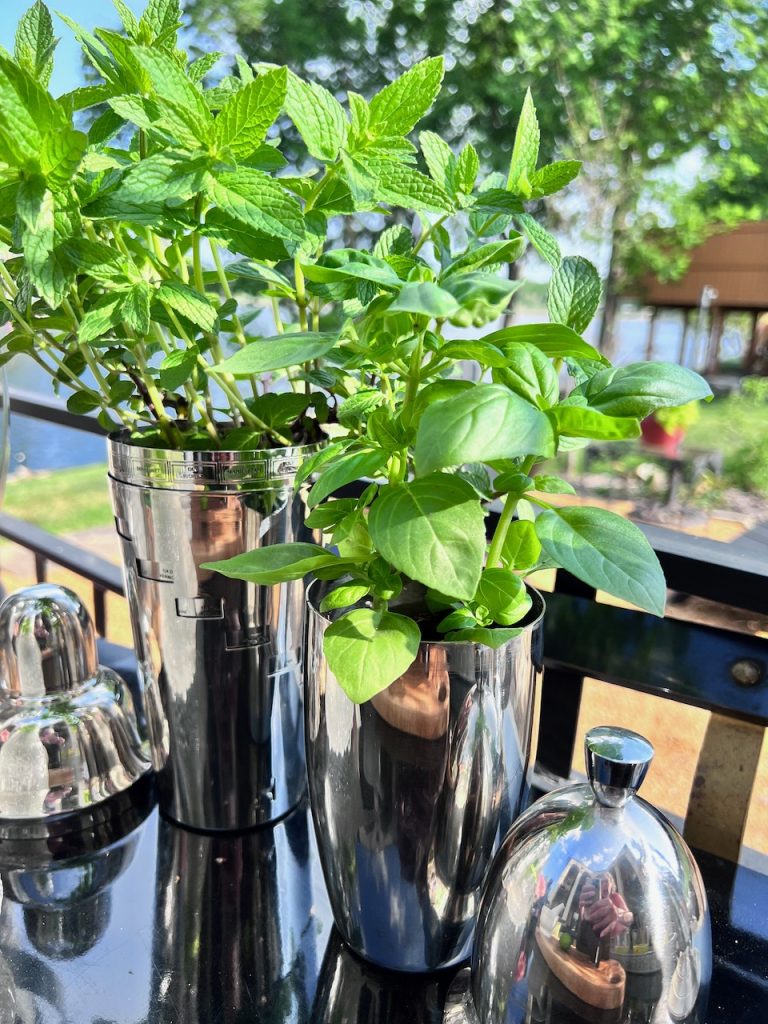 Because I'm serving cocktails that feature basil and mint, I placed a pot of each (washed) in vintage cocktail shakers with a pair of scissors close by.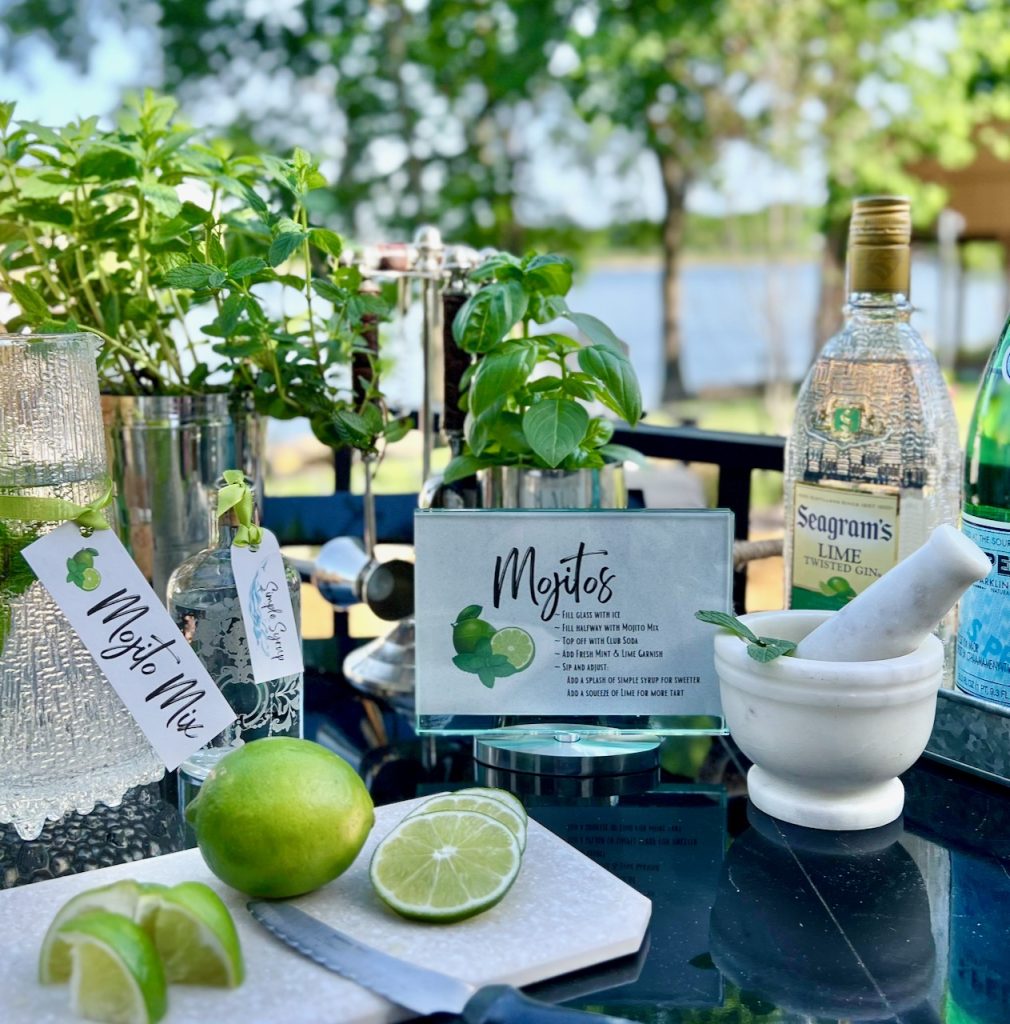 By the herbs, I included a mortar and pestle set for muddling the fresh cut herbs plus a small cutting board and knife with fresh limes for garnish and fresh lime juice for the Basil Gimlets.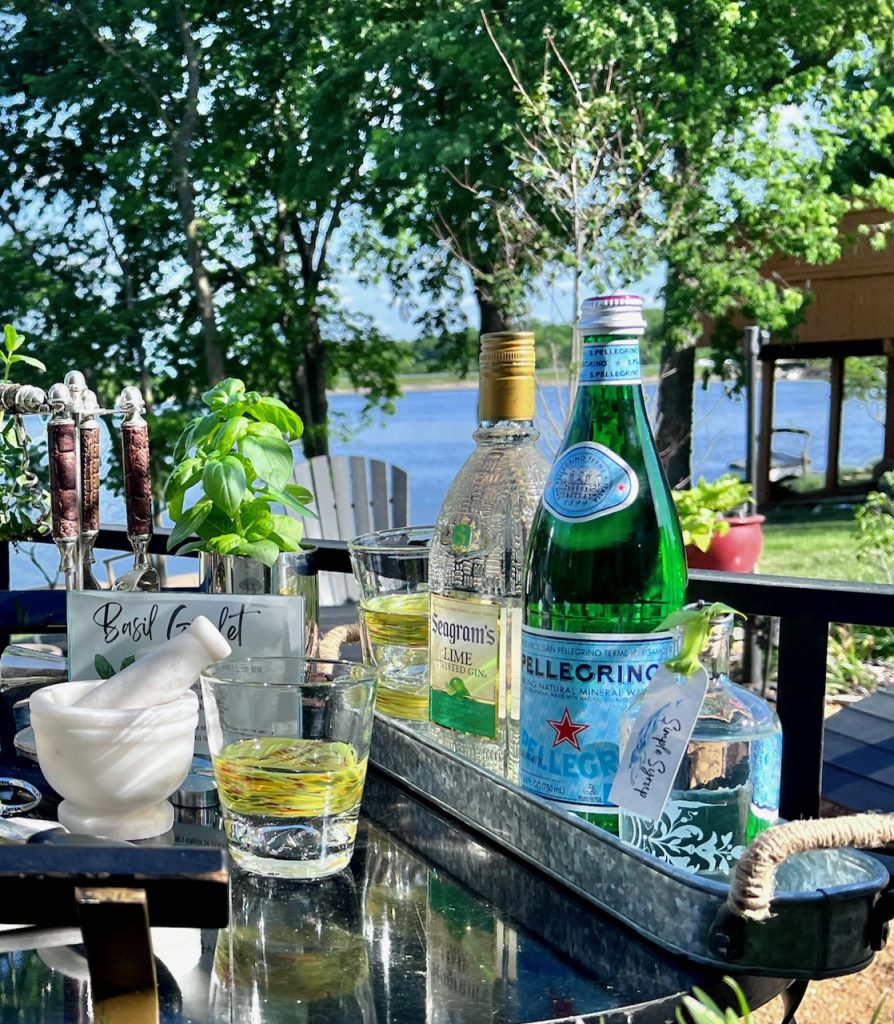 I often use a long, narrow tray to corral the bottles of liquor, mixers and simple syrup. With so many using the bar, this subtle designation helps keep the cart a bit more organized.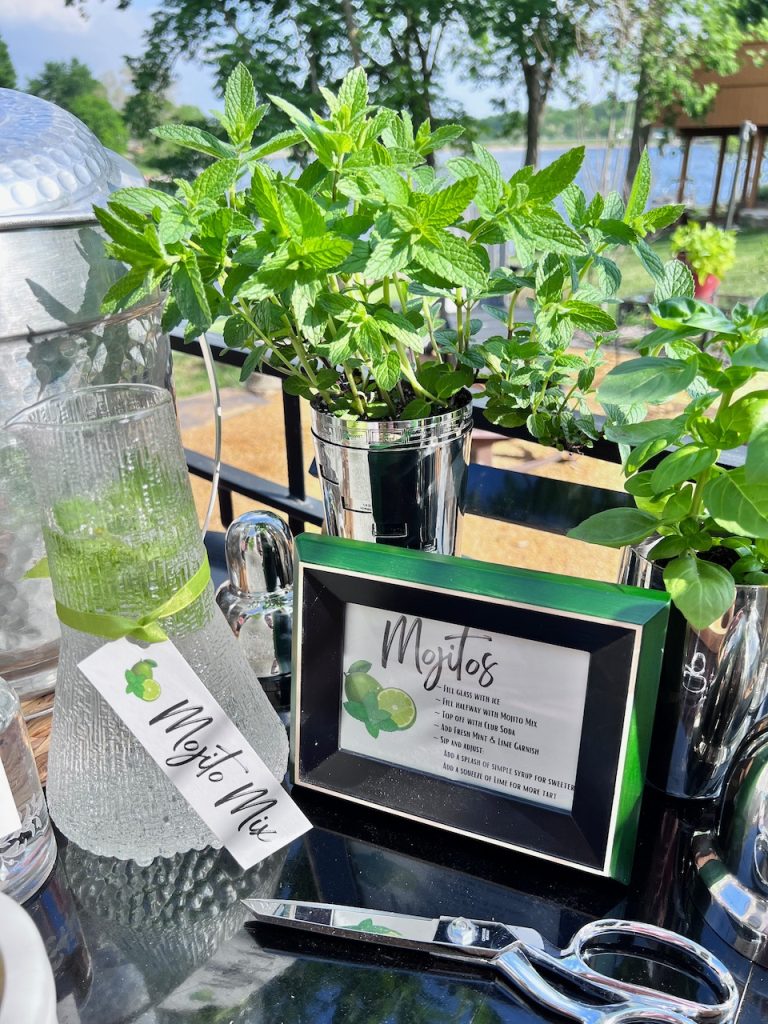 I'll add a framed recipe or instruction card for each drink. If I were serving just the Mojitos, I would have used a single standing frame like above.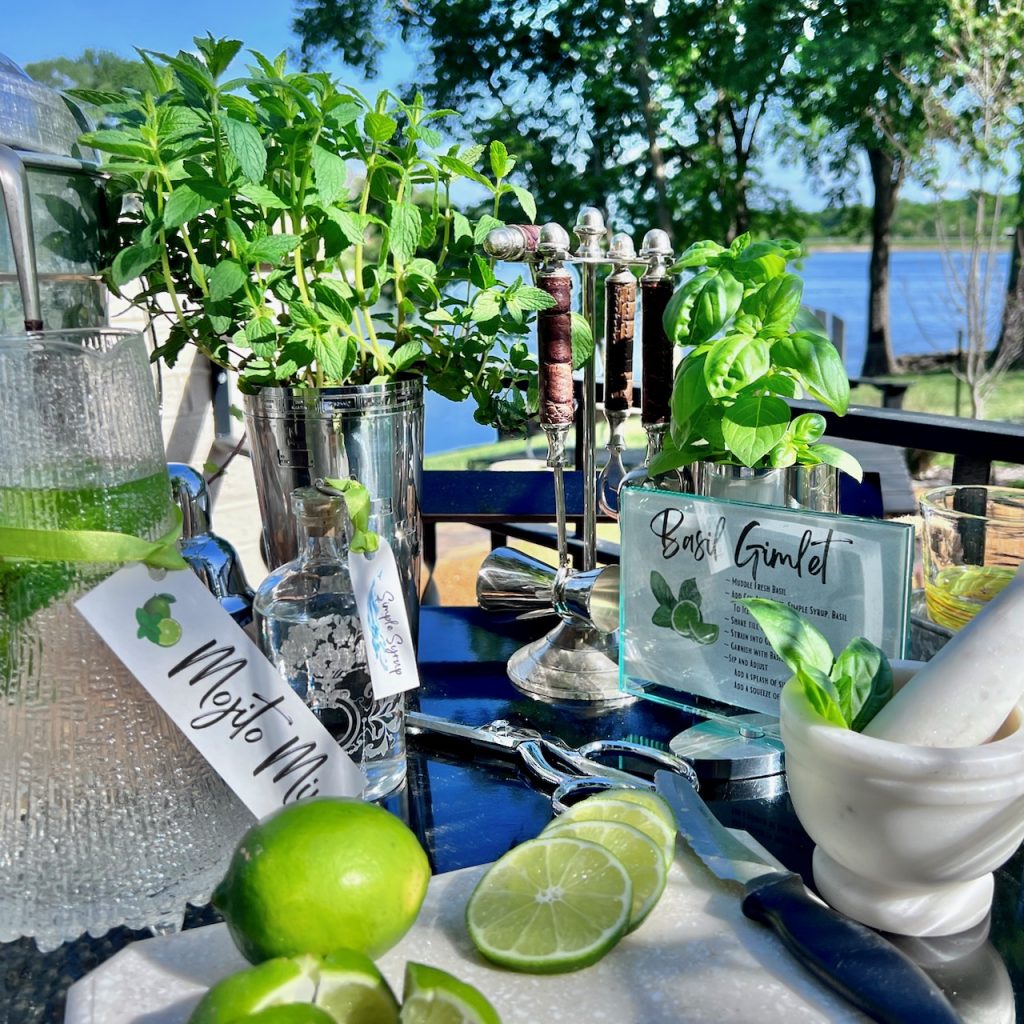 But since I'm serving two cocktails, I used a two-sided spinning frame.
For the Mojitos, I made a mix ahead of time that would make 4 – 6 drinks. I have a pitcher I use for evenings like this and labeled it Mojito Mix. This keeps is super easy for our guests to help themselves and to further tailor it to their tastes.
And for the Basil Gimlets, I set out a bottle of gin and the simple syrup. Along with the ice, limes and basil, they're set.
That should be all you need — along with a great soundtrack — to enjoy a backyard gathering of friends and neighbors.
Easy right? With this list in hand you'll enjoy a relaxed evening as much as your guests!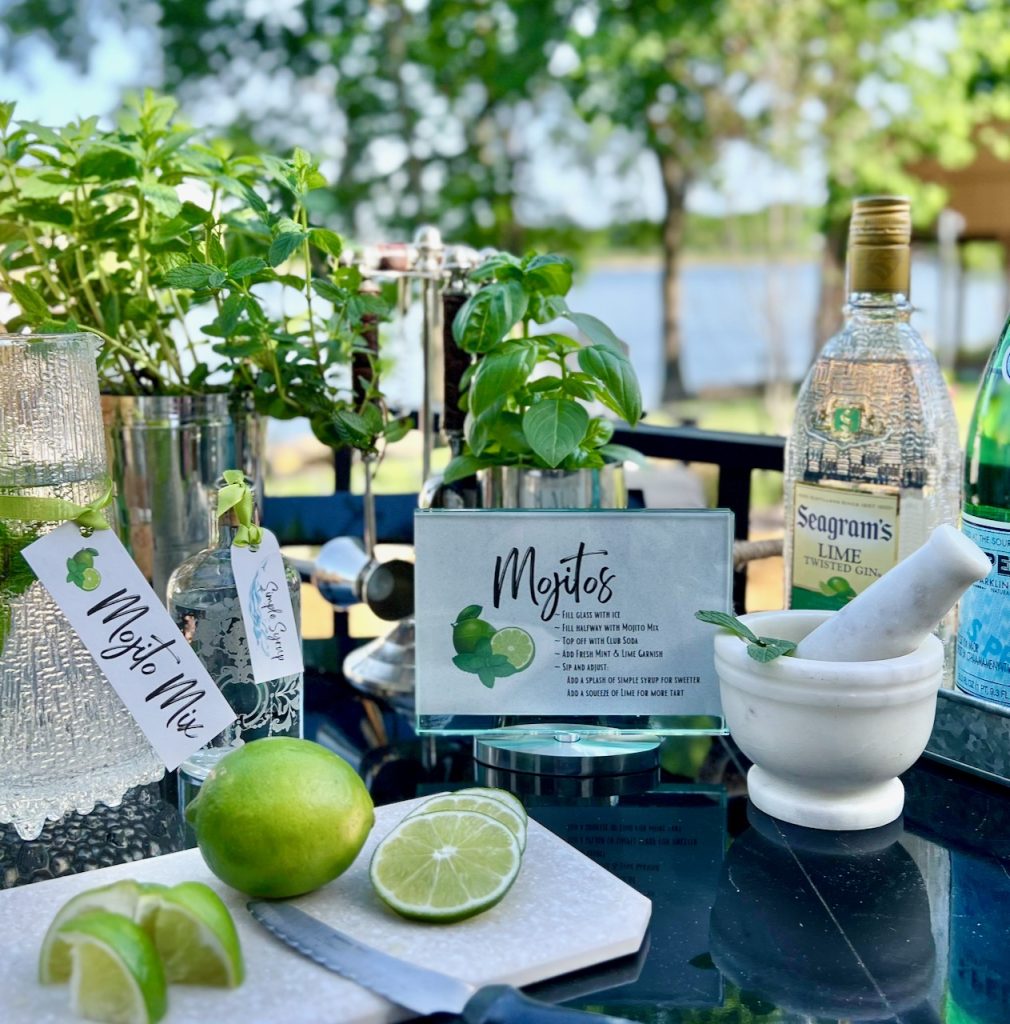 To make the Mojito Mix:
Muddle 24 fresh mint leaves (more for garnish)
Add mint leaves and 2 ounces simple syrup into pitcher
Add 1/2 cup fresh lime juice
Add 1 cup white rum
Mix and store in refrigerator until guests arrive.
The Signs Read:
Mojitos:
~ Fill glass with ice
~ Fill halfway with Mojito Mix
~ Top off with Sparkling Water
~ Add Fresh Mint & Lime Garnish
~ Sip and adjust:
Add a splash of simple syrup for sweeter
Add a squeeze of Lime for more tart
Basil Gimlet:
~ Muddle Fresh Basil
~ Add Gin, Lime Juice, Simple Syrup, Basil to Ice in a Jar
~ Shake till Cold
~ Strain into Glass
~ Garnish with Basil
~ Sip and Adjust
Add a splash of simple syrup for sweeter
Add a squeeze of Lime for more tart
Just print them out on your home printer. Find a suitable frame. Cut around the glass and insert the sign. You're set!
TIP: It's generally accepted that club soda sparkling water and even tonic water can all sub for each other.
The Mojito and Basil Gimlet signs, Mojito Mix label and labels for Simple Syrup, Lime Simple Syrup and Basil Simple Syrup are in the Free Printables Library.
If you are a subscriber, the password is in the last email you received. If you are not a subscriber, sign up now and you'll have instant free access to the library!
This is such an easy way to entertain! And it's the perfect time of year to use your own cocktail herb garden to celebrate cocktails with a fresh taste using garden-fresh ingredients!
If this isn't joy-filled living, I don't know what is!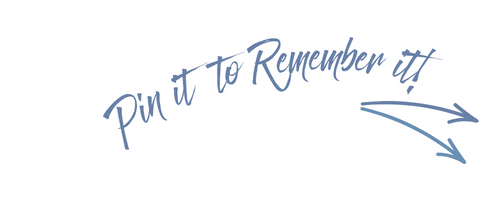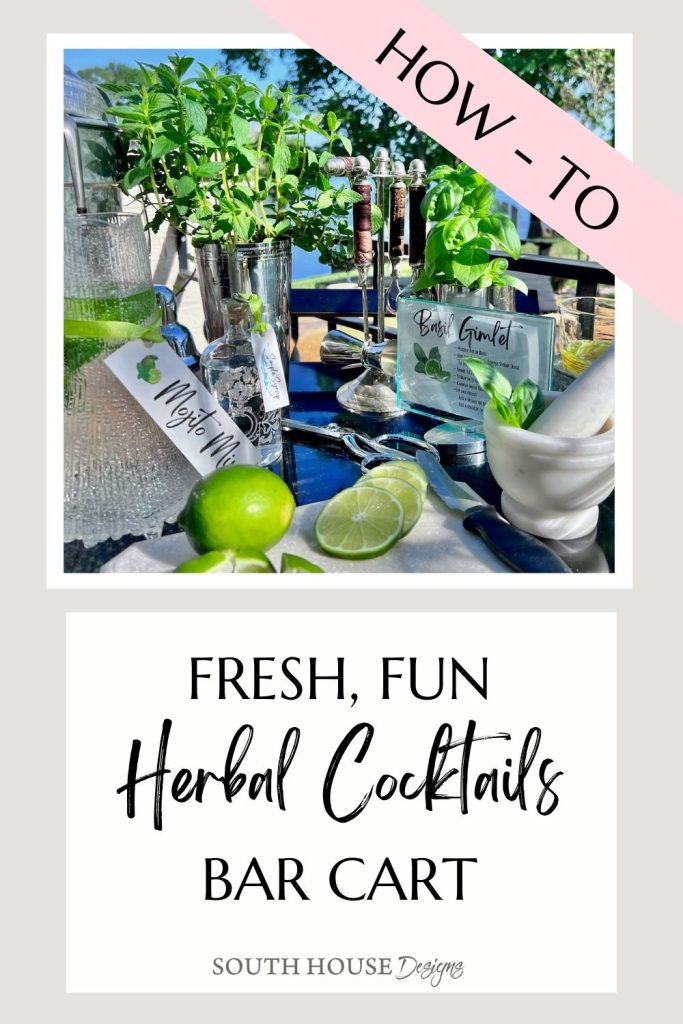 And I'm thrilled to be sharing even more Joy From the Garden today. This is just one stop on a 12-Stop Blog Hop hosted by the six co-hosts of the Fabulous Friday Link Party plus six of our party participants who have really excelled this last quarter.
More SHD Posts You'd Enjoy!