THE Easiest Way to
Arrange Fresh Garden Flowers
THE absolute easiest, no-fail way to arrange cut flowers and greens!
You've never successfully arranged your garden cuttings?
Trust me, I know, it can be a bit intimidating at first. But once you jump in, it is sooo much fun!
So let's start easy, beginner style. And no one will know. I promise.
To Successfully Arrange Flowers: Keep it Simple
The absolute easiest way is to arrange them wild and loose — just like they are in nature.
It's the messy bun of flower arrangements.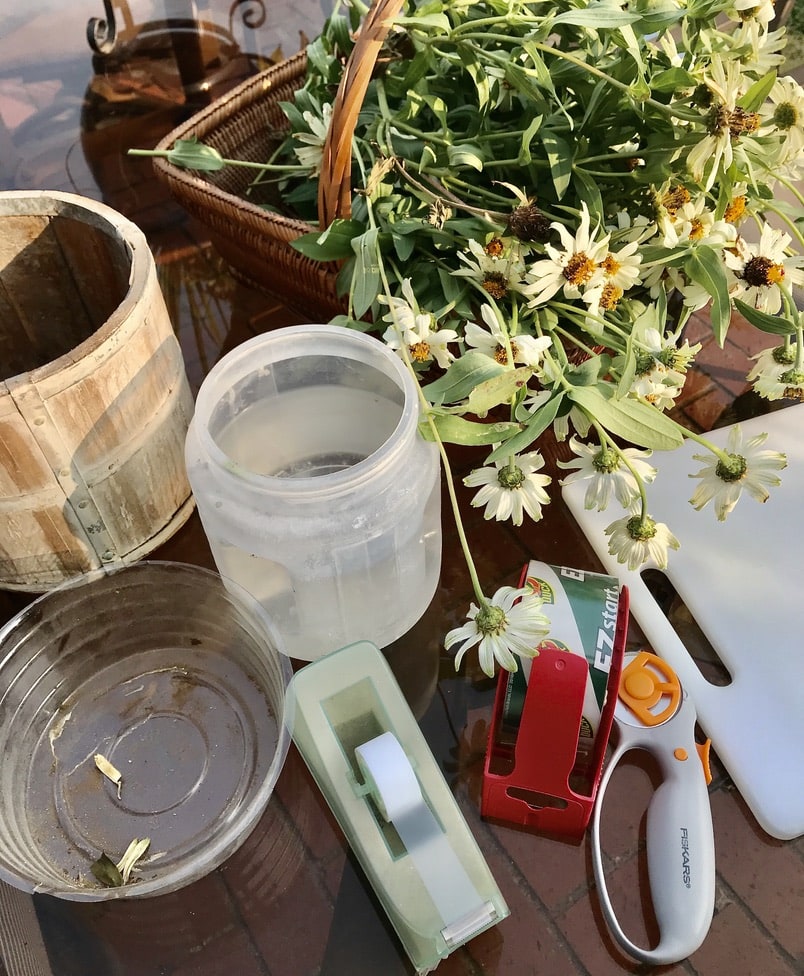 All you need is:
A water-proof container
scotch tape or packing tape
scissors
flowers
Step 1) Water
The bedrock of flowers!
Trust me — start by adding the water to your container. Then move on.
Step 2) Form a Grid to Support your Flowers
If the mouth of your container is wide, you can use scotch tape at its full width.
Best option is to use packing tape and slice it lengthwise into four or five thinner strips. You can also cut scotch tape lengthwise into two thinner strips.
Place two or three strips crosswise and then again lengthwise pressing firmly to the neck of your container.
Step 3) Gather your Cuttings
Cut as long a stem as is feasible.
Gather loosely in a basket, or if feasible, take you prepared container to your garden bed and arrange as you go.
Step 4) Trim the Stems
You do not want any leaves touching or in the water. So trim off all the lower leaves. With my zinnias, I just pinch them off with my fingers and I use scissors to clip off any spent blooms.
If I'm arranging hardier flowers and greens, I use scissors or florist clippers to snip off the lower leaves.
Step 5) Tuck into the Grid
I tend to start around the perimeter and tuck my cuttings into the tape grid.
You can go with a tight ball of blooms and greens, like with my colorful zinnias. Or if your cuttings have longer stems, you can go with a looser, airier, more wild arrangement, like my long-legged white zinnias.
Don't overthink this too much.
The only rule, if this is even a rule, would be to turn your container periodically and make sure it is evenly filled whether it's a long and loose arrangement,  or a shorter tighter affair.
Step 6) Stand Back & Admire
Not really a step, but you did it! Take a minute to stop and enjoy.
Congratulations on a beautiful arrangement!
Flowers don't require a difficult, elaborate arrangement to bring beauty and whimsy into our homes. Just a bit of tape to give them some support.
The Big Takeaway:
Don't overthink this!
Basic tape is flower arranging magic.
I hope you rush out and harvest all your blooms before these chilly nights do them in.
And when you do, be sure to share pics (#messybunflowerarranging  #southhousedesigns).
No flowers blooming right now? You need another great display to DIY and use again and again in all your seasonal displays? Check this out!