Best Easy Father's Day Decoration Ideas
Honor the man in your life with these fun and easy (and free!!) Father's Day Decoration Ideas. He'll truly feel appreciated!
Father's Day is right around the corner, but don't panic! I have the best Father's Day decoration ideas and they are super simple to pull together. BONUS: I had everything I needed laying around the house and yard. It's likely you will too. And with just this little bit of effort, your. important fella will feel so special.
So is that really important? ABSOLUTELY! Don't take my word for it. Google, the authority on — well, just about everything — reports that of everyone who searches Father's Day Decoration Ideas, three of the four most asked questions specify making the day "special" and making him feel "special".
How can I make his Fathers Day special?
How can I make Fathers Day special without spending money?
How can I make my husband's Fathers Day special?
So let's make these important men feel truly appreciated and special, shall we?
You have Father's Day handled. Kudos to you!
But what about the next birthday? Retirement party? Promotion Party?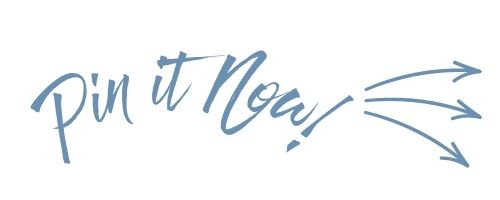 Pin it for when the next occasion calls for something special and you can for something easy.
Father's Day Tablescape-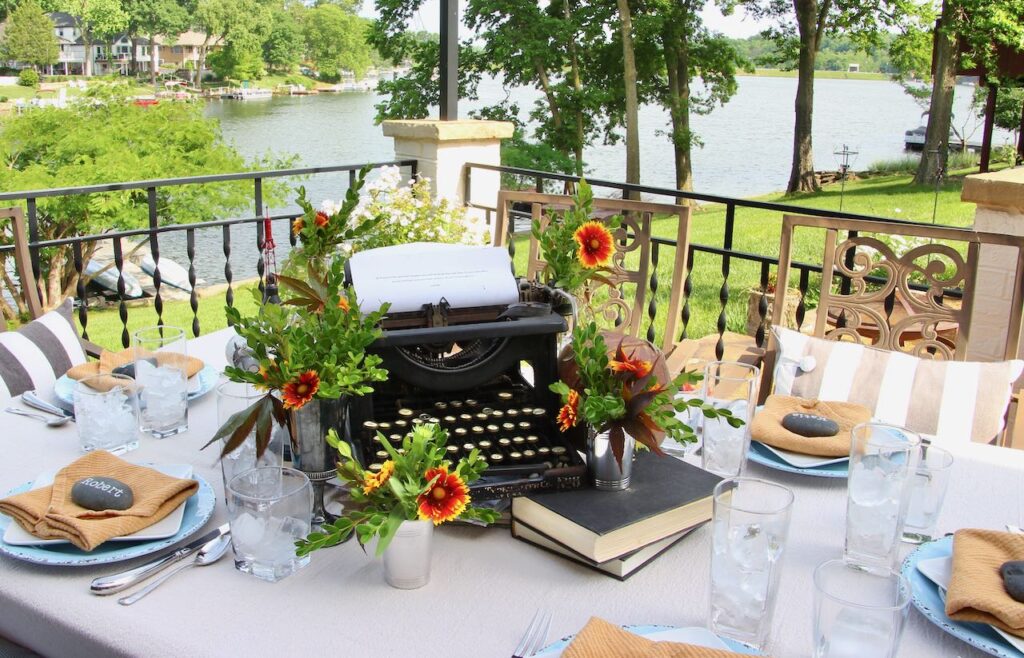 Since most Father's Day celebrations center include a gathering around meal, a tablescape is the most high-impact vignette you can create.
This can be for a sit-down meal or for a buffet table.
The Base-
Always start with the base, the table covering. Here, I started where I often do with this absolutely fabulous drop cloth that I use as a table cloth. Here's another table with this cloth, and another.
It is the only drop cloth I have found like this. But there are no seams and crazy flaws in the. center of the cloth like most. And when it's washed, it develops the most wonderful texture and drapey feel. It lays perfectly and I never iron it!!!! If that's not enough,right now it is just under $25
This cloth will become your go for occasion after occasion. You will NOT regret it!!!
TIP: Move some of the chairs away from the table while you are setting. Everything goes smoother when you are not leaning over and pivoting around the legs of the chairs.
The Place Cards-
We don't always use place cards, but sometimes you want an occasion to feel extra special! Our kids are spread across the country. Literally, DC, Dallas and LA, with Mom & Dad in KC. It's crazy! So when we can get together, it is extra special.
The Hubs is the rock of our family, always has been! And if the man you're honoring is a rock too, please take this idea and run with it.
How-to:
Gather and wash smooth stones
Print your names in the font and size that fits your style
Cut out the names
Rub chalk (any variety will do) on the back of the names
Tape on the stone
Use dull pencil or mechanical pencil with lead retracted, and trace over the names
Remove paper name
With paint or chalk marker go over chalk lines
Optionally, you can spray with a sealant. If you. use chalk marker, the sealant will protect it from any water wiping it away
Chalk markers and paint markers are not all the same! This is the chalk marker that I use and love! I won't use any other.
Easy, peasy right?
Here's a little 45 sec. video to show you that process:
Father's Day Centerpiece-
Now that the place cards are done, it's time to focus on the centerpiece.
TIP: Once you have your base table cloth, (which isn't always cloth — sometimes it might be a long roll of craft paper or chalkboard paper or many other options) down, place your dinner plates. This establishes a boundary for your centerpiece and food related accoutrements.
It's critical that it be all about our honoree!
Come up with two, three, maybe four defining interests/talents of The Man. Then shop your home for elements that represent these. Gather more than you will need, so you have plenty of building blocks to play with.
In our case, The Hubs was a teacher and a reporter and now an author. He has a vintage typewriter that I gave him when we moved to this house, celebrating his retirement and his first home office.
He has a love affair with books and writing that he has distilled in our children too. This needed to be celebrated!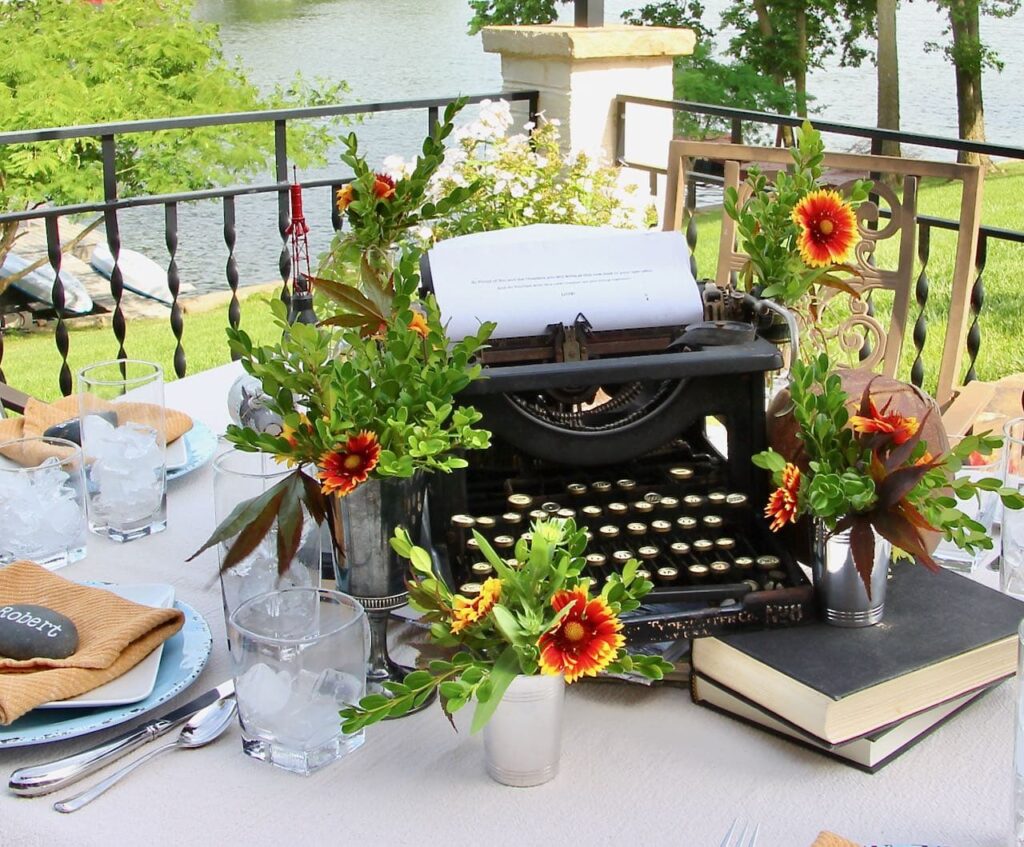 I knew the centerpiece needed to pay homage to the written word with the typewriter and his favorite books taking centerstage.
Now you know why I chose a typewriter font for the rock place cards. And the chalk marker on the black referenced the blackboards from his first teaching jobs of MIddle School English.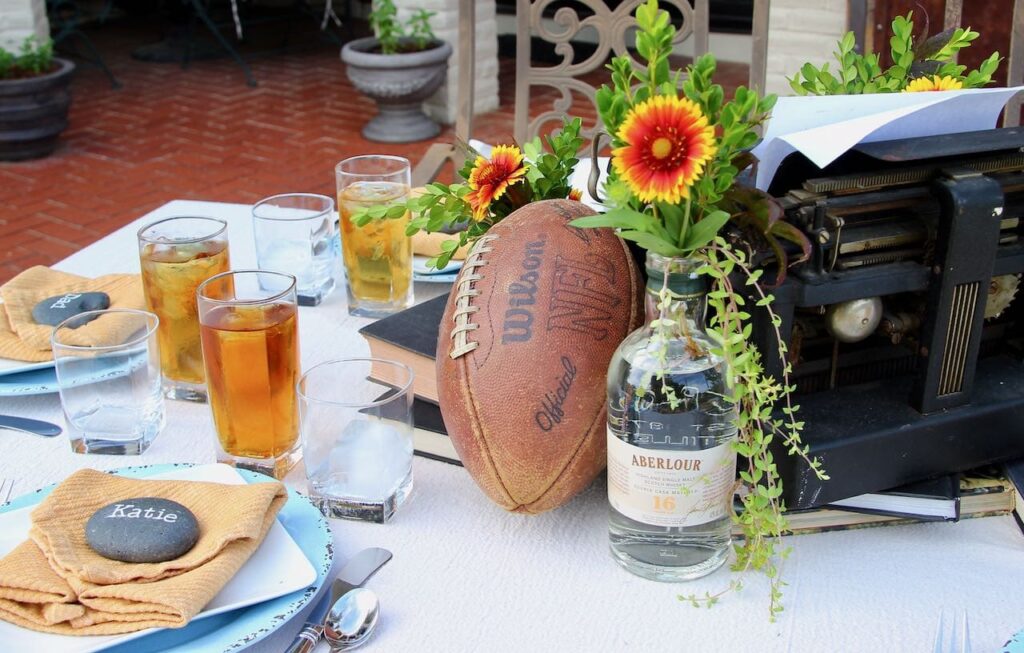 But our men have many sides, so their centerpieces needed many sides too.
Here I added in The Hub's prized football, and one of the books beneath the typewriter is the history of the KC Chiefs, The Other League.
Also, he is fascinated with planes and all things NASA (although he is terrified of flying commercially. Yes, I have to drug him). And he builds scale models. So it only seemed right to include two of his models on the other side of the typewriter.
And under the typewriter is also a large book, 50 Years of Moon Missions.
Arranging the Centerpiece-
Now that you have collected items to represent your honoree, it's time to arrange them. Here is a post I wrote on how to style a vignette (or centerpiece) with eight basic design principles. And another post where these same principles were put to use.
If you incorporate these principles in your centerpiece, you're guaranteed a win!
Vary your textures
Vary finishes including matte and glossy
Mix linear and curved
Use common color theme
Add textile
Incorporate negative space
Layers- Build up AND build out
A triangular shape is particularly effective
I stayed pretty true to these, except at the last minute I decided against the linen table runner. It was getting a bit busy. And there is not a lot of negative space here.
Flowers & Greenery-
I advocate for every centerpiece to have flowers and/or greens, even if they are faux. In these warm months, I love clipping what I find in the yard, to fill meaningful vessels from around the house. Then I use the super simple tape method to arrange the flowers.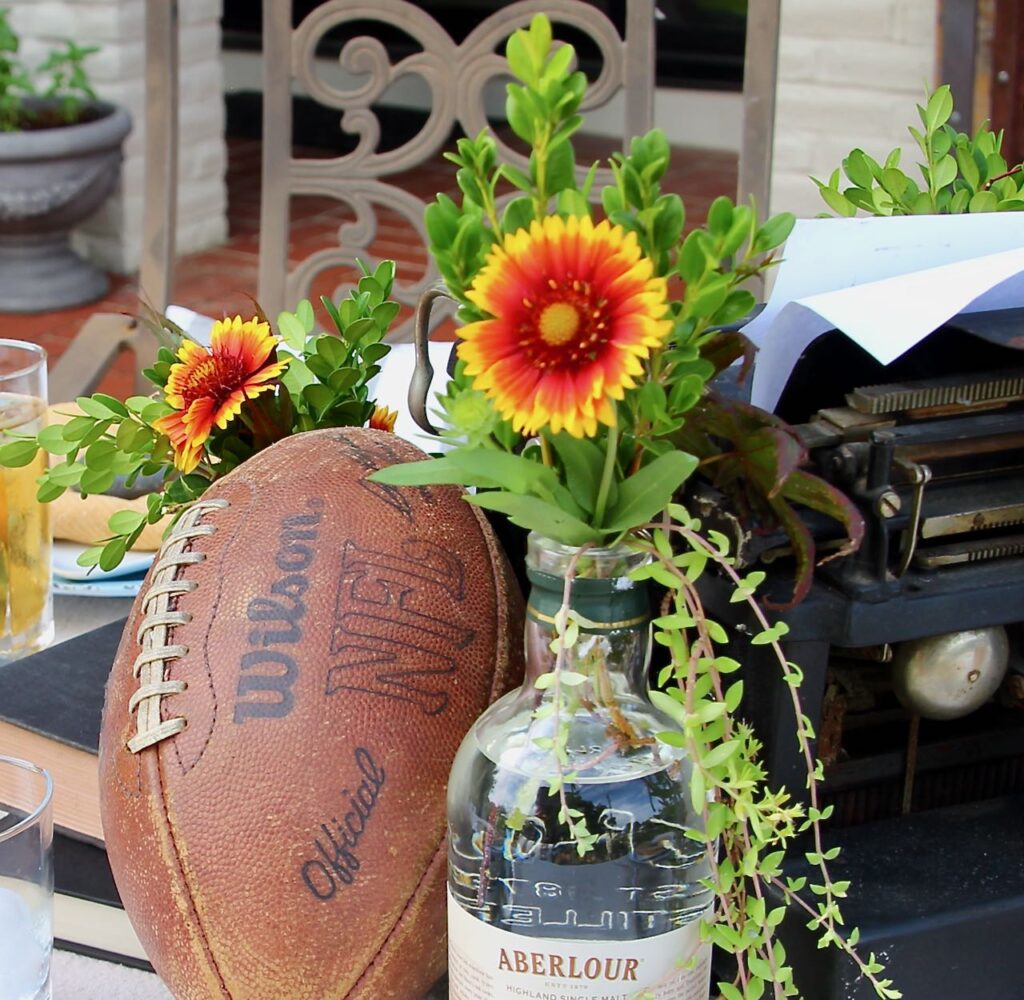 Here I brought used two old Scotch bottles that were too cool to throw out, two jiggers from his father and a trophy type goblet again from his father. Bob, his father, influenced and played a huge role in The Hubs becoming the amazing man that he is. It was important to me to also represent my father-in-law that we miss so dearly.
You do not need to run out and spend a bunch of money on flowers, I encourage you to clip from your yard. I have only one cut flower blooming so far that was appropriate for this centerpiece. Then I added in some small red Japanese maple leaves and some boxwood and some ground cover.
Did you know hosta leaves are also great in cut arrangements? You'd probably be surprised what you have available right outside your door — or from a gracious neighbor who is happy to share.
Placesettings-
When choosing your dishes and your placesettings, keep in mind what you are serving. Match your dishes, glassware, flatware accordingly.
Our brunch will be quite simple, so a separate salad plate is the only requirement I have beyond the dinner plate. Dessert bowls will be brought out when we clear the dinner plates.
Often, I will include a runners or placemats between the base tablecloth and the dishes. I love layering and lots of texture. But once my centerpiece was built, it was busy enough. More linens would end up detracting from the spotlight on The Hubs and his interests.
This is why I always set my centerpiece first, and then the individual placesettings.
Here's a fun little 22-second time lapse video of the whole table set-up:
Please consider pinning this now!
I truly appreciate it!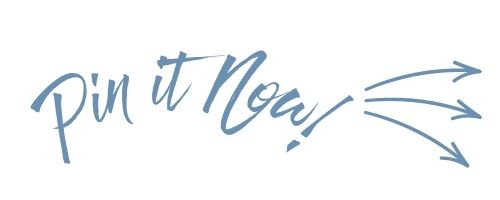 I hope this has sparked your imagination!
You're right, apply these same principles for any guest of honor, not just our fellas.
The links in this post may include affiliate links, which means if you purchase anything using these links, you pay no extra, but I may receive a small commission that helps keep this blog running. I truly appreciate you using affiliate links whenever possible. Please know that I will never recommend a product I do not believe in!