Best Tips To Set a Functional AND Beautiful Table
Whether formal or casual, function comes first when setting a table. Then we make it beautiful, inviting, and stylish.
​
​We love to host friends and family at our home.
It is so gratifying for us to share our home, but also to nurture and spoil those we love and enjoy most.
When I have the opportunity to set a lovely table, it is my way of saying how special our guests are to us, and how special this time is that we have together. So I express that by setting a special table, not just on special occasions.
Dinner parties are not just in the dining room. Shoot, many homes today, like ours, do not have formal dining rooms.
We recently DIY'd an awkward wide hallway into a dedicated dining space bridging the kitchen and family room.
I've been known to move our old dining room table into the living room to create a dining area in front of the fireplace (which is what I'm doing today).
Not surprisingly, we often host get-togethers on our brick courtyard overlooking the lake.
Whether your dinner table is
in a traditional dining room,
temporarily set up in your living room,
actually the kitchen table tucked into a dining nook
a folding table extending onto your apartment balcony
there are many things you can do to create a functional table that is also stylish, whether you're going for beautiful, charming, whimsical or your own unique vision.
Over the years, I have set many, many tables and have refined my list of My Best Tips For Setting a Table, not just to be beautiful, but even more importantly, to be functional.
Best part: you can get creative and inventive and save a whole lot of money!
NOTE: this post is for setting a seated dinner, not a buffet. I have another whole post dedicated with 17 Tips for Setting a Functional, Beautiful Buffet Table
Please note that some links may be affiliate links. If you purchase something after using a link, I may receive a small commission that helps to keep free great content coming to you. Know that I only share links to products I believe in. Thanks so very much for supporting this small business.
Let's Make Our Table Functional AND Stylish​
And Save a Bunch of Money While Doing So!
Let's start by saying that many, many of the decisions you'll be making listed below will be affected by your guests, and the meal you'll be serving.
As we work through these tips, I'll be using our Thanksgiving table as my example. You know what that means —- lots of dishes! Lots of sides! Lots of accoutrements!
Table positioning and extra seating-
I am a huge advocate for one shared table whenever possible. I try to avoid a "kids" table. But you know your guests best, do what works for you and them.
Gathering everyone together is my top priority! I have even turned our dining table 90-degrees and add a folding table to the end extending from the dining room clear across the entrance hall.​
This Thanksgiving table is set for seven, so I turned it so the one empty seat will be in front of the fireplace, we will all have a view of the fire and my centerpiece display beyond. (I'm getting ahead of myself, the centerpiece display will be explained a bit further down this list).
​If you do not have a dedicated dining area that works for your next dinner party — create one.
Our living room has two one-armed love seats. I ordered these to use as an L-shaped conversation grouping most of the time. When we change the function of the room from "library" to dining for a large group, we turn the loveseats, and lock the two armless sides together to create a banquette to easily seat four along one side of the extended dining table.
Added bonus, that's four less dining chairs I have to incorporate in the house throughout the year.
Our daughter and son-in-law in DC love to entertain,. Sadly, historic row houses are known for their small spaces. For their entry, they ordered a bench that matches their table and chairs. When the guest list is large, they call that bench into service for extra seating at the dining room table.
TIP: Pedestal and trestle style tables have the most flexibility and capacity for extra seating.
When the time comes that you might be looking into a new dining table, I encourage you to consider pedestal tables or trestle style tables.
When there are no legs on the corners, you can often pull up another guest on each end of the table.
Without corner legs you can also create a banquette on one side which seats more, particularly, when some of your guests are kiddos.
Table Covering or Table Linen-
​This might be impacted by whether you're using a glass top or wood table vs. a folding table or a makeshift plywood table top. If you need to cover the whole surface start with a table cloth of choice. By the way, when I say table cloth, I mean any covering, typically textile. Here are just a few options:
Roll of Kraft paper — other color options beside Kraft brown
Twin bedspreads or wool blankets
My very favorite go-to base is this exact "drop cloth". No seams, machine wash and dry, huge and cheap!!! No one will guess. (at time of writing they only had a 2-pack in stock $21 each) Outdoors I let it drape to the floor, Indoors, I usually fold in half.
Throws, shawls, pashminas, etc. Hunt for some at local thrift stores.
Two or three square table toppers, turned 45-degrees and overlapping down the length off the table.
A drapery panel — again thrifted options abound!
For this Thanksgiving table, I started with my favorite drop cloth base. Then for visual interest, I added a very thin shawl I thrifted for $2. This works better than a thicker table runner, as dishes won't be teetering on an uneven surface.
We know the center of the table will be filled with serving dishes as well as wine and water glasses. So I needed to keep any dining table decor in the middle of the table very thin and flat, so dishes can be easily picked up, passed and placed again.
For a bit more visual interest and glow, I added just three small votive candles in the cutest holders from Dollar Tree (I know! They don't look like it at all).
And I added a few faux leaves that I colored to stand out a bit from the shawl runner and pick up the colors in those fun salad plates.​
TIP: When the meal will include lots of dishes, keep the center of the table free for all those dishes. Use minimal and flat table decor so dishes can be easily set and retrieved from the center.
We don't want to create an obstacle course between our guests and the food. We want them relaxed and comfortable, not cautious and anxious.
Place Settings-​
Placemat– I love a good placemat for the extra visual interest it can bring.
Keep in mind placemats can be anything that marks and defines a placesetting. An old piece of sheet music for instance. Or how about pages from an old atlas, remember those?
TIP: If your table will be crowded, but you really want a placemat, use something flat!
Dinner Plate– I enjoy mixing and matching different plates to make my own "sets". If you'd enjoy that, start investing in basic pieces as you come across them at estate sales and thrift stores. The brown and white dinner plates I used here were thrifted last Summer for $1.50 each. 
And I recently bought a set of these white plates with black plaid rims for $1.25 each at Dollar Tree. You would never guess it.
Napkins– Confession: I am a napkin snob. We only use cloth napkins.
I started that 10 – 15 years ago for green purposes only. But now, I would never go back.
Napkins are easy to find second hand. Home Goods is my other favorite napkin source. I can often find them in sets for less than $2 each.
Think creatively. Bandanas or charming dish towels can be napkins. It's easy to turn a stained tablecloth into a set of napkins. Don't sew? Fringe the edges instead.
These gold ones are actually from our daughter's wedding two years ago. It was a small wedding (covid and all). Rather than renting napkins, it was actually cheaper for me to buy these from Penney's on special sale I happened upon. I've been using them ever since.
Napkin Rings– I have a few sets that I really like and use when the table is not terribly crowded. With napkin rings, there is always the decision for the guest of where to put it when you slide it off the napkin.
​For that reason, I chose to keep it really simple.
I love a beautifully folded napkin, and sometimes tied in a knot. But this time, because I was layering two rather busy plates, I opted for a very simple napkin presentation. Just fold the napkin in quarter square, place it so the point is centered at the beginning of the dinner plate rim.
This also let the gorgeous salad plates (from Hobby Lobby) really shine as the stars of the table.
Salad Plate– When serving a salad course first, you can start with the salad plates at each placesetting and pass the salad or you can plate the salads in the kitchen and bring them to the table like that. Then you can remove the dinner plate when delivering the salad plate or place the salad plate on the dinner plate. Lots of options. Do what feels right for you and the foods you are serving.
After the salad is eaten, either remove the dinner plate with the salad plate and return it with dinner plated on it, or remove the salad plates and pass the main course serving family style.
If this was not to be a crowded Thanksgiving table, I could set the salad dishes off to the side and serve simultaneously with the main dish.
In this case, with our family Thanksgiving meal, I will not serve the salad separately. I will pull the salad plates as we sit and save those for dessert.
TIP: Pay attention to any patterns on your dishes. Line them up all going the same direction. Be consistent.
​
I opted to set my salad plates so the floral arrangements are all on the right.
Soup Bowl (optional)– options very similar to salad plates, except you typically would dish soup in the kitchen to avoid passing a large, hot, sloppy pot.
Between you and me, I have only used my soup tureen for flowers or to handle the massive quantity of stuffing we like.
Bread Plate (optional)– again, optional. It all depends on the rest of the food on your table and how much room you have.
Place cards– strictly optional, but I think they make a nice statement. Your guests will know that that you had each of them in mind when planning your gathering. It's also a pretty simple way to add an extra touch of style.
Placecards can be dual purpose. They can also serve as a little party favor or gift, such as ornaments with the guests' names, or custom decorated cookies with guests's names in cellophane bags tied up with pretty ribbons.
They can also serve as a napkin weight for an outdoor dinner.
TIP: Don't like your handwriting. Use Canva.com, my favorite graphic design software.
Print the names on regular weight paper that will feed through your printer. Use a scrapbooking tape runner to apply the printed paper to heavier card stock and cut to size.
Water glasses– Water glasses are a must. Basic table setting guides have them placed just above the knife and spoon on the right hand side.
Wine glasses– Unless you are entertaining true wine aficionado, I'd set out red wine glasses at each adult's place setting, using them for white wine also.
TIP: If this is not a formal dinner, you can use stemless wine glasses and reduce the "Oops!" chances significantly.
Flatware– Only set the table with the flatware the meal requires. No soup, don't put out a soup spoon. No salad course, don't put out a salad fork. It's your option whether you set the table with dessert forks or bring them with dessert.
Again, because this table will be laden with lots of dishes and passing, I'll bring the dessert forks with dessert.
​
Table Centerpieces or Table Decorations-
Many jump straight to fresh flowers when you say centerpiece. I rarely do.
I think it's because I am really quite cheap, and flowers are not! Unless they are growing in my garden.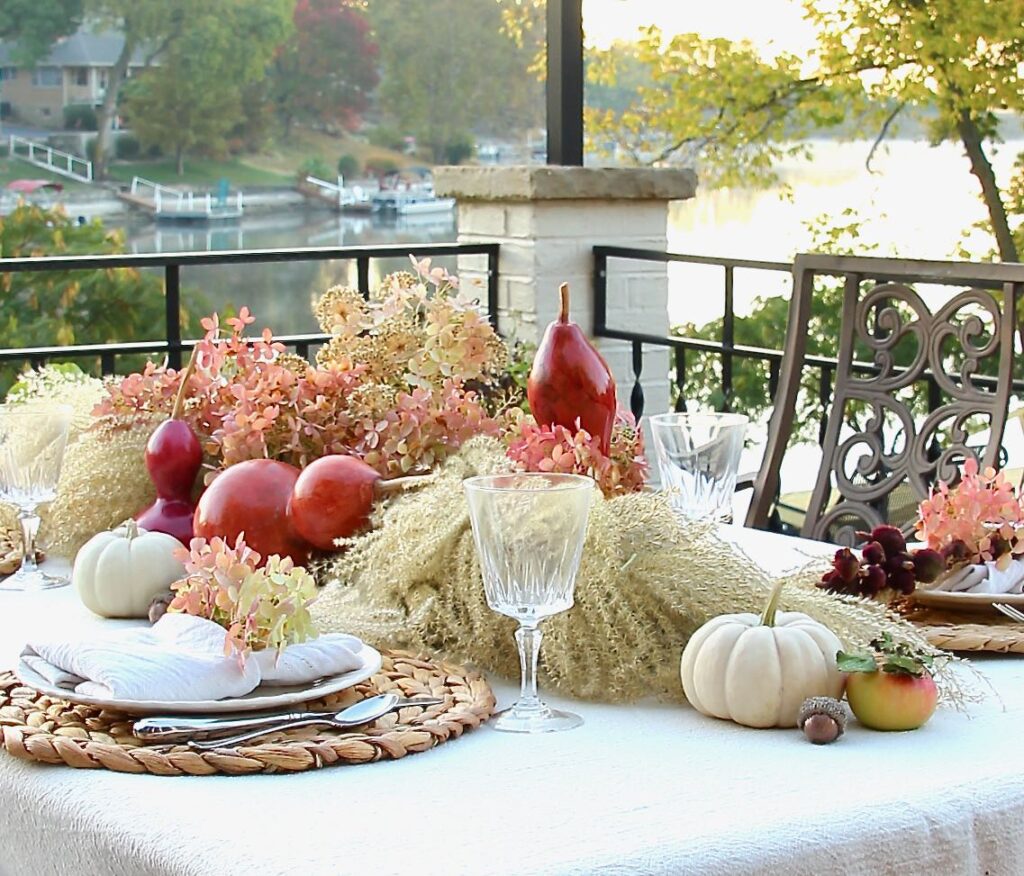 So my mind goes to many other options, often put together with natural elements that I have foraged, like this Fall table.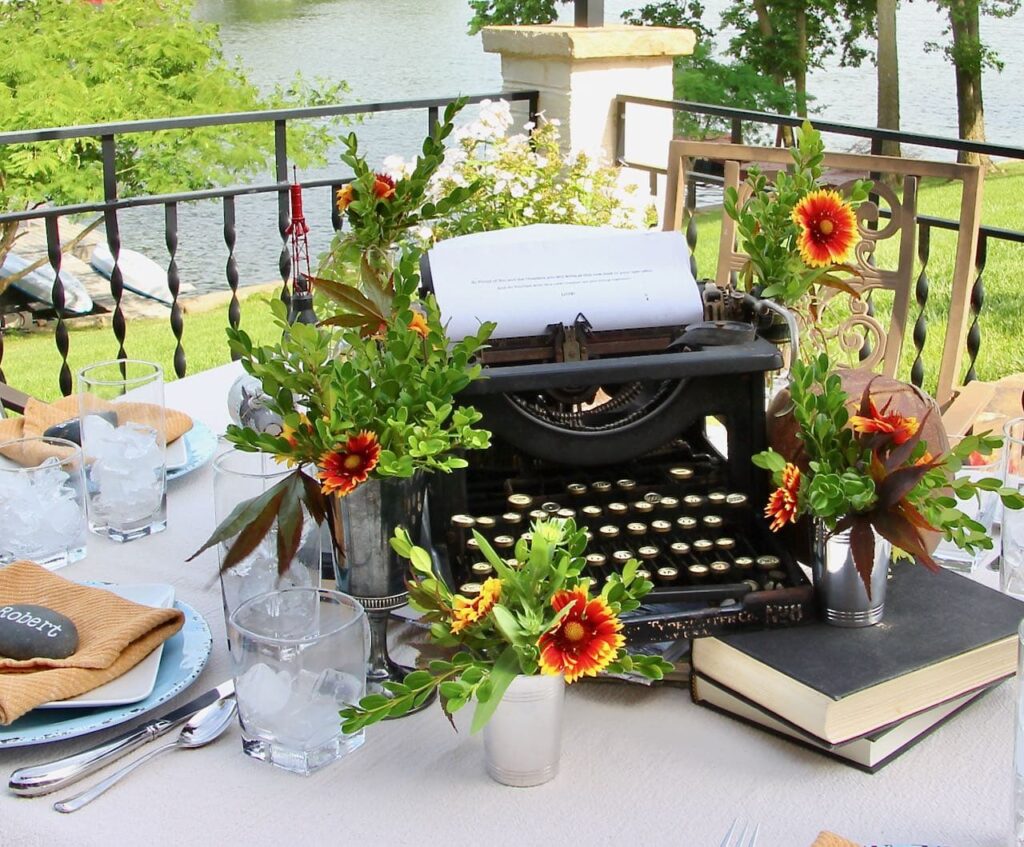 Other times, I shop our home and arrange decorative items in unique creative ways, like this Father's Day table.
Keep in mind that any centerpiece or table decoration is greatly influenced by the meal you are serving.
For instance the Father's Day table was a bbq that I would be plating straight off the grill, so there were minimal dishes to be passed meaning lots of room for the centerpiece. That table cost $0 and took a little over an hour pulling it all together and about half an hour making the placecard/napkin weights.
A Step Often Overlooked
Ideally, this will be happening a couple of days ahead.
Gather all your serving dishes, and serving utensils. This is your test run to know that everything fits so you are not scrambling at the last minute to make adjustments. You can relax and enjoy your guests.
TIP: Once your table settings are set, place the other "must-haves" in place.
These must-haves include:
salt and pepper
butter dish
bread basket
gravy, requirement for Thanksgiving
cranberry sauce, depending on your family
bottle of wine, or two
water pitcher
TIP: Now gather the other platters and serving dishes you will need for the main course. See how many, if any will fit comfortably fit on the table.
What doesn't fit? Plan a side table, server or perhaps a rolling bar cart to hold the remaining dishes after they've been passed or the dinner has been plated in the kitchen.
You'll want them handy for seconds. And I always want to be seated closest to them to make caring for my guests effortless.
​But You Still Want a Centerpiece, Right?
The Good News-
I've got ya!
If you can't have a centerpiece down the center of your table, why not move it right above the table where everyone can see and enjoy it? Make it a Wall Arrangement!!!
It will still make the "You are special. This time together is special" statement.
On the wall, it becomes an even bigger wow!.
But don't let it intimidate you. It is insanely easy and it did not cost me a dime!!! Next time, it will cost me about $4 because after it was done I found the coolest thing that will make it even easier.
It doesn't have to be over a fireplace. Do you have a sideboard or buffet in your dining room? That would be a great spot, too.
Before you back away, promise me one thing — promise me jump over to see just how simple this really is as well as ideas for when you might want to make one yourself.
I know you don't want to miss it. If you are not already a subscriber, join us and you'll be among the first to see all my newest tips, how-to's and inspiration.
Thanks bunches! I look forward to meeting up again on Friday.
Thanks for making it to the end. There's a lot here! What's your favorite takeaway from this list of my top tablesetting tips?
I hope you'll send me pics of how your Thanksgiving table or your next dinner party turns out.
I am so very thankful for having you join me here today. I appreciate every visit, every comment, every share, every pin. They all mean so very much!