17 Tips for a Beautiful + Functional Christmas Buffet Table Tablescapes
Want to wow your guests, but make it easy on you? Follow these 17 tips for setting a lovely, but also very functional Christmas buffet table.
With the holidays just around the corner, it's time to start thinking about all of the entertaining you'll be doing!
If you're like me, you want your buffet table to look beautiful, be easy to pull off and be functional. Here are some tips to help make your table shine this season. Your guests, and you, will love it!
Happy hosting!
As promised, today is Tablescape Tuesday in our week of Christmas Cheer!
At the bottom of this post I have a peek into each of my gals' tablescape posts. I'm sure you'll want to hop over and check them out further.
Ready to get started with tables?
For your convenience, this post includes some affiliate links. If you use these links (and please do, it helps me keep the posts coming) I may receive a small compensation, but you pay no extra. Know that I will never recommend a product I do not believe in.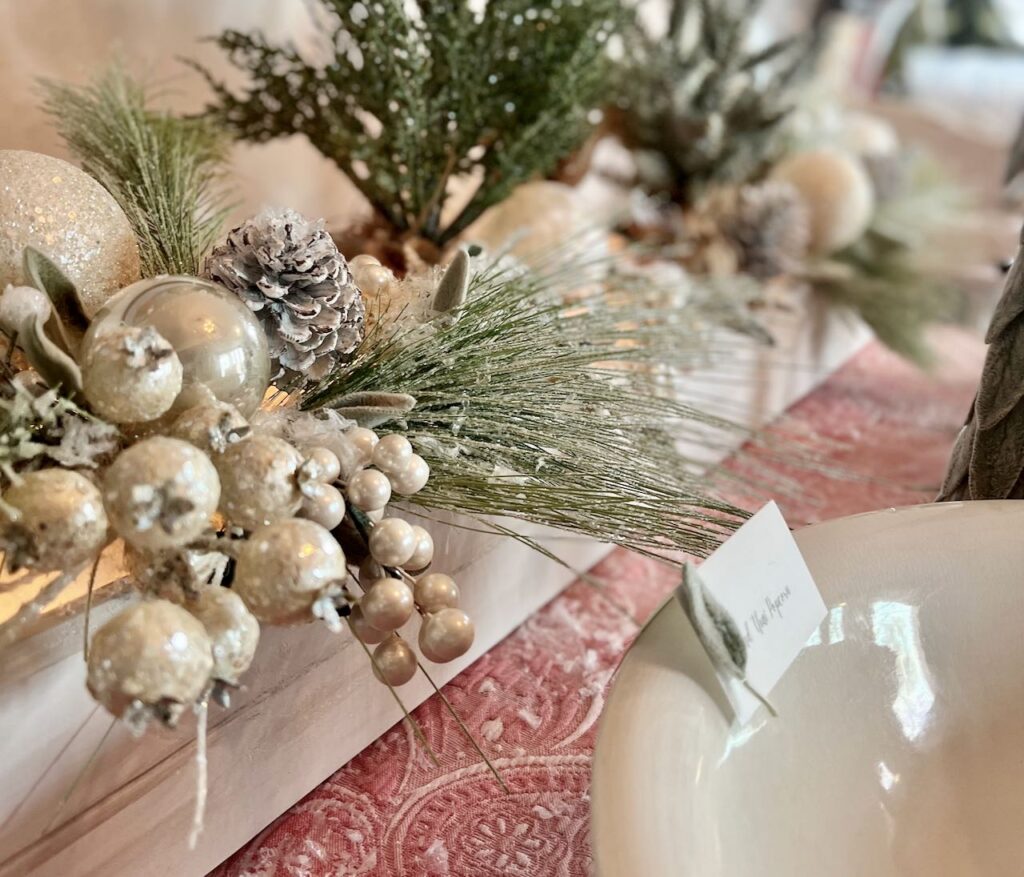 For me, in our house, serving buffet style is the easiest. Maybe that's also because we enjoy a casual lifestyle. Don't get me wrong, I still want it to look nice, and it also must function well!
A great way to start is by answering the most basic questions:
What will you be serving?
Full meal or heavy snacks or just some fun nibbles?
What you plan on serving and the number of guests will help to answer the next question.
Where is the perfect place for your buffet line?
Here you need to consider the number of guest and where your guests will sit to eat as well as the style of your home.
Typically spots for the buffet line include the dining table, the kitchen island, maybe a console table in the living room or the dining room table, dining room buffet or sideboard. If your climate is right, an outdoor buffet is always a great option. Or maybe you basement rec room was a buffet counter.
Why is also important to consider-
Why are you gathering in the first place? Is the focus of the evening the meal itself? Or is the food an accompaniment to maybe game night? Or a watch party? Or as part of a wreath making session?
You have determined the basics and hopefully theme. Don't panic, theme can be as simple as a color scheme. Here I went with loads of white, accented with softer, muted versions of traditional Christmas green and red.
Now Time to Refine and Define-
This is where my 17 tips come into play.
My buffet is for a Christmas gathering of 10 friends for game night — so snacks and beverages.
Our dining table is between our kitchen and family room. It's not all that big, but it is big enough for heavy snacks and very conveniently located for this gathering. This leads to:
Tip 1- Separate Beverage Stations
Depending on how many options you are offering, beverages take up a surprising amount of room.
All beverages do not have to be in the same spot. And none need to be at the buffet line.
Water glasses can be next to the buffet line, and a bar can be set up across the room. A coffee station can be at a third location, especially since this is accessed mostly later in the evening.
Determine what pieces of furniture you have available to put into service as a drink station(s).
I found this nifty little folding two drawer table with a separate tray on top at a yard sale. I knew immediately it would be perfect as a wheel-less bar cart, a hot chocolate station or a coffee station.
For this gathering it will be the bar.
While we're talking beverages:
Tip 2- Keep the Bar Simple
It's fun to have one specialty cocktail. And then offer wine and beer as an alternative.
If your crowd is into it, maybe add a few liqueurs for spiking their coffee. Particularly handy because the coffee pot will be on the kitchen island right next to the bar.
I gained space by opening the little drawers, One hold bar towels, the other holds the coffee liqueurs. These drawers have safety catches inside so the drawers cannot fall out, they can't even be pulled out.
Tip 3- Red Wine Bottles
Red wine! I actually know a woman who will only serve white wine because of her carpets.
Every host has had to deal with red wine stains. It's what we do.
But here's a tip to reduce the amount of those stains. Set your red wine bottles on a saucer or small lipped plate of some kind. Here I use two of my mis-matched transferware saucers in a coordinating color.
Now that your furniture and set-up has been determined:
Tip 4- Table Linens
Based on your decorative style and any theme or color for your gathering determine your table linens next. If you are using a dining table, do you want to cover the top? If you are using a console or sideboard do you want to cover the whole top, or maybe just a runner?
Runners, or even individual placemats can be effective on a counter ledge, a kitchen island or buffet.
I am a textile snob. There, I admitted it!
One of my go to sources for large tablecloths is my very favorite drop cloth. You can see it here, and here and here. Yes, it really is my favorite, But I often also use bedspreads! A twin bedspread is often on sale at great prices and they are heavy, wash beautifully and hang so well — plus rarely need ironing.
Keep an eye out for some great bedspreads of coverlets.
I am all about cloth napkins. That's all we use in our house for everyday, every occasion. With ONE exception — a game night, snacking buffet. That's because the evening is more grazing all night long and people don't keep track of where they left their napkin.
So this is when I give in and use paper napkins. I plant several small piles in strategic locations to supplement the original napkins everyone gets at the buffet line.
Tip 5- Flatware Placement
If you are serving a full meal buffet style, bundle a set of flatware in a napkin and then have these bundles in a basket or crock or what have you at the end of the buffet line. This way the guests are not balancing this bundle while they are also dishing up food.
Tip 6 – Appetizers Utensil Placement
If you are serving snacks or finger foods, and only an item or two need utensils — and sometimes optionally — consider placing a container of forks or toothpicks next to those specific items. The utensils are only taken if and when a guest is taking that particular food item,
Tip 7- Style Opportunity
I love to find unexpected opportunities to inject a bit of style surprise. One of my favorites if to use bamboo flatware instead of plastic when the occasion calls for disposable — or for more settings than you have.
We bought these for our daughter's wedding. Used them for the Thanksgiving-Rehearsal dinner and the reception. They are so sturdy, not a single tine broke! And they are sustainable.
Plus it is super easy and quick to paint part of the handle to match your theme.
Here I painted them with a bit of metallic sage green paint I had in my craft stash. Used a flat artist brush. no need to tape or measure. I just eyeballed them to be similar. Start with your brush about halfway up the handle, lay it at an angle and pull up the length of the handle. Rotate and match the angle on the other side. Stick the tines of the forks in a slit cut into a corrugated box to dry. That's it.
Tip 8- Dish Size Matters
Match your plates to your type of buffet. Full meals require full size plates. But if yours is a snacking affair, use small plates or even
Tip 9- Napkin Placement
I usually place a napkin (cloth or paper) on each plate as I stack the plates. This way everyone remembers a napkin at the beginning and don't have to backtrack up the line. Plus it saves room in the buffet line.
When they pick up their plate they remove the napkin and hold it under the plate and then dish up their food. If it's a cloth napkin, often times they toss the napkin over their plate holding arm.
And while we're talking the stack of plates:
Tip 10- Swirl the Square Plates
This is for decorative purposes only. It's just a bit of fun style, but everyone comments on it!
If you have square plates, just swirl the stack a bit and you'll feel so stylish and pulled together. Everything may be falling apart, but they'll never know because you swirled your plates!
So what do you think so far? Glad you found your way here? I hope so!!!
If you're enjoying this and would like more. please consider subscribing to make sure you don't miss a thing. Your info will never be sold or shared. And YOU control how much you receive.
Tip 11- Centerpiece
Every table, even a buffet table needs a focal point. And one of the best ways to create a focal point is with a centerpiece.
In my situation, our room is too small to have the buffet line go around both sides of the table, so we pushed the table against the wall and I created a centerpiece the length of the table against that wall. It's really more a backdrop focal point.
Recently, I've working through a Lambs Ear obsession. Apparently, I still have a ways to go, since this table is quite Lambs Ear focused also.
Last year I learned you can dry lambs ear, and then I made a lambs ear wreath. Then this year I made lambs ear ornaments with fresh lambs ear and then the cutest little fresh lambs ear Christmas trees.
The foundation of my focal point is a long, low wood box I made after making this taller one for a friend's wedding decor.
I layered a string of lights inside then a tube of chicken wire to fill the cavity. Covered the chicken wire with a thin layer of batting. Then I started layering in some Christmas greens in softer tones, along with beads, berries and bulbs. I finished by sprinkling on some faux snow and a number of lambs ear leaves.
If you plan to set your buffet line on a large table that your guests will walk around, then a thin arrangement that offers some height but is attractive on both sides is needed in the middle of the table. A long row of assorted cone trees or a grouping of some other tall decorative items, such as a collection of ginger jars with tall branches or fresh flowers would work great.
A buffet table can get really flat and rather chaotic looking, so your focal point needs height.
Speaking of height:
Tip 12- Vary Your Heights
Beyond gaining height from your focal point, try to also work in different heights with your serving dishes. Use at least. one pedestal cake plate. Substitute a footed tray for a flat platter. A chafing dish is great for hot food.
Also add interest by using a variety of shapes in your serving dishes. I wanted to stay all white to keep the buffet line visual chaos to a minimum. Originally, I had four round and two oval serving dishes. It worked, but I really wanted something rectangular.
Looking around, I realized that I could dismantle the tiered tray on my kitchen island and use the two tiers as two rectangular trays, and the larger is even footed. Plus they tie into the rustic white centerpiece box. Score!
I just added a piece of parchment paper in each since I doubt the finish is food safe and to cover the hole in the center. Don't forget to consider using trays in place of platters.
Tip 13- Pull From Your Centerpiece
You can also interject some height by adding in some decorative elements that are common to your centerpiece or focal point. This helps tie everything together as well as bringing in some height.
I'm using my little lambs ear trees to break up the flat dishes.
Tip 14- Make Labels for All the Food Items
Your guests will appreciate this PLUS it helps you immensely at this stage. Find a serving dish for each item.
Now, arrange them on your table. Use the entire table.
I prefer to group like foods. With a full meal, generally put the main course before the side dishes. Place any salad dressings, sauces, gravies or condiments next to the item they are usually used on.
Desserts can go at the end of the table if room or on a separate dessert table. I prefer a separate table so guests don't try to juggle their dessert at the same time.
Now that you think you have your dishes arranged:
Tip 15- Serving Utensils
Gather an appropriate serving utensil fro each food item and place with the serving dish.
And one of the trickiest snacks to serve? Popcorn! I finally sound the best solution — my silver ice scoop!
Tip 16- Role Play Your Buffet Line!!!
Stop and do this before doing anything else.
Yes, seriously!
Take a plate with a napkin on it. How does it feel to move the napkin and now start dishing up your food. Something that takes two hands to dish, like tossed salad, is there plenty of space to set down your plate to have two hands available? Is something that is sloppy and requires a bit of effort up close to the front or is it to the back where you also have to reach over something to get to it?
Move things around until you have an easy to use buffet line.
When it's a snacking buffet, the same applies.
I mix things up quite a bit. I do keep the sweets together at the end.
For this buffet I have a wonderful popcorn and also a salty nibbling mix. Their flavors are very different, but they are both mixes so I intentionally moved them to opposite corners with the two protein dishes between.
BIGGEST TIP 17: Do All This Ahead!!!
You will enjoy yourself and your guests will pick up on that, too. Get as much done well ahead as you can. You'll be rested and relaxed and really able to enjoy the evening and your guests.
And isn't that what it's all about!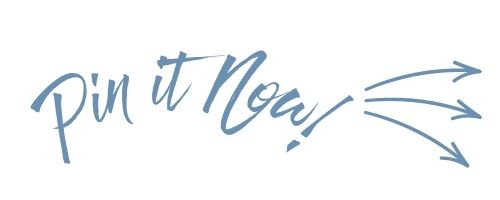 To your Christmas board
To your Entertaining board
To your Tablescape board
All of them, so you're sure you can find it!
Now Take a Peek at the Other Amazing Tablescapes

It's the most wonderful time of the year! And what better way to enjoy the holidays than by hosting a festive feast with your loved ones? This year, wow your guests with a beautiful Christmas tablescape. With just a few simple steps, you can create a gorgeous setting that will make your holiday dinner extra special. So get creative and start planning your perfect Christmas table today!

A festive vintage buffet tablescape featuring gold and silver pieces to accent the ironstone dishes that hold your food items for your holiday gatherings. Your guests will enjoy the vintage vibe of this buffet tablescape!

Michele – Vintage Home Designs
The holidays are the perfect time for entertaining. Miichele loves hosting dinner parties and wanted to create a Christmas tablescape this year that was simple and beautiful. By pairing the natural look of greenery with the elegance of gold bells and brass candlesticks, she created a classic and unique table.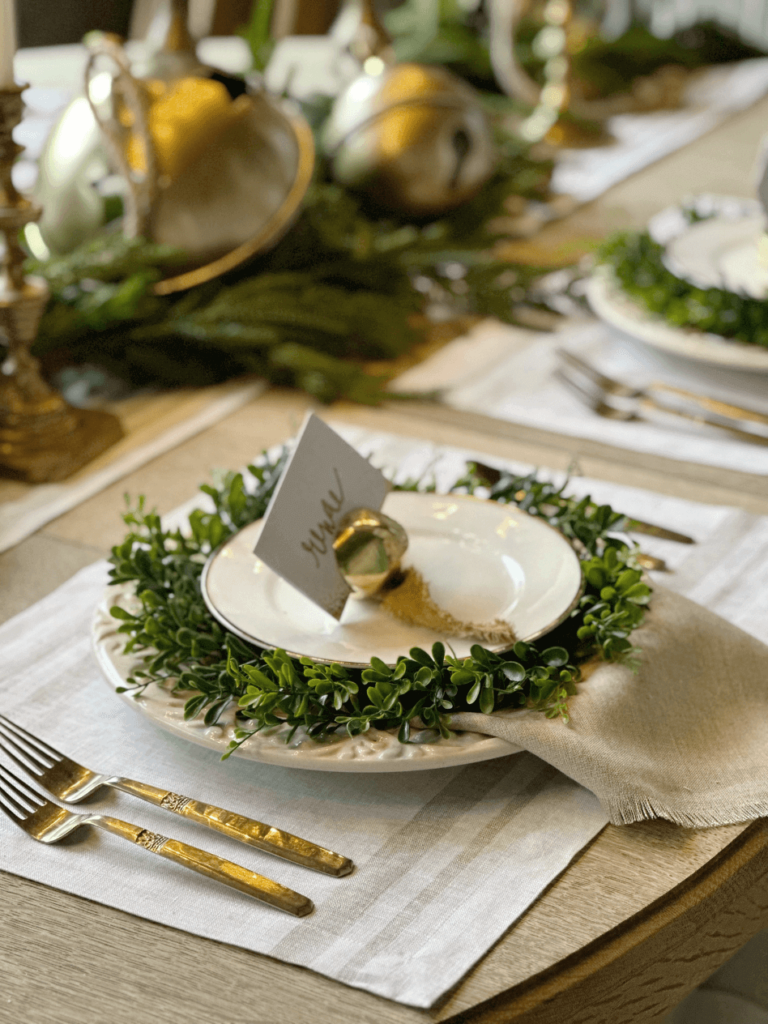 Lynn – Living Large in a Small House
At Living Large in A Small House, there is a new theme every year. This year it's a laid-back rustic woodland theme. Lynn had so much fun creating this tablescape. Using things she already had and foraging for natural elements outside, made this an inexpensive table.

Wow! So many beautiful tables. And all so unique!
And you know we'll be back tomorrow with homemade gifts! It promises to be a good one!