How to Preserve Lambs Ear
I have a bit of a garden secret.
And since we're friends, I'm sharing that secret with you.
I mean, it's not like I promised anyone I'd keep it secret or anything. It's not that kind of secret.
Did you know Lamb's Ear — that prolific perennial garden grower — dries beautifully? That it retains its signature soft silvery sage color and that soft fuzzy texture?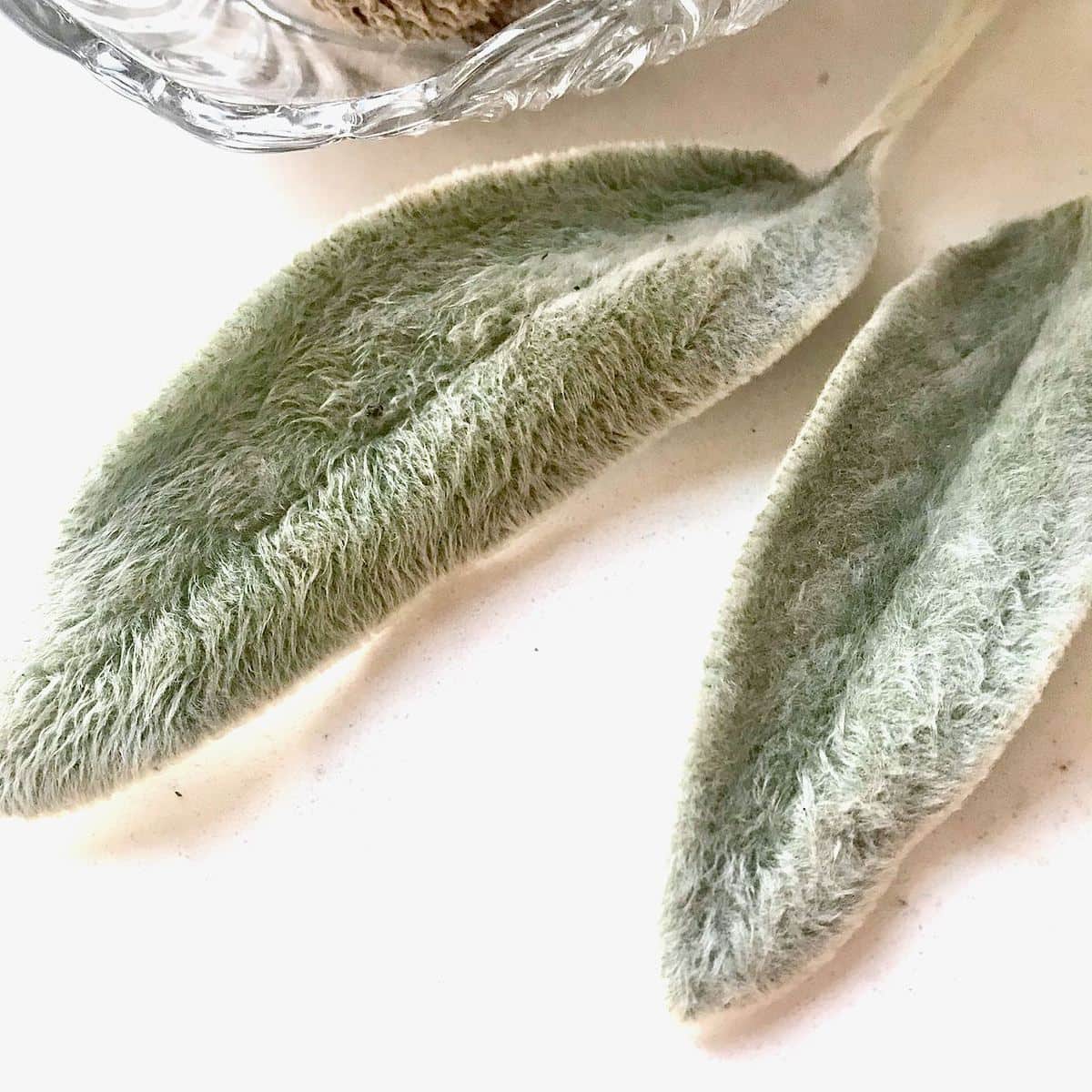 I know!
I was surprised, too!
Aren't those the sweetest leaves?
I actually appreciate them more inside, up close than I ever have in the garden. Maybe because the soft fluffiness is all the way down at my feet as they grow as a ground cover and the soft color gets overwhelmed by the bright show-offs of the garden. Definitely relegated to supporting role status.
But inside, up close, the Lambs Ear is the ingenue, the new star.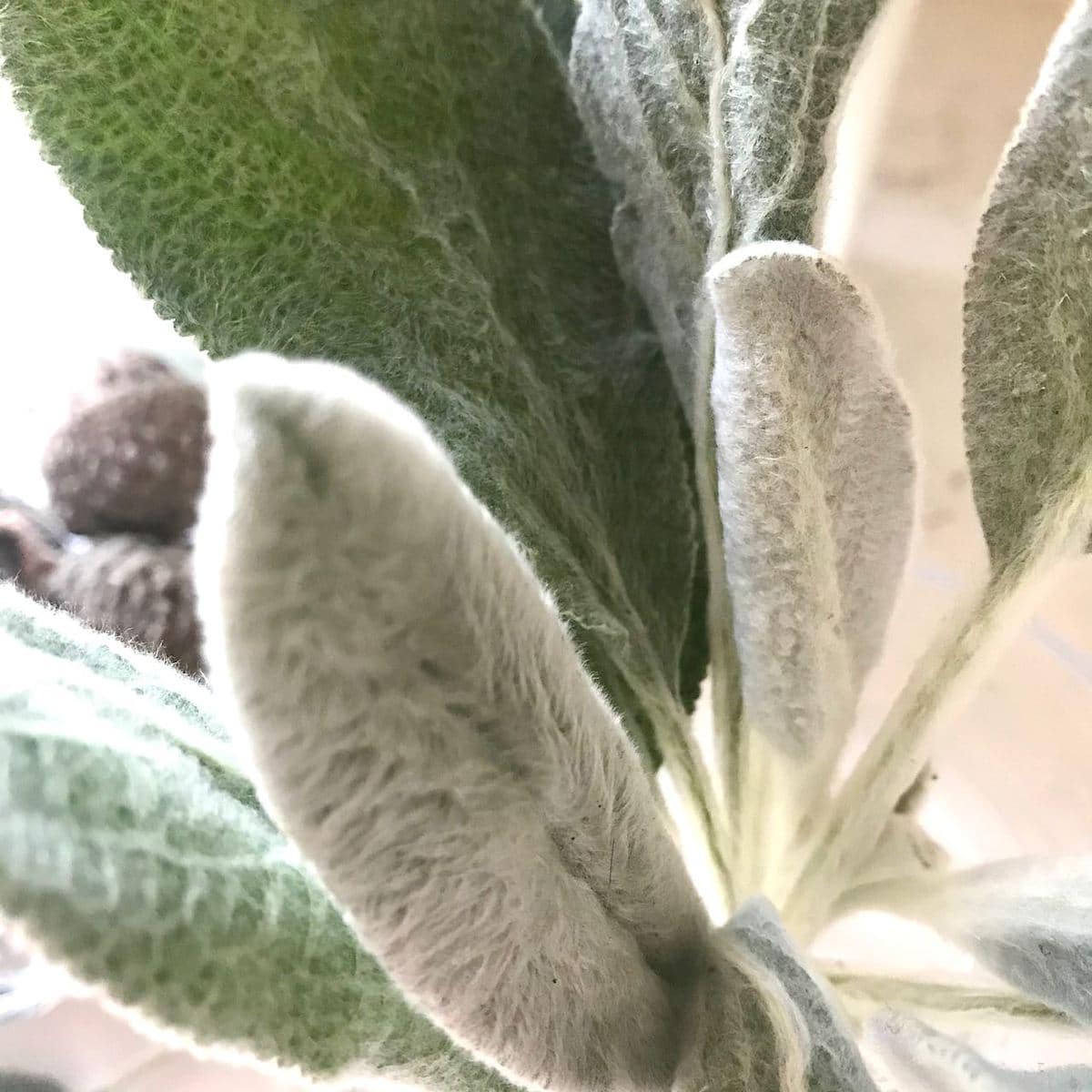 So How Do You Preserve Lambs Ear?
Step 1) Harvest Your Lambs Ear
Using sharp shears, I cut mine as late as possible. I was harvesting from my lovely neighbors yard and I didn't want to take them while she was still able to enjoy them. I harvested after a couple of light freezes had already hit. Late October in NW Missouri.
Make sure you harvest after any dew or rainfall has evaporated. They should be dry when you cut them and bring them in, helping to eliminate any potential mold. I had none, so I don't know how likely this is. But it's standard advice whenever you're harvesting for drying purposes.
Cut the stems as long as possible, giving you more potential in arrangements.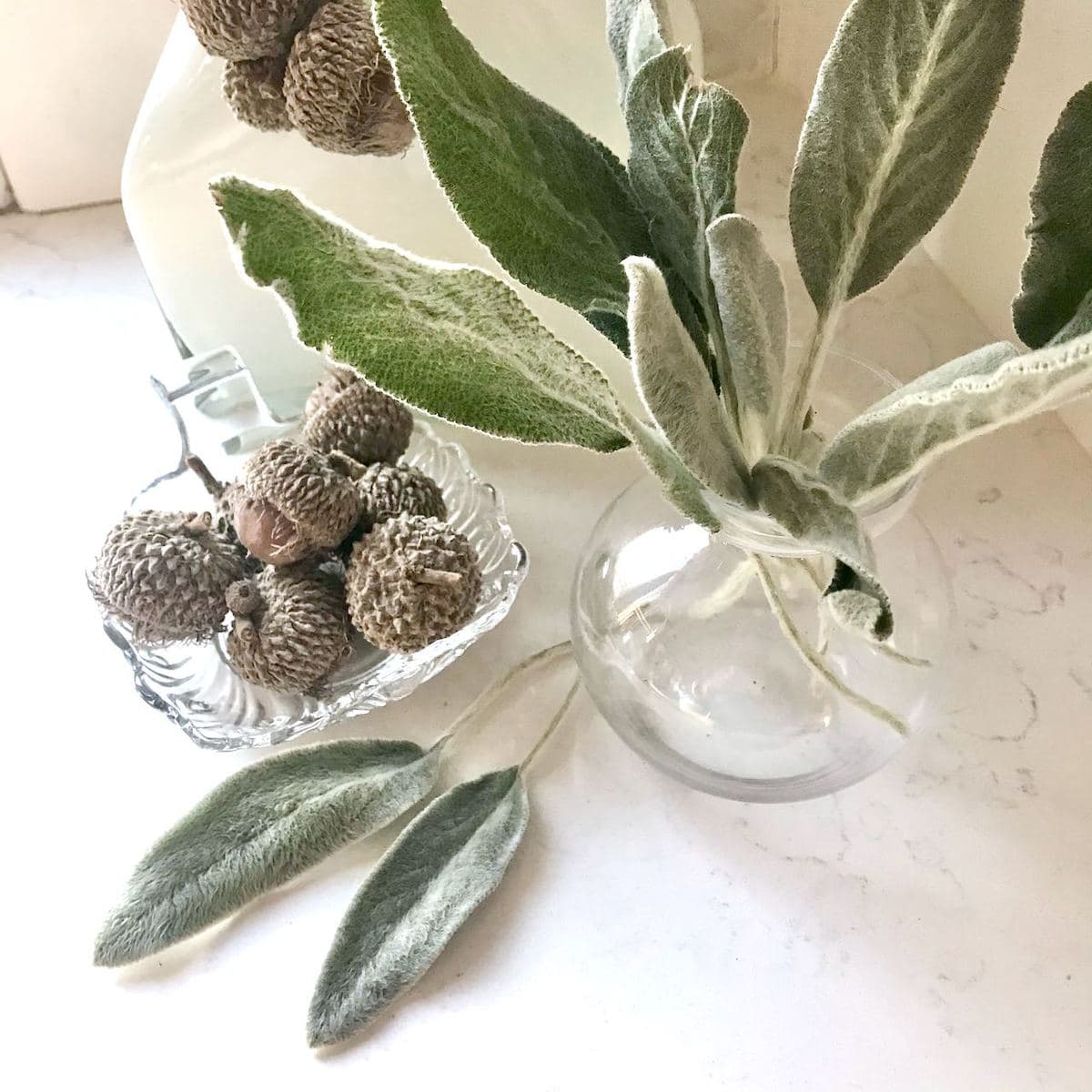 I immediately placed some with longer stems into short dry bud vases and enjoyed them all through the house, while they were working hard drying.
I had another 100 or so leaves on a table laying out flat. (sorry, didn't grab a picture of that).
I turned some of the leaves what I would call upside down — with the spine of the leaf up. This prevented those from curling in while drying, Some I laid "right side up" (the leaf spine on the table) so that as they dried, the edges of the leaves would have a bit of natural curl to them.
This gives variety so that with some leaves fully open and some just opening up. Just as we would see them fresh in the garden.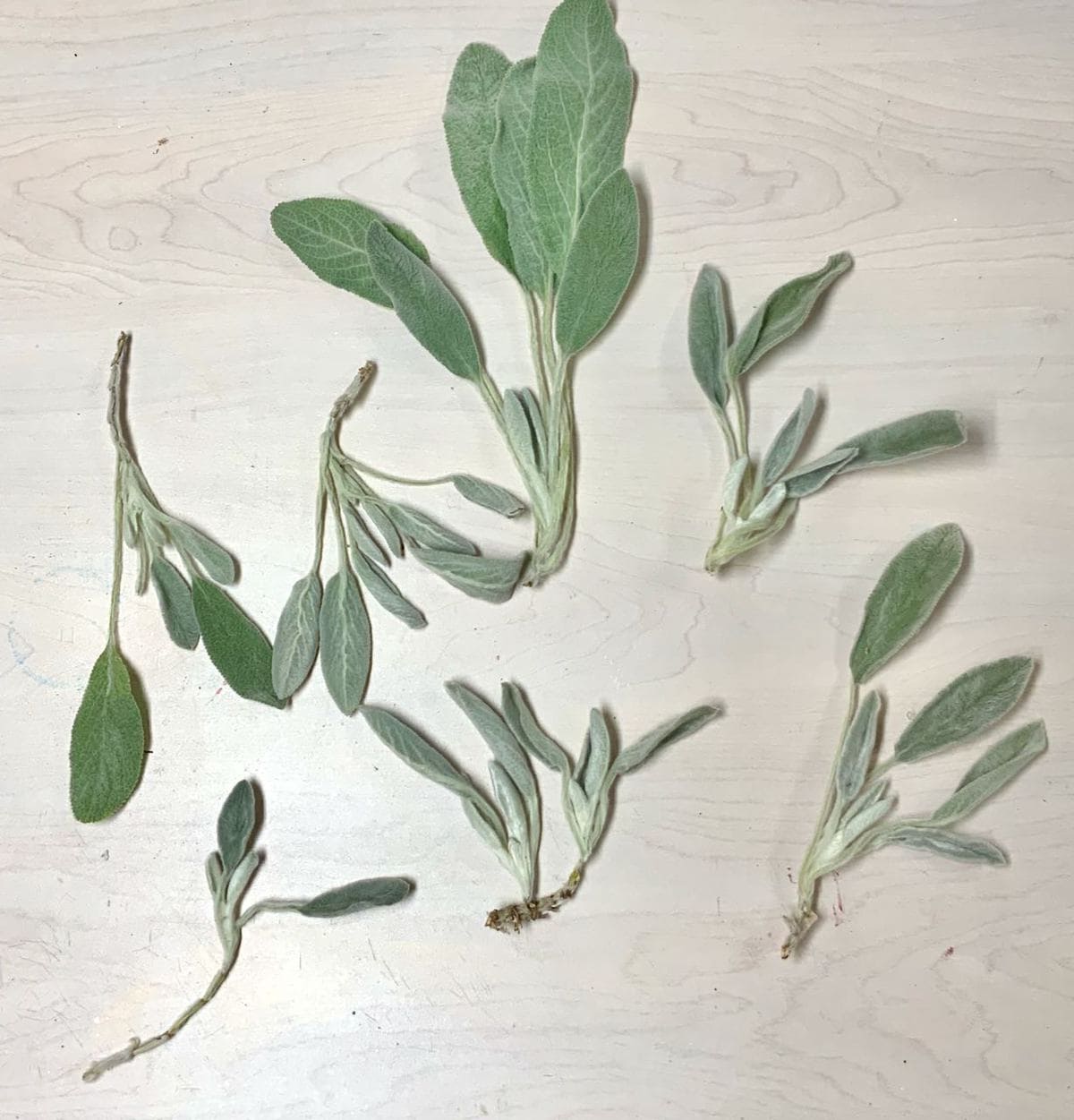 I gathered several multi-leaf sprigs and left them intact while drying.
Originally, I thought these might be good for boutonnieres for our daughter's wedding, but they worked great for making charming bundles to hang or set about.
So I suggest leaving your multi-leaf sprigs intact. When you are ready for a project, you can always pull them apart then if that's what you need.
There really isn't anything more to it.
It's really this simple!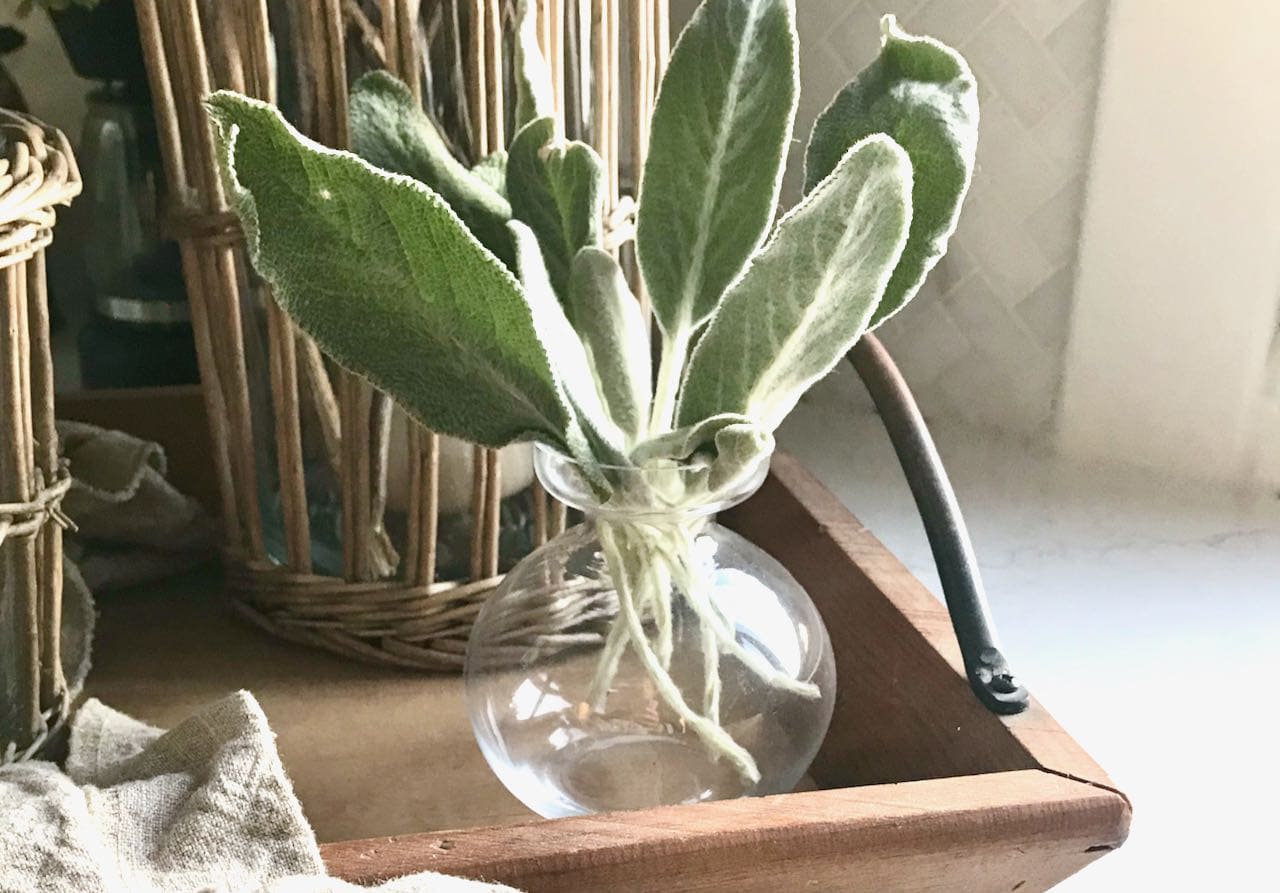 Step 2) That's It! You're Done!
They do all the hard work.
They hold a lot of water in their stems. You'll see that the stems slowly start to shrivel up, but those charming leaves shrink just a bit, but really nothing more. They do get brittle over time so be aware of that.
Store them loosely in a sturdy box with plenty of space.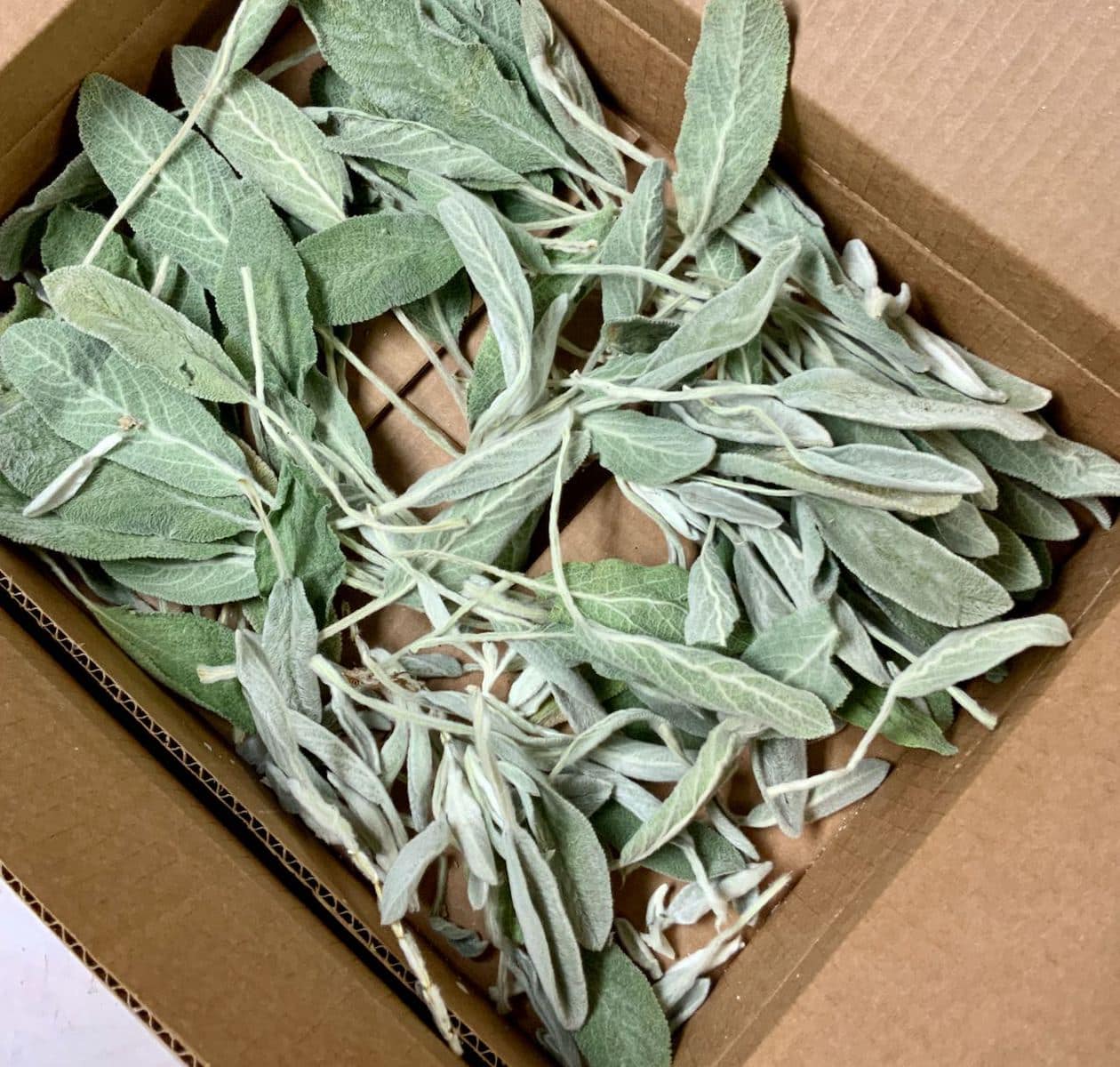 As I moved them to the box for storage during the busy holidays, I was careful to arrange them by general size. The box was much fuller, but this picture is after I made a wreath and the bundles below, so not as full and not as organized!
This organization was really helpful.
They look so much like the fresh version, but they are actually rather fragile. So I was glad I didn't have to dig through the box to find the size I needed. Just an extra tip from me to you.
NOTE: don't plan on your wreaths or arrangements lasting for years.
I'm good with that because I am planting a field of lambs ear for next year. And it's part of my Christmas plan (shhhh, act surprised, okay?).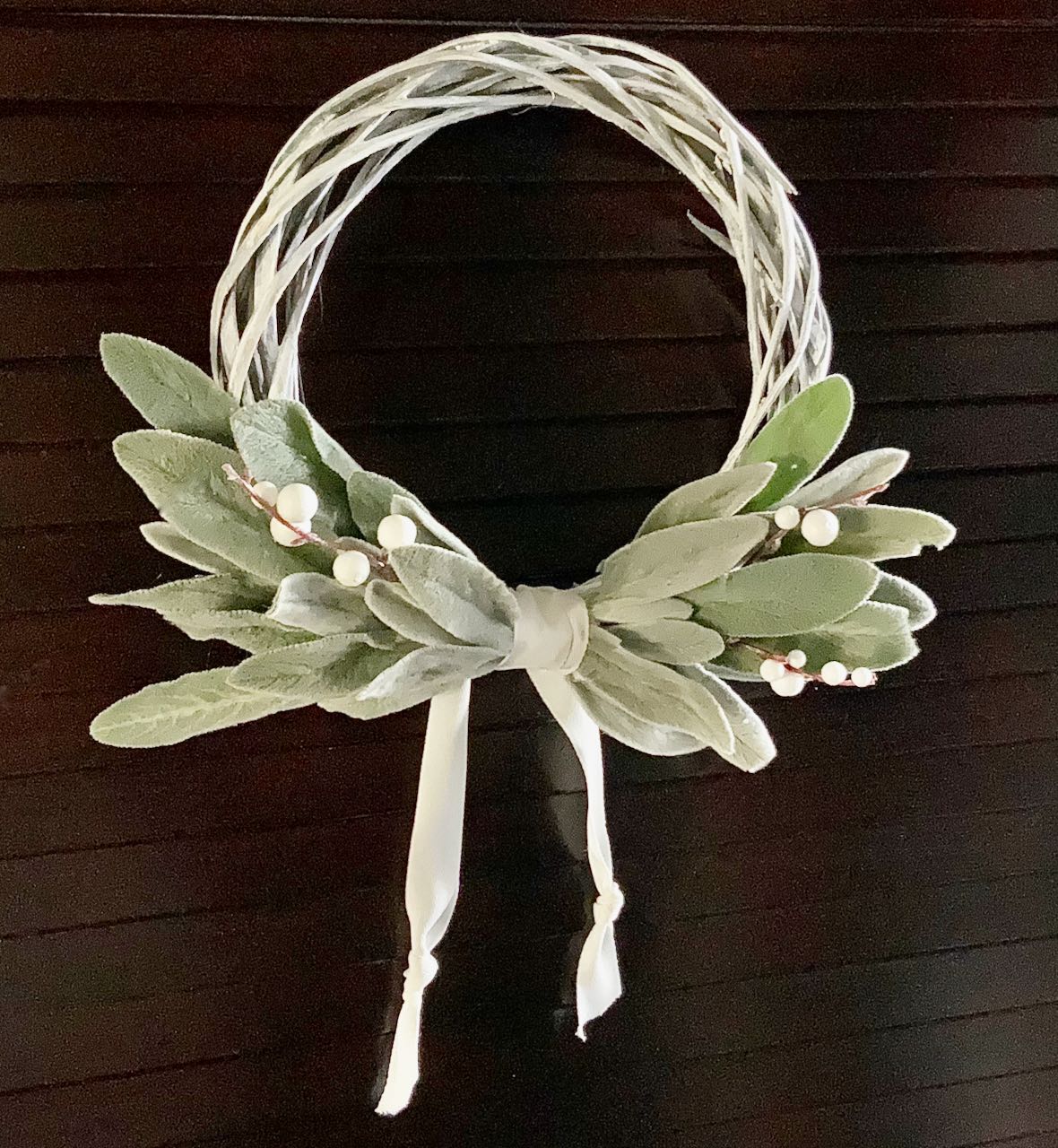 What Can You Do With Lambs Ear?
Specifically, Dried Lambs Ear?
We already talked about, and I showed you several pictures of little groupings of Lambs Ear leaves on longer stems in small vases. Easy peasy!
But maybe you want something sweet to hang:
in a window
in the center of a wreath
in the center of an empty vintage frame
on an armoire door
in a gallery grouping for a touch of soft texture
on a wall as part of a shelf vignette
on a bedpost
. . . just a few ideas to get you going
Or lay one on an antique book on a sidetable, or amoungst your shelf displays, on kitchen open shelves, . . .
Let's Make Lambs Ear Bundles: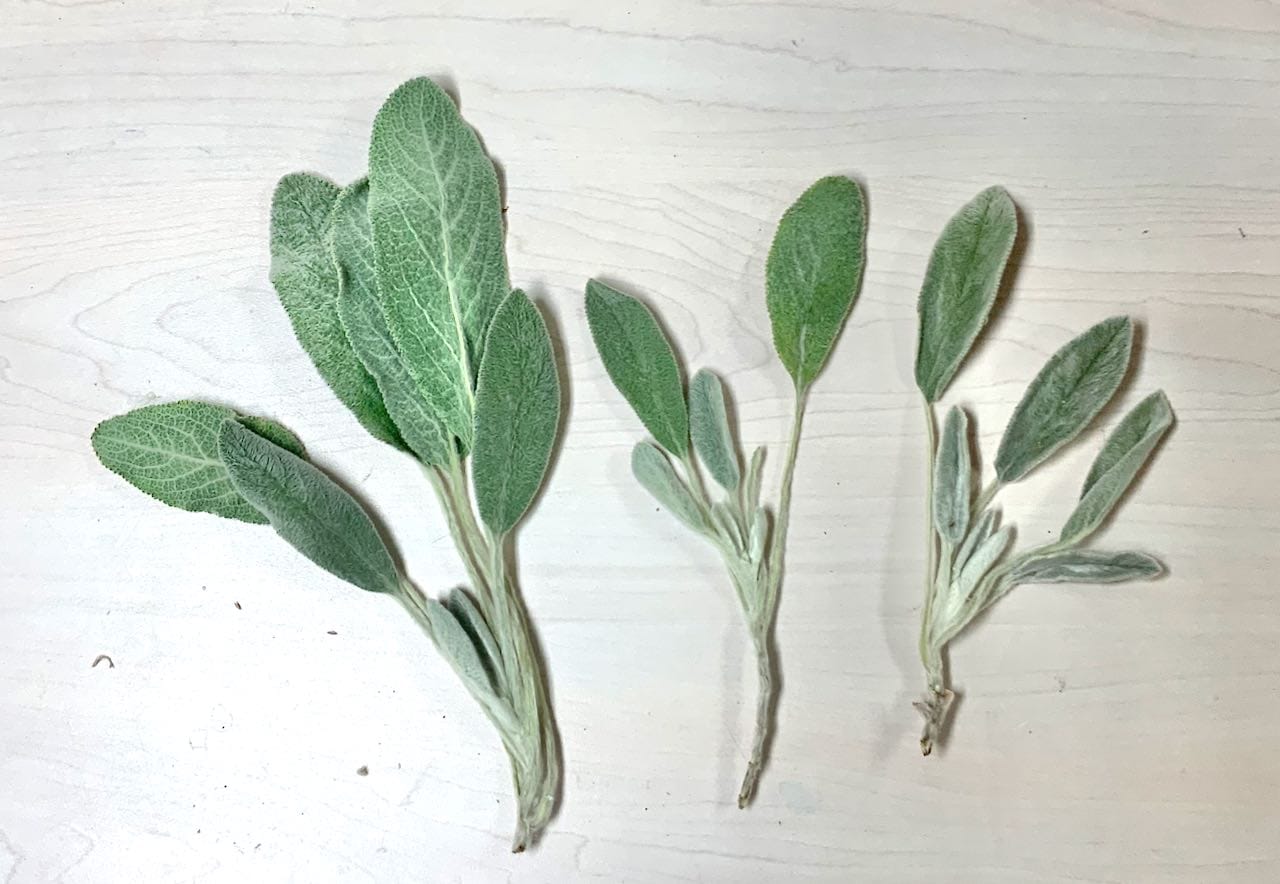 Pick out two or three of your multi-leaf sprigs that layer well together.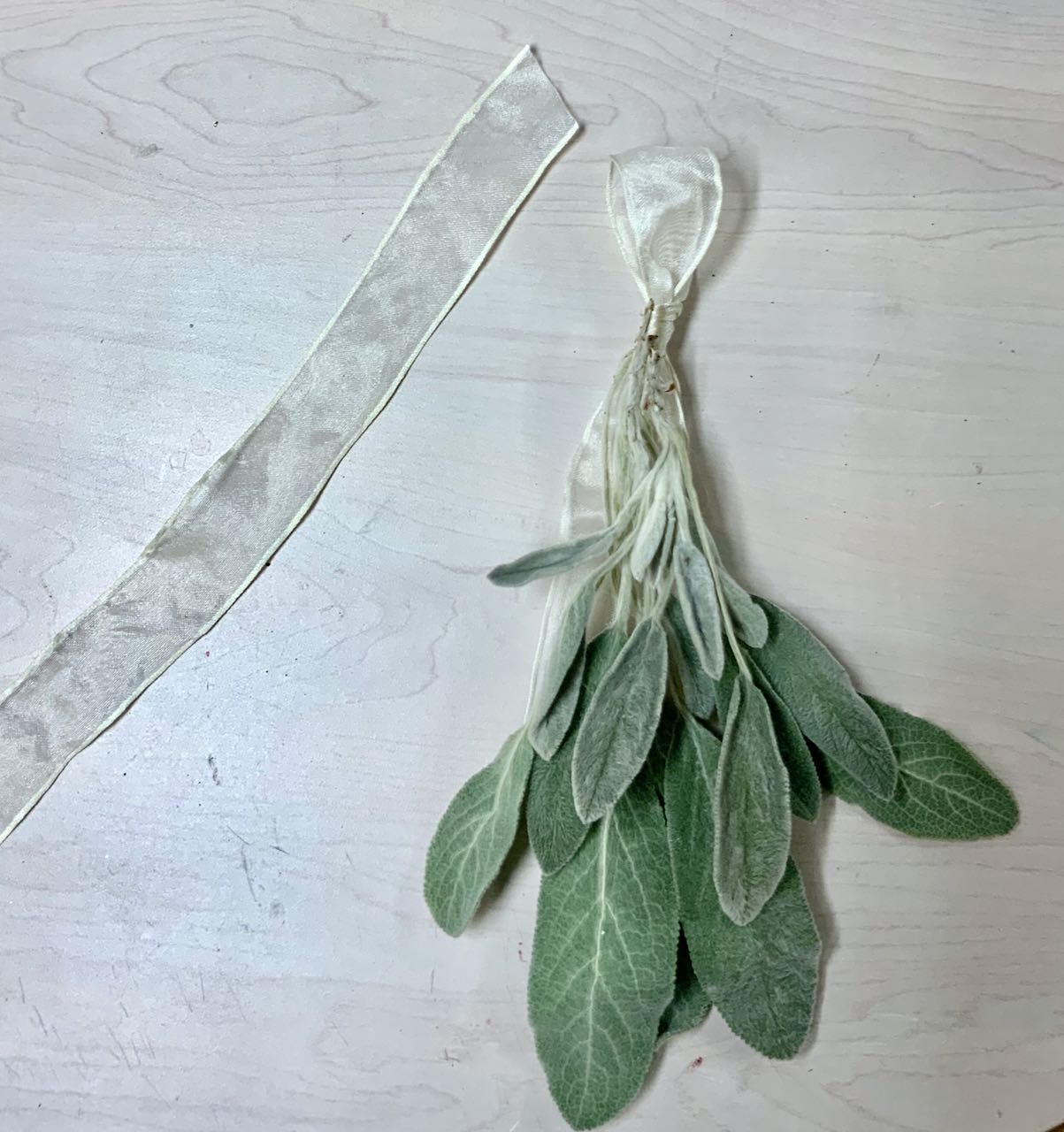 There are lots of ways of doing this, but I used two 16-inch lengths of sheer wired ribbon.
Make a loop in one of these by tying a slip knot about 1/3 of the way in.
Lay that ribbon on your work surface with the loop up. Place your bundles of leaves on the long length.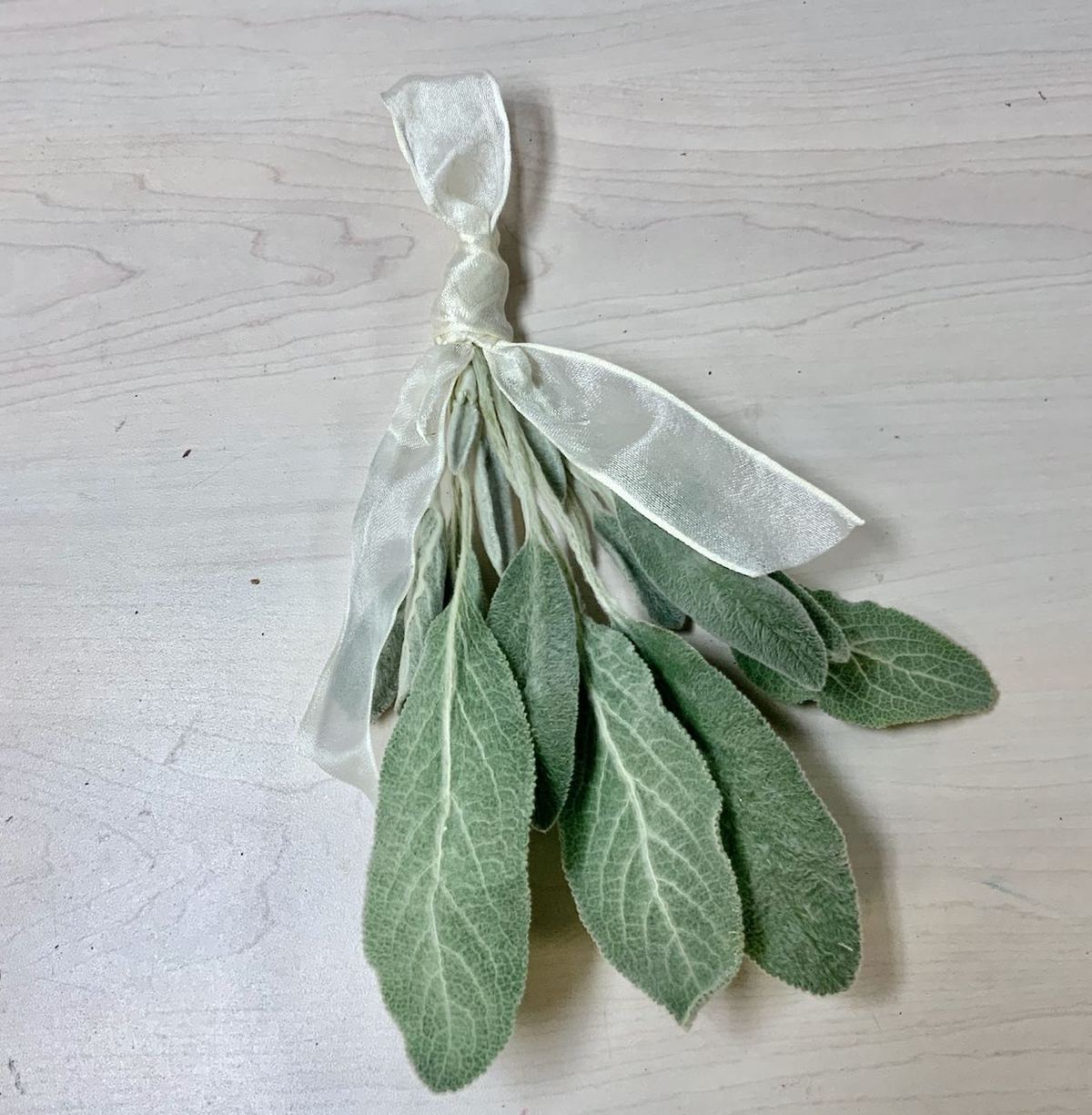 Wrap the second ribbon around several times and knot in back.
Keep it sweet and simple to match the sweeet simplicity of the leaves.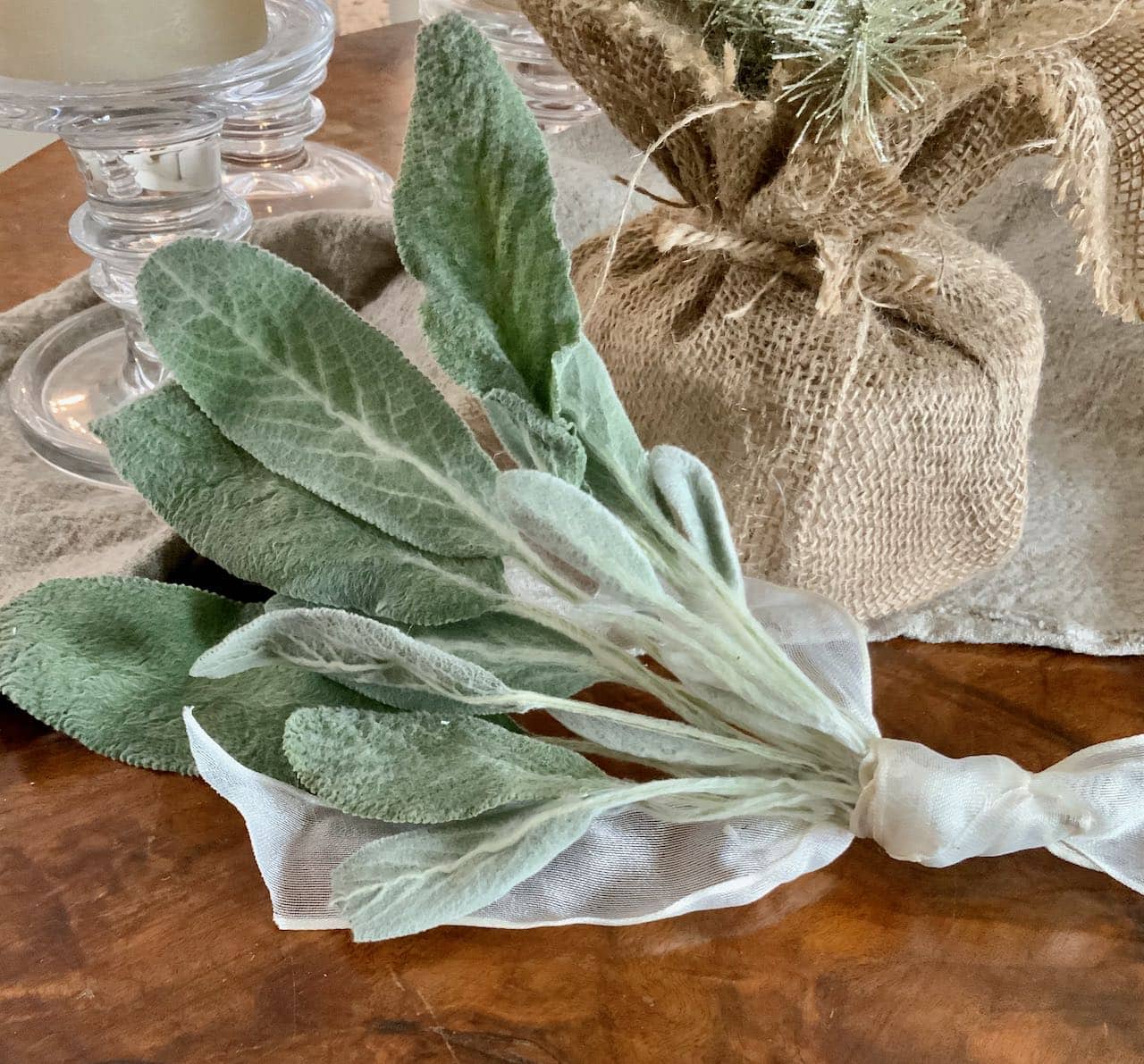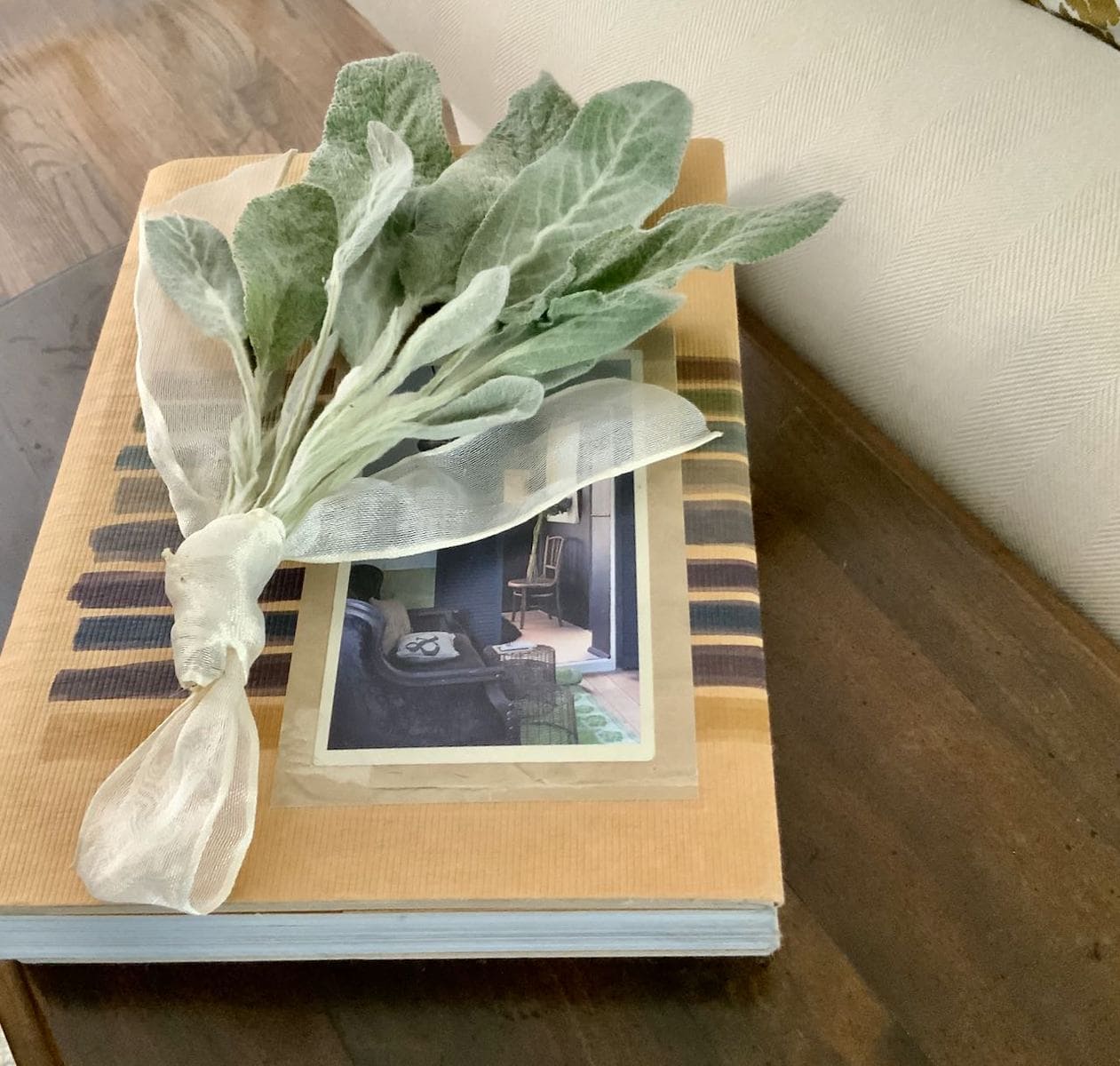 A blog post on how to make the wreath is coming very soon!
Share