How To Delight Your Wedding Guests
– Wedding Logo Plus 17 Thoughtful Touches
Starting with a wedding logo, here are 17 more personal touches you can add to a wedding to delight your guests and guarantee it's memorable!
The links in this post may include affiliate links, which means if you purchase anything using these links, you pay no extra, but I may receive a small commission that helps keep this blog running. I truly appreciate you using affiliate links whenever possible. Please know that I will never recommend a product I do not believe in!
All photographs of the day are from the amazingly gifted photographer, Shelby Spencer. More about Shelby at the end of the post.
---
When a pandemic alters your wedding plans, . . . dare I say it?
Yes, it might actually be better. If by better, you mean more intimate, more personal, and more focused on the bridal couple themselves and their guests.
A bit of backstory:
Our daughter Katie lives in Washington DC. This is where she met Jon and where they fell in love.
Because Katie and her two brothers live literally at opposite ends of the country with Doug & I in the middle, they asked if we would gather with them on Thanksgiving weekend, so we'd have plenty of time together celebrating — plus it has always, always been Katie's favorite holiday.
They found a stunning vineyard in the Blue Ridge mountains of North Carolina. This venue was absolutely perfect for us.
Thanksgiving turned Wedsgiving!
And four days of bliss for this mama's heart.
I'd be happy sharing Wedsgiving pictures all day long. But that is probably not very appealing to you and doesn't really help you live a more joy-filled life — my goal for South House Designs.
What might help, is if I share some of the personal touches they added to make this celebration truly memorable for their guests and loved ones.
Maybe one or two will inspire you to do something similar whether a wedding or a family reunion or when you are gathered with the people you love the very most.
And I used the Friendsgiving Dinner/Rehearsal Dinner as the backdrop for this blog post on the questions you need to answer to plan the perfect table(s).
Their Personal Wedding Touches
1) Starting with Their Wedding Logo-
Jon actually came up with this!
Katies last name is Sudhoff – yes, my husband and all three kids were "Suds" in school.
Jon's last name is Margolick .
Together they are Suds and Marg. So of course their logo needed to be a beer bottle and a margarita glass clinking in toast to each other.
A Wedding logo does NOT have to be a monogram! Think beyond that box.
Jon contacted Fiverr.com and hired a graphic designer to make his vision happen. 10 minutes later they had their logo.
Do you know about fiverr? They offer freelance services for businesses and individuals alike. Very reasonable and usually very quick.
Why Do You Want a Wedding Logo?
Simply because it's fun and it makes everything so personal and memorable.
Kind of like having a theme for your reception or party.
2) A Welcome Treat Waiting in the Guests' Rooms
Of course, a custom rubber stamp is an easy way to incorporate your logo.
They brought a frozen batch of Katie's amazing chocolate chip cookie dough with them. On Wednesday afternoon they baked enough cookies for all the guests to have fresh cookies in little welcome bags stamped with their logo waiting on their beds when their arrival.
Of course, that little treat bag was accompanied by handwritten notes cards from Katie and Jon expressing their love and thanks for being there with them.
3) Thoughtful Wedsgiving Favors
Since we are talking mountains in late November, they also had a cozy throw for each of us. They knew these would be put to good use around the numerous fire pits and even at the wedding ceremony, and then for years at each guests' home.
They chose these, these and these
4) Logo Embossed Leather Patches
And here's my favorite use of the logo.
They had this Etsy maker emboss leather patches and punch small holes around the edges for Katie to sew them on each blanket. These fill my heart every time I walk past one or curl up under one.
5) Guest-centric Beverages
Along with the above items, waiting in our rooms were beverages selected with each guest in mind. Most of the young friends had cabins around a shared fire pit and bocce court. Those cabin were outfitted with coffee stations. So many received their favorite k-cups. We are tea drinkers, so we had some high-end tea bags waiting for us.
The brothers? They had Jamison waiting for them.
6) Warm HomeMade Food Waiting
Whatever time the guests stumbled in after long drives or long flights, they were greeted at the "Mountain Retreat", our home, base with the delicious aroma of Katie's fabulous Bolognese sauce over pasta. She made this ahead and brought it down where it sat on the stove on low for hours.
The guests trickled in as their schedules allowed greeted with introductions, laughter, story-telling and warm comfort food. The perfect start to our Wedsgiving weekend!
7) Travel Snack Bags
They also stamped brown handled shopping bags with the logo and Jon penned "Safe Travels" on each of them. As the guests departed, the bags were waiting filled with bottles of water and tasty packaged snacks.
8) Leftover To-Go Boxes
As they anticipated there would be, there was soooo much delicious food leftover.
Katie & Jon had stacks of to-go boxes ready. We packed up these containers and sent them home in cars and on planes. It was the perfect send off from this homespun, heart-felt, made with love Wedsgiving weekend celebration.
Wedding Ceremony Specific Touches-
9) Bridal Attire
Notice I didn't say "Bridal Gown". Katie is not a gown, or princess kind of gal. She is strong and independent, but still very feminine.
Katie and a trusted friend surprised me back in 2020 with a virtual dress shopping day. I answered a facetime call to see Katie standing in front of me in a white gown! And the next maybe two hours, I was propped on the side table outside the fitting room examining dresses and fit and comfort and all that. It's wasn't the same, but I was so thrilled.
After all that, Katie ordered a custom made dress from Etsy shop "Wear Your Love XO". SOooo many measurements, and when it arrived, it fit to perfection! The look on "her ladies" faces says it all!
She then ordered a suede moto jacket for the outdoor reception she dreamed of.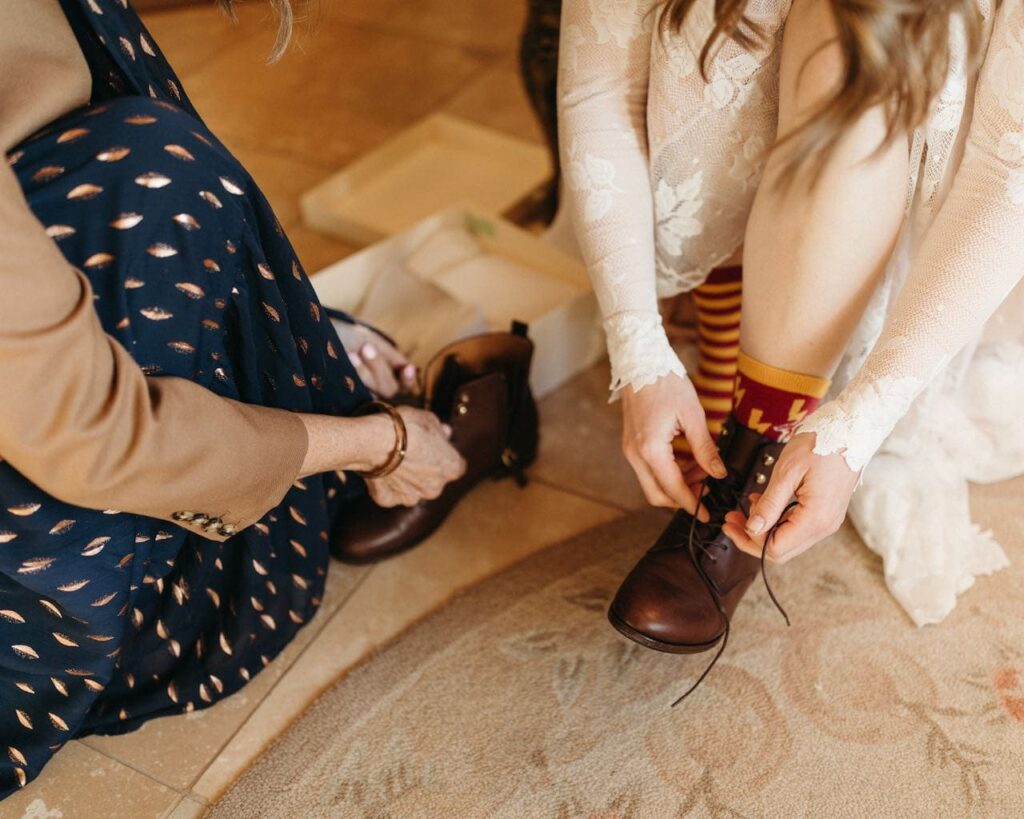 Don't forget the bride's accessories!
It is all the more important to be exactly who you are on your wedding day, so Katie being totally Katie, her accessories included Gryffindor socks and brown leather booties.
10) Flowers
They chose burgundy, soft sage green and goldenrod as their colors. Katie requested dried flowers from our yard. Which means lots of dried hydrangeas and lambs ear. Yes! Lambs ear dries beautifully, maintaining its gorgeous sage green color and its soft, fuzzy texture. Here's how.
Originally, the girlfriends and I were going to make her bouquet and the floral arrangements for the chuppah. But a year later, we were flying and a new florist had opened in DC that Katie really liked, so they put her bouquet together and I brought the dried hydrangeas and lambs ear for the tables on the plane as my carry on luggage.
Phew! That was a big item off my list.
11) Bouquet
I surprised Katie by adding a pair of pheasant feathers to her bouquet.
She was very close to my father who was a huge hunter. Those feathers were representing him on this day. She knew instantly when she saw them. It was quite a moment.
Then I also wrapped the stems with the most beautiful hand-dyed ribbons and I left long, long streamers to flutter in the breeze. We ordered the ribbon from this Etsy shop. Cannot speak highly enough of them and their ribbons!!!
12) The Chuppah
Jon and his family are Jewish. Katie and our family are Christian.
With this wedding, we not only gained an amazing third son, but also an introduction to some wonderful ancient traditions that were new to us.
They wanted a Chuppah for their ceremony. This is the one they wanted. With the originally planned date, it was not possible to have it shipped in time
So our architect son made a very similar one out of black pipe for his sister.
We assembled it on site. I brought burgundy gauze for a flowing drape over the top. With the wind, it ended up wrapped around the poles instead, but it was actually quite lovely that way.
13) The Ketubah
I mentioned this tradition of a Ketubah in this post a week or so ago. Here is a lovely explanation of its origin and modern interpretation.
In general, Katie & Jon explained it's a contract/promise between them. It's their shared vision of what they aspire their married life to be.
As gifted writers, they were able to capture their shared vision in the loveliest words.
Their pledge was sent off to this amazing artist on Etsy — who Jon went to school with years ago — and she made it into the most beautiful piece of art. The tradition holds that it hangs in a prominent location in the couple's home.
This feature wall was designed with that artwork in mind!
As a contract, it requires witnesses. While the other guests were all outside waiting for the ceremony, The two officiates and both sets of parents gathered with Katie and Jon to sign the Ketubah. It was very moving!
14) The Ceremony
Their Ketubah also played a role in the ceremony itself. It was transcribed into two small "vow books" from Etsy. They jointly recited it aloud.
They also incorporated two more traditions blending their faiths: we recited a special prayer in Hebrew and we shared a Sign of Peace, with hugs and kisses all around.
The service also included a ring blessing. But not in the traditional sense. Josh, Jon's officiant, took both of their wedding bands and carefully placed them in the hands of the first guest. We were instructed to hold them tightly in our hands. Pray over them and pass them to the next guests. These bands slowly made their way from one to the other uniting all of us in the shared joy of this union.
15) The Ceremony Music
This is not out of the ordinary. Most every bridal couple debates the music for the service.
Katie and Jon had recorded songs for when they walked in and one for immediately after.
They walked in to Consider Me by Allen Stone (fairly predictable).
The ceremony closed with pop of champagne bottles (by the brothers) immediately followed with the distinctive warbling of Kermit the Frog singing Rainbow Connection.
So the story goes, on one of their earlier dates, somehow Jon ended up singing Rainbow Connection in a restaurant in his own (not shy and quiet) Kermit voice. When Katie got home that night, she announced to "her ladies" that she found a man she might actually be able to fall in love with.
Don't feel restrained by "proper" wedding music. Pick the music you fell in love to.
Sentimental Wedding Gifts
16) Wedding Bands
Shortly after the engagement, Katie & Jon went to Delaware for a weekend to meet with jewelry maker, Heidi Lowe. Heidi taught them and oversaw them making each others bands.
Friday evening, Jon made Katie an engagement ring, a thin hammered yellow gold band that Heidi mounted little diamonds in. Then Saturday they made each other matching hammered yellow gold bands.
17) Parents to the Kids
Jon's parents came up with this idea. Both sets of parents dug back to locate pictures and/or newspaper articles on the weddings of ourselves, our parents, and grandparents. As far back as we could locate.
Jon's father then compiled them in a fabulous archival quality album with many pages that can still be filled.
18) Kids to the Parents
We were completely surprised by gifts from Katie & Jon.
Katie asked her dress company to send her a piece of the dress fabric. Then she hand-stitched this piece of lace to the lining they also sent (not easy to do since they are both stretchy knits. But she did it, making Doug a "handkerchief" from her dress.
Doug prides himself on always have a hankie in his back pocket for whenever I get emotional, or get something in my eye, or get a paper cut or, or, or. This is a habit passed down from his father.
That lace square is being framed. It will not be touring in Doug's back pocket.
Jon wrote a poem to his father and inscribed it in the cover of a book of Shakespeare's Sonnets. (Joe read no. 16 in the ceremony).
Then the kids presented both of the moms with a small box we opened together. I think there's no debate about it. We were surprised!!!
We received identical necklaces. Silver chains hold two small intertwined hammered yellow gold rings. These were made for us from the scraps of gold left when they made their rings.
Isn't that just the best!
When you see a picture of me, look for it. I am rarely without it.
Wow, this is quite a long post!!! Thanks for indulging me while I revisit our incredible Wedsgiving.
And don't forget about this post specific to planning the tables and decor for our Rehearsal Dinner, which translate to all sorts of dinner parties.
I hope if you are planning a wedding or another special event, maybe some of these ideas will help inspire you to make it uniquely yours. And in this case the wedding logo was a great jumping off point.
Our Photographer!!!
As we all know, the photographer is critical for our memories of this day! Being the non-traditionalist, Katie hired the amazing Shelby Spencer, a documentary photographer.
As Shelby states, "So the stories I document are the honest ones. No performance, no posing. Just you, living out your story, with love."
We did not hand Shelby a list of images we wanted. She used her gifted eyes and story-telling to capture this day, all the intertwined relationships all the intertwined love.
Did I miss not getting a specific family photo? Sure, I did, but we have something even better!