Massive Wall of Floating Bookshelves — How To Install
How we transformed a living room with all bookshelves — as in floating. bookshelves over 56 linear feet of wall mounted bookshelves!
A bit of background:
Our daughter and our new son planned a small isolated pandemic wedding for Thanksgiving weekend 2020. We all know the story of the rising Covid rates with no vaccines yet. They decided they couldn't risk our health and rescheduled for this last Thanksgiving. Those Wedsgiving posts are on their way . . .very soon.
In the meantime they found the perfect historic rowhouse in DC.
Well, almost perfect — it just needed an injection of their personalities!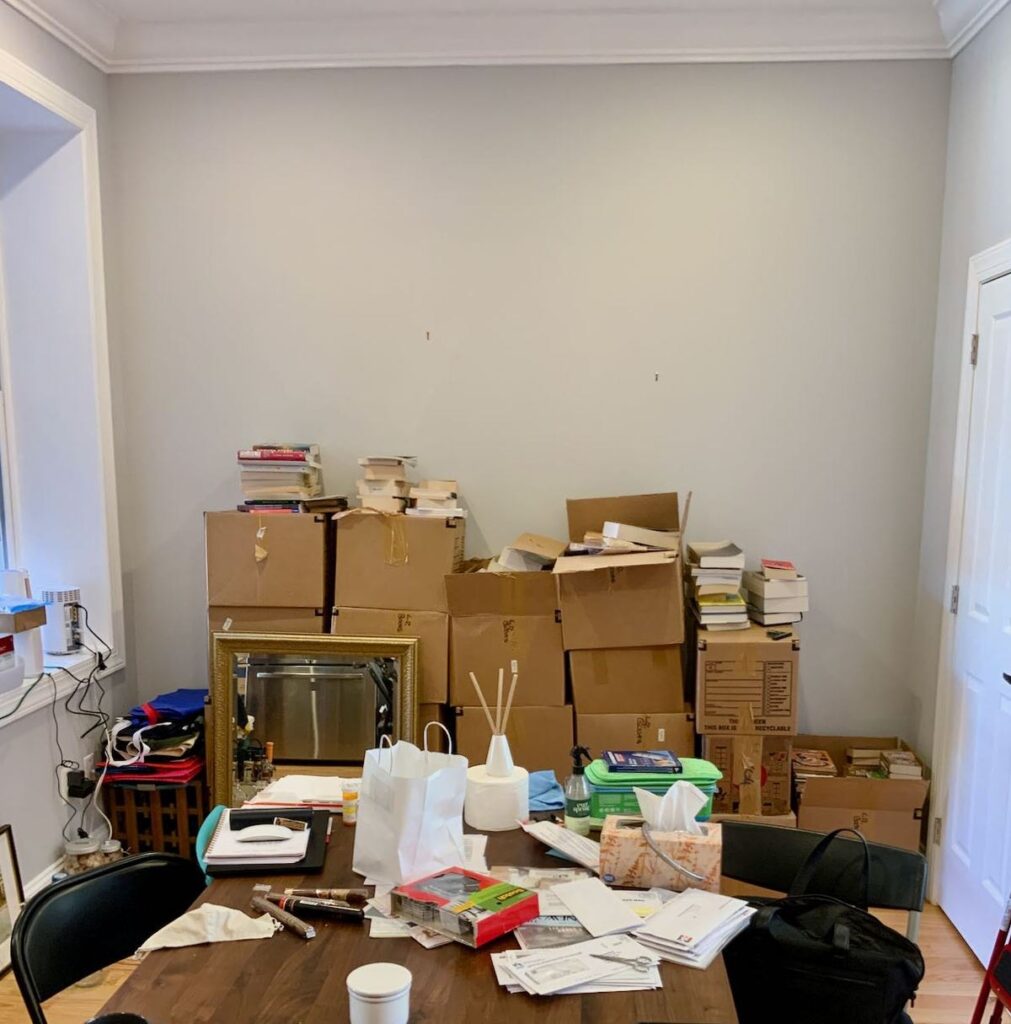 We, Hubs and I, drove out in April to begin said injection.
This was their dining room about 4 weeks after moving in, the day we arrived.
All those boxes? Books, and more books! And that is maybe a third of them.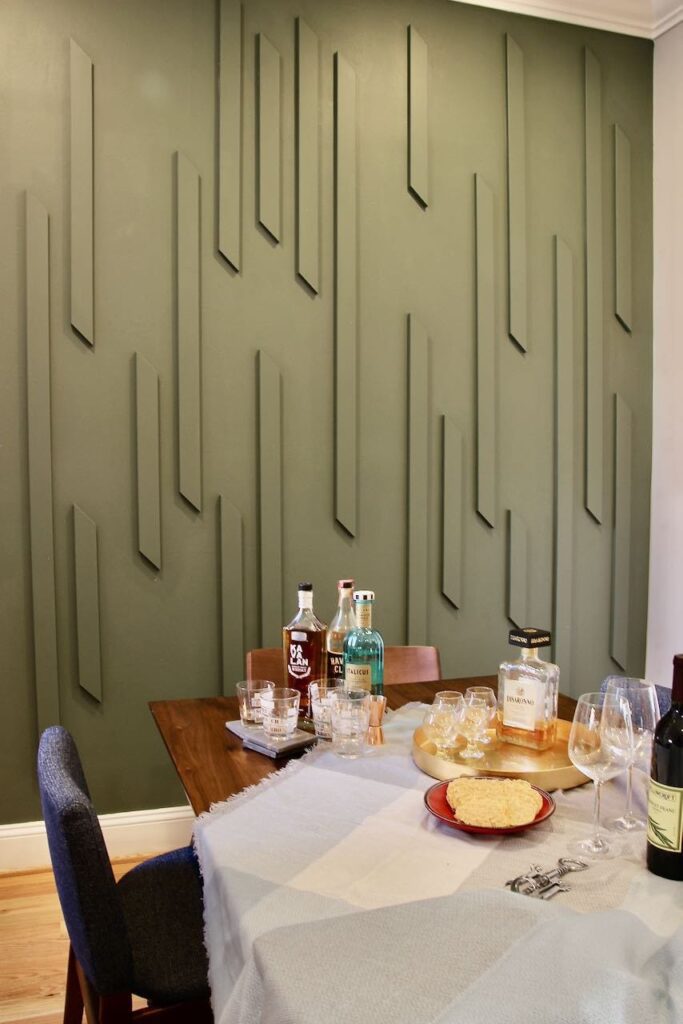 That trip we installed and painted this dining room wall. You can read about this feature wall here.
At the same time, we began work on their living room wall and that mountain of books.
More Backstory:
Jon is Jewish, so not only do we have a wonderful new son, but also exposure to some wonderful new-to-us ancient traditions that they are modernizing for their lives together.
One of these is a Ketubbah. Here is a lovely explanation of its origin and modern interpretation.
In general, Katie & Jon explained it's a contract/promise between them. It's their shared vision of what they aspire their married life to be.
More on their ketubbah in the coming Wedsgiving posts. But in their Ketubbah they promised " . . . our home will be filled with music, laughter, and towering piles of books . . ."
Yep, for these two, books rank right up there with music and laughter!
Before-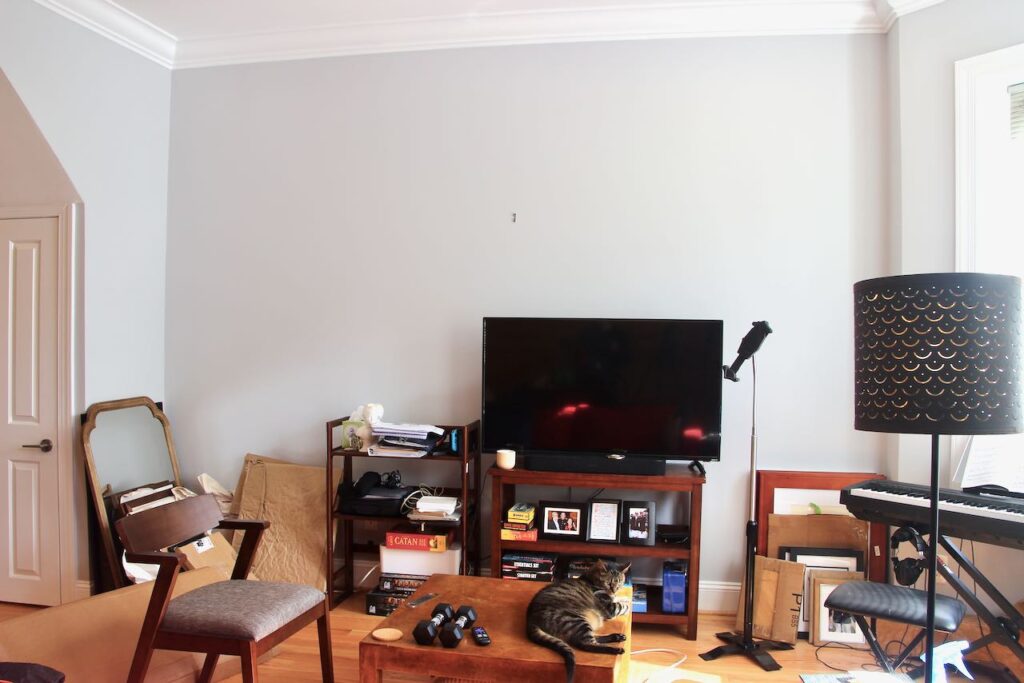 This is how the living room looked the day we arrived.
So much potential! But . . . so much work ahead.
The day their offer on their home was accepted, they sent me a walkthrough video and measurements, asking if we could turn this wall into a library wall.
Well, more like a bookshelf wall because it needed to include the TV and a bit of closed storage.
"Oh, and we really don't want a lot of heavy woodwork, nothing like traditional built-in's".
WHAT? Yes, they wanted wall mounted bookshelves of some kind.
They found a few pictures. Nothing that really had it all.
After a week of back and forth, what they envisioned were floating bookshelves. LOTS of floating book shelves. Oh, and not box style floating shelves (too thick),
They wanted solid wood slab floating shelves. Oh, and NO brackets or hardware showing.
They were not going to make this easy on me, were they?
The Hunt Began for Floating Bookshelves-
It didn't take long to realize we needed custom.
We needed Etsy!!!
You're thinking Etsy? Isn't that the crafting marketplace? Yep, but all variety of crafting and at all levels.
Check out this assortment of possibilities! Amazing, right?
The third seller I contacted, JThomasHomeGoods, was a perfect fit for this project! Josh was great to work with, beautiful product, reasonably priced and located on the SW side of Kansas City, just about 30 minutes from us! Kinda crazy, right?
I was hoping to find someone more or less on the route from KC to DC, that we could stop and pick them up on our way. This was so much better! I never thought I find a craftsman making exactly what they wanted in the KC area!
These walnut shelves were the winners!
Now For the Lay Out of the Floating Book Shelves –
Hello, Canva, my friend!
If you don't use Canva, well, why the heck not?
It's easy to use and free. Yes, I have a paid version which is worth it for the daily workout I give it. But if you just need it here and there, the free version should serve you well.
Katie had found the Ivar pine cabinets at IKEA and wanted to use those as a bottom layer of floating closed storage with a walnut countertop also from JThomasHomeGoods.
I sent K+J, a file with twelve proposed versions (created in Canva) of how the shelves could layout and still have some closed storage.
Now the question was three or four of the double door Ivar's? The winner, three.
This is option 8 of the twelve we started with. Personally, I think the cat and the banana bookend sealed the deal.
A couple of weeks later, we were vacc'd and the shelves were ready. Josh and his crew loaded all the shelves and hardware in our Highlander and strapped the countertop on the rooftop luggage rack. We were off the next morning to DC.
I know this is probably not the project top of mind for you at this moment.
I get that.
But maybe for when the time does come, save it to your
Floating Shelves Board
or Book Shelf Board
or Home Library Board
or Organizing Board
or Book Lover Board
Wall Shelves Board
Pin it wherever it makes sense to you.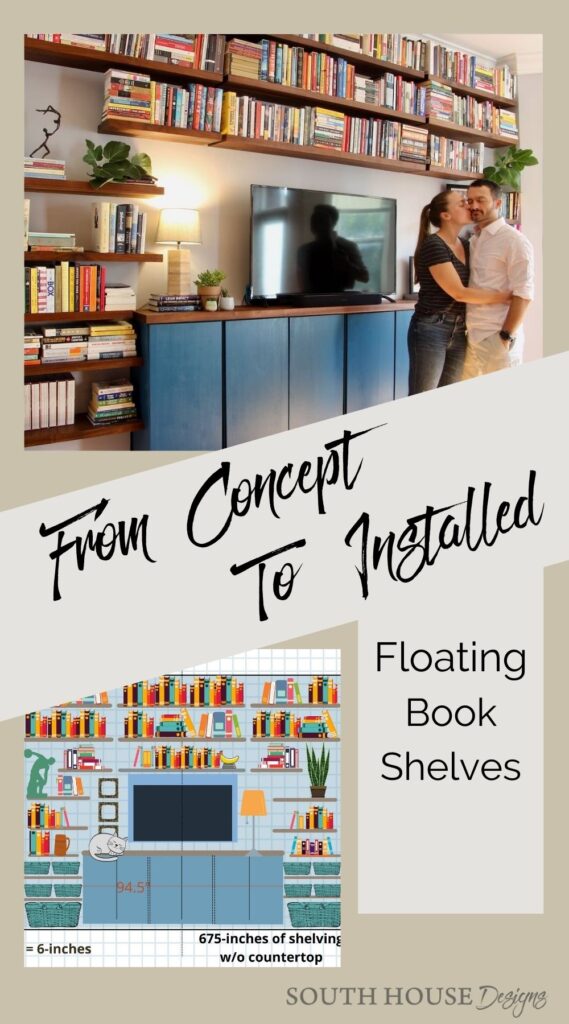 Spoiler Alert:
The cabinets finally arrived and I returned in August to install. The details of the closed storage part of this project are right here.
Now To Install These Wall Mounted Bookshelves-
Initially, Katie & Jon would have liked the top three rows to just be single slabs. But not to be — just one more thing the the pandemic interfered with. We ended up loving the little breaks of air in there. But in all honesty, it made the installation a bit more stressful.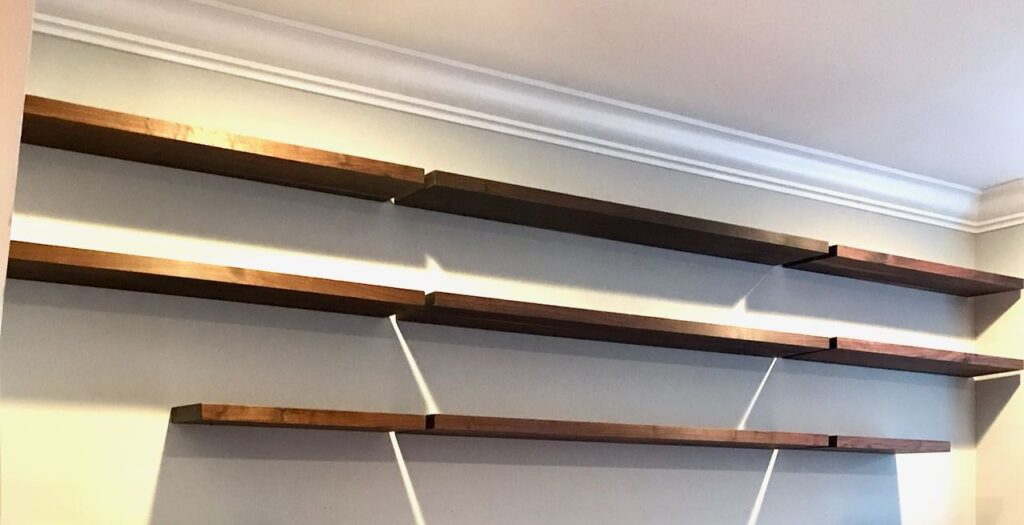 When lining up shelves that close together, it was all the more important that the heights be exactly the same. Just the kinda thing Katie & I obsess over, so we made a good installation team while Hubs caulked and painted the big green feature wall. And Jon was in the midst of a large project at work, so he jumped in between zoom calls when he could.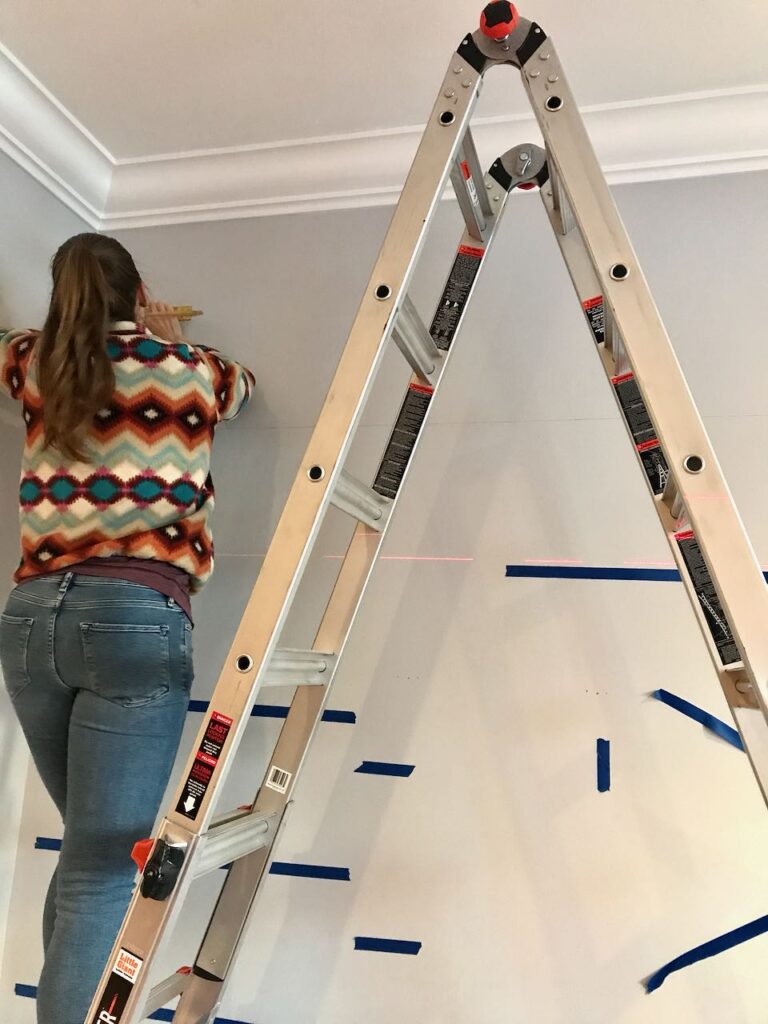 Working from our design diagram we taped out the general placement of the cabinets, tv and each row of shelves.
Then we refined those lines and shelf placement with a laser level and tape measure.
And we tried to find and mark all the wall studs available to us.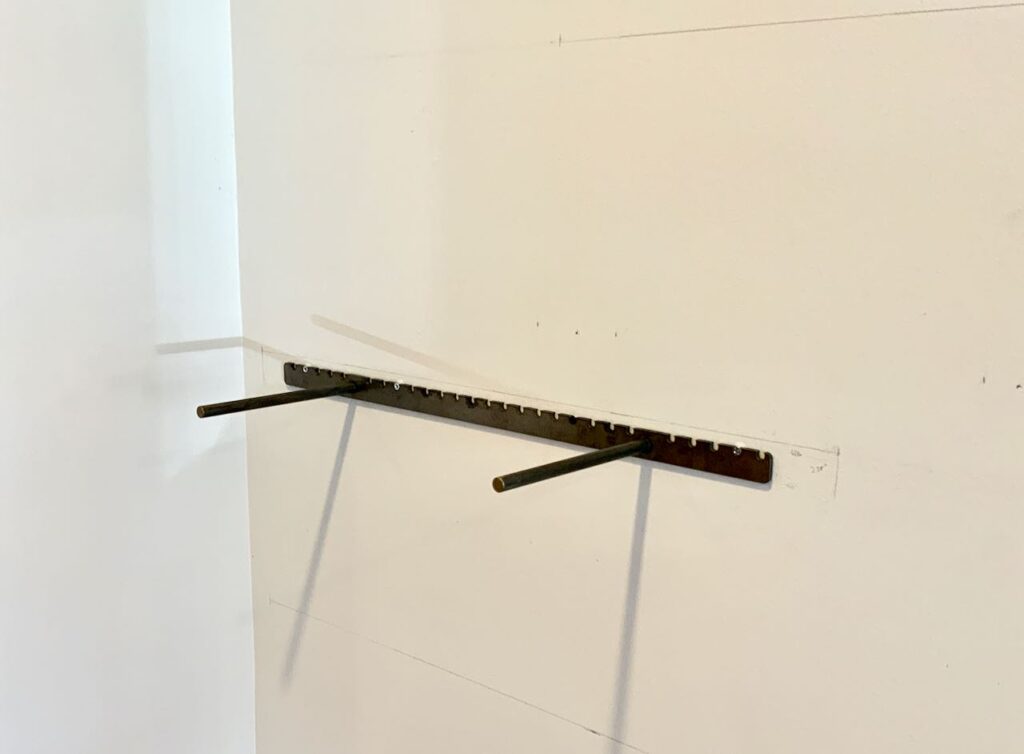 Having never done this before, we decided the first shelf should be:
a shorter shelf
at the easiest height
With a lot of measuring, marking and drawing on the wall, the first bracket was up and secure.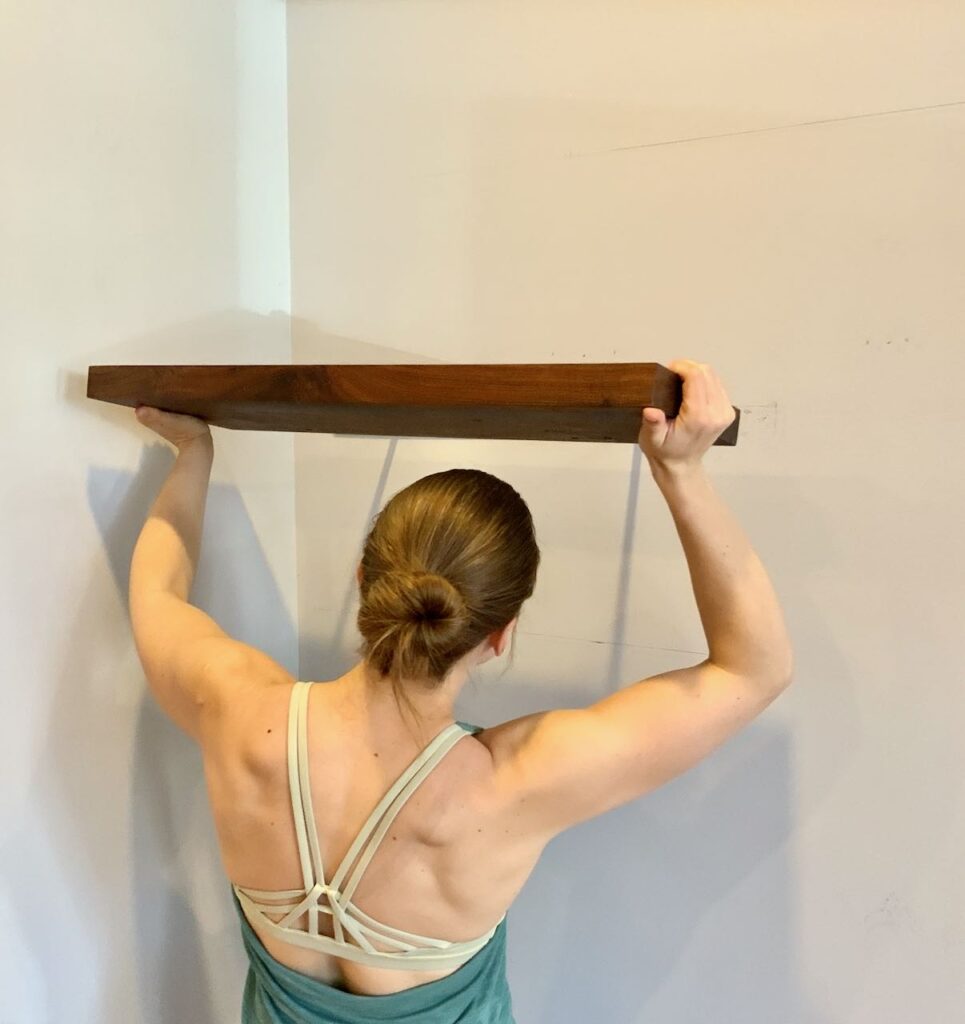 This was so gratifying when it slid on and the placement was just as we wanted.
Not shown, there are a couple of small holes in the underside of the shelf very close to the wall. These are where we inserted the supplied screws and tightened it against the steel rods of the frame. Perfect!
We were feeling more confident, but wanted to make sure we could align two shelves just right before we took this show up the ladders.
So next we installed the second shelf lining up right below the first. This was our opportunity to refine how we worked out the measurements to get the shelves exactly as we wanted them.
NOTE: Those wall anchors we started with shown here, were not doing as well as we hoped. So we switched to a different wall anchor system that worked much better for us and these walls.
I am working on a very detailed video of the steps we used in measuring and calculating for each bracket placement. If this would be helpful for you, please check back or even subscribe so you are alerted when that video is available.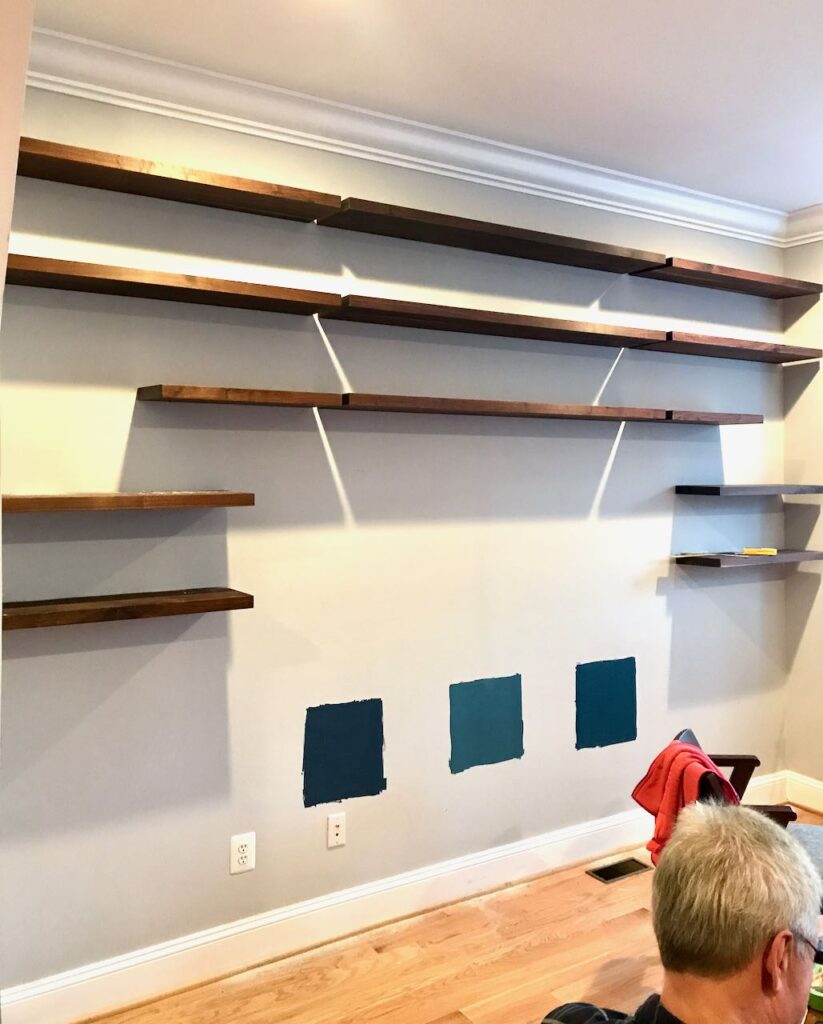 Phew, working slowly we have the thirteen hardest shelves installed. Six smaller ones left to go!
Those blue swatches? Sample colors of paint for the cabinets to be floating there.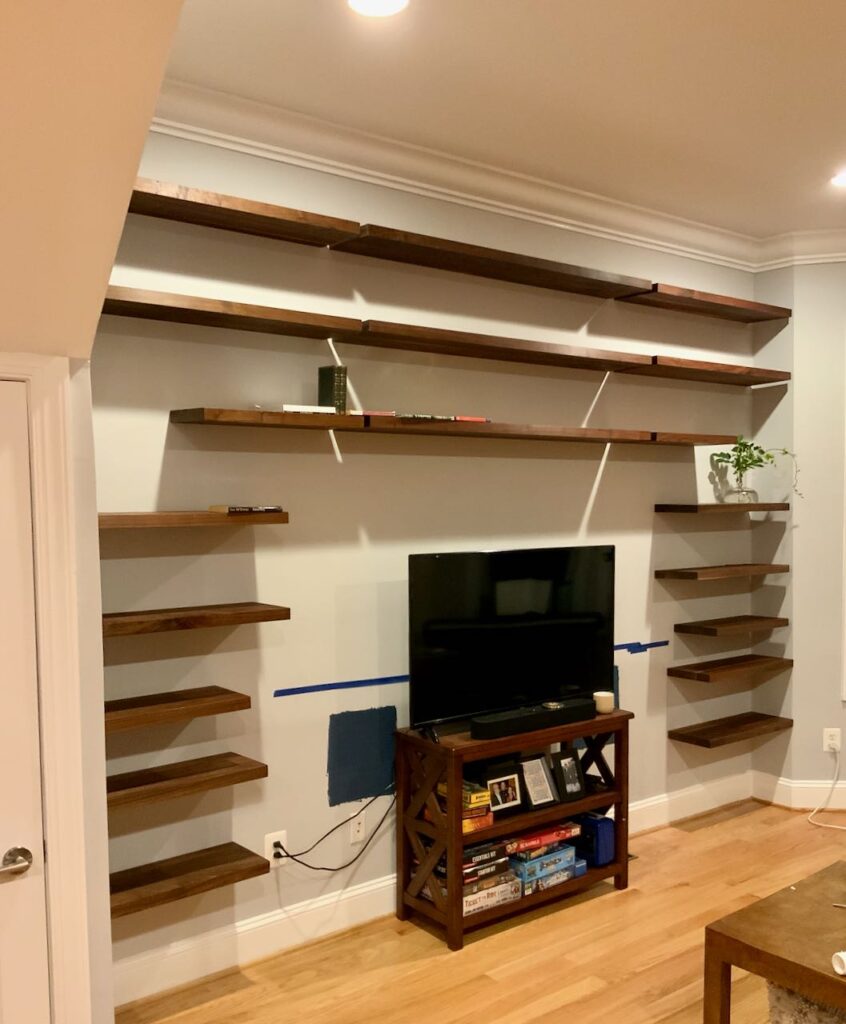 Our work is done for this trip.
Those Ivar cabinets? They seemed to be one of the first supply chain fatalities. They were not available pretty much throughout the US at that point.
Spoiler alert: they were in and we installed them when I was out for a solo trip in August. Stay tuned for the final installment!
SIDENOTE: Do you notice six lonely-looking books on the shelves?
They were not really lonely, they were ceremonial!
Jon's parents managed to make it into DC for our last night there. We enjoyed the first dinner party in their new dining room. Then after delicious food, wonderful wine and great conversation, we each chose a special book from their collection and had a silly ceremony of "booking" the wall. And I just couldn't let it be without a vase of clippings from the yard. The rest was left to them.
A few questions:
Can floating shelves support books?
Yes, they can!!! But you need the right anchor system for these shelves ingenious steel internal support. And it's an absolute must to find at least one stud for the smaller shelves and two or more for the longer shelves.
How deep should floating bookshelves or wall mounted bookshelves be?
For shelves meant for books (mostly), 10-inches work great. For function, it is best to store the books close to the wall, but visually you don't want the shelves sticking out too much in front of them.
With deeper shelves, the weight of the shelves themselves grows and you would have the tendency to display your books too far out from the wall which puts that much more strain on the walls.
Don't hesitate to reach out to me with any additional questions. Remember I have two more posts coming with more installation details.