Easy to Make Rehearsal Dinner or Friendsgiving Table Decor
Friendsgiving table decor doesn't have to be expensive, but it should feel special
–even more so when it's also a wedding rehearsal dinner.
The links in this post may include affiliate links, which means if you purchase anything using these links, you pay no extra, but I may receive a small commission that helps keep this blog running. I truly appreciate you using affiliate links whenever possible. Please know that I will never recommend a product I do not believe in!
---
If you haven't heard, this last Thanksgiving was particularly special — DOUBLY Special for us!
It was Friendsgiving AND Rehearsal dinner. And Get-To-Know-Each-Other dinner.
It was a fabulous day orchestrated by our daughter and our new son, her groom, to honor the 24 of us who gathered from parts throughout the country to celebrate and witness their wedding.
We had a Wedsgiving!
A five-day celebration of family and friendship — and feasting!
Read here for details on 18 ways that Katie & Jon personalized their Wedsgiving all in the name of honoring their union and their guests. Truly memorable. Some of these might work for your next family reunion, wedding, or special event.
Vineyard at High Holly has a large commercial kitchen attached to their event pavilion. When Katie saw that, the venue search was done! From the beginning, she dreamt of us all bonding over preparing a feast in a large kitchen.
Of course that's not everyone's dream, so there were also hiking trails, board games and a big screen broadcasting games all day.
In the picture on the right; those couches were all about cheering and shouting. Right through the door on the left is the kitchen where it was all food prep, laughter and singing as we chopped, stirred and basted the most amazing feast.
What About the Friendsgiving Table Decor?
That's what I promised you, so we'll start there and then end with the food and festivities!
Isn't this pavilion gorgeous? Three walls are all open with the fabulous branch railing all around the wraparound porch.
Those clear vinyl panels worked beautifully with overhead heaters suspended in the corners to. keep it very comfortable all day and night.
Let's Talk "Function" of Our Friendsgiving Dinner Decor
Place Cards
Katie & Jon ordered place cards and menus from their printer. We felt place cards were important. for this dinner.
With place cards, everyone knew they were important and valued. There was a seat at the table waiting for them.
This was a day of getting to know each other. Katie & Jon, strategically arranged the seating to facilitate conversations and camaraderie. Plus place cards have the sneaky benefit of helping with names when you are meeting all these new people all at once.
Table Arrangement
We wanted to emphasize family style so we set our tables together banquet style — 32 feet long.
Two of the guests did not arrive until Friday morning, so we sat 12 down each side of our banquet table and each end held the serving dishes that were passed down each side.
We opted to pass dishes, again emphasizing community, rather than buffet lines. It just feels more communal when everyone sits at once, toasts as one and works together to pass the dishes.
Thanksgiving Feast "Passables"
The concern for passing down the long length of the table was what about the gravy, the salt & pepper, thee bread, the cranberry sauce? You know, those pieces of the dinner that gets passed a lot!
We solved that with four trays to coral those items at key spots on the table. So that made for a very manageable tray of each of those items for every six guests.
Sadly, I was too "in the moment to get great images. Someone snapped this as the trays were being prepared. So use your imagination and you'd see the bread wrapped in a dinner napkin, greens on both trays, butter on a smaller plate that we would have remembered to bring and gravy pitchers wiped clean.
Those trays? They are the wood lids from round cheese boxes that I gathered from our local grocery deli departments.
It's Not Friendsgiving Dinner Without Seconds . . . And Dessert!
Of course we had a third serving dish of each of the sides standing by on a large wheeled cart — just in case.
Then after we cleared those away they held an array of pear wine pies, pumpkin pies and pecan fudge truffles.
The well-stocked bar was conveniently located right behind this extra service area.
Once all the "function" decisions were made, it was time for:
The Pretties For Our Rehearsal Dinner
Did you notice that big black suitcase in the first picture of the Pavilion table? It was filled with most of the accoutrements for this table.
Centerpieces
Candlelight was a must so we started with three long blocks of wood. Katie's youngest brother, distressed them and used a drill press to make the holes for the candles. These held 36 candles down the center of our tables.
They provided the desired ambiance of candlelight, but spaced to also accommodate the four trays of "passables".
HINT: this trick works on all candleholders. When a holder is a bit too big for the candle, I take a small bit of moss and lay it over the hole then push the candle in place. This give it a tight fit and adds some charming moss.
I wanted the candles to be varied heights. That's easily accomplished with a kitchen knife.
Yes, those are the candles in the freezer!
HINT: Frozen candles will burn longer and will not drip wax — even the cheap ones!
The wax you see on the wood block was actually put there as part of our son's design to make the blocks appear weathered and well used.
Linens
When I'm planning a table I am all about the linens first. They are my starting point for all the other decisions.
Katie wanted to reference the wedding colors and wanted a solid, no plaid or stripes.
It was crazy difficult to find napkins that we both approved of. I'm picky about my napkins. They must:
be oversized, preferably 20 – 22 inches square
be of a thick, absorbent fabric, no chintz or quilting cottons for me
we did not want any shine
must have a double rolled, stitched hem, preferably with mitered corners.
I know, I'm persnickety!
I can't believe it, but Amazon was a strike out for me on this one. And of all places JC Penney had just what I needed for both this rehearsal dinner and for the post ceremony celebration. Extra bonus: they were on a doorbuster special. Sadly, they no longer have them or I would post a link for you.
Of course, we would be using my washed linen table runners that go with everything.
Utensils
We prefer things to not be too matchy-matchy, but we wanted to reference the wedding.
Once the golden napkins were found, we decided to use several shades of gold and bronze. with the sage green dried lambs ear and white candles.
The Pavilion's kitchen is not stocked with dishes, glasses, etc. Those are usually provided by the caterer. But we were our own caterer for Friendsgiving Rehearsal Dinner. We tried to be sustainably responsible, so rather than plastic utensils, I ordered these bamboo utensils for the first time. I was afraid they might not be study enough, but we didn't have a single one break. They worked like a charm.
Plus it was easy to give them a bit of style, by painting the handles to meet our color theme. Our daughter had ordered enough bamboo plates for the whole weekend.
This was a trial shot of our planned placesettings. Yes, we did supply knives. I think they just weren't painted yet when this picture was taken.
These hints and ideas work for all kinds of dinners beyond Friendsgiving, Thanksgiving or Rehearsal.
You may not have an even on the calendar, but some day you'll be planning a dinner.
And then you may want to refer back to this. So save it on your
Entertaining Board,
Tabletop Board,
Tablesetting Board,
your Entertaining Board or wherever make sense to you.
But What About the Food?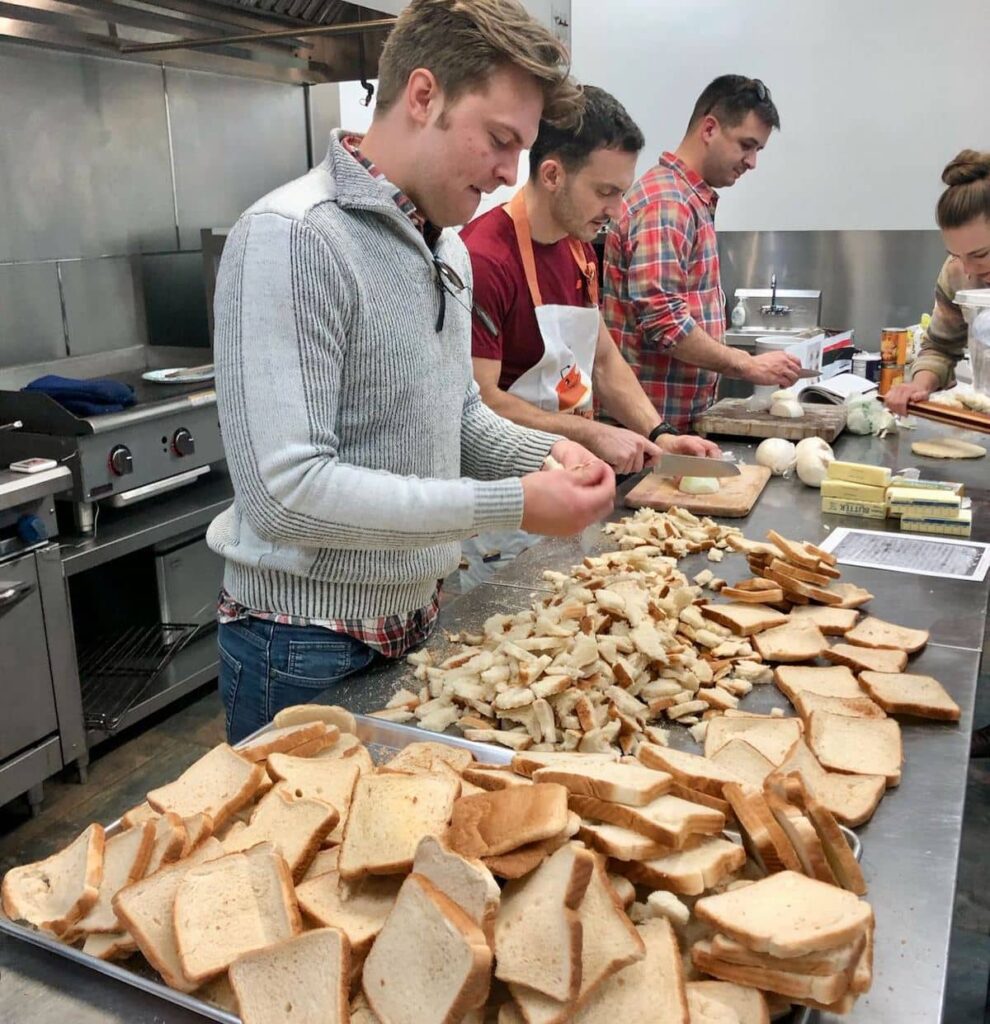 Here's the bride (on the right) and her bestie (who also made the wedding cake and co-officiated the ceremony) as they began unloading all the ingredients.
Note how clean the kitchen is now.
Just wait!!!
And the groom (in the apron) and Katie's youngest brother and another friend, Eric, tackled the stuffing!
The other brother and Eric again, jumped into the fray and the fun.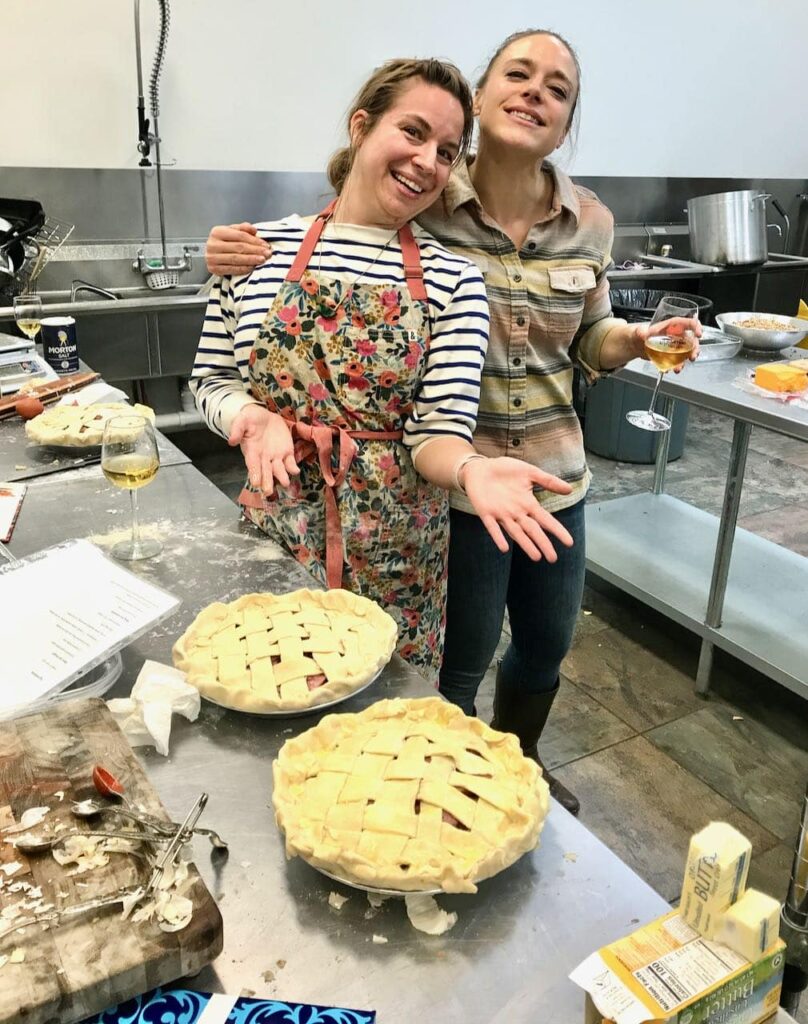 You can tell we're getting close. The pies are waiting their turn for oven space and the Bride and Bestie have broken into the wine.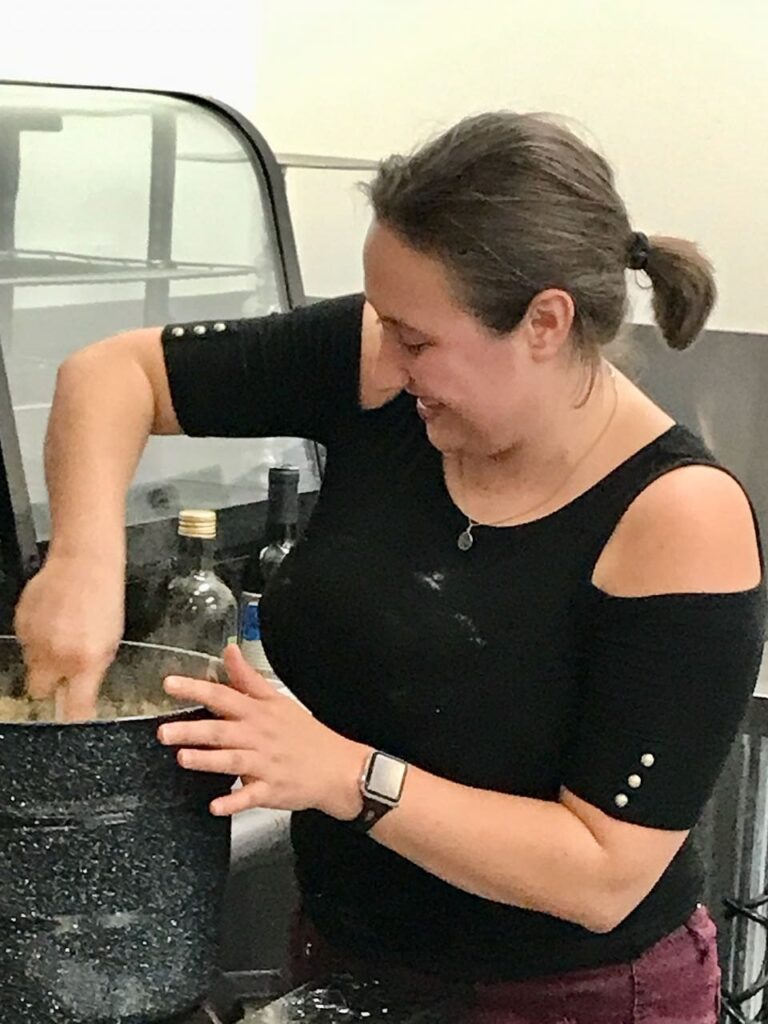 Meet head stirrer, Jess
Definitely turkey master (and co-officiate)!
Dinner is ready. And so are "the boys".
Now it's just a matter of getting everyone to the table.
With happy bellies, the guests were entertained by the bride and groom.
This is what a successful Friendsgiving Rehearsal Dinner looks like!
Again, thank you so much for indulging me as I relive this beautiful weekend.
Even if there isn't a wedding in your near future, hopefully you gleaned a bit of inspiration for the decisions that need to be made when planning a special dinner.
And it doesn't have to cost a lot of money. Paint, a block of wood, lots of candles (the cheap ones), a bag of lima beans and acorns from the neighbors yard will go a long way. I did spend money on the napkins, but they will be used many, many times from here on out.
As always, don't hesitate to reach out with any questions you may have!
I give thanks every day that you are here!