How-To DIY Fall Arrangements With Acorns, Gourds and Pampas
Are you here looking for ideas, guidance, tips on pulling together a floral arrangement to bring Fall feels to your home decor?
Yeah! You're at the right place!
Are you here because Wendy sent you over from WM Design House as art of the Pinterest Challenge organized by the amazing Cindy of County Road 407?
Yeah! I'm so glad you're here (b-t-w, weren't Wendy's arrangements fabulous)! Pssst: They always are.
If you're new to South House Designs, I'm all about cultivating the creativity that we each have inside us. Yes, we ALL do. Some just may be lying dormant do to lack of use. Thinking creatively is a start, but doing creatively is where the fun really begins and that latent muscle gets flexed and strengthened.
So today we are talking and doing Fall floral arrangements for a buffet, a coffee table, a console table, a bookshelf, the dining room, a large kitchen island, etc. Just about any place in your living space!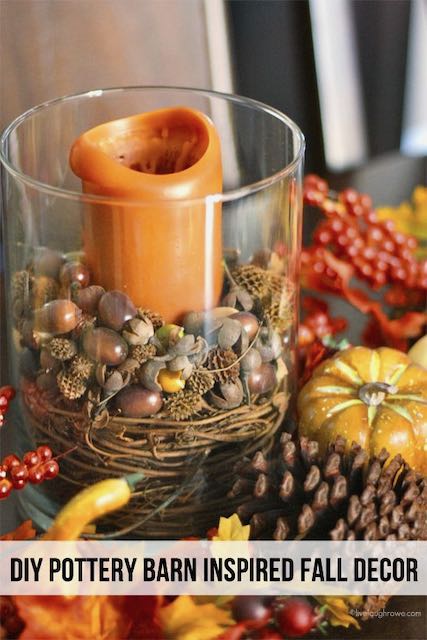 Cindy sent us this image as inspiration. I started by interpreting it quite literally with items I already had on hand.
But not everyone's style and home decor is traditional. So I want to share how easy it is to take that Fall inspiration and tweak it to better reflect your style.
Or tweak it to be budget friendly by using what decor items you already have on hand. There's no reason to go out and spend a bunch of money if you have a stash of seasonal goodies you still like.
Let's Explore 5 Different Styles From the Same Inspiration
​
​
Traditional Fall Arrangement
​
If you're composing an arrangement on a hutch or bookshelves, a scattering of individual Fall items can work. The walls and shelves create the boundaries or confinements of your display
But if your Fall floral arrangement is sitting on a larger horizontal surface, it's a good idea to give the display an outline or boundary. most common is to use a tray of some kind as I'm doing today.
Other options might include a large bread board, a low box, a decorative birdcage, a large vintage frame, even a vintage suitcase propped open.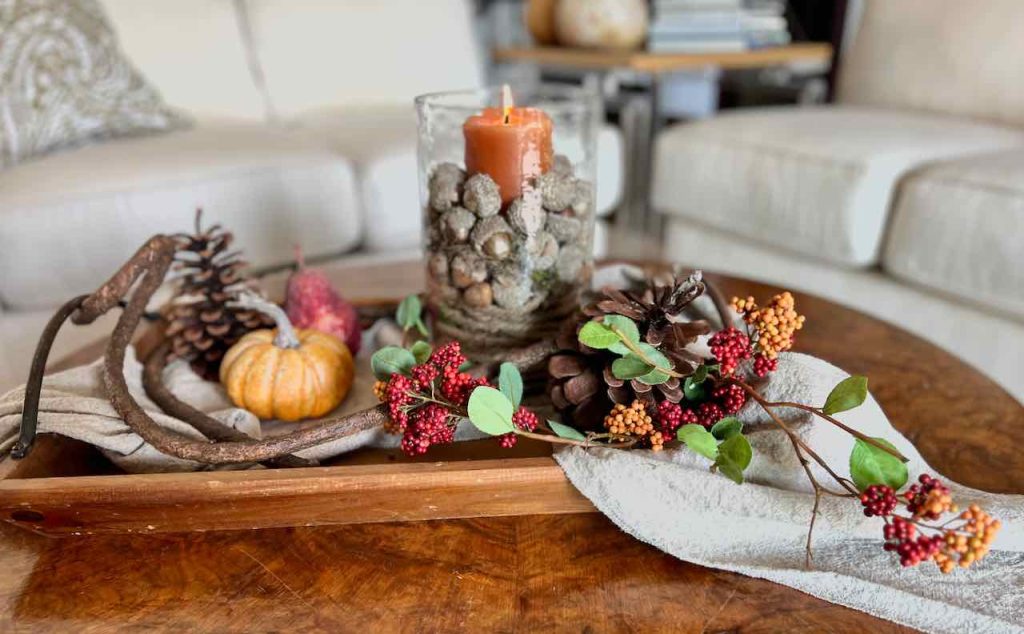 A general boundary is good, but it is particularly effective when you allow your arrangement to overflow the confines a bit here or there. That translates as exuberance, free-flowing, fun-loving. Otherwise a strict boundary can read as uptight and rigid — not a look we usually want in our homes.
Our Fall floral arrangements are in essence vignettes. Lucky us, I have 9 simple tips or rules when I create a display or vignette. I used them here for a Halloween vignette and here for a Spring vignette.
Creating a vignette is easy with 9 style tips:
Try to incorporate these for a great display or vignette:
Vary your textures
Vary finishes including matte and glossy
Mix linear and curved
Use common color theme
Add textile
Incorporate negative space
Layers- Build up AND build out
A triangular shape is particularly effective
Odd numbers compose best and please the eye
I always incorporate a bit of textile for flow and softening. So on my tray I have a washed linen table runner that flows over the two far sides. This helps to keep the eye moving across the display.
I like to knot the end for more texture and interest.
The focal point of our inspiration photo is the candle in a glass vase with vines twisted inside at the base and acorns scattered around the candle.
I had a great rippled glass hurricane and a Fall colored pillar candle in my stash. The candle is not that tall, so it is sitting on a ball jar within the glass hurricane.
In lieu of a thin vine, I used some mesh rope and moss to fill the base around the jar completed with acorns on top. Many if these acorns I had painted with shimmery bronze and silver paint for this big event.
Resist any temptation to set your focal point in the very center of your display.
You've heard of the rule of thirds right? Compositions are more interesting if split in thirds. That's why your phone's camera shows a grid split in thirds – to help you compose the best images!
TIP: Following the rule of thirds: set your focal point at the intersecting lines of thirds vertically and horizontally.
So my candle hurricane is set on the imaginary right third line and in the back third of the tray.
Next, I added a stem of Fall hued berries for the floral look, hiding the long stem under the table runner and then splaying the individual smaller branches in different directions to better fill the tray area and to keep that color repeating more throughout the display.
TIP: If you can avoid it, don't cut the long stems that come on many faux florals. A future use my need the long stem. Fold it if you can.
While I was in my tub of Fall florals, I pulled out this wonderful faux branch that twists and turns. This was not in the inspiration photo, but as I was composing I felt I wanted something more to unite all the elements and something more for the eye to follow.
Then taking a cue from the inspiration photo I added in a pumpkin and a "sugared" pear and some large pinecones.
There are many ways to establish a color thread running throughout a floral arrangement. Here, I chose the dominant/brightest color in the focal point and made sure to repeat it throughout in small doses. The rusty golden hue of the candle shows up in the particular pumpkin and berries that I chose.
The red of the accompanying berries then became my accent color which is why I. chose the red pear.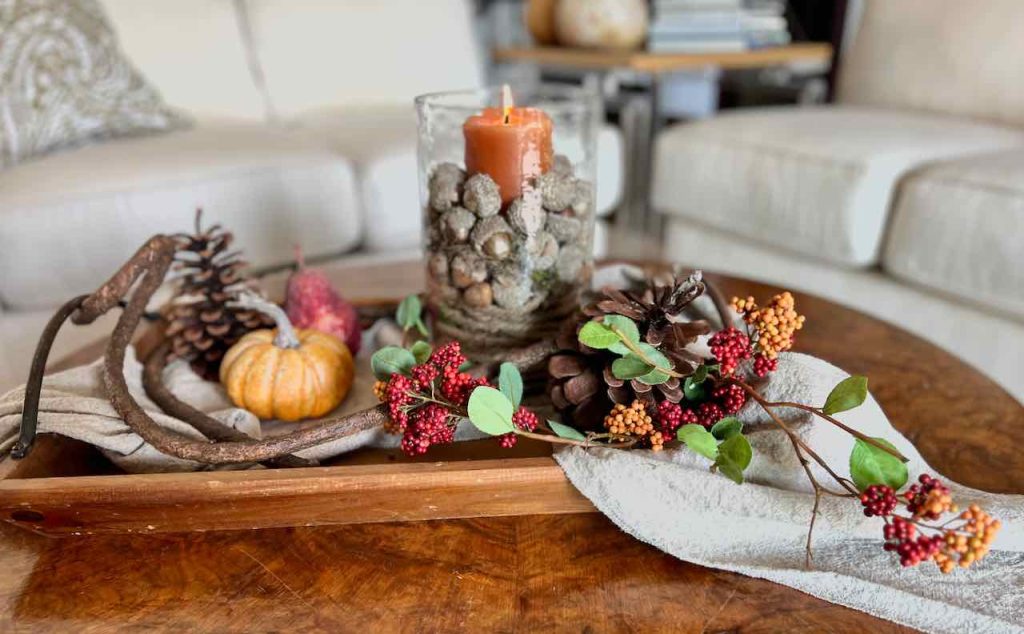 Here I stuck to the odd numbers "rule" and clustered them to leave some negative space in the center. Negative space is great for giving the eye a place to rest and also define elements within the larger grouping.
The pear, pumpkin and pinecone are a cluster of three different shapes, but similar in visual weight. They also provide lots of varying textures and finishes.
Now look what one small change does:
See what happens when I substitute in two other pumpkins. Their colors are great with the candle, but they are too much the same in size and shape and the glossy finish competes with the glossy finish of our focal point candle hurricane.
TIP: Don't be afraid to try things. You may not know the design rule it's breaking, but your eye will tell you it isn't right.
Then refer back to the list to figure out what isn't right or what is missing and try again. And sometimes, you might find breaking a rule here or there works. You notice I call them "Tips or Rules", not Strict Rules.
If I was feeling unsure, now I know the original pear and pumpkin were the best option here.
Fuller Version of Traditional
The world is made of Minimalists and Maximalists — and a whole lot of In-Betweenists!!
This last Fall tray arrangement would be for the In-Betweenists leaning towards Minimalism. But what if you are Maximalism leaning? And you adore lots of layers? Perhaps to you, negative spaces feel like awkward pauses in conversations.
Good for you!!! Let's fill them.
Let's add one more layer in there, eliminating some of the negative space. Referencing back to the original inspiration photo, I see they have a few Fall leaves scattered about.
In my tub, I had a number of different version, but I kept with the same softer golden, rust color palette and added two sprigs of leaves, one in the front right corner filling towards the center and one in the back left corner giving a bit more height to the pears.
More color, more layers!
A Quick Pause to ask: Are you enjoying this post? If you have not already subscribed, please consider doing so:
Thank You Oodles and Bunches! Now back to our arrangements:
What if Neutral Tones are Your Style?
No problem! You could swap out the candle for a more creamy one, but neutral can still have a bit of seasonal blush to it.
So I stuck with the same candle, switched our the branch for a faded branch covered in lichen and dried moss (foraged while at a conference in Round Top, Texas).
I added in an off white pumpkin loaded with texture and "sugared" pumpkins and apple.
These were chosen because the apple and the leaves of the green pumpkins give a nod to the candle color. I also swapped out the larger darker pinecones for some smaller ones that were more bleached in color.
Because two of my pumpkins were identical, I split them up. I played around with their placement. There didn't really seem to be a clear wrong or right way. Just whatever you like.
A Neutral Boho Look With All Foraged Materials​
Let me start by saying I am totally smitten with this pampas grass arrangement. Almost as much as I was over this tablescape I did last Fall.
So same tray, same table runner, same foraged branch, same candle in hurricane. Except I changed out the shimmery acorns for natural acorns from a neighbor's yard. The shine did not work with the natural Boho feel of this Fall arrangement.
Thanks to a kind neighbor and a generous friend, I have quite a few natural gourds that I thought would make a great addition to this Fall tray arrangement. I added two mid size ones in two different colorways and several smaller ones.
Next I gathered pampas grass stems and dried hydrangea that I had saved over from last year.
I made a small dried grass bouquet just by gathering a number of stems together and cutting the stems short, added a dried hydrangea bloom and tucked them between the hurricane glass and a gourd on the "back" side of this tray arrangement.
Then I made two more small bouquets of the same dried grass like bundles and crisscrossed the stems behind a fork in the lichen covered branch. Tucked another hydrangea in there and I was set.
All foraged natural materials. I LOVE it!!!
I wondered about the lichen covered branch because of the silvery sage coloring. I thought it looked great with the some of the spots on the white-ish gourd and with the silver tones of the acorn caps.
But I wanted to see what a deeper color would do. So I swapped it for the faux brown branch I had used previously.
Equally lovely. I just lean towards the all lighter colors and I love that the materials are all natural. So I'm switching back to the lichen covered branch.
But remember, here, at SHD, we are all about YOU doing YOU!
I am here sharing how to make a Fall pampas grass arrangement to encourage you to try flexing that creative muscle we know you have by making an arrangement, but making it right for you and your home.
Maybe you like the simplicity of the gourds, but would like a bit more color.
Oh there is more pretty pictures and tips still coming, but before you get pulled away, please pin this so you can find it again.
(and it helps me — thank you! thank you!)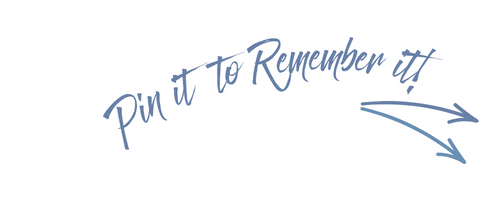 A Fall Arrangement That's Simplified But More Color
​
Let's start with the same basics, same tray, same runner, same focal point candle hurricane, but back with the shimmery painted acorns.
This time we'll use fewer, stronger elements. We're adding three dyed gourds, three large pinecones and the brown faux branch. That's it
The gourds blend off the color of the candle but with more saturation giving the whole arrangement a stronger, bolder presence without being fussy.
Notice also that this one, with the exception of the table runner, stays almost within the confines of the tray. This is a bit more restrained, but certainly not boring!
I hope you're empowered to pull together a Fall arrangement. Find an inspiration photo as syour starting point and then adapt, tweak, modify it to fit your style, your home, and your budget.
Now it's time for me to send you on your way to Michelle at Thistle Key Lane where I'm sure yiu will lover her version of this same Fall candle holder vignette.
And here are all the rest of the gals if you prefer to skip around.
One more thing before you go. A big, humongous Thank You for stopping in, for making it this far down the post. I really truly appreciate you. If you have any questions or suggestions on things you'd like me to cover, don't hesitate to reach out. I read every comment and every email. I will get back to you.