3 Easy Steps to Make a Simple Fresh Boxwood Wreath
Just a few simple steps and no form required for this sweet little boxwood wreath made of fresh clippings. Sometimes simplicity is the best!
Some spaces, some occasions, some seasons, light, wispy and fresh is best!
I often feel that way with boxwood.
So you can bet I was dolphin clapping when Cindy from County Road 407, our amazing organizer and host, sent this month's inspiration image for our Pinterest Challenge.
This lovely image is from Courtenay of The Creek Line House. Her blog post is just as delightful as you would think based that simple sweet image.
If you're here from Lynne at My Family Thyme, Welcome!!!! Isn't her wall basket charming!
However you arrived, I'm glad you're here. Joy is the goal at South House Designs!!! I am all about bringing more joy into our lives and homes by looking at everything through a creative lens — creative thinking and doing flexes our muscles for creative problem solving. I've got a lot of creative doing to share with you today!
At the end of this post, you'll find links to see how this same image inspired many of the most talented bloggers.

We inherited a variety of lovely boxwood bushes with our current house. And I take full advantage of all that wonderful material right outside my door. So many boxwood clippings just waiting for me to harvest any time of the year!
I've have several preserved boxwood trees that I love. I rationalized the splurge on them telling myself that they were so neutral, I could "doll" them up for any season.
Yet several years later, I never have! Oh, don't get me wrong, it's not for the lack of trying.
It just took me quite a while to realize that they are so perfect as they are they don't really need — or even want — any dolling up!
My preserved boxwood trees float around my house year round. They have a knack for completing a vignette. Or grouped together, they are the vignette.
Still, it's hard to compete with fresh! And darn near impossible when the fresh is free!
If I'm not making an entire wreath or garland, then often times I use them to add a touch of fresh green to whatever wreath is hanging on our front door at the time.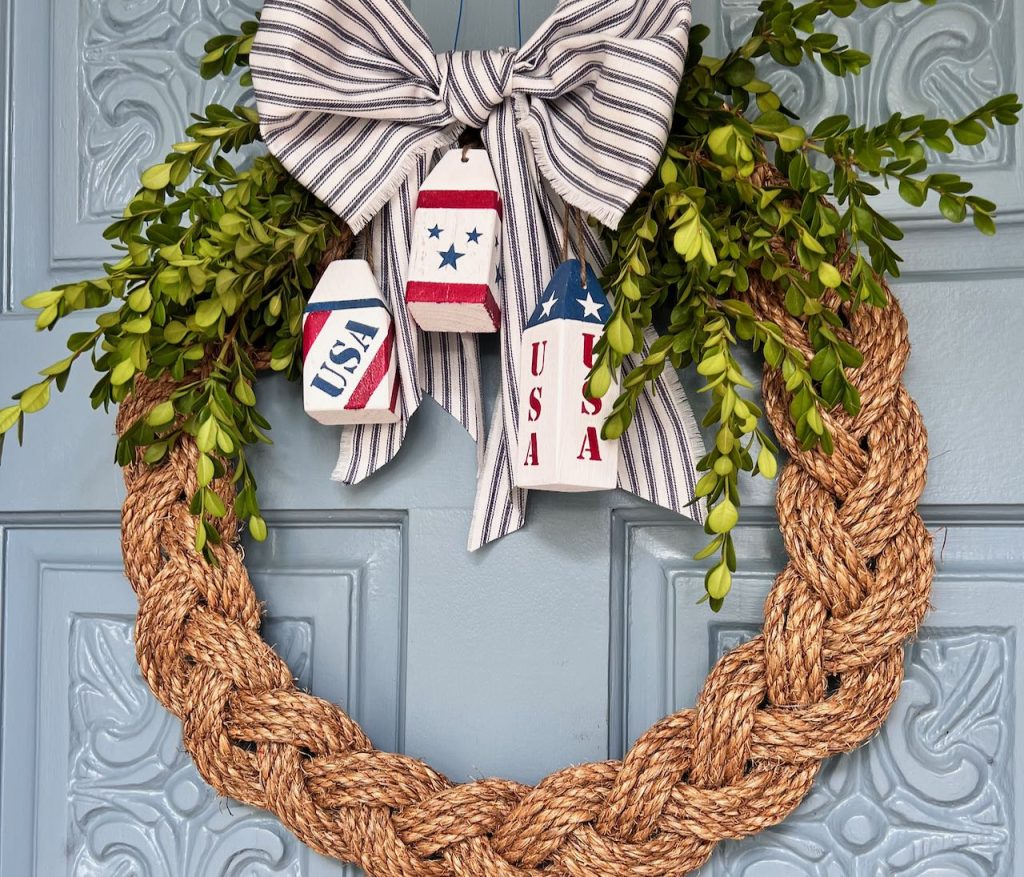 During the recent patriotic holiday season, I included small bunches of english boxwood to a nautical wreath for a little bit of freshness.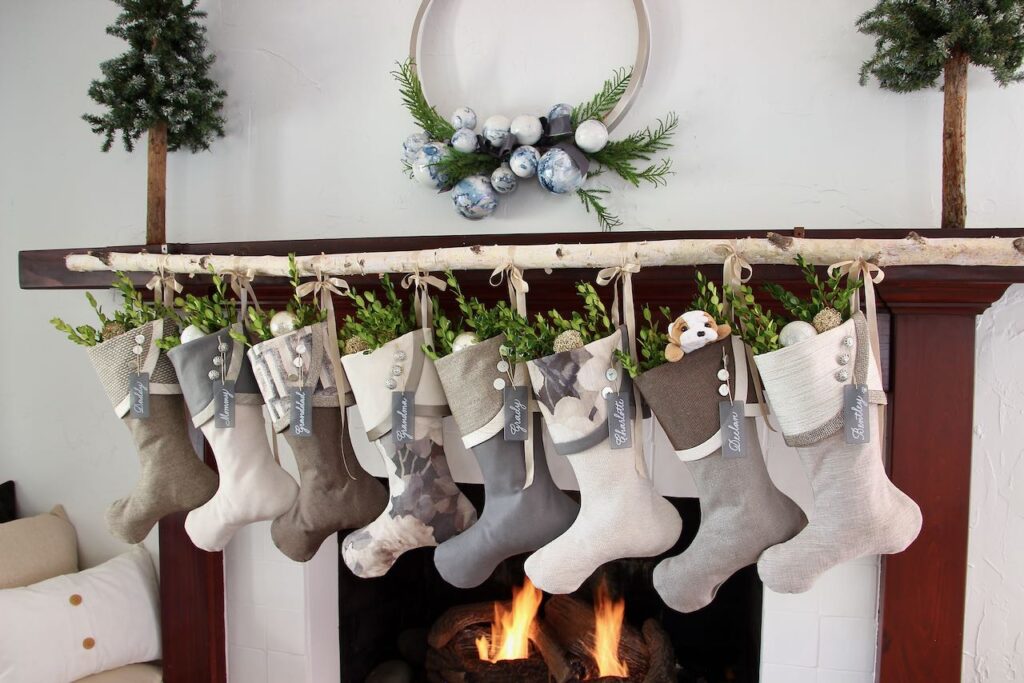 During the Christmas season, I use boxwood clippings to style Christmas stockings.
We're in the heat of Summer now! This is when my home decor tends to get a little lighter, softer and wispier when I can. It just helps to make everything feel lighter and cooler.
Looking at Courtenay's image, I saw her beautiful unembellished wreath adding a welcoming, inviting touch to her side door. I don't have a side door — they are all long sliders.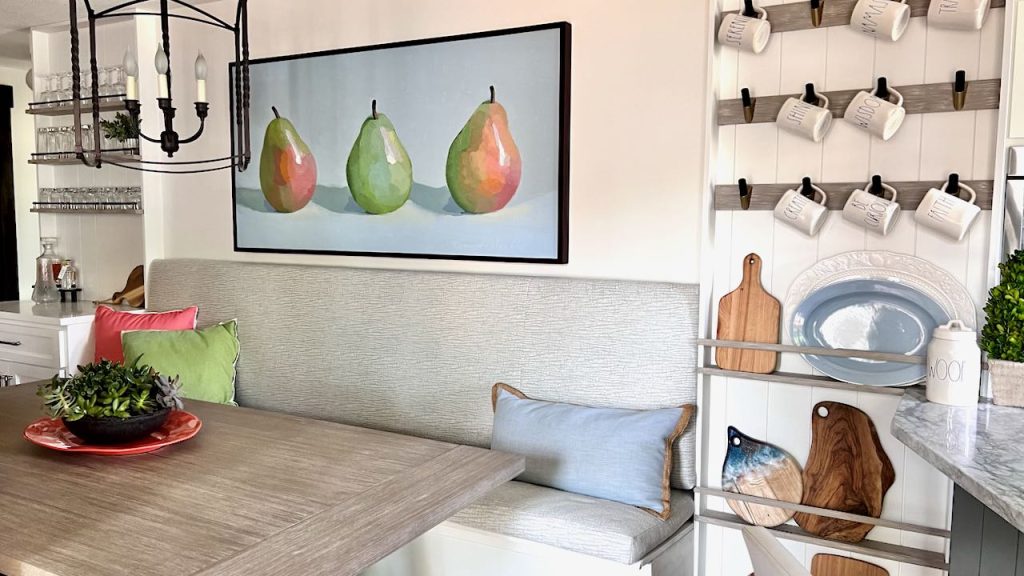 But I do have a new favorite spot where we welcome all. Our new dining room extension to our kitchen is where everyone gathers. My goal all along was for this old awkward hallway to become an inviting, welcoming dining space.
The small woven rattan wreath I tried hanging here did nothing to freshen and brighten the space. I think a fresh small boxwood wreath will be the answer.
It needs a bit of green, don't you think?
Here's the Easy Way to Make Your Own Boxwood Wreath
Materials and Supplies:
Access to boxwood shrubs
Pruning shears, nippers or utility scissors
Wire cutters.
Something the size of your wreath to form your wire around, I used an oatmeal container
Optionally, if you want a thicker, more solid wreath, you can use a wire wreath frame or a grapevine wreath form in the size you want. In that case, you do not need the thicker green florist wire or the oatmeal container.
Optional additional supplies:
hot glue gun and glue sticks
Ribbon for hanging — with or without a bow and streamers.
Would You Prefer a Video Tutorial?
I've Got Ya Covered
(Click the image Below)
Step 1) Gather and Prepare Fresh Boxwood Stems —
Cut lengths of boxwood branches 4 – 6 inches long.
To help your wreath last longer, soak them overnight in water. Alternatively, you can soak the wreath once it is made. (More tips for helping your wreath last longer are included after the instructions.)
Step 2) Make Your Own Wire Wreath Form —
Find something around the house that's about the size you want for your wreath. I just raided the pantry. Hello, Quaker Oats!
Remember, wreaths don't have to be round!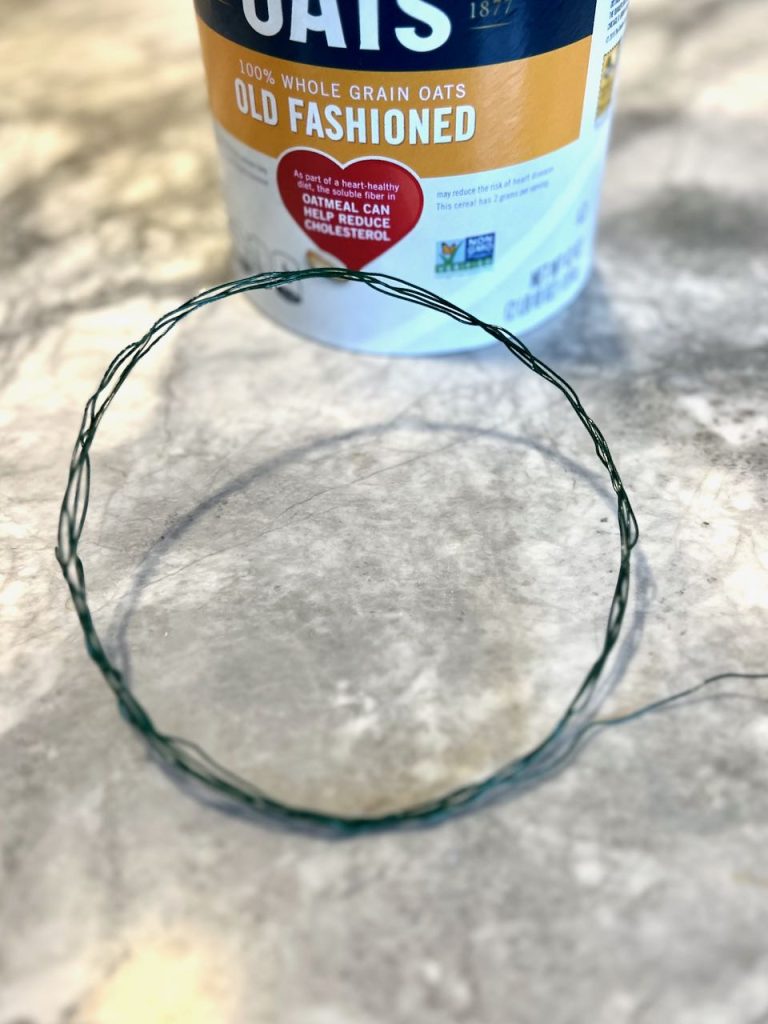 With the 22 gauge wire, wrap your object several times. The first three passes around I pulled the wire so it was pretty smooth. Then for another two or three passes, I let the wire keep some of its "bumps" to give me spots to stick the boxwood stems in.
After about five, maybe six laps, I slid the wire form off the oatmeal container. Then wrap the bundle of wires by passing the paddle down through the center and up around the outside, down through the center and up around the outside, making my way around the circumference of he circle.
Step 3) Assemble Your Own DIY Boxwood Wreath —
Time to assemble. I want my little wreath to be on the rather sparse side. I'm going for a light wispy look. I'll make a thick, plush one for my Christmas decor.
For the wispy look, you'll apply mostly single stems for at least the first pass around. For my little wreath my stems were mostly 4-5 inches long. strip the little leaves of the bottom 1-inch or so of stem. After the first pass, I added in some double stems, but no more than that at once.
Always work in one direction. Weave the stem though openings in the wire in two places if possible. This is temporary, we'll go back through and wire them tight with the 26 gauge wire next.
After your complete pass around and you've filled in a few vacant spots, grab your paddle of 26 gauge wire. Unwind a bit to get started and wrap and twist the end around the wire form and so you can pull tight on it without it coming apart.
Work your way around wrapping all the stems securely. Take the paddle up through the middle carefully positioning the wire between the small leaves, then over the wreath and back down the outside. Move forward on the wreath a bit and pass the paddle again up through the middle, positioning the wire between leaves and back over and down the outside. Continue around the wreath.
How does it look? This is where I usually go in and add several small stems around the inside to better conceal wire form. In this case I usually sue the wire cutters to snip off a small piece to wire a random sprig here and there.
And now you're done! Such an easy boxwood wreath — not mention a price tag we can all appreciate, practically free!!!
Easy peasy, right?
There really is no right or wrong look. It's what is appealing to you at this time.
How Do You Keep a Boxwood Wreath From Drying Out?
Your boxwood wreath. will stay fresher longer if you:
Keep it out of direct sunlight
Start with freshly cut sprigs
Soak it in water *
Mist it every other day
Your wreath will last longer when it's cool. So if it's Summer, hang your wreath inside in the air conditioning to extend its life. But if it's Winter, hang your wreath outside away from the heat.
*Soak the sprigs in tepid water for several hours or even overnight just before assembling the wreath. Alternatively, you can soak the whole wreath in a bowl or sink full of water after assembling.
Brief Timeout: Are you enjoying this post? Would you like to. see more? Please subscribe and join the House Mates. You control how much is right for YOU!
Oodles of Thanks!
Now Back to the Action:
How Long Will a Fresh Boxwood Wreath Last?
Without following any of the above suggestions, your wreath should last one to two weeks (depending on its sun exposure).
If you follow the suggestions, you should getup to three weeks, maybe even a bit more if you give it an extra soak or two. Just like us and spa treatments! The more we treat ourselves, the fresher we feel!
Where Do You Hang a Boxwood Wreath?
So Many Places:
Outside:
On the front door
On the windows for Christmas
Hanging on a gate
From a wall light
Encircling a lantern
On a sled or blackboard or vintage board propped on the front porch
Screened porch decor
tied to a blanket ladder on the porch
Inside:
Guest Room
Powder Room
Entry hall or mudroom hooks
Kitchen cabinet door
Pantry Door
Inside an empty vintage picture frame
On a mirror
In the back of a hutch or bookshelf
On chicken wire doors
Tied to the rails of a wall plate rack
Tied around a large stoneware pot or basket
From the pegs on an open shelf
As a party favor at each placesetting with a nametag tied to it
on the back of barstools or dining table chairs
as part of a centerpiece
as part of a tray vignette on an ottoman
around a pillar candle or glass hurricane
And those are just for starters!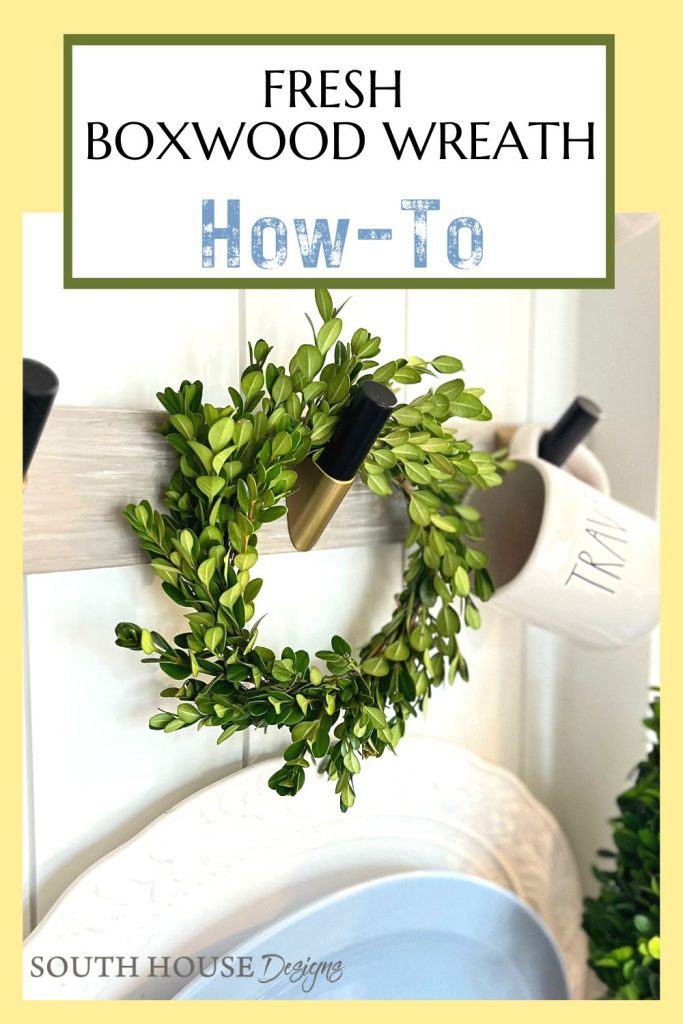 If you're inspired and make one, two or twenty. I'd love to see a picture and hear how you styled and used them.
And now, let's jump over to French Ethereal and see what Barbara has in store for us. I've heard from the group chatter that it's amazing!!
And here are all this month's Pinterest Challenge "gang". I can't wait to see what that original Pinterest picture inspired in each of them. They are all so creative, all with unique, individual styles, I can't wait to see how each responded to this challenge.
Thanks for joining me. I hope to see you back again real soon!

Related Posts You Might Enjoy