How to Prepare Hollyhocks to be Long-Lasting Cut Flowers
Do you have beautiful hollyhocks in your garden that you'd love to bring inside to enjoy?
Maybe add to a flower arrangement to take to a friend?
Or maybe enjoy in a vase by by your kitchen sink catching the morning rays of sunshine?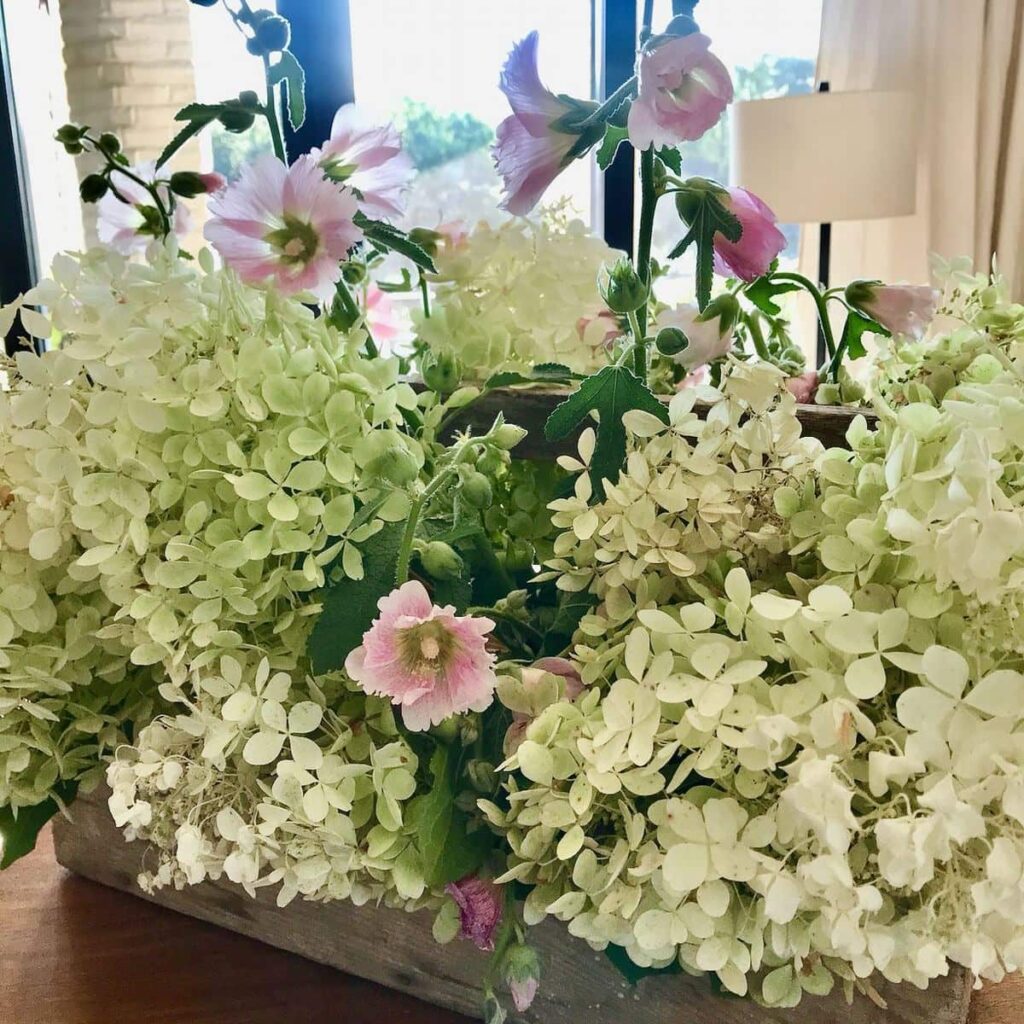 Or combined with hydrangeas in an old wooden toolbox filled with mason jars? (that's rather specific, isn't it?)
But not hollyhocks, right? They don't make good cut flowers! Yes, that's what I thought, too.
But we are in luck! With a bit of digging around, I discovered that by searing the cut ends, you can get 5 days of vase life from them and you can repeat the cut and sear one or two more times. Some of those beautiful blooms can last 10 – 15 days!!!
Sear? I know you think I'm crazy. But I was so intrigued by this idea and my poor holly hock was broken off by a microburst, so I had nothing to lose by trying.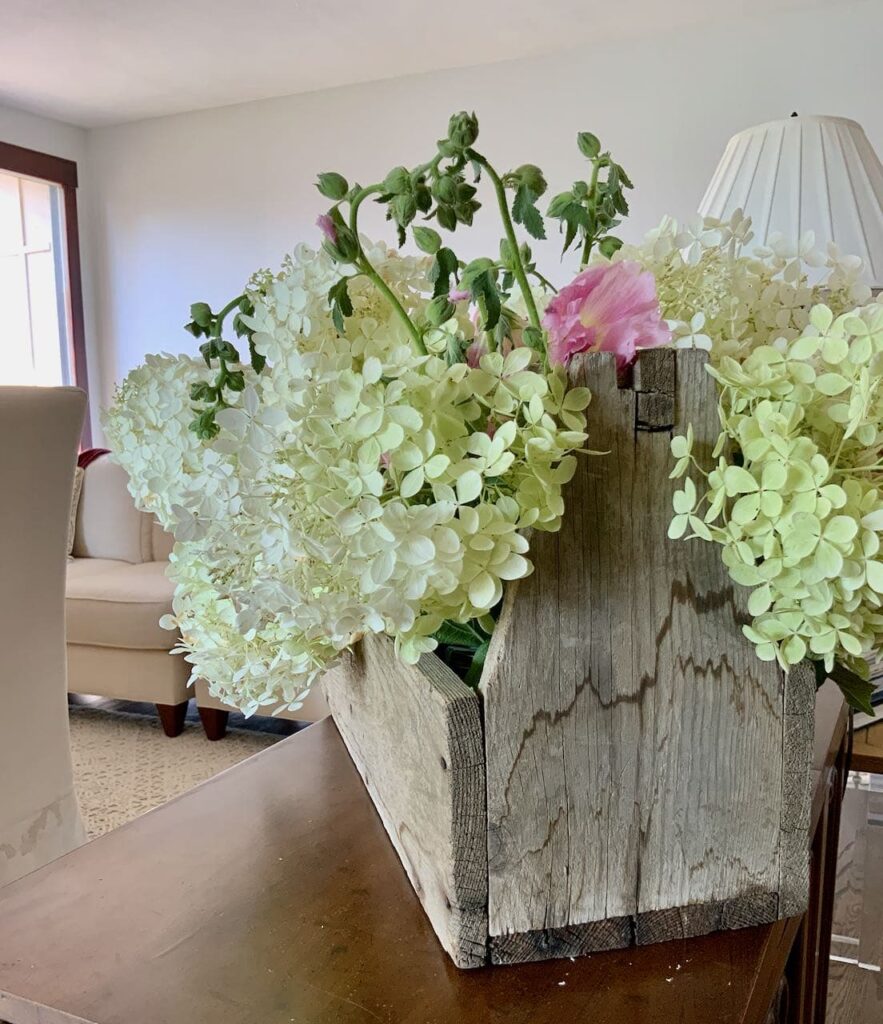 And look! It Worked!!!!
Day 1 (on the left): The stalk had been broken off by a storm. And almost 24 hours later, I was finally able to tend to them and hope to get at least some enjoyment out of them. They are all weepy, droopy and bent over. Lots of buds with just a few blooms. Honestly, I really didn't hold out much hope. But then . . . .
Day 4 (on the right): It's amazing. They like rose from the dead — okay, from the brink of death.
The next day, they still looked good, but since I was heading out of town for a week, I performed the searing again. My husband reports, they looked great for another 4 or 5 days. But, sadly, I have no documentation of that. I returned on day 17 and it was too late to try a third sear.
But I can share that this process works! And I will be doing this again and again — at least when I can beat the deer to my new blooms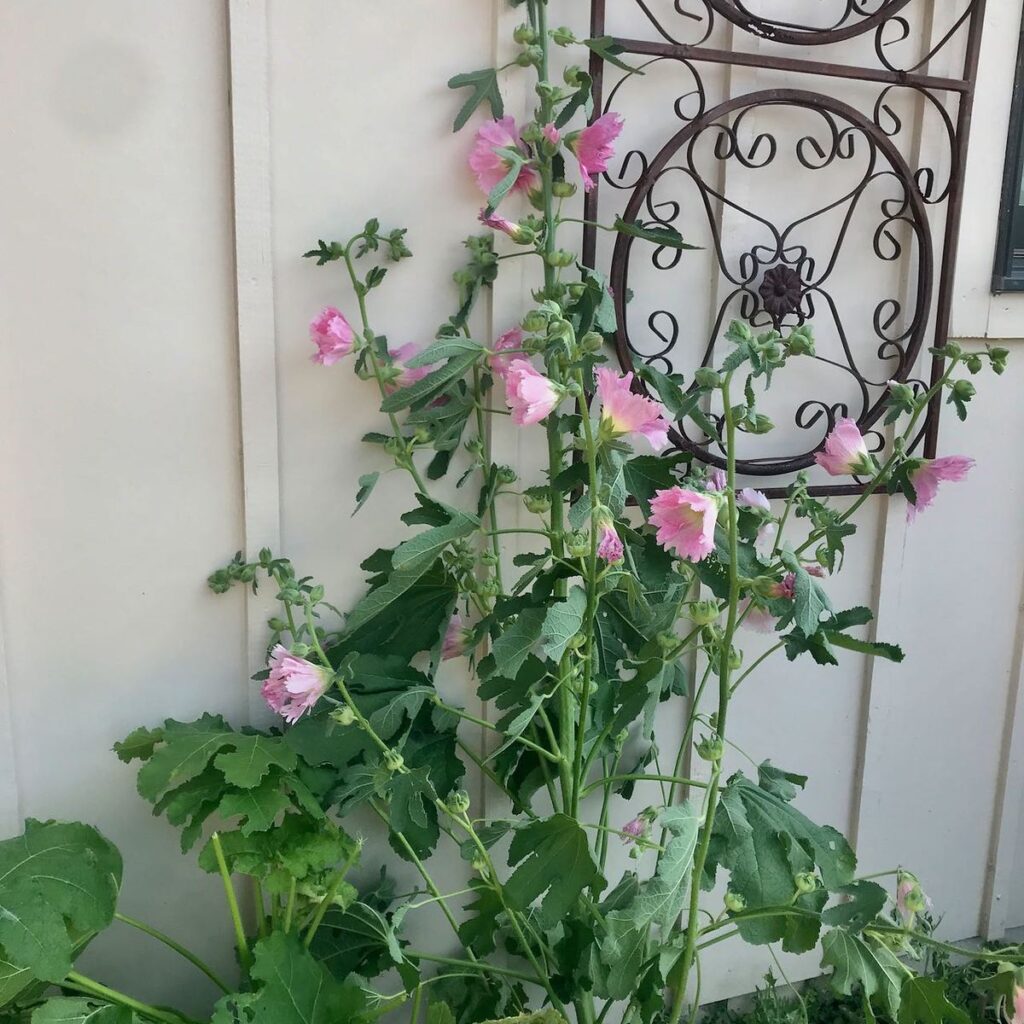 Hollyhocks can become great cut flowers with a bit of effort on your part — and it's a strangely satisfying effort.
Here's How I Prepped my Hollyhocks as Cut Flowers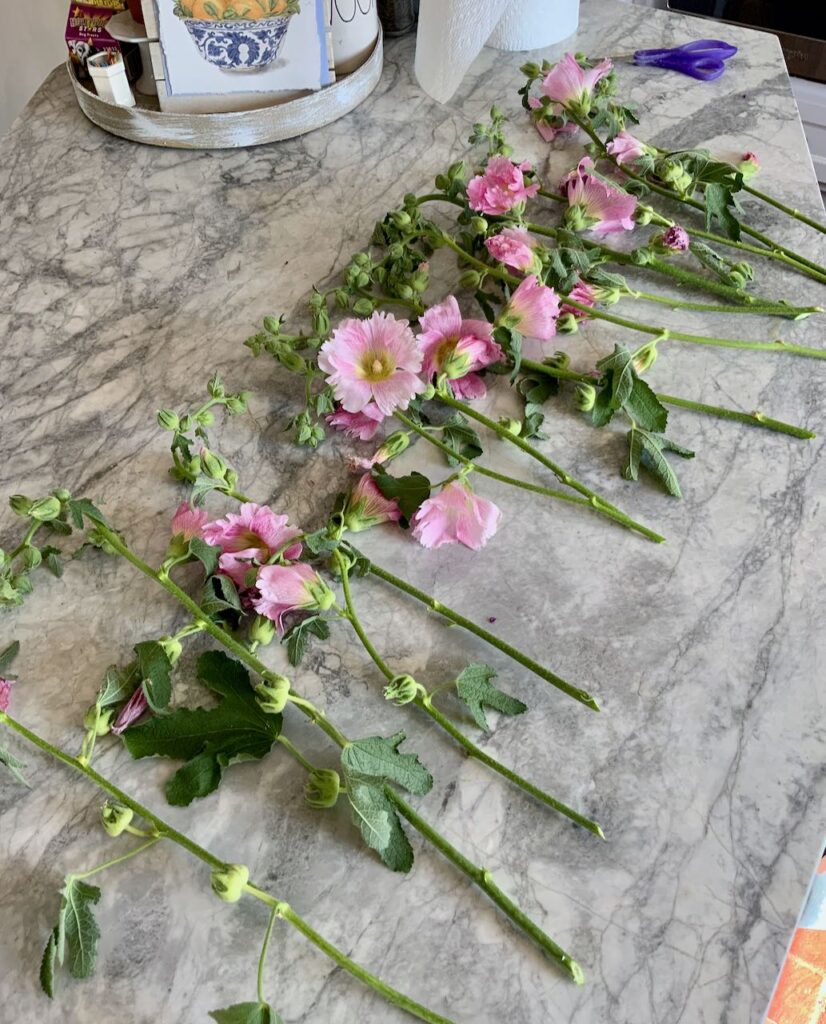 1) Cut at an Angle as Usual
Don't cut them too long. This works best with stems that are 18 – 24 inches. Not your 3-footers!
Remove the lower leaves that would touch the water in your vase.
2) Do NOT Put Them in Water Right Away
We want the stems dry to sear them. These stalky, thick stems will release a "healing" sap that actually prevents them taking up water and this is why they wilt so quickly if you cut and put them in water.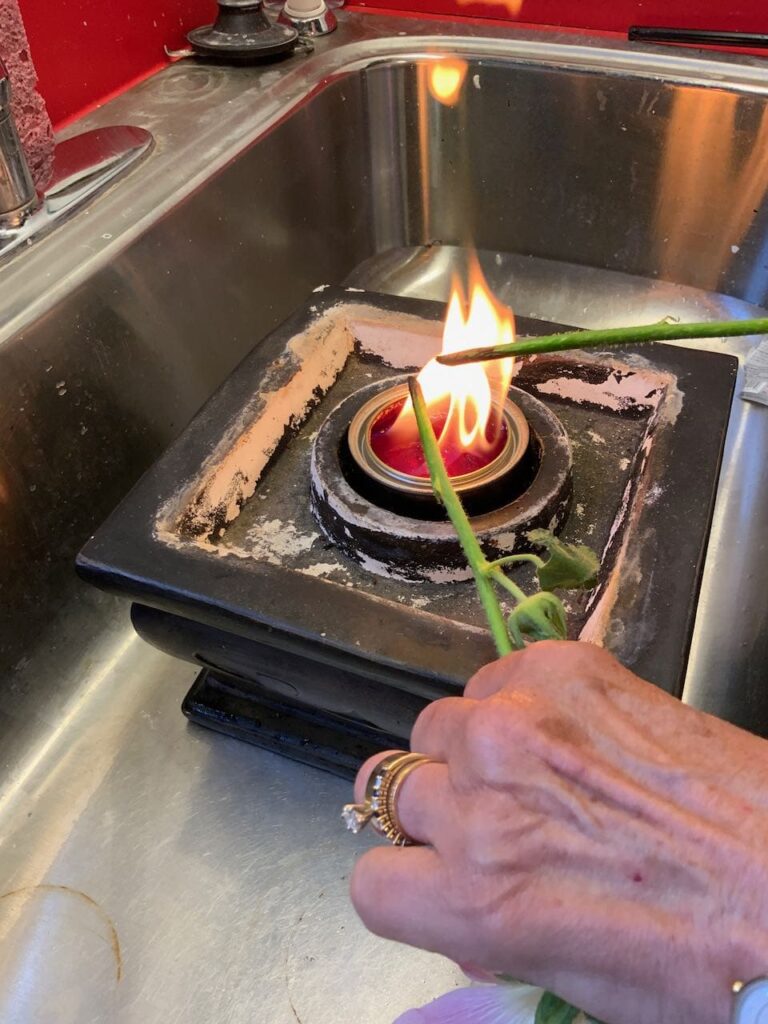 3) Sear the Stem Ends
Yes you read that right!
To use hollyhocks in a flower arrangement, you want to sear the end. This prevents the thick woody stalk from producing the sap that seals the end so that they can't take up water and will then wilt very quickly,
You need an open flame. A grill or a camp stove works. I used a can of Real Flame — essentially a large Sterno.
Of course, use CAUTION!
It was windy, so I set mine in a holder in our utility room sink.
And not knowing what to expect, I even had a fire extinguisher at hand. However, this was so much easier than I anticipated.
And that is it!. You want the end charred, not burnt to ashes.
 A quick pause to ask: Are you enjoying this blog post? If so, please subscribe so you won't miss out:
Thanks bunches! Now back to the post.
Now Arrange Your Hollyhocks
There are soooo many ways to arrange these long-lasting flowers.
Here I went the simple, casual route.
I filled a vintage wood toolbox with Ball jars to hold all the Phantom Hydrangea blooms that were also struggling after the crazy storm.
Here's a short — less than 5 minute — video of how I did it. BONUS: it includes my 5 favorite flower arranging tips. Perfect for novices.
And while we are talking about arranging cut flowers from your garden, check out this how-to. Charming fresh flowers in under 10 minutes!
Just because I can't get over it, let's look again at the Hollyhocks pre-searing: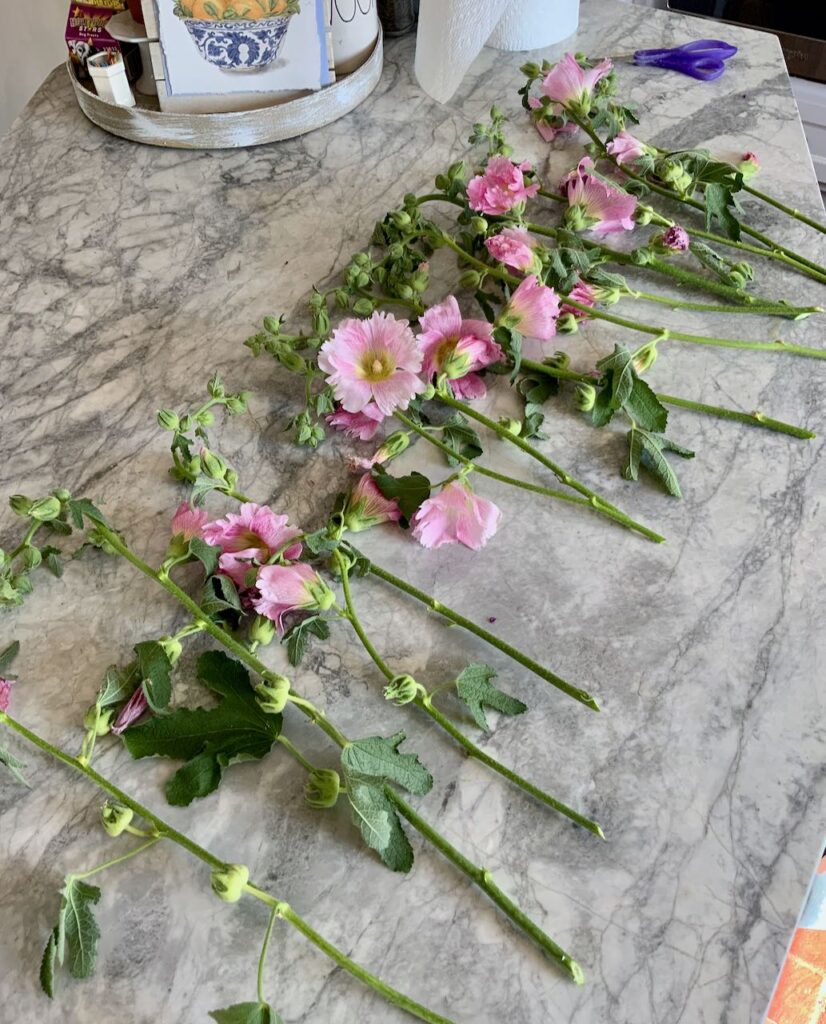 And then on the fourth day, look at them.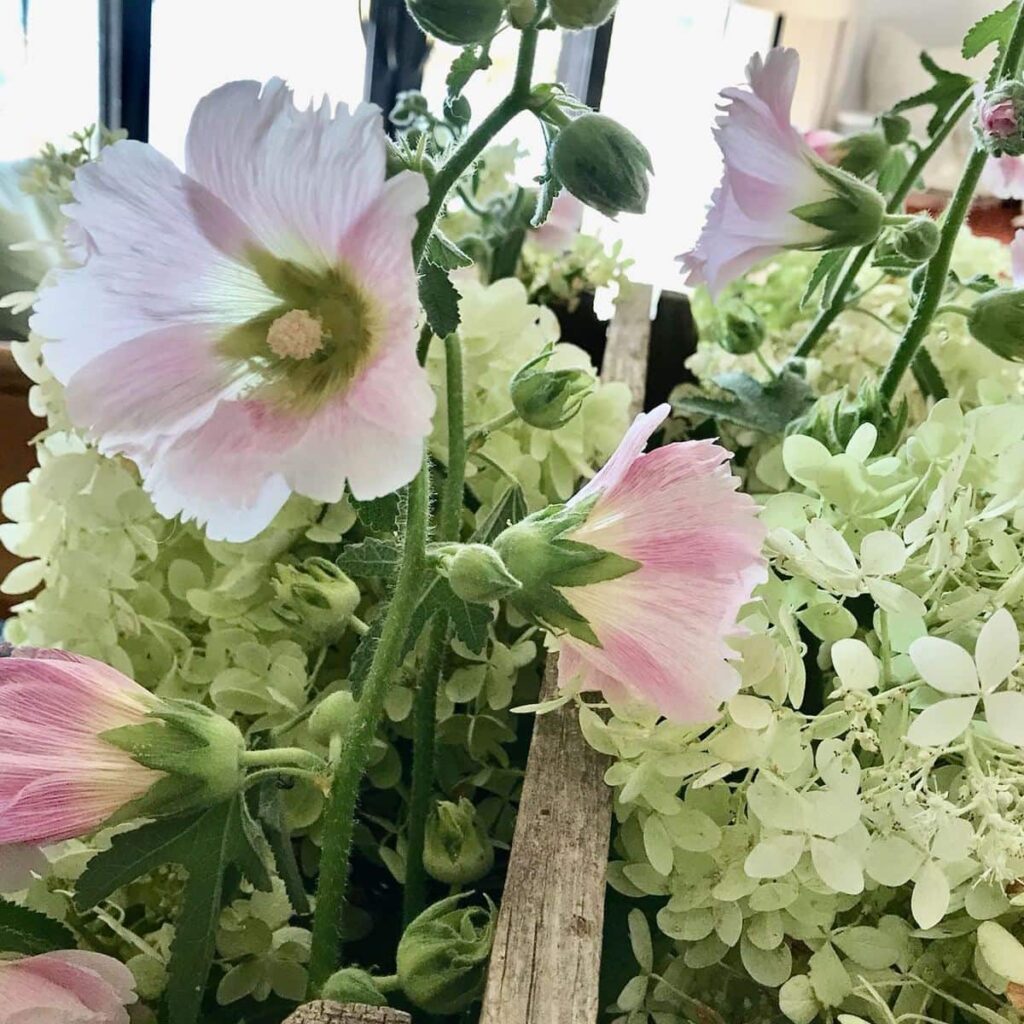 Going strong. The bent over stems are so much more upright and the buds are opening and the leaves are nourished.
Granted, it's a crazy method. But it sure did work! If you've ever tried to bring Hollyhocks in as cut flowers you know why I'm so excited. Usually they just wilt within two days. Those thick stems don't take up the water they need.
Because you might be in the middle of something else:
Pin this to your Flowers board
Or to your Flower Arranging board
or your Cut Flowers board
Or your Garden board
Or your "I Need to Know This" board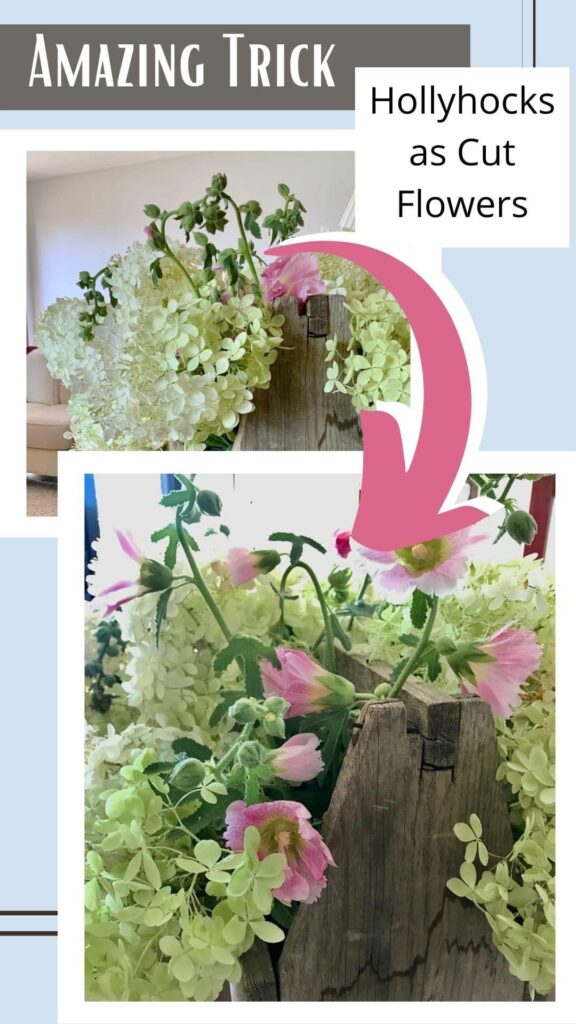 Give it a try and let me know how it works for you!