13 Charming Decor Items to Make With Fresh Lambs Ear
Bring that soft fuzzy, sage green Lamb's Ears in from the garden and use it throughout your home decor and while entertaining — so charming!
Don't we all love a soft texture, specifically a soft, fuzzy texture?
Combine it with soft sage green coloring and we're talking heaven!
Yes, that sweet herbaceous perennial ground cover of the genus stachys, also known as woolly betony (or woolly hedgenettle), but most commonly known as lamb's ears is both wonderfully soft in texture and color when it's fresh in your garden year round.
TIP: Did you know it retains that soft texture and silvery green color as it dries indoor in arrangements and so much more? IT DOES!
Yes, truly! Check out my first lamb ears blog post for all the details on preserving your garden lamb's ear plants.
I LOVE to use fresh Lamb's Ear stems and fresh leaves in all types of decorating and crafts around my home and while entertaining. I mean, really . . . .who can resist those velvety leaves?
This popular plant has a long history of culinary uses and herbal tea. Plus it contains many medicinal properties, including anti-inflammatory properties, treatment for sore throats, insect bites, bee stings. It's healing oil combined with the soft texture and absorption properties makes it excellent for wound care.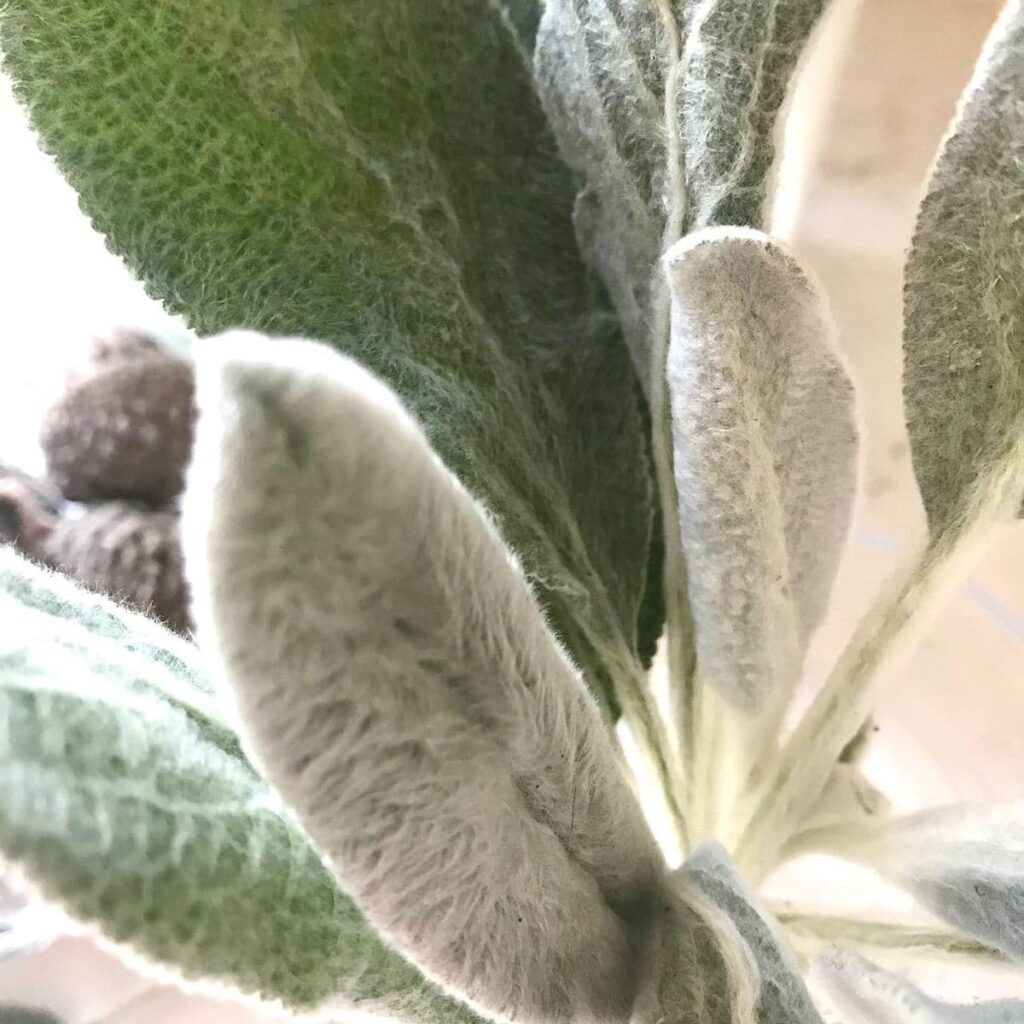 But today, I'm all about crafting and making home decor with fresh Lambs Ear.
Decor Made With Fresh Lambs Ear
1) Partially Cover Christmas Ornament –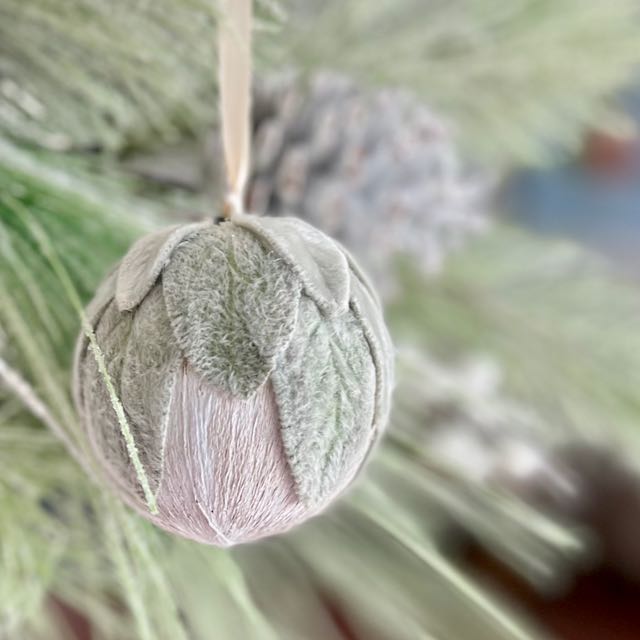 This is THE project that had everyone talking!
I started with a lot of old string Christmas ornaments that had been my sweet Mother-in-Law's.
First, I updated them in this super simple way — but oh my the results are so much more impressive!
And then I decided the painted texture was a lovely counterpoint to the soft, fuzzy lambs ear. So some of these revived ornaments became the base for the Lambs Ear partially covered ornaments.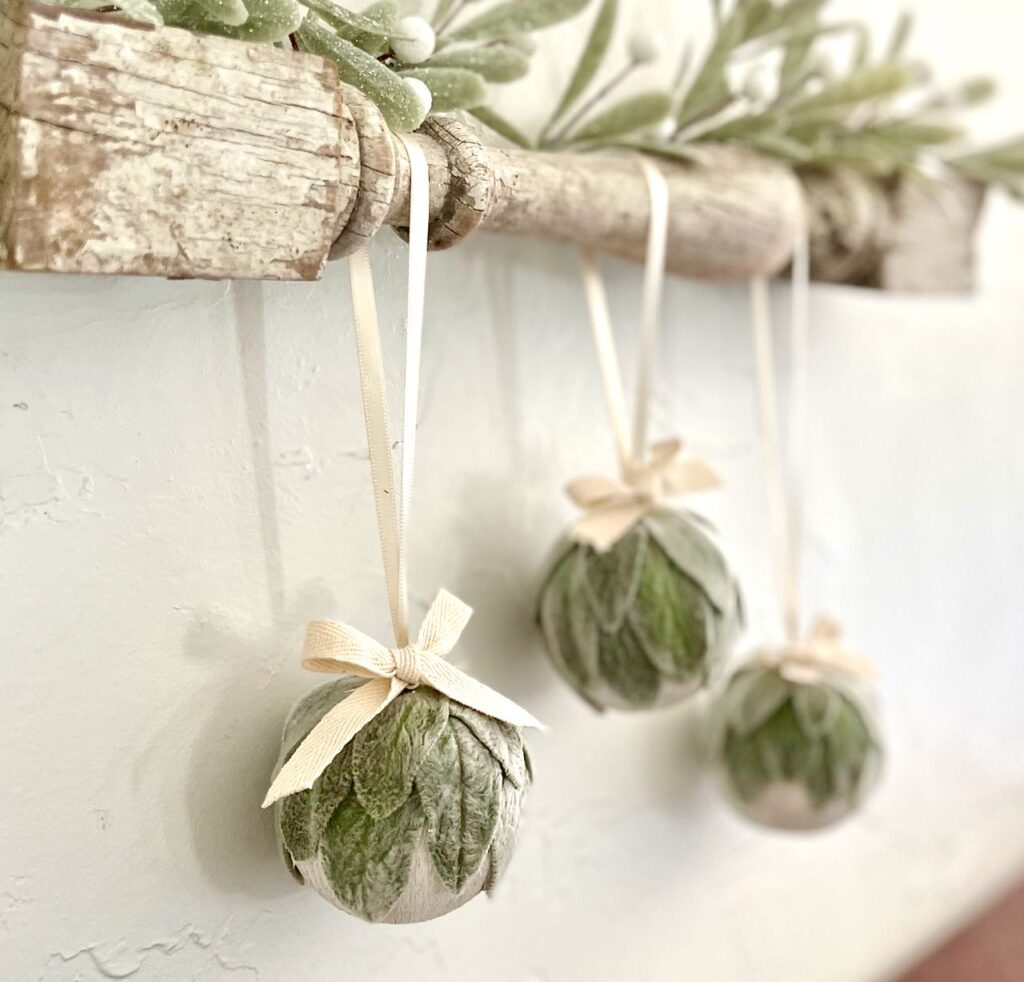 This blog post includes all the details for making these ornaments.
NOTE: Because of the curve of the of the bulbs and you want the leaves to lay flat for layering, you need fresh, pliable leaves for this project.
2) Fully Covered Christmas Ornament –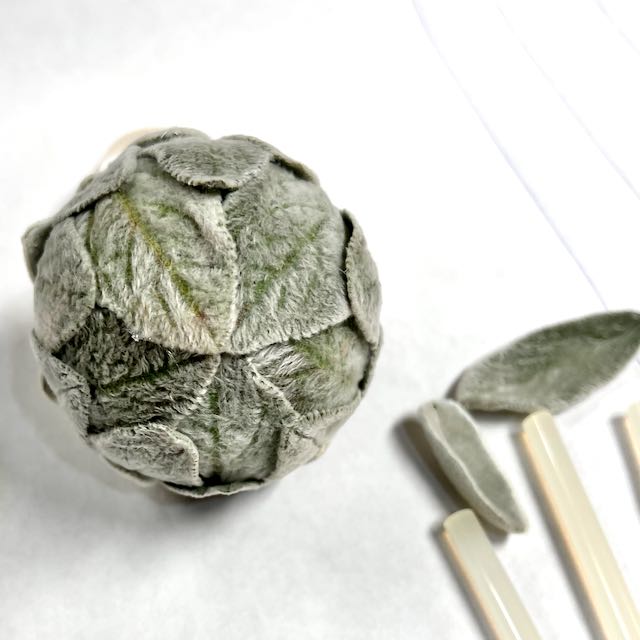 The fully covered ornament was actually my starting point.
It was inspired by traditional ornaments I remembered seeing many years ago, from maybe one of the Nordic (?) cultures I believe. I wish I could remember, and surprisingly my internet searches have not turned up what I somewhat remember.
I really liked this ornament, but with the thickness of the leaves building up, the bulbs were no longer truly round. And between you and me, they looked a bit too much like artichokes. Heck, I didn't even take a really good picture of this one.
From there, I came up with the partially covered ornaments.
NOTE: Because of the curve of the of the bulbs and you want the leaves to lay flat for layering, you need fresh, pliable leaves for this project.
3) Lamb's Ear Trees –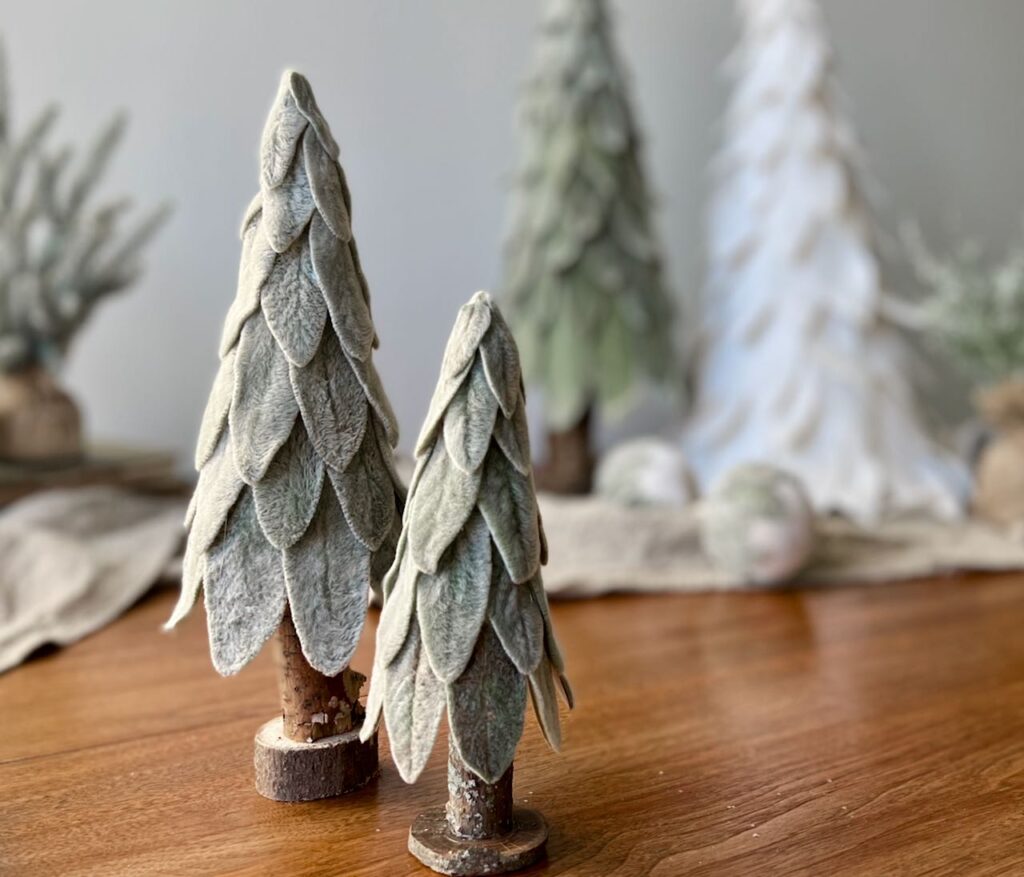 Aren't these the absolute cutest? I made these with gradient sizes of those wonderful fuzzy leaves hot glued (using low heat hot glue setting) to poster board cones, floating on stick trunks I made. Talk about virtually free! All the details can be found here.
NOTE: You don't need curves for this one, but you do want the leaves to lay fairly flat for the layering, so you want fresh, pliable leaves for the trees.
4) Fresh Lamb's Ear Bow Napkin Ring –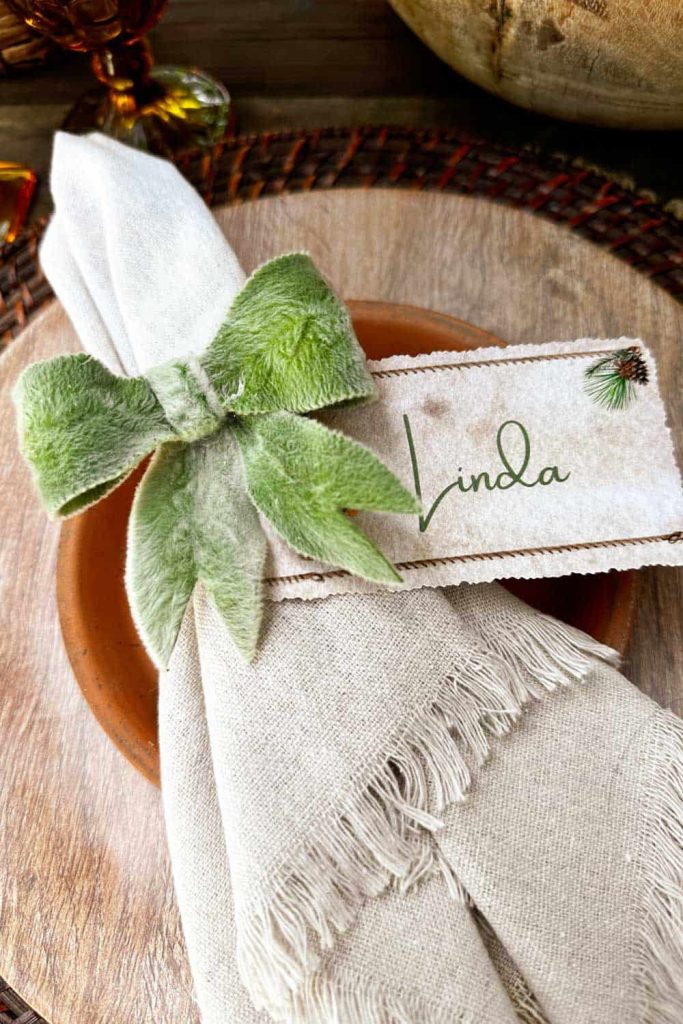 This charmer is from my extremely talented friend Wendy [WM Design House] who came up with this sweet bow — and it's so easy!
Just five Lamb's Ear leaves and a bit if hot glue is all you need. Here she used it on a napkin ring.
I loved it so much I adapted it for a project on down the list.
NOTE: Because you need to bend the leaves, you need the fresh and pliable for the bow.
5) Buffet Dish ID Cards –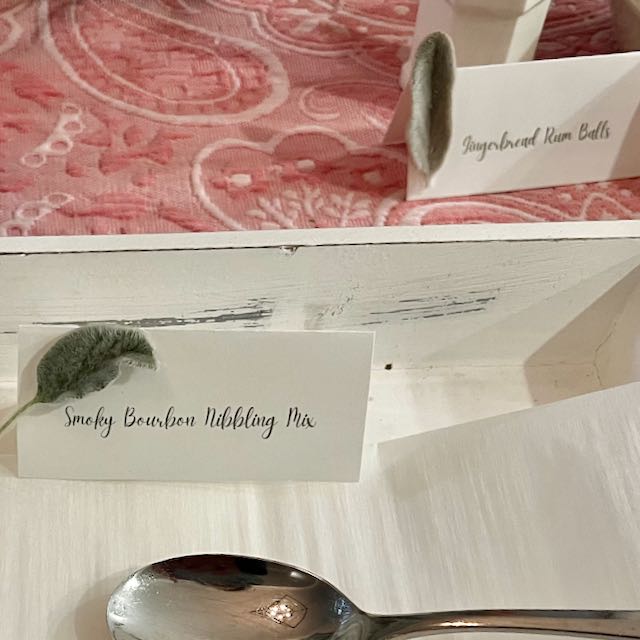 These are a great way to help ID the dishes on a buffet table and carry a theme throughout if you include a few Lamb's Ear trees,  trees and bulbs as part of your table display. See 17 Tips for a Beautiful + Functional Christmas Buffet Table Tablescape.
Print your dish names and add a dab of white glue to hold the leaves in place.
NOTE: I like to use semi-dried to dried leaves for these so they don't lay limp and I didn't want them to lay perfectly flat.
6) Place Cards –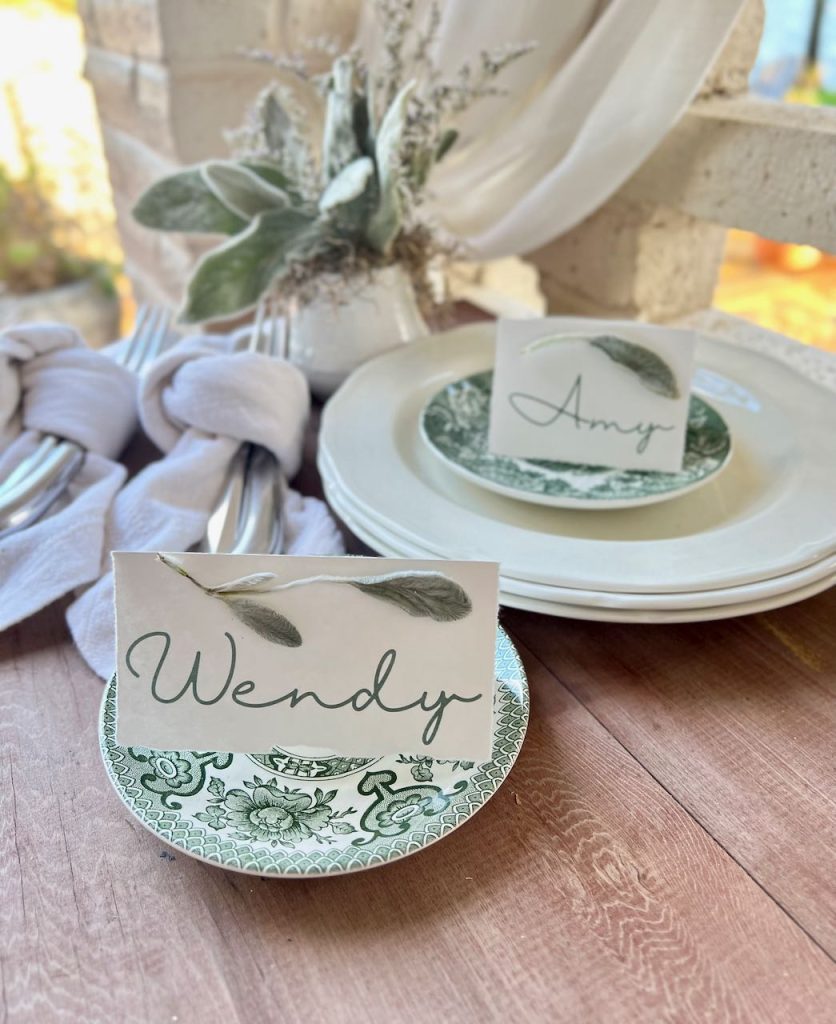 You can keep it very simple like the ones above or how about the sweetest bunny ears for an Easter or Spring gathering — or even a Hunny Bunny themed baby shower.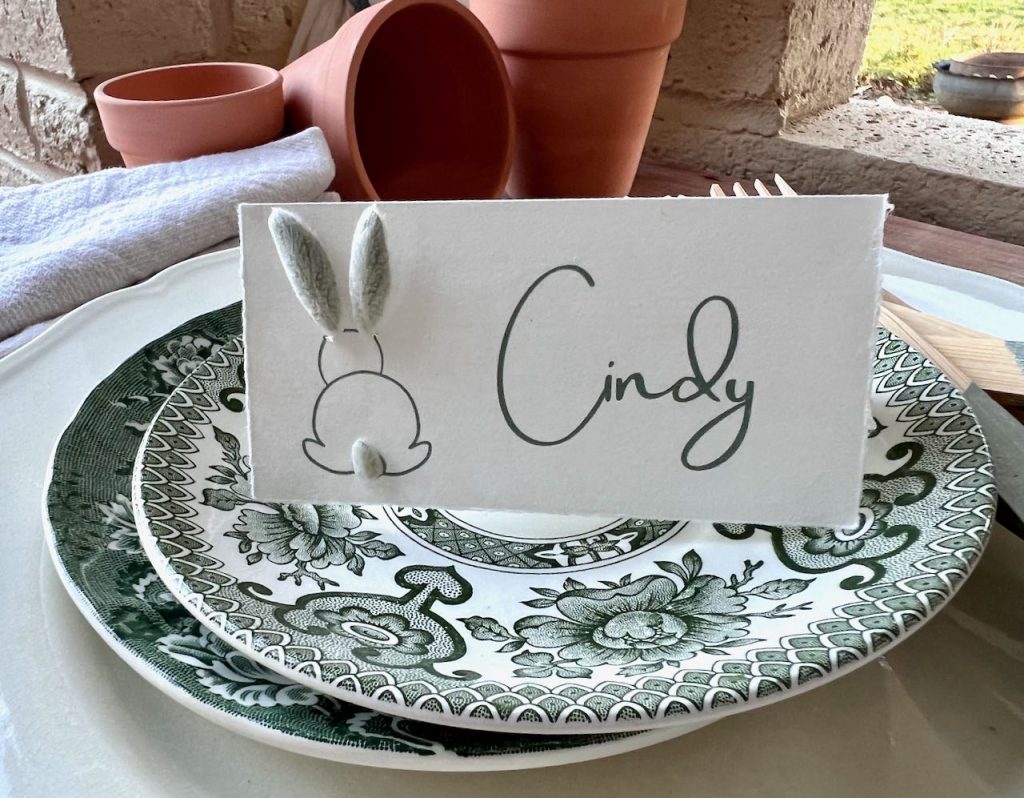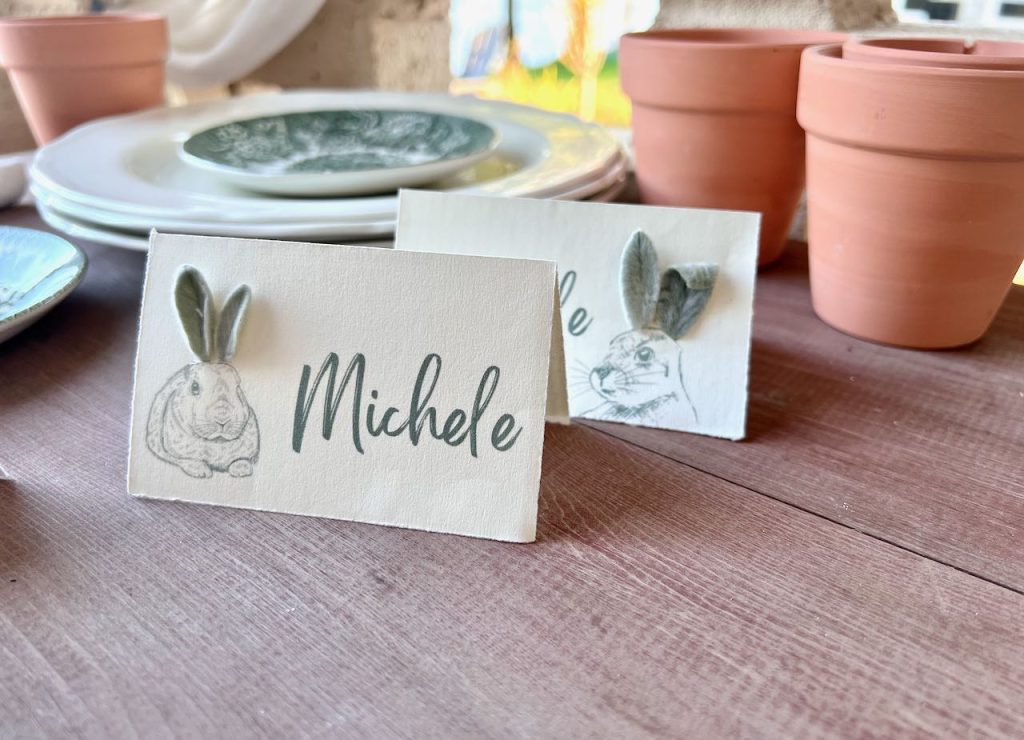 You can make all these place cards with the FREE Printables in the South House Designs Printables Library, open 24/7 to all subscribers.
The options are endless!
NOTE: I like to use semi-dried to dried leaves for these so they don't lay limp and I didn't want them to lay perfectly flat.
7) Nosegay Bundle –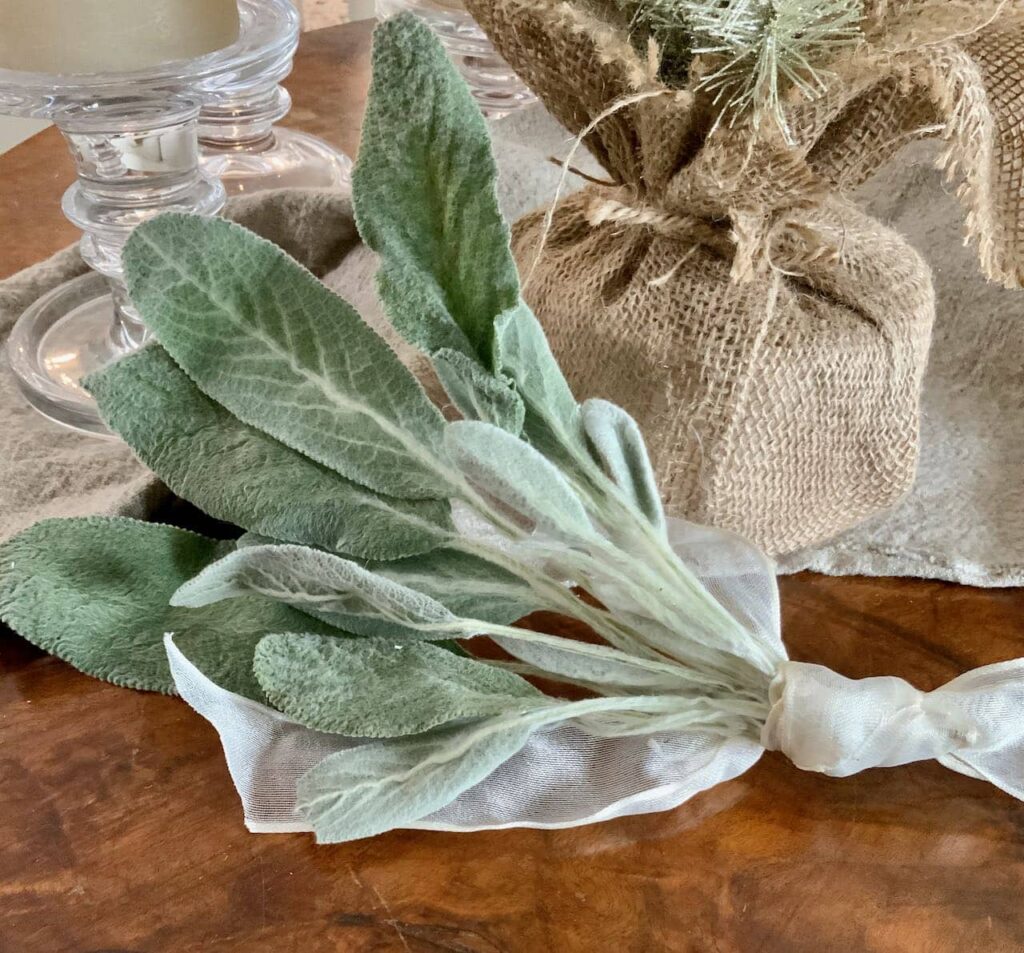 This was actually the first item I made when I started drying Lambs Ear.
They seemed so sweet and old-fashioned at the time. This is what jumped into my mind first. I pictured bundles of them hanging in bundles like lavender and other herbs hanging to dry. It's all detailed in this blog post.
At that time, I didn't have any pegs or rack to hang from, so I bundled them, added a bit of ribbon and laid them on a book to dry or as part of a table vignette.
NOTE: I like to use semi-dried to dried leaves for these so they don't lay limp and I didn't want them to lay perfectly flat.
8) Embellish a Wreath –
My second project with fresh Lambs Ear was this wreath I embellished with two bundles of leaves and berries for accent
Here is a detailed blog post with all the how-to info.
NOTE: I like to use semi-dried to dried leaves for these so they don't lay limp and I didn't want them to lay perfectly flat.
9) Embellish a Photo Frame –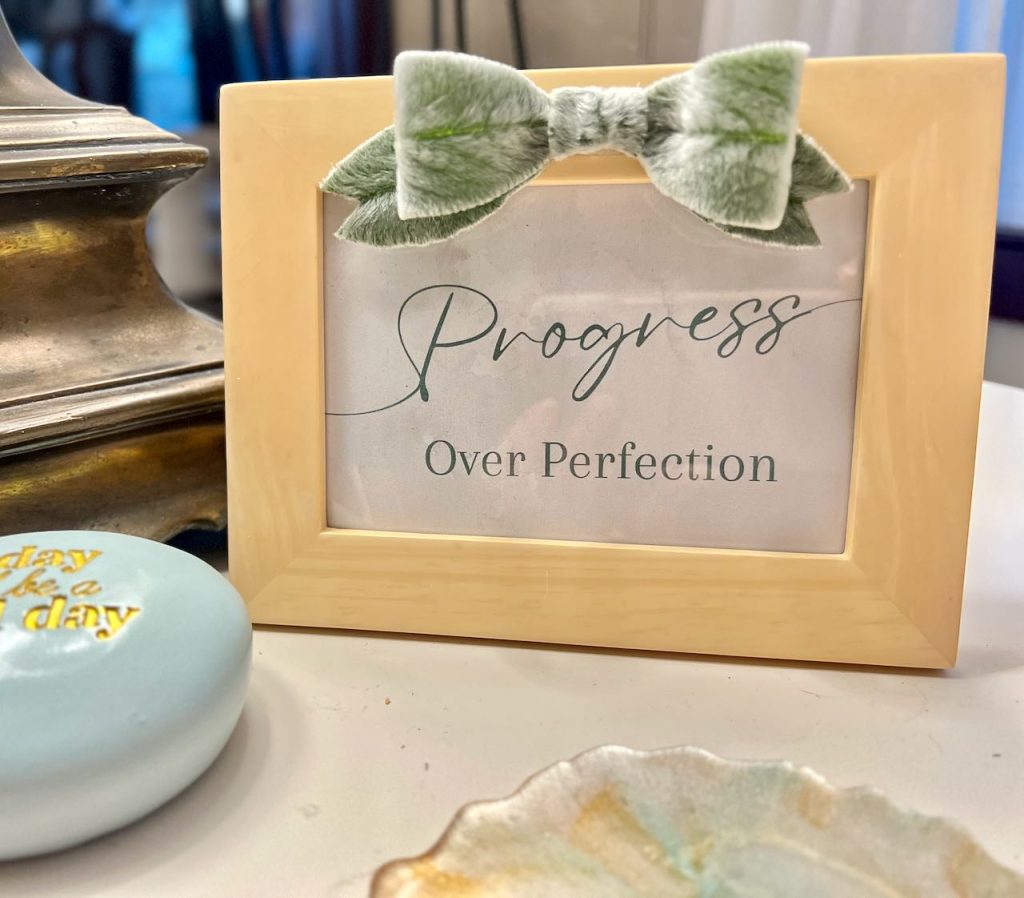 This is deceptively easy! I just followed Wendy's directions for the bow on her napkin rings.
Sidenote: Do you need this daily reminder too? I hope this cute encouragement helps me accomplish more in less time. Everyone's dream, right?
NOTE: This project works best with leaves within 3 days of harvesting.
10) Candle Ring –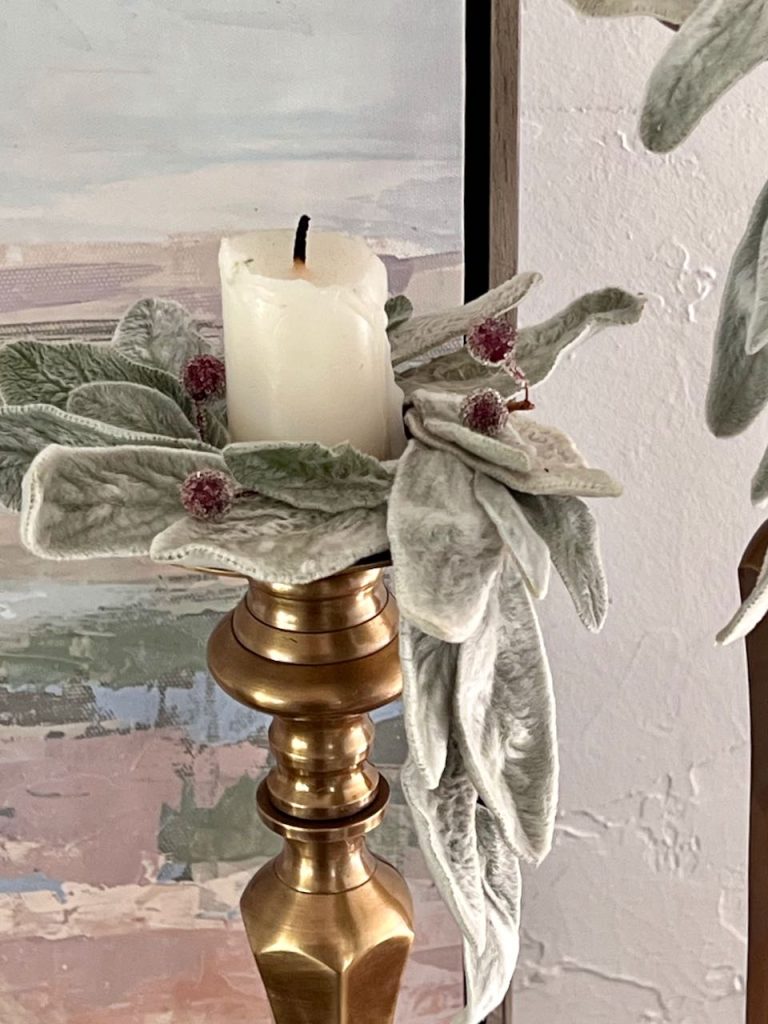 The sweetest, right?
I used a wood curtain ring, minus the small eye screw, for the structure. I added a small length of pipe cleaner for the individual lambs ears leaves to attach to as them cascaded over the edge of the tall candleholders.
Hot glue and a couple of berries "borrowed" from another spray was all it took.
I love "free" projects! You, too? Great! I knew we'd be friends.
Speaking of being friends, are you a subscriber or House Mate? Not yet? This is a great time to join us:
Thanks Bunches! Now back to more ideas:
NOTE: This project works best with leaves that are semi dry, but still pliable. Mine were about a week from harvesting.
11) Cluster Floral Centerpiece –
​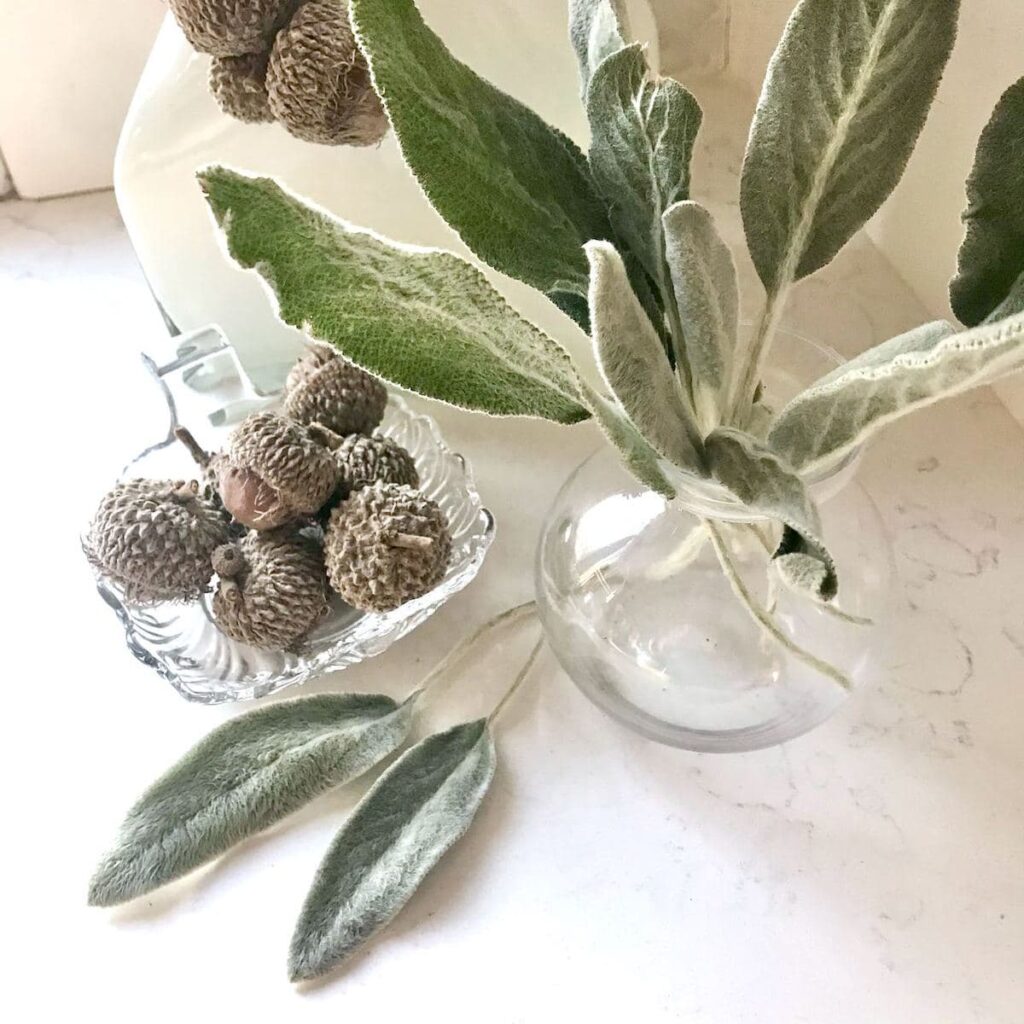 An assortment of tiny vases, bottles and votive candles down the length of a table is so pretty, and sooo darn easy.
Until you're doing 24 tables of them, halfway across the country. Then it's not difficult, it just takes a well organized Mother-of-the-Bride, her creative friend (see my hand waving in the air?) and a super-spirited bride, sister and best friend. You can read all about that adventure and the fabulous results as well as step-by-step how-to for any other wedding-planner-wanna-be's.
NOTE: Just about any leaves can be used for these.
12) Hanging Globe Arrangement –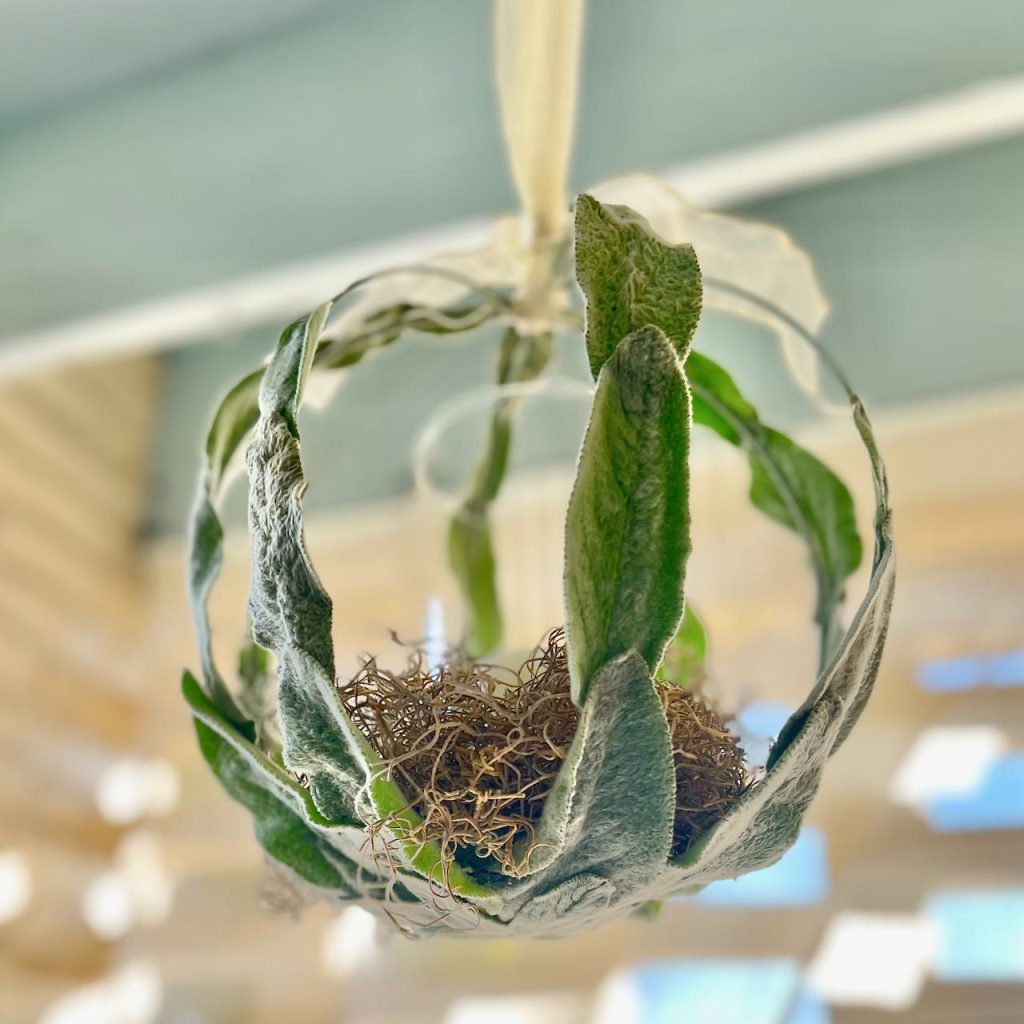 Wouldn't a set of three hanging on the porch with candles lit inside set the tone for a lovely evening?
This is the metal orb, sphere or globe (choose your name) that I have recently discovered at Dollar Tree. I started by covering them in Fall leaves preserved with Mod Podge. Then I covered them with rope and faux leaves that I colored for my style. Seriously, it's actually very easy — and so gratifying!
So of course, I couldn't skip covering one with fresh Lamb's Ear. Then I perched a glass hurricane inside with a flameless votive candle.
NOTE: Leaves that are a few days old is best — they are still pliable to match the curve of the sphere, but not too limp to hold their shape.
13) Small, Simple Flower Arrangements –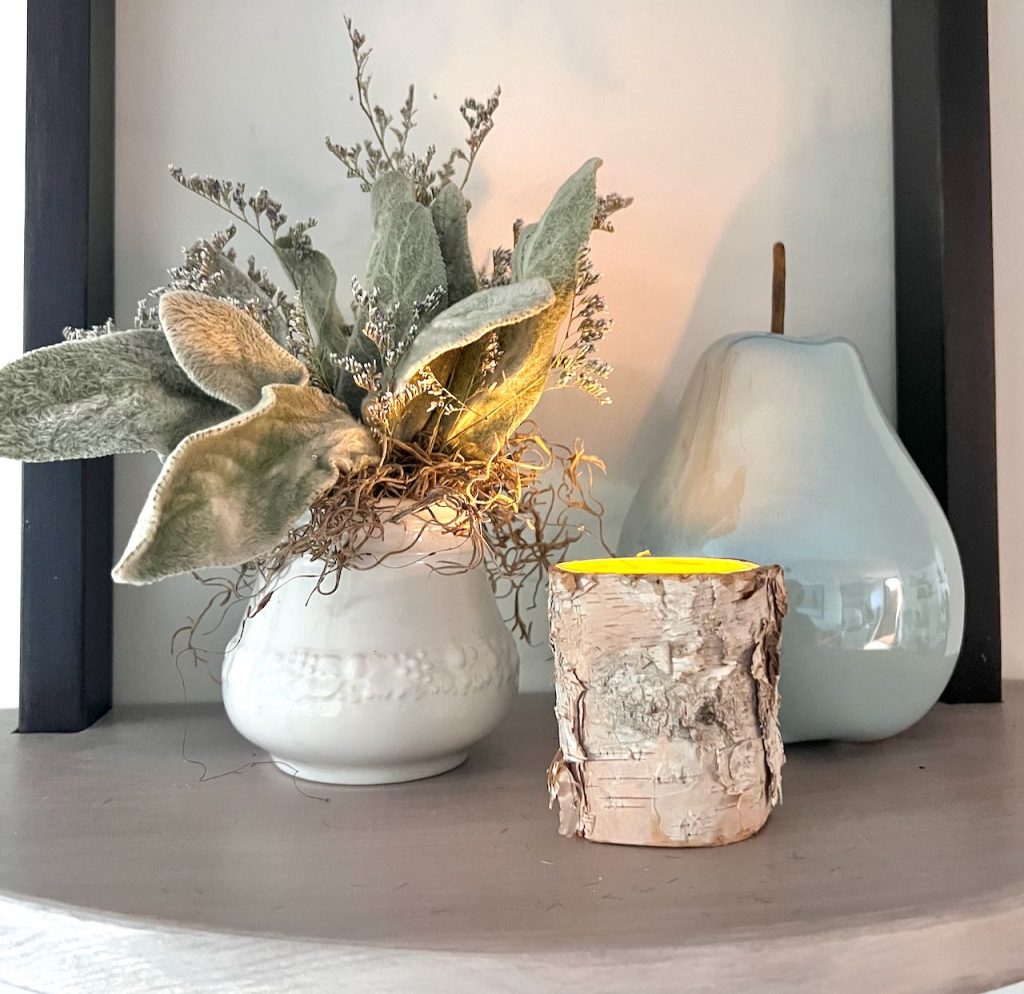 This is just an old sugar dish. I add a piece of oasis, but used it dry.
I gently bent several of my larger leaves to lay over the edge of the dish and then added a number of dried leaves that were a bit twisted for an interesting arrangement. Some of these were from a box of last year's leftovers and even another box from the year before!!!
I added some additional dried stems (statice perhaps?) that I had on hand and then stuffed the top with dried moss.
NOTE: Dried is best for the inner leaves. The outer leaves were still a bit pliable, but mostly dry, harvested 2 – 3 weeks ago
Tips For Crafting With Fresh Lambs Ear
What Adhesive to use?
I'm not usually a fan of hot glue. But it works great with the fresh lambs ear, just be sure to use low-temp or a low setting on your glue gun!
Does it Really Dry Soft?
YES! the texture stays soft and fuzzy, however the structure becomes brittle as it dries (kind of like us, right?).
So if your project needs curved leaves, like the bows, the bulbs, the covered sphere, and the frame above, it's best to do those within a couple of days of harvesting the lambs ear. If you want the leaves to be more or less straight, you can really use them anytime. See the original "How to Preserve Lambs Ear" post for more details on shaping them.
Due to the eventual brittleness, I'd shy away from wiring the stems. Use hot glue (on low) instead.
How to Mold Lambs Ear to the Perfect Shape?
If your project requires a specific shape, such as the loops of the bow or bending over the edge of the candleholder, work with your leaf within the first 2 or 3 days of cutting.
While it is still pliable, wrap it around or over a household item that will help it maintain its shape while drying for a few days
If your projects requires your lambs ears to be mostly flat, Lay them out on a flat work surface, upside down (spine facing up). This will keep the sides of the leaves from curling in on themselves. For thee tiny leaves that became the bunny ears, I had to gently force those leaves open and laid them on the table like that.
For the leaves I wanted to use in the small arrangement, I left some to curl and dry as they wanted. I used some that had been left over in last years box. And some I dried for two days by laying the stem and bottom half of the leaves on a book. I let the part of the leaf hanging over the edge dry at a bit of an angle.
​And that's just a few examples of how you can manipulate these amicable sweeties.
Are You Sold on Growing Lamb's Ears, Yet?
If you're still on the fence, a few growing details and you'll be racing to the nursery or working out a swap with a gardening neighbor.
Not only are they a perennial ground cover, they are also an evergreen perennial with a long growing season.
They are a good choice for both rock gardens and children's gardens. Plus they perform beautifully as an edging plant and as filler in potted plants.
More good news: They are deer resistant!!!! More accurately, deer don't care anything about them. They totally leave them alone.
And it gets even better . . . . they are a low-maintenance plant.
Lamb's Ears like
well-drained soil
are drought tolerant
like full sun but are happy in partial shade too.
Really? They're a novice, or lazy gardeners dream come true!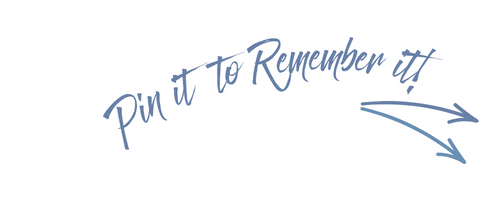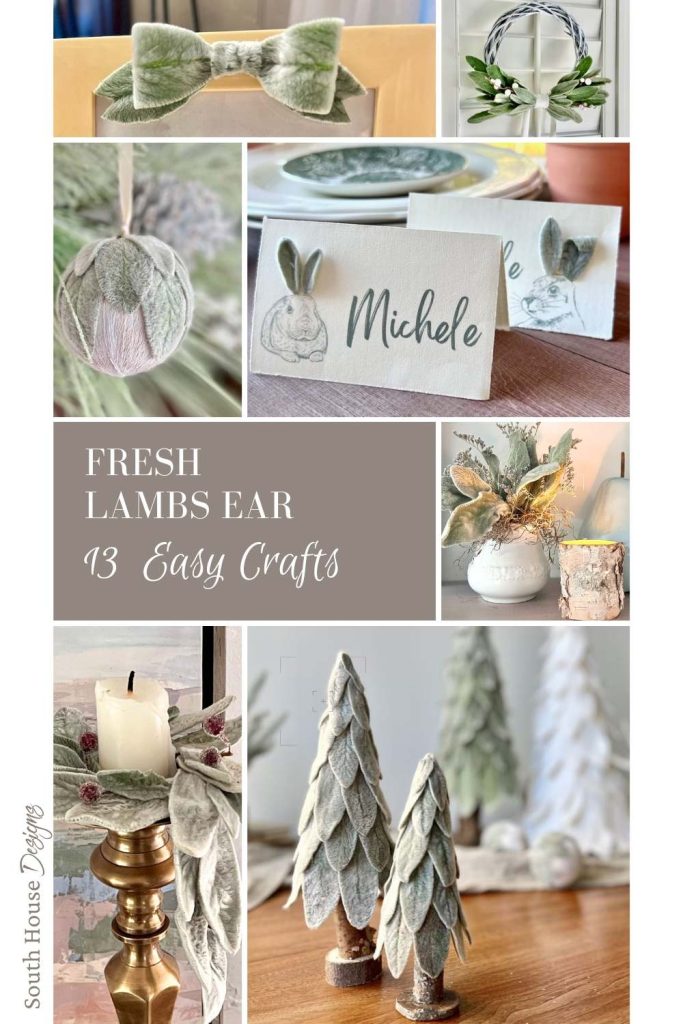 I am so glad you're here! I hope you've taken away some great nuggets of inspiration.
Wishing you a Joy-filled and creative day!