Revive Outdated Christmas Ornaments With This Incredibly Easy Hack
Do you have tired, outdated Christmas ornaments? Don't replace them. Revive them! It's a fresh, modern makeover for old string ornaments.
We all have them. A pile of ornaments that are perfectly fine. Serviceable.
But is that what we dream of for our holidays — fine and serviceable? Definitely not my dream! And I'm guessing, since you're here with me, that means you're with me on this too; not your holiday dream either!
So if you're with me on that, are you also with me on not spending a load of money when it's not necessary? Yippee, great minds think alike!
Plus, I love a great before & after! And I love the challenge of an upcycle, a makeover, and in this case a revival! Cue the harps and angels singing.
Game on (this is going to be fun)!
I know you've seen these over and over again. At thrift stores, at yard sales at estate sales and maybe even in your lovely mother-in-law's closet (thank you Mago).
Like I said they're just fine. Very yawn-worthy and uninspiring, but in great condition,
So let's do a little altering to their super fancy, but dated, prom dress attire. They deserve to party this holiday season looking all trendy and pulled together.
NOTE: I have a collection of vintage glass ornaments that I would never alter. But these are not those. These were mass produced, everywhere.
But first, you might be thinking:
What Can I Do With Vintage Christmas Ornaments?
There are so many fun options. Use them as you would modern ornaments, of course picking the option based on whether they are breakable or not:
to embellish a table scape centerpiece
to deck out a wreath
massed in glass apothecary jars
in a bowl with some greenery on the coffee table
scattered along greenery on a mantel
at each placesetting for a festive holiday meal
tucked into a hutch or built-ins
tied onto canisters on kitchen counter
replacing candles on top of candlesticks
hang from lengths of ribbons in a window or from a chandelier
Can You Paint Over Ornaments?
Oh, you bet you can! But just like all painting, you need to be careful that the paint you use works with the surface you're painting.
Outdated Christmas ornaments can often be saved just by changing their color. And the spray paints available will cover almost any surface. And oh the colors and textures available now are amazing!
Alcohol ink does not work well on old Christmas ornaments that have a color on the outside of the glass — like most do. I have a whole post coming soon on alcohol ink Christmas ornaments. They can be stunning, but need special treatment so be sure you are subscribed, so you don't miss that one.
Table of Contents:
Let's Get Started On Our Old Christmas Ornament Makeover
Materials:
Old string style Christmas ornaments
Chalk paint in your choice of colors
Supplies:
Paint brush, preferably a flat craft brush
Protective surface cover
dowel or rod for hanging and small cups to hold for drying
container for mixing your paint
Step 1) Paint the Ornaments-
It seems really silly to list this as Step 1, when in actuality, it's the only real step.
I used Chalk Paint because:
it's insanely easy to work with
bonds beautifully with just about any surface
of it's modern matte finish to contrast with the super metallic shine
I had some on hand
Actually, the can I had on hand was pure white. I wanted to tone it down a bit, so I added a small squirt of basic taupe craft paint.
TIP: Yes, you can alter, not completely change, the color of chalk paint with non-chalk basic craft paints. Don't use the specialty paints like glossy, iridescent or glitter type paints mixed with chalk paint.
Think about changing them up and making a set with different complimentary colors. Or different shades of the same colors to really play up the ombre effect.
At the bottom of the post is a video of the whole process.
Option 1) Top Down Ombre Effect-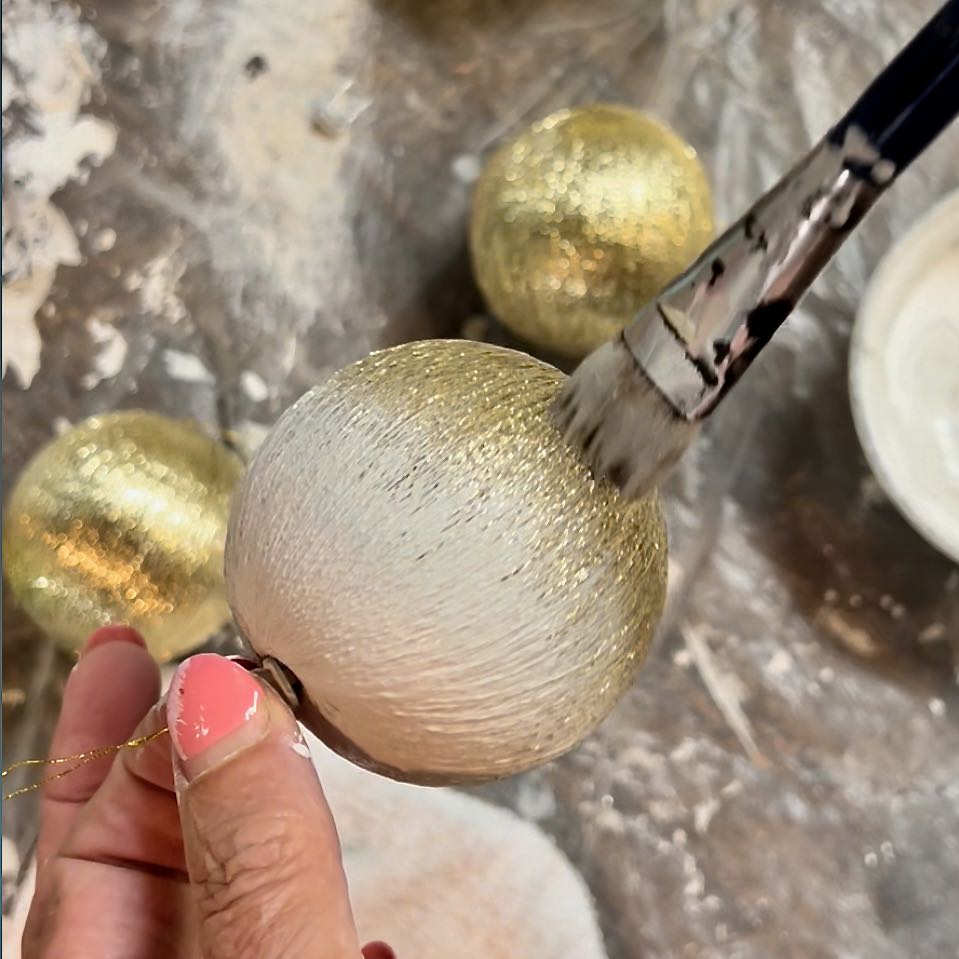 Start at the top, with a light touch, swipe your paintbrush downward lifting it off the ball where you want the blending to end. Always use one way strokes. Not up and down, but rather down and off, down and off. That will give you the beautiful blending ombre effect.
You may need to go back and add more paint at the top to get full coverage there. Lightly drag it down and off.
Chalk paint soaks in and dries very quickly. So after you work your way around the bulb, you may realize it needs a bit more coverage. Just go over those spots again now, No need to wait and come back to it.
Don't overthink this! The idea is creating an ombre effect with the matte craft paint and the glittery string meshing together rather organically. It almost looks like icicles forming down the ball.
Some of mine I made with greater variety of stroke lengths. Some I made with just a crown of white and some went at least half way. Experiment and have fun with it.
Option 2) Bottom Up Ombre Effect-
And some I did exactly the same but from the bottom up.
Not only do I like the variety, but I have a plan for something special I want to do with some of these and that requires the bottom to be the white. Again, stay tuned I have a lot more in the pipeline!
Option 3) Middle Ombre Effect-
And then, what would it look like with an ombre band — a belly band?
I LOVE these.
After about halfway around the first one, I realized the best method is to paint a short horizontal line with a fully loaded brush. Then without dipping the brush again, I wiped from the line down and from the line up. Two separate strokes — not up and down. Rather middle downward and then middle upward. That way you'll have that beautiful ombre blending.
Step 2) Let them dry-
For ornaments like these, I hang them on a dowels usually suspended across the opening of a box or across the top of a bucket.
Step 3) Enjoy-
I didn't lie in my title, did I? This is truly an incredibly easy hack!
If you are unsure about painting. THIS is the project to undertake to build confidence — and a fabulous collection of ornaments!
But first, are you enjoying this post? We are just heading into "my" season. So hang on, there's so much more coming! Don't want to miss a thing? May I suggest subscribing? You pick how much!
CLICK Anywhere on the picture to start the video — less than 3 minutes!
The Final Results!
What a difference, right?
I just love the matte with the glittery.
Notice how the ornament on the left in both "After" pics has more variation in the blending, vs. the one in the middle has a more solid line. The one on the right in both pictures has just a belly band of white, but it's kind of hard to tell. Next time, I'm going with a bit thinner band.
There are no right or wrong here. It's whatever is pleasing to your eye.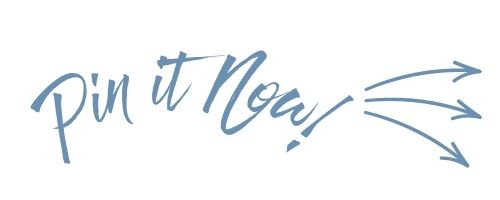 To help you remember
(and to help me)
please consider pinning this to
your Christmas board
to your crafting board
to your makeover board
how about your Revival board filled with harps and angels singing!
I so very much appreciate you being here and sticking through to the very end!
I hope this inspires you. Keep an eye out for these old string wrapped ornaments!