Stunning Yet Simple Winter Tablescape
With Rose Gold Decor
Simply stunning winter tablescape with Rose Gold decor accents and a bit of brass. Brings a touch of warmth when it's cold outside.
There's no doubt about it, snow is beautiful!
Some of us don't care for the cold and the sometimes grey skies and the dirty slush that follows.
But if we can stay focused on just the snow part, can we all agree it is simply beautiful?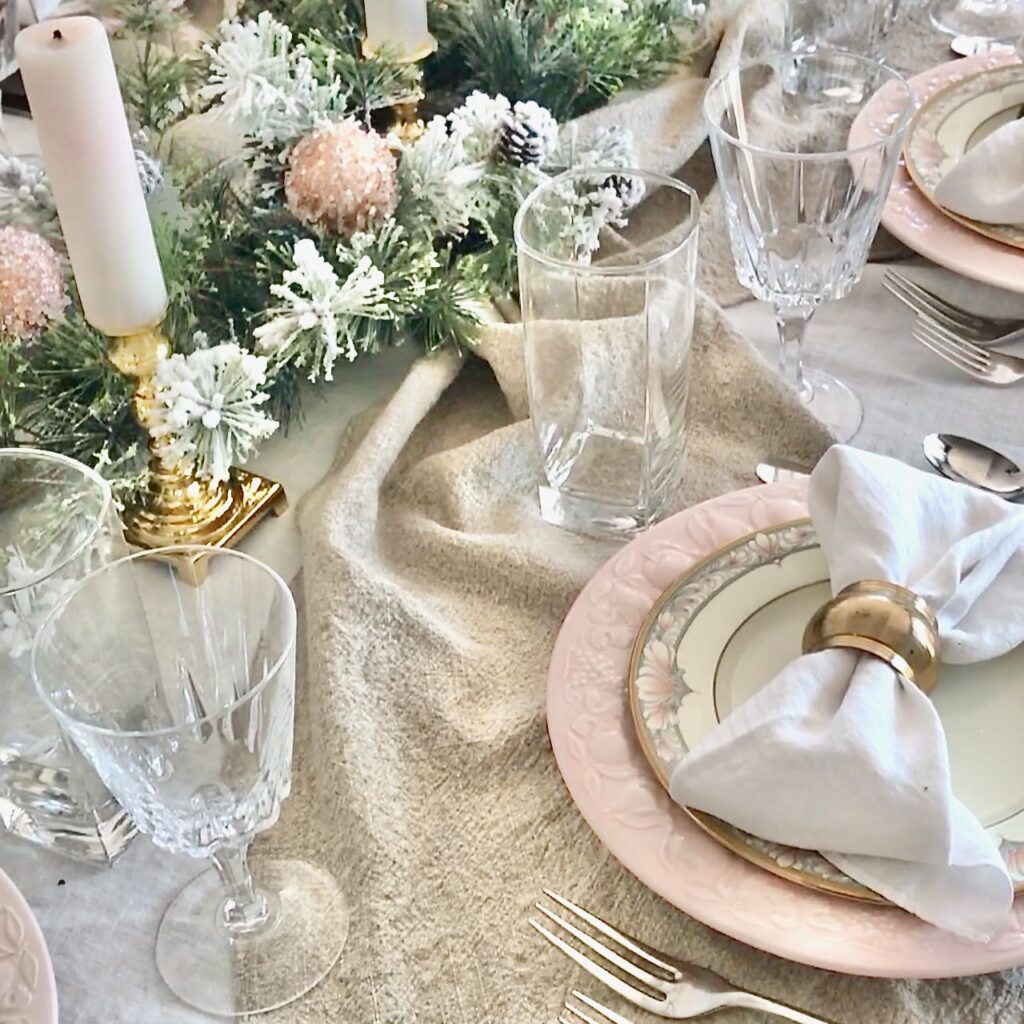 So when I set a special table in the Winter, I like to pay homage to the beauty of snow. I'm sure to include frosted and flocked greens and pinecones. I might even flock some bulbs too. Here's my favorite way to add snow to just about anything.
Typically, I combine silver candlesticks with all the white of the snow. But this year? This year I felt the need for some warmth. Plus I had spied these gorgeous "sugared" rose gold bulbs at Hobby Lobby. They made their way home with me in late October to be part of a wreath I was/am planning. Somehow the holidays ran away with me and that lovely wreath is still waiting in the wings.
But my rose gold bulbs? Time for your debut, my pretties!
When I'm putting together a table, I usually start by deciding on the dishes.
I knew I wanted my Winter tablescape to also tilt a nod towards Valentine's Day. So my soft blush plates were a must. When I brought in the rose gold bulbs I realized my Barrymore salad plates worked with the blush dinner plates. A combination I had never used before.
The gold on the rims had me reaching for my old faithful brass napkin rings.
And for table linens, of course I went with a variety of washed linens. They look, and are, so effortless! None of these were pressed. I love the relaxed elegance of slightly rumpled linen. So I used my white linen oval tablecloth as the base with two of my wide washed linen runners with their signature "aged edging", And large cotton and linen white napkins as the final touch.
These slightly rumpled linens hit just the right note to prevent my beautiful and festive tables from becoming too stiff and formal. Plus they are real chameleons, perfectly complementing a myriad of styles and colors.
Decisions Made! Let's Style with Subtle Valentine Table Decorations
On the white linen base, I started with the wonderful candle ring that splays out on opposite ends with pinecones and evergreen branches with a generous dusting of snow. Here's the front and back of this one I found at Hobby Lobby.
I like to use table runners as an accent, a way to add more texture, layer and interest to my table styling. But rarely do I lay them flat.
Here I'm using the candle ring as the center point of my table runners that will cross the table diagonally. To do this, I bent a couple of branches to form openings opposite each other to allow space for the table runners.
I added my rose gold accent bulbs now since they were wired. If you are adding accents that are loose, just wait until you add the candlesticks, to also add your accents.
With the first runner, working from the left, I brought half of it over the ring opening (1st picture) then under the greenery (2nd picture).
With the second runner, again working from the left, this runner does the opposite. Half of the runner goes under the greenery and then over the cleared ring (3rd picture and first picture below).
Lay out the lengths of your runners as you like them. I prefer mine to have layers and texture in the center of the table. This brings depth and interest to the center without height that will interfere with lively conversation.
These runners are a gorgeous washed linen with a lush texture, but they are thin, so plates that are half on/half off don't teeter back and forth.
Then I added my mismatched brass candlesticks — three of them
.
Rose Gold Table Decor is Set, Now For the Place Settings
Because of the runners, I did not use placemats or chargers for this table setting.
This means, dinner plates go down first — my pale blush plates.
Next I layered on the Barrymore salad plates. (fun fact: This was our wedding registry china.)
Along with mixing up the china, I decided to mix up the glassware, too. Simple water glasses with the more formal wine glasses (from my sweet MIL's collection).
The Final Linens – Those Irresistible Bow Napkins!
Aren't they the cutest? But not in a tween's cute kind of way.
And these may just be the easiest napkin folding when you are using napkin rings.
I'll have a reel up shortly, so be sure to check back tomorrow for that one.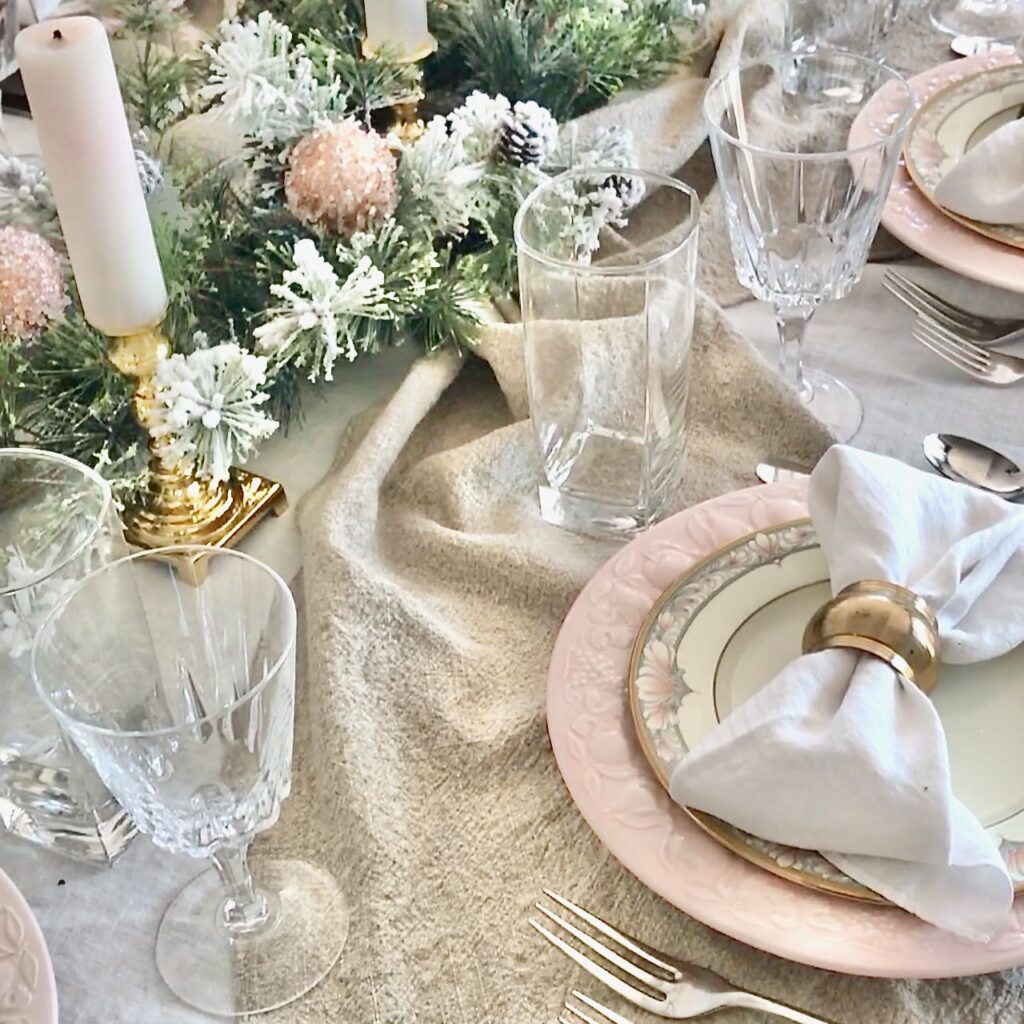 HINT:
It's a small detail for sure. But I like to check the alignment of any designs on the china I'm using, especially when I have something like a placecard or folded napkin on the plate to bring your eye to it.
Do you see how in the picture on the left, one of the main opening buds or flourishes is off to the side? In the picture on the right the flourishes are centered above and below the napkin ring, the center of the napkin bow.
I know, I know! What can I say? I find those little details like that distracting. (Feel free to send help my way.)
I get it! You're not hosting a dinner until next month.
No problem. Just be sure to pin this on your Dinner Party Board
or your
Entertaining Board
or your
Table Setting Board
or your
Centerpiece Board
or whatever board makes sense to you so you can find it again.
Washed Linen Wide Table Runners
This washed linen table runner is sure to become your Go-To table runner.
She transcends all seasons. She plays nice with everyone — farmhouse, to modern minimalism, from pumpkins to blue & white porcelain, from harvest table center runner to cross table placesettings. All the while she's charming and rustic and earthy and modern. Now that's flexible. The perfect sidekick when entertaining ad decorating!
Washed Linen Skinny Table Runners
Why Skinny?
For all those times when you have wanted to add texture, layer, warmth to your tablescape without interfering with the placesettings.
For all those times you've wanted to add a touch of textile to a mantel, or a coffee table vignette or the narrow hall table, or so many other places. The skinny runner is your answer — it has presence, but stays out of the way.
I hope you are staying warm and enjoying a beautiful snowy scene from inside.
Thanks so very much for being here with me today!