How to Host a Fabulous "Let Us Eat Pie" Pie Party Buffet
Want an easy party to host? One that's fun, a tad decadent and everyone looks forward to? A Pie Party is just the thing. You've come to the right place!
I am beyond thrilled to be the guest of five of my favorite bloggers for their fabulous Virtual Supper Club. They meet virtually each month with a set party theme. On Thursday, they share their tablescapes and decor.
Then the following Saturday they meet together again to share the menu with each blogger contributing a dish to the meal.
This month, our theme is . . . . you guessed it, Pie Party!
All the Pie Parties are linked at the end of this post. It is such fun to jump around and see how varied the displays and set-ups are.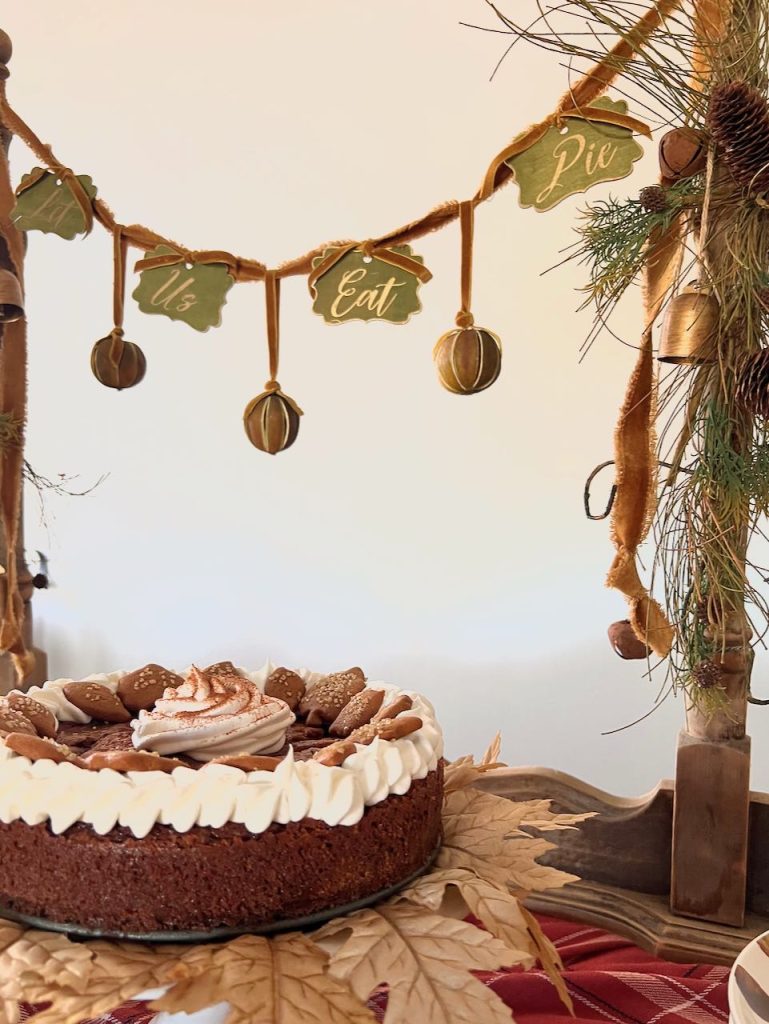 I have had so much fun the last couple of weeks baking and experimenting with recipes for this this Pie Party. as well as last week's homage to Potluck parties. Did you see it?
No? I shared all my "secret strategies" for winning at the Potluck game. Winning? Yes! You didn't realize potlucks are competitive? Well, they are in my head.
I also shared how I took my winning recipe and made it even better. It now has to be the Absolute Best Pumpkin Spice of ANYthing!
Back to Pie Parties:
This is a long post, so feel free to jump to the section you need:
What's a Pie Party?
Simply put, pie parties are get-togethers that only serve pie. They can take the form more of a pie social or more of a potluck. I'll explain the difference below.
Does that mean only desserts?
That's certainly one option. But there are other pie options too.
There are lots of savory options that still meet the "pie requirement":
Pot pies of every variety
Quiche of every flavor
Shepherd's pie
Pizza pie and we know there are lots of variety there
Appetizer mini pies
Hand pies, both sweet and savory options
So do you want your pie party to be a more of full meal? Or do you want it to be dessert only?
You get to determine which way to go.
For our Supper Club, we decided to go all dessert!
Why Host a Pie Party?
It's hard to say what the best part is. Take your pick:
It's a great time with not much work
You get to sample lots of great pie recipes
And maybe even discover a new favorite recipe
Who doesn't love pie?
What Do You Serve at a Pie Party?
Again, no hard and fast rules!
But the host(s) will usually provide two important additions besides pie:
Beverages-
Besides the pies which you'll have a lot of help with, you'll want to have a drink station. What you serve will depend on the time of day, your guests, and even the time of the year.
During cold weather, warm cider, a cocoa bar and of course a coffee station are all viable options.
During warm weather, iced tea station with lemonade options is also good.
Water, bottles of water or beverage dispenser with water, are always important.
Toppings-
It's certainly not required, but a fun addition is to have a toppings station.
Either the end of your pie table or at a separate table, offer whipped cream, vanilla ice cream, maybe some sauces to drizzle.
I prefer true whipping cream, and flavors make even better — cinnamon whipped cream is a really special touch.
But if you have a large crowd, and especially if it's outdoors, having several spray cans of whipped topping in an ice bucket is a great way to offer whipped cream for a crowd and to keep it cold.
If your party's in the Fall, think about using a hollowed out pumpkin with some ice for your whipped cream cans, in the Summer, perhaps a watermelon.
Pie Party Basics: Social Style
If you want to host what might be thought of as a pie social, then you would probably opt for all sweet dessert pies.
Once upon a time a pie social was common to gather people for a purpose, such as raising money for a community cause. Everyone would bring homemade pies from their favorite recipes.
According to stories my Grandmother told, this could get quite competitive, especially with their pie crust recipes.
Pie socials today are often held to celebrate special occasions, such as delayed receptions for distant weddings, rehearsal dinners, family reunions, extended family gatherings.
With a social-style pie party, the host(s) might ask their dearest friends to contribute their favorite homemade pie.
In this case, do not tell them what kind of pie to bring.
Most bakers have their specialty — their favorite recipe.
If they ask, you might have a suggestion of a broad category, such as "It seems like we have quite a few berry pies, how about a creme pie of some kind". And if they want more specific, you can suggest a pumpkin pie or a peanut butter pie, or even a pecan pie.
If your Pie Buffet is for a large gathering, like perhaps a wedding reception, designate a few of your closest friends. Or you might have a friend or two who love to come, but prefer to have a job rather than just make small talk. This is perfect for them. You will only need servers when the pie bar first opens. After the first rush, seconds can be self-serve.
Keep in mind, it's also nice to keep the pie bar tidy by removing empty pie plates and servers. redistributing the pies a bit to fill voids.
Pie Party Basics: Potluck Style
If you want to host more of a pie potluck, with your guests bringing different pies, across many courses, the number of guests is usually smaller.
Determine the number of pies you want in each category. Such as two different appetizer mini pies and two different dessert pies. Because most savory pies also include the vegetables, and there is no need for a starch with all the pie crusts, you might arrange for three different savory pies.
How you split that up, will depend on how large your guest list is.
How you assign who fills what category is up to you. First one to respond gets their choice of category. Or you can pick two people to bring dessert and have them coordinate to assure a variety of types of pies, same with appetizers and main courses.

Table Settings for a Pie Party
For a Social Style Pie Party — sweet pies only-
Generally, this would be set as a buffet style pie bar.
Your guests will be free to milll about and socialize — whether there are eight on your deck star-gazing or 80 in a heated tent by the local pumpkin patch celebrating your son's engagement.
This party is all about socializing and pie!!!
So here, round tables as well as tall tables for perching, chairs, hay bales and benches are all good options.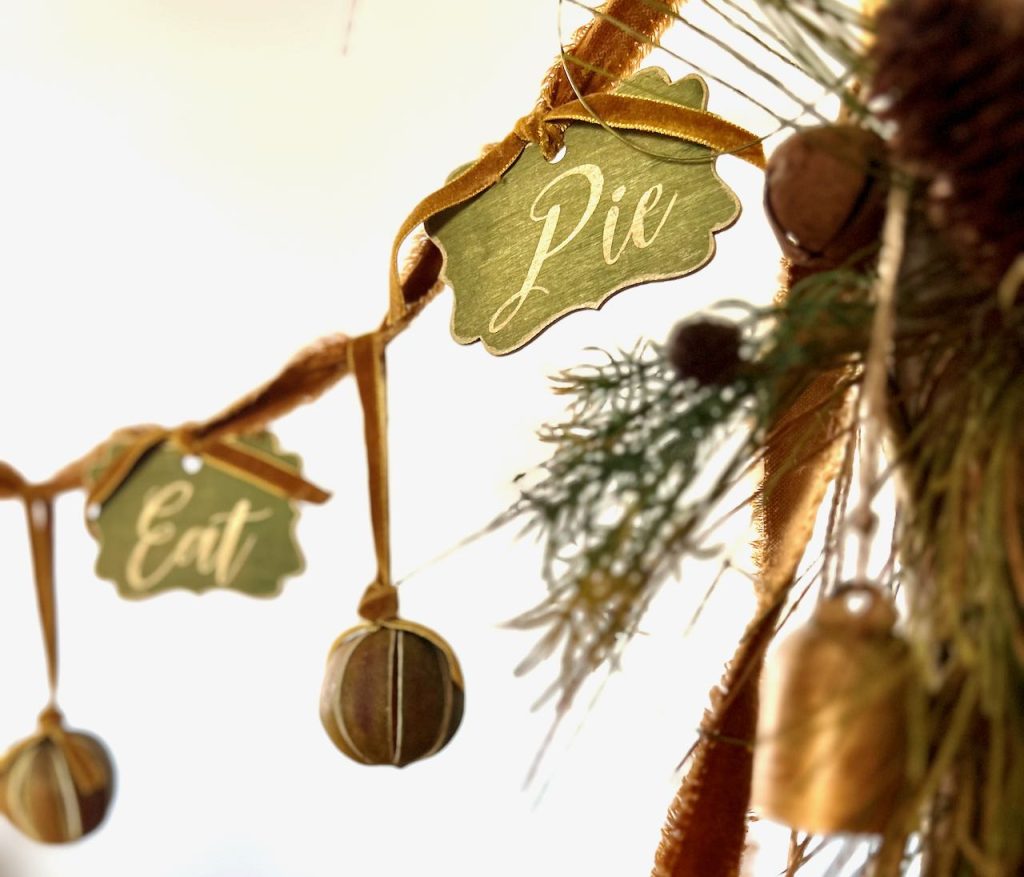 You might wonder whether you should cut the pies and have individual pieces already plated. Well, I would say that is very efficient planning. But personally, I don't care for a party where efficiency if the main point.
I want a party that is well organized, but still beautiful, and charming. And whole pies are exactly that. Cut slices, bluntly put, are not!
Another downside: Pre-cut slices probably means disposable plates.
Yet another downside: pre-cut slices assumes everyone wants the same size slice. Me, I love a sampler of 4 or five small slivers.
Have I talked you out of pre-cut slices yet? How about if I just say "PLEASE, don't do it."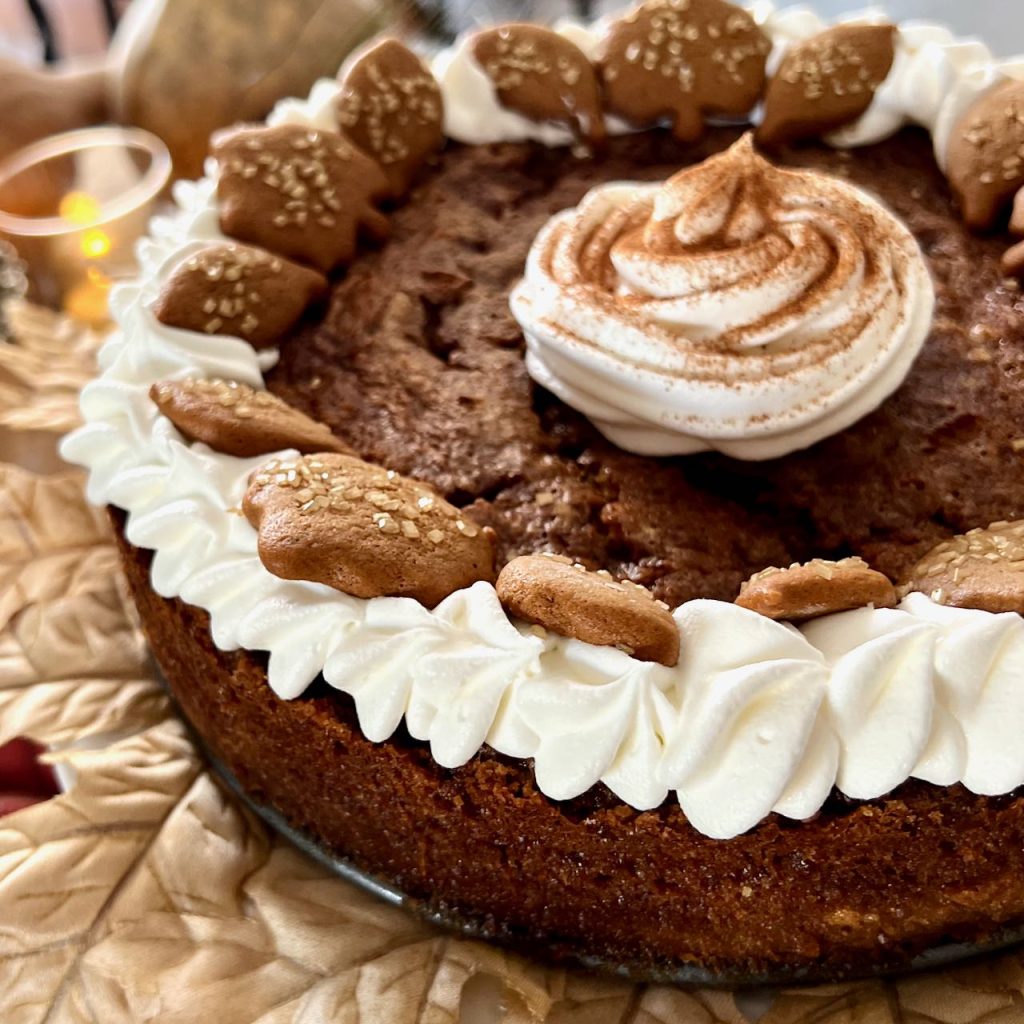 For a Potluck Style Pie Party — full meal-
As with any other dinner party you might be hosting, appetizers can be enjoyed as you mingle about at first. So set a couple of trays of the mini pies out where guests are free to pick one up here and there.
Don't forget a small stack of paper napkins on each tray, or serve each mini pie on a small paper napkin.
Then because there are minimal dishes with the main course, you can seat everyone banquet style and pass the three main pies.
For me, I will take a banquet table with family style passed dishes over a buffet line every time!
For dessert, you can serve the options at the table or encourage everyone to get up and move around a bit and enjoy pie out on the patio or inside around the fireplace or whatever fits your crowd and your home and the season.
TIP: If you feel the need to serve salad before the main course, but want to stick with the Pie Party theme, consider this.
Visit a restaurant supply store in your city or order online individual pie slice containers. The clam shell containers will not be tall enough. You want the two part containers with the deep lids. Use the lid as a pie-shaped salad bowl.
Pre-fill, have them waiting in the fridge.
Take them to the place settings just before calling everyone to the table. Voila! Salad pie is served!
How to Set up and Decorate For a Pie Party Buffet?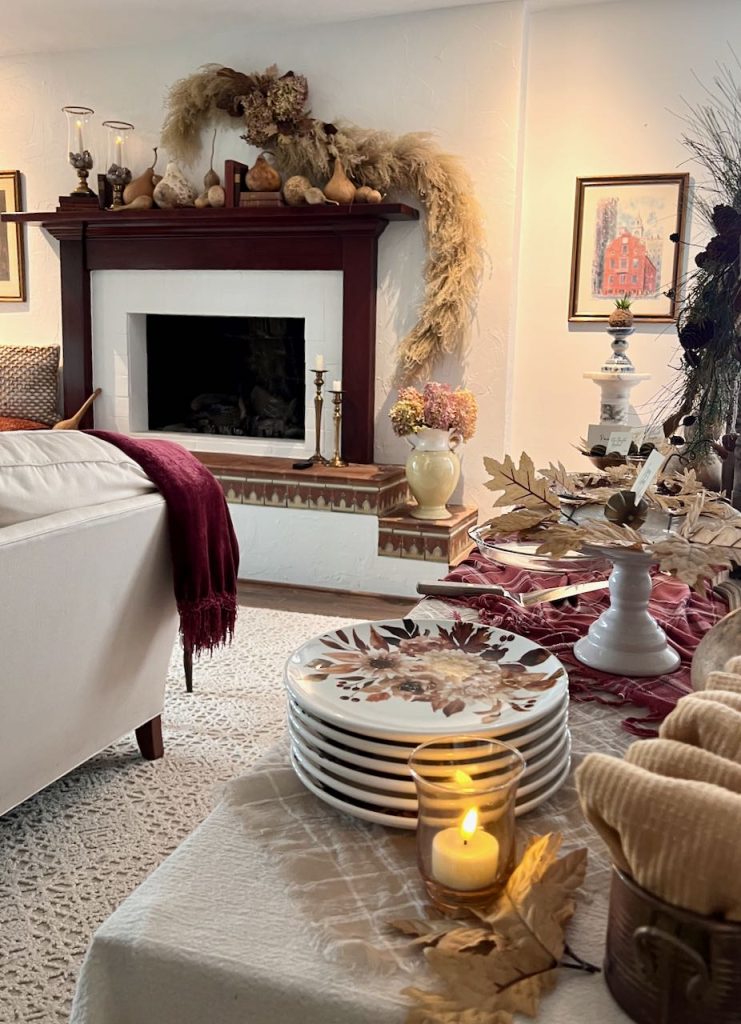 I'm using my Let Us Eat Pie theme as an example, but I encourage you to use your own style,
1) Pie Table Placement-
A long table is best for display and flow. Against a wall or backdrop of some kind is visually best. If your outside, a beautiful vista or a lovely stand of trees can make a great backdrop.
But the pie bar is the star of the party, so don't hide her away in some corner.
In our case, I used my vintage server cabinet with a top that flips open to double in width, but it's only 18-inches deep.
I didn't have an expanse of wall I could use, so it is backed up to the railing of our open stairwell. The loveseat arrangement that is usually centered on the fireplace had to shift a bit to access the pie bar comfortably. But it works.
2) Pie Table Decor, Backdrop or Display-
If you have a wall behind your pie bar, you can make a fun sign or garland
If not ,make some risers by stacking wood boxes, picnic baskets, crates, etc. or propping old frames to create a display with some height and interest.
Pick a style or loose theme and go with it. Rustic? Fall Foraging? Farmer's Market? Gardening? Boho Relaxed?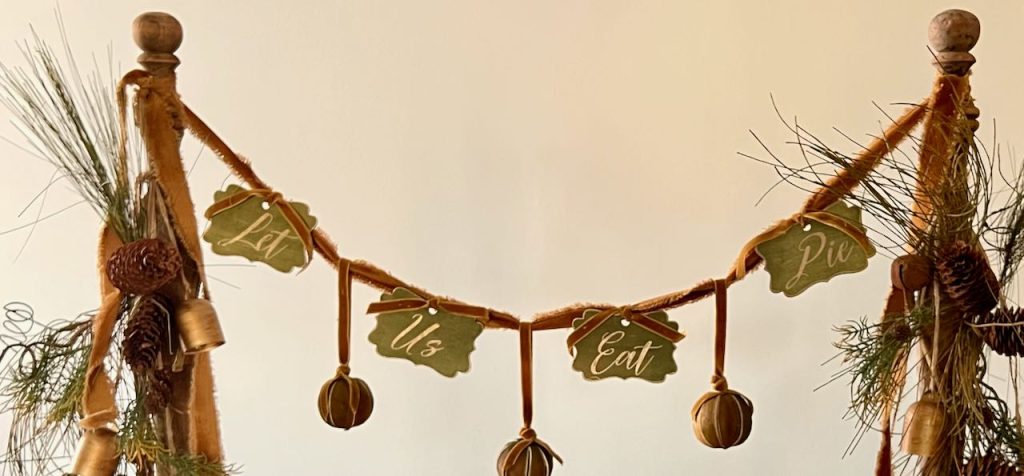 In my case, "Let Them Eat Cake" kept dancing in my head. But "Let them Eat PIe" didn't sound right. I wanted Us to eat the pie, not Them. Hence my tagline, "Let Us Eat Pie" was born.
Marie Antoinette is of course beyond vintage and she is also quite famous for her gardens and "playing" at being a gardener (and peasant).
So I combined vintage with Foraged Fall Nature (dried grasses, hydrangeas, and gourds) for my overall look.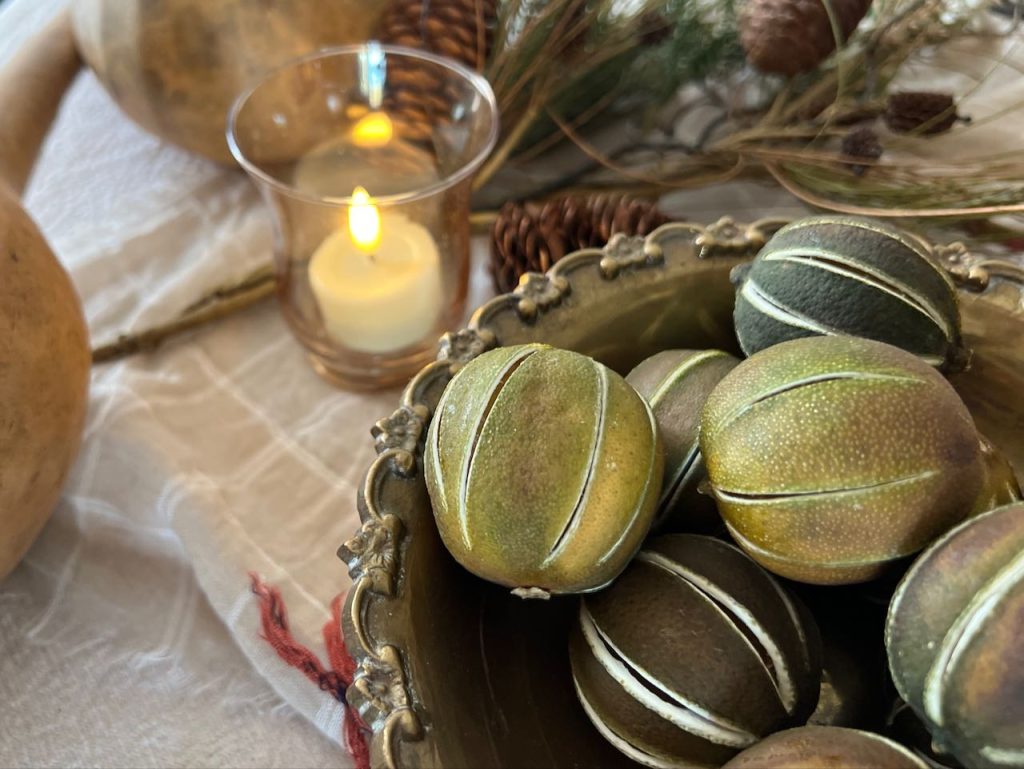 I had recently seen dehydrated limes and was so intrigued, I had to try this myself. There will be a blog post coming shortly with all my tips if you want to try this yourself.
If you're not inclined to dry your own limes, these on Etsy are absolutely stunning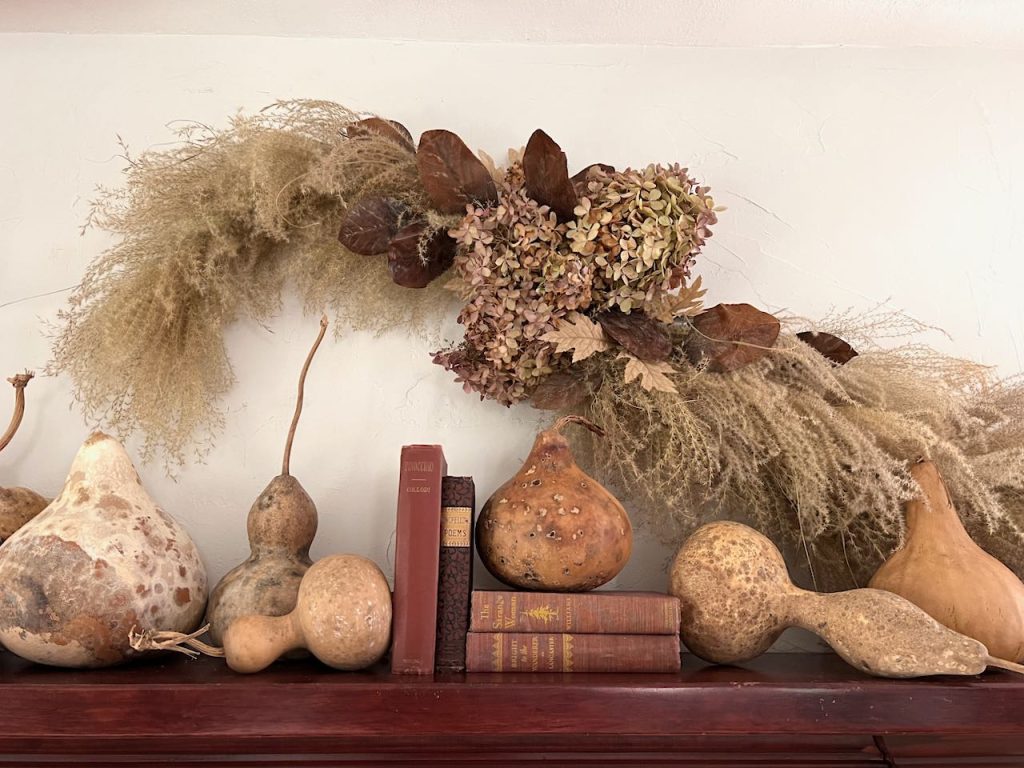 As part of another blog post that's coming up next week, I made a Foraged Fall Centerpiece, but hung it on the wall instead. (It will make sense next week, I promise).
Our pie party will be taking place in this room with the fireplace.
Quick pause in the setup. please consider subscribing so you do not miss all the fun ideas and how-to's still to come and have 24/7 access to my Free Printables Library.
Thanks bunches! Now on to our pie party setup.
So these charming little limes and the wall arrangement determined my color scheme.
Tagline, style and color scheme: check, check check.
Now let's make it happen.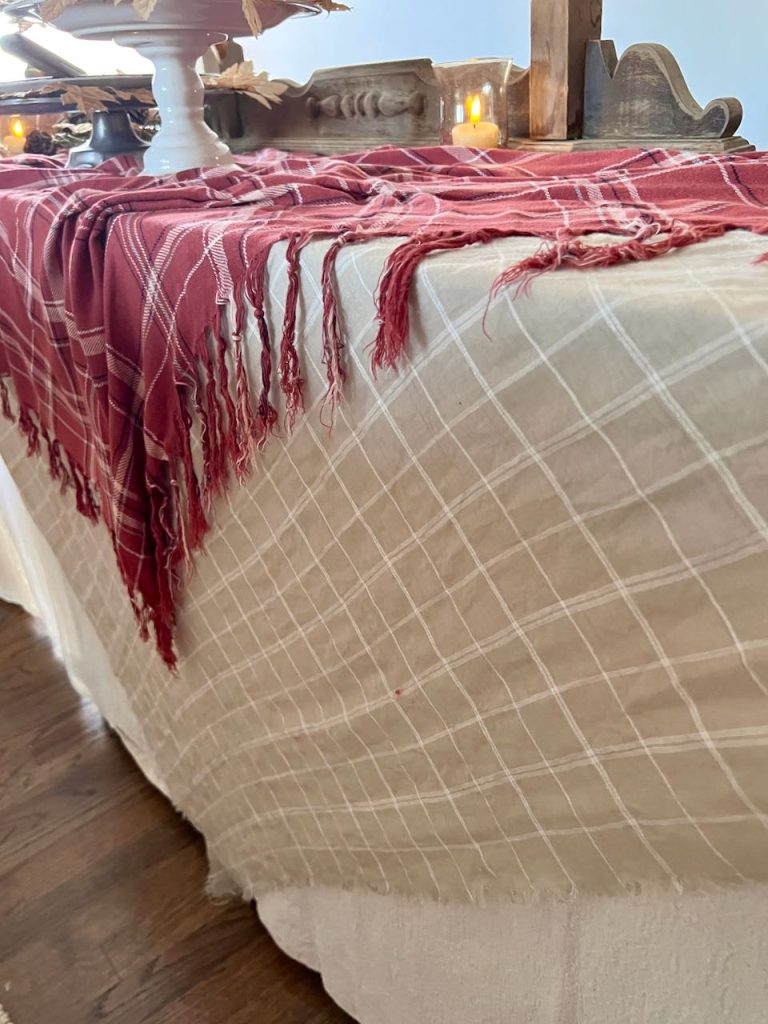 I love the look of layered table linens. I started with my go-to, very favorite tablecloth — which really isn't a table cloth at all. I love this cloth. It has great weight and texture, launders beautifully, and the perfect drapey-ness — all for under $25!!!!
I have the 9 x 12-foot version because I like it to go to the ground here and when I use it on the patio like with this Fall tablescape, and this Earth Day tablescape and this Father's Day table, We even used them on the banquet tables at our daughter's wedding reception.
But folded in half it also works great on our long dinner table.
The two plaid squares, are actually shawls I found at the thrift store for $2 each. I intended to use just one, but I couldn't decide between them, so there you go, three layers.
TIP: I rarely lay a table topper or runner perfectly flat and centered nicely. I'm a casual person, even when I'm "doing fancy". I think twisted, rumpled, angled, etc. adds more interest and dimension, not flat or staid.
Last year, I scored a great old mirror stand. At one point I'm sure it was attached to a beautiful vintage dresser with a lovely framed mirror supported by the uprights.
I thought those uprights would be perfect for suspending seasonal garlands for a variety of table settings. This is actually its maiden voyage..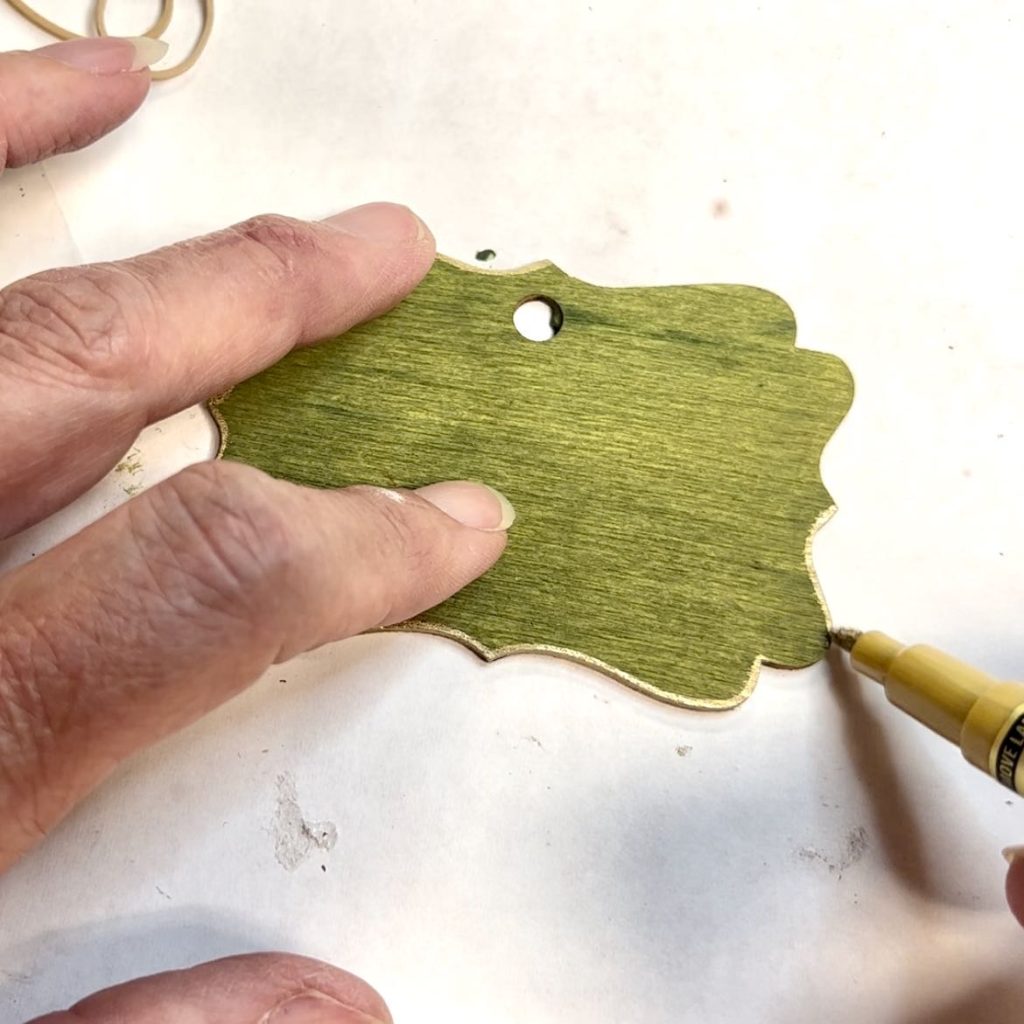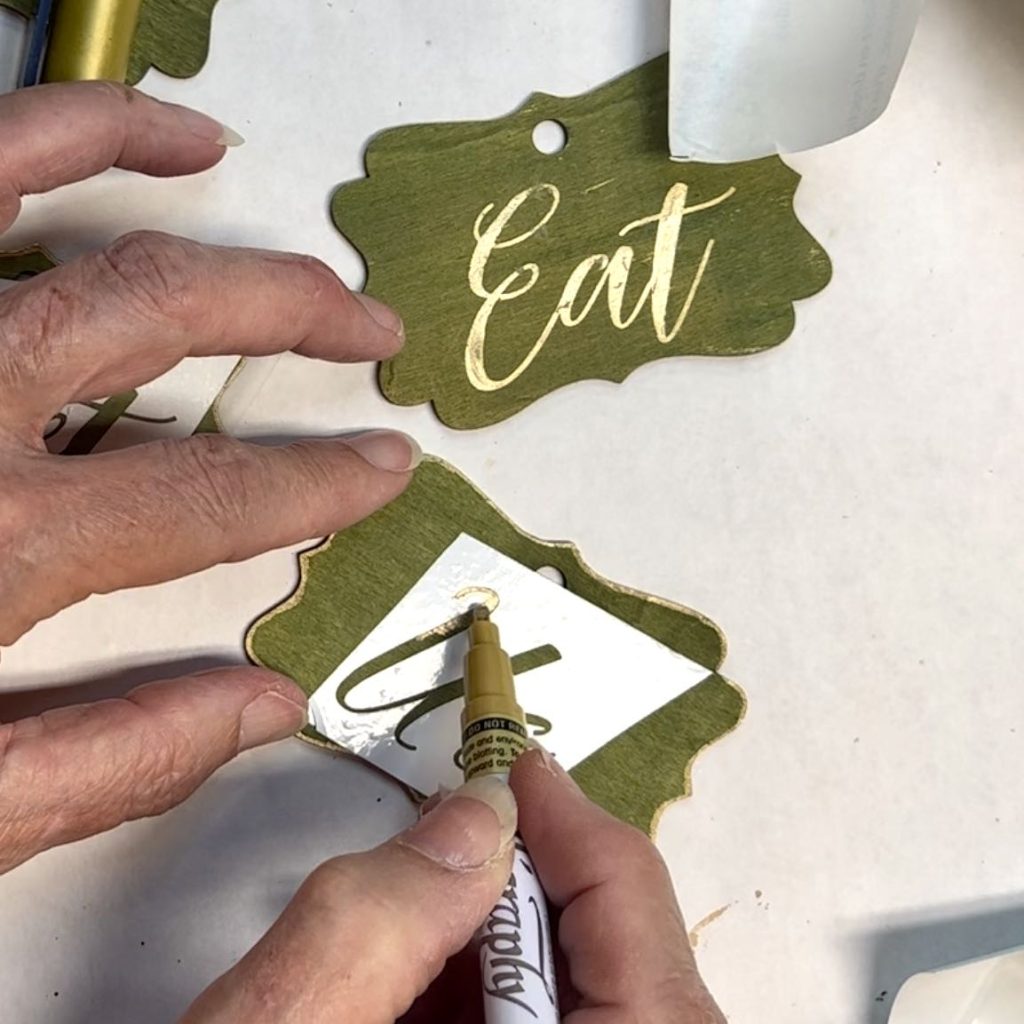 I had a bag of four little chalkboard signs from the Dollar Tree. Chalk board didn't work for this party, but the shape was perfect.
So I flipped them over, mixed up a bit of craft paint with water to do a quick paint wash.
I do not have great handwriting. But I do have a great Cricut.
I picked a free, but fancy Marie-Antoinette-ish font, sized it and then cut a stencil for each sign. Adhered them in place and used a gold metallic marker. Done in 20 minutes.
I found the perfect vintage-looking velvet ribbon at Hobby Lobby.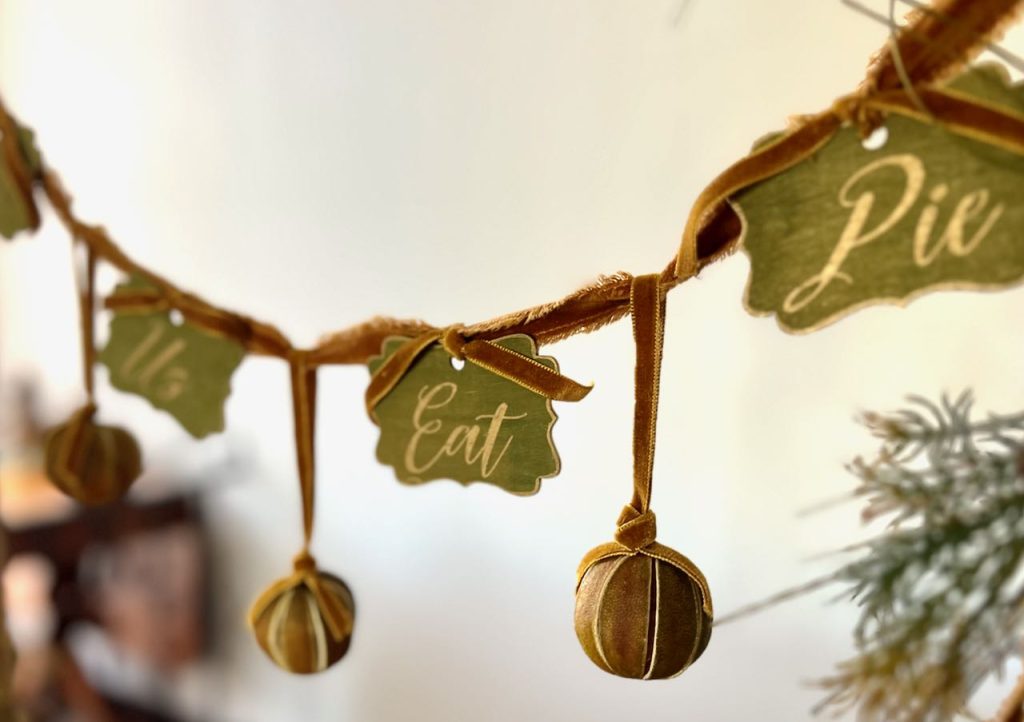 For ease, I twisted a spray of greens and pine cones around each upright. And I added three dehydrated limes to the garland
I layered in some gourds from my mantel display to tie them together.

3) Pie Table Setup-
Plates and Napkins-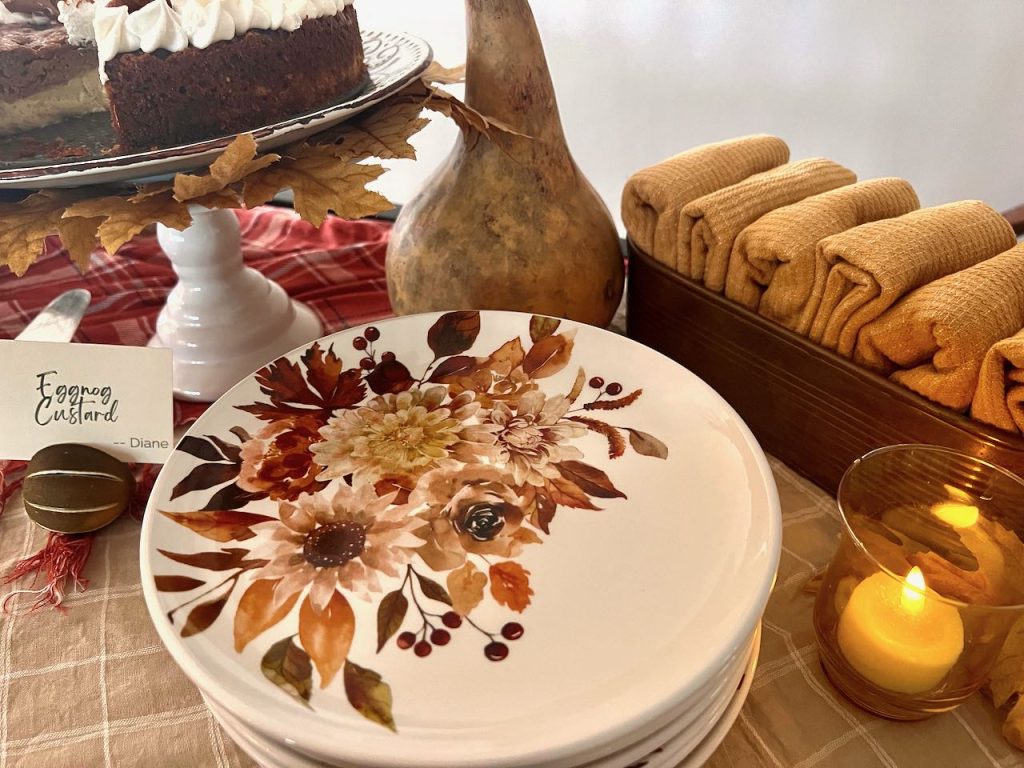 Start your pie bar with dessert plates and napkins.
Note, this is a departure from my standard advice for a buffet table. One of my tips in my very popular 17 Tips for a Beautiful + Functional Christmas Buffet Table is "If you are serving a full meal buffet style, bundle a set of flatware in a napkin and then have these bundles . . . at the end of the buffet line. This way the guests are not balancing this bundle while they are also dishing up food."
Place forks and spoons at the end of the line or at the toppings station if you have one.
With pies, if your guests are cutting slices, it can get a bit messy, having a napkin draped over their arm helps with a quick fingertip cleanup.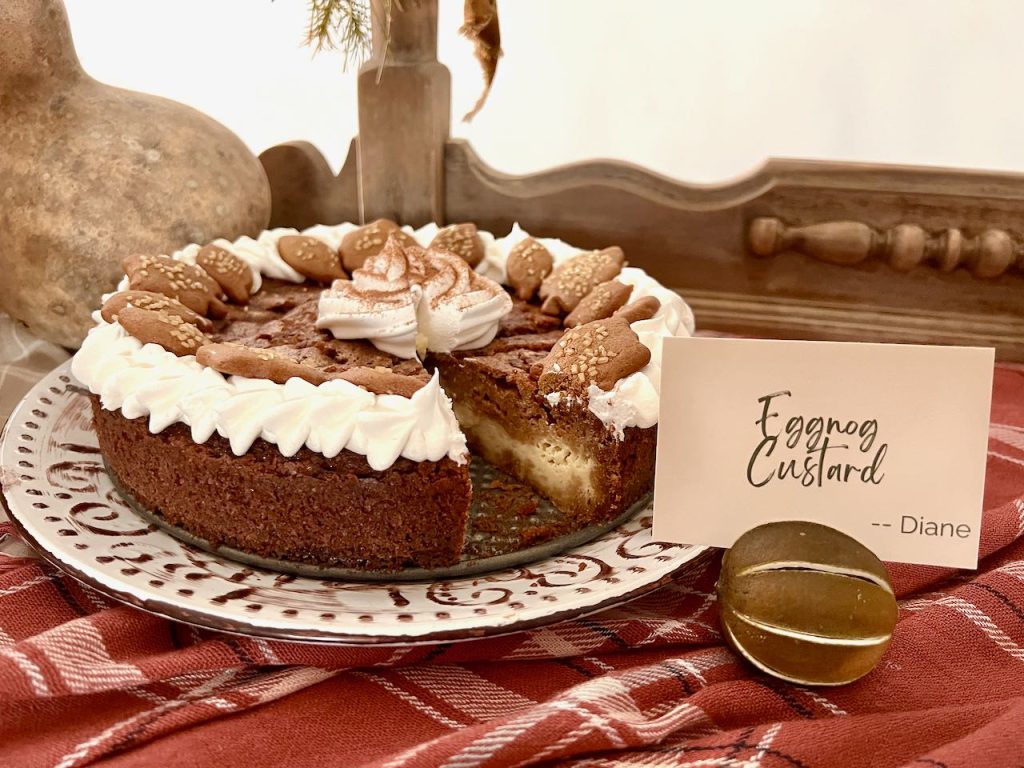 Pie ID Cards and Holders-
I like to identify the pies, but this is strictly optional.
The day before the party, I gathered the pie names from each pie-maker, created my ID cards in Canva, and printed them. The with a crafting glue tape runner, I adhered the paper to a thicker card stock and cut them out.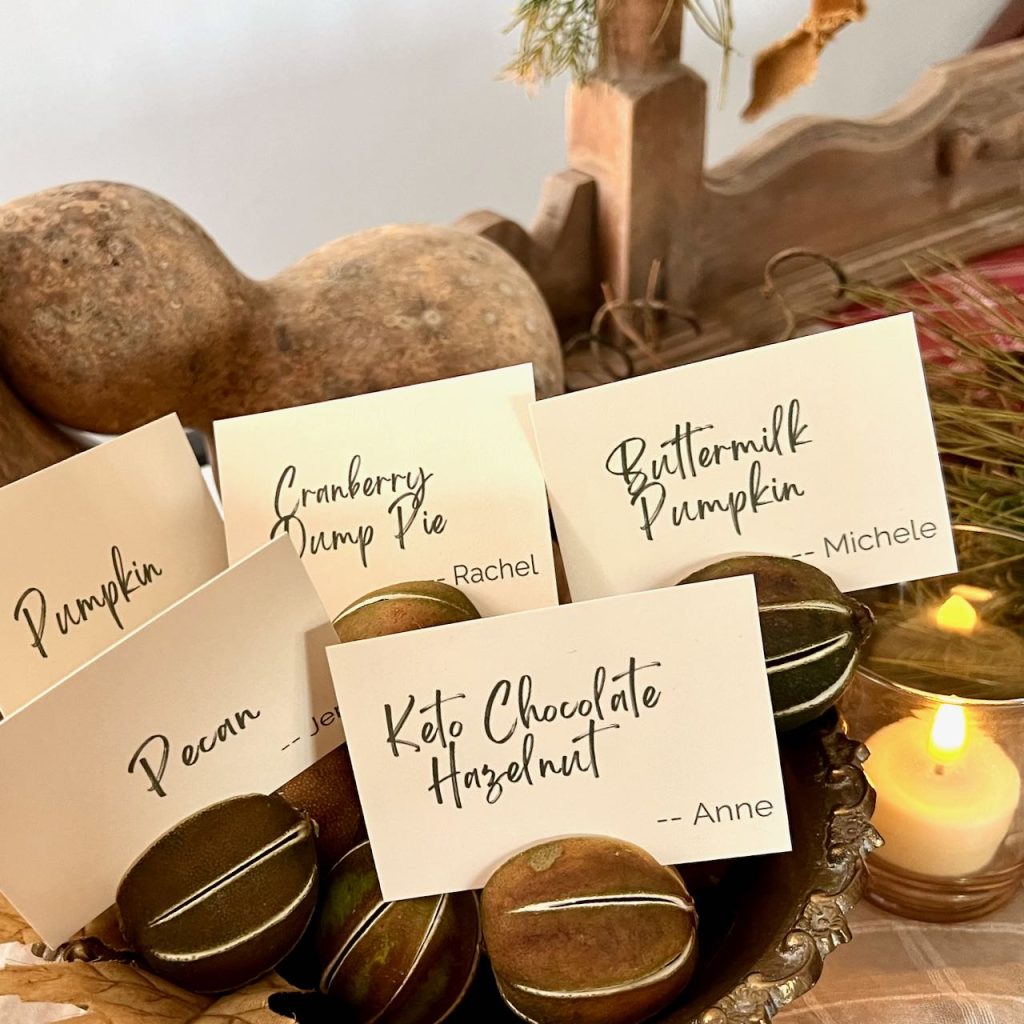 Dehydrated limes on their sides became the perfect card holder. The cards stand ready in a vintage brass bowl waiting for the pies to arrive.
If you don't know the names of the pies ahead. You can also have blank cards and holders with a marker ready for your bakers to fill out.
Optionally, you can ID the pie baker too.
Pie Servers-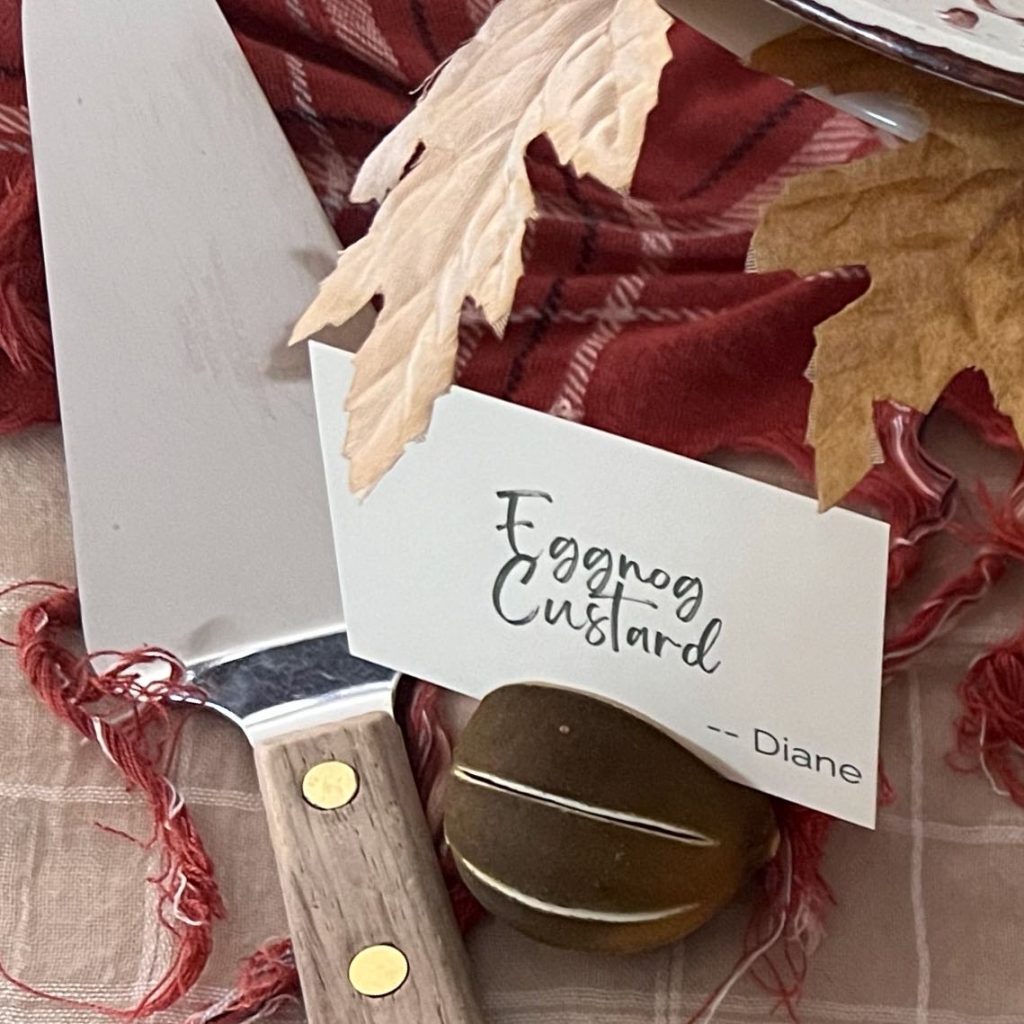 You will need a pie server at each pie. There are some very inexpensive options available online. Or if you're going with a vintage style, collect a mis-matched set at thrift stores or borrow from your bakers.
Vary Heights of Pies-
It's visually best to display the pies at different heights. Cake stands, cake plates, large risers, wood slabs, bread boards, wood boxes, etc. are all great ways to do this.
Add Some Seasonal Foliage Around a Few Pies-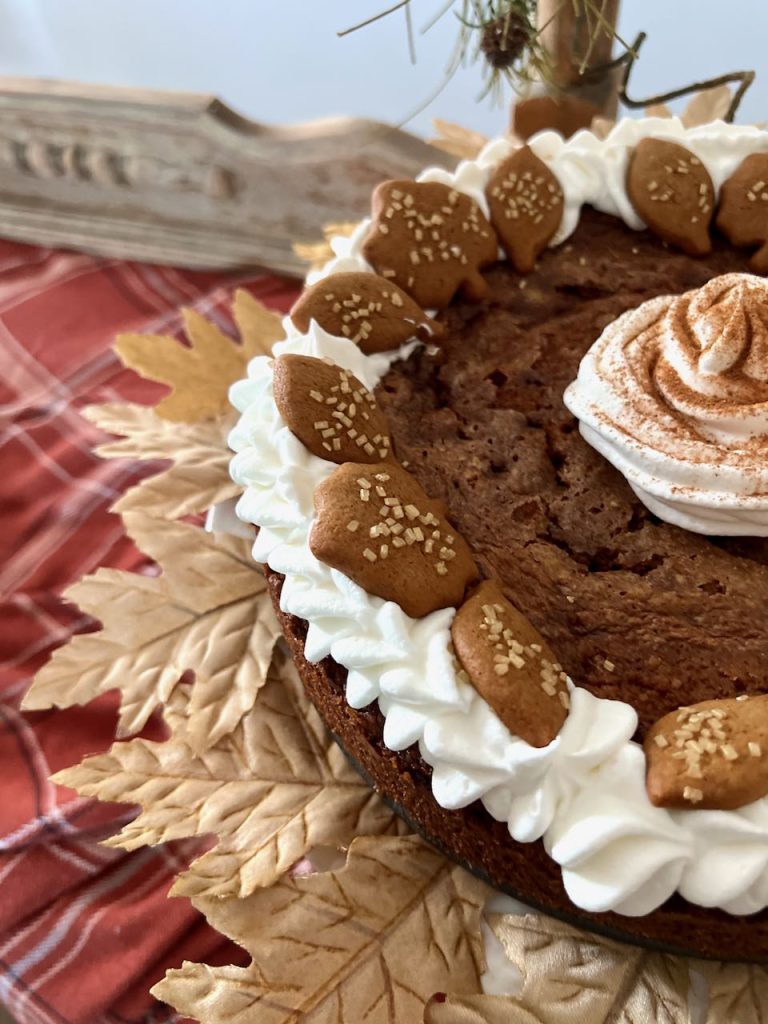 To soften the edges and tie everything together, you can add a layer of greenery, or leaves as I did here, under a couple of the pie dishes.
TIP: Tape the leaves in place on a riser or cake stand then set your pie plate on top of that.
4) Other Details and Party Tips-
Guest Book –
If you plan to make this an annual event, you might consider having a guest book that gets updated each year.
Recipes –
Ask the bakers to bring the recipe and that can be included in the book or just shared on a side table. All guests can snap pictures of the recipes to take home with them. Optionally, you can encourage the guests to leave comments about the pies they tried.
Music –
Don't forget, as with all other get-togethers, you'll want background music playing. Pick the mood and go with it.
I hope I have inspired you either to plan a pie party or to use one of these ideas for another party you may be looking forward to.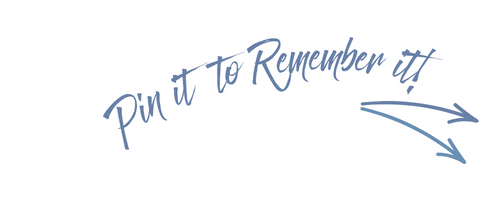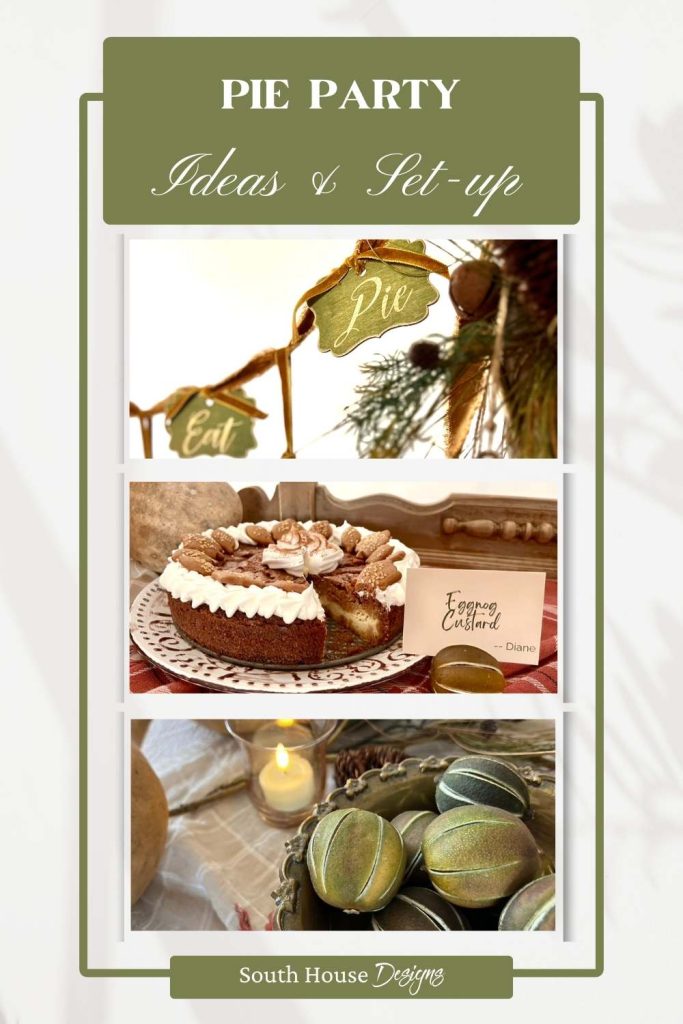 More Creative Pie Party Ideas Await
Click on each of these pictures to see how each different Pie Party was imagined.
Do yourself a favor and subscribe to each one of these gal's blogs. They are so inspiring every single month!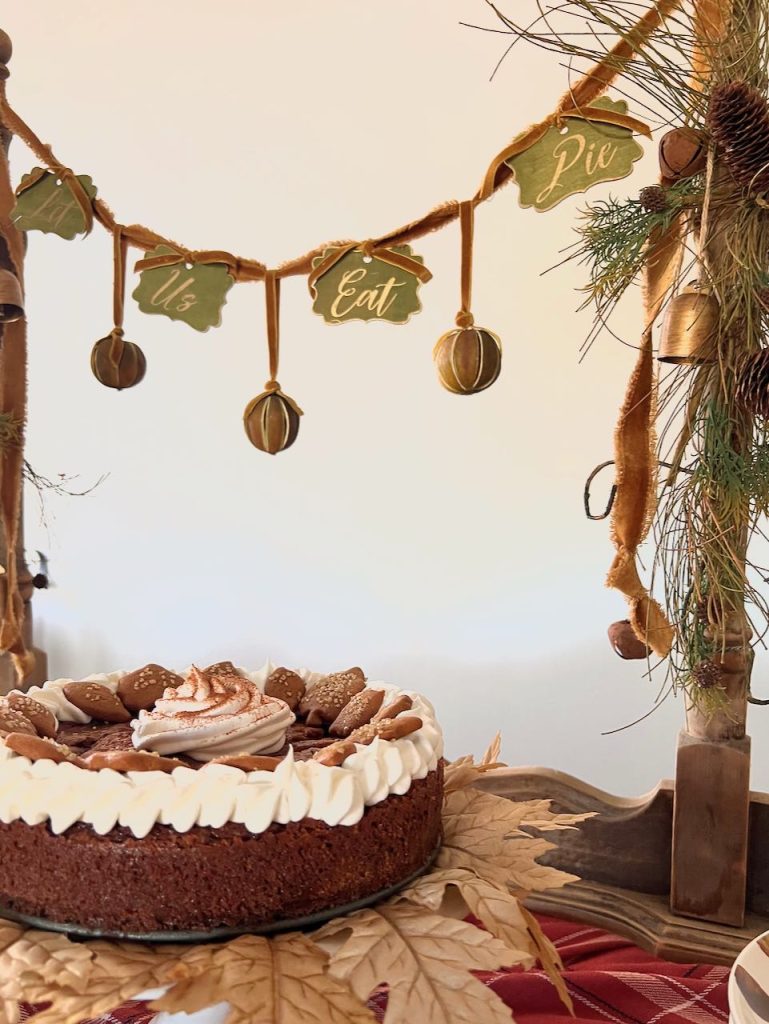 South House Designs (you're here)
Thanks so much for joining our pie parties. Remember to check back on Saturday for the full menu of 6 fabulous pie recipes perfect for this Fall season. Or better yet, subscribe so you don't have to remember.