Easy But Addictive Pumpkin Ooey Gooey Butter Cake Recipe
Oh my! This is not your ordinary ooey gooey butter cake. This a step, or three, above all the others with the addition of pumpkin and all the spices.
In working on this post, I have come to realize it's not necessarily the pumpkin I adore, but rather all those amazing warm spices!
As long as I can remember, I've been on board with anything pumpkin (or sweet potatoes)!
​It hit me this week. It's not so much the pumpkin as it is the spices that always seem to go hand in hand with the pumpkin.
Pumpkin just doesn't seem to stand up on its own. But those warm Fall spices sure do!!!
I learned that the pumpkin is the backdrop and the spices are the true stars. They can perform just about anywhere — ice cream, cookie dough, cinnamon rolls, even a great pork stew — and they elevate every one of them!!!!
Oh, but wait just a quick moment. Did I forget to mention this is Pinterest Challenge Tuesday of the Month. And this month, we are doing things a bit differently. We're still the Pinterest Challenge team, but we are each sharing a recipe this is or is inspired by, a favorite Thanksgiving.
Did Michelle from Thistle Key Lane send you? Doesn't her bourbon pecan pie sound out of the world? I'm going to have to give it a try.
But, however you arrived, know that I am thrilled you are here. We have a lot going on. So I hope you consider subscribing so you will receive notice when new blog posts or videos are published.
Thanks bunches! Now back to our Pumpkin Spice gooey Cake.
Table of Contents:
But today, I'm focusing on
What is Pumpkin Ooey Gooey Cake?
​
Quite simply, The BEST Fall cake . . . ever!!!
Don't believe me? Well a recent group of potluckers voted — with their forks!
Yes that's the ultimate Potluck Prize! A dish cleaned out.
No leftovers, only seconds! And a load of requests for the recipe.
Back to what pumpkin gooey butter cake is. It's a delightfully chewy spicy crust. Actually, "crust" makes it sound like a pie with a crispy or completely different textured component from the filling.
An ooey gooey cake has more of an ombre texture. The bottom layer is more chewy and solid, but it slowly evolves into a lighter, creamier filling towards the top. Between those two extremes it becomes less chewy and solid, but more dense than the very top of the cake is closest to the handle of the fork.
Can you see it above? The base layer is at the end of the fork tines. The light toppin
This blending of textures may be what I love most about this ooey gooey pumpkin cake! Oh, maybe not most. Maybe all the warm spices are my most favorite. No, I'm definitely a texture gal! It's the great satisfying ombre texture!
Back to the Potluck:
It looked like a wreck at the end, but at the beginning:
The parchment paper liner? We all know packaging is function and marketing rolled into one.
That parchment paper is multi-purpose packaging:
Disguises my ugly, boring baking dish
Names the dish so people know what is lurking under all the whipped cream, best if the name is descriptive and fun ("3-alarm chili" vs "chili")
Noted possible dietary allergies — well, in this case, it warned about what it wasn't:

Not gluten-free
Not fat-free
Not dairy free
Not egg free
Not sugar free
WARNING: Known to be addictive

A canvas for easy seasonal, or event related touches
It may not look easy, but I promise it is!
Check out this video showing exactly how I made this one.
I also have a blog post with the "secrets" to upping your Potluck game to rule over your next potluck.
How to Make the BEST Gooey Pumpkin Butter Cake
I'm sure this cake would be wonderful as a scratch made cake.
But I wanted to make a simplified version that does not suffer with a packaged ingredient or two. So I started with the standard boxed yellow cake mix.
And don't get me wrong. It was delicious. That's the one I took to the potluck. It was so delish and such a crowd pleaser, I almost stopped there.
My AHA moment came when I realized that the warm spices are the real star, not the pumpkin.
I wanted to add spice to the base layer, to the yellow cake mix. But wait — Lighhtbulb!!!
Why not use a Spice cake mix instead?
What a difference that one change made.
You can even see the difference!
I also doctored the spices in the pumpkin layer — going a bit bolder! Now it is my favorite delicious Fall dessert.
Let's Walk Through the Steps
Step 1) Grab Your Recipe Card and Gather All the Ingredients
Specific Notes and Tips:
Use full fat cream cheese
Have your cream cheese and eggs at room temperature
Be sure to use Pumpkin puree, not pumpkin pie filling
Any flavor boxed cake mix will do, but ALL those that ate both the original yellow pumpkin version and the new spicy version preferred the spice cake mix version
In a pinch, you could use pumpkin pie spice mix, but you lose control of the proportions of the spices
Powdered sugar, not granulated sugar
KITCHEN SUBSTITUTION: Did you know if you find yourself with no powdered sugar on hand, you can make some!!! Yes, it's true.
Use a high powered blender, food processor, or spice grinder.

For every cup of granulated sugar add 1 Tbsp of cornstarch or arrowroot powder or tapioca flour (even AP flour will work) for a silky texture and to keep it from clumping.

Then blend, process or grind for 2 – 3 minutes. Do NOT open the container immediately. Give it several minutes for the sugar cloud to settle. While it"s blending, you may need to cover the blender or processor with a napkin or towel. If the lid does not fit real tight, The sugar cloud may be able to escape into your kitchen.

The sugar approximately doubles in volume. Save what you don't use in an airtight container.

from my kitchen (during a moment of desperation)
Step 2) General Preparation
​Classic gooey butter cake is usually baked in a 9 X 13 pan. That's what I used for the original version for the potluck.
I made the spicy version in an 8 x 8 pan plus a large loaf pan.
I would also prepare this in a cheesecake pan for a prettier presentation, such as a dinner for 8.
Preheat oven to 350, but adjust the length of time based on your pan size(s).
Lightly grease your pans or line with parchment paper.
Step 3) Prepare the Base Layer, the Cake Layer
If you use a standing mixer, use the paddle attachment.
Melt one stick of butter at a time and let them cool a bit before adding to either layer.
Spread base layer into an even layer and push it down with your fingers
Step 4) Prepare Pumpkin Filling Layer
Cream the softened cream cheese thoroughly before adding the pumpkin. Otherwise it can be hard to get a really smooth texture.
Mix the spices together and add to the first cup or two of powdered sugar to help it be distributed evenly through the batter.
16 oz. of powdered sugar is approximately 3 1/2 cups.
At 350, the 9 x 12 cake pan took about 52 minutes to bake. I think that I should have pulled it 2 minutes earlier for the really gooey texture without the base getting too hard.
Watch your pans closely, Do NOT let them overbake or you loose the desirable ooey gooiness. When the top no longer look like liquid, but it is still jiggly is when you want to take them out.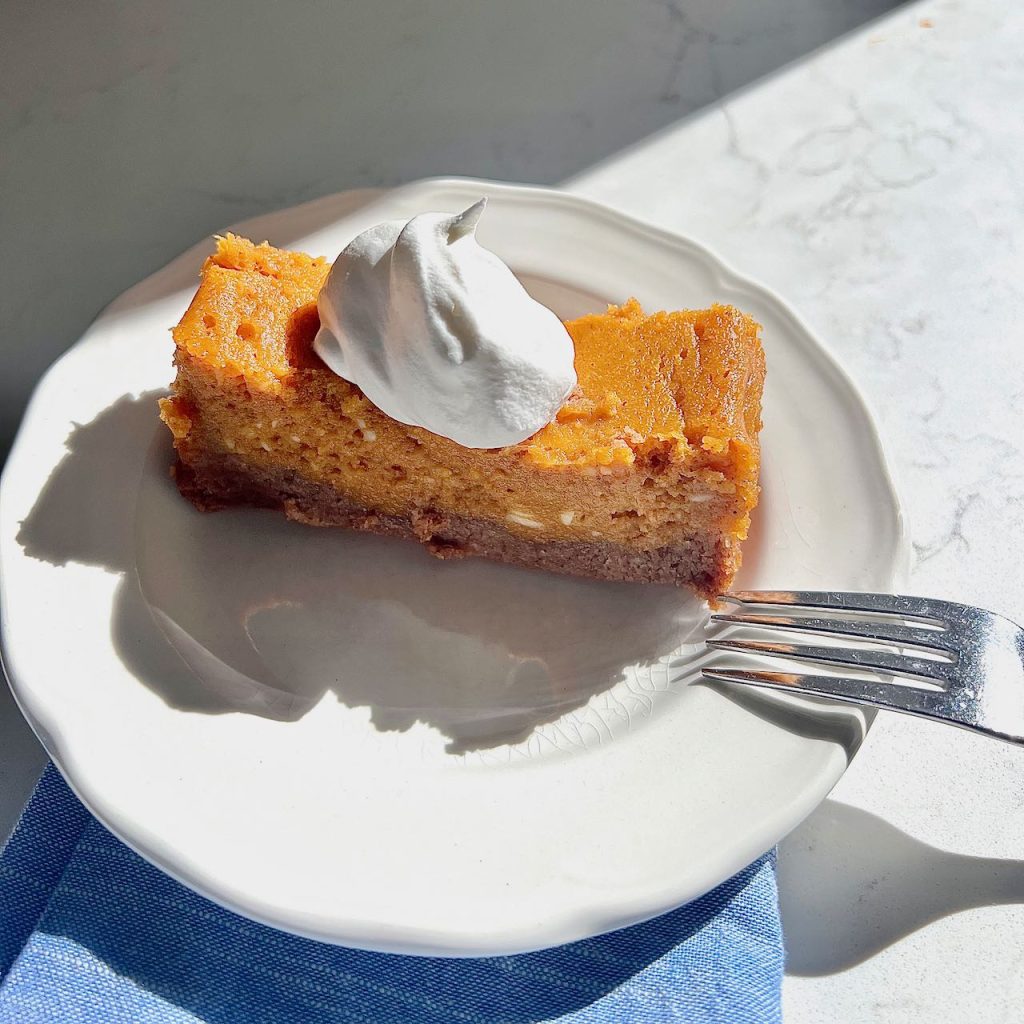 Serving Suggestions
Traditionally, a dusting of powdered sugar is the topping, if any.
For the potluck, once the cake was completely cooled, I piped whipped cream on top and then lightly dusted with a combination of cinnamon and nutmeg.
For when we served the Gooey Pumpkin Spice Cake at home, we plated each serving and then added a dollop off whipped cream on top.
Personally, I'd love to add cinnamon ice cream on top.
But honestly, it is so rich, it doesn't really need anything. So for a weeknight dessert, I would probably serve it plain.
Pumpkin Ooey Gooey Spice Cake
Equipment
Baking Pan

(9 x 13 or 8 x8 + loaf pan or a cheesecake pan)

Mixer

(Standing or hand held)

Measuring Cups and spoons

Mixing bowls
Ingredients
Base
1

box

Spice cake mix

1

Egg

8

tbsp

Butter, melted
Ooey Gooey Filling
1

can

Pumpkin puree

8

oz

Cream cheese

full fat preferred

8

tbsp

Butter, melted

1/2

tbsp

Vanilla

3

Eggs

1/2

tbsp

Cinnamon

1/2

tbsp

Nutmeg

generous

pinch

Cloves

16

oz

Powdered sugar
Instructions
Preparations:
Melt the first stick of butter, cool a bit

Preheat the oven to 350

Lightly grease pans or line with parchment paper
Cake Base:
Combine cake mix, one egg and the melted stick of butter

MIx thoroughly.

Spread in prepared baking pans
Ooey Gooey Filling:
Melt second stick of butter, cool a bit

In a large bowl cream the creamed cheese

Add the pumpkin and mix thoroughly

Add the eggs, vanilla and the cooled butter

Mix thoroughly

In a large bowl, mix the powdered sugar and spices

Working in thirds, add dry ingredients into the pumpkin mixture, blending after each addition.

Spread on top of the spice cake batter base.
Bake
40 – 50 minutes for a 9 x 13. Adjust accordingly based on your pan size(s).

IMPORTANT: Do not overbake! It's called ooey gooey for a reason. It's done when the top no longer looks like a liquid but the center is still jiggly.

It will thicken up a bit as it cools.
Serve
Delicious with whipped cream topping or ice cream, dusted with just a bit of cinnamon and nutmeg.
All the Thanksgiving Inspired Recipes
Do you remember that this is just one of 13 recipes the Pinterest Challenge team is sharing with you today?
Well, it's true! You are in luck, because next on the tour is Barbara at French Ethereal with a fabulous sounding Cranberry Apple Crumble. Tell her I said "Hi"!
A huge shout out to Cindy from County Road 407.com for organizing us month after month.
And here are all the "girls", each sharing a recipe that is special to them: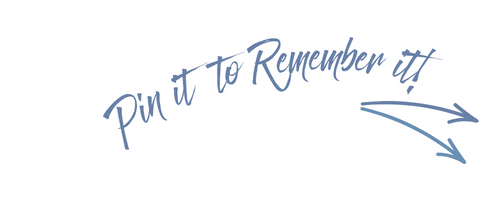 Thanks for joing me and the other gals from the Pinterest Challenge,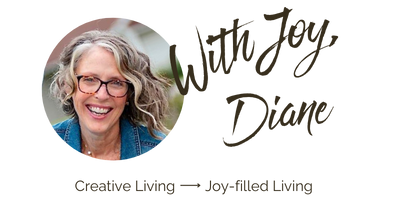 Interested in More Favorite Recipes?