BEST Mashed Cauliflower Recipe vs. Potatoes and Gravy
This mashed cauliflower recipe that will rise above all the rest — they're downright craving worthy!
They taste totally indulgent with their creamy texture and loads of flavor. So good there's no need for gravy!
Jump to Key Points:
Do you prefer video? No problem, we've got ya!
Just click on this image:
Why Cauliflower Mash?
Yes, I know, mashed cauliflower has been trending for quite a while now.
And like so many of you, we tried getting on the bandwagon. Several times.
Yes, each time left us disappointed, because we had to try to like them as a substitute for the well known and well loved mashed potatoes.
This recipe is the reason we are now firmly planted on the bandwagon. My Hubs may be the drivig this wagon, but I'm the publicist riding. in the second seat.
I am sooo glad The Hubs gave Mashed Cauliflower "one more try" and came up with this cauliflower mash recipe.
This version has so much flavor that we immediately stopped thinking of it as mashed potatoes in disguise, but rather a delicious replacement for, or alternative to mashed potatoes.
Not even considering the nutritional benefits), I honestly prefer the flavor!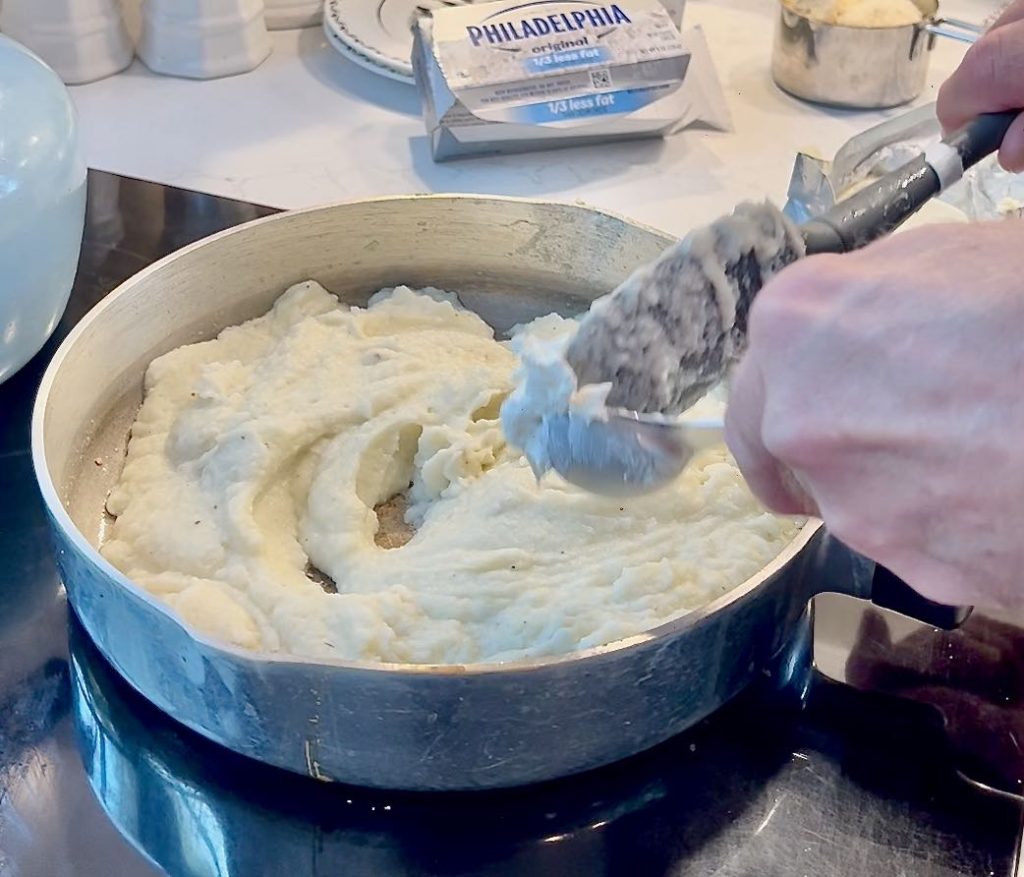 Nutrition Comparison
If you've been hanging out in cave or holed up under a rock, let me just briefly bring you up to date on this trend.
Creamy Mashed Cauliflower is a healthier alternative to traditional mashed potatoes. Primarily due to the carbs. 1 cup of raw cauliflower has 5g of carbohydrates; where 1 cup of raw white potatoes has 12g.
Perhaps even more important is the Glycemic Index score of the two. Cauliflower has a GI score of 10, which is very low. It will not create crazy spikes in blood sugar. However, White potatoes has a GI score of 111, which is higher than pure glucose!!!
And I'll take this comparison a step further by pointing out that who eats mashed potatoes without a generous lathering of gravy. That's because potatoes are rather bland. Sure you can add lots of garlic and cream and butter to help add some necessary flavor. But most of the time you end up adding gravy too.
Not with this — the Best Cauliflower Mash!
There's enough flavor, and it tends to be more creamy anyway, that you won't even miss the gravy. We put our entree with it accompanying natural juice on top of a bed of the mashed cauliflower and all those juices are absorbed right in.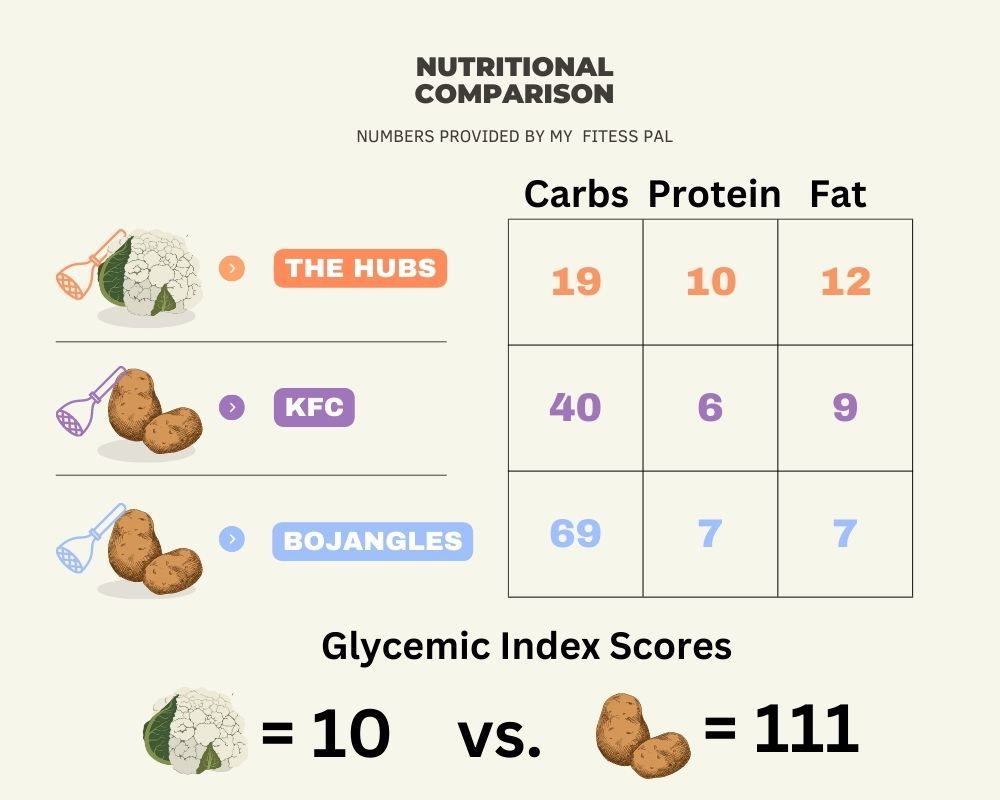 We can compare numbers all day, but really this easy mashed cauliflower recipe is a great way to help keep your blood sugar even, enjoy whole foods, while reducing your carb and increasing your protein intake.
That's a whole bunch of wins and it tastes great too!!!
How to Make the Tastiest Cauliflower Mash
​
Is Mashed Cauliflower Easy to Make?
Admittedly this is easy for me to say since the Hubs has taken over tthe daily meal prep since he retired, but his system is about as involved as making mashed potatoes. But it is a more sure success every time. With potatoes, there is definitely a sweet spot as to how long to cook the potatoes. Too short and they're lumpy, but too long and they become a pile of starchy gumminess.
With cauliflower, you really can't over steam them.
Can Mashed Cauliflower be Made Ahead?
Yes! You can make it several hours or even the day before. Just cover and refrigerate it. Reheat on the stovetop. We use a wide skillet on low so it reheats evenly. If you prefer the microwave, you can sure do that to, just stir frequently and avoid high power.
How Do You Keep Mashed Cauliflower From Being Watery?
​The easiest is to void the issue from the get-go. It will absorb less water if you steam your cauliflower rather than boiling it in a big pot of water. If you don't have a steamer basket, try a sieve over an inch of water in a pot with a tight lid.
If you must boil, let it cool in a strainer and then squeeze out as much water as you can before processing it.
Now, if it's too late and it's already a bit thin and watery, you can spread it in a large skillet and on medium to low heat, slightly simmer it to evaporate the water. Be sure to stir it frequently.
Or you can thicken it with a roux of a bit of flour or cornstarch just as you would traditional mashed potatoes. For me, that means extra work and it does not enhance the flavor and tarnishes the nutritional value just a bit.
So do yourself a favor and steam and strain and you won't need anything else.
A quick question: Are you enjoying this post? Please consider subscribing and banish FOMO!
Now back to the yummies!
Equipment Needed:
a steamer basket is recommended, see note about how to keep your cauliflower from being watery.
blender or food processor is preferred. In a pinch, you can use an immersion blender or a potato masher.
large skillet, or a pot will do
This is the basic recipe we work from. But we often change out, or add ingredients rather freely
The Hubs' Best Darn Mashed Cauliflower
Ingredients
1

head

Cauliflower

2 1/2 – 3 pounds

3

tbsp

Butter, unsalted

7

cloves

Garlic, peeled

or more if desired

2 – 3

tbsp

Cream Cheese

or sub sour cream

3/4

cup

Grated Parmesan Cheese

Salt and Pepper

to taste
Instructions
Trim and discard all leaves, wash and cut cauliflower into florets, strive for equal sizes

Add Cauliflower florets to steamer basket over water. Cover and steam over medium-high heat for 12 – 16 minutes, until largest florets are tender.

Transfer florets to a colander to drain.

Meanwhile saute peeled garlic cloves in butter in a large skillet.

Transfer drained, and slightly cooled cauliflower to blender or food processor. Add the sautéed garlic and melted butter. (set the skillet to the side, don't wash it yet) Process with a pulsing action, scraping down the sides regularly. Continue processig until cauliflower and garlic are smooth and creamy.

Transfer cauliflower back to the large skillet. Over low heat blend in 2 – 3 tbsp of cream cheese. stir while it melts. (NOTE: you can substitute another fat such as sour cream if you prefer) and the parmesan cheese. Continue stirring periodically while the cheeses melt and fully integrate and while you finish the rest of your meal prep.
Notes
This can be made a day ahead and stored covered in the refrigerator. Heat over low heat in a large skillet, stirring periodically.
Serving Suggestions
Pair this mashed cauliflower with a wide range of entrees:
pork tenderloin medallions
shrimp scampi
beef stroganoff
baked chicken
Shepherds pie
We particularly like it with slices of pork tenderloin or baked chicken that have some meat juices.
Expand on the carb replacement idea. Instead of replacing just mashed potatoes, we replaced the linguine under Shrimp Scampi. Oh my!!!
Beef stroganoff would be fab. And how about topping your favorite shepherds pie recipe?
The cauliflower mash is very amicable to all kinds of flavor additions and garnishes:
a drizzle of olive oil or extra butter
chopped fresh chives
chopped fresh thyme
chopped green onions
roasted garlic (is it possible to have too much garlic)
Roasted red peppers
Caramelized onions
Crumbled bacon bits
Like the idea of caramelized onions, but don't like the 20 minutes they take? Caramelize them in bulk — in a crock pot == and freeze little packets like I do here.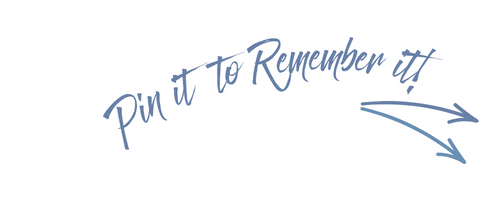 I hope you are inspired to give mashed cauliflower another try! Just don't think of them as mashed potatoes, but rather as an even tastier sub for a creamy side. Experiment with the flavors and share in the comments your favorite versions.