Easy to Make Shamrock Meringue Cookies for St. Patrick's Day
Meringue cookies are fun, festive, and lucky for us, surprisingly easy to make! You'll be whipping up these yummy melt-in-your-mouth treats for every occasion. But let's start with Saint Patrick's Day when all food and beverages go green.
What are Meringues?
Meringue is know for its stiff peaks of light sweetness. Think lemon meringue pie!
Individual meringues are simply a dollop of meringue, usually with a signature twisted peak, or they can be piped into fun shapes.
Meringue develops a delicate crispy exterior with air pockets and a meltaway interior.
Meringue itself is basically three simple ingredients:
Egg whites
Sugar
Cream of tartar (or lemon juice or vinegar)
And optionally, salt, flavoring, color.
There are three main versions of Meringue:
French — the simplest and what I'm covering in this blog post
Italian — heated method, softer and denser than French
Swiss — not as common, often used as a base for buttercream
For the most part, they use the same ingredients, but the methods differ.
So What Makes Meringue Cookies a Favorite?
Wow, where do I start? They are one of my favorites because:
They are a delicious, easy treat
It's a super easy recipe
Made with just a few kitchen staples
Easily colored and flavored
Can be piped into almost any shape
Visually fun for festive celebrations
Light, melt-in-your-mouth texture
Sweet, but not rich and heavy
zero fat, zero cholesterol
Minimal prep time and measuring
Make ahead, store in an airtight container
Easy recipe to scale
I also find them easier and less time consuming than sugar cookies. With these St. Patrick's Day cookies, there's no need for making sugar cookie dough ahead of time, then having cookie cutters and royal icing and all the decorating time.
Are Meringues Used to Makes Macarons?
The sandwich cookies parts of macarons are often confused with meringues. They are similar, but different.
The macaron sandwich cookies also contain almond flour and powdered sugar vs. granulated sugar. And of course they are piped differently.
So Are Meringue Treats a Healthy Dessert?
As far as desserts go, they are on the healthier end of the spectrum. But it's a bit of a stretch to call them truly "Healthy". (Bummer, I know)
Although they have zero cholesterol and zero fat, they do have a fair amount of sugar, but surprisingly low calories as the sugar is extended by the whipped egg whites.
In this case, the one cup of sugar I used created 24 4-inch shamrock cookies.
For a true dessert, rather than fun cookie treats, you can use this same recipe to make pavlovas. Pipe the meringue into small "nests" or bowl-shapes. Then fill them with fresh berries and a bit of whipped cream.
It's an impressive piece of delicious heaven without all the guilt. A great substitute for pound cake or shortcake under your strawberries and cream.
Meringue Treats are Perfect for Any St. Patrick's Day Party!
This basic meringue recipe will be a showstopper with a couple of tweaks:
Flavored with mint extract
Tinted with green gel food coloring
Piped in a shamrock shape
Optionally top with green sprinkles or gold sprinkles
Are you convinced yet? Good! Then let's get to it!
How to Make Meringues
Time Required-
With minimal ingredients and minimal measuring, the active part of this recipe is quick.
But they bake long and slow! And it's best if they cool slowly too. When you turn off the oven, you leave them in the oven to cool down along with the oven.
They are also known as Forgotten Cookies. Yes, exactly what you are thinking. You leave them in the oven cooling and tend to forget about them.
And that's okay! No harm will happen as long as you remember to take them out before preheating the oven for its next task.
Because of the cooking and cooling time, it's best to make these ahead and store/hide them in an airtight container.
How Long Do Meringues Last?
They don't last long once they're found! But if you hide them well enough in an airtight container, they last for two weeks.
No need to refrigerate!
Pause: Are you enjoying this post. Would you like more? Please consider subscribing. YOU sayy how much is right for YOU.
And subscribers now have access to a free printables library — including the shamrock outline pages I use here.
Thanks bunches! Now back to the Meringues:
Suggestions to Streamline the Process:
First thing, separate your eggs. I think they separate easiest when they are cold. And the white will warm to room temperature faster in a bowl than in their shells.
While you're waiting on those egg whites to get to room temperature you can do the few prep things on the list:
Preheat the oven to 225 degrees
Cover two or three cookie sheets with parchment paper
Print out the shamrocks on printer paper – one copy of each page is enough. In the printables library are four pages of shamrocks — a three-leaf and four-leaf version in each of two sizes. I used the larger size. The pages I used are in the Subscribers Free Printable Library.
Prep your piping bag or a plastic bag.
If piping bag, fit it with a tip and turn down the top by 1/3 – 1/2
If plastic bag, fit into a tall glass and fold the top of the bag over the top of the glass – do NOT cut the tip until it is loaded and you are ready to pipe
Do You Prefer Video?
My Got-To Meringue Recipe
Shamrock Meringue Cookies
Melt in your mouth meringue cookies that are fun, festive, and lucky for us, surprisingly easy to make!
Equipment
Mixed with whisk attachment

Parchment paper

Cookie sheets

Spatula

Measuring Cups and spoons

Piping Bag and tip or a plastic bag

Shamrock Printouts

available in my printables library
Ingredients
4

 large egg whites at room temperature

1

cup

sugar

1/4

tsp

cream of tartar

pinch of salt if desired

1/2 – 3/4

tsp

vanilla extract or other flavor

Food coloring, green

NOTE: Gel or paste food coloring ONLY
Instructions
Separate your eggs into a clean, dry small bowl. Then transfer to the clean, dry large bowl of a standing mixer

NOTE: It is critical that the utensils you use be clean and dry! If there is a bit of yolk or leftover grease of any kind, your whites will not whip properly.

Now let your egg whites sit until room temperature.

While you're waiting on those egg whites

Preheat oven to 225 degrees (yep, low and slow)

Set racks at top third and bottom third of oven.

Print your shamrock outlines and lay them on your baking sheet.

NOTE: Two sheets is helpful. This printout is available in the Subscribers' Free Printable Library.

Cover cookie sheets and the Basketball printouts with parchment paper

Add the cream of tartar to the egg whites

When egg whites are room temperature, beat the mixture.

Start at medium speed and work your way up to highest.

Scrap the sides and bottom of the bowl as needed.

Once your egg whites are soft peaks, add the flavoring of your choice.

Now add the sugar a tablespoon at a time, waiting 30 – 60 seconds between each addition. This allows the sugar to dissolve and become fully incorporated.

Continue beating at highest speed another 6 – 8 minutes until stiff peaks form.

The peaks will transform from soft to stiff at this stage. You should be able to twirl your spatula in the batter and lift out a peak that will stand upright.

Don't worry. It's really not possible to overbeat this like some frostings.

Tint your meringue.

To get the marbled effect, I used two different shades of green and only partially mixed them. Towards the end, they were more solid color as the colors will continue to blend together in the piping bag.

Following the printouts, trace the outline and the fill the interior, making the stem thicker and a bit wider to strengthen it a bit.

Bake for 90 minutes.

Halfway through rotate your baking sheets front to back and top to bottom.

Cool.

At the end of the 90 minutes baking time, turn off the oven.

Leave the cookies in the oven for 30 minutes with the door closed to let your cookies cool down slowly while the oven cools down.

Store.

Once completely cool, store in an airtight container for up to 2 weeks.
Bonus: Super Easy to Scale This Recipe-
For every two egg whites, add 1/2 cup sugar, 1/8 tsp cream of tartar. and a generous 1/4 tsp flavoring.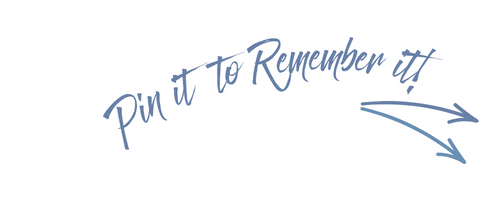 Please do us both a favor and pin this!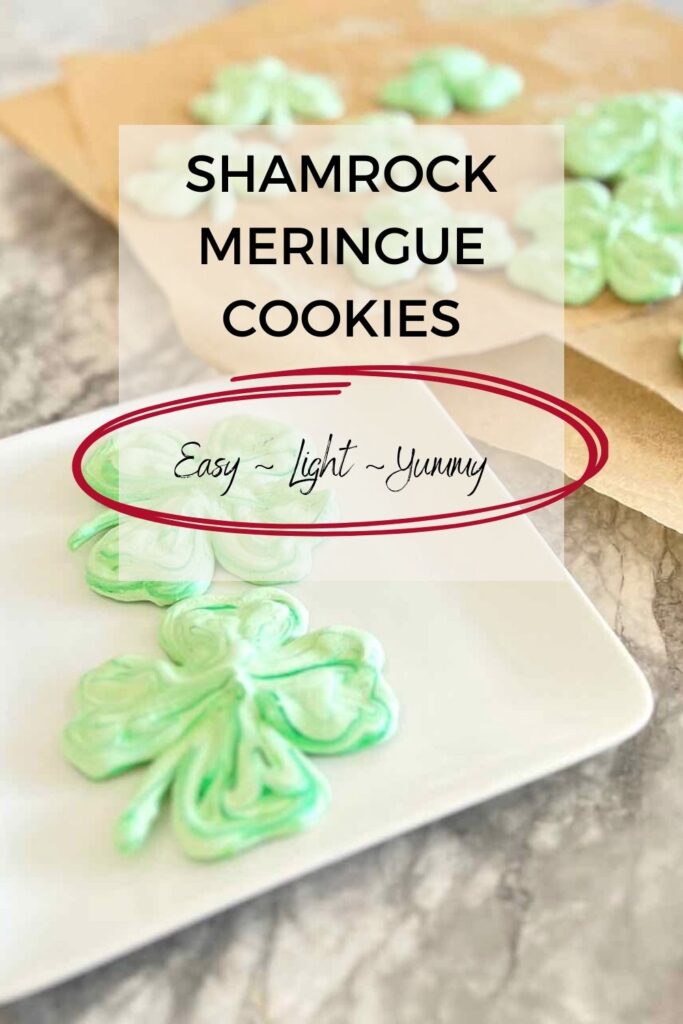 Would You Like More Recipes?
I hope this inspires you to try meringue if you haven't yet. Kids love making meringue ghosts add two mini chocolate chips for the eye.
Aren't these fun!