Eggnog and Gingerbread: Two Holiday Favorites in One Fab Pie
'Who can argue with eggnog custard pie for the holidays? But add in a gingerbread crust and there is no discussion. It's the unanimous winner!'
It's the holiday season and you need a delicious dessert, right?
But perhaps something a bit different than traditional pumpkin pie or pecan pie — both delicious. But both very predictable.
If you want to offer up a new holiday pie, but not push family and friends too far outside the traditions of the season, you can stop scrolling now!!!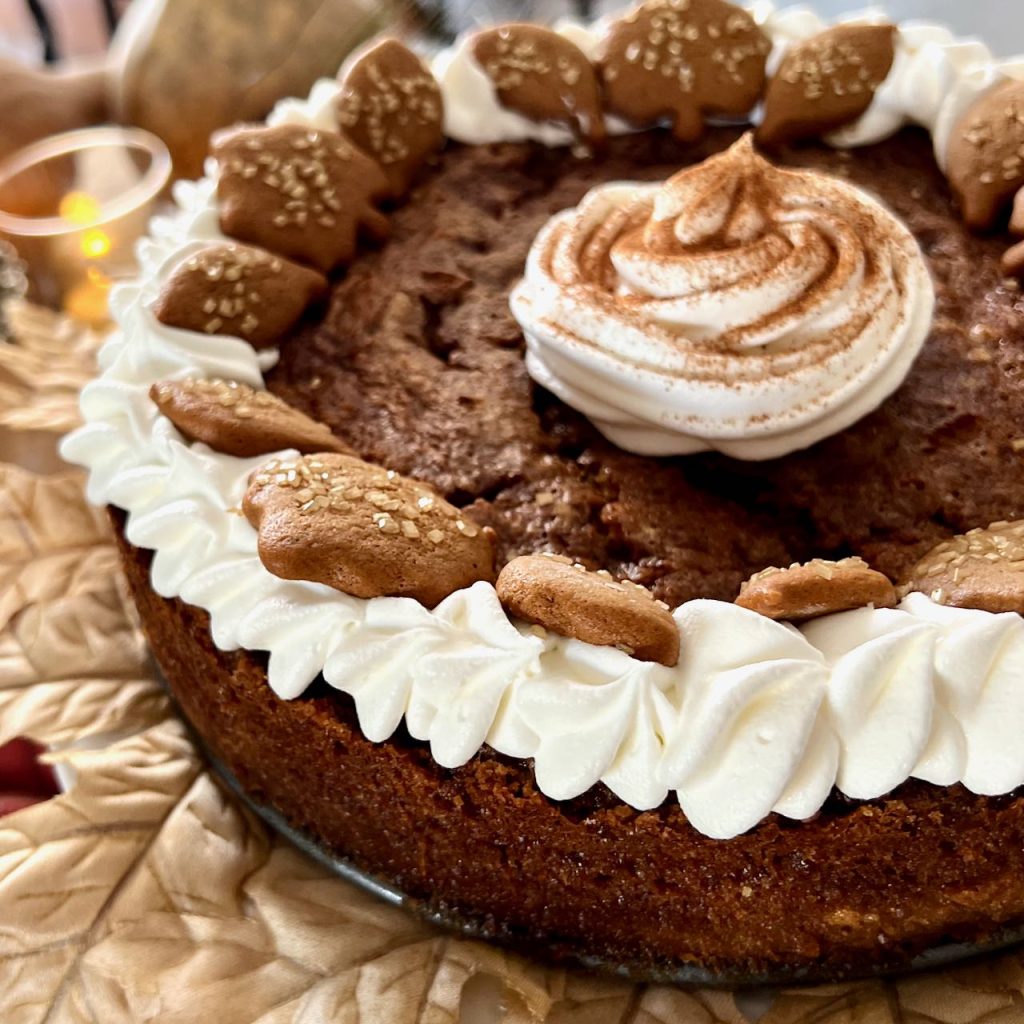 This pie feels decadent with its rich creamy texture. One bite and you know it's not pumpkin. Yet the flavors are very familiar.
Add in the gingerbread crust to the eggnog filling and you're like "Holy Moley, I just ate Christmas"
As much as your guests will love it, YOU will love baking it even more.
I always thought of a custard-style pie as being finicky and time consuming to make. It's NOT! You don't even need an electric mixer.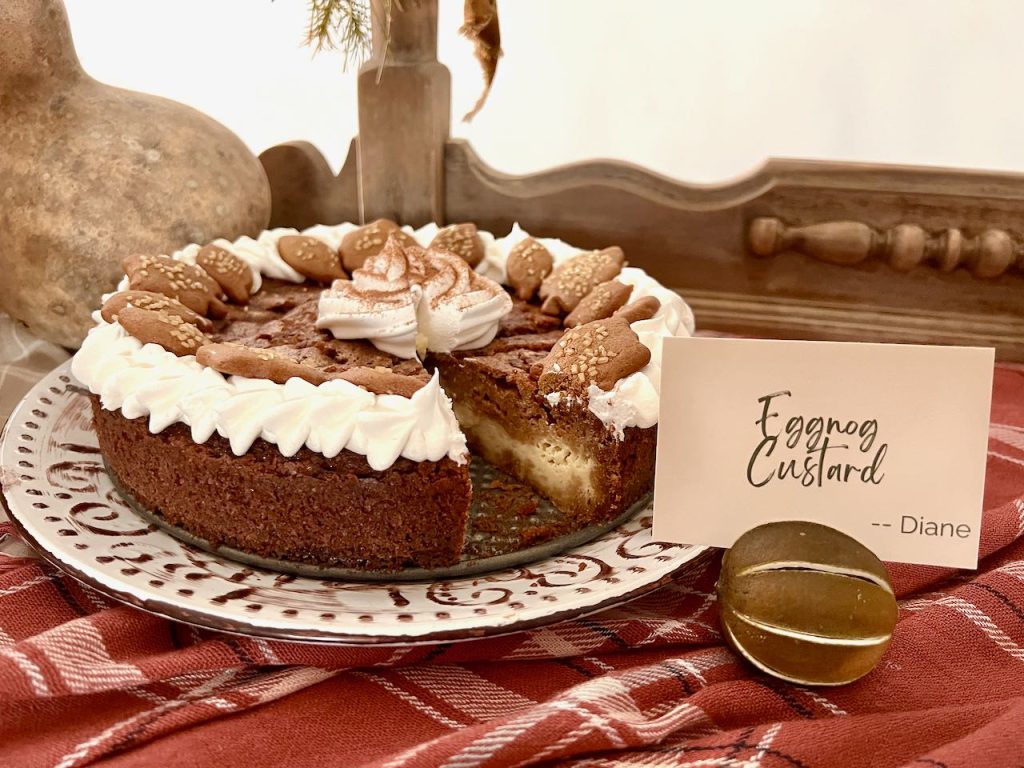 Decadent Eggnog Custard Pie
Buttery smooth, eggnog rich custard pie with a tingling of those warm holiday spices we all love. But made even better with the accent of a gingerbread crust. Two favorite holiday flavors in one pie — match made in holiday heaven!
Equipment
Large Mixing Bowl

Food processor, grinder or rolling pin

Measuring Cups and spoons

Whisk

Spatula

Pie pan or cheesecake pan or two loaf pans
Ingredients
For Gingerbread Crust
2 1/2

cups

ginger cookie crumbs

2

Tbsp

Brown sugar, preferably dark brown

1

tsp

Cinnamon

1/2

tsp

nutmeg

6

Tbsp

butter, melted
Eggnog Custard Pie Filling
2 1/2

cups

Eggnog

1/4

cup

Spice Rum or Dark Rum,

or 1 Tbsp Rum extract

4

Eggs, room temperature

1/2

cup

granulated sugar

3

Tbsp

Cornstarch

1/4

tsp

nutmeg

1/8

tsp

cinnamon
Instructions
For Pie Crust
Spray or wipe baking pan(s) with shortening or butter

Using a food processor, in pulse mode, crumble your gingerbread coolies to fine crumbs. Add brown sugar and spices, pulsing again until well mixed. Add melted butter that has cooled slightly. Pulse again until combined.

Transfer mixture to your prepared pie pan(s). Press firmly and evenly across the bottom and up the sides.

Bake for 5 minutes. Cool completely.

NOTE: Crust can be refrigerated at this stage for several days.
For Eggnog Custard Pie Filling
In a large mixing bowl, combine sugar, cornstarch and spices until fully mixed.

One at a time whisk the eggs into the sugar mixture

Stir in the eggnog and rum until fully combined and incorporated.

Pour the eggnog custard into your prepared crust.

Bake for 45 – 55 minutes. It's done when the edges are set and the center has just a bit of jiggle left to it.

NOTE: Do not underbake. if in doubt give it a bit more time.

Cool on a wire rack. When completely cool, refrigerate overnight. It's always better the next day.
Serving Suggestions
Serve cold or at room temperature.

Add a dollop of whipped cream with a dusting of nutmeg and cinnamon on top.

A few small ginger cookies make a cute garnish.
Recipe Notes
Short Cuts-
I wrote the above recipe using two big short cuts:
Store-bought eggnog
Store-bought ginger snaps
If you're a serious eggnog lover, feel free to sub in homemade eggnog.
Likewise, If you are partial to your homemade gingerbread or ginger snap cookies, sub them in for the store bought cookie crumbs. You'll want a dough that is NOT soft and chewy.
Gingerbread Crust Notes-
Here, the terms gingersnap crust and gingerbread crust are being used interchangeably.
Any gingerbread cookies or gingersnap cookies will do.
This crust is essentially the same as a graham cracker pie crust, but with the warm flavors of ginger, cinnamon, nutmeg and cloves.
Adjust the quantity of melted butter as needed based on how much your particular gingerbread crumbs soak it up. You want your crust just moist enough to stick to the walls of your pie tin or baking dish.
If you prefer a pastry crust, by all means, go for it. But consider adding those wonderful warm gingerbread spices into the pastry dough.
Please excuse this quick pause. If you are enjoying this post, please subscribe to make sure you don't miss any and for 24/7 access to my FREE Printables Library.
Many thanks! Now back to the recipe notes
Pie Filling Notes-
In place of of the rum, use your alcohol of choice, or none at all, substituting the rum extract instead.
The next time I'm going to use Rum Chatta.
Yes, It really is as simple as the recipe spells out!
The pie filling is rather thin. Set you r chosen pie plate or substitute on a sheet pan, then pour you filling in. Use the sheet pan to catch any drippings as you carry it to the oven and while it bakes.
I used a cheesecake pan when preparing the pie for this post. It worked, but a fairly significant amount leaked through the bottom lip. Thank goodness it was sitting in the sheet pan to collect all the seepage.
I like the look off the cheesecake pan, so next time I'm going to try lining the pan with parchment paper.
​This is one of those weird baking recipes where it is actually better to bake a bit too long than to underbake.
Serving Notes-
Place your pie on a cooling rack and allow it to cool completely. Cover with plastic wrap and store in the refrigerator.
I think it's best the next day. Serve it cool or at room temperature. My personal preference is room temperature.
I love old fashioned whipped cream — particularly if it is cinnamon flavored. Yep, the one made with heavy whipping cream, powdered sugar and cinnamon.
And if I really want to fancy it up, I add sweet little gingerbread cut outs with gold sprinkles — leaves early on changing to stars as we get into December.
Some might like ice cream as an alternative. And there is always Cool Whip or the canned variety of whipped toppings.
TIP: don't forget the winning step that takes such little effort — dust the whipped cream with just a hint of cinnamon and nutmeg.
What a difference for such little effort!!!
Other Notes-
As empty nesters, I rarely make whole pies. This recipe works great split between two loaf pans. It's still delicious, the slices are just a different shape. We have one to enjoy ourselves and we share the other with neighbors.
Prepping Ahead-
Most custard or creme filled pies do not freeze well. They tend to become watery as they thaw, like pumpkin pie.
I have not tried to freeze this pie because it is such an easy filling to put together and only uses one small corner of the kitchen counter — which we all know is at a premium during the holidays.
This pie is best baked a day or two ahead and stored in the refrigerator. So that's good.
To work ahead, I do make the crust and partially bake it up to two months ahead, wrap it tightly and freeze. Then I measure out the sugar, cornstarch and spices into a zipper bag or airtight container. Label it and store it in the pantry.
Then the day before the party or gathering, all I have to do is pull the crust from the freezer, whisk in the eggs, eggnog and alcohol and bake.
Enjoy!
Backstory: Virtual Pie Party
I came up with the recipe for a virtual Pie Party!
Five of my favorite bloggers have been holding a monthly supper club since January of 2021. Each month they have a chose theme and each decorates and sets a table and share their posts together. Two days later, they share the menu for the supper club with each blogger contributing a different course.
This month I was thrilled to be their guest contributor for . . . . . you guessed it, a Pie Party.
Let me tell you, I am all in on Pie Parties now!!! If you're intrigued jump over and check out the pie parties .
Hard to believe, but there are some who don't love eggnog. So along side this pie, I suggest this Pumpkin Spice Gooey Butter Cake!
As you have holiday entertaining on your mind, you might appreciate my 17 Tips For a Beautiful + Functional Christmas Buffet Table.
The happiest of holidays to all the my fellow eggnog lovers (and non's)