When I am asked how to hang Christmas stockings, I honestly shy away from sharing this method, because it just sounds crazy!
I know it! It's nutso . . . . . . . . but it works!
YES, I really truly do sometimes hang my Christmas stockings with angle brackets.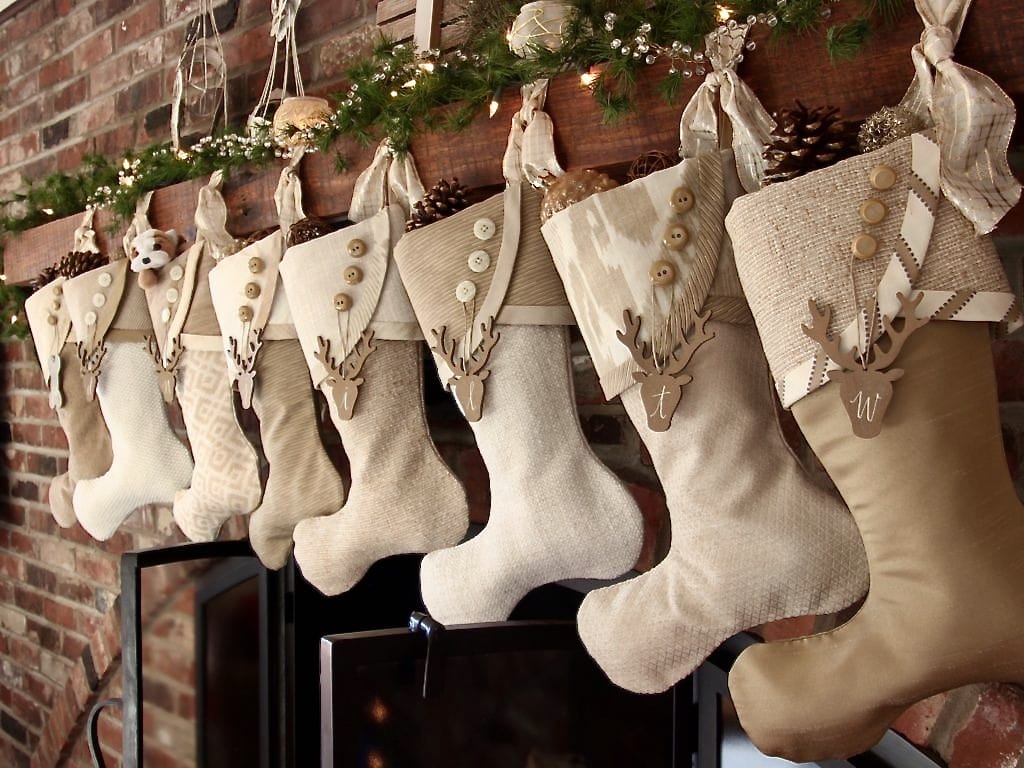 It started with our wonderful new downstairs fireplace wall. It's this great old brick and the mantel is a weathered old chunk of dark wood with iron brackets. All of my usual tools were not working that well on this fireplace.
I could have just put nails in that distressed wood, but sometimes I'm styling 6, sometimes 7 and often times 8 stockings for South House Designs photos. But then the real holidays arrive and I hang 5 stockings for our family. That's a lot of distressing stressing me out.
I realized there was a smidgeon of room between the mantel and the brick. And, yes, the smidgeon varied fairly dramatically.
So here's how it works: How to Hang Christmas Stockings with Angle Brackets
Use the longest legged brackets you can find.
Thread a ribbon through the end hole on one leg of an angle bracket.
Wedge the other end of the angle bracket down between the wall and the mantel.
That's it! Super simple right?
The trick is for your ribbons to hang over the top edge of the mantel. The weight of the stocking pulling across the mantel will keep the bracket in place. If you lift, up it will come right out.
This brick wall has a lot of variation in the brick, so some places we added a bit of duct tape around that leg so that it fit snuggly.
Now you have a nice unobstructed mantel waiting for your creative touches.
CAUTION: An adult should be ready to take the stockings down Christmas morning by reaching behind the finery and pulling up brackets and sliding out through anything in their path. Or if you tie your stockings with bows as I did in the pictures below, have the adult untie the bow while the child holds the stocking.
Be sure to check even if you have drywall. Our upstairs mantel is the same, no caulking between the wall and the mantel. I've been able to use this method on both mantels — double bonus!!
This is my fourth (and final . . . . I think) installment of How to Hang Your Christmas Stockings. Check out the others here, here, and here. Decide which one will work best for you.
Prepare early (while it's too hot to be out for long stretches anyway) and have your mantel ready to to break insta . . .
. . . . . or at least make your family stop in their tracks and happy dance.

Now you can go crazy planning your mantel display!
Wishing you the merry best,
Diane