How to Style a Great Display (or Vignette)
Use this guide to style great displays or seasonal vignettes every time! It's easier than it looks (or sounds). For every decor style!
Styling a great display or vignette can be daunting.
Don't know where to start? I know. I get it!
That's why I created these guidelines to help me — AND YOU — win at the vignette styling game every time.
Styling a Great Seasonal Display is Easy With a These Style Tips:
Vary your textures
Vary finishes including matte and glossy
Mix linear and curved
Use common color theme
Add textile
Incorporate negative space
Layers- Build up AND build out
A triangular shape is particularly effective
Start by gathering your options for your display.
Check over the guidelines and be sure to find different different shapes and textures, Maybe some faux plant materials or other bits of nature. Add some textiles if you can. Try for a uniting color to run throughout.
Start with a tray, a stack of books, a ledge or a tabletop. It doesn't really matter just know your "canvas". What space are you wanting to fill?
The tiered tray I am using, actually sits flat on the counter, but I thought it needed a bit of air under it. Check out how I made the riser it is sitting on.
Add your "foundation" pieces. These are the supporting actors, but they provide a lot of structure.
Sometimes, I add the "filler" after the highlights of the display are in place. But with the shape of this tray, I need the filler in first to support the little "stars of the show" above the high edges of the tray.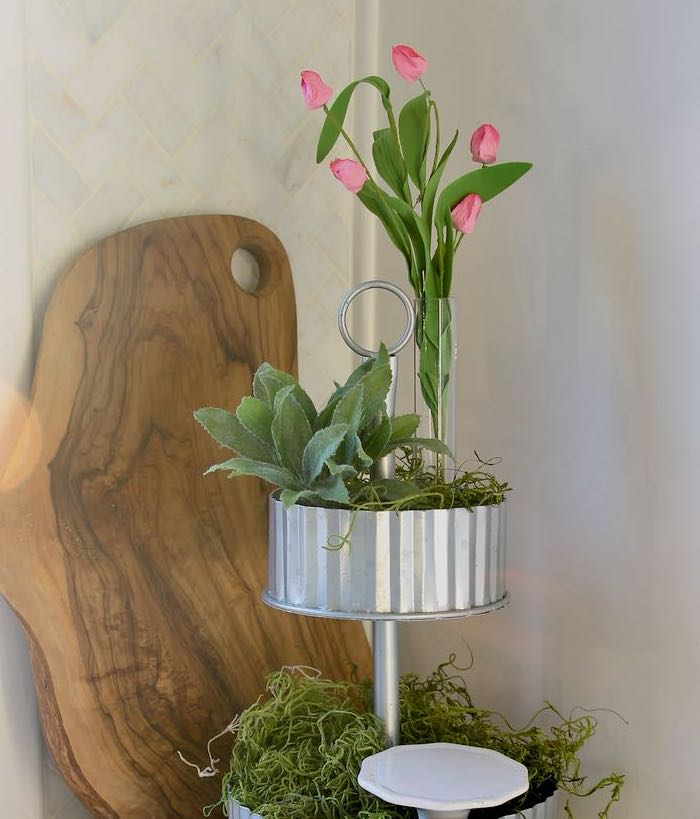 Now that you have your "canvas" primed, it's time to add the fun stuff. I started with some pink buds and bright green leaves in that top bud vase. As you will see the bright pink and verticality of those buds references the bright pink and verticality of the bunnies' ears, this helps to keep the eye moving around the display. It's cohesive, but also has variety to keep it interesting and from becoming stale.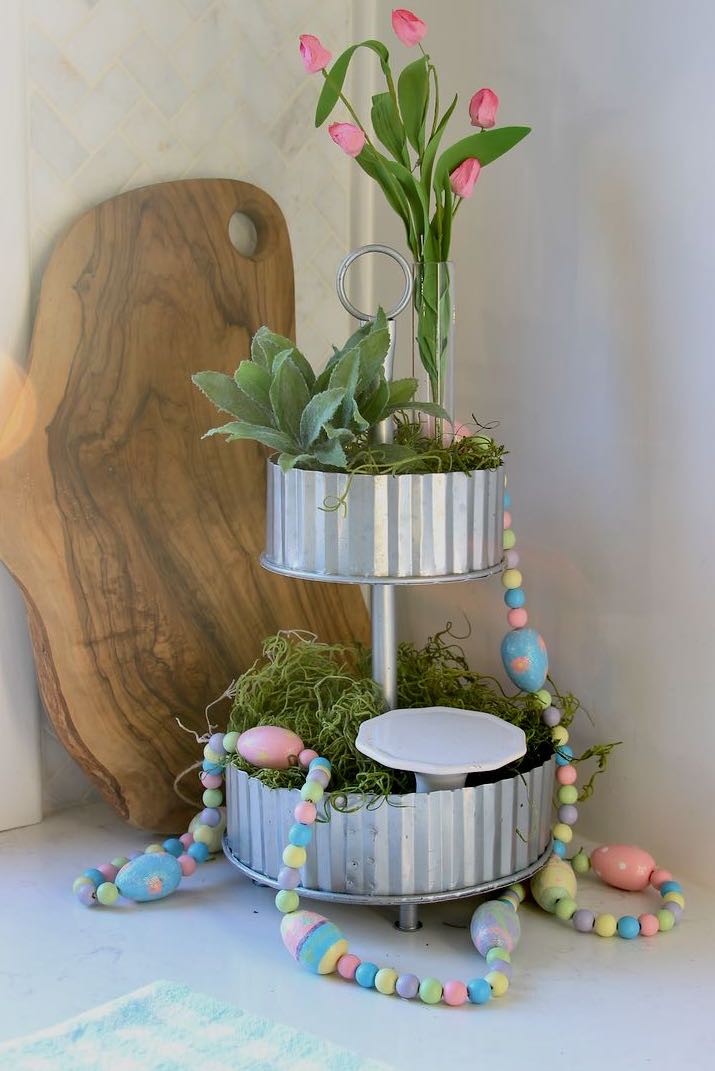 I'm using the Easter wooden eggs and beads garland as the element to keep your eyes moving, to connect the whole display.
Last I need to fill "center stage",  the white cupcake stand that is the focal point. First, I tried the silver bunny with the clear bud vase with purple buds.
The silver of the bunny seemed out of place and I already had so many vertical elements with the top bud vase, the galvanized center post with ring handle, and certainly the three adorable bunnies with the giant vertical ears.
I thought I needed a strong change in texture and something more horizontal in scale. Texture should be something smooth as the tray is ridged, the filler is very textured, the bunnies are full of texture, even the eggs on the garland are glittered and textured. A smooth egg would work, but one large enough to fill that cupcake stand would be way out of scale with the other elements, but three smaller eggs on a nest of Spanish moss would work great.
Let's "Grade" my Vignette:
I couldn't get all eight completely in — mainly due to restrictions of the scale of my tiered tray. But that's okay, you don't need to have all eight every time.
Vary your textures –  From smooth eggs and beads and glass bud vase and cupcake stand to ridged tray to rough moss filler, sage leaves and carved bunnies
Vary finishes including matte and glossy – high gloss of bud vase and cupcake stand, shine of galvanized steel to matte of Spanish moss and sage leaves
Mix linear and curved – The garland (not just the beads, but also how it pools on the counter) and the eggs are all about the curved, and the ridges of the tray and the ears of the bunnies and the bud vase and buds are all vertical
Use common color theme – not a single color, but somewhat a common thread of spring pastels. The bright pink of the buds strays a bit from it.
Add textile – Not much space for textiles in this tight kitchen countertop corner. For the picture, I did stage a kitchen towel on the counter, but we know it won't always be residing there — certainly not all clean and folded nicely ?.
Incorporate negative space – There is a bit of negative space, as I didn't pack the tray full beyond the filler. There is more negative space in real life as the cutting board is not typically there, I just needed to cover the oh-so-necessary-but-also-annoying outlet and switchplate that is very distracting in photographs.
Layers- Build up AND build out – Check and check! I even spilled over on the kitchen counter a bit as I felt I needed the space between the bunnies and their big ears. I couldn't eliminate one of the bunnies because I have three kiddos. You get it, right?
A triangular shape is particularly effective typically, I would draw the triangle on the final picture, but this one is so obvious I don't want to insult you.
Here is another example, wildly different example of a vignette I built using these same style guidelines.
I encourage you to go through your pin boards or as you are scrolling other blogs or magazines and you come across a vignette or display that you like, pull up my Vignette Styling Guide (hint: pin this post so you can find them again) and see how many they met. Chances are, if it caught your eye, if it made you stop and study it, they probably included quite a few if not all.
And with these as your reference, your next display or vignette will look amazing too.