How to Turn Taper Candles Into 3 Wick Decorative Candles
Here's how to perform a little magic with decorative candles, where three tapers become one better, brighter, cheaper pillar candle.
Ever need a quick and easy way to add candlelight to a seasonal display or to a tablescape?
But you don't want to spend a bunch of money, and ouch, pillar candles can be so expensive! But a single taper just isn't enough.
Are you like me? Looking for ways to
Minimize Spending but Maximize Impact
I'm glad you're here. Have a seat and let's talk candles on our way to becoming best buds!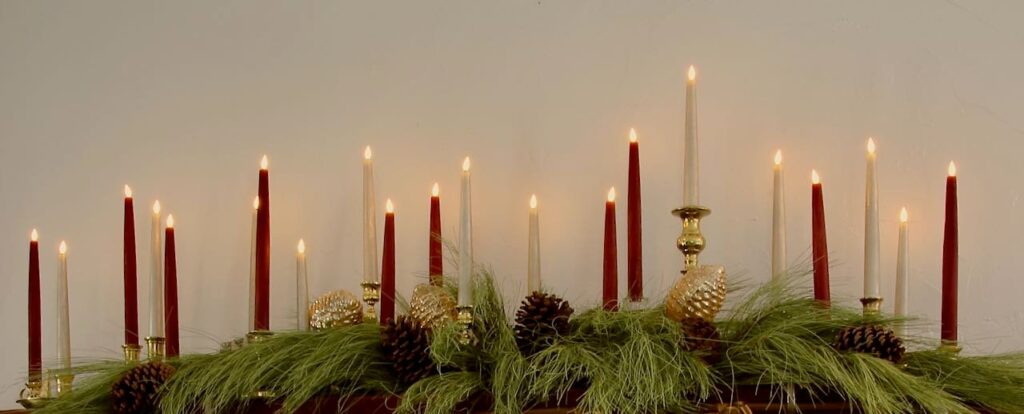 Don't get me wrong, I love a mass gathering of taper candles! (This mantel was from last year's Burgundy and Gold Christmas stocking display).
But . . .
sometimes there isn't room enough for a large mass
sometimes individual tapers can be a bit "wimpy", a bit underwhelming
sometimes I'm looking for bigger impact
pillar candles can be expensive
And sometimes, the impact I want is not from bigger candle, but from bigger light!
So let's solve every one of those issues with one easy trick you'll use over and over again!
Here's How to Turn Taper Candles Into 3-Wick Dcecorative Candles — or Candle Bundles
It may sound wacky. But me a minute, and I'll have you believing.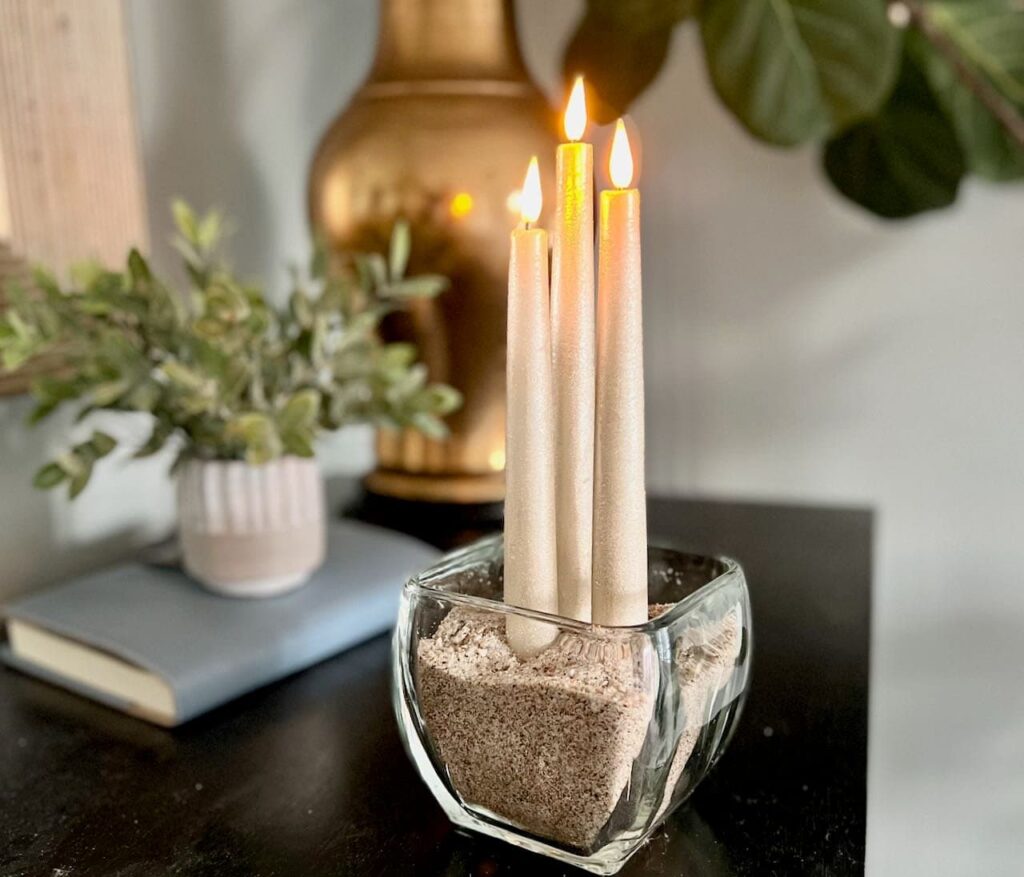 Use three tapers as one pillar!
It's as simple as that and you can cross those issues right off your list:
Doesn't require a lot of room
has beefy weight
definitely is an attention grabber
way less expensive that pillar candles
three times the candlelight
Simplest Version
Above I simply added play sand to a heavy glass bowl and pushed the flameless candles down into the sand varying their heights.
Easy peasy. Fresh and minimal.
Beautiful with a subtle flicker to the flames. Plus easy because they are remote controlled.
Being flameless and remote controlled makes them the perfect solution for that long mantel where a step stool would have been required otherwise as well as having the base buried in sand.
Turn Your Taper Candles into 3-Wick Decorative Candles That Perfectly Match Your Style
Select a Container and Filler-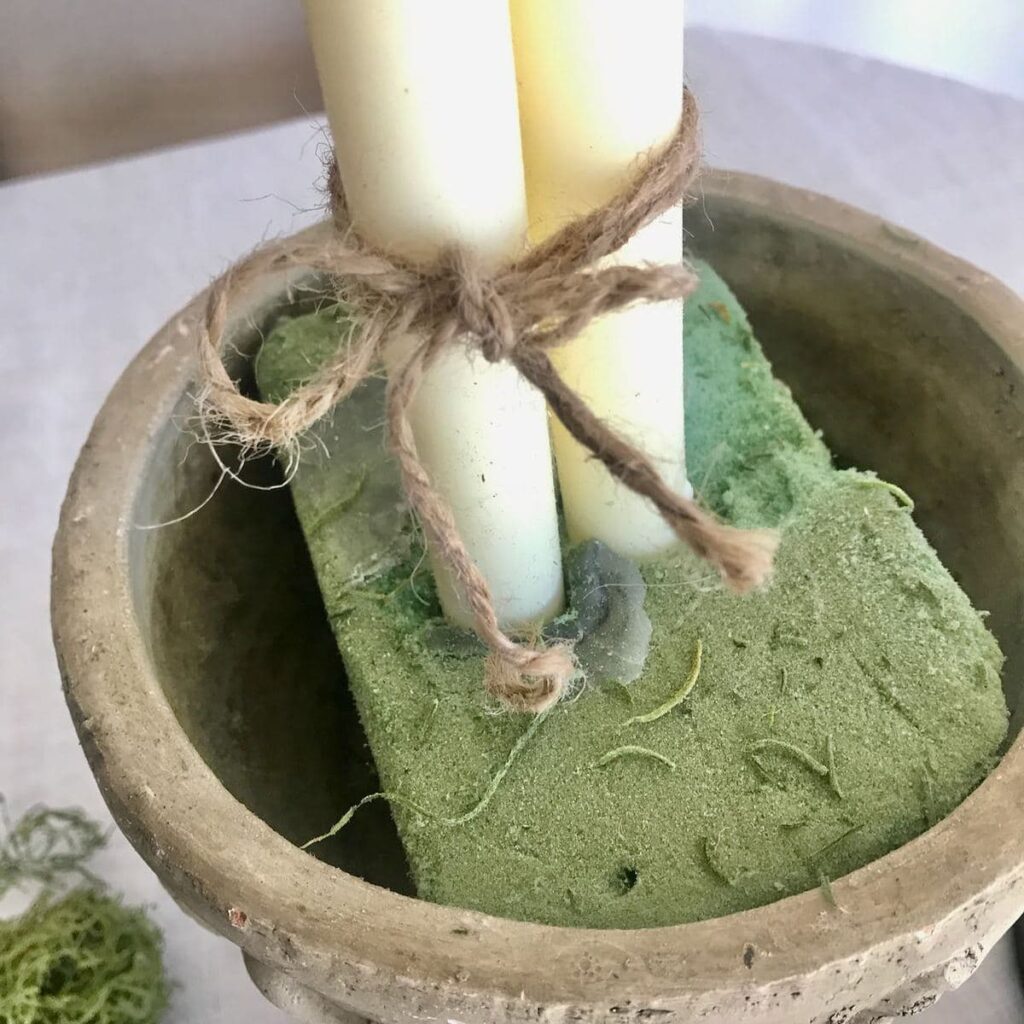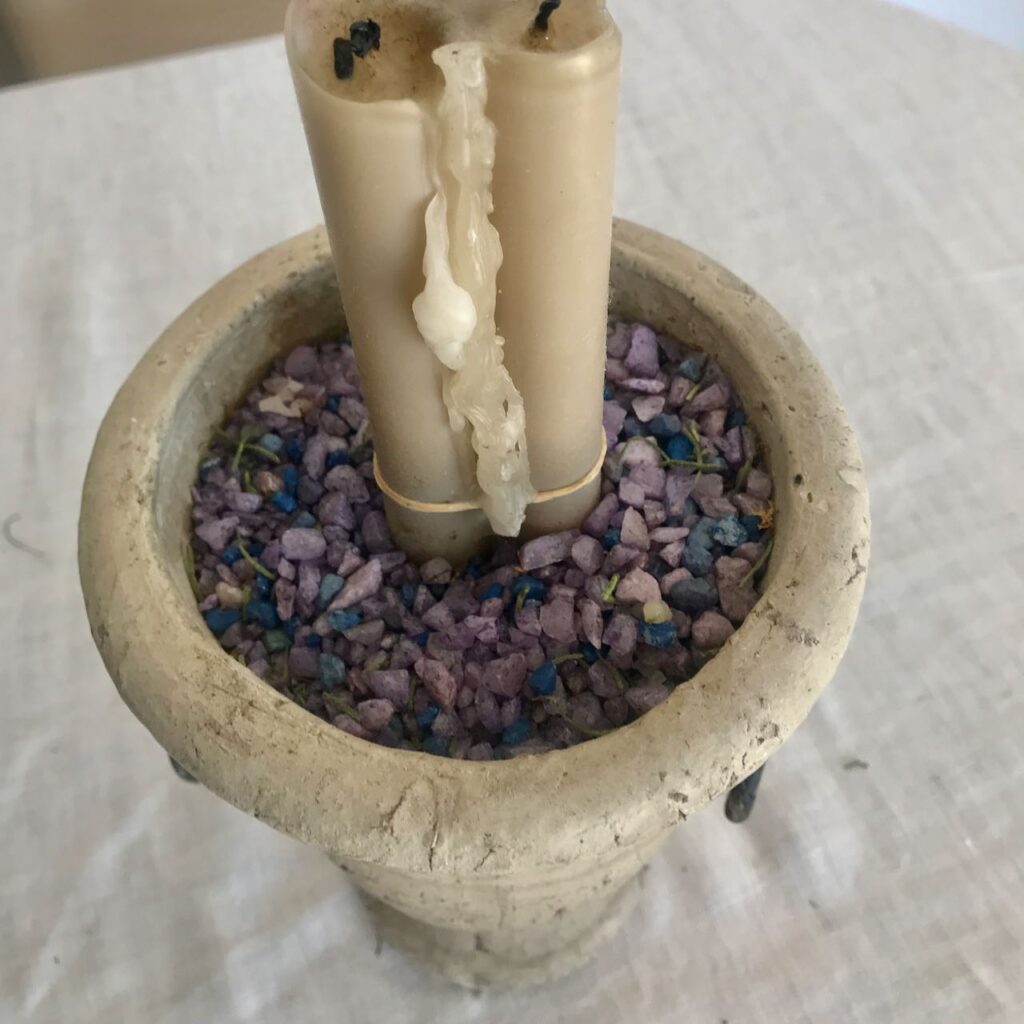 Shop your house for an interesting vessel to hold your candles. Think about a vase, a planter, or urn, pitcher, or maybe an interesting bowl or box. Have fun with this!
Then fill your vessel with something that will hold your candles upright. Here I used a block of florist foam carved to fit tight in the planter on the left. With a knife a carved out holes for the candles.
The urn on the right, I filled 2/3 with leftover aquarium gravel. Then I placed my candle bundle and while holding it upright, I added the remaining gravel. You can also use sand or dried beans or rice.
Bundle Your Three Wicks into One Faux Pillar Candle-
Gather three candles. They don't have to be the same color, they don't have to be the same diameter. But if they are candles with a flame, do to the heat, you will need to bundle them together so the flames are at the same height.
Tie them together down low with a rubber band if you'll be hiding it, or with the decorative tie of your choice.
Time To Make Your Unique Decorative Candles-
Now you can really express your style!
Start by covering the filler. I chose a preserved moss for my filler in both of these examples. It just pairs so well with the concrete of the vessels.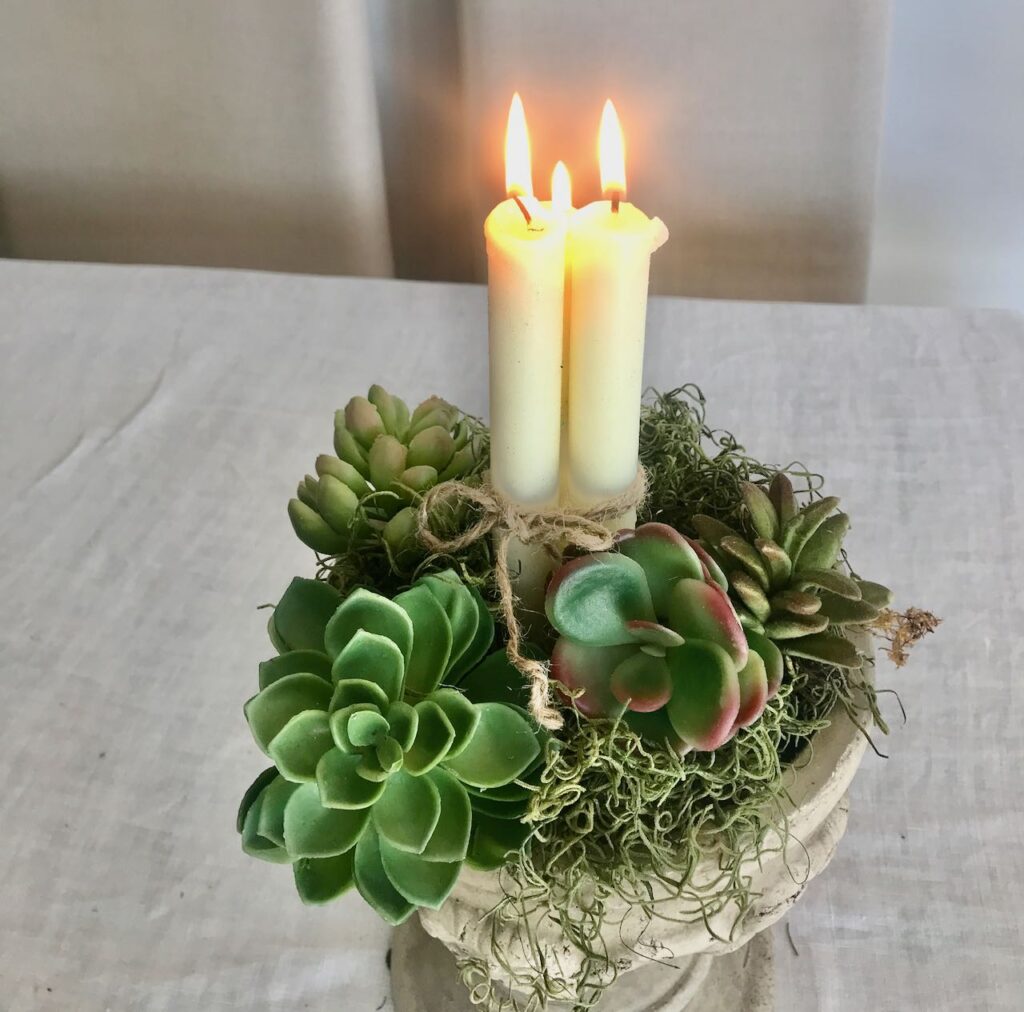 You can stop right there if that's your style. Or you can embellish further to match the decor or the rest of the tablescape or the event theme you might have going on.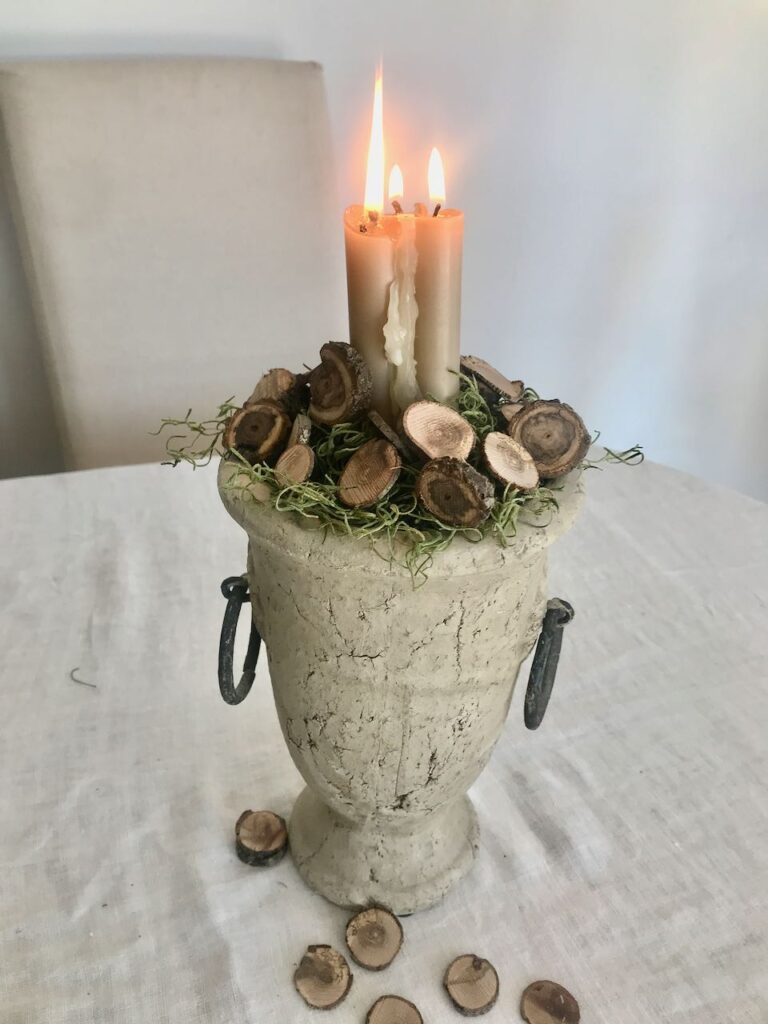 Here I sprinkled some small branch slices in the pot and on the table. Those are super simple to make with a branch from the yard and a miter saw.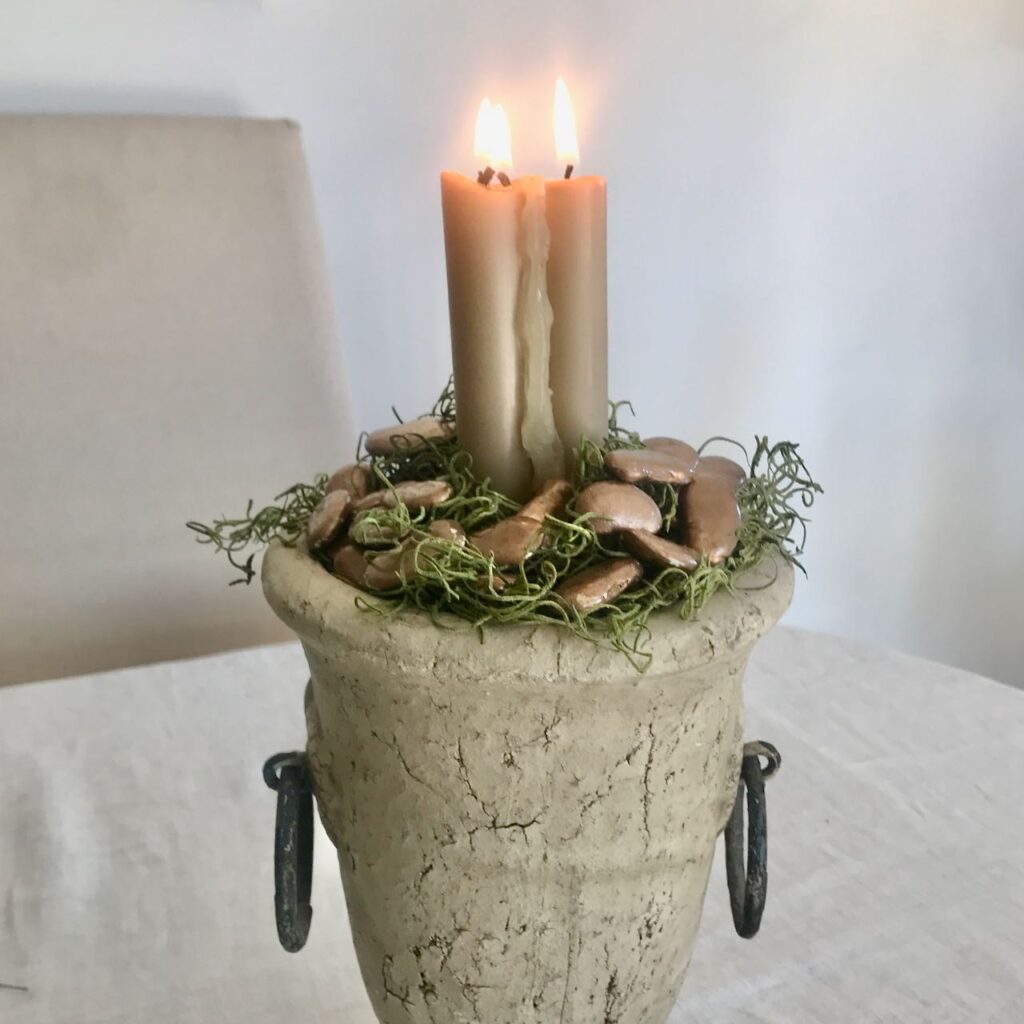 Do you recognize what those are floating amid the moss?
Lima beans! Yes, lima beans I spray painted as an accent for our Thanksgiving table.
Keep an eye out for posts coming shortly all about our Wedsgiving weekend. Yes, our daughter's wedding was this last Thanksgiving weekend.
See, I told you it was one simple trick — bundling three taper candles together to get even more impact than a pillar candle.
WARNING: YES, like all candles, just like you would any open flames in your centerpieces, keep an eye on these candles if you are going to use a flammable tie and surround the base with other flammable items (like dried moss).
This is why I use only the flameless, battery operated candles upstairs while we and our guests are all hanging out downstairs. These flameless, remote controlled candles with an outer skin of real wax — stunning.
Remember: Three Are Better, Brighter and Cheaper than One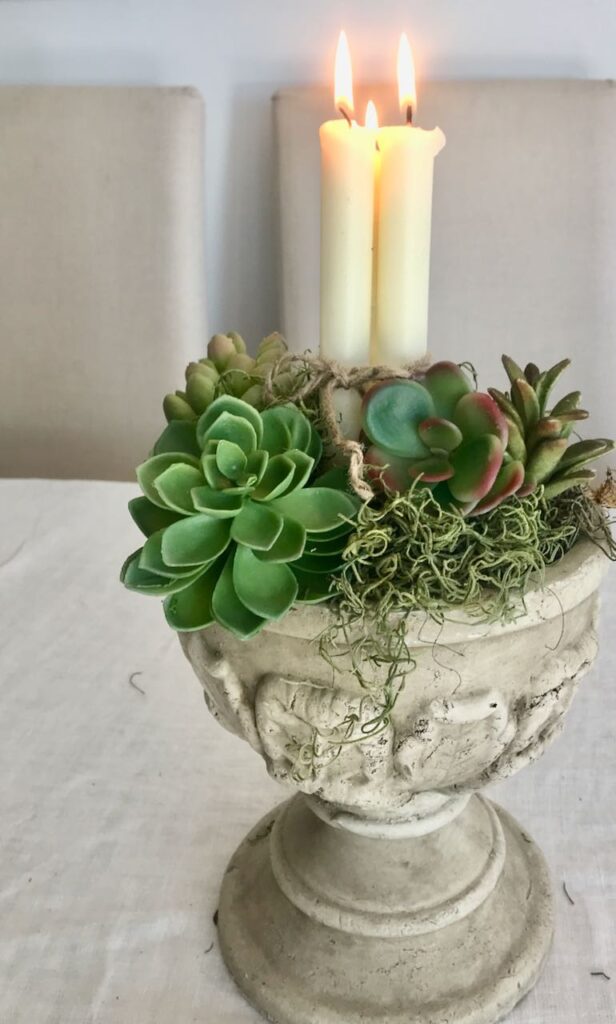 Candlelight glow isn't just for Valentine's Day.
It spreads warmth and relaxation. It marks a meal as special and reminds us to slow down and savor that time together.
So let's magnify that glow times three!
Pin this on a special board to remind yourself to light some candles and stop and relish the glow.
Pin it to your:
Tablescape Board
Your Centerpiece Board
Your Entertaining Board
Your Decor Accessories Board
Or Maybe you have a Candle Board.
And yes, your Valentine's Board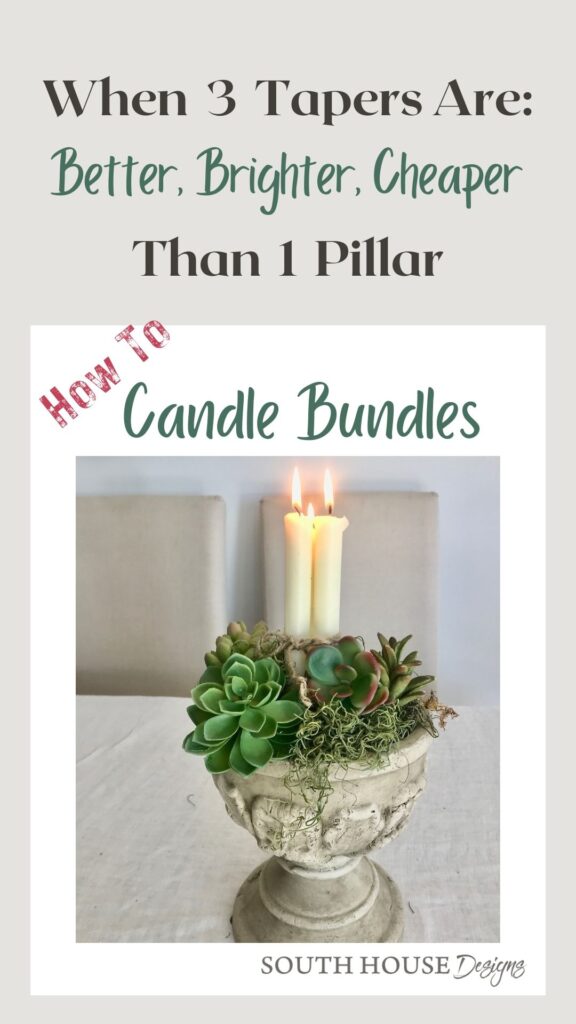 Let those romantic candles glow, three times brighter!
Happy Valentine's Day everyone! Thank you for warming my heart every time you visit here, every time you leave me a comment, ask me a question, send a friend this direction. It means more than I can express!