7 Easy, Fun Ways to Craft the Best Pumpkin Decor
The best of the best pumpkin decor crafts for you to try. Simple, fun to make and on trend for pumpkins you'll be proud to display and gift.
It's that time of year again – fall is in the air and Pumpkin Spice everything is taking over.
Does it have you thinking of how you might add some spice to your pumpkin game? Me too!
But maybe you don't know where to start when it comes to pumpkin decor. Never fear! I've gotcha covered — that's what friends are for, right?
I've gathered 7 of my favorite pumpkin looks from some of my most talented and creative blogging buddies to entice you to flex your creative muscle and get crafty.
Again, no fear here! I chose ones that are some of the easiest ways that still yield amazing results. Admittedly there is one that is a bit more involved, but I couldn't resist, because the results are just amazing!!!
So let's get crafty and have some fun with these Pumpkin Decor Ideas! I can't wait for you to share which ones you try, how they turned out, and how you used them in your decor.
Twine Pumpkins-
1) Wendy @ WM Design House, has become such a dear friend — and oh soooo talented! Did you know she does a weekly IG Live show "Meet Me in the She Shed", she's all over Pinterest and then of course her blog.
Wendy absolutely excels at taking simple, pedestrian crafts and elevating the look. Her gardening skills and experience shine. (Not to mention how kind and generous she is).
I know you may have seen twine pumpkins before, but her's are just the cutest! And she does such a great job of sharing all the how-to details you can't help but succeed! And she gives us two sizes — same concept!
Mesh Tubing Pumpkins-
2) Me, Diane. Yes, I'm including two of my own here in this list.
How could I not? I can certainly attest to how easy — not to mention downright cheap — these are! And I love the end result.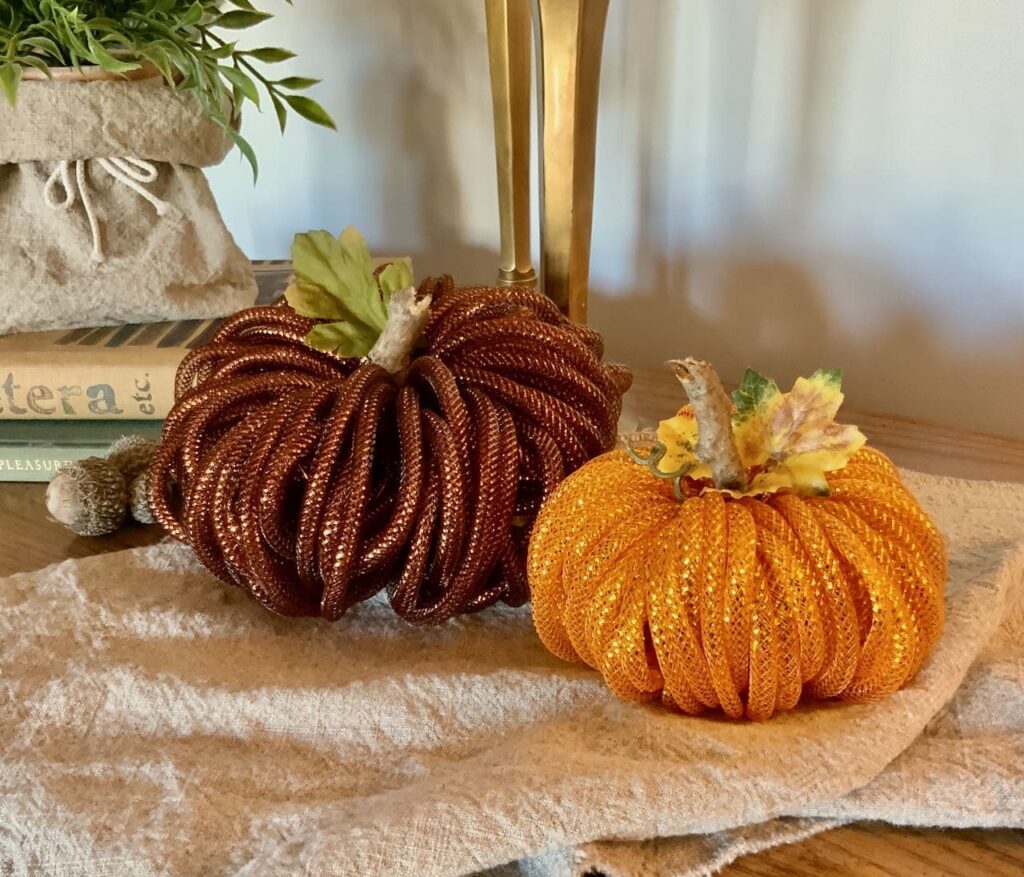 These pumpkins use the same basic concept, but different materials, mesh roping. Plus, there's a tip for if your want a taller pumpkin vs. a short squatty one. This is a great alternative for a room that needs a bit of shine. For a more natural or farmhouse, or boho feel, use twine.
Check them out here.
Of course, adding your own spin through the extra frills you add is a big part of the fun. Leaves, tuft of moss, a few feathers, tendrils of coiled wire, Have fun with them!
Yarn Pumpkins-
3) Donna (and Rich) @ An Organized Season, just the sweetest couple with a lovely, neutral style. They have such a flare for breaking a project down into the simplest steps.
Sidenote: I, a virgin tiler, tiled our powder room wall using Rich's How to Tile a Backsplash tutorial. Their tutorials are that good!
We've all seen yarn and twine wrapped pumpkins. But Donna's method makes it so easy and with cleaner results. So many great tips, even how she made her twine pumpkin stems.
Be sure to jump over to Donna's yarn wrapped pumpkins for all her pro wrapping tips.
Mini Metal Pumpkins-
4) Me, again. We're moving from skeins or rolls of twine, tubing and yarn, but still at the Dollar Tree. Head from the craft aisle to the cleaning aisle. Yes, the cleaning aisle!
Can you guess?
Copper scrubbers. Yes,truly they are! The three in a pack copper scrubbers (and a silver one I found elsewhere).
Aren't they the sweetest? Scatter them in a dough bowl, incorporate in a charming tiered tray, place cards at each table setting, in a wreath, etc.
Easy, quick and cheap! Here's how.
BONUS for for all the rusty, chippy vignettes: soak overnight in vinegar for a rusty pumpkin.
Those stems I made from polymer clay, but you can use twigs from the yard just as easily.
Be sure to pin this so when you're ready, you have it at your fingertips.
Pin it to your
Pumpkins Board
Fall Crafts Board
Fall Decor Board
Wantta Try This Board
Wherever and everywhere you'll be looking!
Concrete Pumpkins-
5) Lily @ Lily Ardor is such a cutie. I don't personally know Lily. I just know that she deos some great crafting. Typically using basic materials, but with elevated end results. These pumpkins are the perfect example.
I have not done Hypertufa yet, but this project is the one that will change all that. It looks a bit messy and once you buy the supplies you'll have enough for many pumpkins.
So you know what that means! Girls' Pumpkin Party!!!
I absolutely love the extra tricks Lily used for the moss and her sisal stem.
Scrap Wood Pumpkins-
6) Do @ Do Dodson Designs, one of the most genuine, loving, empowering, not to mention creatively gifted women out there, came up with the absolutely cutest wood pumpkins.
Do specializes in wood and all it's myriad of finishes. She is a wizard with paints and stains — it's absolutely magical!
I know, I know, wood pumpkins. From pallets, from reclaimed, from wood scraps are everywhere. But Do has a new spin, as Do always does!!! Check these out.
Those hinges and how she crafts the stems!!! It's always the details that make the difference.
BONUS: I love that they will lay flat in storage, but then fold to stand on their own when called into service.
Stretch Velvet (or Sweater or Sox) Pumpkins-
7) Julie @ My Wee Abode is so thoughtful and thorough in all that she does. She defines organized and you can tell in her tutorials!
Velvet pumpkins are not particularly "new", as in this year. But they have become a classic. It's Julie's amazing tutorial on how to craft velvet pumpkins like the pros that made me add it to this list.
They are stunning, with gorgeous shoulders and bumps and curves where every luscious pumpkin should have them. Yes, they are more involved, but the pumpkins speak for themselves. Oo-La-La!
There are LOTS of fabric pumpkin tutorials out there, with socks and sweaters being the latest. But there is no better tutorial than this one for making them well. Velvet not your thing? That's fine, the same How-To will work for other knit (stretchy) fabrics also.
So if you are thinking about sweater or sock pumpkins, I strongly suggest Julie's tutorial. And tell her "Hi" from me when you get there.
Are you inspired to get going on bringing out the Pumpkin Spice in your home?
I hope you found plenty of inspiration to get you going. Break out your supplies and flex your creative muscle. These seven easy pumpkin decorating tutorials will have you creating festive Fall décor in no time – and with your own unique style. Ready, set, pumpkin!
And don't forget to share your favorites, what you try and how they turned out.