How To Make Easy, Adorable
Mini Metal Pumpkins
— And Cheap!
Here's how to make THE Most Adorable Mini Metal Pumpkins. Also the EASIEST and CHEAPEST little pumpkins to make. Use them in Fall vignettes, wreaths and more. Copper, silver or both!
This post includes some affiliate  links, which means if you purchase anything using these links, you pay no extra, but I may receive a small commission. Please know that I will never recommend a product I do not believe in!
Happy pumpkin time!!!
You may not know this about me, but  I'm a Spring and Summer gal! So I am extremely grateful for pumpkins. They make the transition to Fall easier.
It's not that I have anything against Fall specifically, it's what follows behind all the cute pumpkins and apples and boots and sweaters and bonfires and . . .  See, it's what follows, that I dread.
And even better than this post, bringing you a fun pumpkin craft, I'm hooking you up with eight other blogging buddies all jumping on the pumpkin patch bandwagon together. You don't want to miss a one of them. Links to all are at the bottom of this post. Enjoy!!!
But for now, let's focus on PUMPKINS, adorable little mini pumpkins!
Pumpkins so cute and perfectly sized to set at each table setting.
Pumpkins to add to a wreath.
Little pumpkins to sit on a windowsill and make you smile.
Copper Mini pumpkins to add to your Fall tiered tray.
Baby pumpkins to tuck into your console table vingette.
Lots of little pumpkins to fill a dough bowl on your coffee table.
SO MANY OPTIONS!
And if this little guy doesn't capture your heart, check out his big cousins that I just made!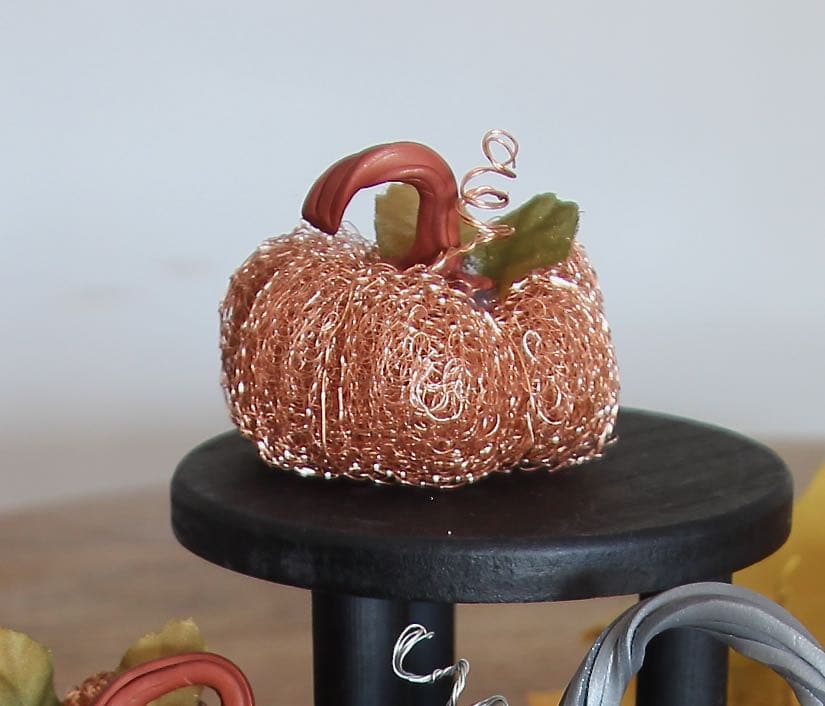 Aren't they ADORABLE!!!
And you won't believe how quick & easy they are to make!  And did I mention downright cheap? Less than a dollar each!!!!
Let's Make Some, okay,  LOTS of Mini Metal Pumpkins:
Supplies, (some linked at end of post):
Wire snips (I prefer needlenose pliers)
Needle, preferably a large eye, blunt end one.
Measuring stick, tape measure, or just a good eye
Hot glue gun and glue sticks or another adhesive of your choice
Thin paint brush handle, skewer, thin dowel or similar
Materials:
Copper scouring pads and/or stainless steel scouring pads. 
Matching wire (mine is 26 gauge)
A pumpkin stem, a twig from your yard or one made from polymer clay like I made here.
Leaves off faux flowers, optional
Step 1) Cut a length of wire, I used about 42-inches and this left enough tail for a little coiled tendril. Sometimes, I just snip off the extra.
Step 2) Thread your wire through your needle.
Step 3) Thread your needle through the center of the scouring pad.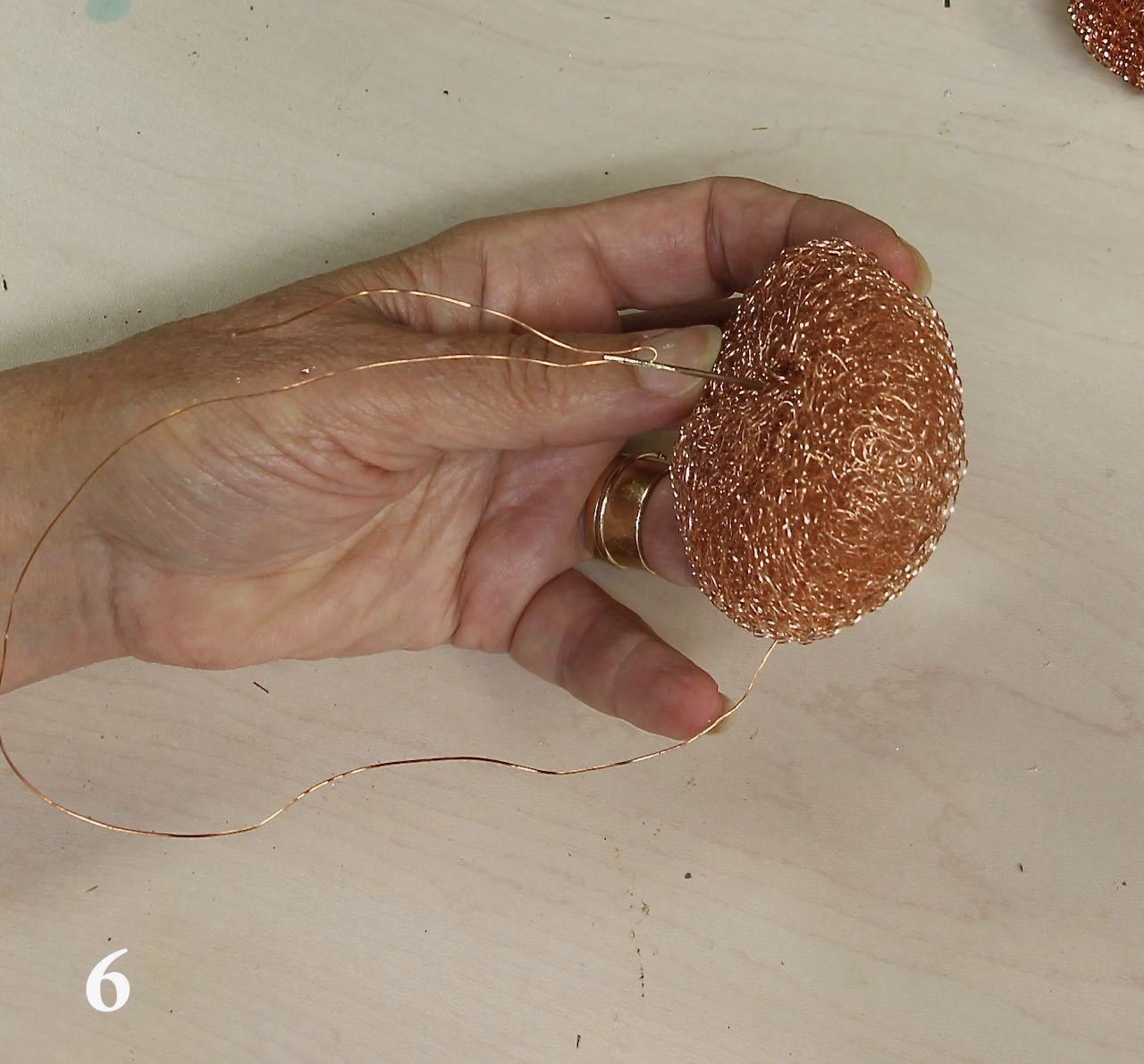 Step 4) Pull all the wire through except 6 to 8 inches. The side with the six to eight inches will be the top of your pumpkin.
Step 5) Bring the wire over the side of the scouring pad pulling tight on both ends of the wire to cinch in the scouring pad to make the first rib of the pumpkin. Twist the two end of the wire together to lock in this rib.
Step 6) Bring the wire over the over the opposite side of the scouring pad and up thorugh the center again pulling tight to cinch in the scouring pad for the second pumpkin rib.
Step 7) Pull the wire over the scouring pad and through the center, spacing the rib where you want it
Step 8) Pull tight to cinch in your pumpkin ribs. Repeat 7 & 8 four times, spacing the pumpkin ribs as you like.
Step 9) After the last rib is formed, twist the wire with the tail. Twist is tight and continue twisting it for the length of your wire. You can cut it off and and hide the end back in the center of the pumpkin. Or twist it around a thin paintbrush, dowel, skewer, etc to make a coiled tendril.
Step 10) It's not biologically correct (the leaves grow on the vines not actually on the pumpkin), but they are really cute, so if you want to add a leaf or two, I cut a small tip of a faux leaf from a flower spray I picked up at my local Dollar Tree.
Step 11) I used hot glue to attach a leaf or two on some of my pumpkins and then lastly, glued a pumpkin stem in place. You can use a little twig or a piece of a cinnamon stick. I used stems that I made with polymer clay. I love playing with this clay and came up with these stems as a great option. Or here are a lot of options for dried pumpkin stems and faux pumpkin stems from a number of great Etsy shops.
12) Ta Da! So much Fall cuteness!
Sourcing to Make Your Mini Pumpkins:
I bought my scouring pads at my local Dollar Tree, pkgs of two. When I saw how great they turned out, I ran back to get more but they are currently sold out. Sadly, they are not on their website. So how fast can you get to your Dollar Tree store to grab some copper and/or silver scouring pads?
I did find this similar one copper on Amazon. And here is a similar stainless steel one, but in a larger size.  And look at this one! It says stainless, but the picture shows it more golden. I ordered a bundle to see. I'll update this post once I receive it.
And I found a bundle of five wires with wire snips. Keep in mind that these will certainly not be the best snips, but will probably get you through this project. And there is enough wire to make six or seven pumpkins in each color. Or just click the link and then search around a bit for the perfect combination of color and length for your needs. 
And if you stumbled in here, when you were really searching out my 2021 Christmas Stocking Collection, or if you're just dreaming of holiday decorating (pumpkins, stockings, it doesn't really matter) you can find the stockings right here.
I hope you give these little metal pumpkins a try! Please let me know when you do. I'd love to see pictures of how they turned out and how you use them!!!
Remember that Pumpkin Patch bandwagon I promised you. Well, here you are. Enjoy!