Super Simple Window Treatment
To Control Your Privacy & View
This SUPER Simple Window Treatment, or window covering, let's you control the view, the light AND your privacy! It's a win – win – win
Natural Light!!! There's nothing quite like it, is there?
Yet so often, with the natural light, comes one or both of these obstacles: the need for privacy and/or a less than desirable view.
Are you with me? Do you have one of these windows, too?
Ours is in our master bathroom, where we need privacy, but also to edit the view a bit. In our old house it was our bath and our closet and the kids' bath. All of those needed something for privacy, but only one also needed a view restrictor.
Heres the solution! A quick and easy window covering and:
It's simple.
It's darn-near-no-sew.
It requires no tools.
It's removable.
It puts you in control.
It's inexpensive.
And it's charming as well!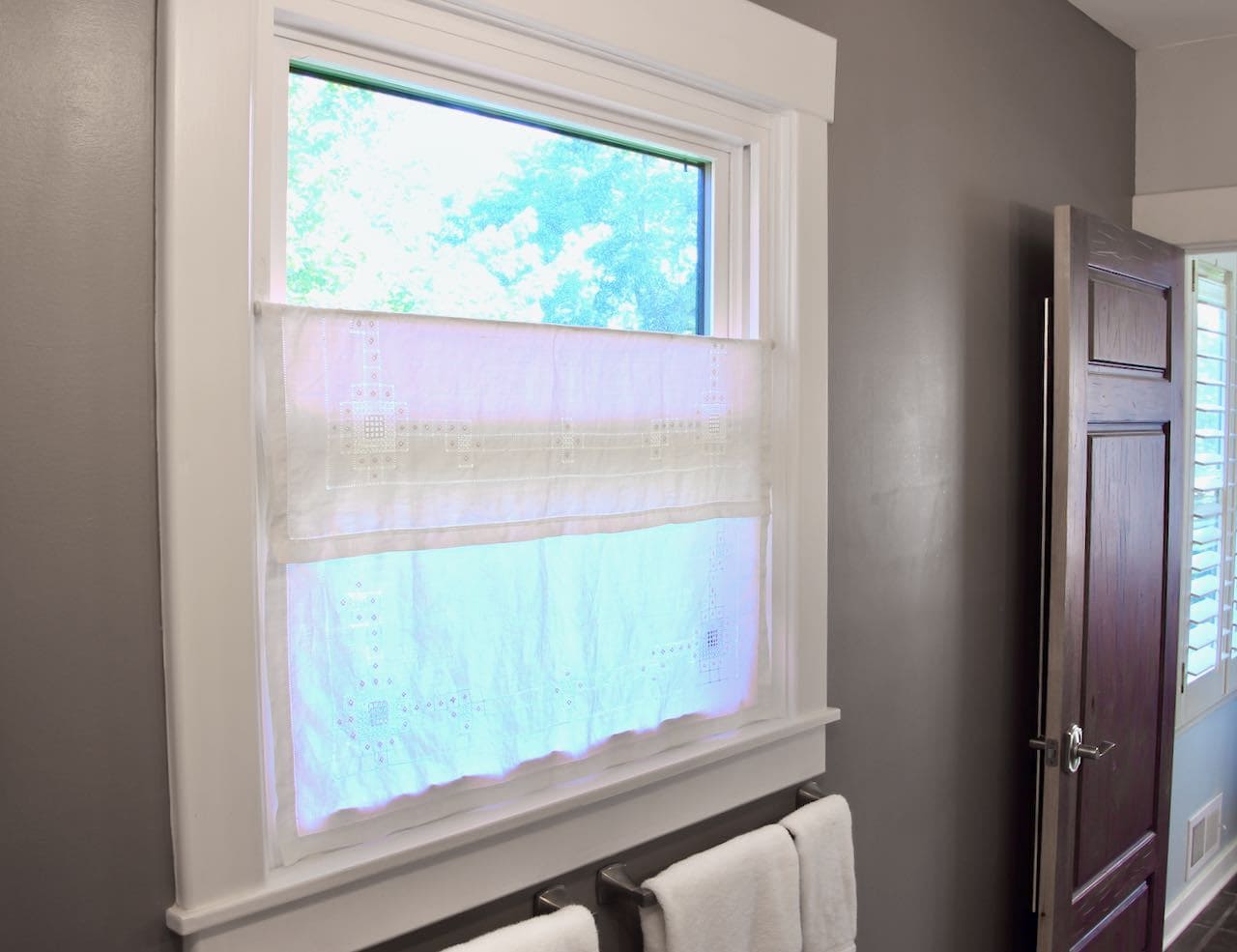 What You Need for this Simple Window Treatment:
a spring tension curtain rod for the width of your window
a fabric tablecloth the width of your window, or a table topper, or even a pashima — anything that has the hems already finished for you.
needle and thread or sewing machine or a couple of straight pins
That's it! I told you it was Super Simple!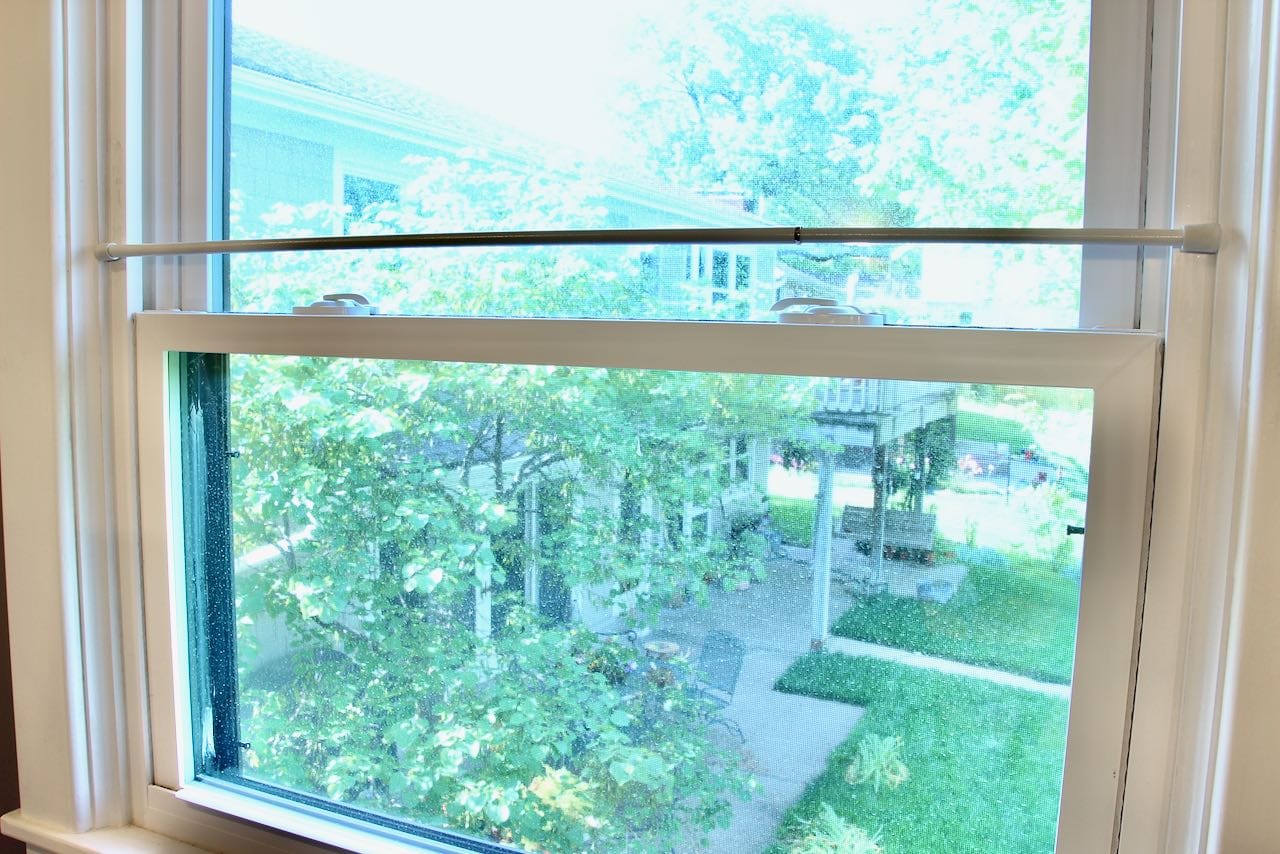 We are blessed to live on a wonderful lake and be part of this super tight community.
When the lake was plotted a long ways back, someone decided the houses would be tight, too.  This is the case between our house and our delightful neighbor on the North, Sharon. This is the view out our bathroom window. Down on to her patio or across to her deck, when what we crave are more vista views.
PLUS that means she can see right into our bathroom across from our vanity. I definitely want to spare Sharon that view!!!
Let's Make a Window Dressing:
Step 1) Determine your Rod Placement
Start with putting your tension rod inside your window frame at the perfect height to edit your view, eliminating most of the house and accentuating the trees and sky. And this is also a great height to give us the privacy that Sharon deserves and we want.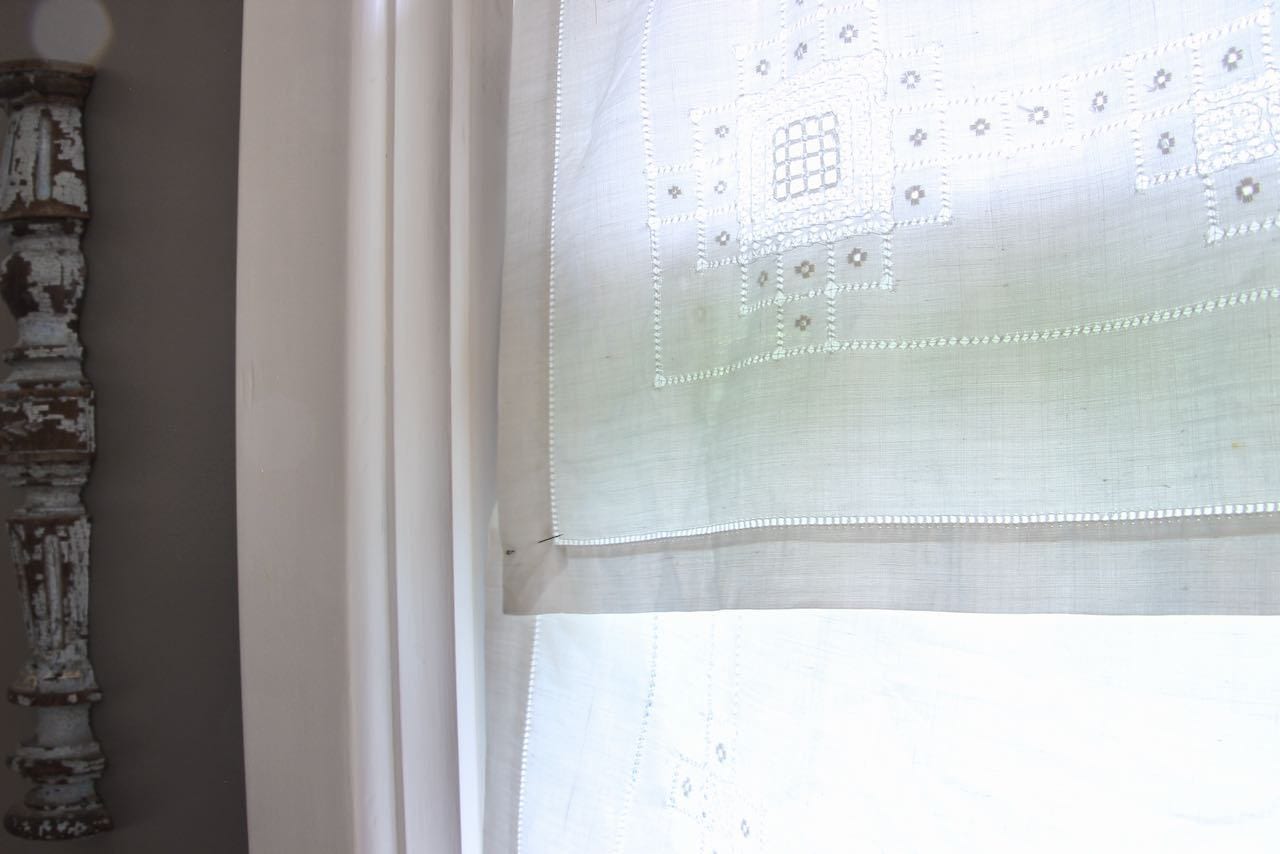 Step 2) Measure and Pick Your Textile:
Next, measure the height of the rod to where you want your curtain panel to end, This measurement, and the width of your window will tell you the finished size you need.
The table topper, table cloth, curtain panel — whatever you choose will need to be that width by the finished height plus your turn over. In my case, my window is 33-inches wide and I wanted my panel to fall from the rod to just above the window ledge, which is 24-inches. So I needed something that was a minimum of 33 X 27 (24 height plus at  least 3 inches to overlap.
I had in my collection of vintage linens, this charming table topper that measured 34 x 34. So I looped it over my rod and it hangs over about 10-inches
Pin that in place.
Step 3) Stitch (or discreetly pin and forget, I can keep a secret) 
And now stitch it. Or it's always an option to pin it in several place with straight pins on the back and then hope you forget about it and no one notices.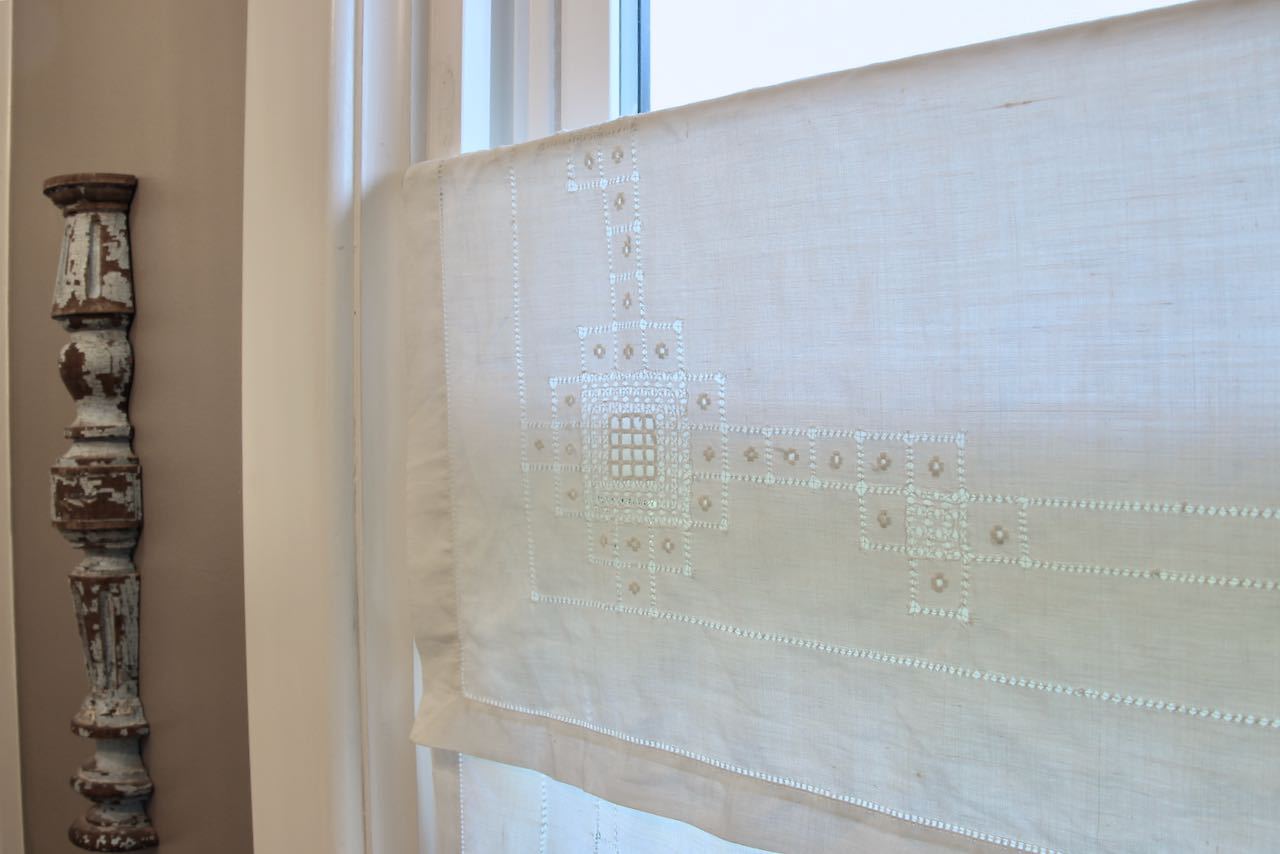 Okay, full transparency! Yes, it hung for way too long with pins before I finally just spent 5 minutes tops with a needle and white thread and ran a loose stitch in the handworked hem.  It was sooo easy and the stitches just disappeared.
And now it hangs straight all the time. So actually that 5 minutes has saved me a bundle of time that I spent fussing with janky pins.
And that's it! You're done!!!
Since I already had the table topper in my stash, all it cost me was less than $10 for the spring tension rod.
Although my table topper is vintage, on of a kind. Here are some other options that I found for you on Amazon and Etsy.
HINT: When looking for your textile, keep in mind that the back side of the fabric and any trim will show either as the long section or as the valance or "flip over" part.
The following links are affiliate links, which means if you purchase anything using these links, you pay no extra, but I may receive a small commission. Please know that I will never recommend a product I do not believe in!
And here are some vintage linens from Etsy. These are four very different options. But here are many, many more to discover. And the prices are crazy good from $12 to maybe $25 at the highest. With a tension rod, you'd have a window treatment for $30 or below!!!
What I love about this window dressing is:
I get to say how much view and how much privacy
It's sooo easy and quick
It's easy to move to clean the window or for renters or as a temporary fix
It's very inexpensive
It's charming and can change style based on the textile you choose
I hope this inspires you. to get creative in your window coverings.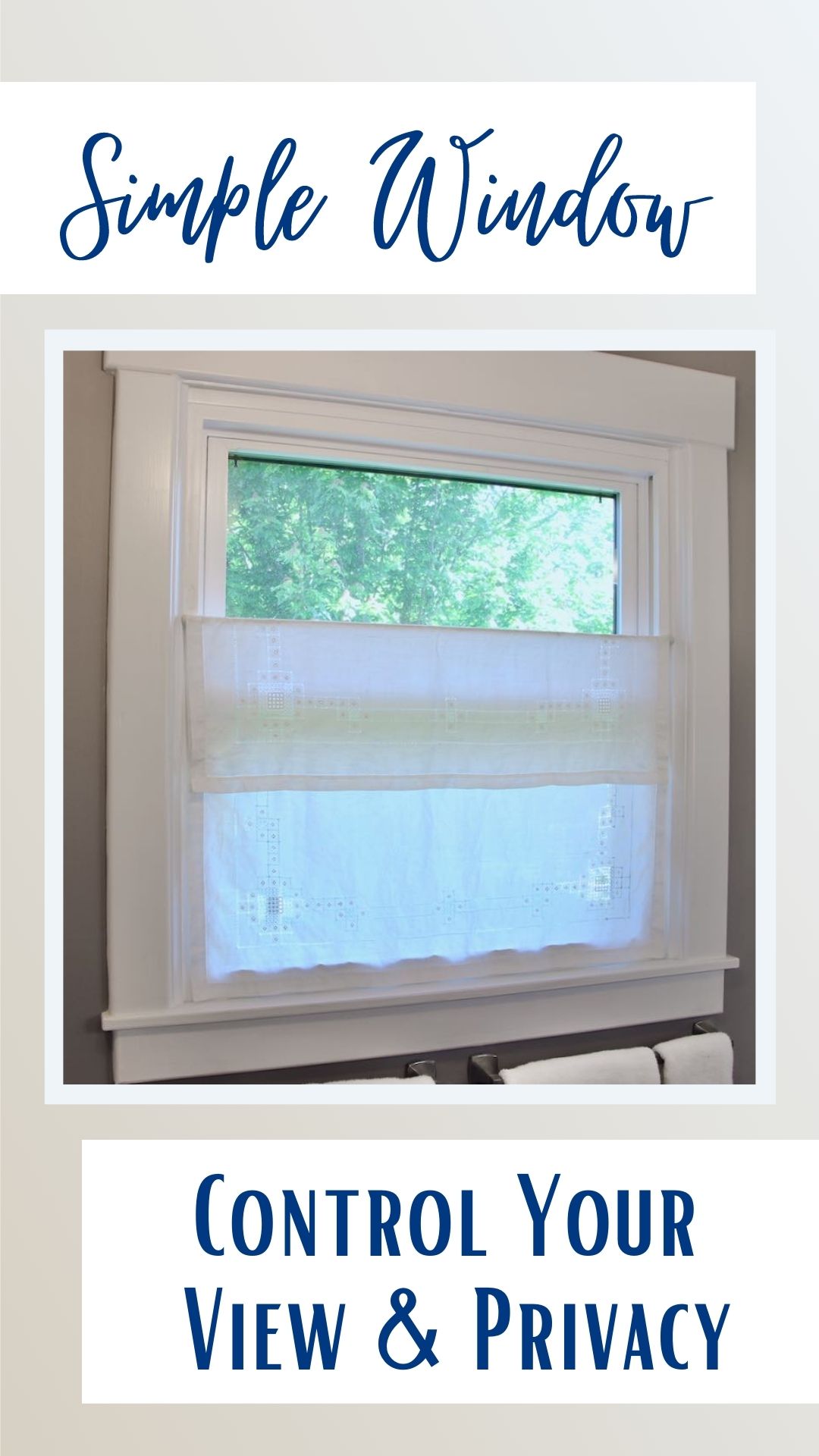 Have a great day — with a gorgeous view!