9-16-23
Such a bittersweet weekend!
We are in LA to celebrate a dear friend we lost recently.
A man that made such a giant impact on our lives with one amazingly kind and generous act!!!
The Hubs has a much deeper relationship with Dennis as they grew up together, yet never saw each other after HS graduation. Thankfully that all changed ten years ago!
Have you ever met someone for the first time and you're wearing "matching" outfits?
Well, that's Dennis and me!
And you're wondering what we are sitting on, right? We're sitting on the wall of the fount on Dennis' patio in Italy where Michelangelo (yes, THE Michelangelo !!!) was baptized!!!! (I was squealing inside from the tip of my toes, out my ears)
Okay, so it's not a documented act. But I feel very justified with my conclusion.
His birth place and where he lived as an infant and toddler was on the hilltop of this tiny hamlet. And the freshwater spring that spills into this fount was the original and only water source for the village until much later. So it only stands to reason . . . . right?
Therefore, anyone who drinks enough of this amazing water is destined for creative greatness, right?
It served as our water source while we were staying there in Dennis' guest house. It was so cold, crystal clear and absolutely delicious! And I couldn't get enough of it. (I even had a cup in this picture)
So What's the Sweet Part?
It is truly devastating losing Dennis, way too early!
But this trip will be sweetened by seeing our youngest who is making his way in LA now. I have not seen him in person since March. so I am beyond thrilled to get to hug him and hold him tight.
I hope you get to spend time with some loved ones this weekend too!

On the Blog This Week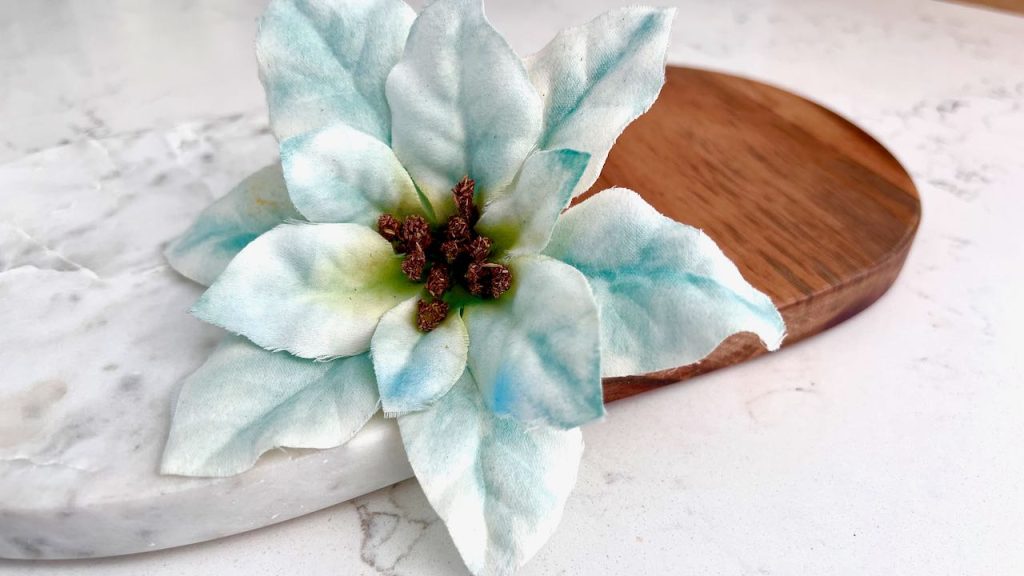 Have you had trouble finding faux flowers in the colors you want/need?
We all have at one time or another. But never again, once you try the trick I shared this week for adding color to "silk" flowers.
ANY color you want!
The real driver behind this faux floral painting was to make the faux Fall leaves I wanted by couldn't find anywhere.
You, too?
Jump over to the blog post now, or to the video tutorial if that's your preference.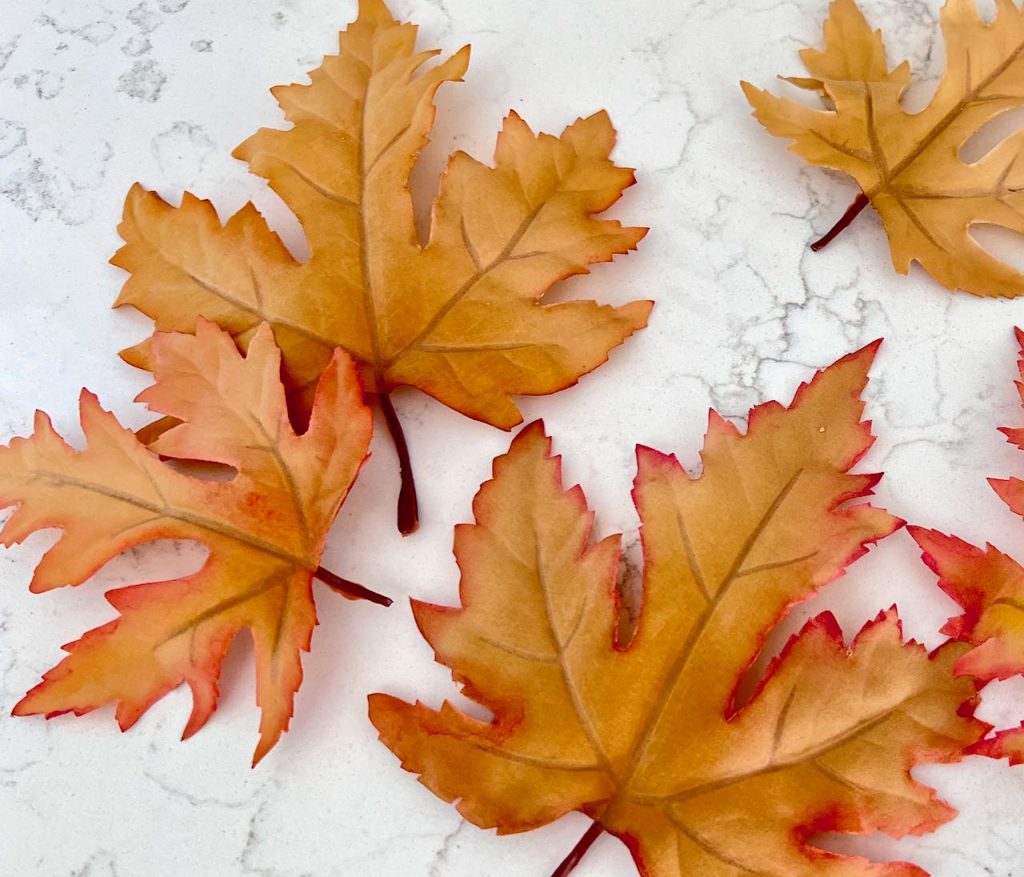 ---
The rest of the week has been consumed with Christmas stockings!!!
They will be ready soon. Two groups designed this week!
This is a new combination for me in absolutely gorgeous fabrics including multiple silks.
Very limited quantities of this one.
What other groups do you think there will be this year?
B-t-w, I'd love a good name for this group. Send your suggestions to me, please!

Coming Next Week:
I can't wait to share what I did with my watercolored leaves.
I really think you'll love it.

Reminder for my fellow bloggers- content creators or influencers
This is for you!
I discovered a "new" affiliate platform. If you have not heard of Mavely, you need to!
There's no real application, it's just a simple sign-up. They have hundreds of brands and retailers on the platform, and as a Mavely creator, you're automatically in with each of them.
Please click here to learn more and join. There is no obligation. This link will take you to the website to explore what all the buzz is about.

Sharing From Around the Web
It's the third Saturday of the month — the day we take a shopping excursion together, and my blogging besties and I are inviting you along!
---
Let's Start Off With a First of Its Kind Sale At
Yep, $5.00 Everything!!!
All the Unique, All the Vintage, All the Handcrafted Goodies.
(over $25)
Through today, Saturday 9/16, $5.00 OFF Everything (over $25)
Click the Button or the blue text above, then enter code: GET5
---
After months of our large DIY project, I've totally immersed myself in crafting — quick and easy projects that I've been loving. But crafting isn't much fun without the right supplies.
I've been limping along on a decades old hot glue gun.
Oh my, what a difference this new Gorilla dual temp glue gun makes. Walmart has the best price anywhere!
And glue sticks are NOT all the same. You definitely want the gorilla glue sticks — so many less stringy pieces!
And treat yourself right and add some silicone finger protectors (also great for using with your curling wand).
---
This is the set of watercolors I use and LOVE!
If I were buying them again, I would spend the extra $2 and get the set of 30 colors.
And Walmart's price is better than Hobby Lobby's sale price.
(I've got ya!)
---
Isn't this coffee table great? And such a good price!!!
It is soooo similar to one from Pottery Barn, but is 1/6 the price! Yes, one-sixth.
---
Darkness is coming earlier, along with perfect weather!
Now is the time to set up an outdoor theater — for the big night games, for kids movies, for Halloween thrillers.
This is the Good Housekeeping highest rated outdoor, portable projector and I like this screen.
---
Now Let's See What the Other Gals Found For Us
I like to decorate seasonally with items that can be used year-round. Copper pieces are some of my faves, especially for fall. Recently I found a Turkish copper coffee pot similar to this engraved coffee pot but the handle on mine looked more like this small copper coffee pot. I also found the cutest little copper vessel.
My iRobot Roomba vacuum keeps our house tidy all the time. She is on a schedule and runs every other day! She's my best friend! I love the season when we all love to burn candles too. My battery-powered taper candles create a cozy feeling during the long nights. Since they have a timer, I never have to turn them off!
My coffee obsession grows during the fall and winter months! So I want to be sure my teeth don't show it! Having a battery powered toothbrush is a game changer! It has a timer on it so I am sure to thoroughly brush each section of my teeth. I've heard good things about the Philips Sonicare and the Oral Be Pro too. BTW, these would make great gifts for anyone on your list! I might even step up the whitening game with these whitening strips!
Fall is knocking on the door and I am running to open up! It's my favorite time season for so many reasons. The autumn colors, the smell of pumpkin spice when I'm holding my morning coffee. So I am ordering a few new fall staples that I like to have new each season.
As hard as it is to believe it's time to start thinking about cleaning up my gardens and greenhouse and getting ready for the winter.
I plant my garlic cloves in the fall for an early summer harvest. This year I'm also going to add tulip bulbs to my cutting garden. I'm going to pack them in so I have plenty for cutting in the spring. I bought this drill auger a few years ago and what a time-saver it is for planting bulbs.
I need to get my greenhouse organized after a busy summer as I always set up a Christmas Tree in there. I don't decorate it but the twinkling lights are so amazing to look at from my kitchen window.
The leaves are also starting to fall and the sooner that I keep up with it the easier it is to deal with all of the leaves. I have a telescope rake that I love because I can make it small to get in between plants and large to use in open areas.
I will also be updating all my notes in my gardening journal and then spending cooler nights in front of a fire flipping through my favorite gardening book "The Layered Garden" already dreaming about next year.
I hope you're savoring the anticipation of the upcoming fall season! It won't be long before we cozy up and ignite the fireplace for warm, enchanting moments together. I have been spending a lot of time outdoors walking and hiking, which I enjoy before the rain comes.
I found these fabulous Butterlux workout pants that are exactly like LULU Lemon! They are soft, and I love their pockets on the sides. In addition, they come in a plethora of colors. And they have a matching jacket.
Since it is pumpkin season, one of my favorite indulgences is to have a pumpkin facial. I wrote an entire blog post about it! My aesthetician uses this excellent PCA nutrient toner that smells so good.
I am so excited that fall and cooler temps are right around the corner. When there begins to be a chill in the air, I like to switch out my candles and home fragrances to a fall scent. These plug-ins are the most amazing fall scent!
I've been traveling so much this year and finally decided I needed a more convenient bag/purse for travel. A friend of mine had this one, so I ordered one for myself. I really never thought I would use a crossbody like this, but I am loving it!

As you probably know by now, I use some affiliate links in my newsletters and on the website. An affiliate link means that if you click on my link and purchase something, I may receive a small commission but you pay nothing extra.
I truly appreciate you using my links whenever possible!!!

I hope you enjoy your weekend!!! Thanks for hanging out with me a bit,
I just couldn't sign off without sharing one more pic of The Hubs with Dennis, his adorable wife Kumiko (there's a great story about how they met I need to share with you sometime) and his constant companion, Max, in Dennis'  vineyard, olive orchard and gardens he planted and nurtured.
As I said before, I would greatly appreciate your feedback, any special requests, or questions you have.