Christmas Plans for Less Stress Holidays– Decor
Let's make early Christmas plans for less stress and more joy during the 2022 holidays. Here's a guide for relieving the stress points!
Whether you celebrate Christmas, Hanukkah, Kwanzaa, or your own special combination, the holiday season is a busy season!
It's a whole lot of projects rolled into one beautiful season — with high expectations!
As with every good project, or mission, or campaign, when it comes to a close, it's wise to sit down and assess the particulars:
High points
Low points
What to do differently
How to do differently
The holiday season carries with it so many potential stress point:
Decorating: the exterior, the interior, the Christmas tree, the creche, the mantels or similar focal point for the stockings . . . . .
Gifts: the ideas, the shopping, the wrapping, the shipping or transporting
Food: what to serve when, the recipes, the grocery lists, the shopping, the baking and cooking
Christmas cards/letters: the addresses, composing the letter, signing the cards, addressing and stamping
Holiday Parties: who to invite, which invitations to accept, what to serve, what to take,  how to dress
It's these stress points, and possibly more, that can turn sweet Aunt Bea into the Grinch, right before our eyes.
Isolated, any one of these is totally manageable.  Stack them on top of each other, that's a whole 'nother beast.
When I look at each one and unpack the issues around it, so much of it boils down to our finite resources of time and/or money. I never think of creativity as finite, but for some, it may also be in short supply.
So let's take a look at stretching the time constraint, explore money-saving strategies and foster creativity all in the name of MORE JOY, LESS STRESS.
I get it!
You're busy packing Christmas away right now.
Christmas seems suuuuccchhhh a long way off — think again!
Don't bury this too far away.
The sooner you have a actionable plan, the more joy and less stress in 2022!
Pin this to your holiday boards, and to your planning boards, maybe even drop it on your desktop.
First, Let's Talk about Christmas Decorating
When I polled my IG and FB followers, Christmas decorating was the second most stress inducing piece of the holiday trimmings.
I get it. Decorating can be overwhelming. It requires substantial time! Money! And creativity!
Act NOW, to Stretch Your Time For Christmas Decorating Later:
Streamlining your decorating starts NOW, when you are packing up this year's decor. How you pack and organize your decor has a large impact on how easily you add the trimmings next year.
A Few Non-Negotiable Basics:
Plastic tubs are your best friends for everything except the large trees and wreaths.
Clear tubs rule*
Pictures!
Labels!
A tub for your ReStyle Pile**
A "Donate" box handy for all the decor you are tired of, done with or just plain "over it". This is your donate pile.
*if you really must use the colored tubs you already own, be very deliberate and specific with your organizing and your labeling.
**This is ALL decor that could use some repairs, fresh paint, or some other alteration. Keep them in a basket, small (hopefully) tub or just a pile where it's easy to see them and they are not forgotten.
Depending on your Decorating Type (it's coming up next), you may have a small pile to Repair & Refresh, and many bins for ReStyle. For now, we'll just lump them all together.
Plastic tubs beat out boxes and zippered bags. Tubs are stackable! Easier to carry. Will keep everything dry. Thwarts any possible vermin.
When storage is an issue — is it ever not? — you want to think vertically. Stack those tubs as high as you can. Of course sturdy shelving holding the bins is preferred, but with budgets in mind, and access just twice a year (to pack away and to pull them out) I'm good with stacking tubs high.
Plastic tubs with tight-fitting lids give great support for your delicate decor items. I often organize my items further in plastic bags or those neat zippered cases within the larger tubs.
I would always, always go for the clear plastic tubs. It allows for quick visuals of the innards.
I cannot overstate the importance of labels and reference pictures!
If you're going with the clear tubs and you print your pictures, slip one inside, against the side of the tub that faces out with the picture facing out. It's another great visual clue of the contents. If you don't want to print your pictures, make sure you have saved your reference photos in a folder you can get to very easily. Here's a tutorial on how to set up albums on your iphone. and on an android device.
If you are looking for more space for all your tubs, check out this post on making overhead "conveyor belt" storage.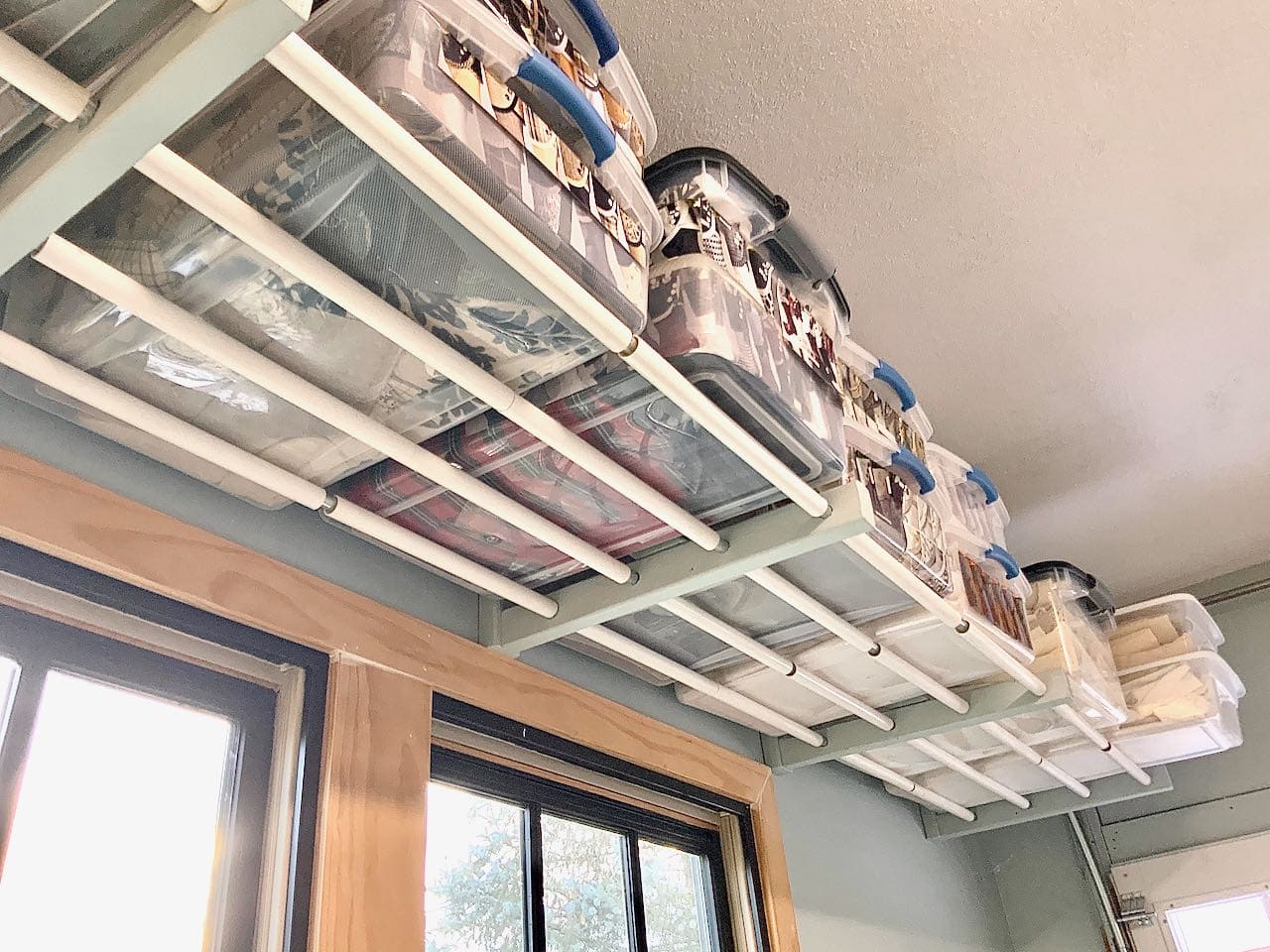 This is utilizing the overhead space in my studio.  These tubs hold all the remnants of fabrics for retired Christmas stockings. But it could just as easily hold tubs of decor. They were easy to build and much less expensive than all the other overhead storage systems you can buy.
See how I have pictures of all the stocking groups on the outside of the tubs and more inside facing out. A quick scan tells me which tub to pull down when one of my customer's family grows and needs an additional stocking to blend with the ones they ordered 6 years ago.
Same concept, but with your decor and pictures of how you set it up.
Now, evaluate your Christmas decorating style:
Do you tend to decorate the same every year, changing out just a few items to freshen it?
Do you like to reuse your decor, but in different ways each year?
Or do you tend to come up with a new theme every year, reusing what you can, but replacing a significant portion?
Whatever your style, pack your decor accordingly.
If you're a type 1, a Don't Mess With Success type:
Then pack based on where it's displayed: everything for the mantel display in one tub. Everything from the kitchen in another tub. All the tree decor for the entry in another tub. Etc. etc. etc.
But remember, don't pack anything away until you have taken photos of last year's setup.
Yours is the quickest to pack and the quickest to set up. Packing this way has the added bonus in November of decorating one room or focal point at a time. No tubs scattered everywhere. No time spent trying to decide where and how you had it all set up.
If you are a type 2, a Thrifty Creative:
[waving my hand wildly here] Then it's best for you/us to store our items by item type and color.
All greenery picks in one tub. All vintage glass bulbs in another tub (in smaller organizers with divider — even egg cartons work nicely for smaller ones). All lights wrapped neatly around a piece of cardboard of an empty water bottle.
Within an item type, divide further. If you have enough Christmas bulbs to fill several tubs, store them by color. You can also divide them within a single large tub by using large produce bags from the grocery store for each color.
If you're a Type 3, the ADD (Attention Deficit Decorator) Who Craves New Decor:
As you are packing up, go all Marie Kondo and assess each item to determine if it still sparks joy in your home. If it doesn't, can it be refreshed or restyled so it does once again?
That little ceramic Christmas village no longer works as is. But what if you sprayed it all a glossy white? Then would it work?
If yes, now answer these — truthfully:
Do I enjoy the crafting process?
Do I have time?
Will I actually get it done?
If you are all about the fresh decor, as you are assessing and packing, take your displays apart and store in tubs with like components. All the bows go in one tub, all the garlands in another tub, all the bulbs in another tub, etc. Then you have everything at your fingertips when you start creating next years holiday decor.
No Matter your Decorator Type
Hopefully you have a generous pile to donate or pass on to a friend
And a doable pile to Repair & Refresh or ReStyle for the next season or two.
And many bins of decor that are ready to go come next November begging to be ReStyled.
That pile of Repair & Refresh? Do NOT bury it in a tub! You have more time now than you will have in October and November, right? So now is when you can maximize your time-saving for next year.
And with your components to be ReStyled all organized, you'll be able to find what you need when inspiration hits well before time to start trimming the house. That means more time for holiday fun and relaxation.
Added Bonus:  you can now easily see how many bulbs in each color family you have, and you know where you need to fill in and what colors you don't need anymore of. Maybe you didn't realize you had so many nutcrackers. Seeing them altogether, you're now inspired to display them together for a bigger impact.
Make a list on your phone of all the voids in your inventory. Refer to it when you are shopping the after Christmas sales, you are out thrifting, or during Summer garage sale-ing. Lots of money-saving possibilities.
Of course there are hybrids of these three types of Holiday Decorators!
I dream of being an ADD, switching out decor every year, but I am way too thrifty (okay, cheap) for that dream. Plus, owning a Christmas stocking and tree skirt business has forced me to a reality of more minimal Christmas decor. My time is stretched inconceivably thin starting in August. So really, I'm mostly a Thrifty Creative, forced into quite a bit of Don't Mess With Success due to time constraints.
So how do I store our decor?
I start by assessing all the decor as I used it this last season and what languished in tubs throughout the season.
The vignettes I really liked this year are photographed and packed in one tub per vignette or per room.
The arrangements that I wasn't absolutely crazy about, I separated all the individual components and packed them with like items. This way when I want to make a bulb tree next year, I have everything I need in two tubs. And within the tubs, I have the bulbs bagged by color.
The same with my floral picks. They are all in one tub. But within the tub, there is a bag of juniper picks, a bag of fir picks that have frosted berries, a bag of holly picks, etc. etc.
This is particularly helpful when pinterest, IG and FB start coming alive with festive ideas way earlier than you really want to start decorating.
But early is the best time to start making some wonderful fresh decor items. If you keep the available-to-use elements in a few tubs that are easy to get to, you are much more inclined to do some makery before the rush.
With this in mind, the tubs of component parts should be stored on the top of the stacks of tubs if you don't have shelving. If your tubs are on shelves, then these tubs should be on the shelf easiest to pull out and put back.
NOW For the Holiday Time-Savings:
You've already accomplished significant time savings — and frustration reduction — for the 2022 holidays with almost everything put away in your ideally organized way.
You may have a pile (small or large, depending on your decorating type and how long you've been hanging onto items you haven't used in years) to donate or gift to a friend. That is awesome. What a great way to start 2022.
And you'll probably have a pile (hopefully small) of things that need a repair and/or refresh. I know the temptation is to pack it away. But DON"T!
Remember what October and November are like? That's right, crammed full!!!
So NOW is when we want tackle repairs and alterations, Like all those berries that are chipped, faded and dusty. Here's how simple it is to refresh them.
Then pack them away all organized and ready to party.
Now tell your future self "You're Welcome". You know you will appreciate this time savings in 10 short months.
I hope this is helpful to you. Early January is always and cleaning, purging and organizing fest for me. And I know how much better my holidays are when the decor is as easy as possible, but is still festive and quenches my creative decor thirst.
I have more tips for reducing holiday stress coming. Hang tight, because the BEST will be posting Saturday the 15th. You don't want to miss it!
Wishing you a fabulous 2022!