How To Make Cute Cozy
Valentines Pillows
These Cute, Cozy macrame-inspired Valentine pillows are surprisingly easy to make. Macrame inspired lovers knots replace hearts. Plus, change the colors for any season.
Is your home feeling a bit bare? Visually cold?
I'm with you! It always seems that way when we pack away all the festive holiday trimmings. So I've learned to embrace some cozy touches through our home during these bleaker months.
I've never been one to add a lot of bright red hearts all around, And I don't have the space to store Valentine specific mugs or dishes for eleven months.
But I can still cozy up our home with a few subtle nods to this Valentine season.
So How Do I Decorate for Valentines Day?
Valentine Throw Pillows are a Perfect Starting Point
We can always use more throw pillows, right?
And aren't these the sweetest — and subtle! Rather than overt hearts, I chose to go with Lovers Knots.
And it sure is fun to dust off the old macrame skills in an updated way.
HINT:
When making pillow covers, I try to be consistent in sizes. This way I only store the covers during their off season, not the bulky pillow forms. Off comes a Christmas cover, on goes this new Valentine's Day throw pillow cover. Then It will be replaced with a Spring or Easter cover.
By keeping them subtle, they can stay in the decor game longer if you wish.
How about for a nursery?
Or with its macrame influence, your boho loving pre-teen might claim these for her room!
So Why Knots on Valentine Throw Pillows?
Since ancient times, knots have been used throughout many cultures as a symbol of love. It represents the unbreakable bond and eternal connection between two lovers.
There are several knots referred to as lover's knots. The one I chose to use is the Josephine knot (named after one of Napoleon's wives). It has always been one of my favorites. And it also has multiple versions so I could have the large center style and then also the corner style for the inset framed pillow.
These pillows can have a life outside Valentine's Day. Change the colors and it would be a lovely gift to new baby, for a bridal shower, Mother's Day, Father's Day — really any occasion to express love.
How to Make These Valentine's Day Pillows
Materials and Supplies:
MATERIALS: (these are not affiliate links, just adding them to help you get a quicker start)
SUPPLIES:
Sewing Machine, optional (very easy to hand sew also)
Scissors
Thread
Needle
Pins
Ruler
Marking Pen or pencil
Step 1) Cut Fabric if You are Making Your Own Cover
I made my own cover out of pinwale corduroy for the Center Double Knot Pillow because I wanted the four yarns tails to disappear into the seam.
I used an IKEA cover for the Inset Frame Pillow.
Step 2) Cut Your Yarn
INSET FRAME PILLOW:
I used one long 8 ft. piece of yarn for my 20 X 20 pillow.
CENTER DOUBLE KNOT PILLOW:
Cut four pieces of yarn. For my 20 X 20 pillow I cut 4 ft lengths (and this was very generous)
Step 3) Mark Your Yarn Placement
INSET FRAME PILLOW:
Using a disappearing fabric marker (a light pencil line will work just fine for this), I marked a stitch line. i decided on 3 1/2-inches in from the stitch lines on the Ikea cover.
CENTER DOUBLE KNOT PILLOW:
With a small dot, mark the center of your pillow cover or piece of fabric. And then mark two spots for the tails along the side edges. I decided on 6-inches between the two pairs of tails. So I found center line and then marked 3-inches on each side
Step 4) Tie Your Knots
I used a You Tube video as a refresher. Search Josephine knot and you'll find many options. I went by this video.
INSET FRAME PILLOW:
I used the "Tied With One End, Single Version". I tied the first knot, laid it on my frame marking to determine where the second knot should land. Tie the second knot loosely. and then as you tighten it you can adjust for the length of the side. repeat for all four corners.
CENTER DOUBLE KNOT PILLOW:
I used the "Tied With Two Ends, Doubled Version"
Tied my knot as in the video.
Step 5) Stitch to Pillow
INSET FRAME PILLOW:
Once you have your knots tied. place them in each corner with the top loop of the triangle that doesn't have a tail coming out of it should be facing out to the corner of the pillow. The two tails are the frame sides. Pin the knots in place. and hand tack them.
CENTER DOUBLE KNOT PILLOW: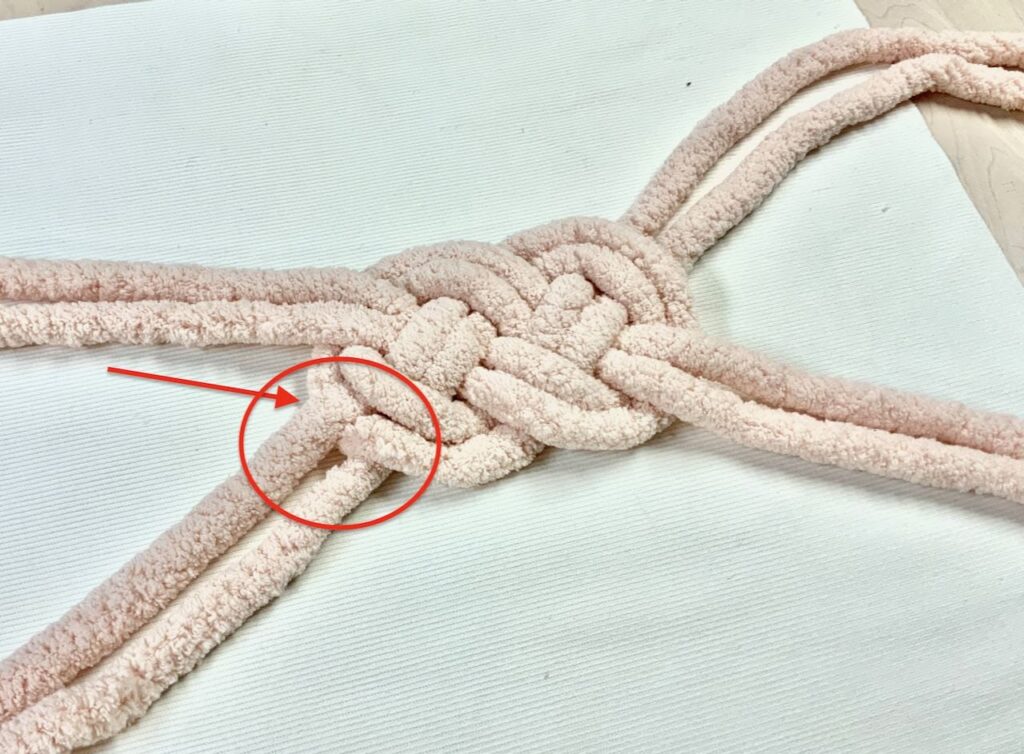 Lay knot on the pillow with center point in the center of the knot. Lay the tails out carfully.
HINT: (do as I say, not as I did)
Yes, another learn from my woes. Fortunately I caught it before I had everything stitched down.
The two tails should both come over or come under the loops. And the over under alternates between pairs, NOT within a pair. See the problem, both of those tails should be coming out under the loops at that spot.
Now hand tack the center knot in place.
Tack wherever the yarn crossed under. I've marked the spots on the picture above to give you an idea.
Now stitch the straight tails in place, either by machine or by hand.
Step 6) Optional. Finish the pillow cover
If you chose to make your own pillow cover, now is the time to finish the pillow.
Add an invisible zipper (by far the easiest zipper to install). If they make you nervous or you don't have an invisible zipper foot. Have no fear! I have a tutorial on You Tube, right here.
Aren't these make such fun additions to your throw pillow inventory?
Yes, you're right, there is a third one there that I haven't mentioned. It's another option for your Valentines Day decor.
That third one uses a bit of a twist on making it and it also can be made with a special intention. This post is already quite long, so that third pillow, the XOXO pillow has its own post, right here!
I sincerely wish you don't, but reality is, you probably know someone who is fighting the cancer battle. This pillow, the XOXO pillow, has a simple modification to honor, to love and support, to encourage a cancer warrior. Be sure to check it out. It would make a great gift!
I hope this inspires a bit of Valentine crafting for you.
If you are thinking about celebrating "Your Ladies" with a Galentine's gathering, be sure to check out these tips for simple party and gift ideas.