Great Galentines Day ideas for simple gifts and a fun party honoring the friendship love your band of Special Ladies share.
Valentines Day is for celebrating love — ALL kinds of love!
Hallmark hasn't come up with a Best Girlfriends Day yet, but more and more we seem to be co-opting Valentine's Day into our own Galentine's Day or even Palentine's Day.
Yes Valentine's Day celebrates the love between spouses or partners, but also the love between siblings, between parents and children, between neighbors who look after each other, and on.
But today, today let's talk about one love that is especially near and dear to me. The love between gal pals, your sisters-in-choice, the support network that steps in when you are down.
However you think of them, these are the special ladies that you may have a long history with, or perhaps a short history but a long future is in the works.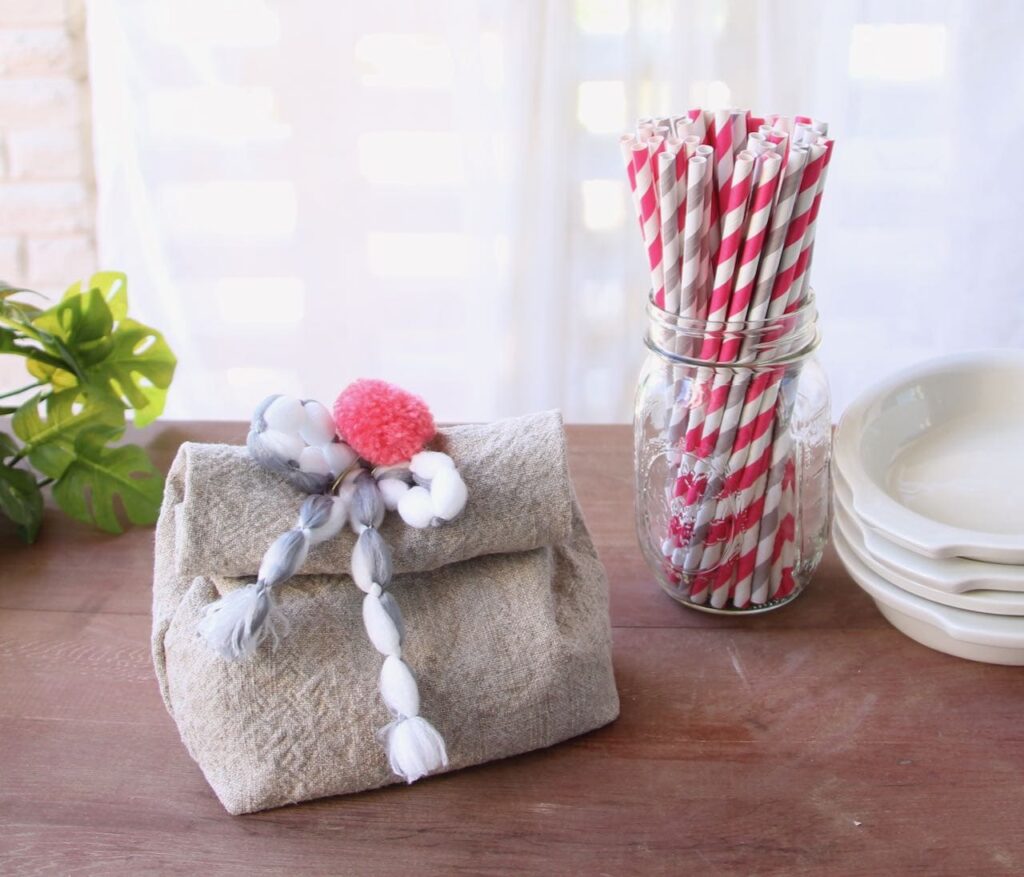 What Makes Great Galentines Day Gifts?
Something sweet. Something thoughtful. Something handmade.
Those are my Go-To's for any gifting situation. But with my ladies, I also consider useful. And by useful, I mean problem solving which includes self-pampering.
Don't let them deceive you! They really are very simple to make. Check them out here. And you can make a bunch of them very quickly and cheaply! Glue a magnet to the back and they are right at home on a magnet board securely holding the pictures of those near and dear to their hearts.
Or perhaps holding the recipe for these sweet Linzer cookies from my friend Michele at Vintage Home Designs.
The sweetest, right? Wouldn't you love to find a cellophane bundle of two or three of these special cookies in your gift bag?
And possibly nestle that special cookie bundle shell trinket dish.
If your gals are up to some crafting. These are super duper easy to make with pretty much guaranteed success.
Now that you have some Galentine's (or Palentine's) Day gifts, how should you distribute them?
You can always do the porch drop, ring and run, but why pass up on the opportunity to really do "The Girls" right?
How about sweet Valentine pillows for the ladies? Here are some super sweet options. And if one of your special ladies is doing battle with cancer, here is a XOXO pillow with a modification to show your love, support and encouragement.
Plan a Galentine's Day Party
WHEN –
So many ways to approach this. You know your ladies. So identify this first big W.
On Valentine's Day, you'll have a lot of competition for their time. So I suggest the week before.
Do you want to do a simple brunch, or more of a happy hour evening celebration? Which is best? Depends on your ladies.
If your ladies are all available during weekdays, then that might be the easiest on everyone's schedule. If afterwork is a requirement, schedule early and make sure everyone understands: Girl Time is Priority Time!
WHERE –
Again, no rules here! Easiest on everyone is to meet out somewhere. No housecleaning required. No farming the kids out to a trusted neighbor.
But it's not as cozy and intimate if that's what you are working towards. And to do it right, it can cost a pretty penny. Also keep in mind that even after almost two years, we have to think about the issue of eating and drinking indoors around a lot of people we don't know. Are all your ladies vacc'd and boosted? Sorry to say, it's reality folks.
WHAT TO SERVE –
Oh my heavens, the ideas are endless. My favorite for celebrating my gals, is with a variety of finger foods. Savory and sweet! To me, a wide variety of appetizers says "special celebration" just like this day for my ladies should be.
We get together periodically and have lovely soup and salad brunches for hours. But for a day celebrating the bonds and the years between us, I'd like it to be more playful, more diverse, more unpredictable. Besides I love the artistry of serving boards!
I will probably ask my ladies to each bring something in a given category. Something like: a sweet treat, a savory dip, a warm savory, a signature cocktail, a warm beverage, etc. This way, each is encouraged to explore and experiment but I'm also sure we have all the bases covered.
GALENTINE PARTY FAVORS –
Well, we already discussed Galentine's Day Gifts. If you are hosting, just re-spin them as party favors instead.
And of course party favors deserve a charming bag to take them home in and then repurpose.
And I happen to know right where you can find these linen bags, Two sizes, washed linen as above.
Or unwashed with chalkcloth labels like here below: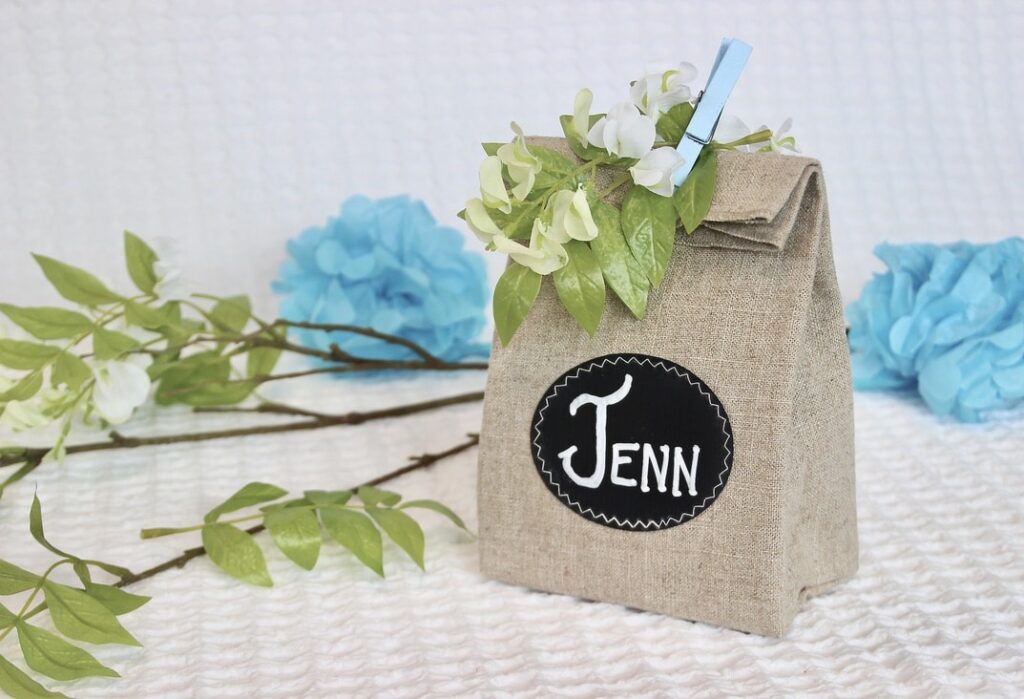 The gifting for Galentine's Day should be a sweet little something that makes everyone feel good. Everyone should receive the same gift from each giver — so much less stress! And no drama!
One year we exchanged a "favorite find". Kathy gave each a bottle of her favorite body wash. I gave everyone my favorite new back scrubber and my favorite new lip moisturizer.
I hope these ideas helped to inspire you to celebrate your special gal pals.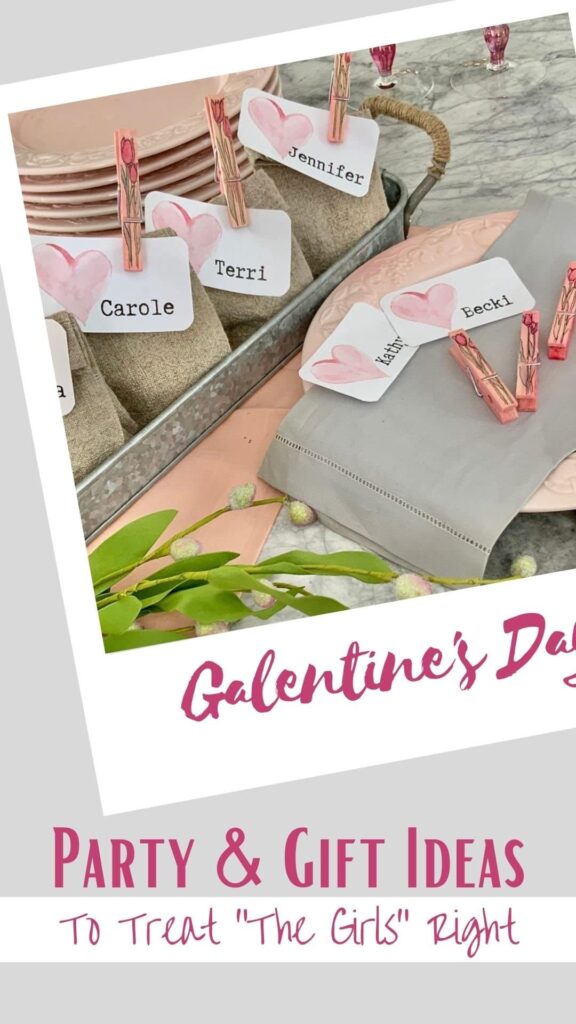 Wishing you a wonderful Palentine's Day. I truly appreciate you. Thank you for the inspiration and encouragement you send me every day.