Custom Line Art Wall Decor Simplified
It's easier than you think to create customized line art decor wall decor for your home. If you can trace a line, you can do this!
If you have a wall that needs an extra bit of pizzazz, but you're not ready to jump on the wallpaper bandwagon, or maybe your budget doesn't stretch that far, try your hand at a simple line art mural on that forlorn wall.
They're all the rage and for good reason!
But THIS is even better!
You control the size and scale. You control the subject matter. You control the colors. It just doesn't get much more customizable than that!
Talk about custom and personal!
But First, a Bit of Background: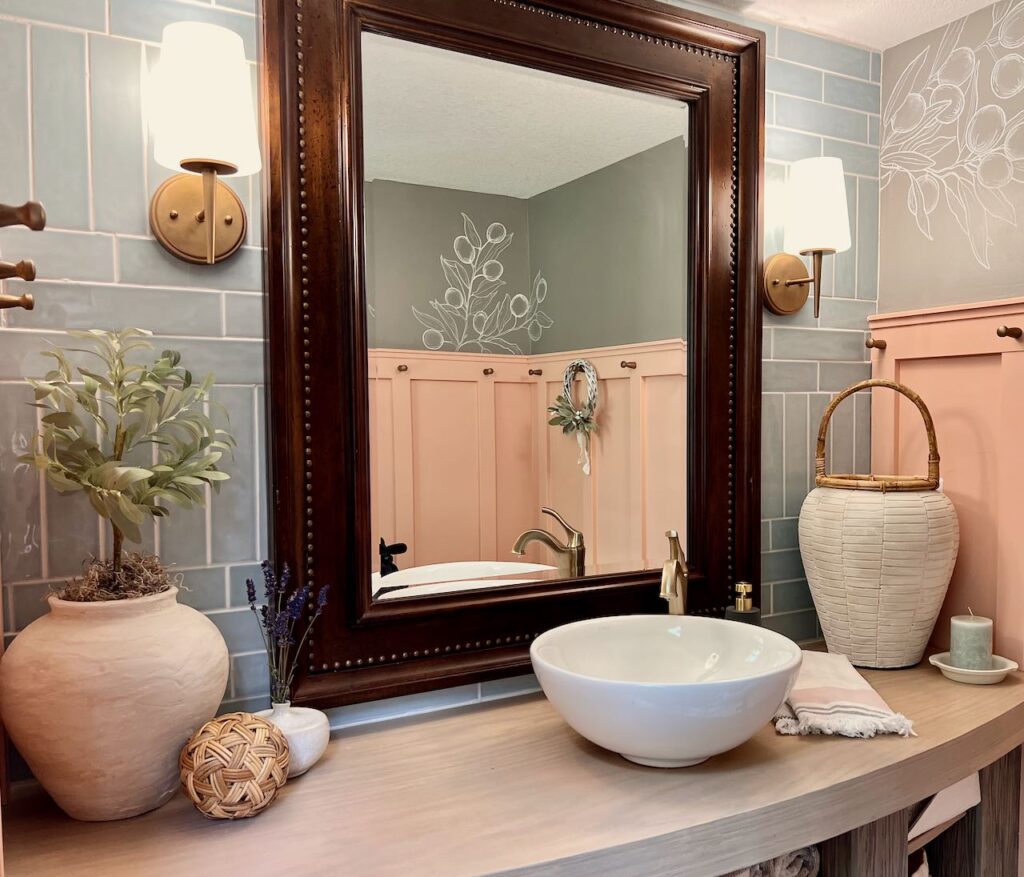 We remodeled our Powder Room for our first One room Challenge.
Now you're all caught up!
Where to Start With Your Line Art–
With the concept or inspiration!
I'd suggest starting with google search, a pinterest search, an Instagram search for "Line Art Wall Decor", or "Line Art Mural" or "Wall Line Art". You get the idea.
Save a bunch of images that speak to you. See what inspires you. Then go back and look at them in your room. At this point, don't worry about the scale, the size, the colors. You're going to be customizing all of that.
Concentrate on the subject matter and the general feel or style.
Do you want abstract faces, simplified succulents, dog stylizations, geometric lines, abstracts, botanical, and on and on? So many options!
Our powder room inspiration was Modern Mediterranean. So I ended up landing on olive branches.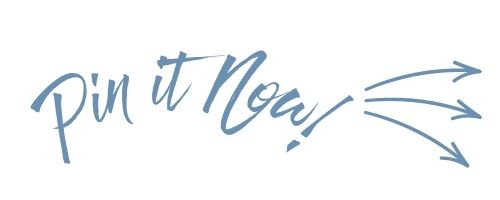 Before you get too far, please consider pinning this so you can find it again. And maybe even share it with a friend or on your socials. Thanks bunches!
Now Take Your Concept to Actual Design-
Delve into some online sources for line art to download and then Canva.com to size and arrange your designs. The free version Canva will do unless you need to remove the background. Then you will need to up your game to Canva Pro, but they do have a free 30-day trial for the Pro version.
Look at designs that are available through Etsy.com, through shutterstock.com (Shutterstock offers a free trial month) or through thegraphicsfairy.com. These are all great sources and I'm sure there are more, These are just my go-to's. Search as specifically as you can to avoid a very long trip down the design rabbit hole.
Above is a screen shot of the first eight of thousands available on Etsy. These are from a general search of "Line Art SVG Files". (Please consider using this affiliate link. Any purchases made through this link will not cost you anything extra, but I might receive a small commission to help with the costs of the blog. I truly appreciate it!)
IMPORTANT: You want to be sure to purchase and download only Vector style formats., SVG, PDF, AI, EPS and then some. A vector format means you can endlessly enlarge the original image resolution without any loss in quality or distortion. I typically download SVG, Scalable Vector Graphic.
Chances are you will not find the exact design you are dreaming of. You will want to adjust the size and scale at the very least.
Or maybe take one or two elements and repeat them over and over making a band across a wall. So many options await you.
Customizing Your Design-
This is where Canva comes in.
Download from your source to your computer.
Open Canva and click Create A Design, then Custom Size.
Adjust your project size based on your wall space that you want to fill.
CAUTION AND WORK AROUND: Canva has a size limit of 83 x 33-inches (rather random, I know). If you want your design larger than that, consider dividing your desired measurements in half. Add the architectural details of your wall (door, windows, moulding, light fixtures, built-ins, etc.) also in half-size, to help you visualize the scale.
These are the three clusters I ended up with. Look closely and you can see that the original art came from three different artists with different styles for highlighting the olives and the branches.
At this point, I was concentrating on getting the composition right. Then I chose one style of olive highlighting and stuck with it throughout. And then one style of leaf highlighting and stuck with it throughout.
Now upload your SVG line art files and place them on your wall in Canva. Expand the size to fill your wall as desired. or duplicate it to create a pattern.
If you have multiple elements as I did, layer them as you like. If you need to remove the background, with that image selected, click on Edit Image, then Background Remover. Once the background is removed, you can also click on Eraser and remove any extra lines that layering your images may cause.
Printing Your Design-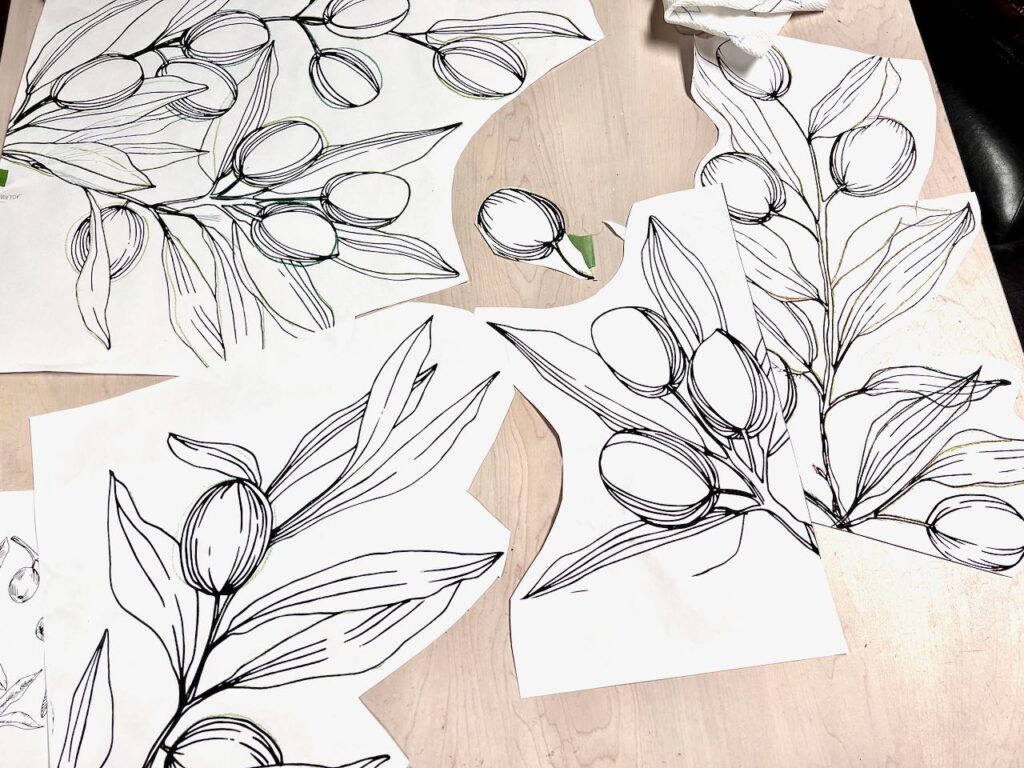 With your design just the way you want it, save and download it to your computer as a PDF Print file.
Now upload to an office supply store and have them print it as a blueprint. I used Staples, but Office Depot and Office Max also offer this service. Printing blue print size images runs $2 to $8 per page depending on size.
I had mine printed in black and white on three different pages, all sized 24 x 36. They were $4 each, so for roughly $12, I had my mural.
(Sorry, looks like I forgot to snap a picture of the full blue prints as printed, These are after I had trimmed them and had already used them to trace the lines on the wall. Keep reading.)
Practice Painting-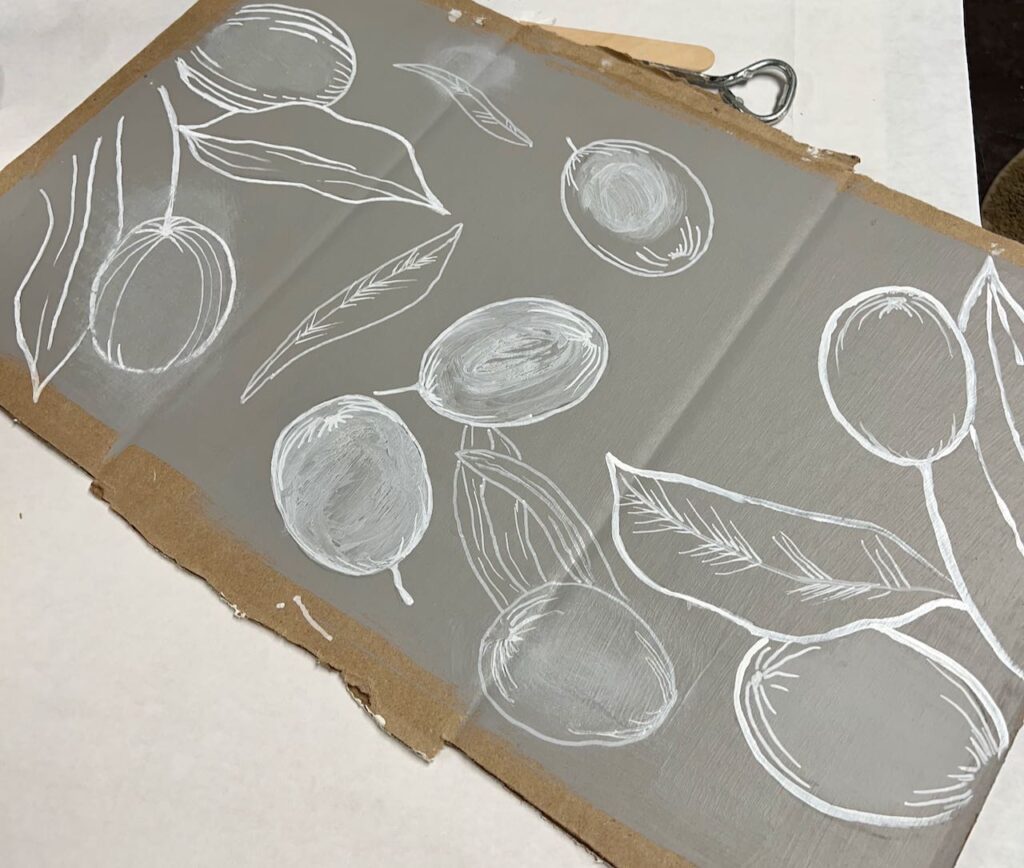 Since I had never done this before, and was basically making it up as I went along, I wanted to practice my technique.
Paint a piece of cardboard with your wall paint for an accurate test of colors.
With a piece of carbon paper on the dry sample wall, trace some of a design. Now practice with your chosen paintbrush or paint marker — or chalk marker as I used.
For me, the paintbrush was a big bust, but the marker worked great. Then I needed to decide on some shading that I wanted to add to the olives. It took me a bit to realize that my white is actually what would normally be the darkest lines – like a negative. So the white would be shading (around the perimeter of the olives) not highlighting (in the center of the olives).
I also took this opportunity to decide which way I wanted to detail the leaves.
Once I had that figured out I was good to go.
Transfer Line Art to the Wall-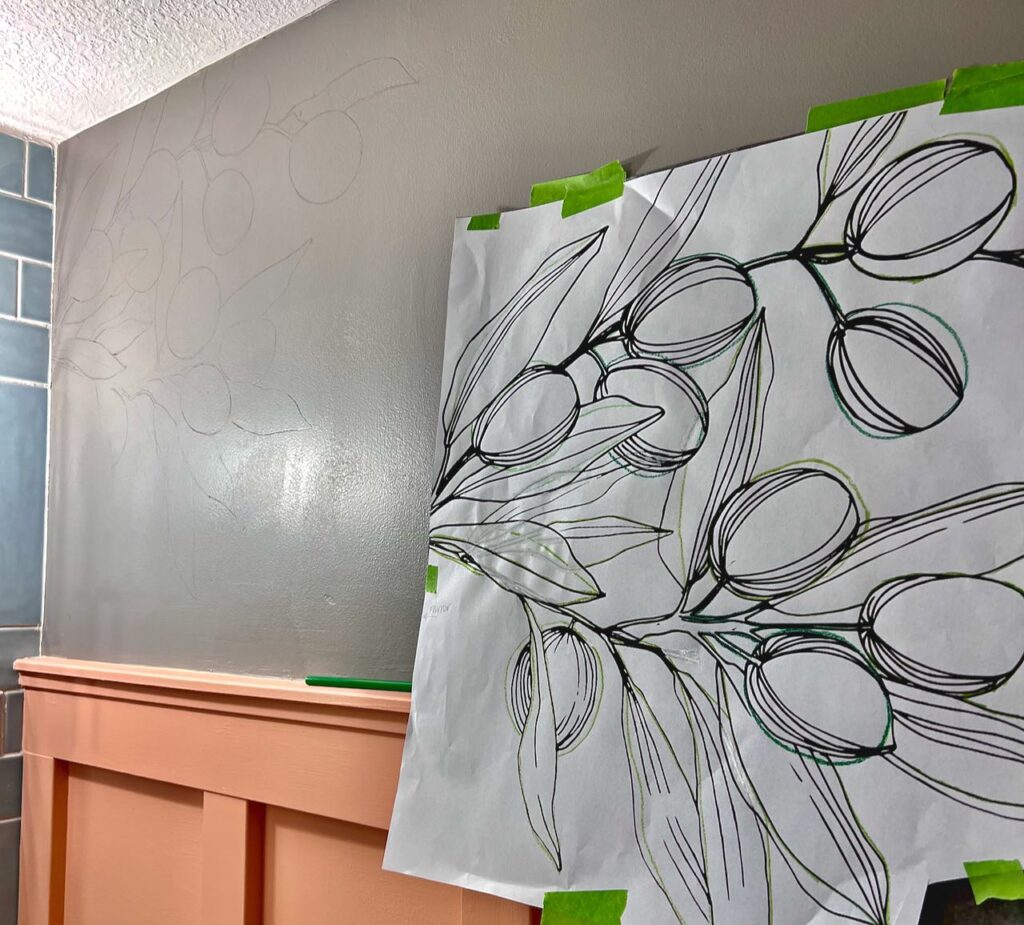 Cut away any large excess paper around your design.
Use large pieces of graphite paper.
With painter's tape, secure graphite paper to your wall where your design will be. Then secure your blue print on top of that.
Now, trace all your design's lines onto the wall. Use a dull colored pencil. This helps you see where you have and have not traced.
Here You can see the lines transferred to the walls.
Remember, how I said the blue print was mainly for the composition and I chose one style to use for the olives? Look at the blue print, you can see where the green pencil made most of the olives a little more rounded.
I also found it helpful to hang the blue print next to the transferred design for reference.
Paint Your Line Art Wall Decor-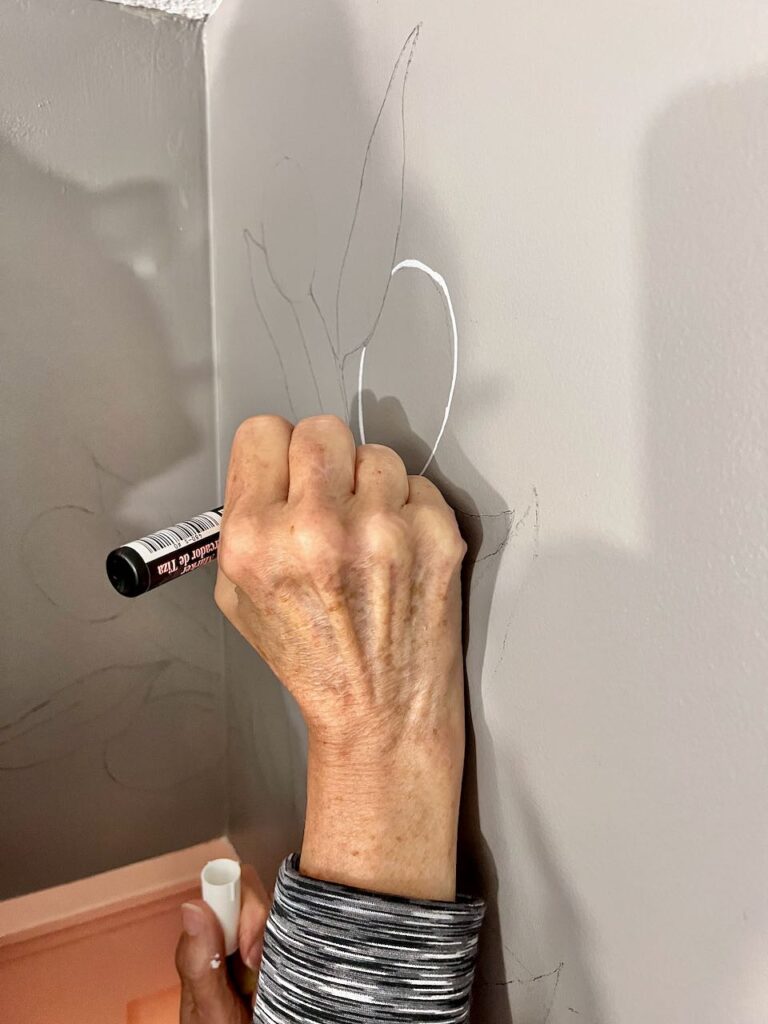 There is no right or wrong way to do this. And I just had my mantra of "It's only paint" on loop in my brain.
I had three different clusters of olive branches. What worked for me was to do one cluster and then move to the next cluster.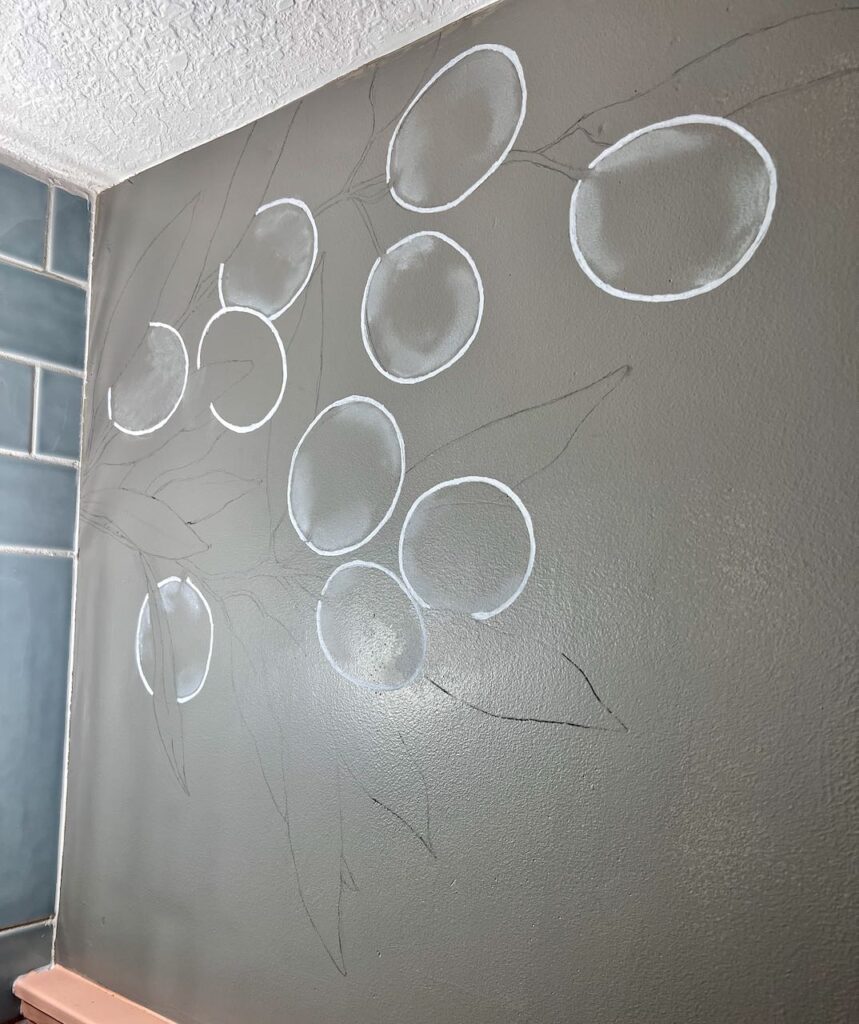 I started with outlining all the olives in a cluster. Then I shaded those olives
Next, I added the highlights to the olives and then I traced the leaves and branches of this cluster.
Then I moved to the next cluster.
Once all three clusters were at this point, it was time for the final detailing of the leaves. I saved this to do for all the leaves together probably because it made me most nervous. These were free-handed – Yikes!
Ta Da!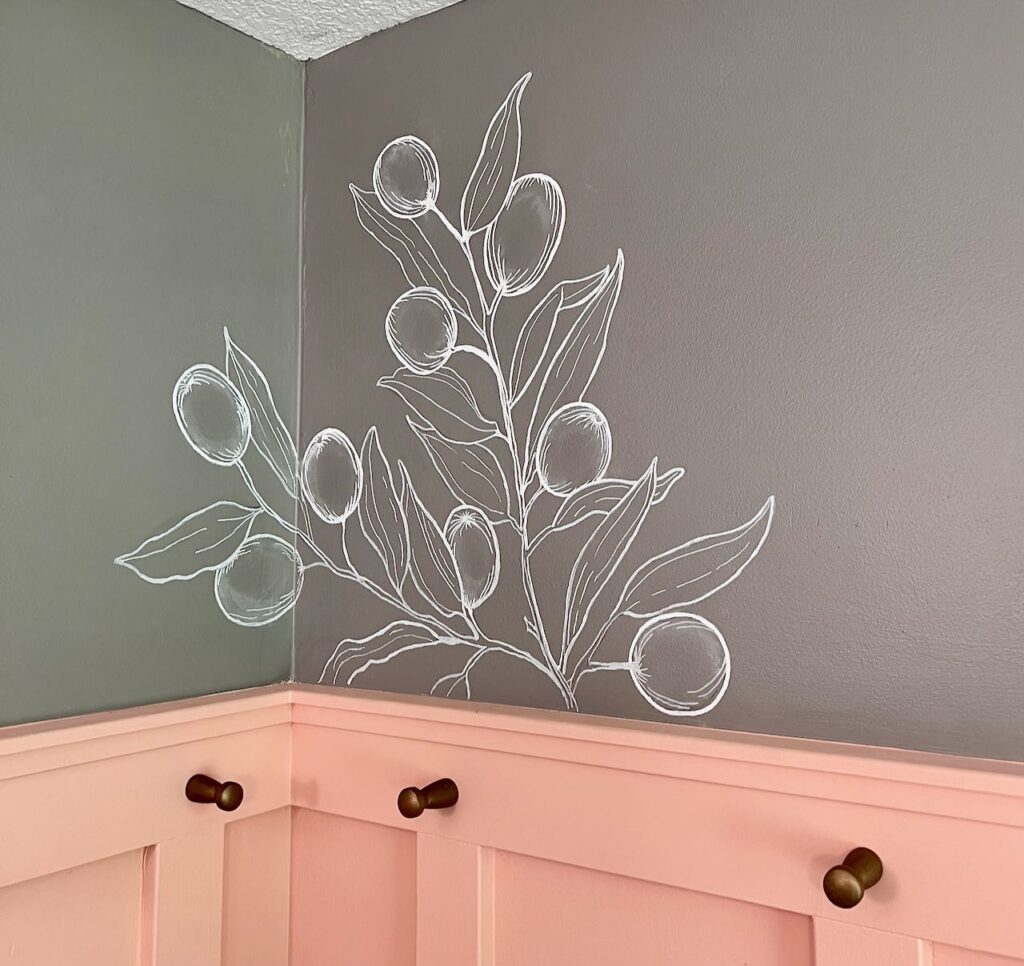 All finished.
Because I used chalk markers. This would be easy to wipe off with water. So once I was happy with it, I sealed it to protect it from curious fingers.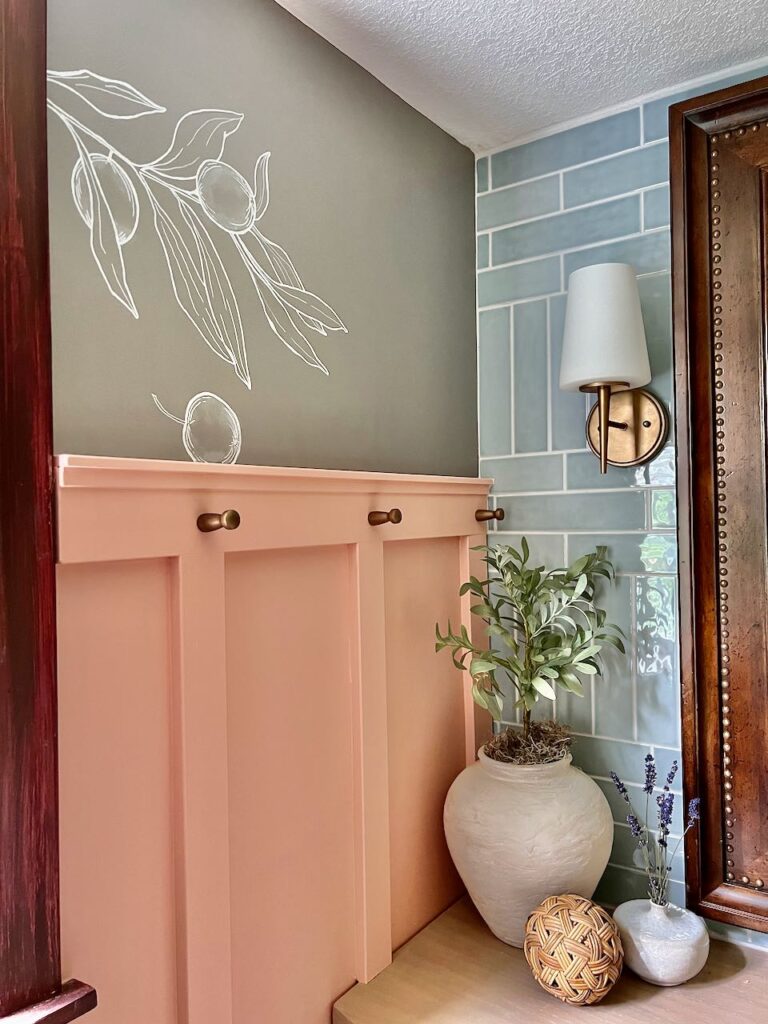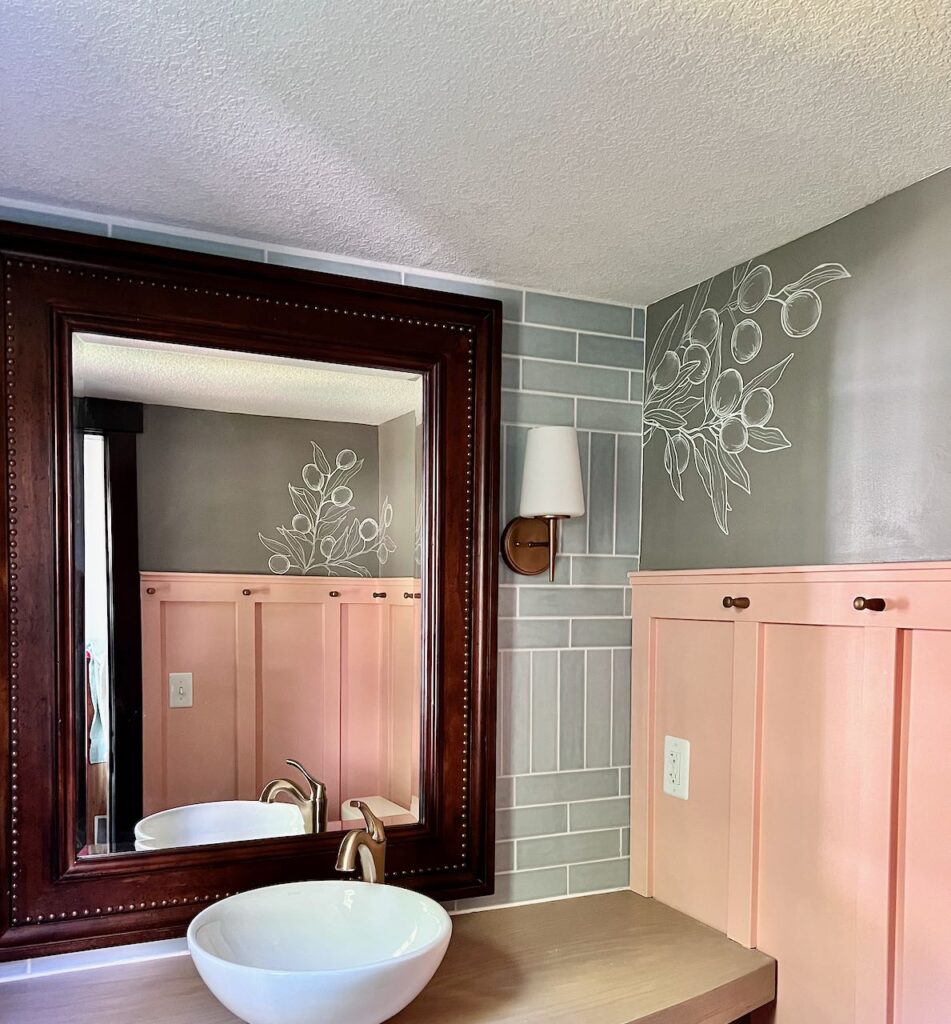 I love how you see two different cluster as you walk into the powder room!
Please consider pinning this.
I truly appreciate every time you share my projects with those around you!
I hope this inspires you to try your hand at a simplified line art accent wall mural even if you don't consider yourself an artist. I certainly am not an artist, but I love trying creative endeavors to make our home special to us.