Inspiration For A Stunning
Mediterranean Bathroom
Modern Mediterranean bathroom style includes warm, rustic textures, an appreciation for the handcrafted, timeless, but fresh elements.
Do you enjoy a challenge?
Oh good, me too! (let's hope I'm still saying that in 8 short weeks)
You guessed it, I'm participating in the One Room Challenge. The rules are pretty simple, pick one room in your house and make it over in 8 weeks.
The Starting Point For Our Mediterranean Bathroom-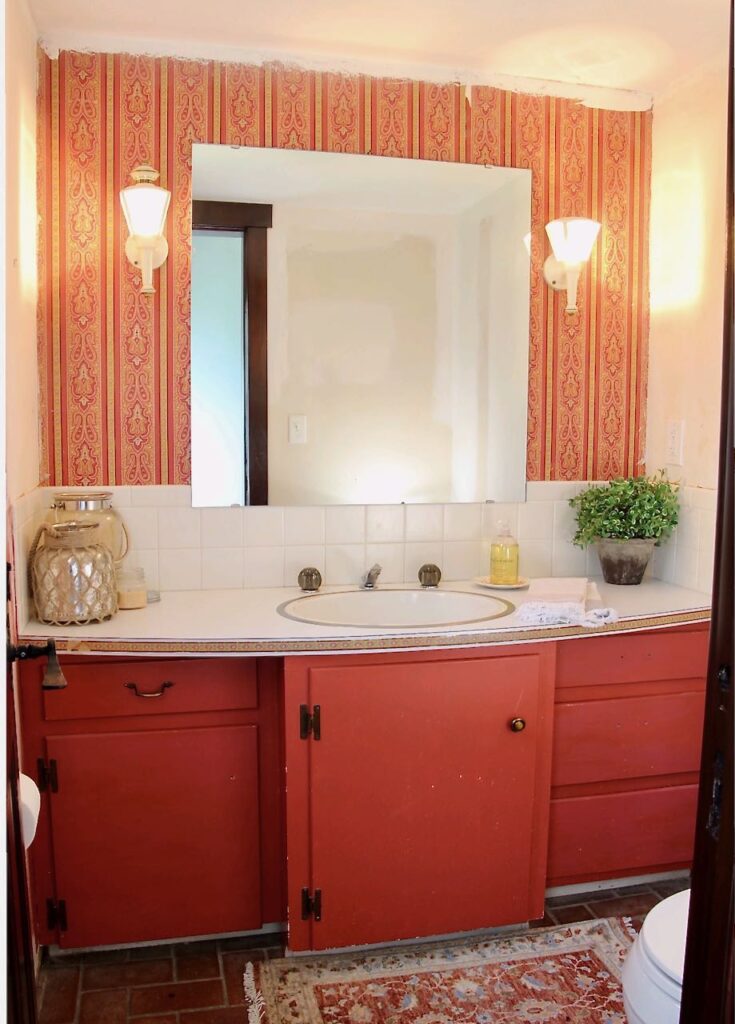 On the left, is how the powder room looked when we bought this house. I can't fathom why the house was designed like this, but that open door was right next to the dinner table and looked into the family room. To make it worse, when the door was open, the view was of the toilet.
Crazy, I know!
We had a contractor demo and rebuild the carport, the primary bedroom, both full baths and the kitchen. While they were here, we also had them steel a few feet from a storage room to the left of the powder room.
This extra space became a hallway from the family room to an existing glass exterior door on the North side of the house, bringing much needed light into the family room. It also allowed them to move the powder room door around the corner and down this little hallway. The door swapped places with the toilet. Surprisingly, it was not a big ordeal for them to move the plumbing under the brick floor and place a new toilet tucked in the corner where new framing sheetrock filled the original doorway.
The pic on the right is how it looks now. Yes, it's embarrassing how long we've been living like this.
Did you notice that cornice board? Honestly, it was a beautifully crafted relic of the past.
Alas, I removed it the day we took possession!
And to add extra "character" someone painstakingly cut a stripe from the wallpaper and decoupaged it along the front of the laminate countertop. Not only that, they also cut the medallions out and decoupaged those to the white tiles of the kitchen backsplash.
Function, Done! Now Let's Add Some Style-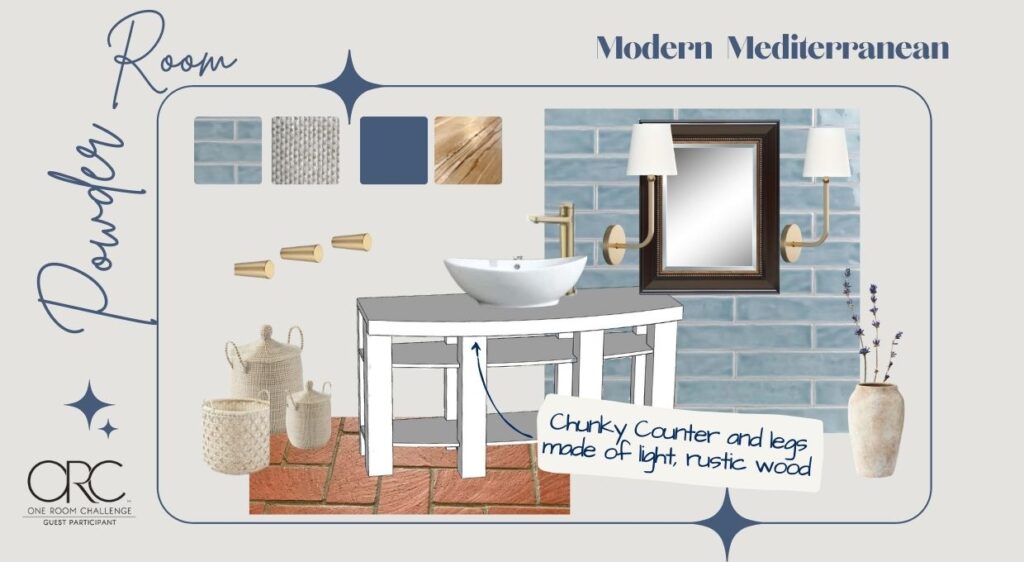 The original red brick floor will remain. This floor flows throughout the entire downstairs and the courtyard patio.
The wall behind the vanity will be tired floor to ceiling. By the way, we have never tiled before — yikes!
We are also building the open shelving vanity – another first for us. We have unique materials planned for this, so be sure to check in on our progress!
I have two additional wall treatments planned. One of them, I'm excited to try. I just keep reminding myself that it's only paint. And if it doesn't turn out, I can always paint over it. Stay tuned on this one, too.
The baskets and earthenware jugs are also diy projects! There's a lot to happen!
The Plan For Our Mediterranean Bathroom-
Week One (today): Before and Mood Board
Week Two (4/13): Demo and Possible Sheetrock Repair
Week Three (4/20): Tile Wall (?)
Week Four (4/27): Build and Install the Open Shelving Vanity
Week Five (5/4): Countertop Build, Finish and Install
Week Six (5/11): First Wall Treatment
Week Seven (5/18): Second Wall Treatment (fingers crossed)
Week Eight (5/25): Reveal of a Complete Modern Mediterranean Bathroom, Custom Made Bins and all the Accessories
UPDATE: You know how it is: You don't know what you don't know! Right? When I got down to the nitty gritty of planning our wall treatment, that's when I realized just how many design details I needed to think about. How many questions I needed to answer to get these walls just right — right, being the way I wanted them.
If you are thinking about a wall treatment, jump over here to see the comprehensive list I put together and how these decisions will impact your final design.
Think we can do it? I sure hope so!
Sidenote: We are hosting an event on 5/14 (so we really need the bathroom to at least be functioning by then. AND during this time, we will be out of town for 9 days for a wedding.
Yikes, now I'm really nervous.
You Can Help!-
Please hang out with me along the way. I know I will need your support as I share the oops, the "wish-I-had-known-this-earlier's" and the victories along the way. Plus, if you have some great tips to move these projects along, please don't hold back on me. And I'm sure I'll be asking you to help me refine the final paint colors and more.
Please consider sharing this One Room Challenge, ORC, with your friends and adding this pin to where you'll see it frequently and jump over to check out my progress.
Pin it to your:
Remodel Board
Makeover Board
Bathroom Board
Style Board
(everywhere and anywhere)
If you want to check out some of the other "ORC Challenge-Takers", jump over here.
I'm looking forward to jumping in to work on this makeover. It will be so great to have this room done and the embarrassment of it done too!
I appreciate you every day, but never so much as now with this ORC kicking off (and I just registered three days ago, so I haven't had much prep time. Fortunately, we've been planning to "get too this" for a while now.